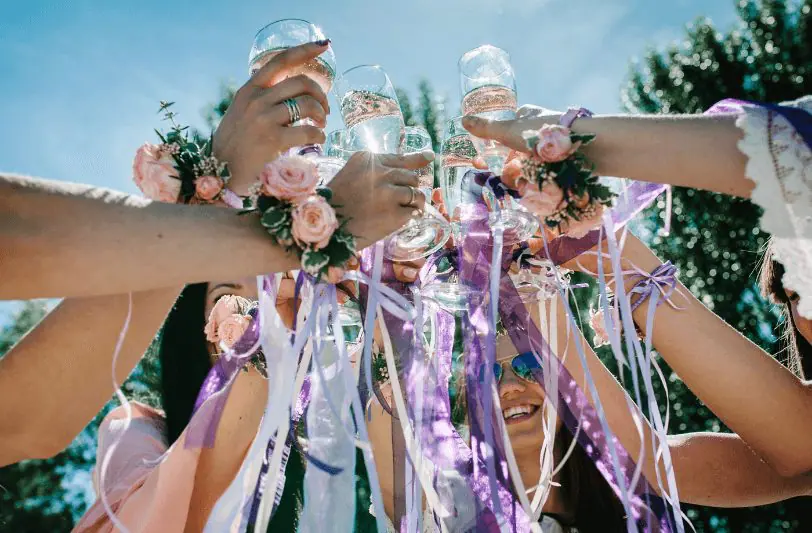 Is your bestie getting married? 🎉
Want to throw the most EPIC bachelor/bachelorette party ever?
You've come to the right place because we're local I know how to throw it down!
Sure, Vegas is cool but the Caribbean….way cooler!
Cancun is just a short flight from the USA…
Boasting beautiful beaches and unforgettable nightlife.
So, ready to start planning?
Let's get started….
Plan the Ultimate Bachelor(ette) Party in Cancun
1. All-Inclusive Bachelor(ette) Party Packages
Planning anything as a group can be stressful.
Planning something overseas?
Well, things can get complicated real quick.
But it doesn't have to be!
That's where I come in…
Hands-down the most stress-free option is to choose an all-inclusive bachelor/bachelorette party package at 1 of the many resorts in the area offering this service.
They are incredible bang for the buck
You'll be pampered beyond belief
You can bask on the beach & pop as much champagne as you want
2 leading resort chains that always receive rave reviews from our clients include:
Breathless Resorts
Riu Resorts
If you're interested in an all-inclusive bachelor/bachelorette deal contact our wedding planning team at ParadiseWeddings.com to find out:
Which resorts offer this type of service
The best choice for you and your group
What is included
More on the hotel
Group room rates
Price
Special offers
If you do want a more bespoke experience and want to take charge of the specifics, keep reading!
2. How Much Will a Bachelor(ette) Party in Cancun cost?
Probably my favourite thing about this part of the world is that you can enjoy lavish luxury at affordable prices.
Don't break the bank in Vegas and come home with nothing but a hangover.
Instead, get major bang for your buck in Cancun and at the very least come home with a tan.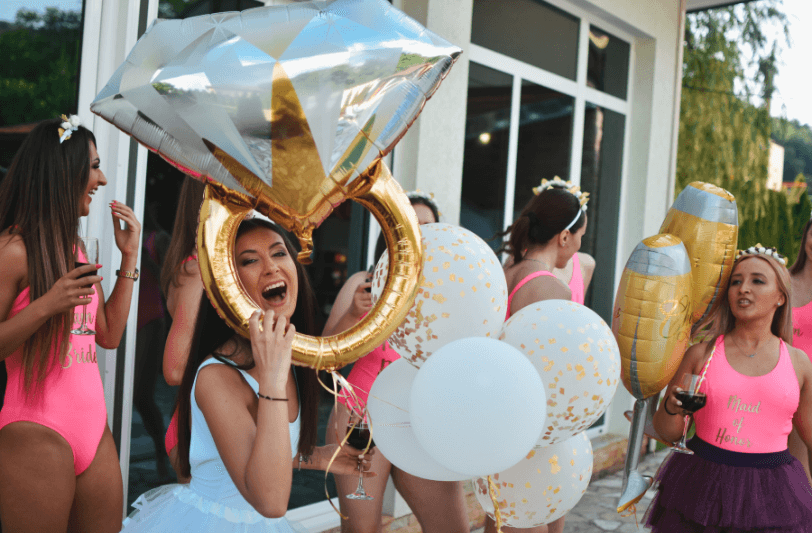 Naturally, when planning anything of a slight expense you may have guests that can't come because they can't afford it.
So for clarity, let's break it down.
Whether your group is paying for themselves, or you are rolling in it and have decided to pay for the whole thing….
Here's how much you can expect to pay per person:
Flights:  $250 – $450 per person (USA)
3 nights at an all-inclusive resort: $400-500 USD
Transportation to & from the airport (cost can be split) = $20 USD
Gratuities & extras (for tours/eating/drinking out): $150 – $500 USD
Estimated amount: $820 – $1470 USD
The more, the merrier in Cancun.
Naturally, the bigger your group is the smaller the expense often is for transport and private yacht charters.
You simply just split it.
If you have any questions, our team is here to help and provide you with an exact quote based on your group.
Plus, we will handle all group bookings and logistics for you.
No hassle!
3. Best Cancun Bachelor(ette) Party Venues
Cancun is a big place.
You may be wondering where to start…
Which Area Should You Stay In?
For me, Cancun has the best of all world's.
There is something for everyone!
If your group is ready to let their hair down and enjoy the hustle & bustle of the city, Cancun's Hotel Zone is where you need to be.
Want a more relaxed vibe?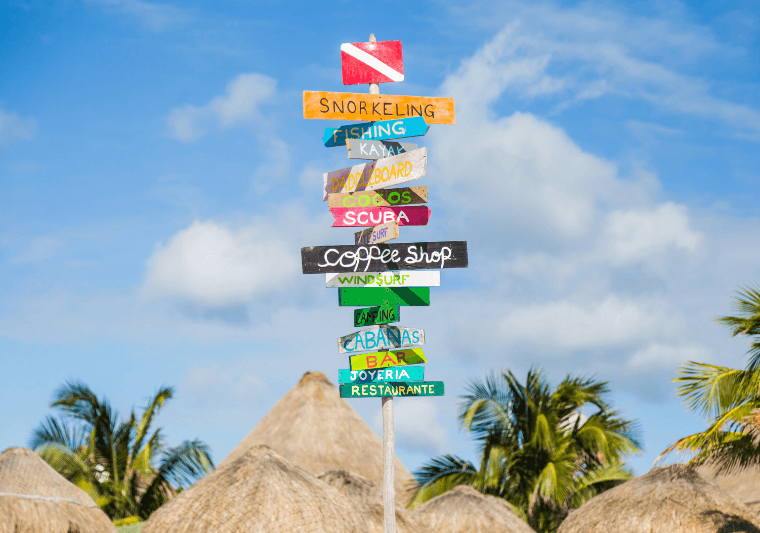 Enjoy the pristine beaches and tropical vibes of Costa Mujeres.
It's far enough away from the hotel zone to feel secluded but close enough (20 mins) if you do want to dip your toe into the social scene of city life.
What Clubs Should You Visit?
By clubs, I'm talking nightclubs.
If you like to party in the evening into the early hours of the night…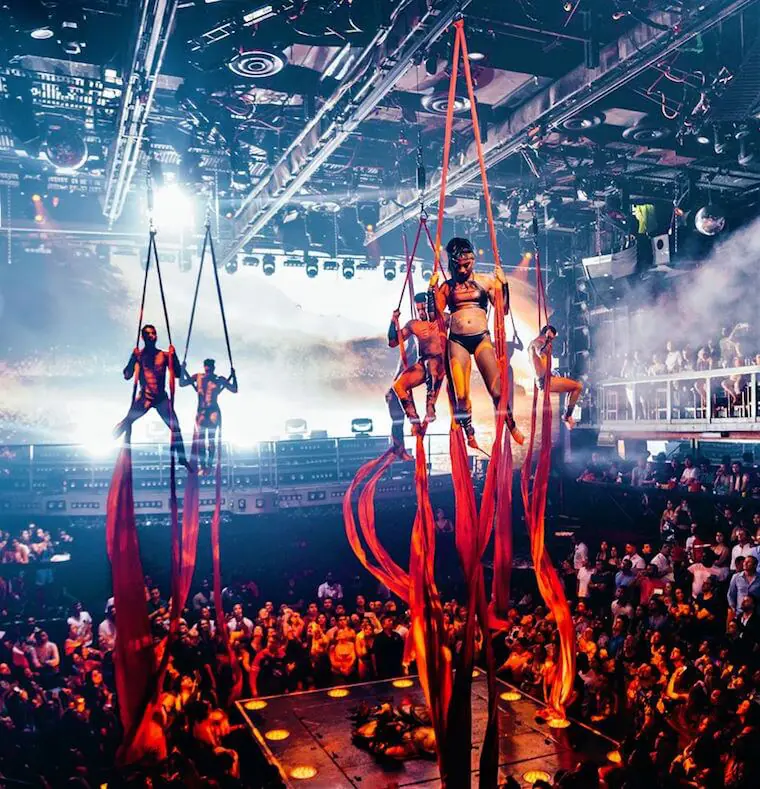 Our top picks include:
Remember, you will have to take extra money for food & drink purchased outside of your all-inclusive resort.
Some places such as Coco Bongo do offer special types of tickets that include bottle service, open-bar etc.
Please check with the establishment before making your decision.
Plus, you will of course, need transport/taxis.
So, be sure to factor this into your group expenses and let everyone know.
Which Beach Bars are Worth a Visit?
Sometimes it's just nice to sip cocktails by the beach, listen to great music, and spend some quality time with your friends, right?
Our top picks for Cancun include:
4. Who Should You Invite?
If you are planning the bachelor/bachelorette party for the bride or groom, it's always best to get their input.
Ultimately you want them to feel comfortable and make sure they are having a great time.
The guest list normally comprises of:
the bride, bridesmaids, close friends, and female family members
or groom, groomsmen, best man, close friends, and male family members
Leaving the guest list up to the bride & groom for their party is definitely the best way to go.
It's good to get your invites out as early as possible for the best chances of everyone being able to attend.
It gives people time to save, book time off, get childcare etc.
Another factor you should consider is whether you want a more intimate event or a larger group.
It totally comes down to personal preference, but there are pros & cons for each.
Smaller groups:
can be easier to organize
often work out pricier
mean you can share these moments with those closest to you
are great for spa days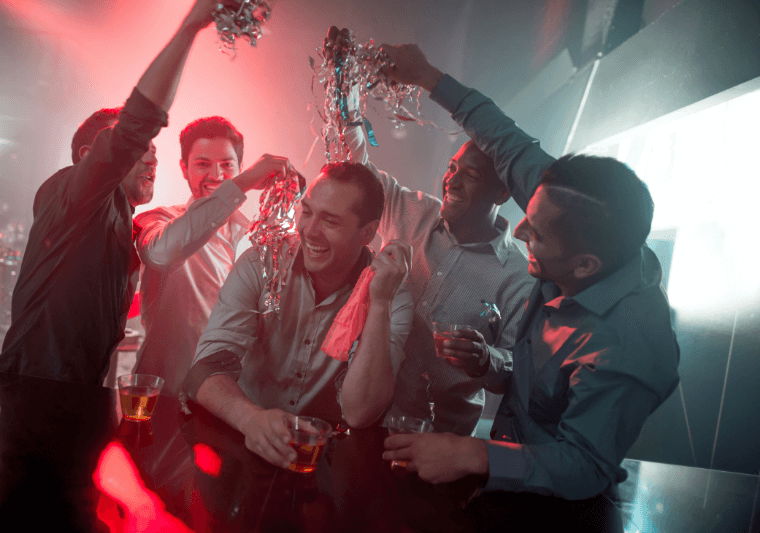 Larger groups:
may be overwhelming getting organized (without the right help)
often work out cheaper due to large group bookings at hotels qualifying you for perks & discounts
may mean inviting people you don't particularly like or want to spend a lot of time with
5. When is the Best Time of Year to Throw a Bachelor/Bachelorette Party in Cancun?
There are a few things to consider when throwing your party:
When the wedding is
The guest lists availability
Peak season
Depending on when the wedding is, check with the bride or groom when they want the last fling before the ring to be.
December to April is the best time for a visit to Cancun when it comes to the weather. 
This period is typically referred to as peak season.
During this time, flights and hotels are a little pricier.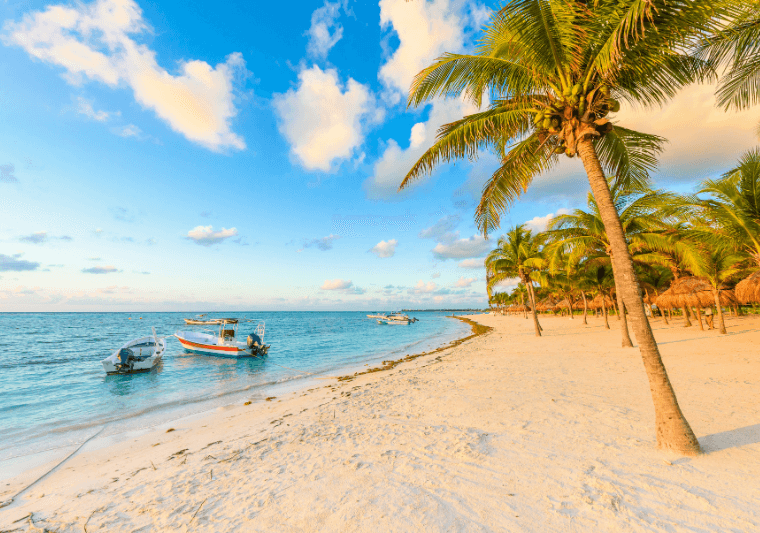 Even though rainy season means that it might rain once or twice during your visit, it's still hot as hell.
1 more tip…
Check everyone's availability BEFORE YOU BOOK ANYTHING. 
The last thing you need is to get everything sorted…
Only for the bride's sister to come back with: "Sorry, I have a thing then."
Cancun International is the closest airport for Cancun and resort destinations in Riviera Maya. 
Our team can organize package flights from the US and Canada. 
This is great for group bookings, especially if you want:
the best rates
to sit together
and handle the logistics all together
If you prefer to find your own affordable flights, there's a few sites you may find useful:
They're pretty good for bargains and easy to use.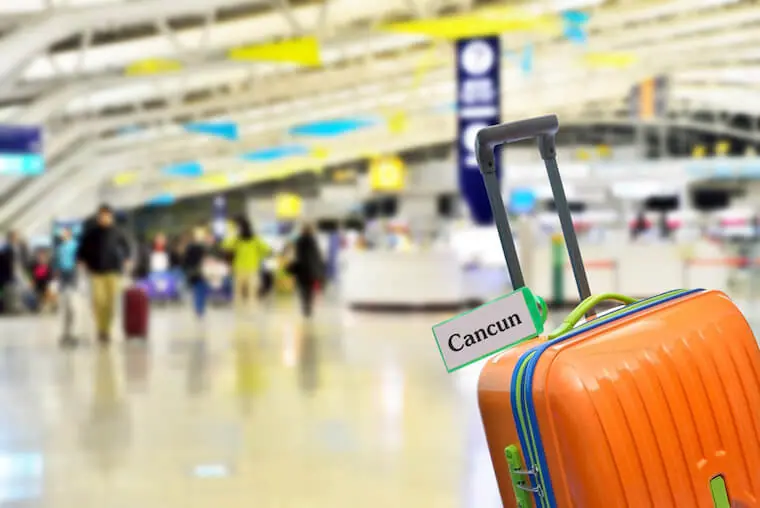 Wondering how to get from the airport to the hotel or resort?
I recommend a private shuttle as an easy and comfortable option. 
The trip to the hotel zone in Cancun takes about 25-30 minutes. 
If you need any help getting organized, call us us on our toll-free number 877-737-0177.
7. Choosing The Perfect Hotel
Looking for an amazing hotel for your bachelor/bachelorette getaway in Cancun?
No worries. 
Cancun, Playa Del Carmen and the entire Riviera Maya are adorned with amazing resorts that are everything a bride/groom & their tribe could dream of. 
We've been working in Quintana Roo for over a decade, working with & regularly inspecting the hotels.
We know them like the back of our hands.
Here are 3 of my personal favorites for bachelorette parties with style and sass:
1. Breathless Riviera Cancun
★★★★★ | Adults-Only | Puerto Morelos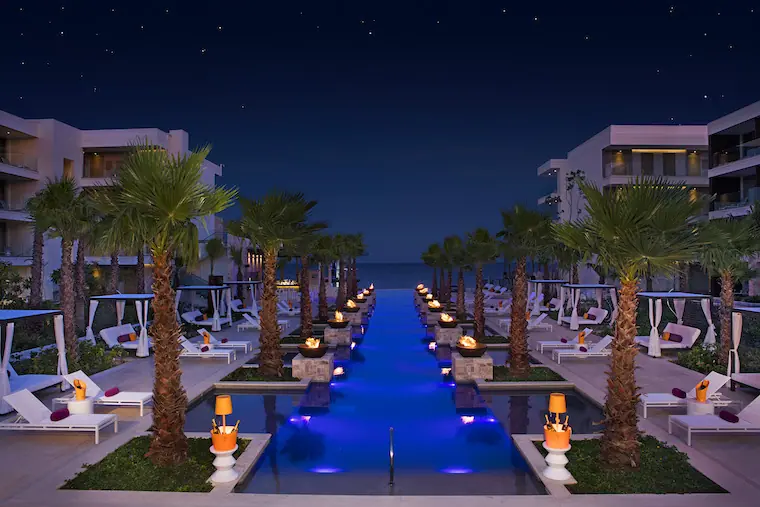 There are 10 gourmet restaurants and 10 different bars at this resort. 
You also get access to an amazing bachelorette party package. 
The perfect place to party!
2. The Hilton Resort Playa Del Carmen
★★★★★ | Adults-Only | Playa Del Carmen
This hotel has the slogan "Expect the Exceptional."
It's easy to see why. 
The service and amenities are spectacular. 
I should also mention the spacious suites with double jacuzzis. 
Looking for the best location to stay in Cancun?
You can't get much better than this luxury accommodation. 
Right on the Playa del Carmen beach, it's just a few steps away from the attractions of 5th Avenue and the fabulous local nightlife. 
3. Hard Rock Riviera Maya
★★★★★ | Family-Friendly & Adults-Only | Puerto Aventuras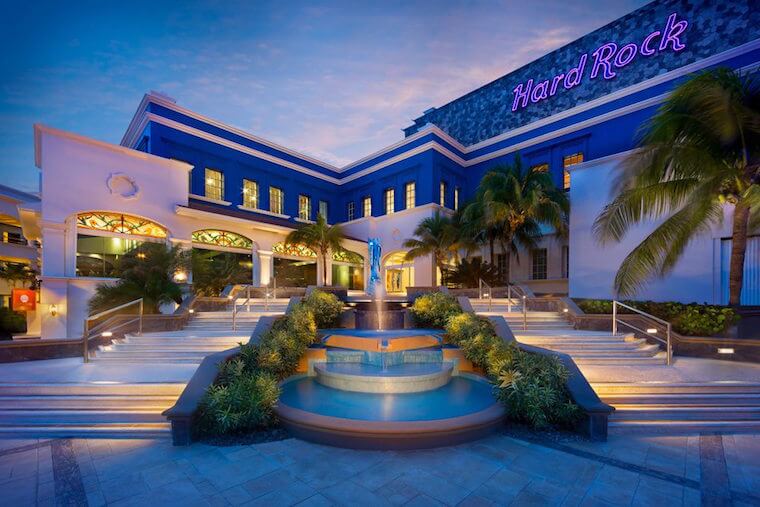 Looking for a bachelorette party destination that's kid-friendly?
If any of your guests are bringing their children along, the Hard Rock Hotel is perfect. 
There's also an adults-only section called "Heaven". 
Stay at either section and you get to use all the amazing amenities. 
They include a private beach with a stunning cove, 3 pools, and 5 à la carte restaurants. 
At ParadiseWeddings.com we understand that finding the right hotel for your group is essential.
Based on your needs, budget, and vision, we will use our expert knowledge to help you whittle down the choices and find the best option for your group.
Just call us on our toll-free number 877-737-0177 to start planning.
There's far more to Cancun than just drinking.
Make memories that last a lifetime!
This part of paradise is blessed with some of the best things to do in the world!
Explore ancient ruins, take a private yacht charter, snorkel and so much more!
Here are few ideas to get you started…
1. Traveler's Table Food: Food & Drink Tour 
Adult: $139 | Transportation Included | 3 hours | Riviera Maya | Tues & Thurs
Like the sound of stunning cuisine, spellbinding storytelling, and socializing fun?
This tour brings all that and more to the party. 
Take a trip through the history of local gastronomy while learning about influences from Spain, Africa, and the Middle East.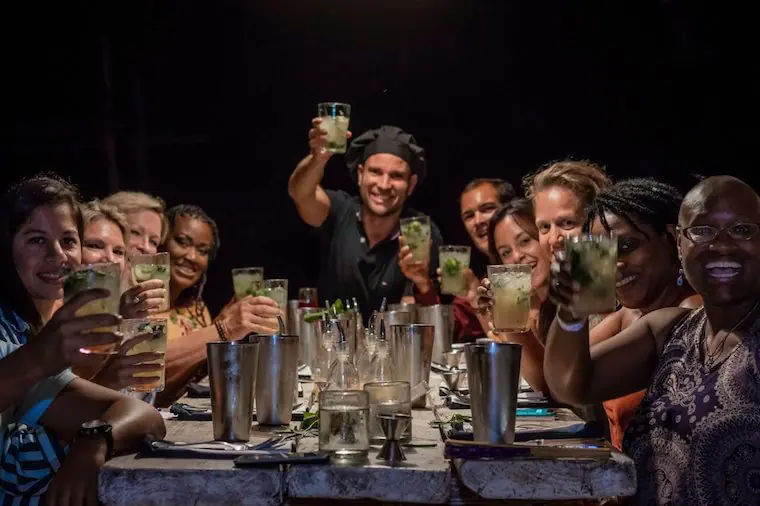 Guests from across the globe share a 5-course-meal accompanied by wines, mezcals, and tequilas. 
*Private tours available for groups of 12 or more*
*Advice about dietary requirements required in advance*
2. Luxury Private Catamaran – Tulum Ruins 
Group 1 – 15 $4,200 | Group 16 – 30 $4,500 | 8 hours | Puerto Aventuras Marina
Looking for a memorable luxury bachelorette experience?
This private catamaran tour to Tulum Ruins is just what you want. 
You get a professional guide, an open bar, cheeseburgers, chips and snacks. 
Cruise to the best place to see the famous Tulum ruins.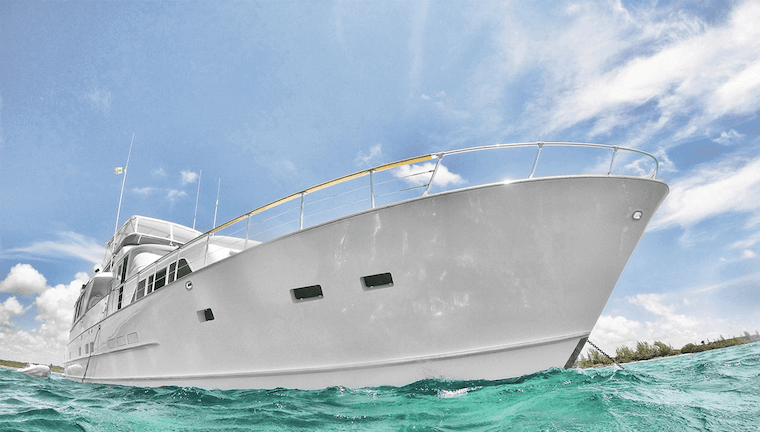 Then, head to La Bocana for swimming & snorkelling in stunning shallow waters. 
*Ask for details of VIP options including private chef, champagne, and a private masseuse. *
Like the idea of a luxury yacht tour?
3.Chichen Itza Tour 
Adult: $129 | Includes Transportation |10 hours | Every Day 
Heard about the wonder of Chichen Itza?
Your bachelorette group gets to experience it on this full-day tour. 
A visit to this world-famous archaeological ruin is an unforgettable experience.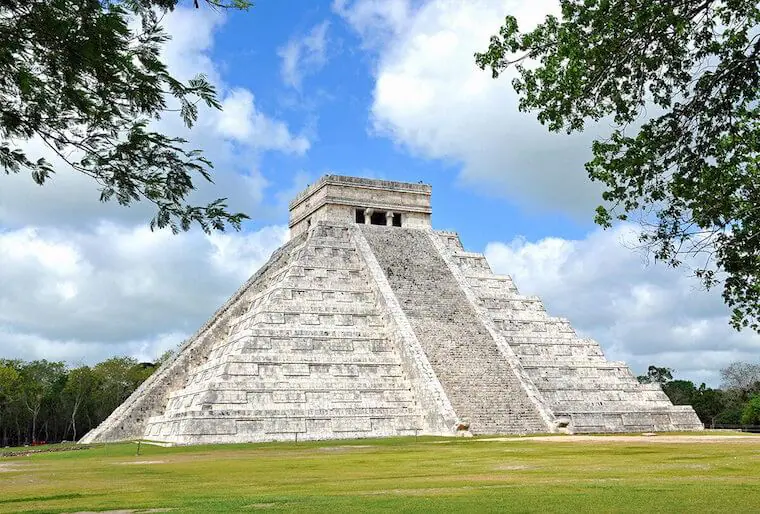 Travel from your pick-up point on an air-conditioned coach or minivan. 
Tour the site for 1.5 hours with a professional guide. 
See sights like the Temple of Warriors and the Platform of Venus. 
Explore as a group for a further hour. 
Then, visit a cenote (freshwater sinkhole) and take a refreshing swim, if you choose to. 
*Exact pick-up times confirmed at time of booking*
Want to know more about any of these trips?
Call us for details and great prices at 877-737-0177
There's even an option to witness Chichen Itza by night!
Dressing up for your bachelor/bachelorette party makes everything more fun!
The photos that will live on will be legendary.
In need of some inspiration?
Here are some ideas we've seen in the past that went down a treat:
Frida Kahlo
James Bond
Superhero
Boho Chic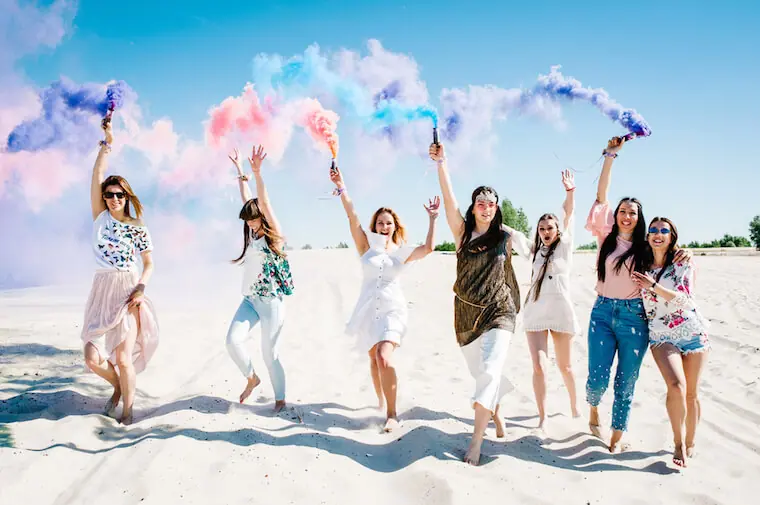 90s
Nautical
American flag stripe/country colors
Harry Potter
Country
Have you got any more suggestions or ideas?
We would love to hear them!
Let us know down in the comments section below.
10. Tips for a Perfect Bachelorette Party in Cancun
Guest list, flights, accommodation, tours…
Something missing? 
The final ingredient for the perfect bachelorette party is finesse. 
This covers a multitude of finer details that make a world of difference. 
Need a nudge in the right direction?
Here goes…
1. Plan nights out in advance 
Thinking of socializing on the fly during your destination bachelorette party? 
That might sound exciting, but so much could go wrong. 
Disagreements over food and arguments over expense can really ruin the moment.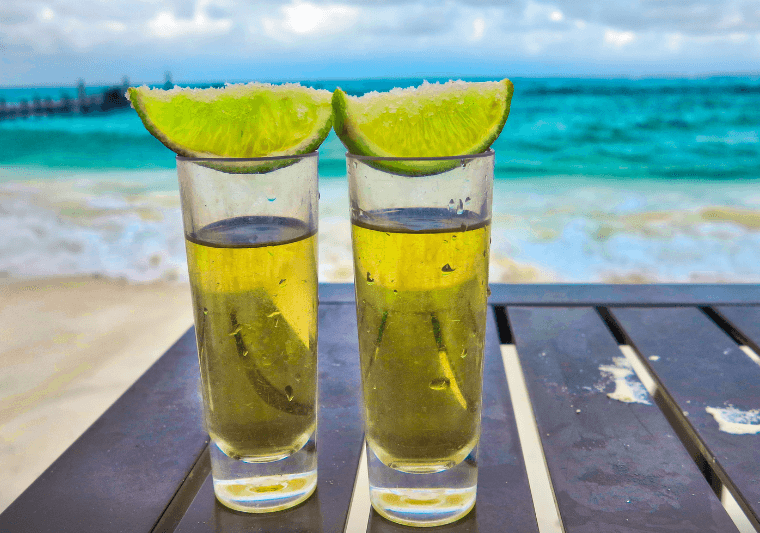 Planning important things like group meals means everyone knows what to expect. 
You can always leave the impromptu choices for beach trips and girl time by the pool. 
2. Set up a group chat 
Every group trip needs a group chat. 
You can set up a snapchat group.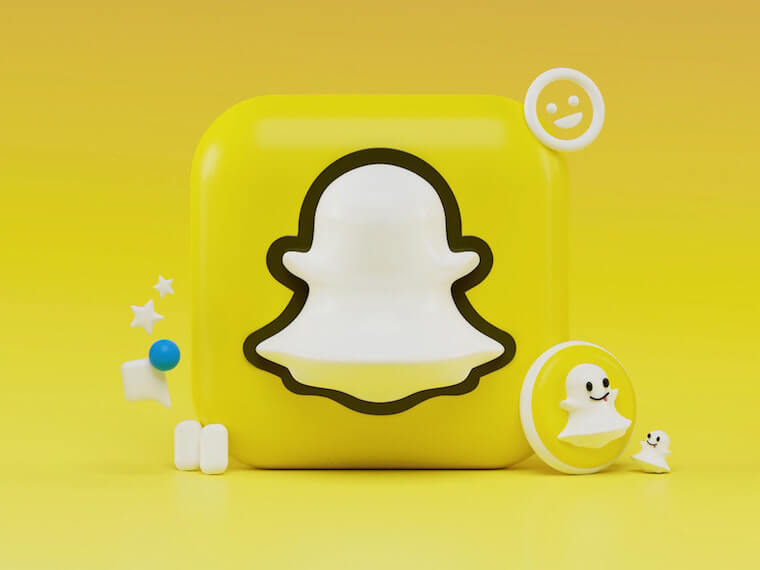 Or go with Messenger or WhatsApp.
Then you're all good to message to your heart's content. 
Who's for the spa?…
Check out the shoes I just bought…
Where you all at?…
You get the picture why group chat is a must. 
3. Use Google Forms or other free surveying tools
Surveying your guests is a great way to get everyones 2 cents.
All you need is their email and you can fire away with your questions, like:
"Where would you rather go: Vegas or Cancun?"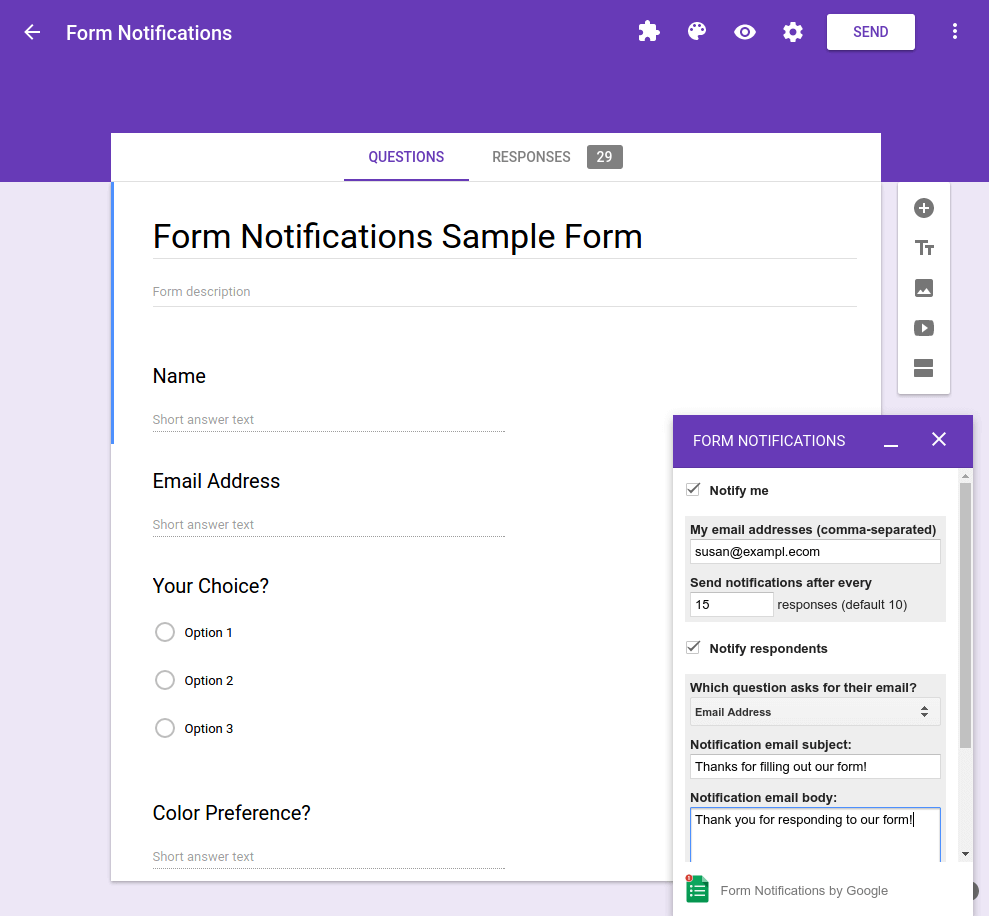 Or…
"What would be the best dates for you?"
"What theme should we have?"
You get the picture.
Plus, they are super easy & quick to create.
4. Use apps like Splitwise or Venmo for splitting costs 
It's amazing how quickly people can fall out over who paid for what and who owes whom.
You don't want arguments over money to ruin such an important event. 
I love money-sharing apps like Splitwise and Venmo.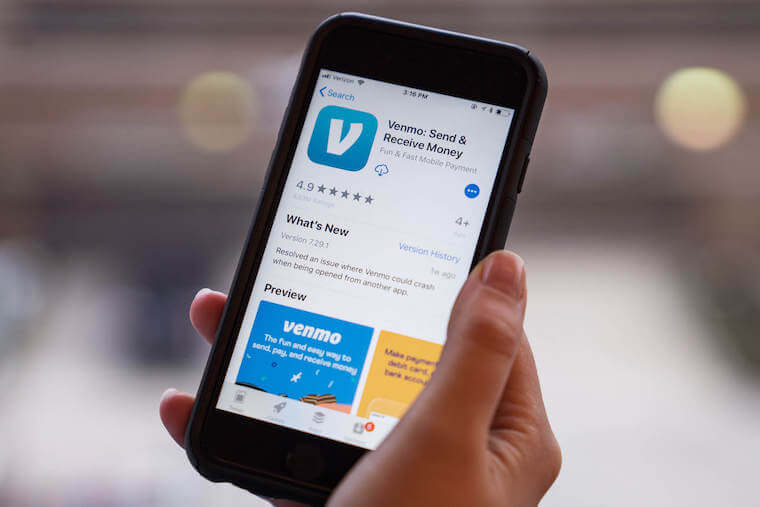 They make life easier and cut the quarrelling.  
5. Plan fun games & activities 
Even in a tropical paradise like Cancun, there's a lot to be said for bachelorette party games and activities. 
If you're looking for some poolside laughs or beach fun, try some of my favorites:
The "Drink If…" Game
Ever played "Never Have I Ever?"
This game has a similar vibe. 
There's a list of "drink ifs", everyone reads out an item at a time, and you drink if it applies to you. 
You get the idea. 
What's in Your Phone
Think: scavenger hunt without the aching feet. 
Chill by the pool with cocktails and find items off a list in the contents of your phone. 
It's that simple.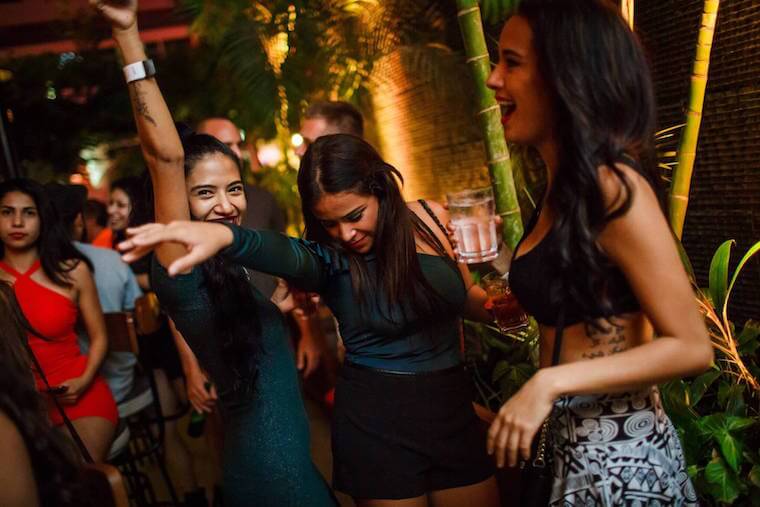 Points are awarded based on how common or rare the item is. 
Add a bonus for x-rated searches for extra fun. 
The winner is the one with the most points. 
How Well Do You Know the Bride? 
The premise of this game is super simple. 
Whoever gets the most right answers to questions about the bride is the winner. 
Why not make these games more interesting with a bottle of fizz for the victors? 
Speak to our team at ParadiseWeddings.com
We live and work in the area and we know all its best kept secrets. 
You'll get the luxury accommodation, exciting tours and Cancun bachelorette party packages.
Everything you need to create an unforgettable experience for the bride and her tribe. 
Call us at our toll-free number 877-737-0177
Or email us at [email protected] 
Happy planning!