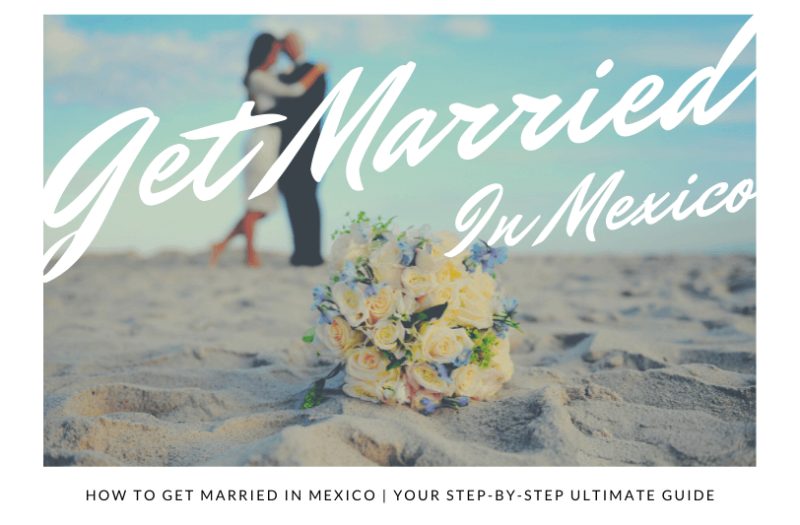 Thinking of having a dream destination wedding in Mexico?
Yeah you are!
Our team here at ParadiseWeddings.com has organized 100's of weddings…
and we're here to help you! 🙌
You'll get all the insider info to turn your dream wedding into reality. Destinations, resorts, and wedding packages.
You'll also get our destination wedding planning timeline.
Ready to start your discovery?
Let's take it step by step…
Step-By-Step Guide to Planning Your Wedding in Mexico
---
1. Why Have a Wedding in Mexico?
Love the idea of a wedding with sunshine and sand?
I hear you.
And let me say that Mexico is the perfect choice.
Just look at how stunning it is….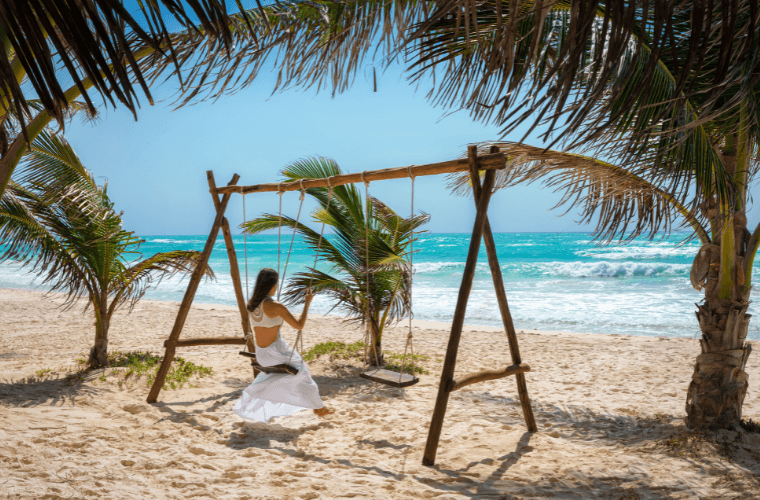 And that's not all…
You can fly direct from most US cities to your chosen Mexican wedding destination.
Plus, there's an array of destinations, resorts and wedding packages to choose from.
And, you don't have to break the bank to get fabulous memories to treasure.
Whether you say "I do" on the beach, in a chapel, or on a Sky Terrace, you'll never forget your Mexican adventure.
2. What to Expect From a Destination Wedding in Mexico
Unsure what to expect from a destination wedding in Mexico?
That's natural.
Let me put your mind to rest.
The team at ParadiseWeddings.Com has helped 100's of couples arrange their big day.
I'm here to put all that experience to use introducing you to the magic of Mexico.
You can expect brilliant blue skies, a clear welcoming sea, and of course the warm kiss of the sun.
Just look at this Carribean paradise…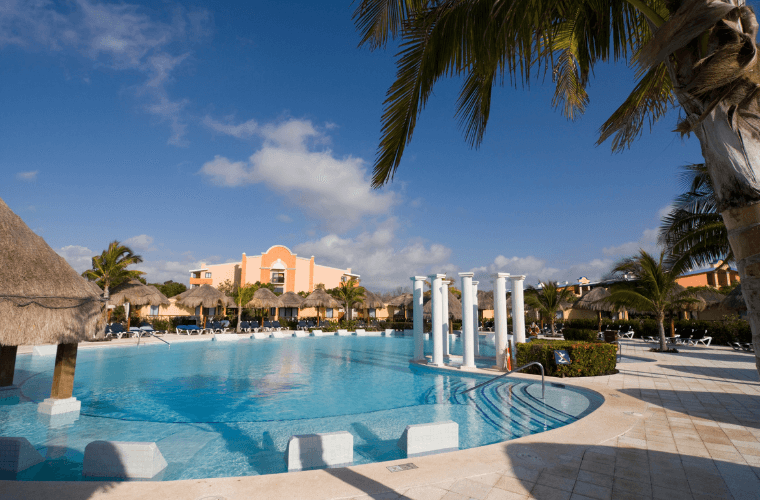 Our team is right at the heart of Playa del Carmen.
We know all the best beaches, locations, and resorts.
Most importantly, we're wedding package experts.
We'll help you plan your Mexican destination wedding.
How Much Does a Wedding in Mexico Cost?
Concerned about being able to afford a wedding in Mexico?
I have excellent news…
You can get a luxury wedding package in Mexico for between $4,000 and $6,000 USD.
Compare that with an average cost of $33,900 for a wedding at home.
That's not all…
We'll get you the best possible deal and arrange any add ons and extras at an affordable cost.
Trust me, you'll get way more bang for your buck than you would getting married at home.
Sounds good to you?
That's great, stick with me as we take the next planning step.
3. What is the Best Month to Get Married in Mexico?
Let's face it, the weather is pretty much at the heart of planning any destination wedding.
The great thing about Mexico is that it's warm all the time.
But, there is more rain from June – October.
I wouldn't necessarily rule this time of the year out altogether.
Typically, it may only rain for 1 hour or 2 and then the sun reappears.
It's a risk, but you can get great deals during the rainy season.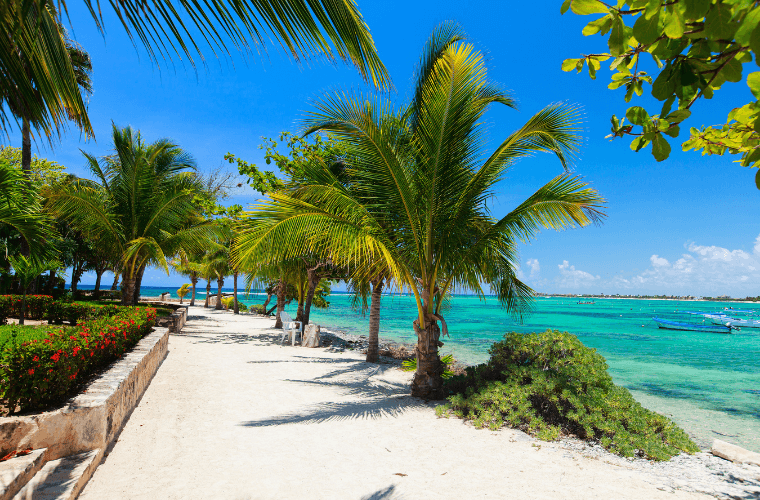 If you want to play safe, the best time to get married in Mexico is between November – April, since it's dryer.
From my experience, many couples choose January and February.
The weather is warm during the day and temperatures are still moderate at night.
Plus, you get to avoid high season times such as Christmas, Easter and when the kids are not in school.
4. Where Can I Have a Wedding in Mexico?
Are you debating "West Coast vs East Coast" for your wedding in Mexico?
I've got you covered.
I'll give you the low down on popular locations in both areas of the country.
West Coast
The Pacific Coast (west coast) of Mexico is not as exquisitely pretty as the Carribbean (east) coast.
But, it's still impressive and has advantages.
1 big plus is that flight times may be shorter for you and your guests.
Here's a sneak peak at 3 locations on the west coast that couple's love.
1. Cabo San Lucas
This is 1 of my favorite places on Mexico's west coast.
The scenery has such a sense of dramatic romance about it.
You'll find Cabo San Lucas (or simply Cabo) at the tip of Baja California Sur where the Sea of Cortez meets the Pacific Ocean.
There's an international airport in the city, so it's easy to reach.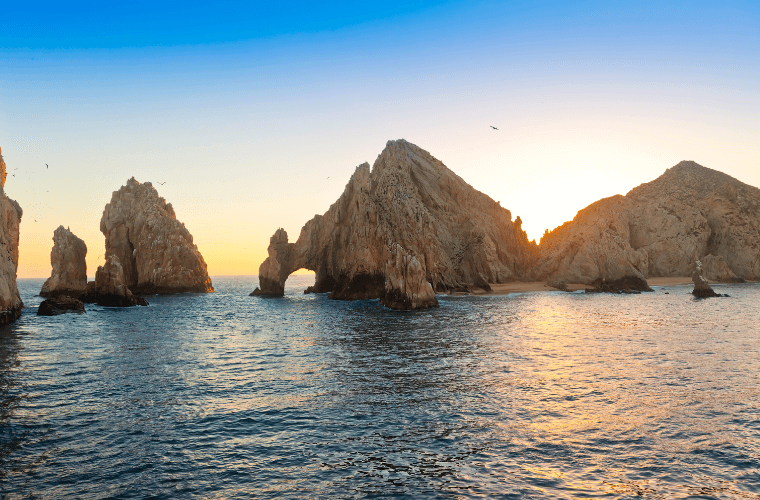 The luxury resorts and spas in Cabo are impressive.
If you're anything like me, you'll appreciate some tranquility too.
You can get this at Todos Santos.
It's only a 1 hour drive away and there's some excellent surfing opportunities if that's your thing.
2. Huatulco
Huatulco may be one of the youngest cities in Mexico, but this doesn't stop it being home to an array of top-flight resorts.
You also get 9 stunning bays and 36 beaches to explore.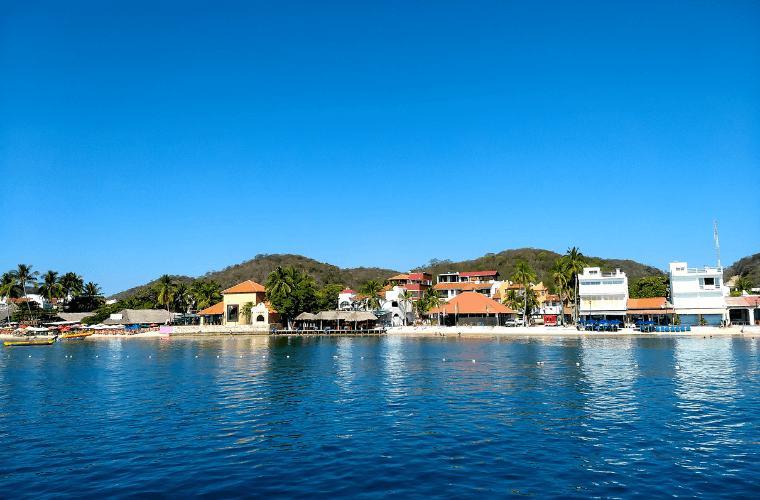 Plus, the city has its own airport so it's super easy to get to.
3. Puerto Vallarta
As you can see, the vistas at Puerto Vallarta are naturally beautiful
Between the clear blue water and the mountain landscape, you're spoilt for choice for a memorable backdrop for your destination wedding.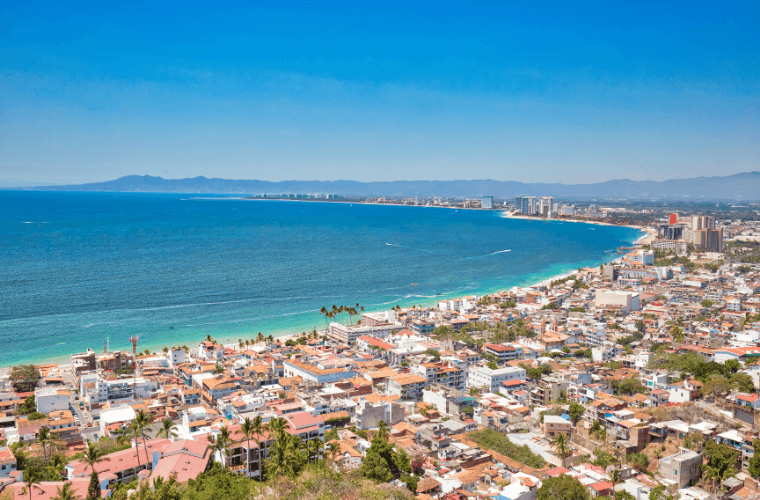 If you're looking for adventurous activities for you and your guests, there are zip lining and bungee jumping opportunities to get your heart racing.
The resort is served by Licenciado Gustavo Díaz Ordaz International Airport, so getting there is no problem.
East Coast
The east coast of Mexico, known as the Riviera Maya, lies along the crystal blue waters of the Caribbean Sea.
Cancun, Playa del Carmen, and Tulum are the most popular choices for destination weddings in this part of the country.
You can reach them all by taking a flight to Cancun International Airport.
Many North American cities have non-stop flights to this airport.
That's always good news, right?
Here's a taste of what you can expect from these 3 resort destinations.
1. Cancun
If you're looking for sun, sand, and vibrant nightlife, Cancun is about to become your best friend.
Technically, just north of the Riviera Maya resort zone, it has its own famous Hotel Zone.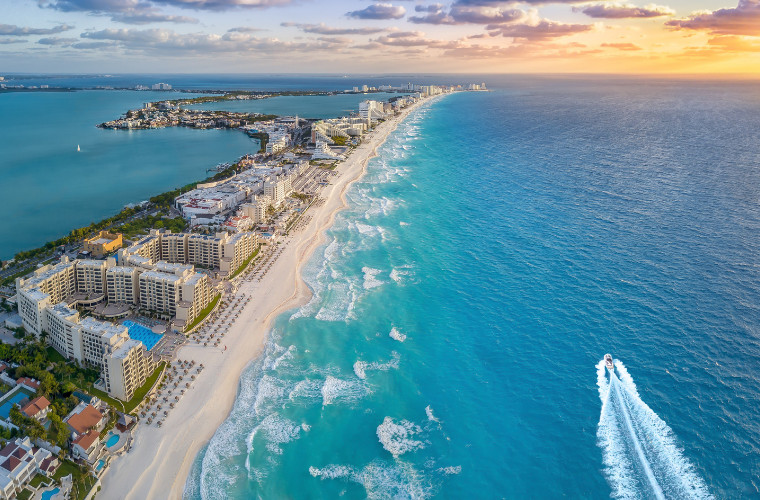 The hotels in this area are only a 20-30 minute taxi or shuttle ride from the airport.
You also get more for your dollars in this haven of incredible wedding package options.
Start planning your wedding in Cancun here or find a wedding location in Cancun you'll love.
2. Playa Del Carmen
Playa Del Carmen is Cancun's less manic, more laid-back neighbor.
Imagine a boho ambiance and a large expat population and you get the idea.
This isn't to say there's nothing to do.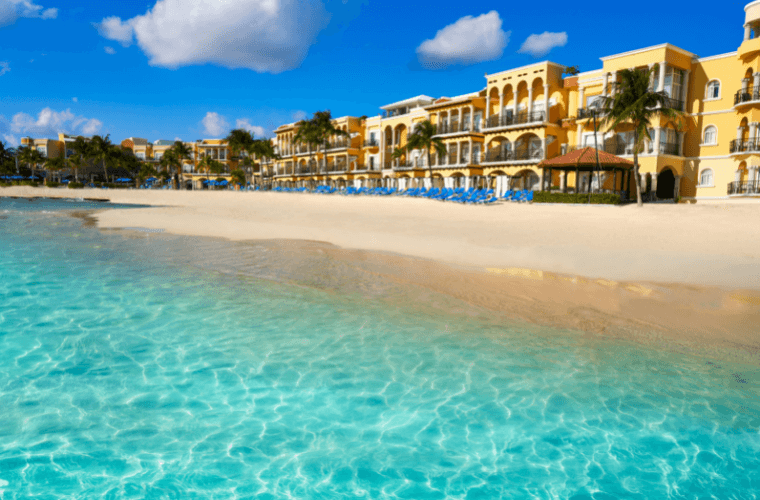 Far from it…
You get to spoil yourself by visiting a host of fantastic shops, restaurants, and bars.
With a huge bonus…
Chilled out beachside cocktails as the sun goes down.
Plus…
You're close to exciting attractions like Chichen Itza, Tulum & Xel Ha, and Xcaret.
If Playa sounds like your vibe, explore the luxury wedding venues in Playa or explore wedding resorts in Playa del Carmen here.
3. Tulum
I have a special place in my heart for Tulum.
It's to die for.
There's an array of powdery white sand beaches that are perfect for a destination wedding.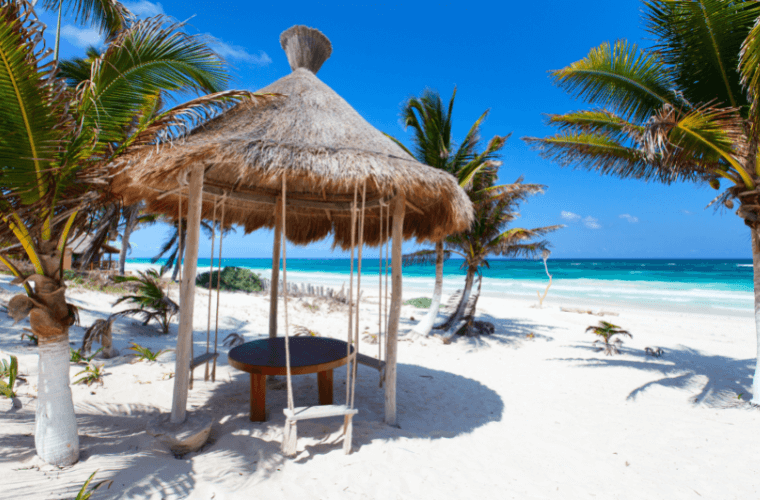 It's also got an untouched but chic vibe that is enchanting.
Many of the accommodations and eateries have an eco-friendly focus.
And nature is definitely a star.
The downside, though, is that Tulum is a 2 hour drive from the airport.
Personally, I think it's worth it.
Finding the right location for your wedding takes you into another step in your journey, choosing the type of wedding you want.
For this, we prepared a list of the best wedding locations in Tulum.
5. What Types of Wedding Destinations are Available?
Our specialty is planning weddings in all-inclusive resorts in the Riviera Maya.
So, we're concentrating on the types of wedding destinations in that part of Mexico.
But, you'll find that these details are similar in resorts across the country.
Ready to see the 4 main wedding destination options you have?
Here we go…
All-Inclusive Hotels & Resorts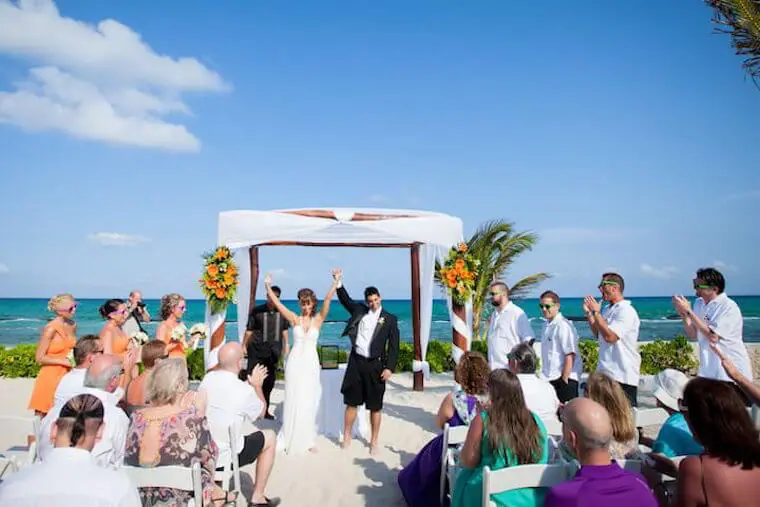 Looking for a destination wedding in Mexico that's easy to organize?
I'd like to give a shout out to all-inclusive resorts.
They're easy to book for your entire wedding party.
And, all-inclusive packages include…
Well, pretty much everything, as the name suggests.
Book a Riviera Maya or Playa del Carmen wedding package and get what you need.
Packages essentials include:
Ceremony
Officiant
Flowers
Venue
Sparkling wine or champagne
In fact, many packages include a whole lot more, from private receptions to free honeymoon nights.
Speak to us at ParadiseWeddings.com and we'll work with an on-site wedding coordinator to help you arrange your dream destination wedding.
When you arrive, everything will already be taken care of.
The coordinators will even give you advice about what paperwork you need.
Like the sound of an all-inclusive resort?
Most resorts have stunning and varied wedding locations for you to choose from.
Many couples prefer beach ceremonies, but you may want to marry on a roof terrace or in the gardens of the resort.
We'll help you find a resort that has the perfect wedding setting for you.
Wedding in a Private Villa
Private villas have become more popular as destination wedding locations lately.
It's easy to see why.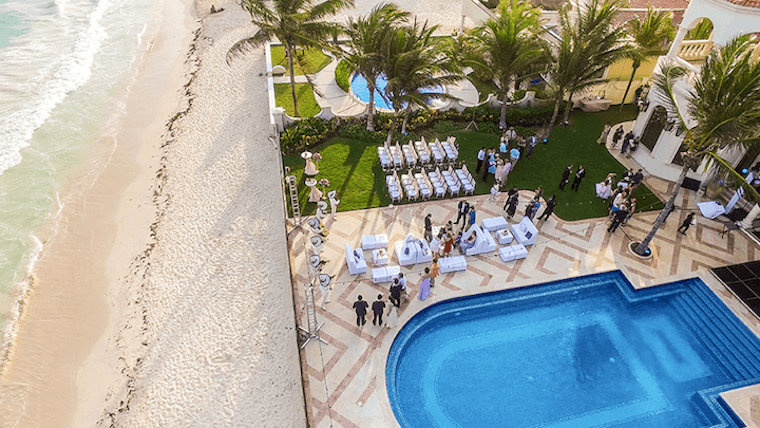 You get complete freedom with your choices and the whole event is in one place.
You will need to hire a local wedding planner to organize suppliers and logistics.
Of course, this means that you can just sit back and watch the magic unfold.
Cenote Weddings
Are you a nature lover?
Then, a cenote wedding is going to be a dream come true for you.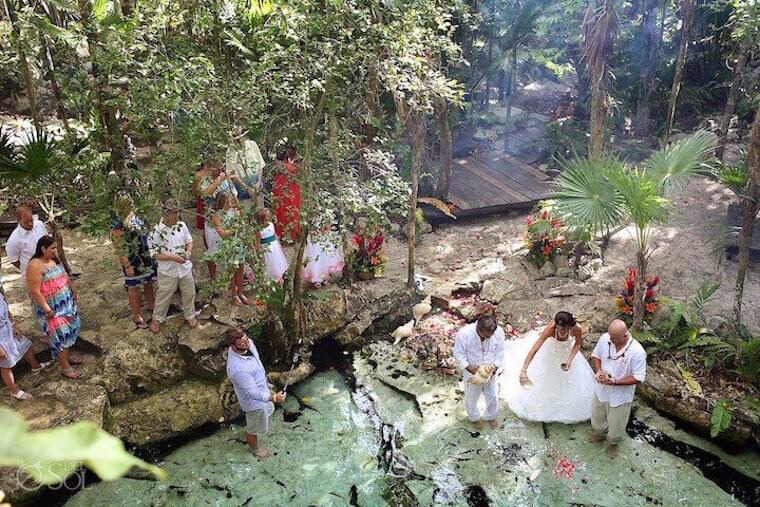 You get to exchange vows in the jungle with the pure waters of a freshwater sinkhole as your backdrop.
There's something very peaceful and profound about this ceremony location.
Psst…
Mayan ceremonies go really well with this choice of location and you'll have some incredible wedding photos.
Chapel Weddings
The Spanish influence can be seen everywhere in Mexico.
This includes gorgeous chapels where you can have a Catholic wedding.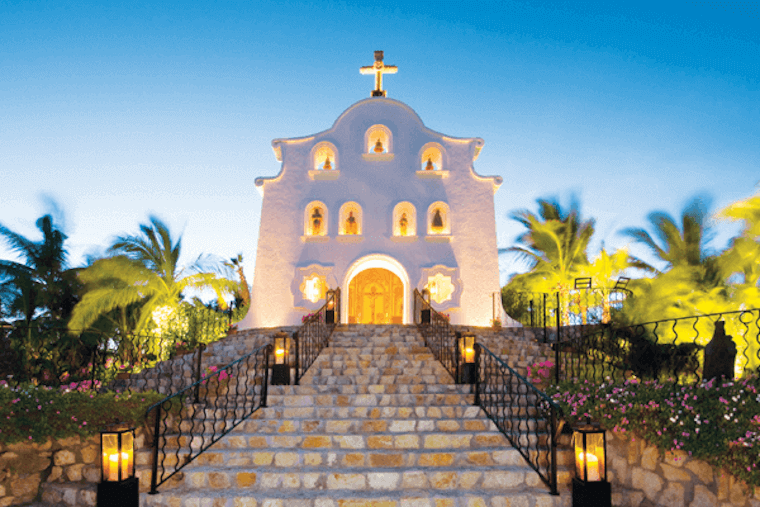 Some of these chapels are independent and others are in resorts.
1 chapel I think is really beautiful is "Our Lady of Carmen" on 5th Avenue in Playa Del Carmen.
If you do want to have a Catholic ceremony, you need to prepare beforehand.
Check with your local parish about the requirements for your Catholic Destination Wedding.
6. How to Choose a Wedding Package in Mexico
Deciding what type of ceremony you want is a major part of finding the right wedding package.
The next step is to ask yourself these questions:
What type of wedding setting do I want?
How much can I afford to spend?
What details of the day are important to me?
What items are not negotiable?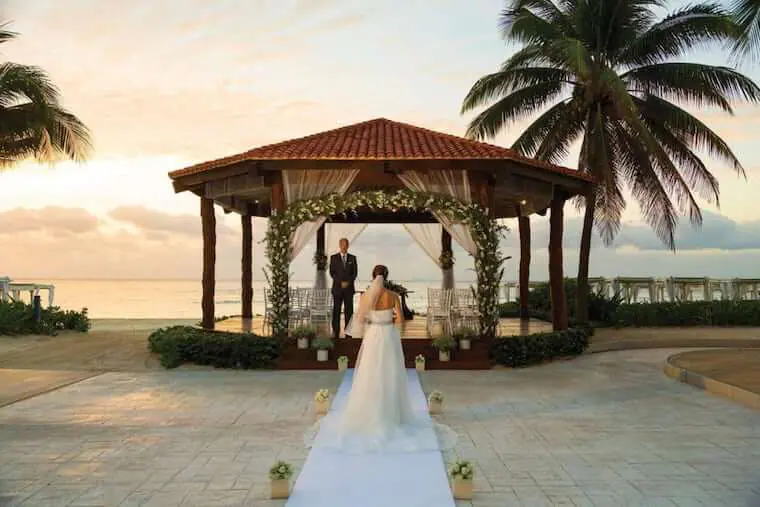 Your answers will help you decide on the perfect package.
As a starting point, you can expect a package to include:
A venue for the ceremony.
Chairs and table linens.
Bridal flowers and a boutonniere for the grooms with other florals included in most packages.
Music for the ceremony.
Champagne or sparkling wine for the toast.
Semi-private or private reception depending on the package.
Catering and bar service.
Extras for the wedding couple such as late checkout, complimentary room upgrade, and complimentary honeymoon nights.
We'll help you take the answers to the questions about what you want from a destination wedding package and turn them into reality.
You can explore resort options with us.
We'll help you see which resorts and packages best suit your requirements.
You can even visit the venue before your wedding if you choose to.
Don't forget, you also have the services of a dedicated wedding planner when you arrive for your wedding.
They'll give you all the support you need and make sure any customizations are in place.
1 last thing…
Go with your heart.
Your wedding has to be one that you will love and cherish forever.
Here are 2 articles you'll love:
7. What Documents Do I Need to Get Married in Mexico?
Many couples choose to have a symbolic ceremony in Mexico and take care of the legal side at home.
Prefer to marry legally in Mexico?
No problem, you can do this.
If you choose this option, you'll need:
A completed marriage request form.
Original birth certificates and copies translated into Spanish by a certified translator.
Valid passports.
Prenuptial certificate with proof of HIV-negative and blood type.
Divorce or death certificate (if applicable).
Valid tourist visas.
Originals IDs for 4 witnesses and copies.
When the ceremony is over, you'll get an official marriage license.
8. Do I Need a Wedding Planner for a Destination Wedding?
The short answer to this question is YES.
Why? Is it really such a big deal to organize my own wedding?
Here's the thing…
You're dealing with 80+ hotels in a different country.
You have no personal experience of what they look like and how good they are.
Thinking of just reading a few reviews and taking a chance?
That's not a good idea.
Trust me, you need expert advice and support from a wedding planner with local knowledge.
Read this guide to choosing a destination wedding planner.
How Much Do Wedding Planners Charge For Destination Weddings?
Some premium wedding planners charge a minimum of 20% of your wedding budget.
But, there's good news…
Our services come at no extra cost to you.
Call our team at ParadiseWeddings.Com at 877-737-0177.
We're experienced, local destination wedding planners.
We know the hotels, resorts, and wedding packages inside out.
We'll help you:
Choose the perfect hotel.
Understand wedding packages and decide which one is right for you.
Arrange and book flights if you're traveling from the US or Canada.
Plan and book tours and activities for you and your guests.
Arrange transportation and logistics.
We're happy to give you suggestions to inspire you.
And we work with the dedicated planners at resorts and hotels.
They'll make sure everything is in place when you arrive so that you can just relax and enjoy the occasion.
9. Can You Plan a Destination Wedding in 6 Months?
You can never say never.
But, in my opinion, you should allow 12-18 months to plan the destination wedding of your dreams.
Want to know more about how long it takes to plan?
No problem…
Suggested Wedding Timeline
I put together a guide timeline WITH CHECKLISTS, to help you stay on track.
12-18 Months Before the Wedding
Yeah, it's over 1 year away… but you can never be too prepared!!
Here's Your Checklist:
Find a resort here you love!
Connect with experienced destination wedding planners.
Work out your wedding budget. Remember to keep it real. Believe me, overspending is going to be a major headache long after your sunshine ceremony is over.
Spread the word casually so people know a destination wedding is in the pipeline.

Fix a date and find the best destination for that time.

Draw up a guest list.

Once you have confirmed the details, send a "save the date" to the people you want to attend.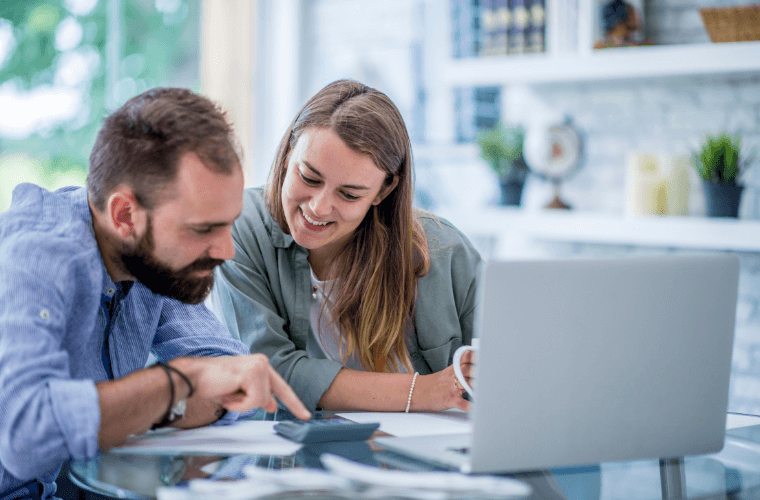 9-11 Months Before the Wedding
I'm starting with this point because it's super exciting…
Here's Your Checklist:
It's time to decide on a dress, shoes, and accessories.
Make your travel arrangements! Don't forget to plan how you'll travel from the airport to the hotel.
Send out your official invitations.
Include all details your guests need, including travel and accommodation options.
Send invitations and relevant information early. It gives your guests a chance to book time off work and get their finances together.
Organize a wedding registry at home so that guests can buy gifts before or after your destination wedding.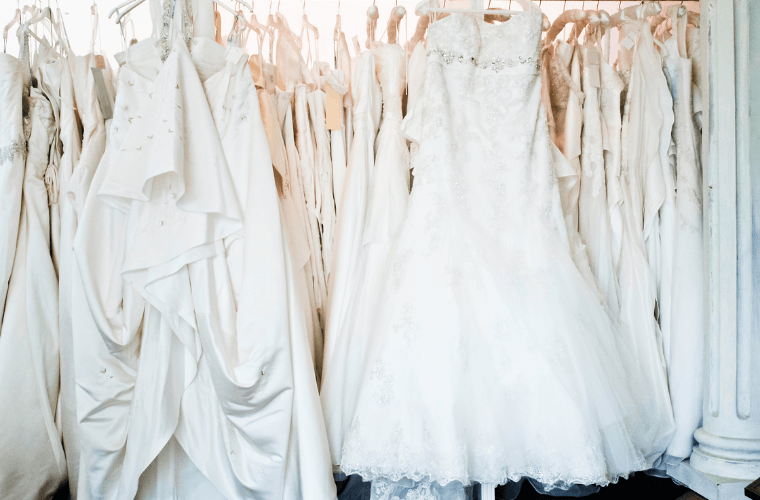 4-8 Months Before the Wedding
If you fail to plan, you plan to fail. Here's your 4-8 months before wedding checklist.
Here's Your Checklist:
Confirm all your travel details.
Your wedding package details are finalized.
All extras like photographers and entertainment are in place.
The legal documentation for your wedding is done.
Finalize the purchases of dress, shoes, accessories, and rings if you haven't already.
Don't forget the bridesmaid's dresses and groomsmen's outfits.
If you're writing your own vows, I'd get started now.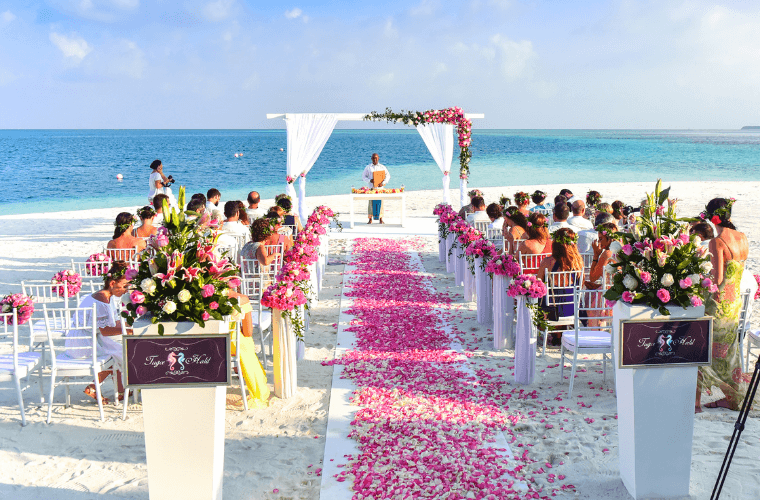 2-3 Months Before the Wedding
You're probably overcome with excitement and maybe some nerves.
DON'T FORGET TO BREATHE!
Here's Your Checklist:
2 words… Self Care. Go for walk, a yoga session, or work out daily. You want to look and feel like your best self on your wedding day.
Regroup and make sure everyone is on point. Does everyone have travel insurance!
Check in with the bridal party and give people a nudge if they need one.
Is your passport valid and up-to-date??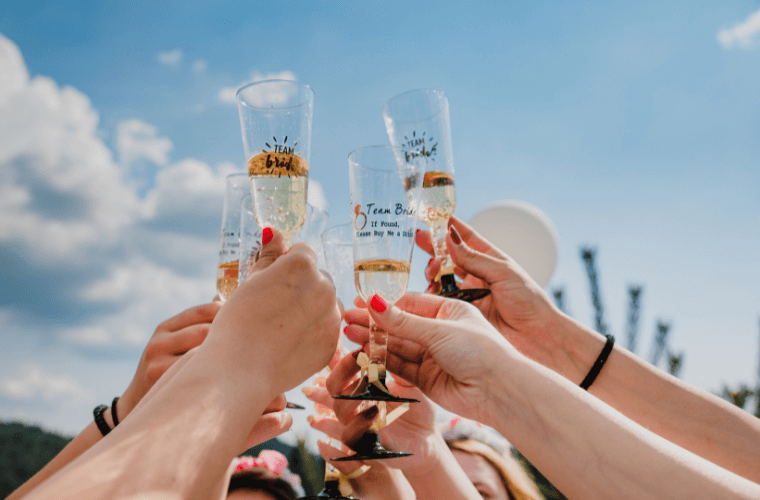 1 Month Before the Wedding
Only 1 month away. You've prepared for this all year.
Here's Your Checklist:
It's time to decide how to get your dress to the venue. You may decide you can simply pack it. Otherwise, you can arrange for it to be shipped ahead.
Have some fun, maybe with home-based bachelor and bachelorettes parties.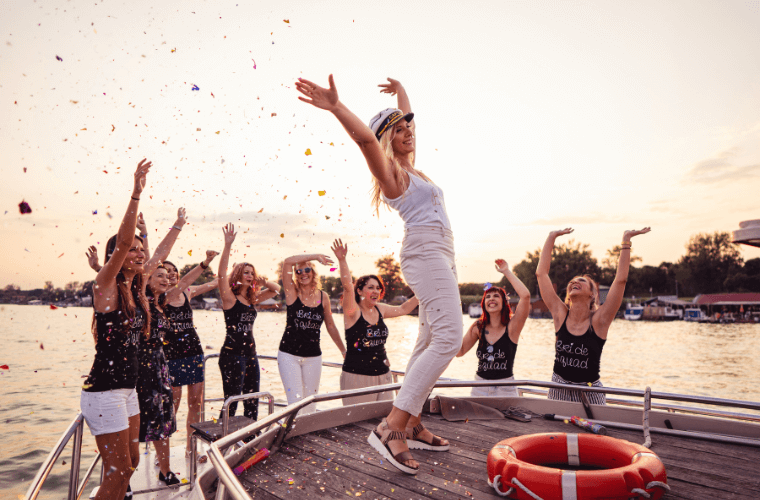 1 Week Before the Wedding
Packing time has finally arrived!
I'd suggest packing airy general clothing and:
Wedding attire, dresses, shoes, hairpieces
Bathing suits
Beach cover-ups
Sunglasses
Hats
Sunscreen
Sandals
Bug spray
Passport
Here's a heads up…
Don't pack any fresh produce, meats, seeds, soils or anything agricultural.
You're not allowed to take them into Mexico.
Pass this on to your guests.
Now, you just need to head off to paradise.
When you arrive at the hotel or resort, arrange to meet the wedding planners.
They'll go through all the details of your wedding with you.
You'll also need to sign any necessary paperwork.
I don't know about you, but the next thing I'd do is head to a beachside bar for cocktails.
The Day Before Your Big Day
You're exchanging "I do's" tomorrow.
Have some pamper time at the spa with your bridesmaids.
Manicure, pedicure, facial, the choice is yours.
Enjoy a meal and drinks with your guests but try to get to sleep early.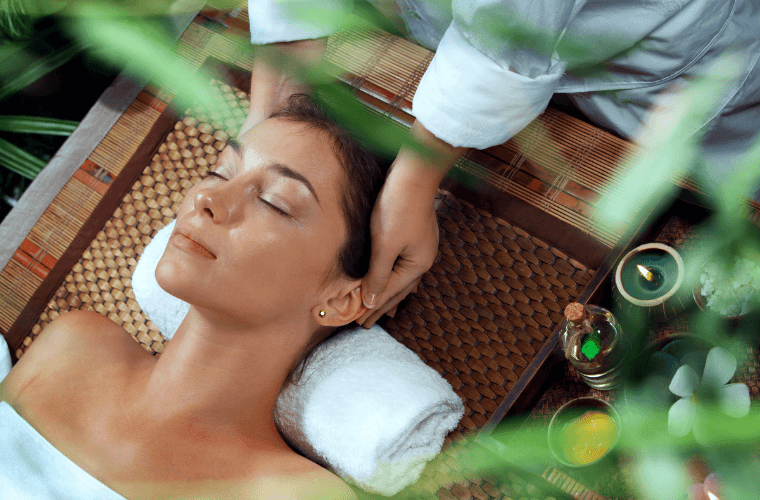 Getting a good night's sleep means you'll be wide awake to enjoy every second of your special day.
10. Have Any Questions?
Need to know anything that I haven't covered?
Just let me know.
I want to help you plan a romantic and amazing wedding in Mexico.
Pop your questions or thoughts in the comments for this post.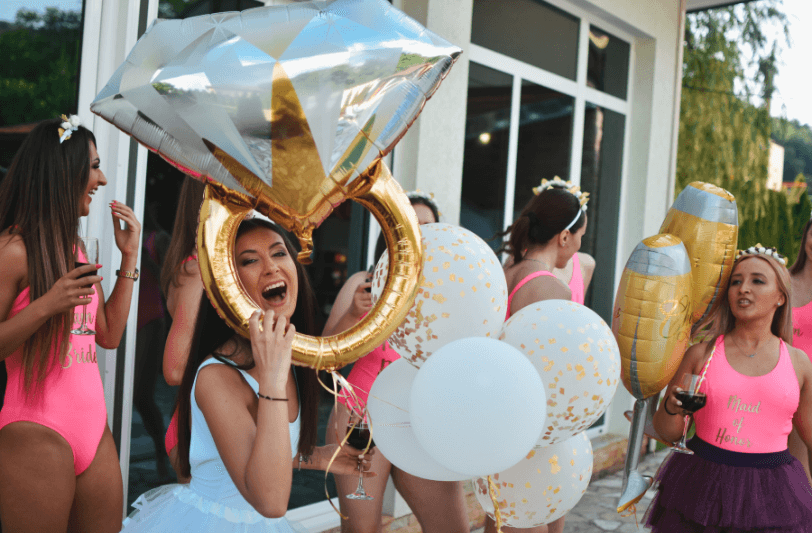 I'll get on it and give you as much advice as I can.
11. Ready to Plan Your Wedding in Mexico?
That's brilliant news.
Our team at ParadiseWeddings.Com is ready to put our local expertise to use and help you put your plans in place.
We'll make sure you get the right resort, venue, wedding package, and all the details you need to create your dream wedding.
Call us at 877-737-0177 or contact us here.
We'd love to hear from you!