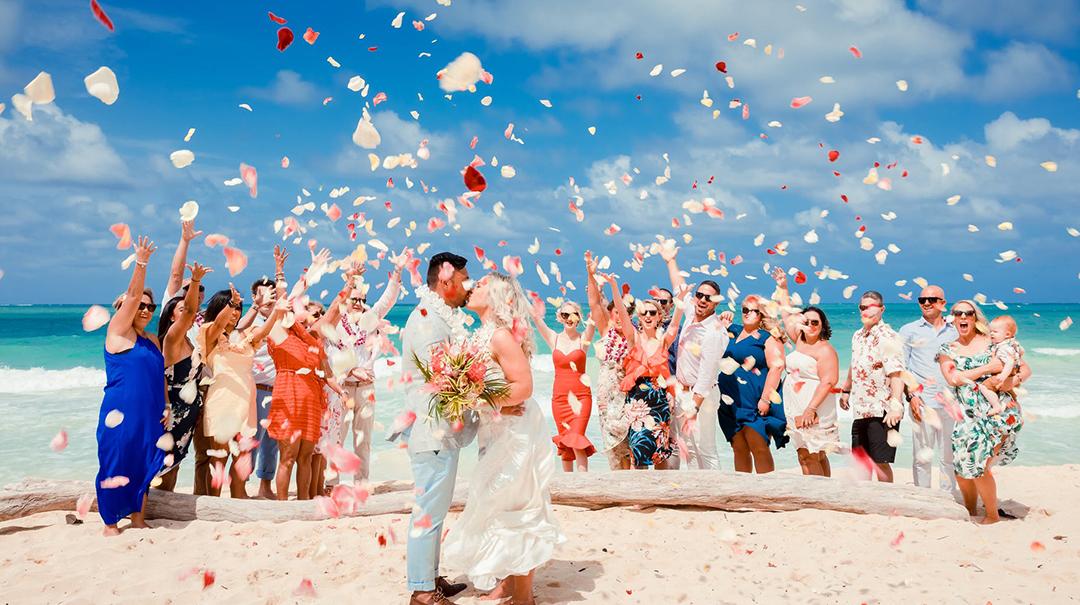 So you need help finding your outfit for a destination wedding, right? 
Let me guess, you've tried on every dress in your closet but none feel right for a wedding. 
Should your man wear a tie? A bow tie? Long or short pants? 
Don't panic! 
Our experienced wedding planners helped create this in-depth guide on what to wear to destination weddings — no matter the dress code!
Ready to have all your questions answered? 
Let's go!
Receiving an all-inclusive destination wedding invitation is so exciting.
Then comes the inevitable question… 'what do I wear!' 
Most invitations, destination or not, have the dress code laid out so guests know exactly what to wear.
But you want to know what these mean…
Semi-formal
Formal
Beach casual
Casual
Black tie
Cocktail attire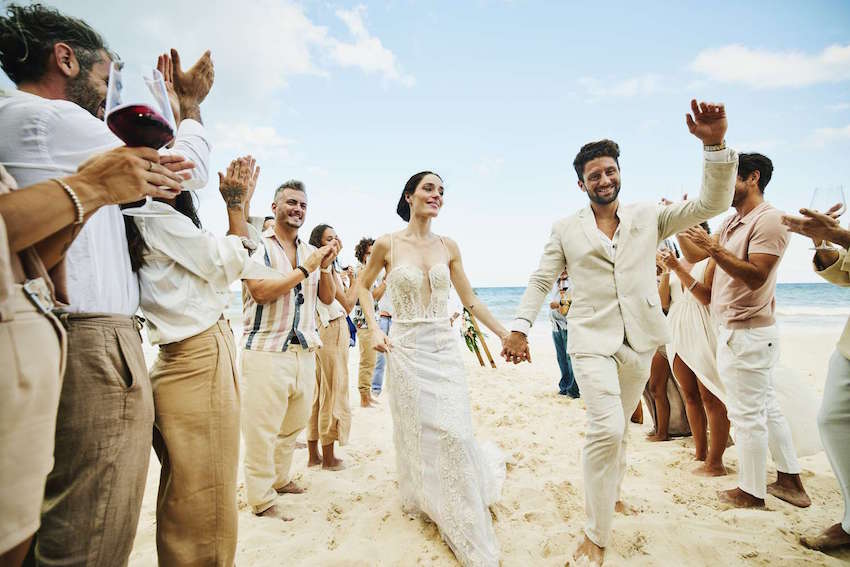 While guests should try their best to stick to the dress code, you can always make your outfit fun!
Different fabrics, styles, prints, and accessories can really upgrade your look.
All we ask is that you don't wear a wedding dress to a wedding that isn't your own. 😉
If the dress code is black tie, that is your invitation to dress very formally. 
Weddings that call for black tie attire will most likely be held in a fancy venue or ballroom. 
Also, black tie does not mean you have to wear all black!
Below we will give you so many different options of what is appropriate to wear to a formal wedding.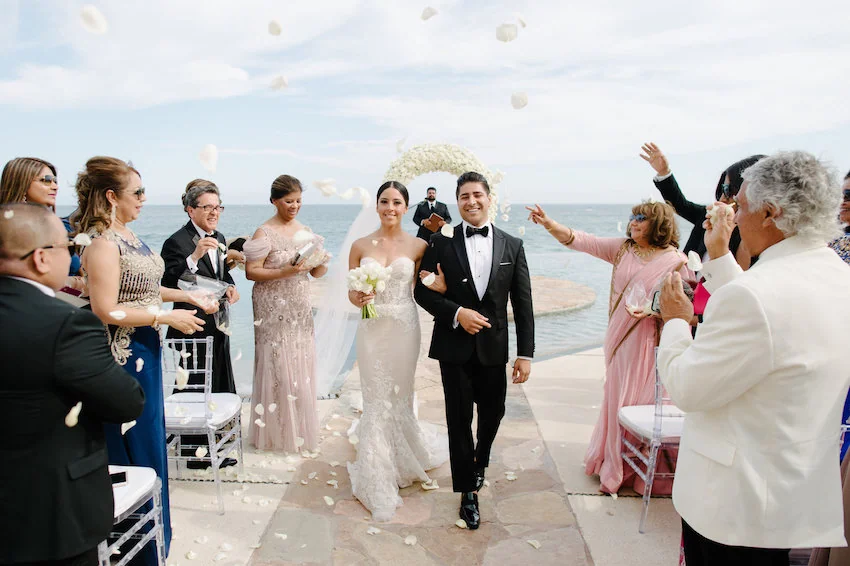 Black Tie Attire for Women
Women shouldn't be worried about being too "overdressed" when it comes to a black-tie wedding. 
Honestly, the more formal, the better! Think glitter, glamour, and gorgeous. 
Black tie style guide for women:
Wearing darker colours is highly encouraged
Go for longer gowns and dresses
Choose fun accessories to perk up your look
Stick to fabrics including silk, satin, lace, chiffon, and tulle
Opt for heels instead of flats
Black Tie Attire for Men 
Men have a more strict dress code for black-tie weddings. Sorry, guys!
Think of the nicest tux that you can wear… that's what your black-tie look will be. 
Black tie style guide for men:
Wearing a dark tux is required
Whether you're renting or buying a tux, don't forget the plain tuxedo shirt underneath
You must wear a bow tie
Leather or velvet loafers should be your go-to shoe
Destination weddings call for many different dress codes. But no, we don't mean gym clothes or sneakers when we say casual. 
Flowy dresses, linen pants, fun fabrics, and light colours will be your BFF for weddings like this. 
You can definitely be too overdressed or too underdressed for casual weddings! 
Let us save you from potential embarrassment.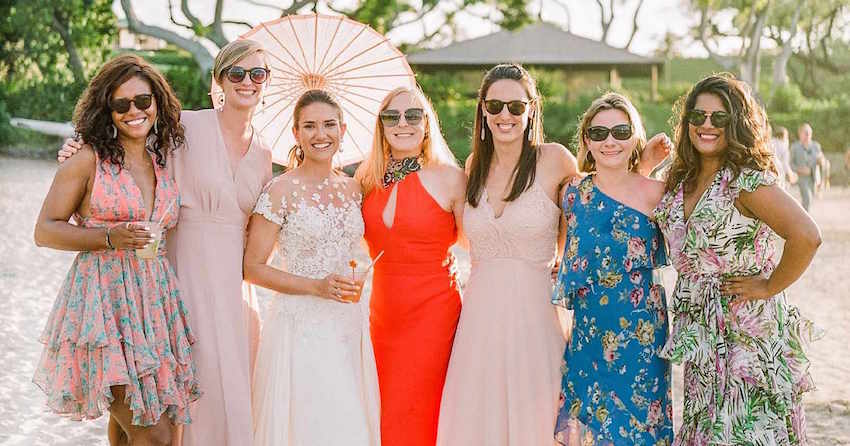 Casual Attire for Women 
Unlike black-tie weddings, less formal weddings are held outside in the heat and sun. 
You definitely don't want to show up in head-to-toe black or thicker fabric!
Plus, with destination weddings, you may have the luxury of wearing no shoes or some comfortable sandals. 
Casual style guide for women:
Opt for light or bright colours 
Choose lightweight fabrics including linen, chiffon, or cotton
Don't be afraid of prints! 
Go barefoot or wear sandals
Have fun with accessories
Casual Attire for Men
Thankfully, it's super easy for men to dress for casual weddings! 
With just a white shirt and khaki shorts, your outfit is complete. However, there are many other ways to dress up!
Casual style guide for men:
Guayaberas are perfect for beach weddings
Choose lighter fabrics like linen or cotton
Open-toe sandals are appropriate
Shorts or long pants are acceptable
A cocktail dress code is like a black tie but less strict. 
Women can wear midi or tea-length dresses and men can branch out to all suit colours! 
Cocktail attire allows guests to dress more freely. If you want your guests to look chic instead of elegant, this dress code is for you!
While you can get more daring with a cocktail dress code, it's still important to keep it fancy.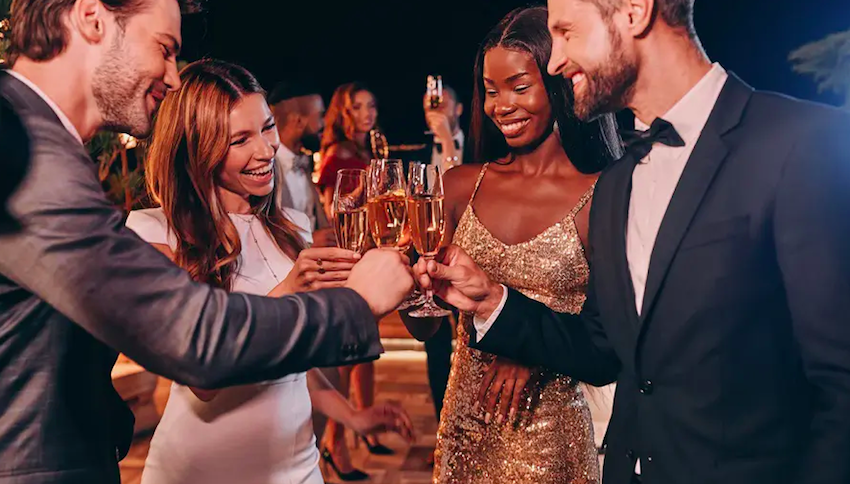 Cocktail Attire for Women
When you think of a cocktail party, what attire comes to mind? Cocktail dresses, of course!
With a less formal dress code than black tie but a fancier than casual, you can really explore all colours, fabrics, and silhouettes. 
Basically, look polished and put together without looking like you're heading to a Royal wedding. 
Cocktail style guide for women: 
Wear brighter colours for day weddings, and darker colours for night weddings
Opt for a midi, tea-length dress or somewhere in between
Stay away from mini, maxi dresses, or gowns
Pick fun shoes and accessories 
Cocktail Attire for Men 
For men, the dress code is similar to black tie but you don't have to show up in all black!
You can explore different colours, prints, fabrics, and so much more. 
However, try to stick to darker shades for evening weddings and lighter shades for day weddings. 
Cocktail style guide for men: 
A suit jacket and a tie are a must
Match your shoes with your choice of belt 
Colours including light blue, khaki, or light grey are great for destination weddings
Dressier than cocktail but more laid-back than black tie, semi-formal is the go-to dress code for most weddings. 
There's no reason to go out and buy a ball gown or a fancy new tux for a wedding at all-inclusive resort, but you may need something new! 
Think midi dresses, strapless, satin, fun colours, and a tailored suit and tie. 
If you're still not sure what to wear, all you need is a polished 'fit with fancy accessories!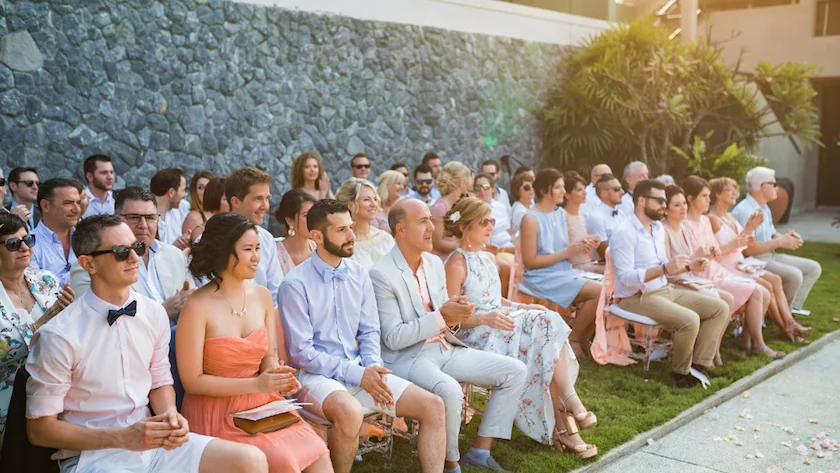 Semi-Formal Attire for Women
A semi-formal dress code allows one to delve into various colours, fabrics, and silhouettes without being too extravagant. 
Strike a perfect balance between casual and formal by exuding elegance while having fun!
Semi-formal style guide for women: 
Try out a jumpsuit, two-piece, or a unique neckline
Stay away from ball gowns, everyday dresses, or anything you'd wear to work
Show your personal style with accessories and shoes. Don't be shy!
Heels are encouraged
Semi-Formal Attire for Men
Men, you may have everything you need already in your closet! 
A classic choice is always a tailored suit and a collared dress shirt. To add some fun, choose a coloured suit or a unique tie. 
Semi-formal style guide for men: 
A suit jacket isn't a must, but dress pants and a clean collared shirt is
Add a touch of elegance with nice, matching shoes
Accessories such as a leather belt or pocket square can be a nice addition
You may be wondering, what's the difference between casual and beach casual? 
Well, a casual dress code is usually for weddings inside and beach casual is for, obviously, the beach. 
Women can wear breezy and lightweight sundresses and men can opt for breathable short sleeve button-ups with shorts. 
No matter what, the dress code will be as laid-back as the wedding.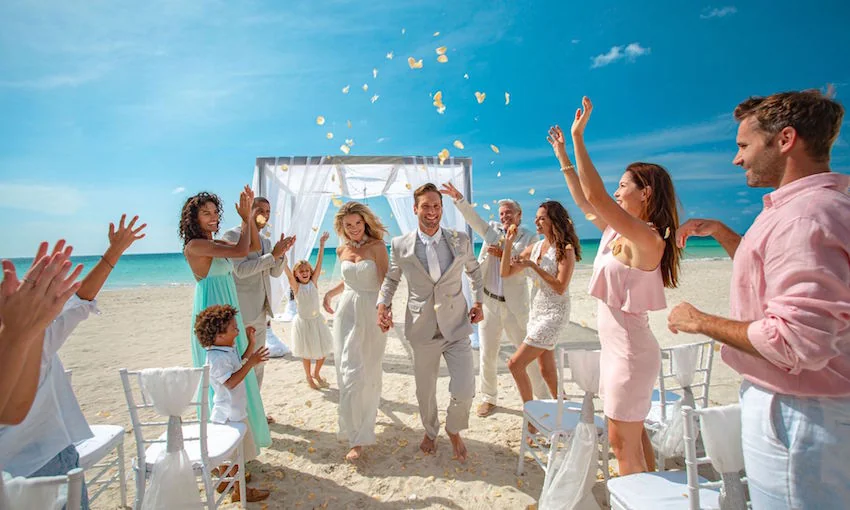 Beach Casual Attire for Women
A beach casual wedding is one of the easiest to dress for.
You can choose dresses with vibrant colours, playful prints, or any lightweight fabric like cotton or linen. 
If you prefer to dress in neutral colours, then have fun with your accessories! Your purse, jewellery, and shoes can perfect any look. 
Beach casual style guide for women: 
Stay away from dark colours, opt for lighter or brighter
Mini, midi, or maxi dresses are all appropriate
Flat sandals or wedges work best with sand
Beach Casual Attire for Men
Men can wear an even more casual outfit than women with shorts and a button-down shirt. 
Linen is the perfect fabric for beach weddings as it's airy and oh-so beachy. Look extra relaxed by leaving your shirt untucked!
Beach casual style guide for men: 
Avoid dark colours, steer towards pastels or neutrals
Long pants or shorts both work
Boat shoes, loafers, or sandals are dress code approved
Formal is one step up from semi-formal, but still not luxury enough to be black tie. 
For women, a gown or chic cocktail dress is encouraged. This also may not be the time to experiment with colours and prints. 
For men, a well-tailored tux or formal suit is a classic choice for this dress code. 
It's a time to showcase sophistication and elegance through your outfit!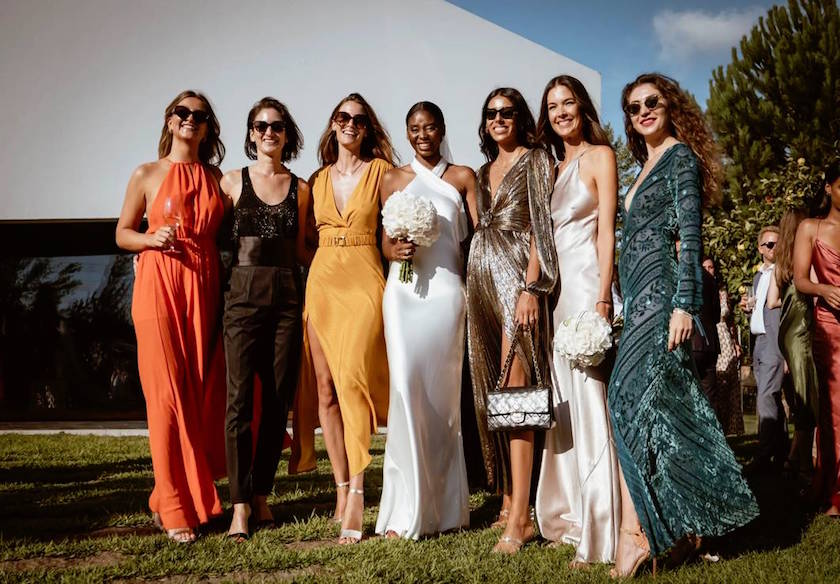 Formal Attire for Women
Keep your look luxurious with different fabrics, including silk and metallic, or through colours, such as deep jewel tones. 
Accessorize to your liking, but don't forget about your hair!
A sleek bun, sophisticated updo, or salon-styled hair will add so much to your look. 
Formal style guide for women: 
High-neck, low-neck, strapless, or any other neckline is appropriate
Try to stick to more neutral tones, however, a pop of colour won't hurt
Heels are a must-have at formal weddings
Formal Attire for Men
A crispy clean suit or tuxedo is so essential for this dress code. 
Whether you're wearing a midnight blue tux or a formal black suit, you must accessorize with a bowtie, tie, or pocket square. 
It's also important to be well-groomed. Book that haircut and don't forget a razor! 
Formal style guide for men: 
Complete your look with a leather belt and polished shoes of your choice
Make sure your suit or tux is tailored to you
Opt for darker, sleeker colours including dark blue, dark green, or black
Most destination weddings happen at resorts that have multiple venues the couple can choose from. 
There are more traditional venues or ones that are unique to the resort. 
It's also important to know how to dress for these spots! 
The most common venues are: 
Beaches
Churches
Terraces
Ballrooms
Patios
Rooftops
Restaurants
Gazebos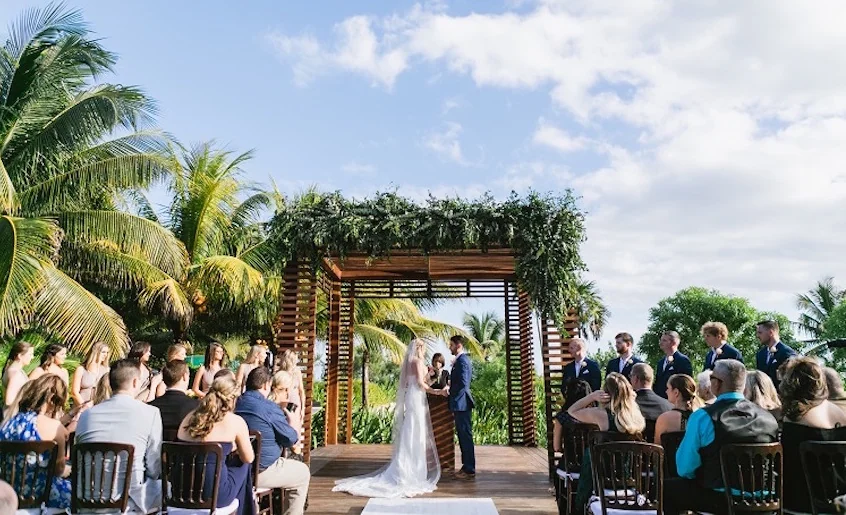 Outdoor Venues
With outdoor venues, most of the time the dress code is either casual or cocktail. This gives guests the chance to wear lighter fabrics! 
While outdoor venues are beautiful, it can get very hot out in the Caribbean! 
Consider the hot weather and wear something light, flowy, or breathable. 
Maybe pack some extra sunscreen and a fan in your purse!
Indoor Venues
Indoor venues usually include ballrooms where the dress code can be either cocktail or black-tie. 
This means you can wear long, fun dresses or heavier tuxes without worrying about being too hot. 
Plus, it's the perfect place to show off your favourite heels! (Heels aren't great in the sand, BTW.)
Churches
Churches are one of the only venues that have a certain dress code of their own. 
Dressing more modestly in church venues is required. 
For women, the rules ask that you refrain from wearing anything too revealing and cover your shoulders. 
For men, a shirt and tie are perfectly fine. 
Oh, no open-toe shoes, either! 
Even if you have a few dresses on hold for weddings, there are still some mistakes you can unknowingly make. 
What will the weather be like? Should you ask the bride for her opinion? Is it okay to wear prints? 
Don't worry, we will guide you through some dos and don'ts for destination wedding attire!
(Hint: do NOT ask the bride what to wear.)
Dos and Don'ts:
DO: Make sure what you're wearing is comfortable 
You know the saying "beauty is pain"? Well, forget that when it comes to destination weddings. 
You're there to celebrate love, not be carrying bandaids around because the shoes you're wearing hurt so bad. 
Make sure your dress, heels, tux, suit, etc., are comfortable enough that you can spend 5+ hours in it. If not, pick another option!
DON'T: Wear something too revealing 
Weddings aren't the best place to try out new trends or styles. If it's sheer, has mesh, or rips of any kind, it's a no-go. 
Experiment with different prints or fabrics instead! Oh, and stay away from plunging necklines. 
DO: Bring a couple of options
The weather is unpredictable and the wedding day could be performed in rain or shine. 
It's important to have a couple of options—one for outdoors where you'll be hot and in the sun, and one for an indoor venue with air conditioning.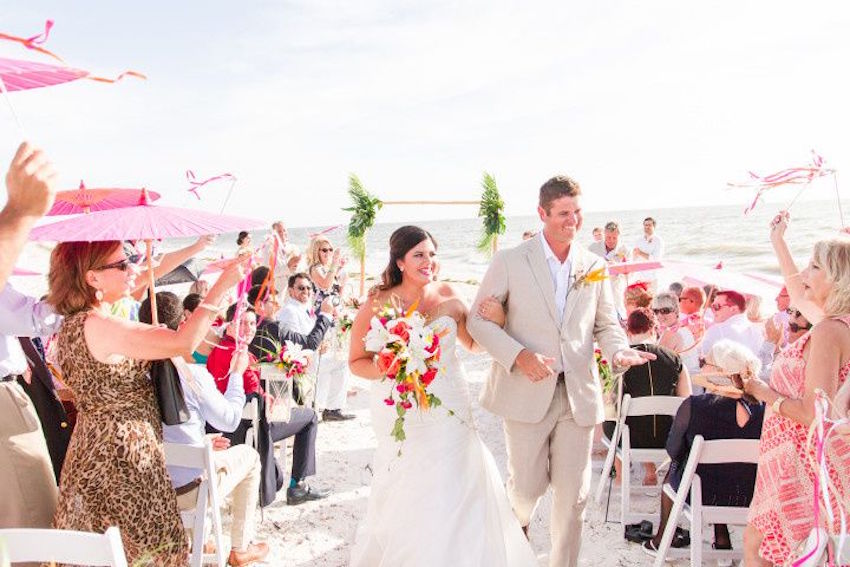 DON'T: Ask the bride what to wear
We know that the bride has a vision for her wedding, but she has enough on her plate. 
The invitation will give you a dress code and if you need further help, ask the mother of the bride or the maid of honour! 
DO: Follow the dress code
The dress code is not optional. Whether it calls for casual, formal, cocktail, or black-tie on the invitation, that's the only thing you should have in mind. 
Don't show up to a casual beach wedding in a ball gown or to a black tie ceremony with a mini dress on. 
DON'T: Wear white
This one is pretty obvious, but there is always one person who shows up in a colour that is just too close to white. 
It's okay to match the bridesmaids, it happens. But no white! 
We're here for you!
Whether you need to find a venue or a resort, or need advice on a dress code, we can help.
Our team at ParadiseWeddings.com have planned 100's of weddings and can help you too.
Call us today at 877-737-0177 or contact us here for a free consultation.
Can't wait to hear from you!