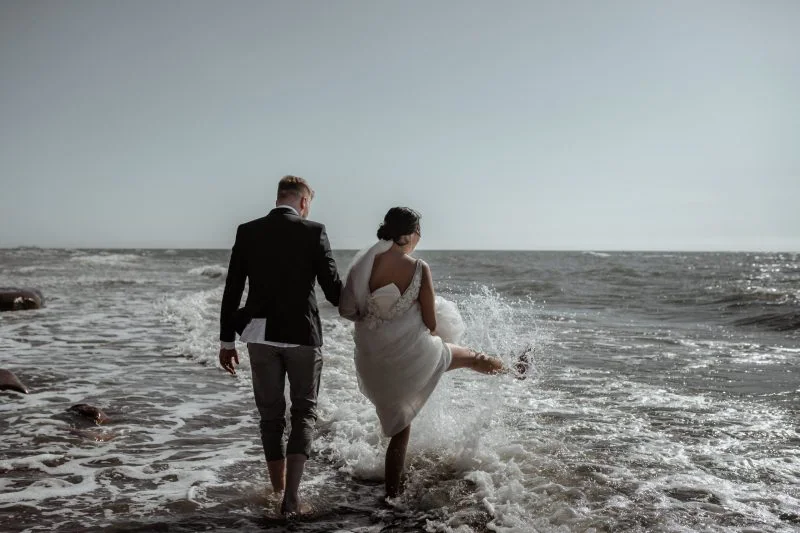 Looking for ideas and inspo for your destination wedding?
We have the perfect list for you!
Planning your beach wedding can be super fun.
You get to play with different themes & styles!
With everything from familiar nautical themes to unique themes you might not have considered, there's something for every type of wedding! 
With this list, you can plan a unique wedding that's memorable for everyone. 
Here are 50 beach wedding ideas to inspire you, so you can start planning right away…
50 Beach Wedding Ideas For Your Big Day
To make it easier to navigate, I've split this list up into sections…
Beach Wedding Decor Ideas
1. Message in a Bottle Table Number
Replace your message in a bottle with table numbers.
Add a starfish, shell, or any other accessory to your table number to stick with a beachy nautical theme.
2. Shell & Coral Placeholders
You'll be sure to have an abundance of shells & coral available to you for your beach wedding. 
You can switch out the shells for coral and prop the names on it. 
Get creative with this one, after all, this day is about you and your honey!
3. 'Ditch the Flowers' Shell Bouquet
Sticking with the seashell theme, ditch the flowers! 
Replace the traditional flowers with shells for a fun beachy bouquet. 
You can also do a mix of colourful flowers, palms with shells for something more unique. 
Use palms as aisle markers to tie in the destination wedding vibes. 
These small pineapples look adorable and are very tropical.
You can add flowers of your choice too! 
Forget traditional aisle markers and enhance the natural backdrop of your day with this creative touch.
I can't get enough of the tropical themes!
Tropical tables are the perfect addition to your beach wedding decor.
Use the pineapple idea from the aisle markers on your table with bright, beautiful flowers or other tropical fruits of your choice. 
Use large flowers & jars with even spacing so your tables don't look too cluttered. 
Guest books don't have to be boring! 
Instead of a guest book, have guests sign or write you a note, then insert it in a Piñata.
Have fun breaking the Piñata to read all the messages when you get home.
Or wait until your 1 year anniversary to read them!
7. Wildflowers in Jar Centrepieces
Take advantage of the abundance of tropical flowers and in this case, wildflowers, to use them as centrepieces.
Use random mismatched jars or vases for the DIY & classic look.
No matter what type of flowers you decide to use, this is a great way to add colour to your celebration.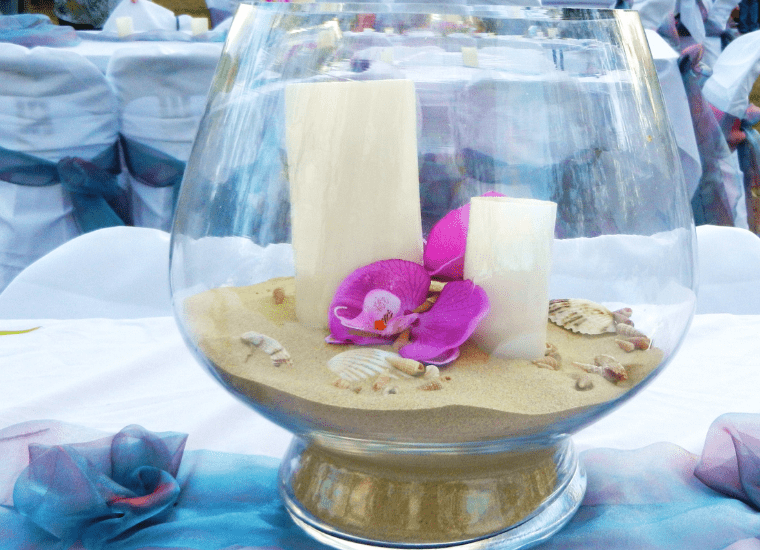 Palms don't just provide shade.
They can also be used as centrepieces on your wedding tables!
Keep it simple by using only a few palms with candles, or use the palms alone.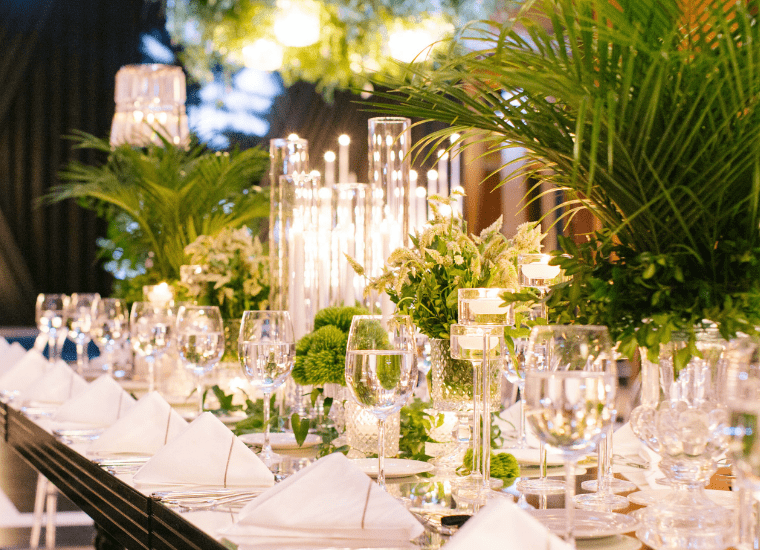 A green pop of colour can go with almost any colour scheme, as long as it's outdoors. 
9. Juicy Citrus Centrepiece
We love colourful centrepieces, but juicy centrepieces are even better! 
Juicy citrus like oranges, lemons and limes add colour and freshness to your table decor. 
When life hands you lemons, you can make lemonade… or centrepieces.
Make your DIY garlands magical with wildflowers and branches. 
This is an easy way to use the nature that is around your destination as decor, instead of hiding it by adding other things.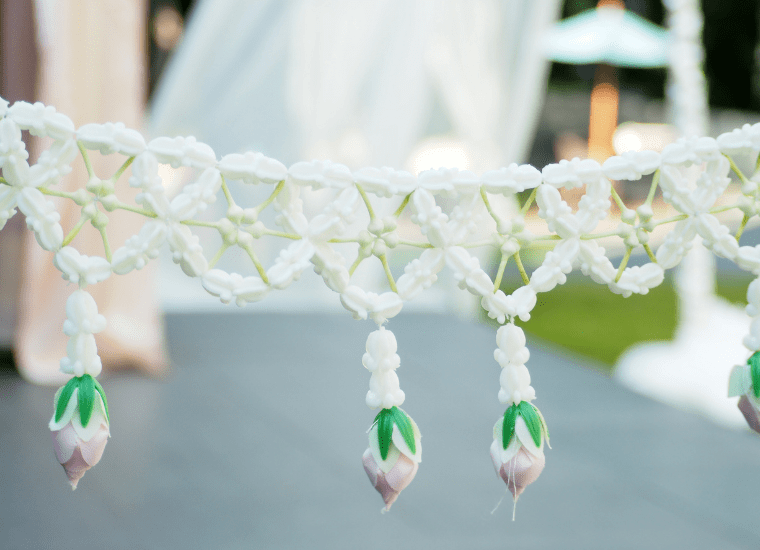 Wildflower garlands are a beautiful and eco-friendly way to add colour, magic and feel like your wedding is a fairytale. 
As it should be!
If you choose to have children at your wedding, give them their own space.
A kid's only table makes the kiddos feel important and keeps them entertained at the same time.  
Add colouring pages as placemats and toys as centrepieces for a table they won't want to leave!
12. Kid-Approved Comfy Seats
An easy way to keep an eye on the kids and make sure they are comfortable is a kids-only seating area. 
The kids will enjoy games, toys, cushions and their own adult free space. 
Parents will thank you for thinking of their little ones. ensuring a memorable night for your guests of all ages. 
13. Fruitful Centrepieces
Centrepieces made entirely of fruits are easy to incorporate into any wedding. 
Based on the time of year your wedding takes, you can use seasonal fruits for the centrepieces. 
Serve fresh juices & cocktails made from the same fruit for a sweet detail. 
With weddings come well wishes! 
Provide a jar where guests can leave their wishes and give you advice. 
This is great to look back on and read whenever you want to remember your special day. 
15. Tissues for Happy Tears
Weddings have no lack of tears. 
Tiny tissues are a cute way to make sure your guests have something to wipe their happy tears with. 
Most destination weddings take place outside in nature or at a beach. 
Having eco-friendly confetti helps avoid disrupting the local ecosystem. 
If you ask me, it's also a really cool way to use dried flowers or leaves instead of throwing them away. 
17. Fun & Relatable Signs
There's no need to keep things serious for your celebration. 
Use funny or awkward signs for your wedding to make guests feel comfortable enough to let loose & have fun. 
If you're like me, you hate those wedding pictures where the photographer is trying to avoid the cellphones in the aisle!
Having a wedding that is unplugged is a solution to this problem. 
This is also a great way for everyone at the wedding to disconnect from daily life and spend uninterrupted time celebrating your union. 
Large shells make great table settings! 
Write each person's name on the shells to help guests find their table. 
Guests can also take these home at the end of the night as a favour, killing 2 birds with 1 stone. 
Beach Wedding Attire Ideas
Something about barefoot sandals doesn't sound right, but they do look right!
Barefoot sandals are basically a decoration for your bare feet in the sand.
Imagine walking down the aisle with these on…
21. Couple's Beachy Shoes
If there is 1 thing you expect to see at a wedding, it's couples matching sets.
Like the beach towels, getting customized matching shoes to wear for the wedding or the reception after is an intimate detail you can add. 
Shoes are useful long after the wedding, so make them as stylish as you'd like.!
You need sandals for your beach destination wedding! 
Save your guests the hassle of shopping for sandals by providing a sandal station. 
As guests arrive, they can grab a pair and take a seat. 
People are getting creative with their wedding details more & more. 
One of those creative ideas is a seashell crown made with the shells from your destination for a beautiful memory and wedding accessory.
They're not just for the little mermaid!
Shells & veils aren't your style?
That's okay, there are other options! 
Use tropical flowers, wildflowers, or any other flower you like to make a flower crown.
Wear this instead of a veil for a unique beach wedding look.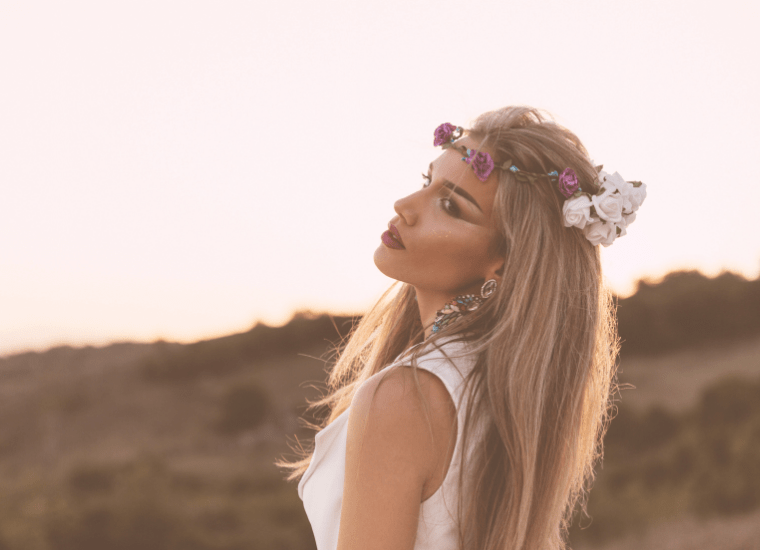 Whether you're providing beach sandals or not, having a shoe valet is a wonderful idea. 
Having a place to put shoes away when walking on the sand or simply when those dancing feet get tired is a welcoming sight to anyone. 
A shoe valet keeps the shoes safe & out of the way.
I know you're just as tired of the "panorama" as I am, but It's still important to be safe. 
If you're having a wedding during the pandemic, provide your guests with some peace of mind with a sanitation and mask station.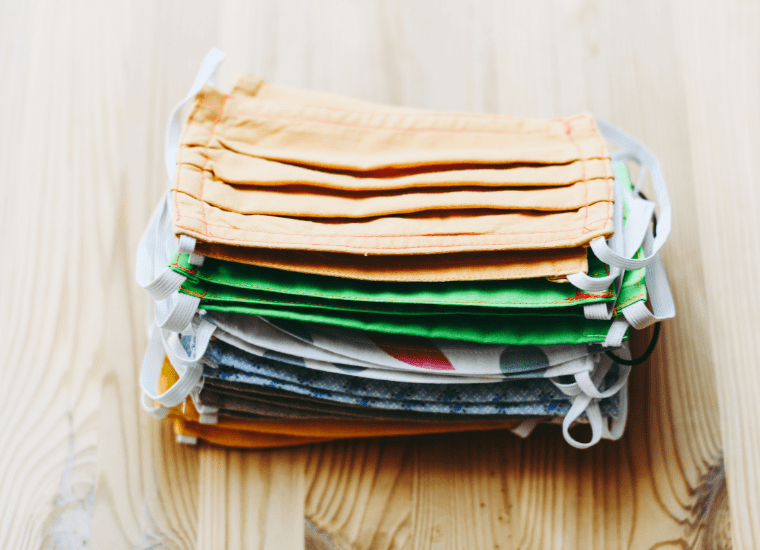 Here, guests can pick up a mask and personalize that mask which can then double as a wedding favour. 
27. Umbrella/Parasol for Guests
If you're having a destination wedding, then you definitely need to consider the weather. 
Having an umbrella or parasol station for your guests makes you prepared for rain or shine, literally.  
Tropical destinations call for tropical fruit.
Coconuts are both refreshing and delicious, so why not use them in your decor?
Use expertly cut coconut pieces to decorate your cake and to replace a cake topper.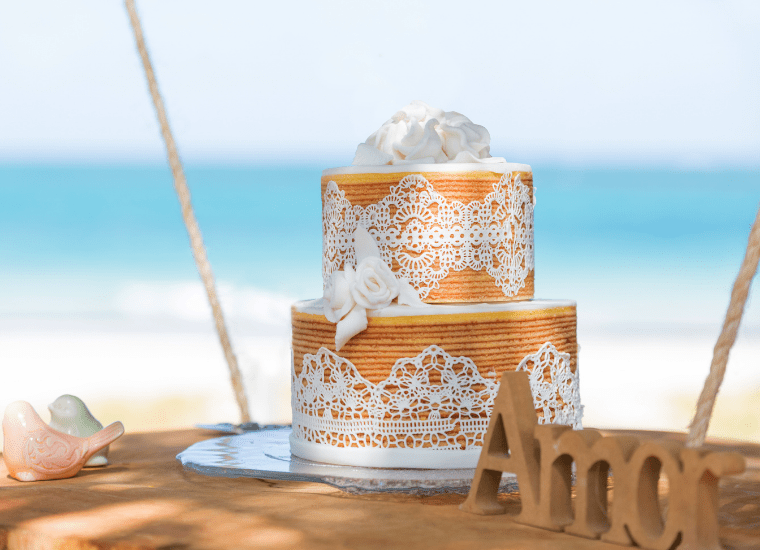 29. Seashell Wedding Cake
Seashells are abundant on the beach, so why not use them for your special day?
Add seashells as cake toppers for your cake for the beach theme. 
This is literally the icing on the cake for beach wedding ideas.
Just make sure to clean them first! 
Beach Wedding Favor Ideas
For sunny summer weddings with no little breeze, have fans for wedding favours. 
This is a smart way to have a cooling option for your guests that doubles as a wedding souvenir!
Use colourful fans to match lively Mexican party decor.
31. Succulent Wedding Favors
I'm a strong believer in wedding favours that can actually be used, rather than left lying around. 
I'm sure we all have that 1 wedding favour that you want to keep, but you have no idea where to store it. 
With succulents, you are giving your guests a favour that can be incorporated in a variety of ways at home and are easy to care for. 
32. Coffee Wedding Favors
Give your guests the favour of a pick me up with a coffee wedding favour. 
Individual packs of coffee in a package with a message or wedding information are small enough to pack to take back home. 
They are also sure to be used by your guests. 
Another neat wedding favour is the drink topper. 
The drink topper serves as a drink saver to avoid losing drinks when tables are cleaned up. 
If your wedding is outside, these are great for keeping those pesky bugs out of your drink. 
34. Candle Wedding Favors
Who doesn't love candles?
They are easy to be personalized, can be made in small sizes, and smell great! 
This makes them a great wedding favour for guests to enjoy when they get home from your destination wedding. 
35. Take Home Glass for Guests
We all hate losing our cups at weddings or getting them mixed up.
You can avoid this issue altogether by having individual take-home cups! 
Write the names and use them as a way for guests to find their seats.
Or guests can simply pick them up and write their own names.
The best part is there is no clean-up here.
Your guests will get to keep their cups and have a souvenir at the same time. 
Have you thought about having a welcome bag for the wedding party?
Use these bags to give gifts & small favours that match your destination.
If you have a small guest list, then these would be great souvenir bags to provide for the guests as well!
Beach Wedding Food & Drink Ideas
37. Refreshing Lemonade or Aguas Frescas Stand
You can't go wrong with having a drink stand to make the hot beach weather more bearable for your guests. 
Use lemonade or Aguas Frescas for an authentic Mexican vibe for your tropical destination wedding.
Aguas Frescas literally translates to Fresh Waters and are refreshing fruit waters, similar to lemonades.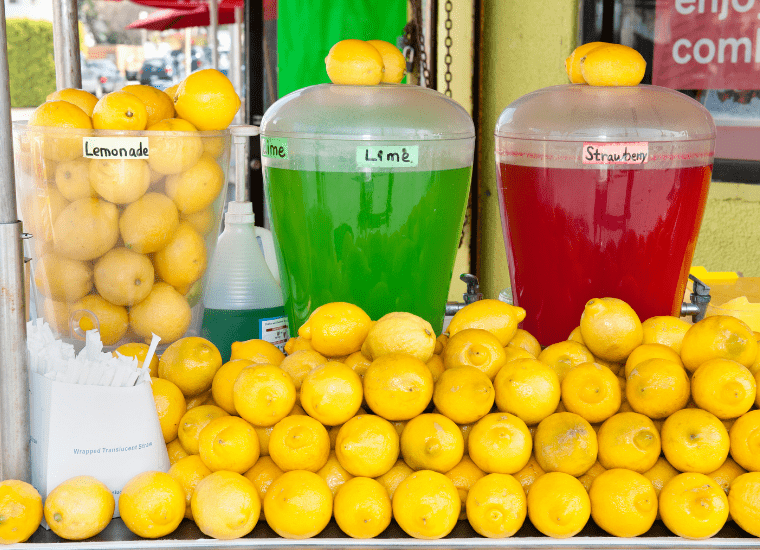 Stick with the coconut theme and have a coconut drink station!
Serve refreshing coconut water or cocktails in the coconuts for a relaxing holiday feel. 
Having snacks and grazing tables is a great party trick to make sure guests have something in their stomachs before the alcohol starts flowing.
Churros are the perfect snack for something sweet & crunchy.
You can't go wrong with a dipping side of chocolate or caramel.
40. Refreshing Fresh Fruit Stand
Destination weddings often take you to exotic places. 
Use the local exotic fruit to make a healthy & yummy fruit cocktail stand.
Fruit is refreshing and will provide something for your guests to graze on throughout the celebration. 
Beer bars make it easy for everyone to have drinks when they want. 
Have a self-serve bar that guests can use if your bartenders are busy.
Or use it as a way to avoid having to get a bartender in the first place!
The beer lovers in your life will love this.
This is a simple but tasty wedding idea.
A paleta is a Mexican popsicle.
These are usually made of fruit or fruit juices and are delicious and easy to make. 
Having a paleta stand will let your guests cool off while having a treat on the sandy beaches of your destination wedding. 
Personal & Unique Touches
43. His & Hers Beach Towels
This cute couple's towel is a must for your beach destination wedding. 
Get creative and personalize the towels to show off your new titles.
Or write something fun!
You can endless options here.
Ring the wedding bell with a creative kiss me bell.
Each time the bell is rung, the wedding couple gets to kiss!
This is such a creative way for your guests to interact with the couple.
It's also a great excuse to kiss your love. 
45. Dance Free Game Station
Not everyone likes dancing, and that's okay! 
Instead of being one of those pushy couples, provide a dance-free space where your guests can still have fun. 
Different forms of entertainment & games will make sure everyone has something to do. 
Keep the fun alive!
If you're an adventurous couple, you probably already have a bucket list.
You can create a special wedding bucket list with ideas and plans that your guests and loved ones suggest. 
Plan on completing them by your 1 year anniversary or any other special date.
Soundtracks are not just for movies anymore.
You can use Spotify to make the perfect playlist and have a scan code attached to it. 
Print the code in a cool way, so guests can have access to the playlist or find other ways to share your favourite music! 
Everyone loves live entertainment, especially live music!
Hire a local band or even mariachi for your Mexico destination wedding. 
Image by  Wedding weekend 
Mariachis are traditional in Mexican culture and a good way to incorporate some Mexican culture for your beach wedding.
Green is in this year! 
We are seeing more and more green bouquets, decorations, and accessories for weddings. 
Destination weddings are no different, so use greenery such as palms and large green leaves.
Or just choose a variety of green flowers for a boho & natural vibe!
Last but certainly not least, have a creative setting!
Use social distancing to your advantage here.
Social distancing might not be everyone's cup of tea, but you can certainly use it as an excuse to change up traditional wedding ideas at the ceremony seating. 
Come up with ways to seat the guests with a little more space in between.
You can set up a circle, use benches or cushions, or even create a mini runway-type seating.
Important Things to Consider
There are a few key things to consider when planning your destination wedding…
Time of year & season of your wedding
The weather when planning things like hair, makeup
Whether you'll have an indoor or outdoor event
Keep your budget in mind to guide your planning process
Review the Covid restrictions at your destination, as these change quickly
Think about what size wedding you want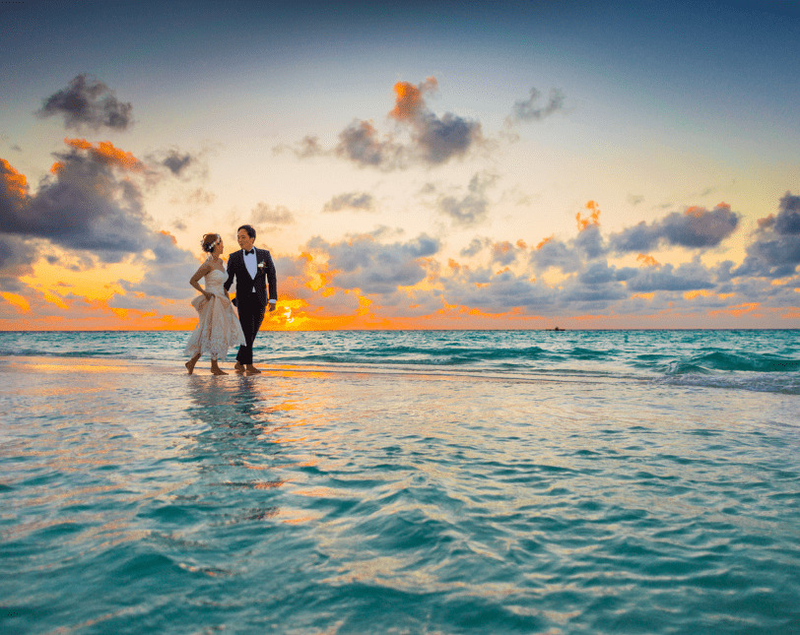 But most importantly – remember to have fun!
This day is to celebrate your love, nothing else.
Destination weddings are beautiful and can be used as a mini holiday too.
The last thing you want to do is be stressed when planning or during your big day!
Our wedding planners live in Playa Del Carmen and have all the inside info you need.
Give us a call on our toll-free number: 877-737-0177 or contact us here.
We'll give you the best suggestions & tips for your destination wedding!
Do you already have an idea of what you want your wedding to look like?
Tell me all about it in the comments!