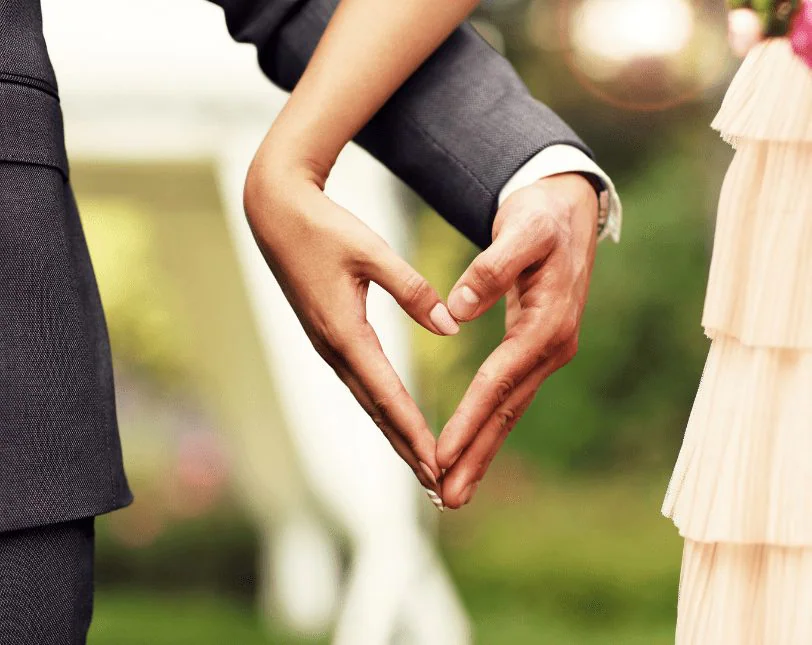 Having trouble deciding on the right wedding attire for your big day?
From casual to formal, this guide to destination wedding attire has all the info you need to pick a dress code. 
There's no need to keep looking!
I've put together the ultimate guide to help you narrow down your options. 
Our team has planned 100s of weddings here in Mexico, so we know what's up.
If you've been asking yourself what you wear to a destination wedding, keep reading…
Your Guide to Destination Wedding Attire
Formal Attire
Semi-Formal Attire
Casual Attire
If you want "fancy fancy", then white tie is the way to go! 
This is as formal as it can get with wedding attire…
Think royal ceremonies or ballroom dresses.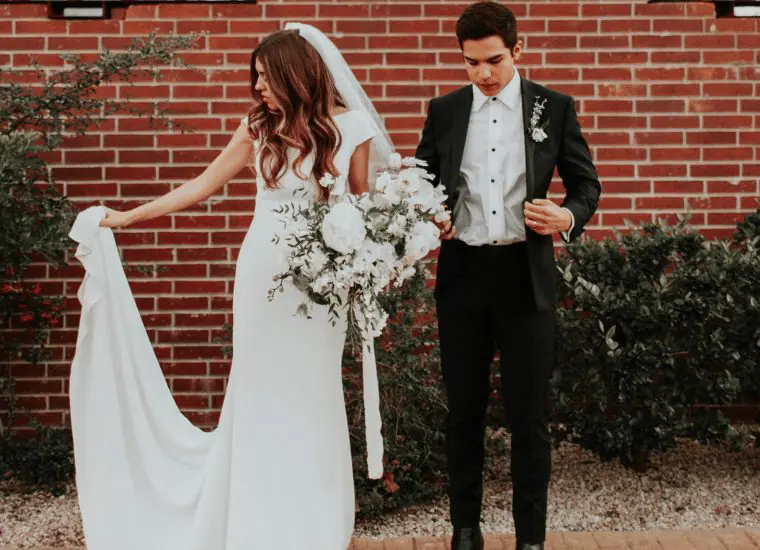 White tie is not the best option for destination weddings unless you have rented out a ballroom. 
It's great for formal evening events!
Examples:
Tailcoat 
Floor-length evening gown 
National/Ethnic costume 
Ceremonial Dresses
If you're aren't into a royal event, but still want formal attire, black tie is the way to go. 
Black tie attire is still a very formal dress code, but can also fall under a semi-formal category. 
This is for those that want their guests to look sharp & stylish.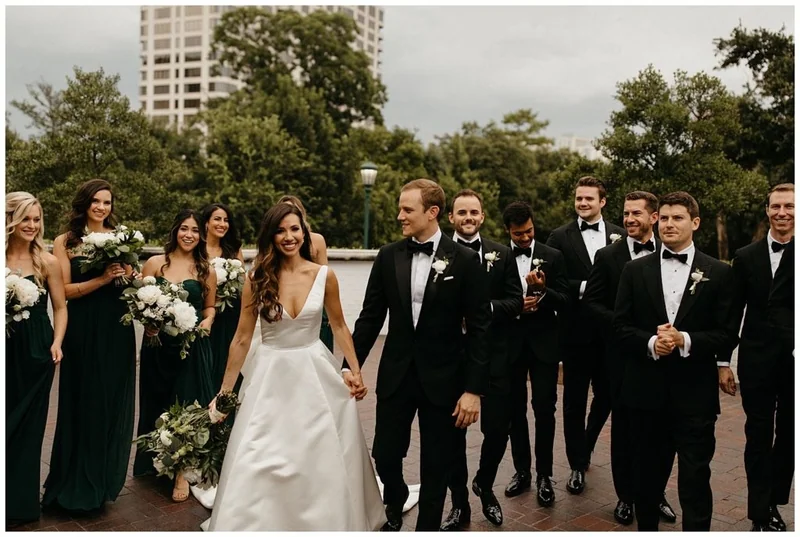 Like white tie, this dress code is better for indoor and evening events. 
Examples:
Black or Navy blue Jacket with a tie or bow tie 
White button up dress shirt and nice slacks
Floor length evening gown or ball gown 
Heels and nice jewellery
What is beach formal?
I can tell you that it's not throwing on some holiday clothes & sandals.
For this, it's better to stick to light & breathable materials.
Light colors & linens for your outfits will do wonders.
You don't want anything too heavy that will have you or your guests sweating the whole event. 
Dressing as nice as you can while still being comfortable & cool is a good guideline for this.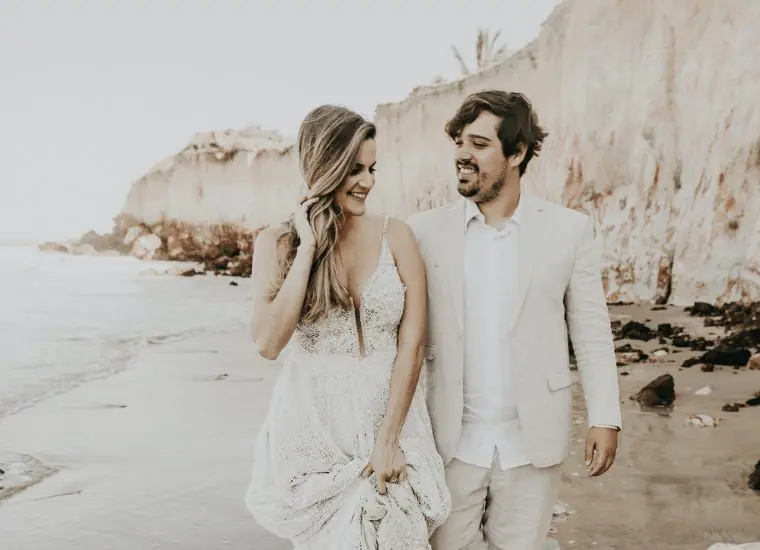 Examples:
Light coloured linen button up shirts
Blazer with nice slacks
Long or mid-length flowy dresses
Wedges, low heels or barefoot for women
This dress code is the perfect balance of semi-formal and casual. 
It's meant to be dressier than semi-formal, but still comfortable as one of the most common dress codes. 
Cocktail attire is perfect for outside occasions like a beach destination wedding. 
With a look for cocktail attire, you can seamlessly go from day to night & look elegant while doing both.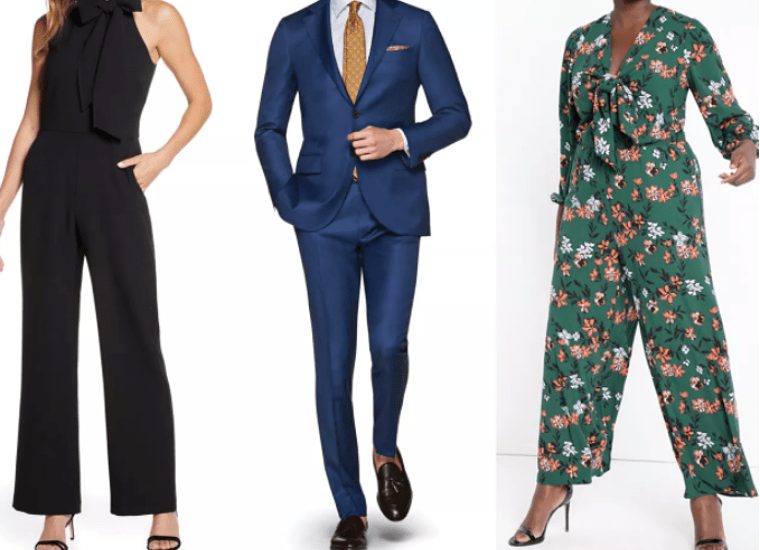 Examples:
Suit and tie (solid colours)
Jacket and tie 
Midi length or tea length gowns 
Formal pantsuits
Next up, we have garden attire.
This is similar to beach formal in that it's a slightly more elevated look, but designed for comfort.
You can't go wrong with garden attire in an outdoor setting for destination weddings.
But it's also a great option for an indoor reception! 
Both men & women can wear more colors and prints with garden attire.
Just don't go overboard!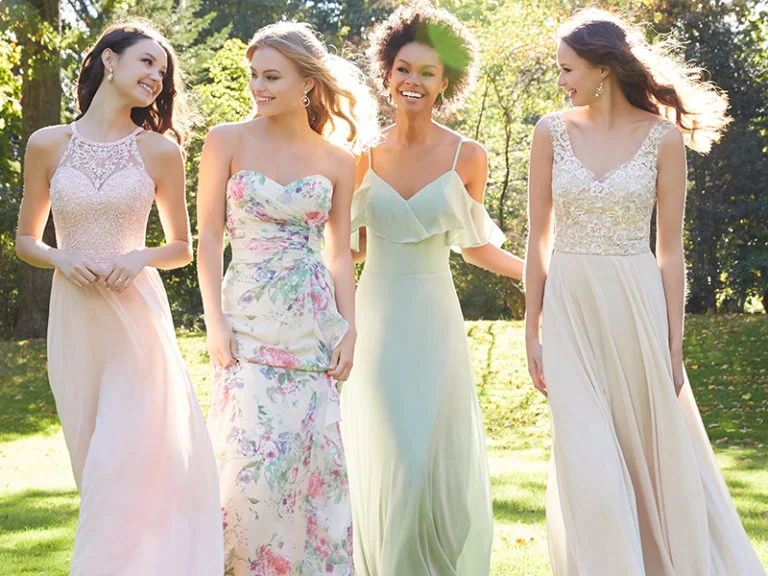 Examples:
Light coloured suit with matching dress shirt
Belt with slacks
Above-the-knee, knee-length, or maxi dresses with light colours or florals
Wedges, still no flip-flops
6. Semi-Casual or Dressy Casual
Now we're getting to the more casual side of things!
No need to wear suits, jackets or any fancy dresses in this style.
BUT…
Guests should still avoid being too casual. 
Feel free to play with colours and different fabrics that are more comfortable.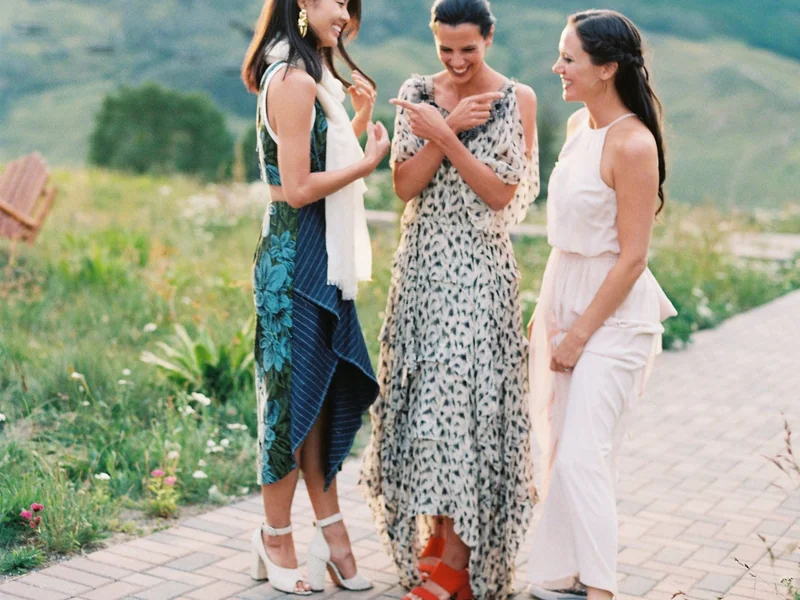 Examples:
Slacks, khakis, or chinos 
Button up shirt or plain solid coloured thirst under s blazer 
Fit and flare dresses in midi length 
Nice pantsuits
This is also known as business or office wear and is less formal than semiformal.
Unless you want your wedding to look and feel like an office party, I recommend staying away from this dress code for a destination wedding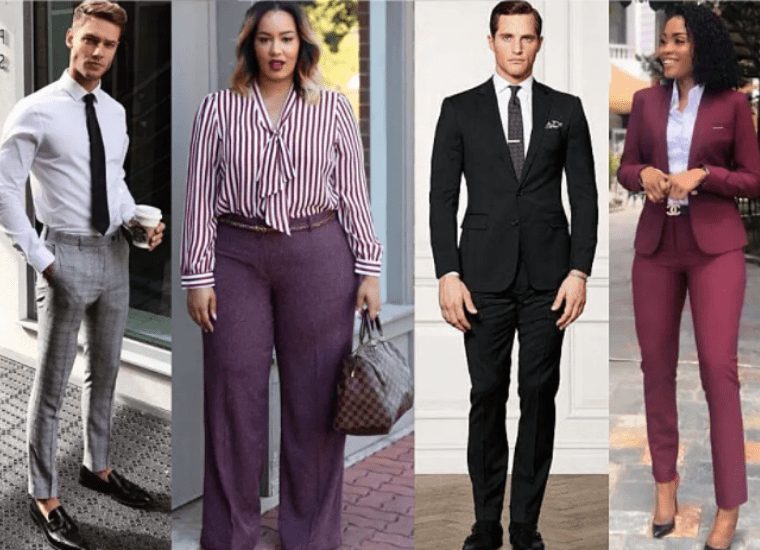 Examples:
Business suits or button up with a blaze
Women can wear business suit with a skirt or pants
This is for couples who just want to have fun and do not expect a fancy event.
Themes can be anything from the season of the wedding to a theme that the couple has chosen.
Clothing can range from really dressy to laid back, depending on what you like. 
This one is more lenient with what guests wear and would be a great option for a beach wedding.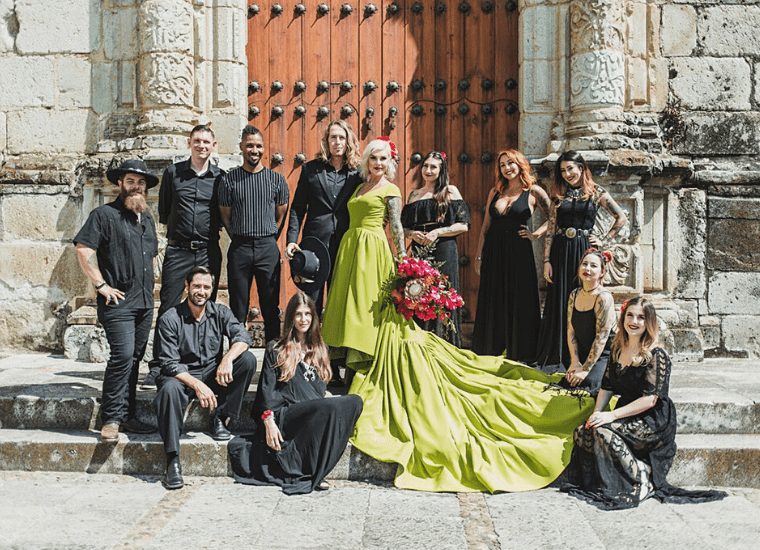 Examples:
Bold colours or prints 
Suits, blazers, or button up shirt
Sequins, prints, and glitter
Dresses, skirts, rompers or pantsuits
Where Should You List the Dress Code?
Traditionally, dress codes are listed in the invitation or RSVP card. 
The dress code can be printed on the bottom of the invitation itself if the ceremony and reception will be in the same place.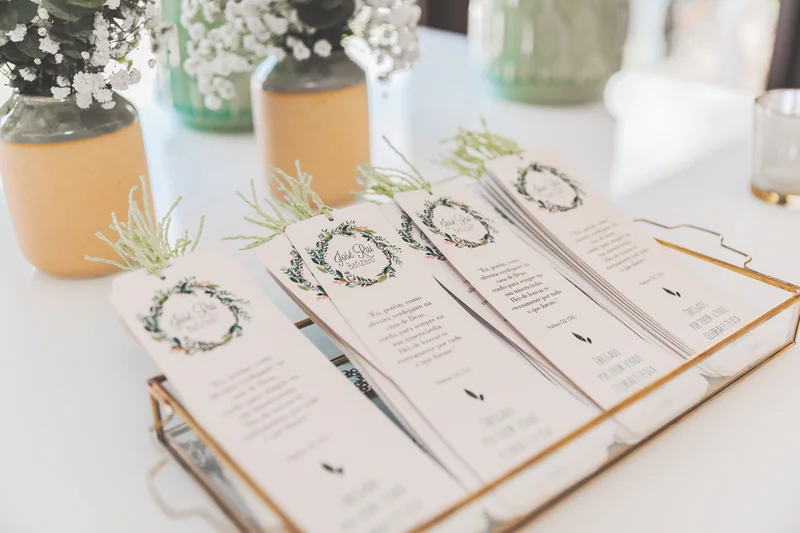 This is likely the case for destination weddings. 
If for some reason you have 2 separate locations, you can put the dress code on the reception card. 
Important Things to Remember
There are a few things to keep in mind when packing & preparing for your destination wedding…
Make sure to coordinate with your hotel & flight the proper accommodation for your wedding attire 
Many hotels offer preparation of attire, hair, makeup and touch-up services
Flights often have a place to stow a wedding dress – just call and ask!
If you decide to pack your attire in a checked bag, you run the risk of it getting lost or delayed. 
You have many options and things to consider, but keep in mind that this day is about you!
The other things don't matter as much in comparison.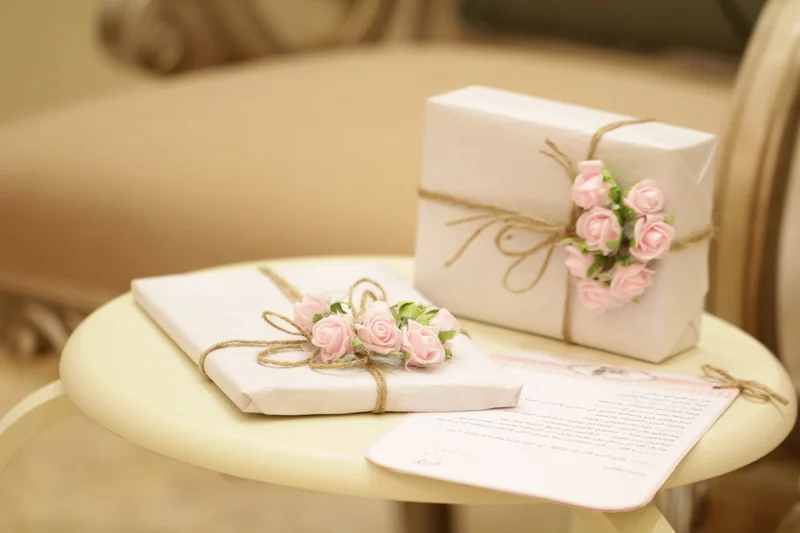 If you want to avoid stress, have guests come as they are.
If you know you want everyone dressed to the nines, do that. 
You call the shots – this guide is just here as a suggestion. 
Do what feels best for you & your love, and think about the size of your wedding as well. 
What size wedding are you having, and what is your vision?
I'd love to know! 
Tell me all about it in the comments below. 👇
Will you be a guest? If so, you'll want to check out our Better Guest Guide.
If you need help with any part of the planning or just want more tips, feel free to reach out to us!
Our team at ParadiseWeddings.com has the inside scoop on all things wedding-related in Mexico.
Our staff is passionate about planning weddings.
We make sure every couple we help has the event of their dreams.
Talk with one of our expert wedding planners toll-free at 877-737-0177.
Happy planning!