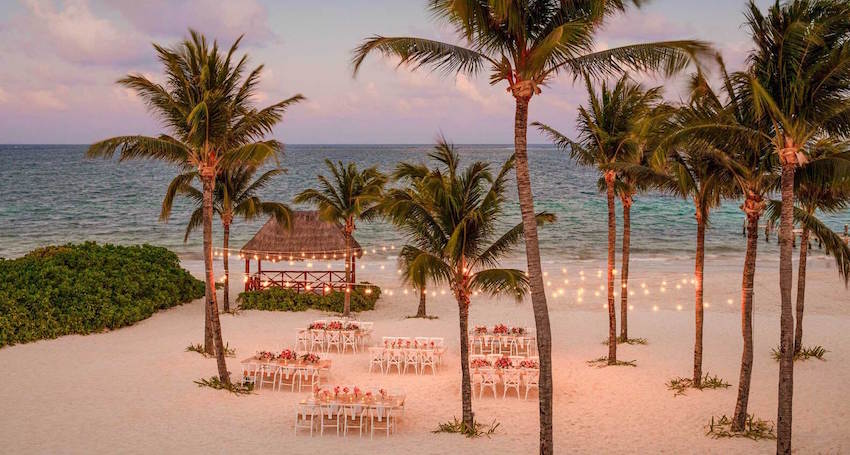 Top 10 Wedding Packages in Cancun Under $10,000
Looking for a cheaper wedding in Cancun without it looking cheap?
Yeah, we get it! 😉
Your wedding expenses can add up and become stressful… but we won't let that happen.
You're now in the hands of our experienced wedding planners! 
All Cancun wedding packages below are under $10,000. No, really!
Sound enticing, right?
Let's get into it! 👇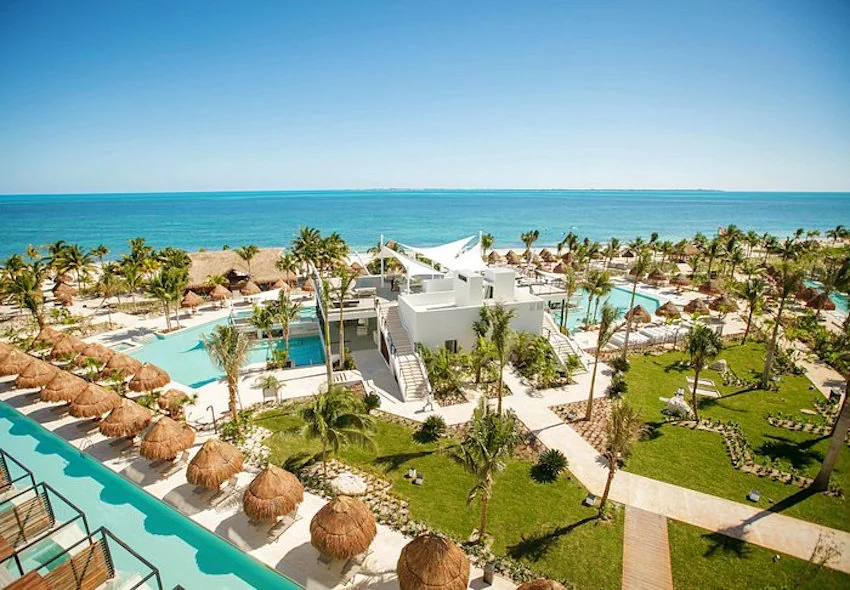 Finest Playa Mujeres is the only family-friendly and all-inclusive resort in Cancun!
Bring your loved ones here for not only your wedding but a great experience overall. 
This luxurious resort offers 12 pools, spacious suites, 12 restaurants and 15 bars. 
There's not much else you will need! 😍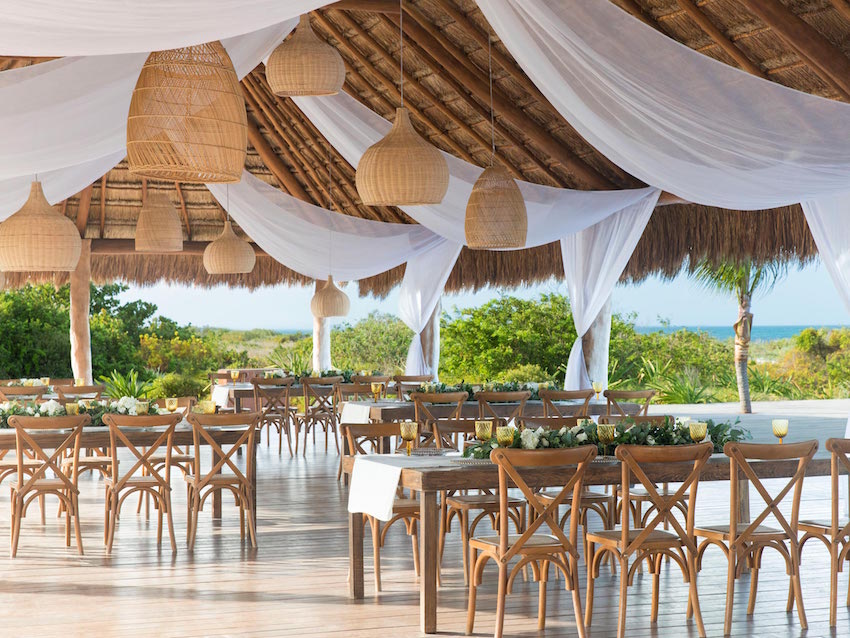 Wedding Package
For under $10,000, you can get the top wedding package at Finest Playa Mujeres!
The Gold Excellence wedding package will get you…
1-hour cocktail party
Symbolic ceremony
4-hour gold-level private dinner
Open bar
Wedding cake and sparkling wine
Appropriate flowers
Makeup and hair for the bride
Couples massage
20 digital photos and a 15-minute video
Complimentary suite for the night before the wedding
Late checkout 
And more!
Choose from 6 wedding venues including the beach, Stone Gazebo, Las Dunas Beach House, Grand Palapa, Sky Bar Terrace, and Convention Center. 
The price for the Gold Excellence wedding package starts at $2,400.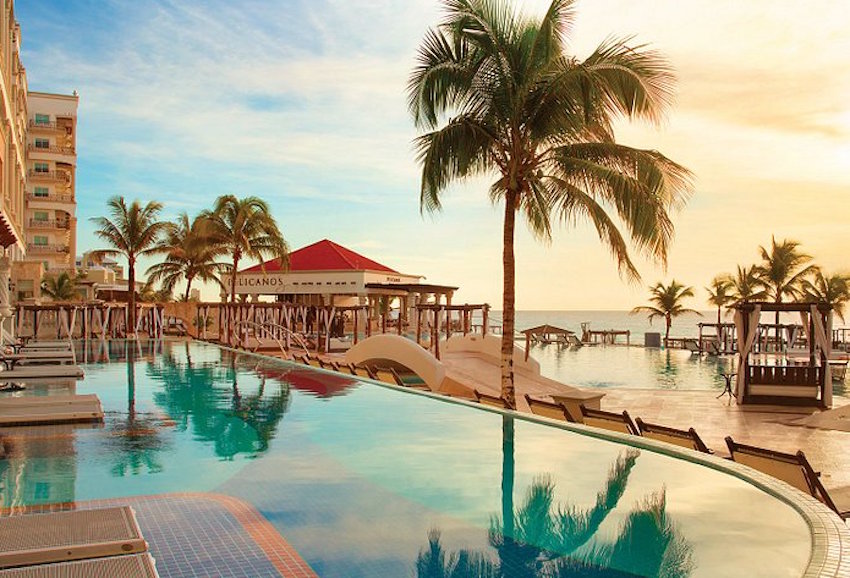 This beautiful oceanfront resort is smaller than most on the Hotel Zone in Cancun.
That just means it's more intimate, which is perfect if you want a small wedding.
Hyatt Zilara Cancun is an adults-only resort that has swim-up suites, an infinity pool and an Olympic-sized pool, and a zen spa. 😍
Indulge at one of the 5 restaurants and cafes and sip on a delicious cocktail at one of the 5 bars! 🍹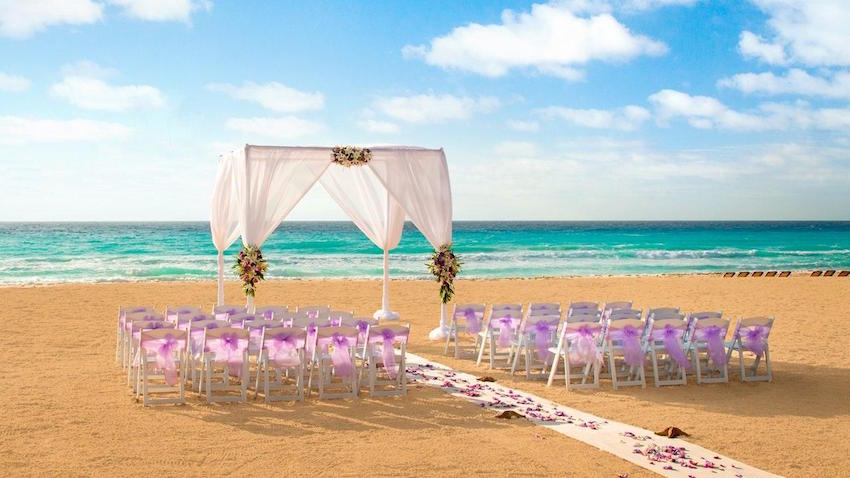 Wedding Package
Choosing the most luxurious wedding package at this resort is definitely affordable!
The price for the Lavish & Opulent wedding package starts at $5,055. 
Invite up to 20 guests to celebrate with you at one of these venues: the beach, Gazebo Villas, Laguna Terrace, Laguna Ballroom, and Zilara Ballroom. 
The Lavish & Opulent package will get you…
Symbolic ceremony
Beachfront dinner for the married couple
Suite decorations
Flowers
Champagne and sweets for the suite
Manicure and pedicure
Specialty wedding cake
Decorated reception and ceremony area
Cocktail hour
3-hour 3-course private reception dinner
Discounted spa treatments
Additional guests extra.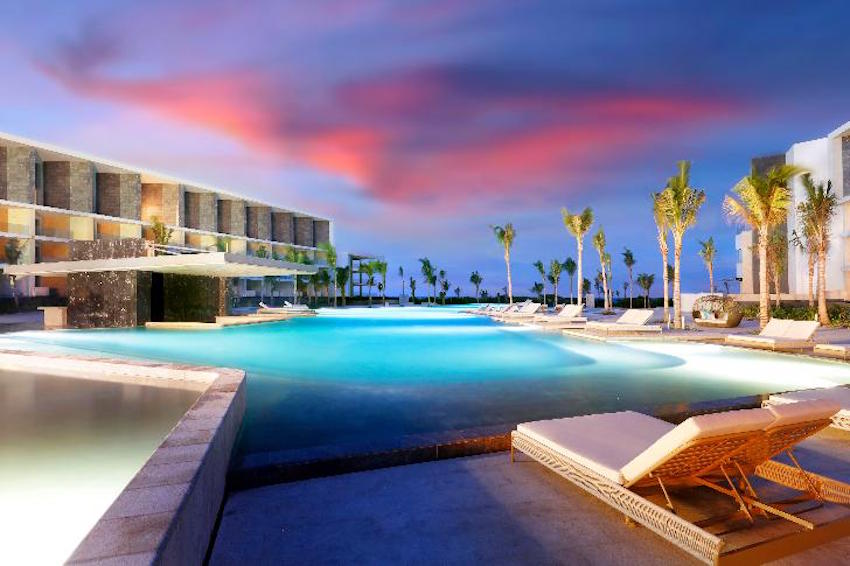 Are you looking for a modern, premium resort to host your wedding at?
TRS Coral Hotel is an all-inclusive, adults-only paradise that is just a few steps away from the gorgeous, clear blue beach. 😍
You and your wedding guests can also hang out at the 3 pools, or eat at the 7 restaurants. 
If you're thirsty, there are 6 bars around the resort including a swim-up bar!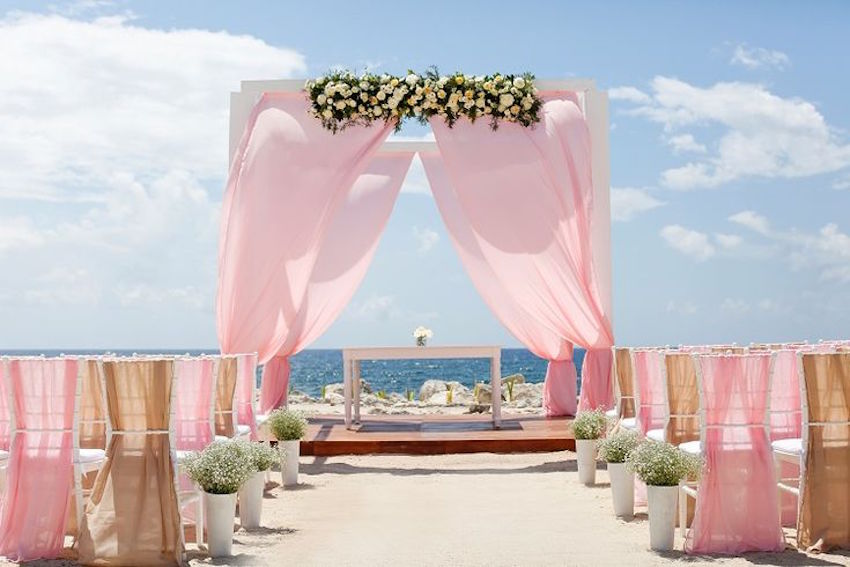 Wedding Packages
At TRS Coral Hotel, there are a few wedding packages that are the same price.
Each of the 6 wedding collections ranges from $2,400 to $2,690. 
They're all part of a collection by Karen Bussen, a well-known event planner.
With each collection, you get…
A two-tier wedding cake
Sheer curtains of your choice
Your choice of chairs 
Signing table 
Room upgrade
Breakfast in bed
Choice of venue
Honeymoon amenities
Private check-in and late check-out
There are many other amenities based on what package you choose.
You can choose between the Pergola on the Beach, Deck by the Beach, or the Catholic Chapel for your venue.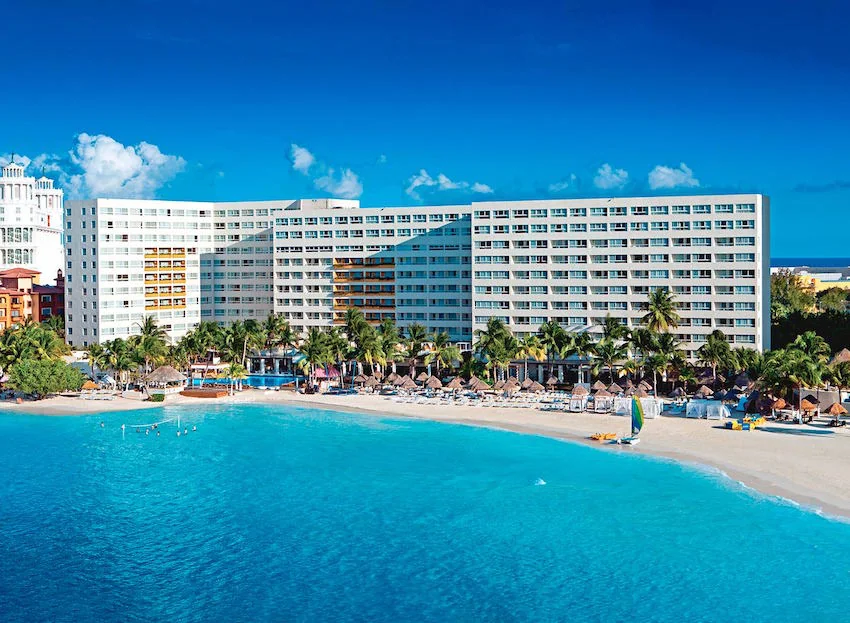 Dreams Sands Cancun Resort & Spa is a heavenly spot in the middle of Cancun's hotel zone. 😍
Every single room and suite has an ocean view that you and your wedding guests won't be able to get enough of. 
Just a short walk away is a shopping area, but back at the hotel, you can find 2 pools, 6 restaurants, and 4 bars. 
Cool off by swimming up to the pool bar or stopping by the on-site ice cream parlour! 🍦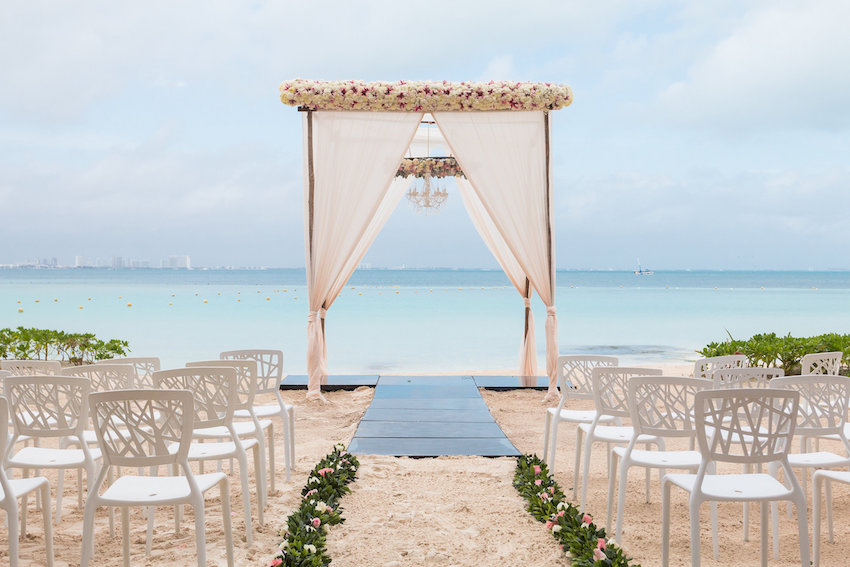 Wedding Packages
At Dreams Sands Cancun, the Beyond Memorable wedding package is one you can't beat. 
You also get to choose between 8 beautiful venues. 
For this package, you get to invite 50 to 79 guests. Plus, every 5th room you book is free! 😌
The price for this package starts at $7,500.
With the Beyond Memorable package, you get…
Private symbolic event
Pergola or gazebo drapery
Appropriate flowers
1-hour welcome party
2-hour rehearsal dinner
3-hour reception dinner
Buffet
Private bar
Dessert station
Free room the night before the wedding for one
20% off spa treatments
And so much more!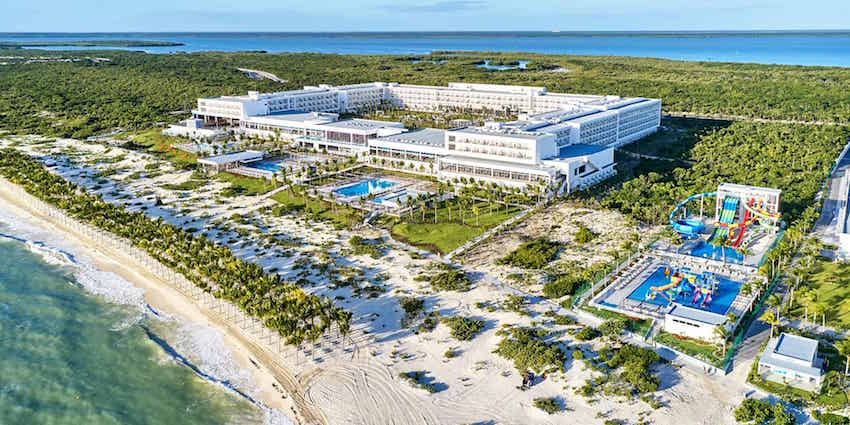 Riu Palace Costa Mujeres is an all-inclusive resort that has 5 wedding packages for under $10,000.
It's a great option for any budget!
If you're looking for a more luxurious experience, the rooms will be right up your alley. 
Even the most basic room is a junior suite! 
You can also enjoy 5 restaurants, 2 swim-up bars, 5 pools, and a full-on water park! 😍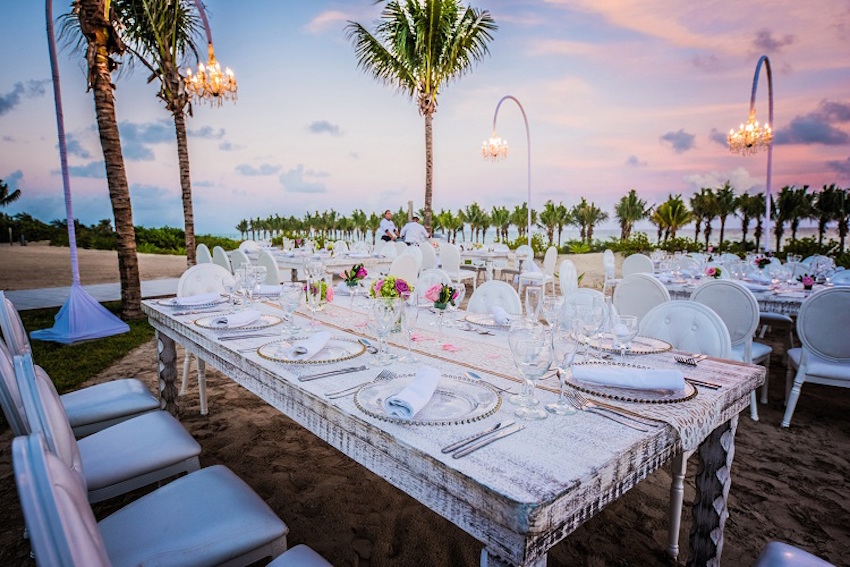 Wedding Packages
At Riu Palace Costa Mujeres, there are wedding packages that range in price, with the first one starting completely free. 
But if you want to go all out, we recommend the Indulgence Wedding Collection. 
The price of this package starts at $7,499. 
Your choice of venues is pretty easy at this resort. You get to choose between the beach or the terrace!
With the Indulgence Wedding Collection, you get…
4-hour private reception dinner with an open bar and DJ
Specialty wedding cake
Cocktail event
Room upgrade
Beauty Parlor Package with a pedicure, manicure, and a wedding hairstyle
50-minute couples massage
Upgraded decorations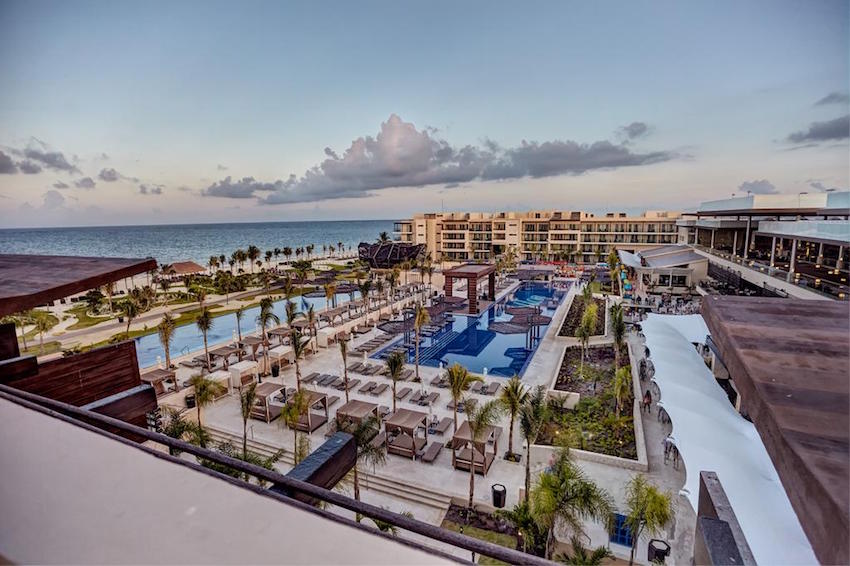 This all-suite resort in the heart of Cancun is one of a kind. 
Royalton Riviera Cancun is a serene paradise that your wedding guests will never want to leave. 
You can take your pick between 8 swimming pools, 9 restaurants, and 11 bars. There are 3 swim-up bars and 4 beach bars! 😍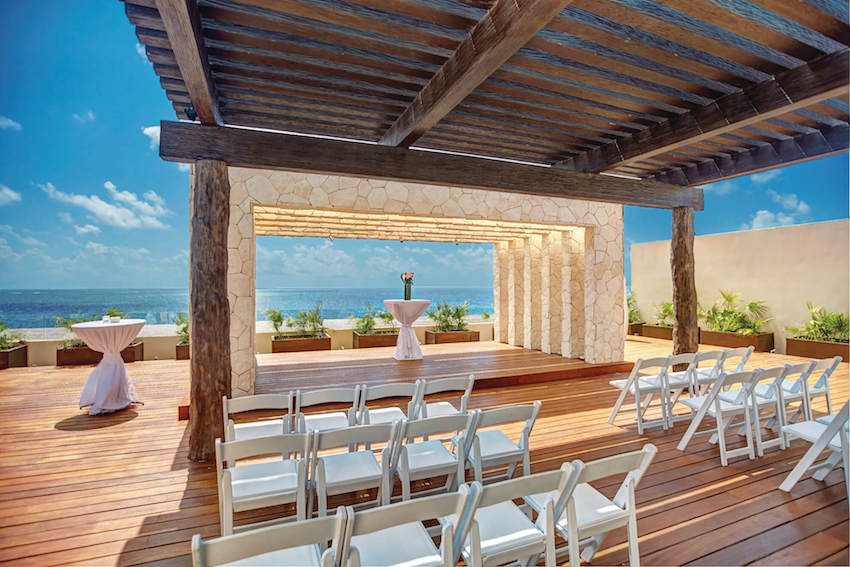 Wedding Package
The wedding package that will give you the most bang for your buck under $10,000 is the Refined Wedding bundle. 
The price for this package starts at $4,199.
Choose between the Royalton Sky Terrace, Ocean View Gazebo, and the Grazie Terrace to host your reception, ceremony, or cocktail hour. 
With the Refined Wedding package, you get…
A VIP welcome
Symbolic ceremony
Tropical bouquets and boutonniere 
3-hour open bar
2-tier wedding cake
Personalized menu
Refreshments and snacks for the bride and groom before the big day
Decorations
10% off spa treatments for the wedding group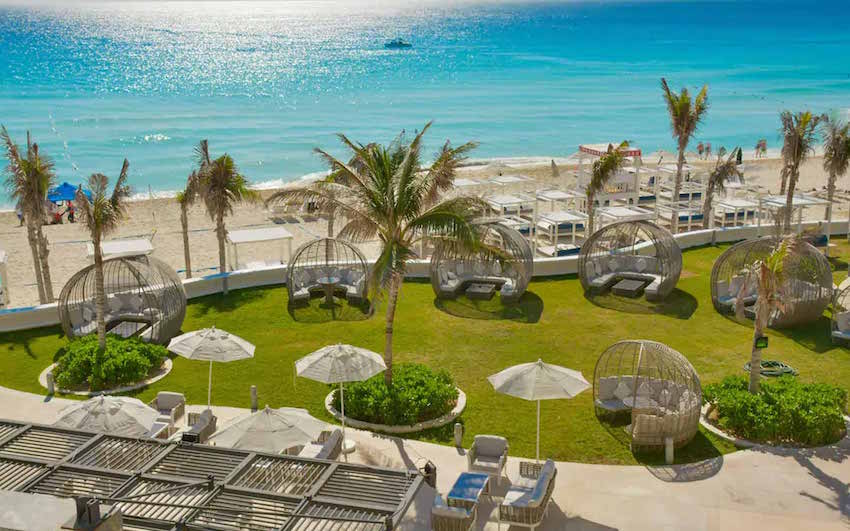 Sandos Cancun is an AAA 4-Diamond resort, so you know it's good. 😌
At this resort, you won't be able to pull away from the 3-level infinity pool, the beach, or the popular beach bar. 
There are also 5 restaurants and 2 bars scattered throughout the resort!
For you and your wedding guests, enjoy rooms that look right out onto the ocean and the lagoon.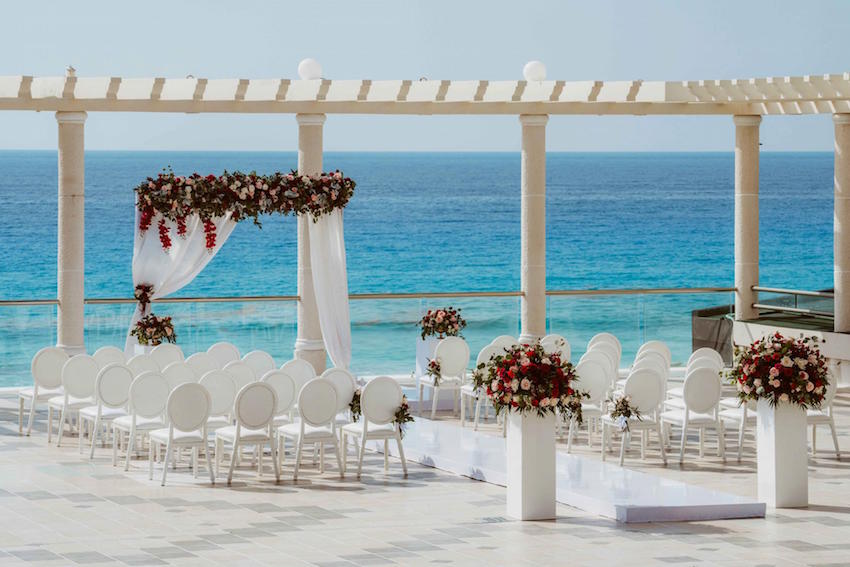 Wedding Packages
Do you want a complete wedding package? Choose the Seaside Bliss bundle at Sandos Cancun. 😍
The price for this package starts at $5,750. 
Your 3 wedding venue choices are the beach, Penthouse Terrace, and Rooftop Terrace. 
With the Seaside Bliss wedding package, you get…
1 or 2 bouquets or boutonnieres
Medium-sized flower medallions
1-hour private cocktail hour with an open bar
3-hour private dinner reception
3-tier wedding cake
A DJ and lights during the reception
Makeup and hair at Sandos Beauty Salon
Complimentary upgrade to next room category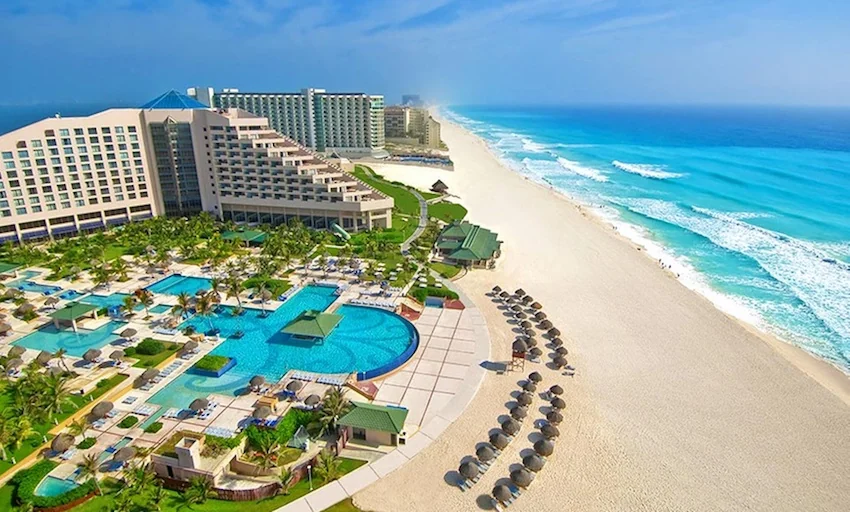 This laid-back resort is a great option for those with big groups, kids, and everything in between. 
Iberostar Selection Cancun is a stunning paradise that has a beautiful beach, soft white sand, and 7 pools to choose from. 
Dine at one of the 6 restaurants or grab your favourite cocktail at one of the 7 bars.
One of the pool bars even has swings! 😍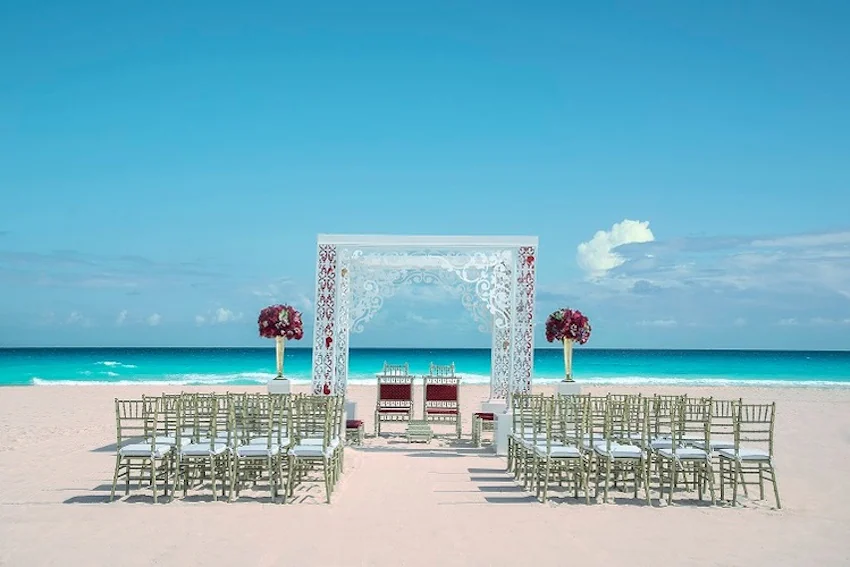 Wedding Packages
Iberostar Selection Cancun offers 3 wedding packages, but the Gold Star Wedding bundle will get you everything you could need!
The price for this package starts at $2,899.
The Gold Star Wedding package comes with…
Fresh flowers for the bouquet, boutonniere, and centerpiece
1-hour cocktail party
White wedding cake with flowers
Complimentary hairstyle for the bride
Reception dinner at one of the resort's restaurants
Room upgrade to the next category
Romantic couples dinner
You also get the choice of The Ballroom, the beach, and The Garden for your wedding venue. 
Want all your guests to have an ocean view? No worries! 😌
The pyramid-shaped hotel is designed specifically so every room has a view of the blue waters.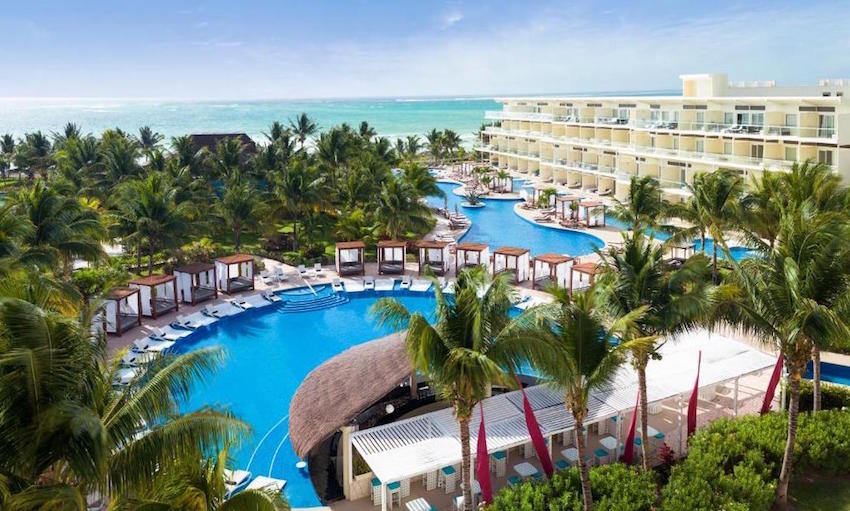 This all-inclusive, luxury resort is waiting for you to celebrate your love there!
Azul Beach Resort Riviera Cancun is an all-suite paradise that offers rooms attached to a lazy river and swim-up suites. 😍
Take a dip in one of the 6 pools or book a spa day at the 13,000 sq. ft. spa! 
You and your wedding guests will also love the 8 restaurants and 7 bars.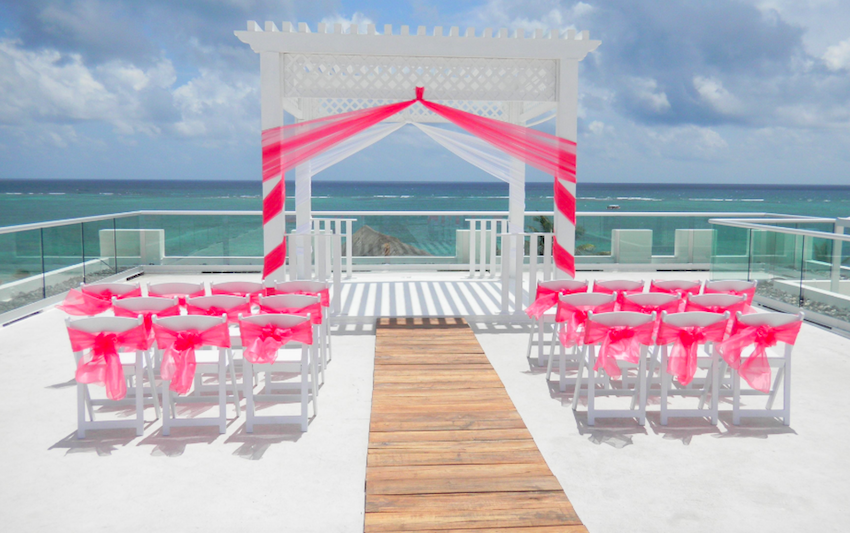 Wedding Package
Remember your wedding day in the best way possible. Choose the Memorable Moments Ultimate wedding package!
The price for this wedding package starts at $7,985.
Your venue options include the Roof Garden, The Sky Terrace, and the Zaras Gazebo.
With the Memorable Moments Ultimate package, you get…
Aisle runner
Floral arrangements
Bouquet and boutonneries
3 wedding tables
Sweetheart table
1-hour cocktail party
4-course dinner reception
2-tier wedding cake
Personalized wedding website
Signature welcome cocktail
And way more!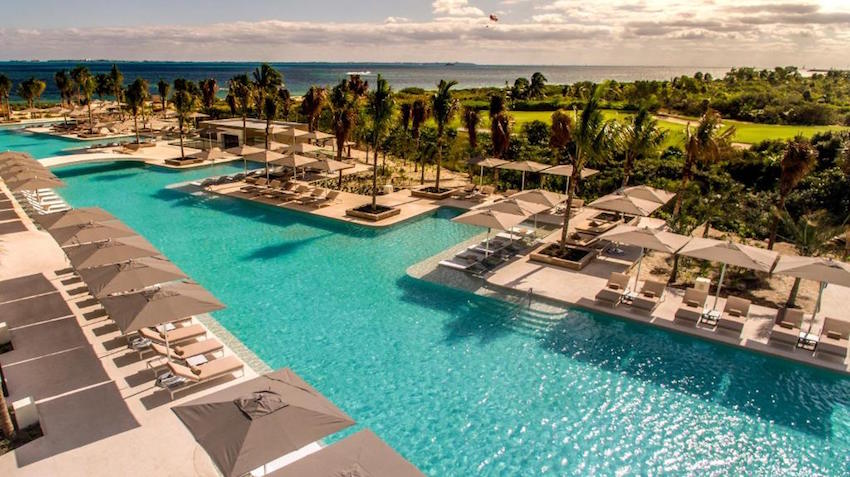 Atelier Playa Mujeres is an upscale, all-inclusive resort for those 16 and over. 
This is a great option if you want a romantic getaway, a destination wedding, or both! 😍
Guests can take a dip in one of the 2 pools or take a short walk to the white sand beach. 
You'll also be impressed by the 8 restaurants and 8 bars. 
One of the bars is in a dark, mysterious theater and another is on the sky deck!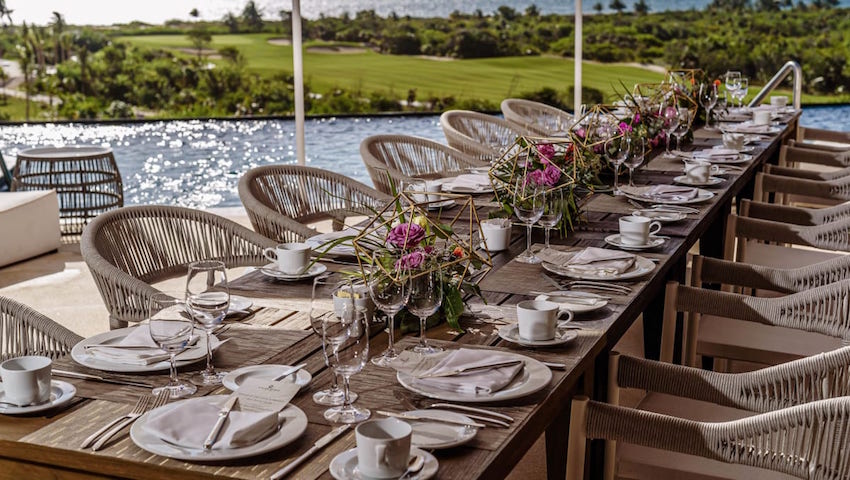 Wedding Package
There is only one package at Atelier Playa Mujeres that's under $10,000 and it's the Entice Package. 
The price for this package starts at $6,150.
For your venue, choose between the beach, The Terrace, and The Meeting Rooms.
This is what you get with the Entice Package…
Bamboo gazebo
Flower arrangement and white sheets for the gazebo
Matching bouquet and boutonniere
Sparkling wine
60-minute couples massage
Wedding cake
1-hour welcome cocktail party
Open bar
3-course reception dinner
3-hour open bar