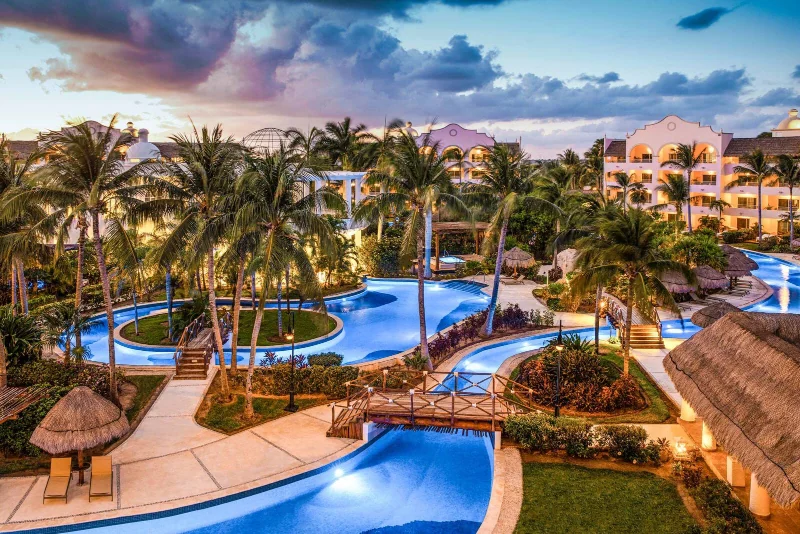 Weddings at Excellence Riviera Cancun | Our Honest Review 2024
Planning your destination wedding?
Considering Excellence Riviera Cancun as your wedding venue?
Then you're in luck!
Our planners have organized 100's of destination weddings & we're here to get give you the inside scoop.
You'll get everything from wedding packages to pricing, pros & cons & more! 🙏
By the end of this post… you'll know if it's THE right spot for you.
So, are you ready to get started?
Let's go…
Excellence Riviera Cancun Wedding Review
1. Hotel Overview
★★★★ | ADULTS-ONLY | ALL-INCLUSIVE | CANCUN
If you're looking for a luxurious, adults-only resort in Mexico, then Excellence Riviera Cancun is a great option.
Located on a private white sand beach, the breathtaking backdrop of the Caribbean will be enough to make you want to stay forever…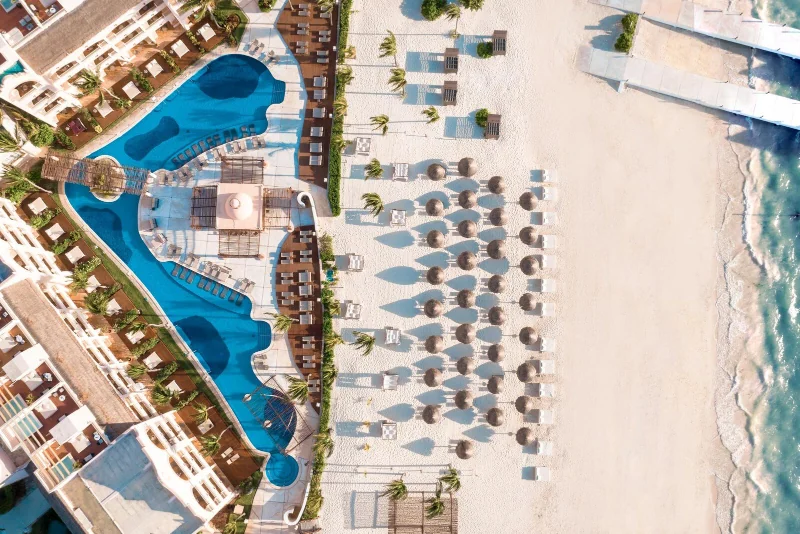 But, this 5-star property also boasts elegant suites, gourmet dining, top-notch service & plenty of activities to keep you busy during your stay.
From water sports to spa treatments, there's something for everyone here!
Excellence Riviera Cancun offers 3 all-inclusive wedding packages to choose from.
Excellence | $850 for 10 guests
Excellence of Love | $1,500 for 20 guests
Gold Excellence | $2,400 for 20 guests
Their most high-end offer is the Gold Excellence Wedding Package.
**This package is suitable for 20 guests staying at the hotel. You can host additional guests for $45/person.**
It includes everything you need, from catering to decor, music, and more.
 Gold Excellence Wedding Package includes:
On-site assistance by our wedding coordinators
Ceremony
Minister service (Symbolic Ceremony)
Beach venue or gazebo overlooking the Caribbean Sea
Ceremony décor (white avant-garde chairs & high tables w/ white fabric)
1-hour cocktail party with hors d'oeuvres & an open bar after the ceremony
Private dinner reception for 4 hours (w/ standard white set-up & an open bar)
Sparkling wine during dinner for main toast
Wedding cake
4 boutonnières or corsages for the wedding party
Floral bouquet & boutonnière (Gold Level)
Natural floral centerpiece for the head wedding table during dinner
Sound system for the ceremony
Romantic or Caribbean music trio (45 min)
Bride's hair & makeup for the ceremony
Complimentary Duet Balance Massage for the bride & groom (50 min)
15% discount on all spa treatments
20 digital full-color photos (during the ceremony)
A 15-minute video of the ceremony
Preparation & ironing of bride's & groom's attire
Honeymoon package
Preferential suite within the category reserved
Complimentary suite for the groom the night before the wedding
Special turndown service for the wedding night
Late check-out for the bride & groom
You can also add on additional services like firewoods & indoor pyrotechnics!
3. Ceremony & Reception Venues
There are plenty of indoor & outdoor wedding venues to choose from at this resort!
Whether you're looking for something simple or extravagant, they have you covered.
Wedding venue options include:
Stone Gazebo
Pier
Beach
Reception & cocktail venue options include:
Garibaldi Square
Agave Restaurant
Foyer
Las Olas
Beach
Ballroom
X-Lounge
All couples are welcome at Excellence Riviera Cancun, regardless of sexual orientation!
The same services & amenities are offered to all so you'll be able to have the wedding of your dreams.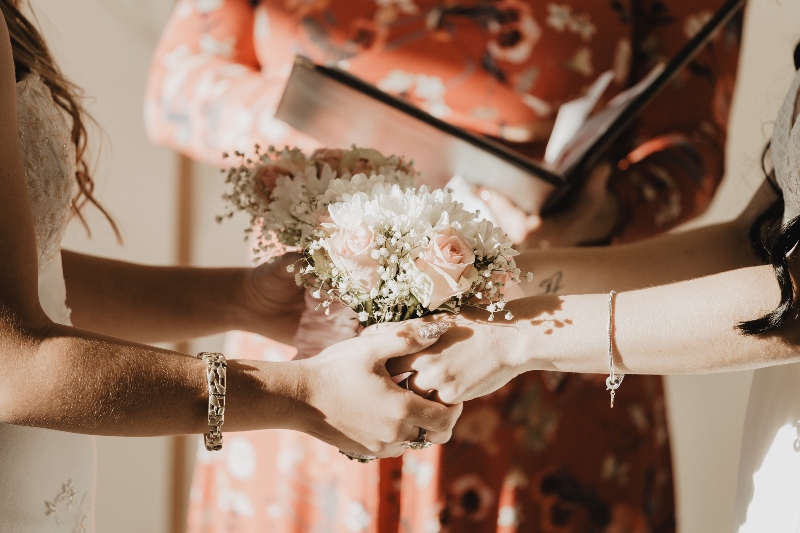 Just note that a wedding in Mexico doesn't mean it'll be recognized in your home state. That's why many couples have a symbolic ceremony here & a legal one back home.
The legal paperwork is less of a hassle that way!
Excellence Riviera Cancun has 440 modern suites, each with a private balcony or terrace.
Room types include:
Junior Suite Spa or Pool View | starting at $386/night
Junior Swim-Up Suite Spa or Pool View | starting at $434/night
Ocean View Junior Suite | starting at $481/night
2-Storey Rooftop Terrace Suite Spa or Pool View | starting at $504/night
The elegant in-suite touches & amenities will make you & your guests feel right at home.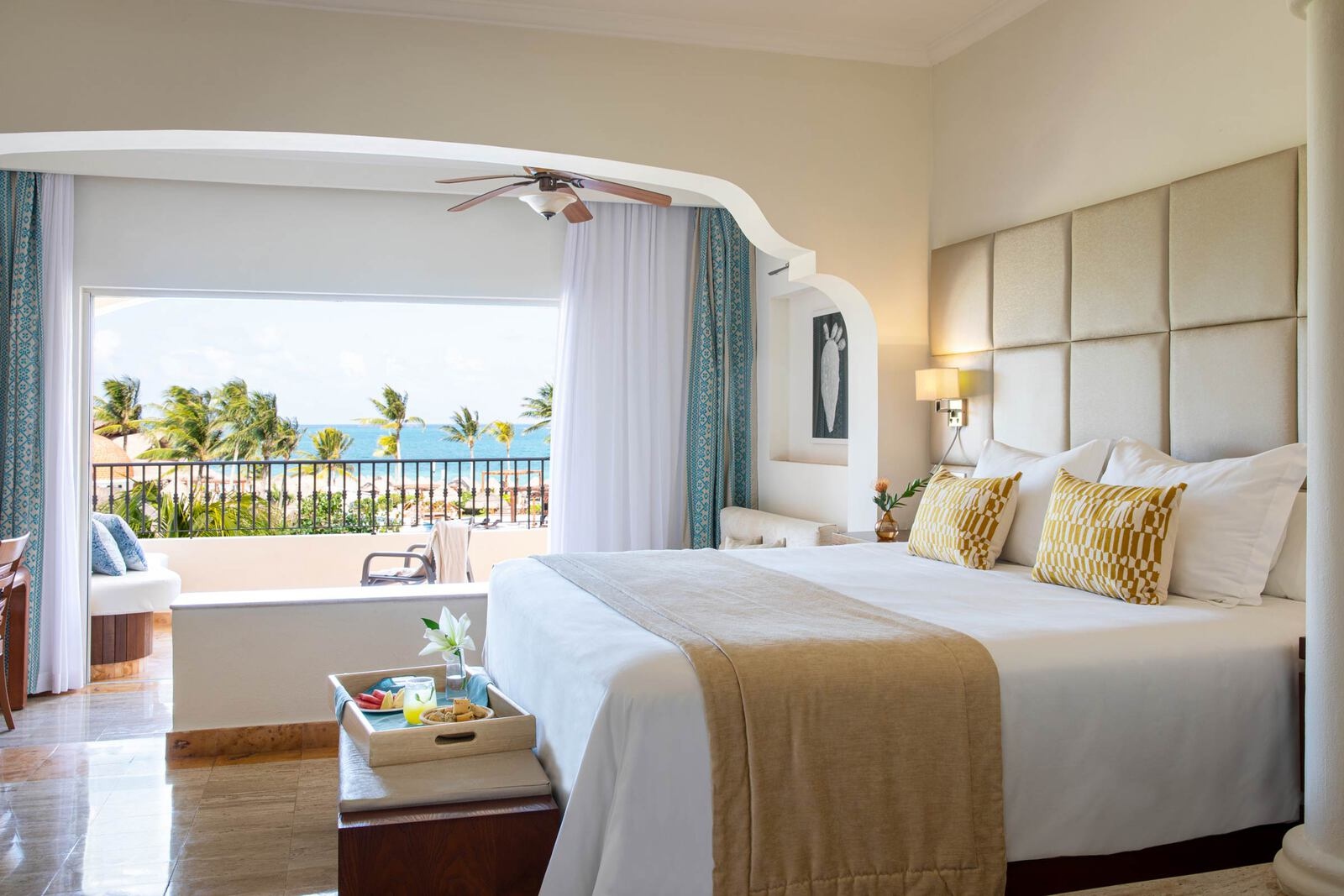 And if you're looking for elevated luxury, their Excellence Club has 8 room categories!
Room categories include:
Excellence Club Junior Suite Pool View | starting at $497/night
Ocean Front Junior Suite | starting at $528/night
Swim-Up Junior Suite Pool View | starting at $552/night
Junior Swim-Up Suite Ocean View | starting at $575/night
Excellence Club Honeymoon Suite Oceanfront | starting at $638/night
2-Storey Rooftop Terrace Suite Oceanfront | starting at $701/night
Honeymoon Suite Oceanfront w/ Rooftop Terrace | starting at $859/night
Excellence Club Imperial Suite | starting at $890/night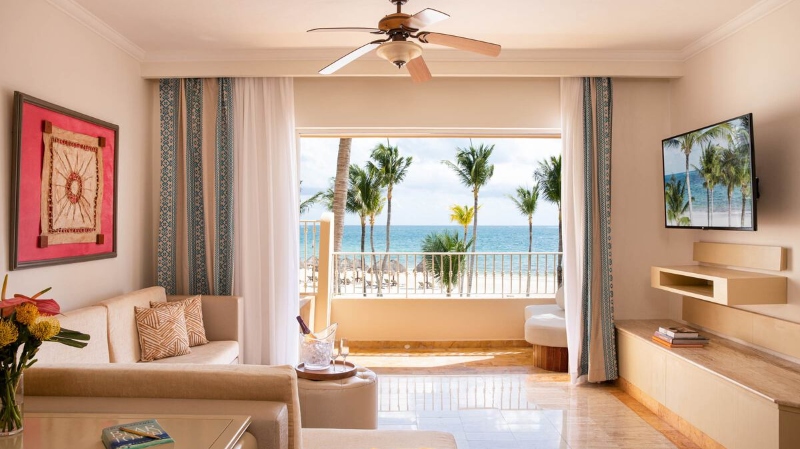 For the wedding couple, we highly recommend the Excellence Club Ocean Front Honeymoon Suite! With over 1,000 sqft of space, this suite features 2 furnished balconies with a Jacuzzi, a separate living room & bedroom, and sweeping views of the Caribbean.
Plus, with Excellence Club status, you'll get access to VIP areas like a private beach, lounge, pools & more!
The white sand beach & clear blue waters are one of the main reasons why couples choose to get married here.
And with a backdrop like that 👇… how could you not?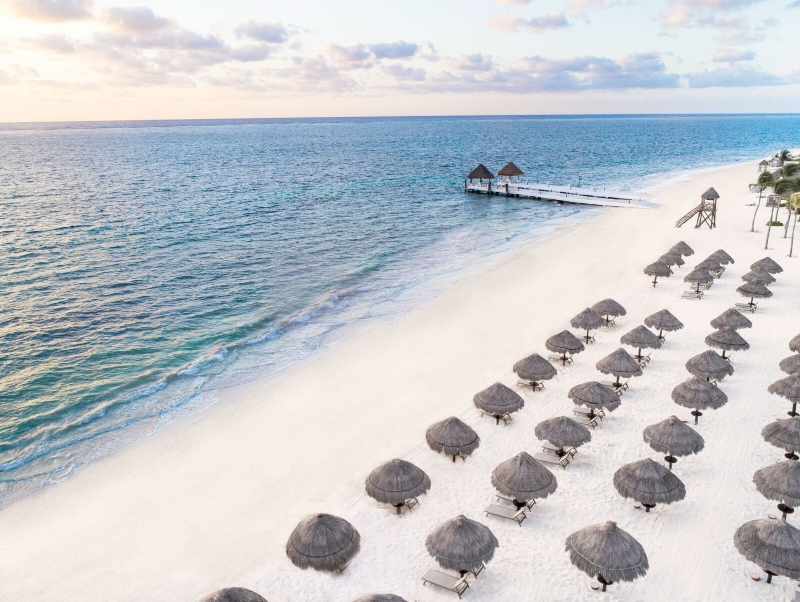 The best part is that there's plenty of space for you & your guests to enjoy. You can even have your wedding ceremony right on the beach! Beach wedding venue anyone?
The food here is absolutely amazing.
You'll find a wide variety of cuisine to choose from, including Mexican, Italian, Japanese, and more.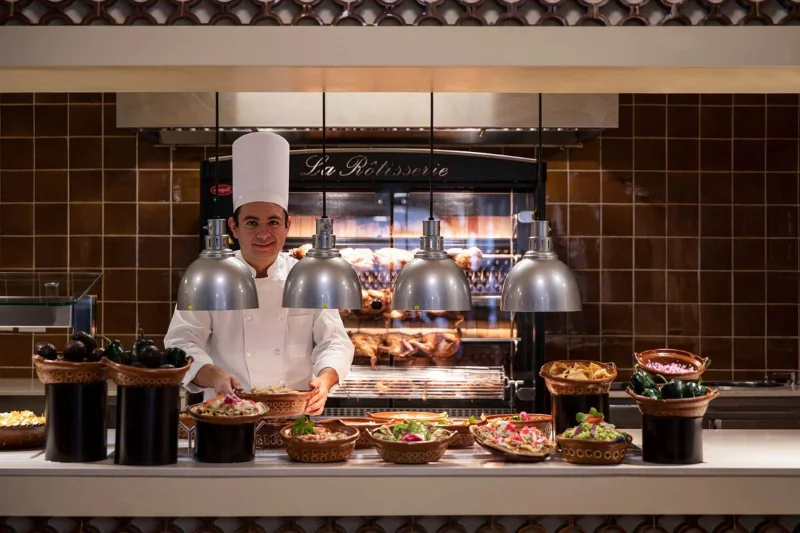 Your restaurant options include:
The Kitchen Table | International cuisine
Agave | Mexican cuisine
Chez Isabelle | French cuisine
Basmati | Indian cuisine
Oregano | Italian cuisine
Flavor Market | International cuisine
The Grill | Steakhouse
Spice | Asian cuisine
The Lobster House | Seafood
Las Olas | Pizza
There are also 12 bars & lounges located around the resort when you & your guests need a refreshing drink!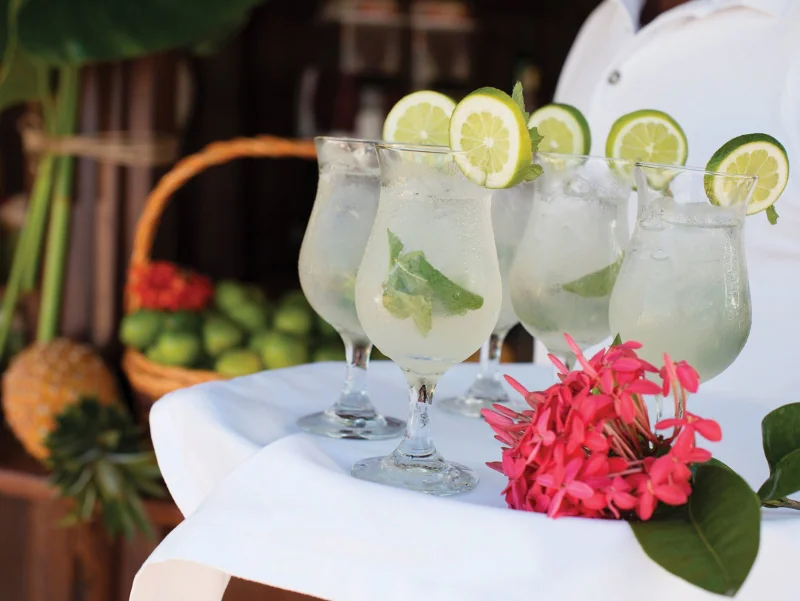 12 bars & lounges include:
Sports Bar
Martini
Prelude
Blue
Aroma
Sol
Stars
X-lounge
Revive
La Havana Cigar Bar Lounge
Excellence Club Lounge
Cielo
8. Activities & Entertainment
When you're not busy eating or drinking, there are plenty of activities to keep you & your guests entertained.
If you're looking for some group entertainment options, they offer things like:
Cooking classes
Wine tasting
Salsa lessons
Private yacht excursions
Dance lessons
Scuba diving
Beach volleyball
Air rifle shooting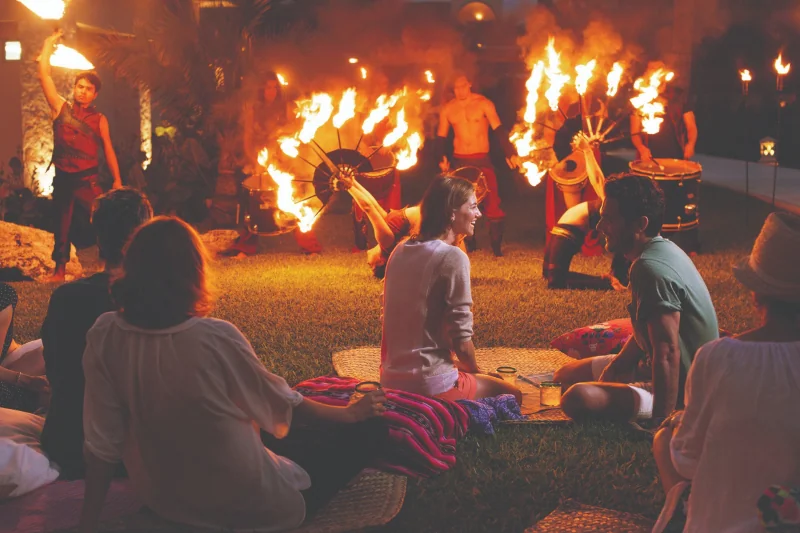 Or if you're looking for something more low-key, you can enjoy the following activities:
6 swimming pools
Kayaking
Deep sea fishing
Paddleboarding
Tennis & much more
9. What Brides & Grooms Said...
"If you are considering a destination wedding and are reading this please let this be a sign that you need to do it!! We had our wedding on June 24th at The Excellence Riviera Cancun.
They had everything totally ready for me when I got there so it just took a few minutes out of my day to confirm everything. I used the in house photography team with Jesus and they went way above and beyond for us. The best part is that my wedding planners and photographers seemed to be having as much fun at our wedding as we were!! The food was excellent (pun intended). I also used the in house DJ and he was great! My cousin asked him for the playlist haha.
Literally everyone told me this was the best wedding they had ever attended. Having my wedding at The Excellence was the best decision I ever made (besides saying I Do hehe)." – Clynton K.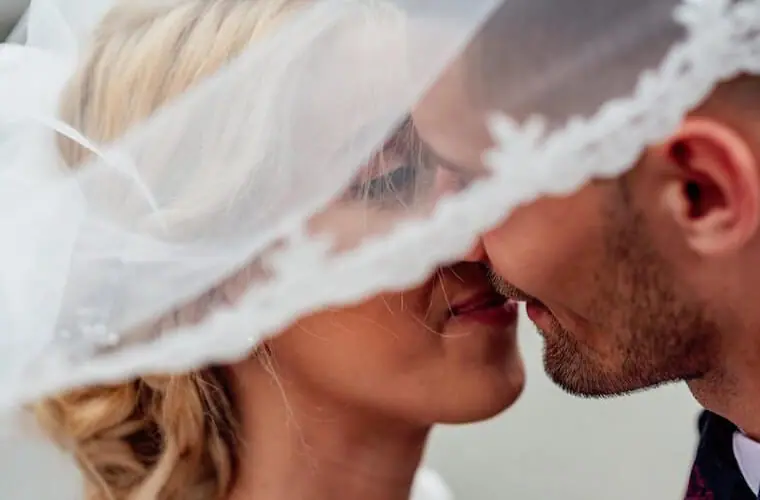 "We had a wedding here and everything was amazing. Such great service all around. If the smallest thing is wrong they go above and beyond to make it right. Wedding location is beautiful. The resort is amazing- beautiful pools and grounds, rooms are amazing. Room service was in several times a day. Will be going to other locations." – Smithwebb21
10. Why We Like It (Pros/Cons)
There are so many things to talk about when it comes to the Excellence Riviera Cancun!
Here's what our wedding planners had to say…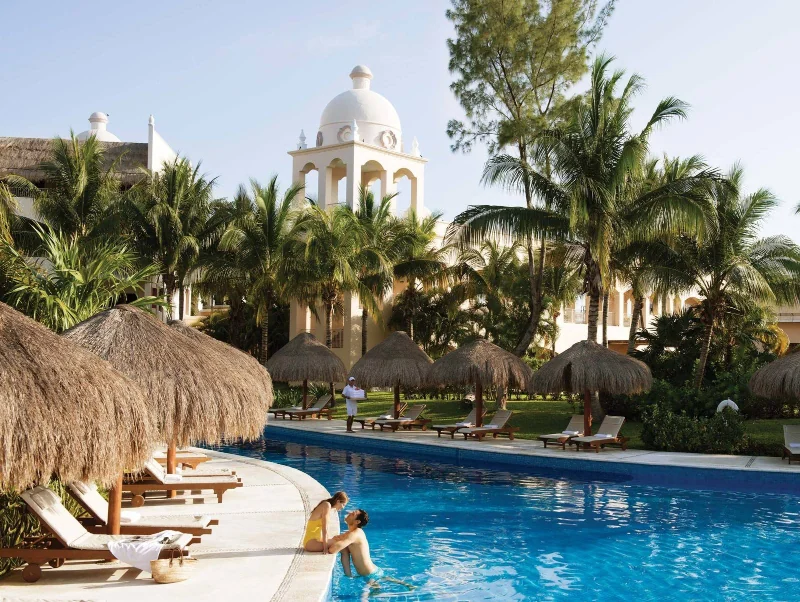 Things we love:
Amazing food.
Friendly staff & top-notch service.
Affordable wedding packages.
Beautiful wedding venues.
Wide variety of activities & group entertainment options.
Things we don't love:
Beach can rack up sargassum (seaweed) during certain times of the year.
Wedding team is hit-or-miss. (kinda unreliable 😬)
They require very high deposits with tough policies in contracts.
Property is a little old, but well maintained.
They accommodate smaller groups well, bigger groups are more complicated for them.
Is this THE perfect location for your wedding? You always want to explore comparable resorts just in case.
Similar resorts to Excellence Riviera Cancun:
Ask your questions in the comments below!
Have more questions about the resort?
Not sure if it's the right one for your destination wedding?
Our team has helped 100's of couples plan their big day here in Mexico…and we can help you find the perfect resort that fits your budget & vision!
Just give us a call at 877-737-0177 or contact us here for your free consultation.

What are you waiting for?
Let's start planning your dream day today!