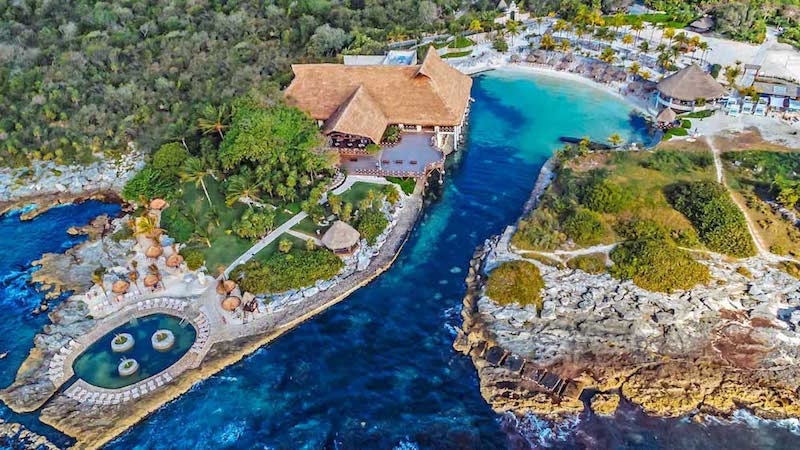 Weddings at Occidental at Xcaret Destination | Our Honest Review
Thinking Occidental at Xcaret Destination for your wedding? 💍
Not sure it's the perfect spot?
Don't worry, our planners have your back!
Before you choose Occidental at Xcaret, let us tell you about the pros, cons, and everything in between. 
You'll want to read this!
Ready to find your dream wedding resort with our help?
Let's do it!
Occidental at Xcaret Destination is a beautiful resort located in Playa Del Carmen, which is in the heart of the Riviera Maya. 
It's all-inclusive, laid-back, and surrounded by a jungle. Yes, a jungle! 😮
Instead of a long, stretched-out beach, there is a private cove that only guests have access to. 
This resort features 765 rooms, 7 pools, a large canal through the lobby, and hidden riverbeds. 
You also get 11 restaurants to choose from, 10 bars, and a nightclub that you and your wedding crew can celebrate at. 🎉
Like to stay active on vacation?
You'll have access to a large gym, a tennis court, and a stunning spa if you're in need of some relaxation. 
Occidental at Xcaret Destination offers 5 wedding packages with each one giving you different prices, accommodations, and upgrades. 
Coconut Paradise Package | Free for 10 guests
Blueberry Dream | $2,150 for 20 guests
Mint Breeze | $2,750 for 20 guests
Strawberry Passion | $4,350 for 25 guests
Tangerine Sunset | $5,800 for 30 guests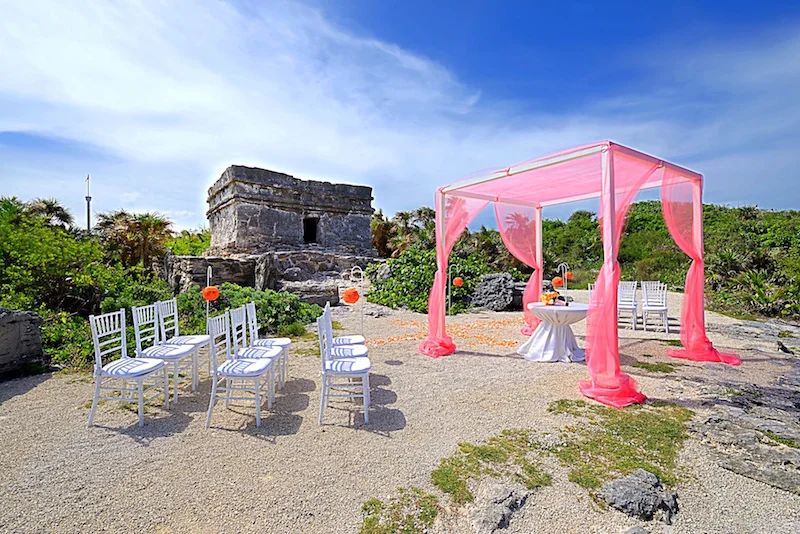 You'll love their most popular package!
For $5,800 you not only get the wedding of your dreams, but you also get a ton of upgrades that will make your week even more special.
Plus, you and your future spouse get to celebrate with 30 of your closest friends and family.
Here's what else you can expect from the Tangerine Sunset package:
Upgrade to Jr. Suite
Choice of ceremony and reception area
Help from us and the on-site wedding coordinator
Ceremony table with white linen
Centrepiece for ceremony table
Live violinist or guitarist for the ceremony
Elegant bouquet for the bride
Matching boutonniere for the groom
Sparkling wine for the wedding toast
One-hour private cocktail reception
Private dinner for 30 guests
One-tier wedding cake
Breakfast in bed
Special turn-down for the wedding night
50-minute couples massage
Bath amenities
Fresh fruit plate
Wine bottle for the couple
Any other service you may need can be accommodated at an extra charge!
Occidental at Xcaret Destination offers 2 wedding venues and 2 reception areas, which include:
This is the most popular wedding location at this resort. 😍
Couples get a view of a Mayan temple and the Caribbean sea while standing on soft, white sand. 
This space can accommodate up to 30 guests.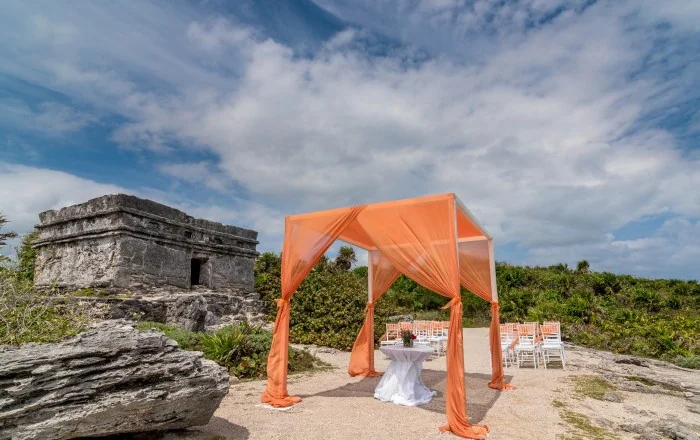 The Garden Gazebo is a romantic space that is held under a palapa and that overlooks the bluest waters. This location can accommodate up to 100 guests.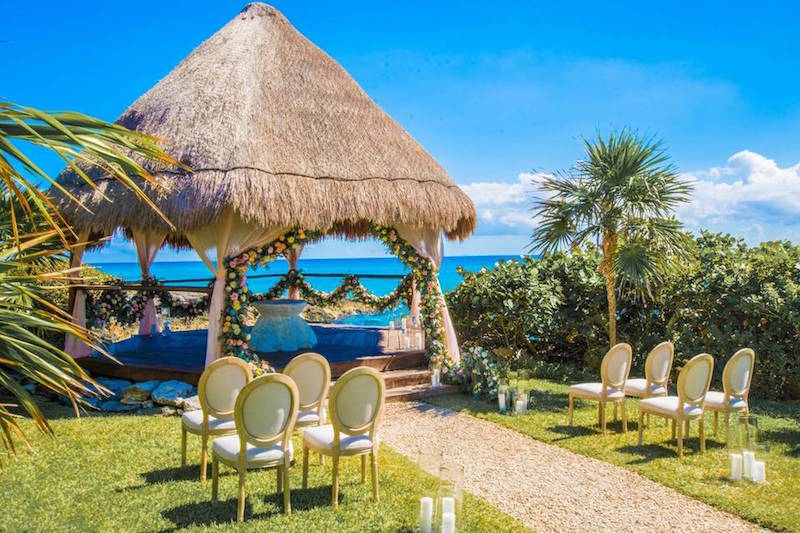 The Beach Club is the most popular reception area at this resort. 
It not only includes the club but there are surrounding areas like the terrace and garden that are perfect for cocktail hours. 
Your guests will absolutely love the entire atmosphere, including the romantic, pink lights that light up the whole area. 💕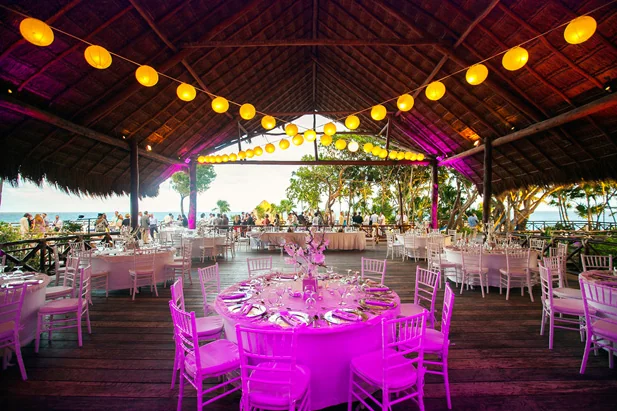 Are you looking for a space that you can decorate to your own style?
The banquet hall is your best choice!
This large room can fit many guests for your reception and when it's time to party!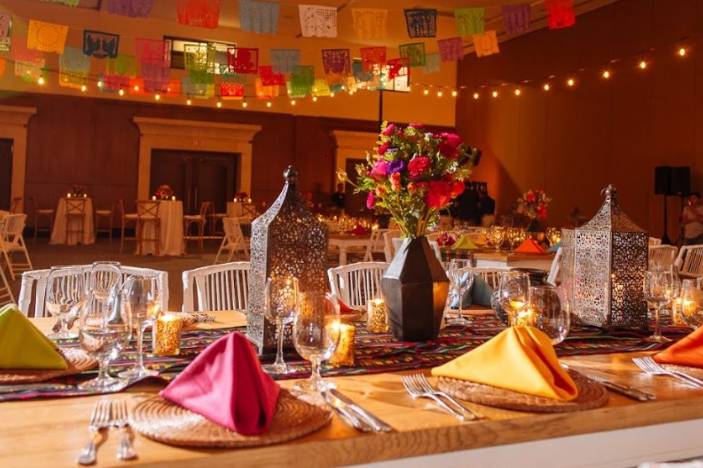 Occidental at Xcaret Destination welcomes every couple, including those who are LGBTQ+!
Many same-sex couples have had their weddings here and feel nothing but love and acceptance.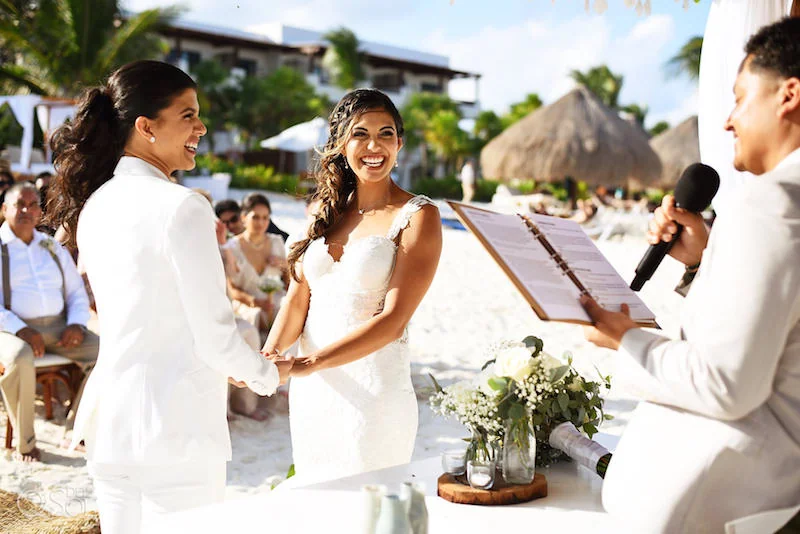 If you're worried about getting married in another country, don't be! 
At every ceremony, there is a non-denominational Minister that will happily marry you. 💍
And with the help of us and the wedding coordinators, your legal documents will be easier to fill out than you imagined!
This resort has an impressive 765 rooms, with each one offering a terrace or balcony. 
There are 9 different types of rooms ranging from deluxe to royal-level master suites. 
You get to choose between these different suites: 
Deluxe
Deluxe Concierge
Deluxe Plus
Junior Suite
Royal Level Luxury
Royal Level Suite
Romance Suite – Royal Level
2 Connecting Rooms
Royal Level Master Suite
For soon-to-be-married couples, we highly recommend the Romance Suite – Royal Level. 
I mean, the title speaks for itself!
This suite spans 1,365 square feet, has a king-size bed, and a living room. 
Step outside and you're in your own little paradise. On the private deck, you'll find a hydromassage tub and lounge chairs surrounded by tropical gardens. 🌴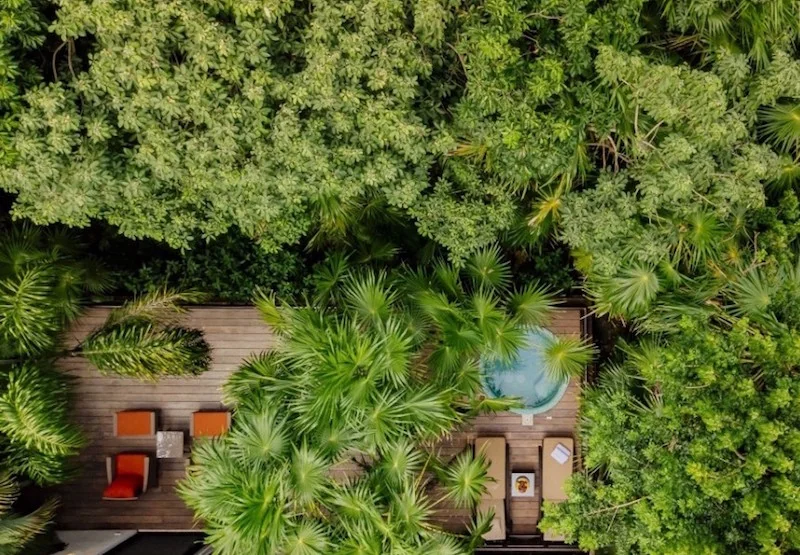 As for the other suites, they all include: 
Balcony/terrace
TV
Two double beds or a king-size bed
Phone
Stocked mini-fridge
Air conditioning
Hairdryer
Coffee maker
Fan
Wi-Fi
Alarm clock
The beach at Occidental at Xcaret Destination isn't like other resort beaches. 
Instead, you'll be able to swim in a private cove that is surrounded by soft, white sand.  😍
If you're not up for swimming, take a rest on the comfortable beach chairs or a luxury beach bed. 
Not a fan of the beach? You can find 7 pools at this resort, all spread out and perfect for lounging!
With 11 restaurants and 10 bars, there's no way you won't find something to satisfy your tastebuds. 
No matter what you're craving, you won't have to leave the resort to find it! 
Restaurant options include:
Le Buffet | Buffet
Sonora Steak House | Steakhouse
Los Olivos | Mediterranian & Italian
La Hacienda | Mexican
D'Oriental | Asian
El Pescador | Seafood
La Piazza | Authentic Pizziera
The Beach Club | International Buffet
El Lago Snack Bar | Fast Meals
Paco's Tacos | Mexican
Royal Level | A La Carte
The 10 bars are scattered all throughout the resort including swim-up bars, pool bars, lobby bars, sports bars, and more! 🍹
This family-friendly resort has so many activities and entertainment options, you won't know which one to choose!
For those over 18, the Palenque Nightclub is a great spot to listen to international music and try out some delicious drinks.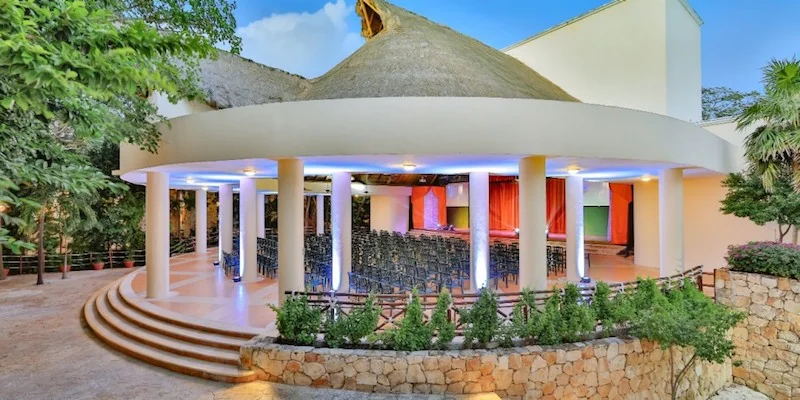 Some of the activities and entertainment options include: 
Mini-golf course
Video game room
Tennis
Volleyball court
Gym
Ziplining
Rafting
Xcaret Park
Jungle walks
Animal-life sightings
Boat rides through a canal
When choosing a wedding destination, you want to know all the details.
That's what our team is here to bring you!
Q: How far is the resort from the airport?
A. The resort is approximately 63.2 miles (1 hour and 5 minutes) from Cancun International Airport.
Q: What are the check-in and check-out times?
A. The check-in time starts at 3 pm, and the check-out time is 11 am.
Q: Are there fees for additional wedding guests?
A. Yes, $125 per guest.
Q: Is there a minimum stay required?
A. No, you can stay as little as one night.
Q: What are the cancellation rules?
A. Occidental at Xcaret Destination has fully refundable rooms available, which can be cancelled up to a few days before pending arrival.
Q: Does the resort offer Wi-Fi?
A. Yes, there is free Wi-Fi for all guests.
Q: Is it a pet-friendly resort?
A. No, there are no pets permitted at the resort.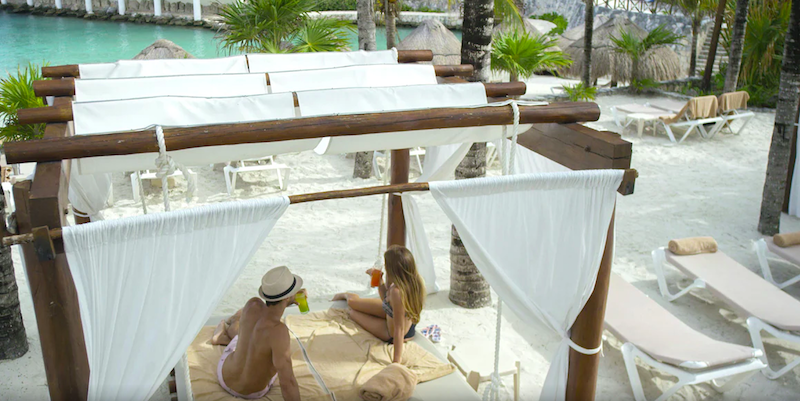 From the beach to the jungle, to the different cuisines they provide, Occidental at Xcaret Destination has something for everyone. 
Plus, your wedding photos, ceremony, reception, and everything between will be handled delicately and with your every need in mind. 😀
With that said…
Our wedding specialists had a lot to say about this resort.
Read their comment below!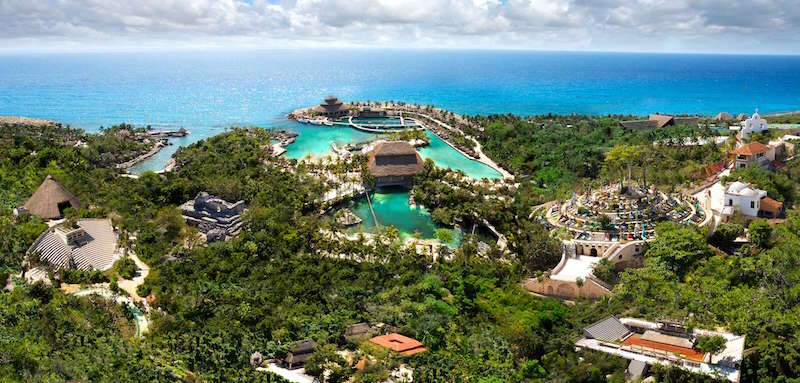 Things we love:
Amazing wedding venues
Great value accommodations
Very unique
Beautiful scenery
Has a variety of restaurants and buffets to choose from
Wedding ceremonies and receptions are very private
And just a couple of cons…
Things we don't love: 
The beach is small
The rooms are a bit dated
Lack of service
Since there is a surrounding jungle, animals can appear out of nowhere
Needs upgrades 
Beautiful scenery, tropical vibe, amazing beautiful and very private beach..Could use some lifting, lacking service and monkey control lol. One scared the heck out of me when it jumped to my balcony and wanted to open the door to the room. Since the lock didn't work I had to stand there and hold the door until the monkey left.. It's very nice, but lacking.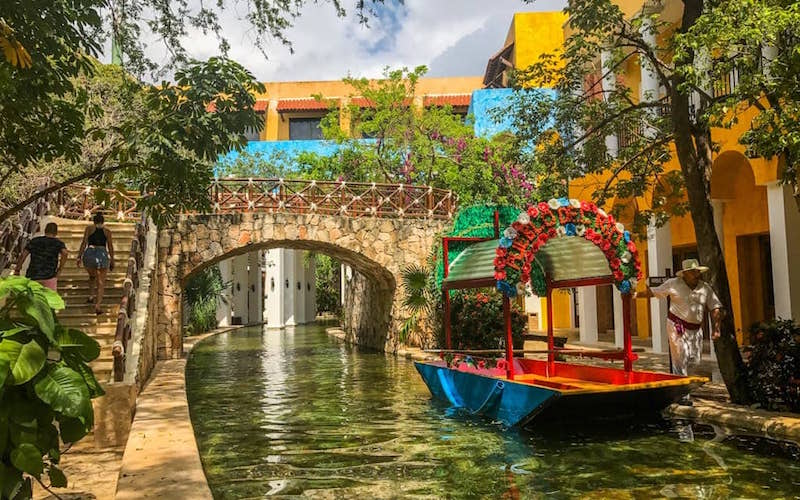 If you need more options in Mexico, these 10 resorts are all-inclusive and range in wedding package prices. 
Still unsure? 
You'll want to consider these comparable resorts for your wedding.
Do you have more questions about Occidental at Xcaret Destination?
Or maybe you're just looking for options that may suit you better.
That's what our experienced team at ParadiseWeddings.com is here for!
Call us today at 877-737-0177 for a free consultation or contact us here.
We can't wait to help you plan your perfect day!