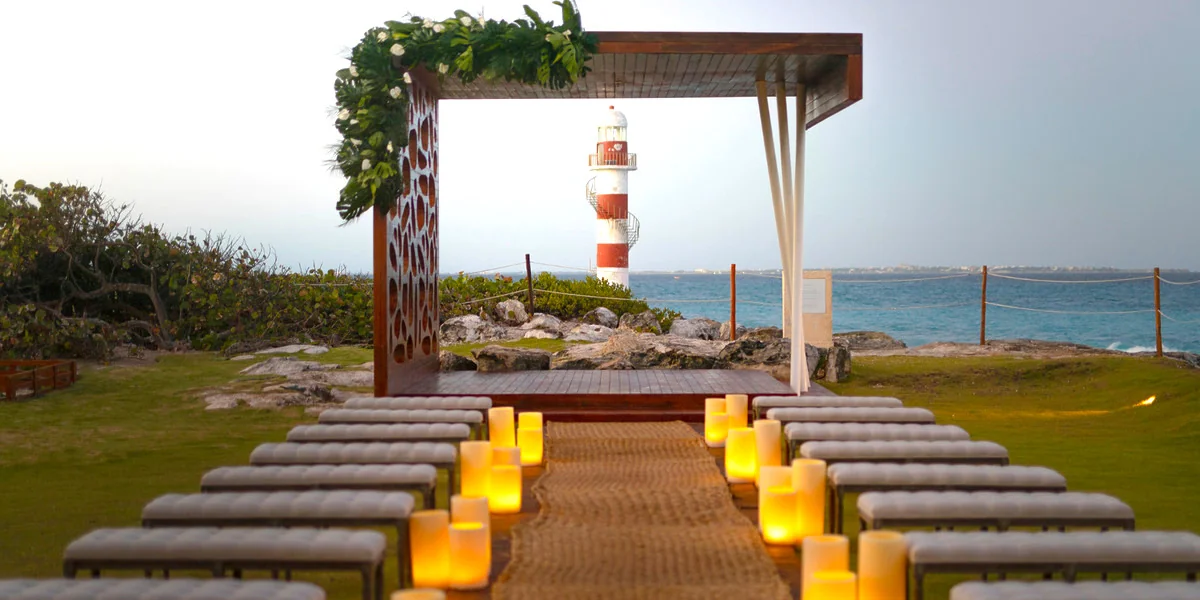 Weddings at Hyatt Ziva Cancun | Our Honest Review 2023
Have you heard about weddings at Hyatt Ziva Cancun?
You may want to write this down because it's going to get interesting…
Hyatt Ziva Cancun is not just romantic and beautiful, but it has so many wedding packages and wedding venues to choose from.

So, in this post, our planners get into the nitty gritty, the pros and cons.
You ready to find out what they are?
Well, dig in!
Paradise, heaven, oasis… these are all nouns that can describe Hyatt Ziva Cancun. 
This resort is surrounded on 3 sides by crystal clear water, giving each suite the most beautiful view. 
Enjoy 9 restaurants and 6 bars including a dessert parlor and 2 swim-up bars!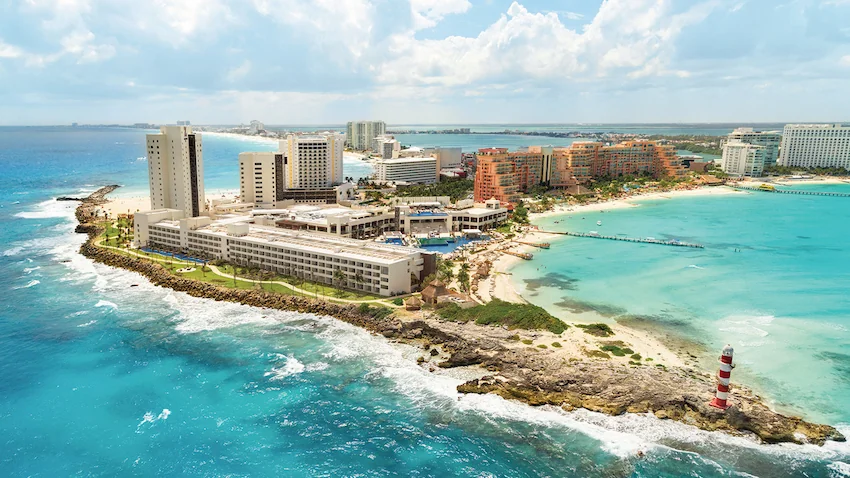 Hyatt Ziva Cancun offers beautiful 547 suites with modern decor. Each suite features a completely furnished balcony!
Relax at one of the 3 pools, either in the cool water or on one of the comfortable cabanas. 
There's a reason this resort is so popular!
At Hyatt Ziva Cancun, you have 5 wedding packages to choose from. 
With options for just the two of you to a group of almost 50 guests, you have many options for your ideal wedding. 
Each package gets you amenities for the ceremony, reception, and cocktail hour, except Intimate Elegance which just includes the ceremony. 
Wedding packages include: 
More guests can be invited for $30 – $134 per extra person, depending on the package.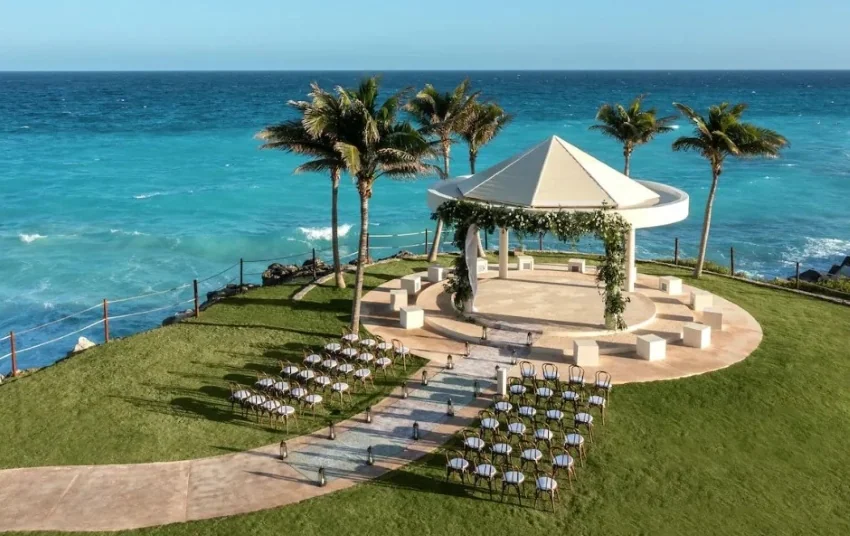 Luxury Wedding Package
The Luxury wedding package has everything you could need for your big day. 
The wedding couple isn't the only one who can take advantage of this package — the guests can too!
For $12,789, you get all of these amenities: 
Symbolic ceremony
Bouquet and boutonniere
Romantic suite decor
50-minute couples massage
Late checkout
Manicure and pedicure for the couple
Hair and makeup 
15% off spa services
Romantic oceanfront dinner
Breakfast in bed the morning after the wedding
Decorated gazebo
Rose petals for the aisle
Ceremony decor
Solo musician 
Professional photographer 
Video photographer
Private cocktail hour with open bar
Private 3-hour dinner reception
3-course meal
Open bar
Wedding cake
10% off spa services for guests
There are 8 wedding venues available at Hyatt Ziva Cancun and we can guarantee that you won't be disappointed by the choices. 
Whether you want an indoor venue, a covered venue, or one where the sun will beam directly on you, they have it here. 
1. Sky Terrace
The Sky Terrace is a beachfront venue that's slightly covered on one side. 
It's a beautiful venue that has views of the Hotel Zone. 
You can invite up to 200 guests here.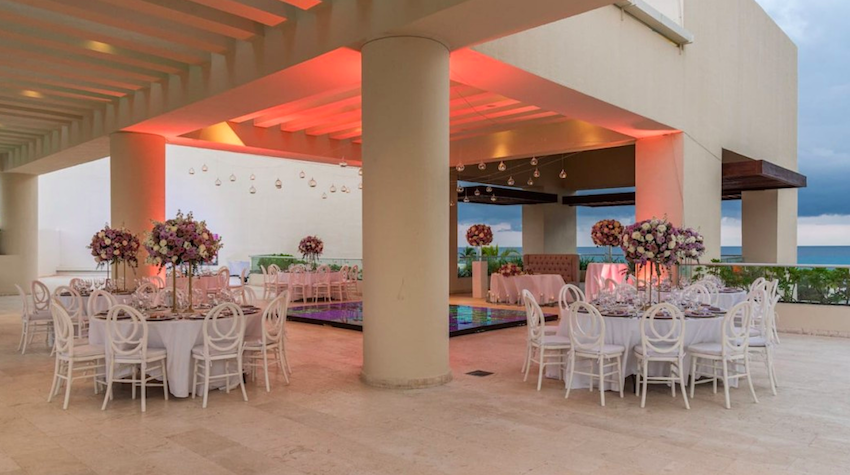 2. Gazebo
Available for the ceremony and reception, this oceanfront gazebo overlooks the sea giving the most beautiful background. 
You'll be surrounded by lush green gardens and palm trees!
Invite up to 200 guests to join you for the ceremony and reception.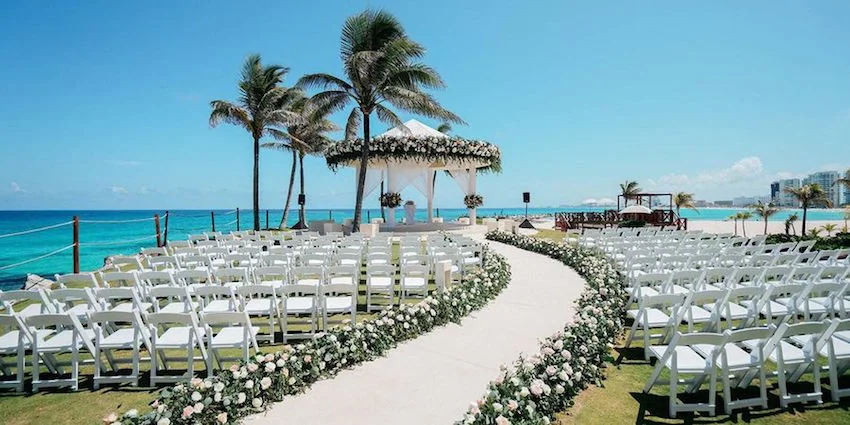 3. Sahara Beach
If you have a big wedding party, this is the place to be!
You can decorate the space however you want for the ceremony, reception, and cocktail hour. 
You can invite up to 500 guests here.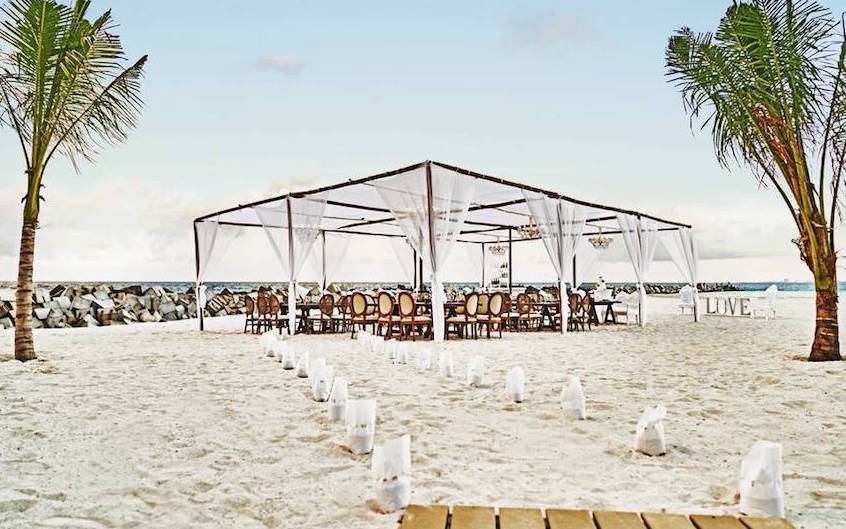 4. Lighthouse Terrace
The Lighthouse Terrace is the most popular venue at this resort due to its view. 
It has breathtaking views of the sea, but also the lighthouse of Punta Cancun!
For all events, you can invite up to 50 guests to join you here.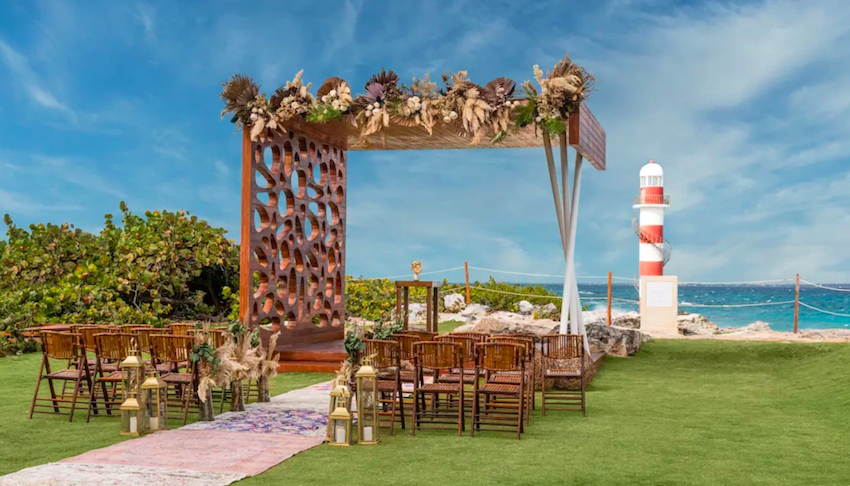 5. Firepits Area
The Firepits Area is a great wedding location for those wanting to stay warm but still have a view. 
This venue is ideal for those who have a smaller wedding party. 
Invite up to 50 guests to join you here.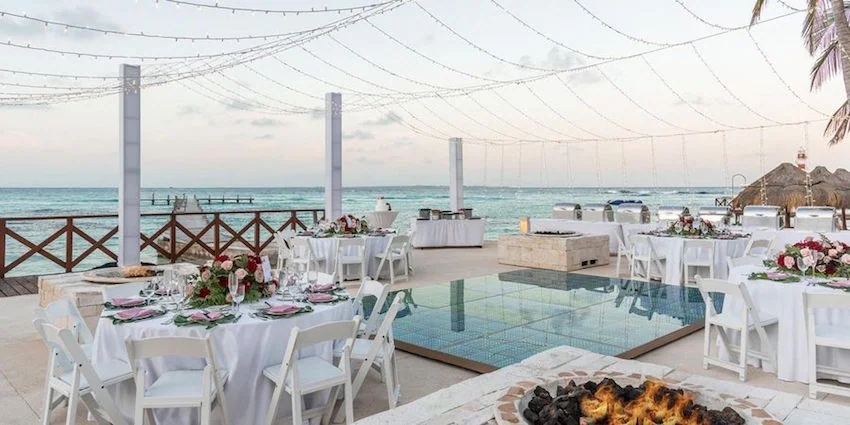 Other venue options: 
Rooftop Terrace | 250 guests
The Five Elements Ballroom | 500 guests
Breakout Room | 50 guests
Hyatt Ziva Cancun celebrates all love and marriages — including those who are in the LGBTQ+ community!
This accepting resort has wedding packages that cater to all couples, no matter who you are.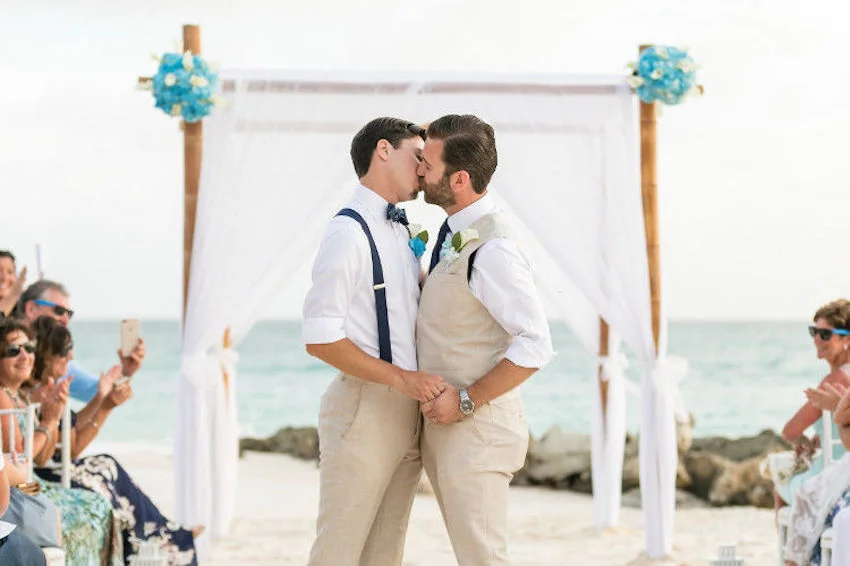 If you need help with certain documents or have questions inquiring about the process, reach out to us!
Our team can help you every step of the way. 
Hyatt Ziva Cancun has 547 rooms/suites and 25 different types of rooms that you can book!
The rooms and suites are spacious, modern, and comfortable for those of all ages!
Turquoize at Hyatt Ziva Cancun is situated within the resort area, but is specifically for adults only!
Rooms that have Turquoize in the name are only available for adults.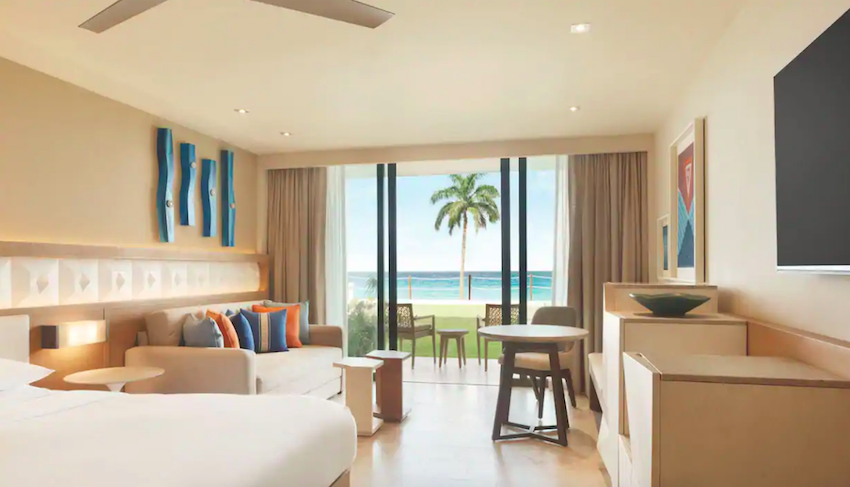 You get to choose from these rooms and suites…
King (With Sofa Bed)
Double
Resort View King (With Sofa Bed)
Resort View Double
Ocean View King (With Sofa Bed)
Ocean View Double
Ocean Front King (With Sofa Bed)
Ocean Front Double
Club Ocean Front King
Club Ocean Front Double
Dolphin View Master King (With Sofa Bed)
Dolphin View Master Double (With Sofa Bed)
Swim Up King (With Sofa Bed)
Swim Up Double
Turquoize Ocean Front Master King
Turquoize Ocean Front Master Double
Turquoize Sky Ocean Front Master King
Turquoize Sky Ocean Front Master Double
Turquoize Sky Swim Up Ocean Front Master King
Turquoize Sky Swim Up Ocean Front Master Double
Ocean Front Pyramid Suite
Club Ocean Front Corner Suite
Club Ocean Front Master Suite
Club Two Bedroom Ocean Front Suite
Presidential Suite
For the newlyweds, we recommend the Swim Up King!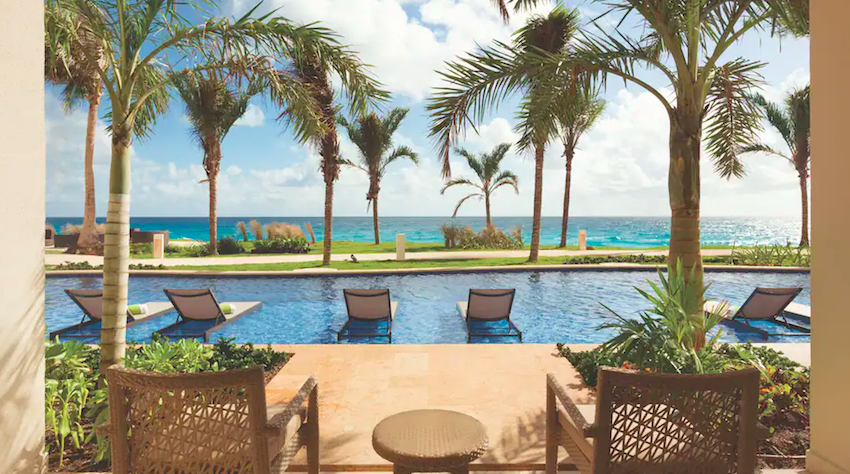 This room has all you need! 
With direct access to the semi-private pool, a private furnished terrace, and an extremely comfortable king-size bed, you'll be in heaven. 
Other amenities in this room include a mini-bar, a full marble bathroom, complimentary WiFi, and more!
This resort has 3 infinity pools that look out onto the beautiful Caribbean Sea. 
One of the pools is located on the rooftop and is adult-only. It also has a bar, so you don't have to leave to go get a drink!
Hyatt Ziva Cancun also hosts many pool parties, so you may catch one during your wedding week.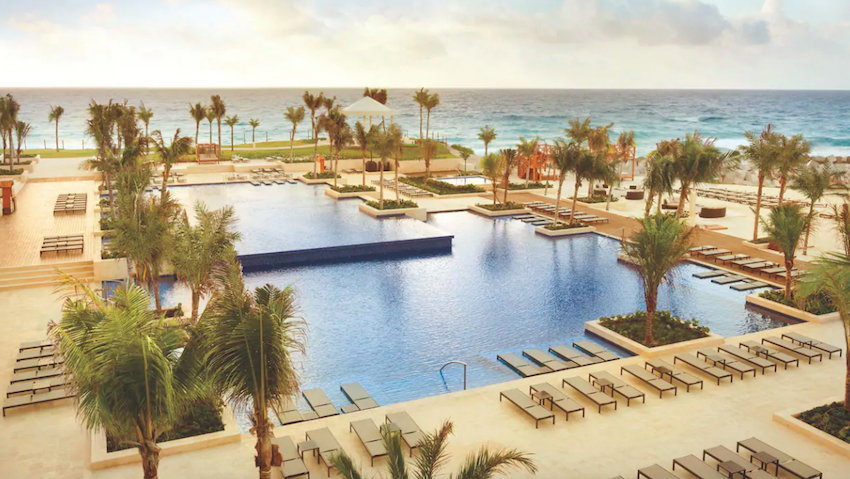 There is a pristine white sand beach as well where you can sip on a cold drink or cool off in the water. 
If you just want to relax, sit under a palapa and take a nap!
Hyatt Ziva Cancun offers 9 restaurants and 6 bars, all of which range in cuisines and styles. 
For the bars, you can expect a couple of pool bars, a microbrewery, a tequila bar, and more. 
Restaurants at this resort range from classic diners to fresh seafood cuisine.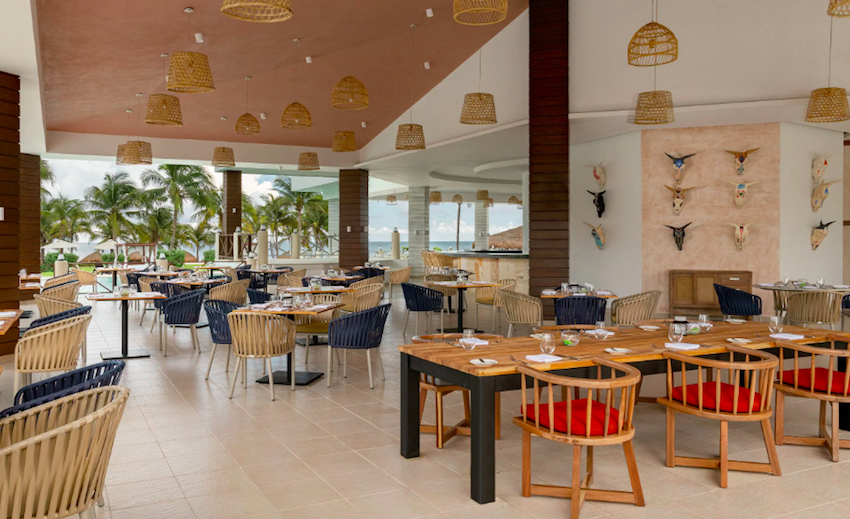 Restaurant options include…
La Bastille | French cuisine
El Mercado | Buffet
The Moongate | Teppanyaki grill
Tradewinds | Grill and Steakhouse
Lorenzo's | Italian cuisine
Habaneros | Seafood
Chevy's | American fare
Pasteles | Dessert parlor
Casa del Café | Cafe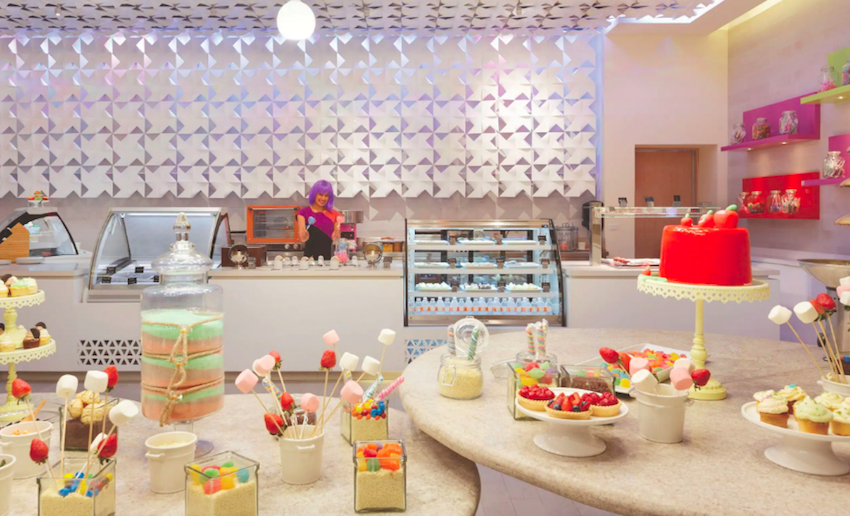 No matter if you're an adventure seeker or want a more low-key activity, Hyatt Ziva Cancun has got it all for you!
There are many things to do that are included in your stay such as themed parties and interacting with dolphins. 
The only one not included in your stay is a day at the spa!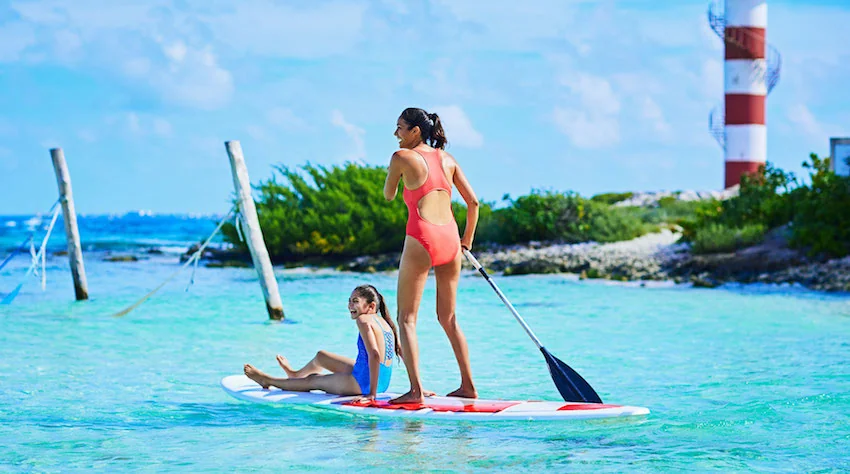 Fun activities and entertainment include…
Kayaking 
Snorkelling
Dance classes
Language lessons
Pool parties
Biking 
Live shows
Golfing
KidZ Club
@Moods Teen Club
Yoga
Gym
When planning a destination wedding, you may have many questions. 
You should be able to find all the answers in one spot instead of scouring the internet. 
Well, thankfully, that spot is here! The answers to frequently asked questions are below. 
Q: How far is the resort from the Cancun International Airport? 
A: Hyatt Ziva Cancun is around a 30-minute drive from the airport. 
Q: Is the resort pet friendly? 
A: Unfortunately, there are no pets allowed. 
Q: Do any of the wedding venues require a venue fee? 
Yes, 5 out of 8 venues require a fee. 
Q: What are the check-in and check-out times?
A: Check-in starts at 3 pm and check-out starts at 12 pm. 
Q: Does the resort have WiFi? 
A: Yes! There is complimentary WiFi all around the resort. 
Q: I like this resort! How do I start the planning process?
A: We know that planning a wedding on your own can be tough. Our talented team of wedding specialists would love to help you! 
We can do the planning while you do the dreaming.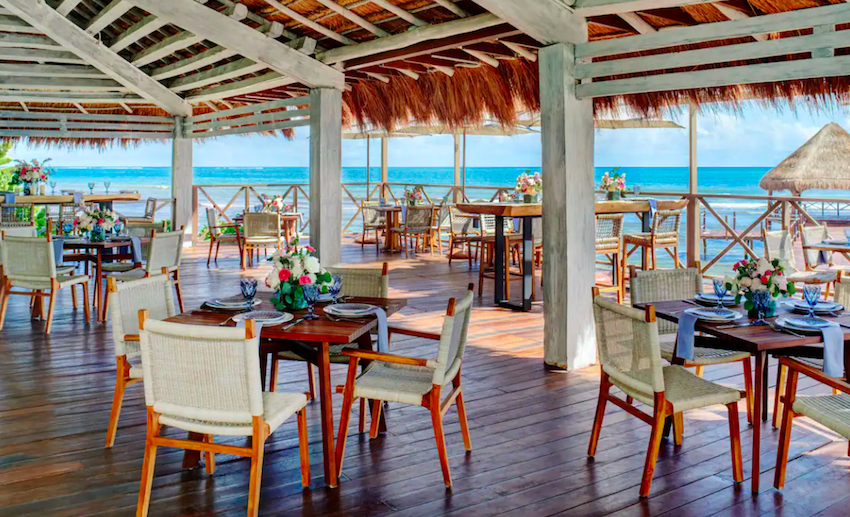 Hyatt Ziva Cancun is one of the most well-liked resorts in Cancun's Hotel Zone. 
The views, the accommodations, the fine dining, and more make it so worth it to stay or have your wedding here!
But what do our wedding specialists think about this resort? 
We asked them and they definitely delivered. Keep reading to learn more about the pros and cons!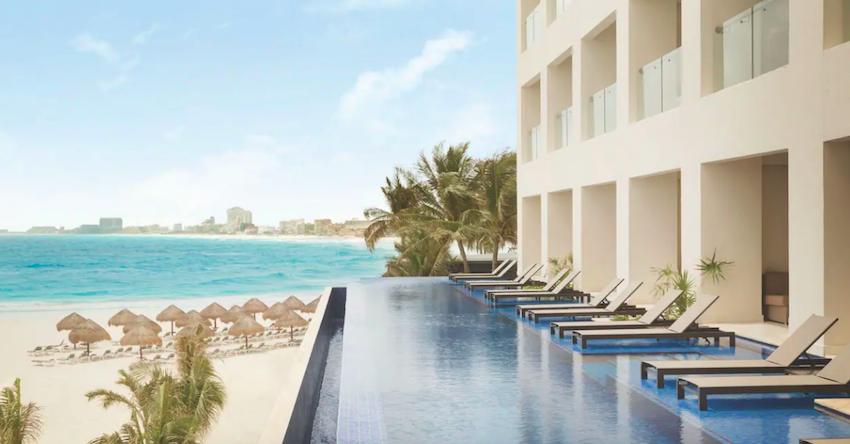 Things we love: 
Staff is exceptional 
Excellent restaurants
Big resort with so much to do
The beach is very calm
Has a cliff that's great for pictures
Pools are heated
The hotel is very well maintained
No reservations are needed for the restaurants
Great location and is a few minutes away from the nightclubs
Stunning wedding venues
Breathtaking views of the Caribbean Sea
Things we don't:
Room rates can be pricey
The rooms are not that big
Transportation isn't great
Places close early
Buffet food is the same every day
Can be noisy 
One of the best resorts, hands down! If someone has the budget for it, we recommend it.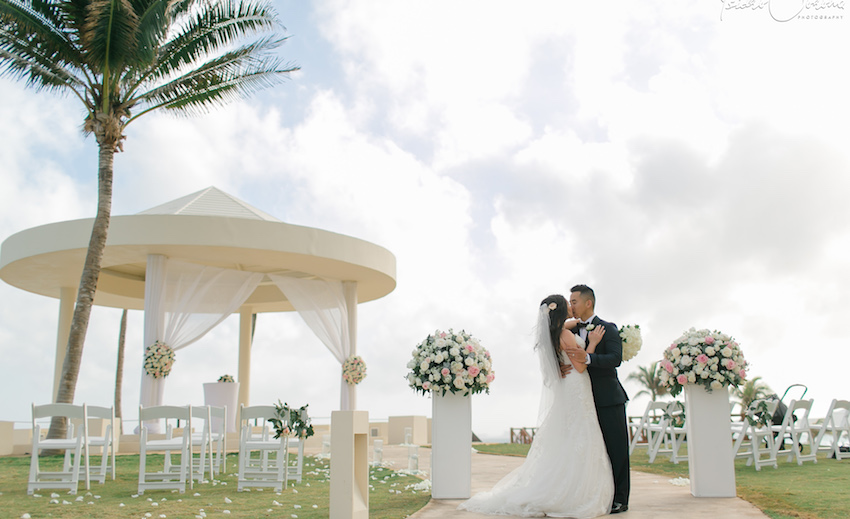 Still unsure?
Check out these 3 similar resorts that you may love. 
Whether you love this resort or want help finding another one, we can help you!
Our team at ParadiseWeddings.com has successfully planned 100's of weddings and yours could be next.
Call us today at 877-737-0177 for contact us here for a free consultation!
Can't wait to hear from you!