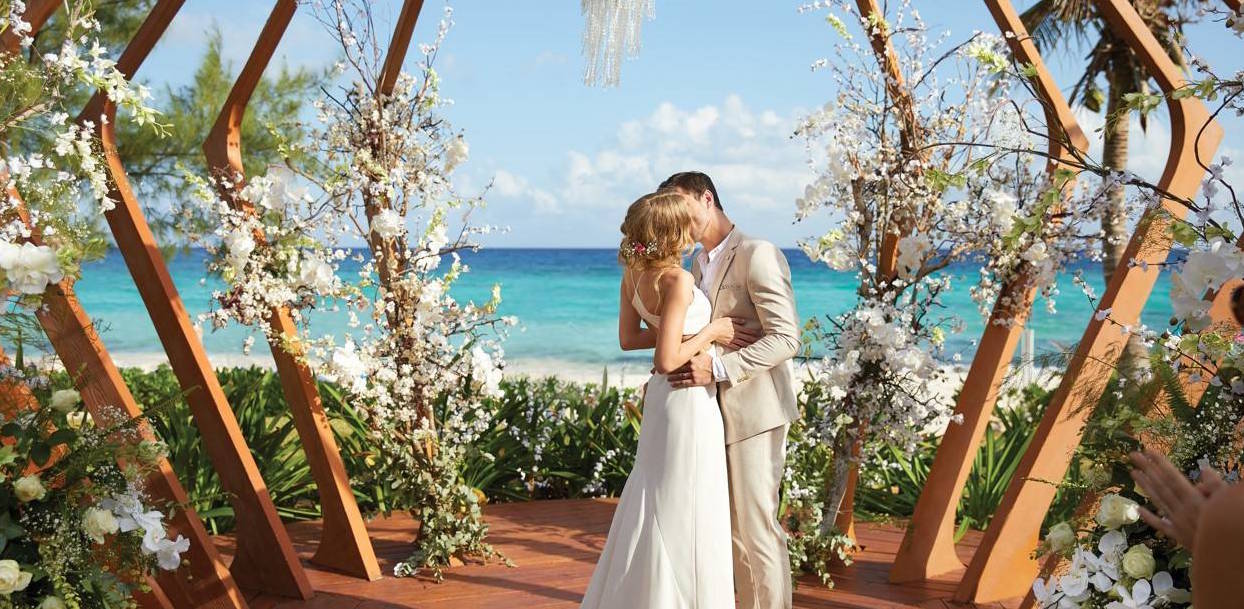 Weddings at The Fives Oceanfront Puerto Morelos | Our Honest Review
Your wedding day should be one of the best days of your life. 
So you deserve to stay at one of the best hotels!
If you're looking for an intimate celebration, then look no further than The Fives Oceanfront. 
But what if you want a large, elaborate wedding? 
We will take you through all the pros and cons of this boutique hotel so you can easily decide if it's right for you. 
Ready? Let's go!
The Fives Oceanfront is an all-inclusive paradise where privacy comes hand-in-hand with luxury. 
Located in the village of Puerto Morelos, this resort offers exclusive suites, charming venues, and upscale amenities. 
Relax by the 2 pools, including an infinity pool that looks right out into the Caribbean Sea.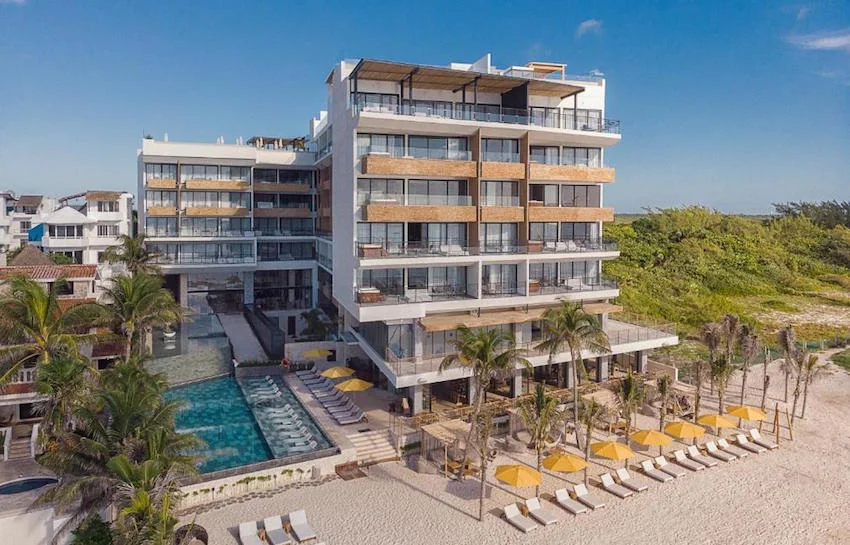 This boutique hotel is an intimate experience with only 93 suites so you know you'll be taken care of here!
There are 3 delicious restaurants and 2 bars, with one right by the pool. 
This resort may be small, but it's definitely mighty. 
Looking for an affordable wedding? Surprisingly, you can find it at The Fives Oceanfront!
The hotel, amenities, accommodations, and venues all look and feel expensive and upscale. 
But the wedding packages are affordable and magical. 
Wedding packages include: 
Sweet Love | $1,250 for 40 guests
Our Dream Wedding | $2,950 for 40 guests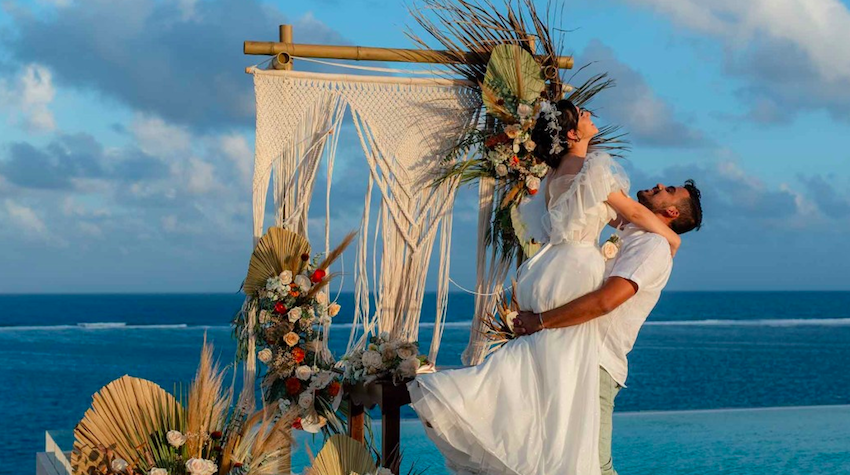 Our Dream Wedding Package
The Our Dream Wedding package is just like the resort: simple but unique!
You get many amenities with this wedding package such as inclusions for the ceremony and reception. 
For as little as $2,950, you can get the below amenities. 
Symbolic ceremony
Choice of ceremony location
Altar decor
Designer floral arrangements
Bouquet and boutonniere
Semi-private reception dinner at an on-site restaurant
Wedding guest concierge
Complimentary spa bridal suite 
Grooms room with snacks on the wedding day
Witnesses 
Signature ceremony wedding drink
The Fives Oceanfront offers 5 wedding venues that are charming and can hold a good amount of guests. 
Whether you want a beach wedding with sand between your toes or a rooftop celebration, you'll find it here. 
1. Main Beach
The Main Beach venue is perfect for couples who want an intimate or medium-sized wedding. 
You can also make it grander by adding decor, a dance floor, and more!
You can invite up to 120 guests here.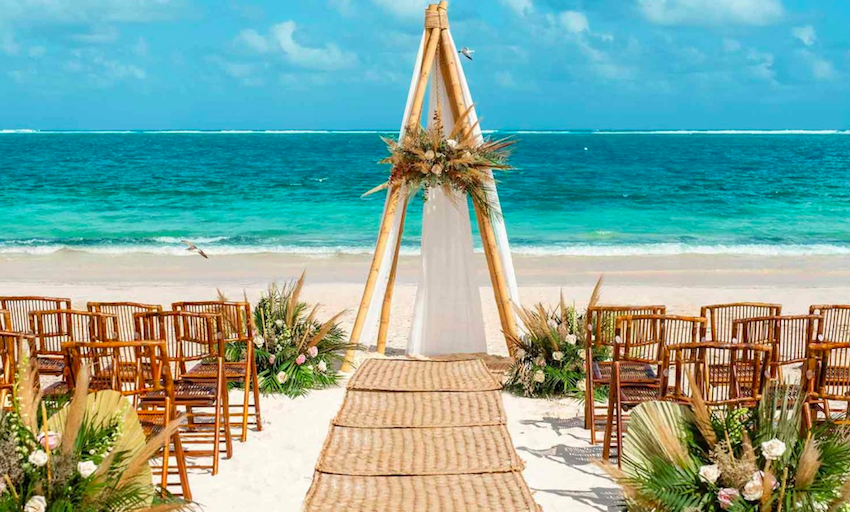 2. Oceanview Rooftop
This private rooftop allows you and your partner to say your vows with the most beautiful view behind you. 
It's available for the ceremony, cocktail hour, and reception!
120 guests can join you here.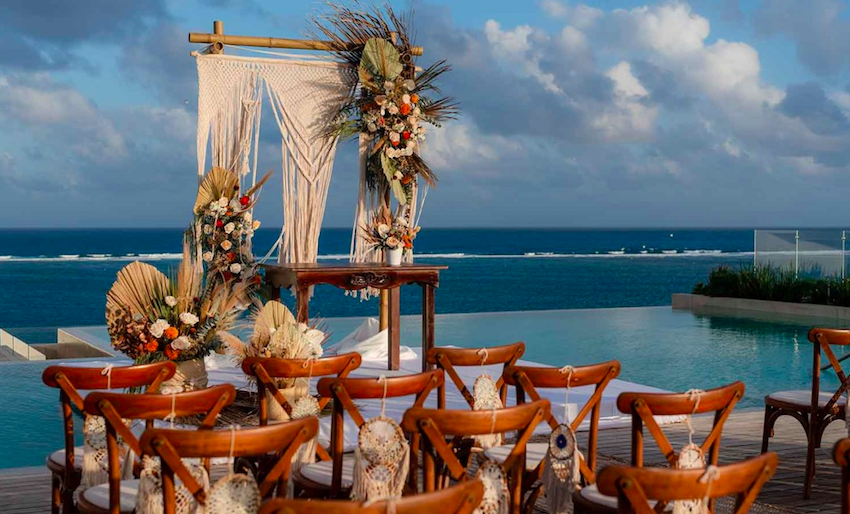 3. Al Mare Side Terrace
Al Mare Side Terrace is a part of the Al Mare Restaurant and is a great spot for the ceremony. 
Decorate this terrace with fun chairs, an arch, and flowers. 
You can invite up to 100 guests here.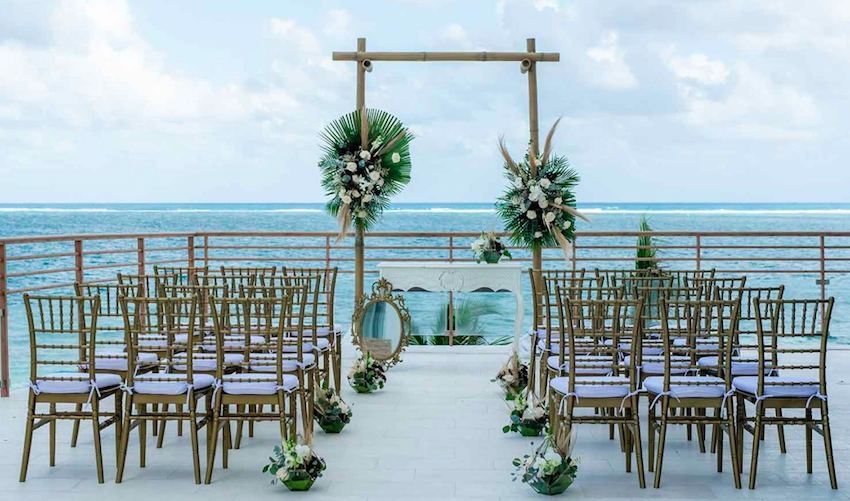 4. Al Mare Restaurant
Available only for the wedding dinner, this restaurant is the perfect space to celebrate with your closest friends and family. 
You can even use this space up until midnight!
Invite up to 40 guests to join you here.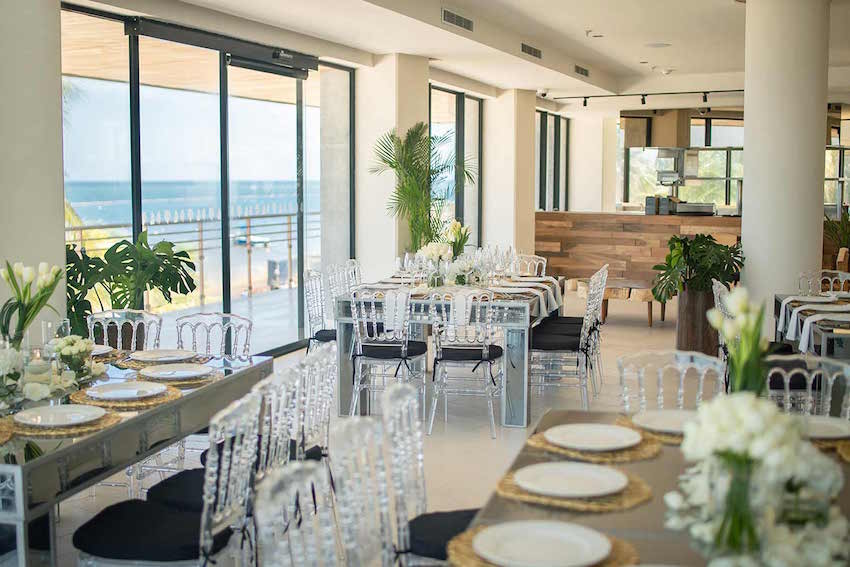 5. Salon Epic
Salon Epic, also known as the ballroom, is a beautiful space that can be used for large groups. 
It's available for every wedding event and can be decorated with flowers, chairs, aisle runners, and more. 
200 guests can join you here. 
The Fives Oceanfront is a resort that welcomes all LGBTQ+ couples!
While this wedding won't be legal in Mexico, all Mexican states now allow same-sex marriages. 
To make it legal, we recommend getting married before or after the wedding back home!
Want more info? Find out exactly how to get married in Mexico.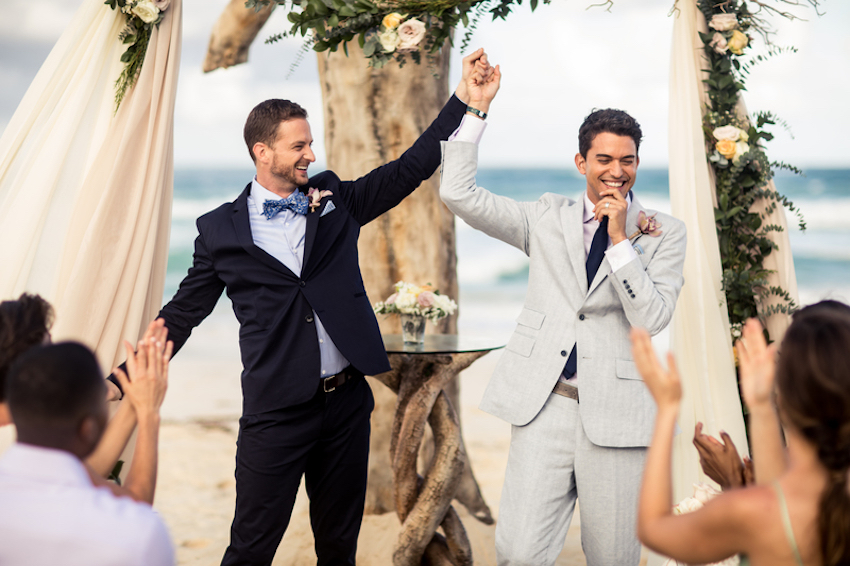 If you need more information, reach out to our wedding specialists! 
They can help you with important documents and anything else along the way. 
Inside this boutique hotel are 93 comfortable, spacious, and elegantly decorated suites. 
The Five Oceanfront calls their suites 'residences' and you'll be able to see why. 
There are 4 categories of rooms including Singular Rooms, One Bedroom Residences, Two Bedroom Residences, and Three Bedroom Residences.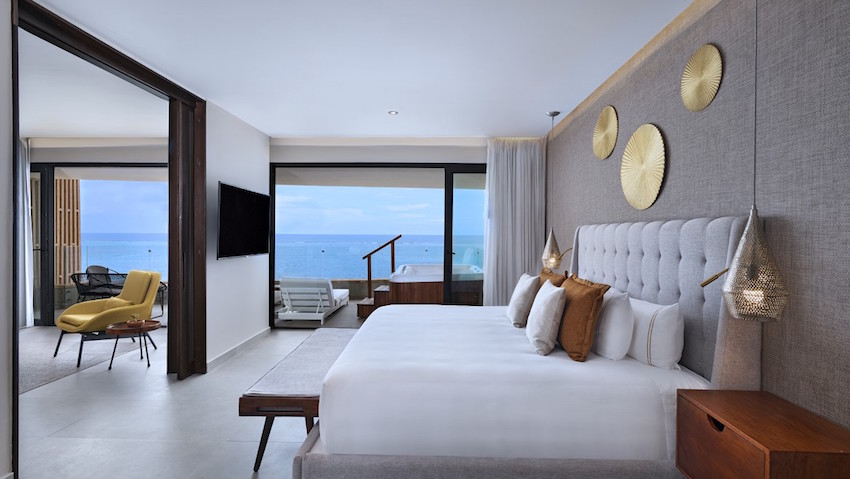 You get to choose from these suites…
Epic Junior Suite
Junior Suite
One Bedroom Partial Oceanview Residence
One Bedroom Oceanview Residence
Residencia Epic Oceanview Resort de Una Habitación
One Bedroom Epic Penthouse Oceanview Residence
Epic Two Bedroom Oceanfront Presidential Residence
Epic Two Bedroom Oceanfront Resort Residence
Two Bedroom Oceanview Resort Residence
Epic Three Bedroom Oceanfront Presidential Residence
Epic Three Bedroom Oceanfront Resort Residence
For the newlyweds, we recommend the One Bedroom Epic Penthouse Oceanview Residence!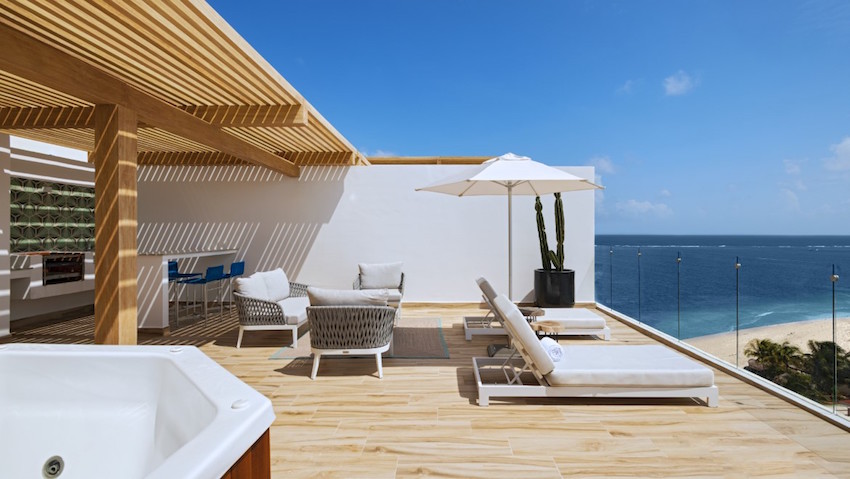 This penthouse offers so much to guests. Not only is it beautiful, but it comes with amazing amenities. 
Sleep on a king-size bed or cook in your fully equipped kitchen!
Want to be out in the sun? Take a nap on your private terrace or take a dip in the whirlpool tub. 
At The Fives Oceanfront, wherever there is water, there is a view too!
There is a rooftop pool with an infinity pool that is as clear as the ocean. 
At the second infinity pool, you can find loungers in the water as well as a pool bar where you can get an ice-cold drink!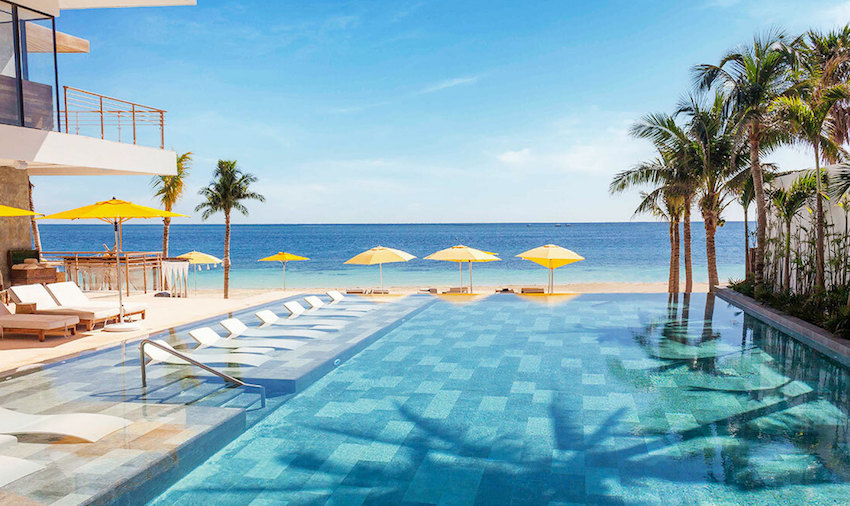 Sick of the pool? A few steps away, literally, is the beach! 
Grab a lounger or splash around in the beautiful blue water. 
There are 3 restaurants at the resort and each one of them is curated to give you the best dining experience. 
You'll want to check out the 2 bars as well, which include the lobby and pool bar!
Choose from an array of different drinks including classics and resort specials.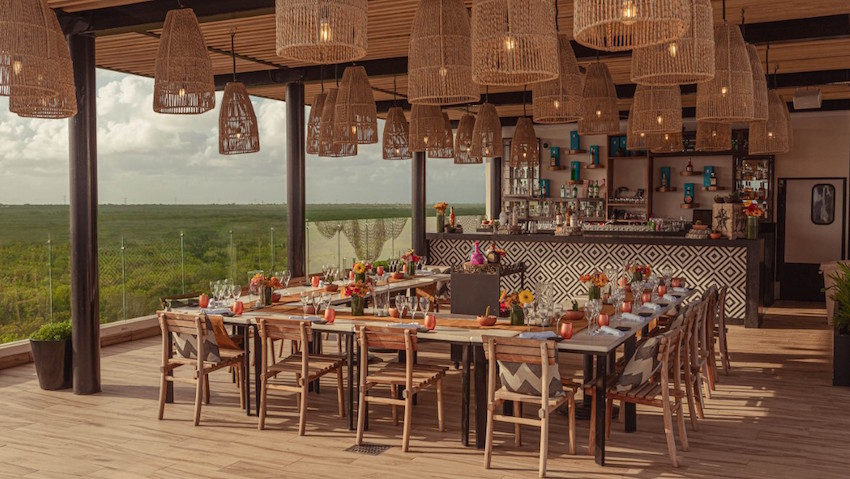 Restaurant options include…
Al Mare | Italian cuisine
K'iin | Japanese cuisine
Romarley Beach House | Caribbean cuisine
Bar options include…
Manglar Lobby Bar | Lobby bar
Romarley Pool Bar | Pool bar
Want to indulge in some activities and entertainment while on vacation? 
We know sitting around and relaxing can make some people antsy, but there is so much to do at this resort, so don't worry!
Book a spa day or go snorkelling in the bluest waters.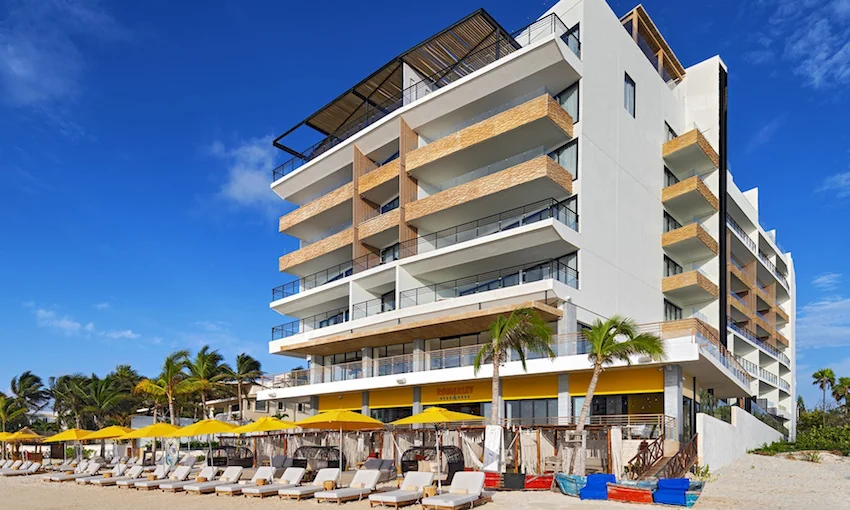 Fun activities and entertainment include…
Snorkelling
Bike riding
Boat tours
Fishing excursions
Wine tasting
Dancing
Spa day
Live performances
You probably have lots of questions about this resort. 
They may even be frequently asked. But either way, we have the answers!
Continue reading to find out more about The Fives Oceanfront. 
Q: How far is the resort from the Cancun International Airport? 
A: The Fives Oceanfront is about a 25-minute drive from the airport. 
Q: Is the resort pet friendly? 
A: Yes! Pets are allowed here but there may be an additional cost. 
Q: What are the check-in and check-out times?
A: Check-in starts at 3 pm and check-out starts at 12 pm. 
Q: Does the resort have WiFi? 
A: Yes, there is free WiFi around the hotel.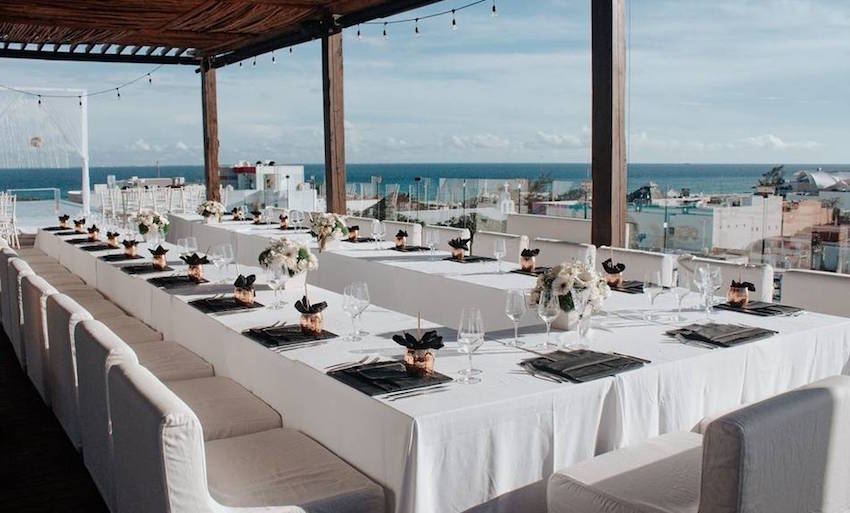 There is so much beauty at The Fives Oceanfront, you can't deny that!
From modern designs to upscale amenities, this resort is one of a kind. 
Plus, it's small and intimate so you really feel taken care of. 
But what about the not-so-great things? 
We asked our talented wedding team what they think and they told us the major pros and cons!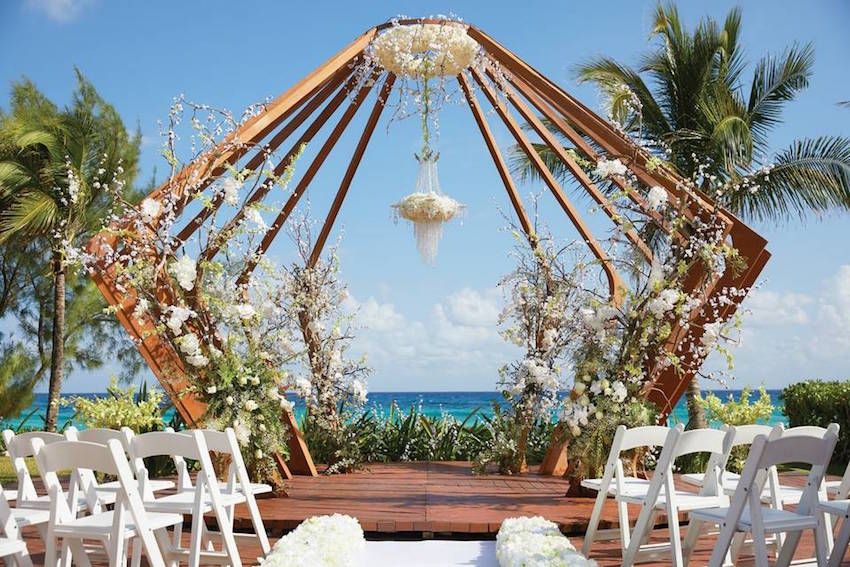 Things we love: 
Boho chic style
Stunning rooftop with infinity pool 
Great quality drinks and food 
Located in a small fisherman's town
Intimate hotel 
Service is great
Perfect for elopements or small weddings
Things we don't:
Overly expensive
Only a couple of restaurants and bars
Music can be very loud 
Although it's family-friendly, there aren't many kid-friendly activities
Not great for large weddings
The hotel has beautiful and comfortable rooms and suites. The views aren't too bad either!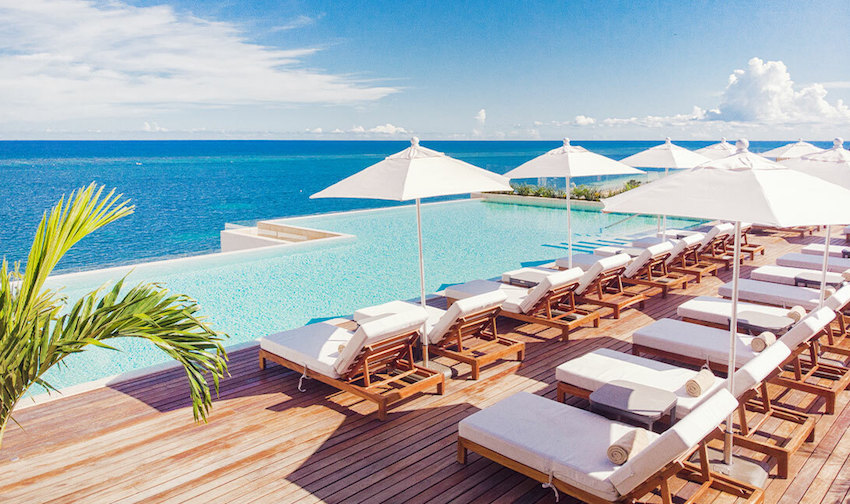 Still unsure?
Check out these 3 similar resorts you may also love. 
Not sure if you love this resort?
Don't worry — there are so many more we can set you up with!
Our team at ParadiseWeddings.com have planned 100s of weddings and yours could be next.
Call us today at 877-737-0177 or contact us here for a free consultation.
Can't wait to hear from you!