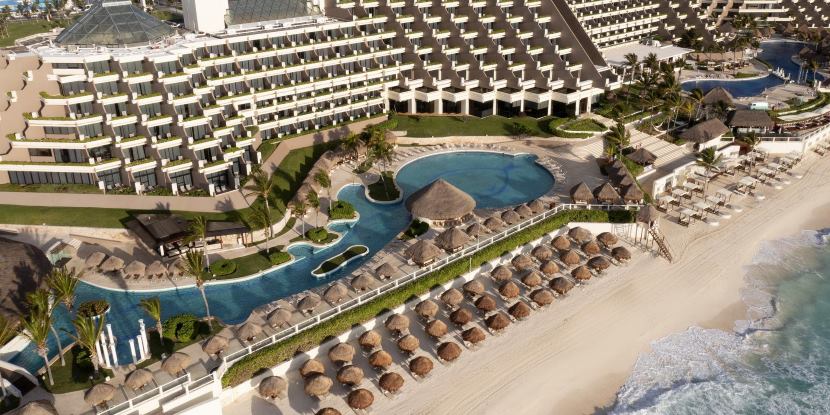 Weddings At Paradisus Cancun | Our Honest Review
Thinking of getting hitched at the Paradisus Cancun?
We don't blame you! 
It is a fantastic resort for destination weddings. 
It also has gorgeous wedding venues and all-inclusive packages.
But, could there be better resorts?
You're about to find out!
In this post, our wedding planners are sharing all the deets about Paradisus Cancun.
Let's get started…
If you're searching for a luxurious venue for your wedding, look no further than Paradisus Cancun!
With 10 restaurants, 7 bars & lounges, and 2 top-notch spas, this all-inclusive paradise has all the ingredients you need for the ultimate wedding! 
Bonus – If you upgrade to The Reserve, you get access to private hotel areas, a private beach, a private adults-only pool, butler services and a lot more!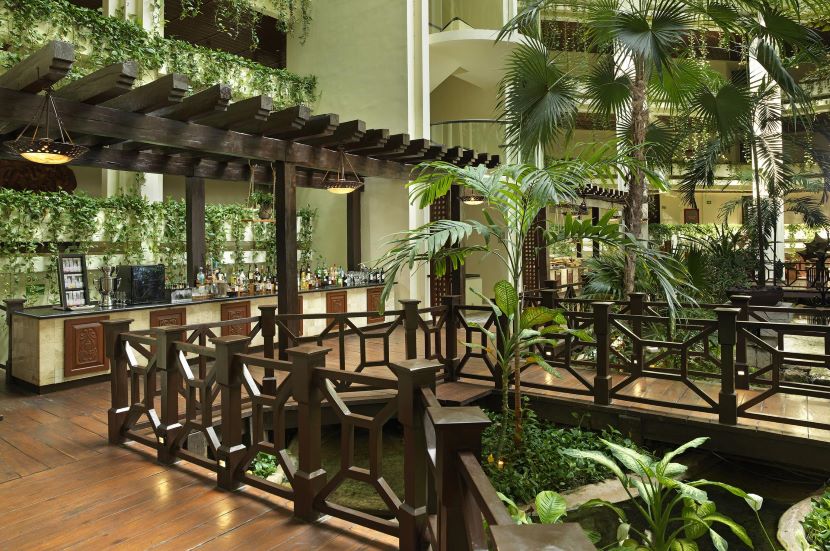 The Paradisus Cancun is great for families, so everyone at your wedding will end up having an amazing time. 
But, the resort also has an adults-only section, if that's what you are looking for!
And we promise that you won't be disappointed by the resort's rooms!
Why? 
Because all the rooms offer magnificent views of either the ocean or the lagoon!
At the Paradisus Cancun, there are 5 wedding packages you can choose from.
And you'll be shocked at the deals our wedding planners can get for you!
5 Wedding Packages Include:
1. No Shoes Allowed | For up to 30 guests
2. Nature Vibes | For up to 30 guests
3. Out With A BANG | For up to 30 guests
4. All Aboard | For up to 30 guests
5. It Takes Two or a Few | For the bride and groom
Out With A BANG Wedding Package
One of the most popular wedding packages at this resort is Out With A BANG.
That's maybe because you get to choose the way it ends – with fireworks! 
Ready to get married under the stars?
With the Out With A BANG package, you get…
Symbolic ceremony
Wedding arch decorated with white flowers and a touch of
green
Antique style chairs
Gold-tone cutlery sets
Flower arrangements
Decorative lanterns for the hallway
Bouquet and boutonnière
Audio equipment
Personalized menu
The resort also has packages for celebrations like bachelor and bachelorette parties, engagement parties, and even vows renewals.
You get to choose from 5 indoor and outdoor venues at the Paradisus Cancun.
The outdoor venues come with either the Caribbean sea or the Nichupté Lagoon as a gorgeous backdrop!
All the venues are customizable and are perfect for all types of weddings.
1. Garden Gazebo (La Perla)
You'll find yourself surrounded by a lovely tropical garden and the sea at this venue. 
Perfect for the wedding ceremony, cocktail hour as well as reception, the Garden Gazebo is one of the most requested outdoor venues. 
You can invite up to 150 guests here.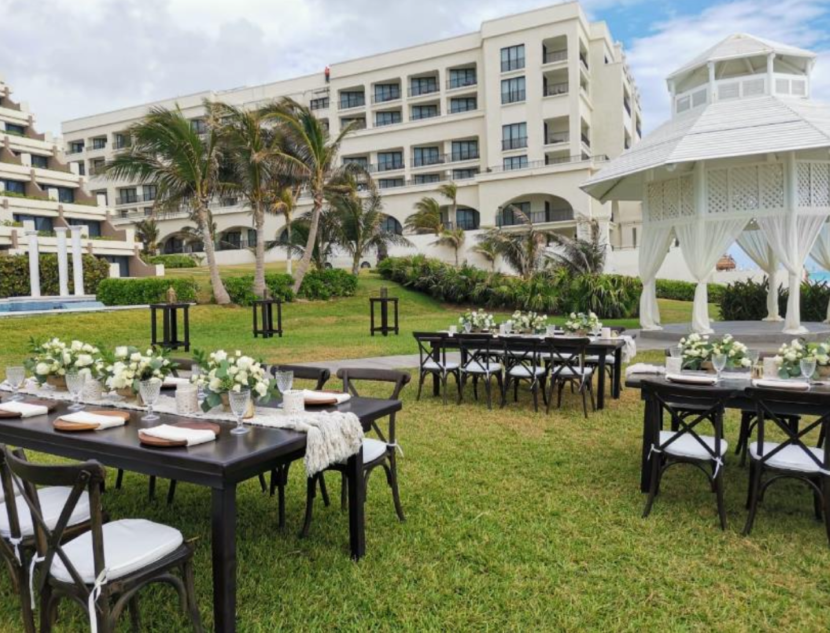 2. Beach
Want to get married on the beach?
Paradisus Cancun can arrange for a beautiful wedding setup right next to the Caribbean sea.
The venue is perfect for hosting wedding ceremonies and receptions.
Up to 200 guests can join you in the celebrations here!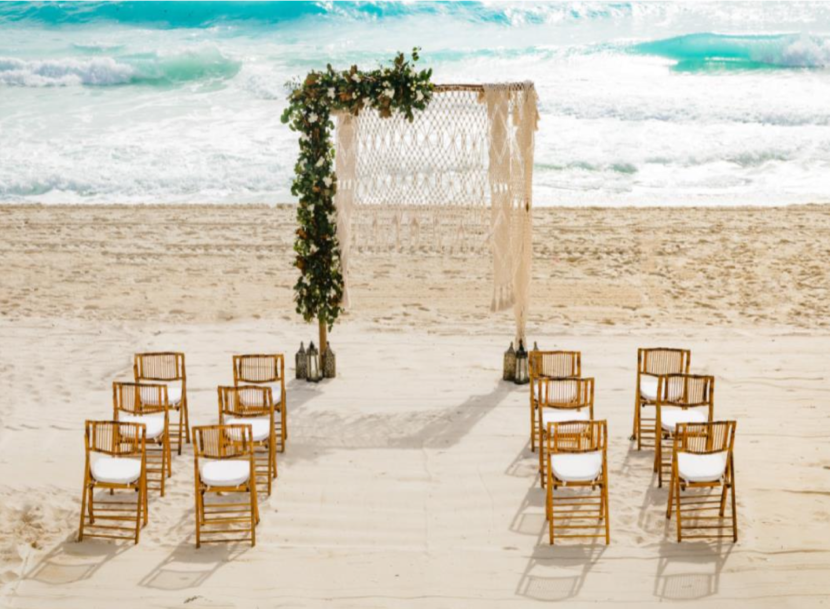 3. Ballroom
The ballroom at the resort is huge enough to accommodate up to 500 guests!
So it will be the perfect venue for you if you want to have a huge wedding surrounded by all your loved ones. 
The ballroom can be used for the ceremony, reception and cocktail hour.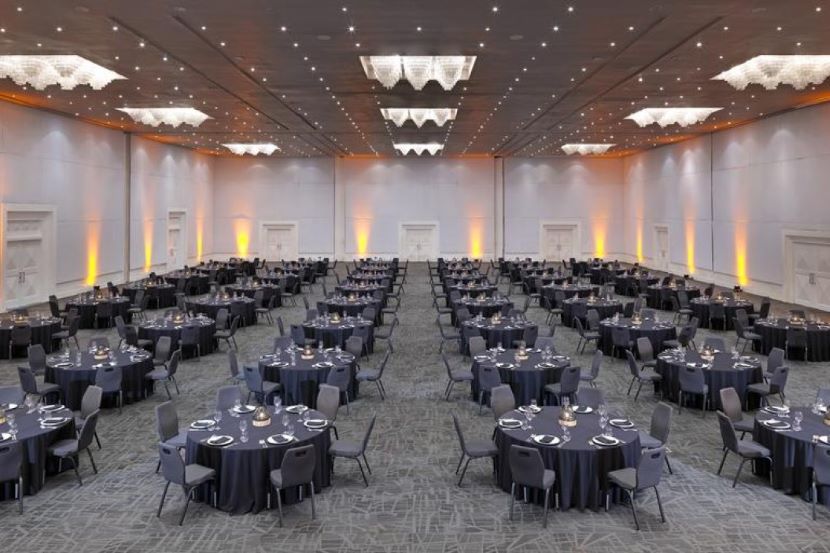 4. La Palapa Restaurant
Perfect for intimate wedding receptions or cocktail hours, La Palapa restaurant serves delicious Caribbean cuisine. 
You can invite up to 70 guests here.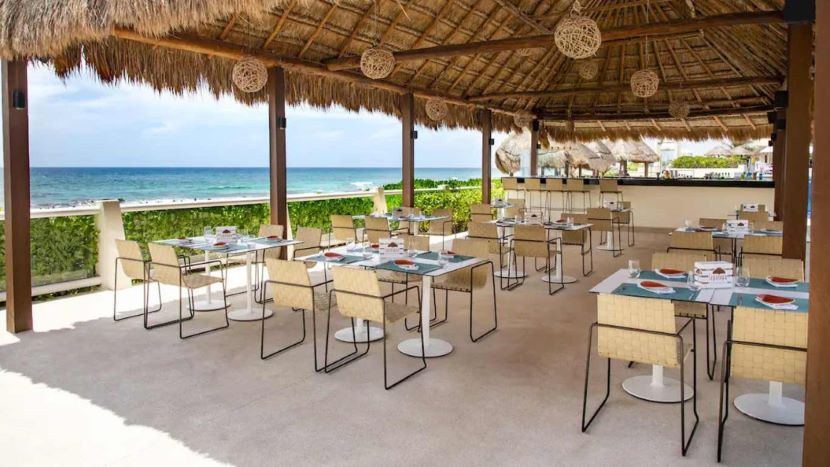 5. The Catamaran
Want to get married at a venue that is as unique and as quirky as you are?!
Then this is the one for you!
The catamaran comes exclusively with the All Aboard wedding package. 
You can host up to 30 guests on it.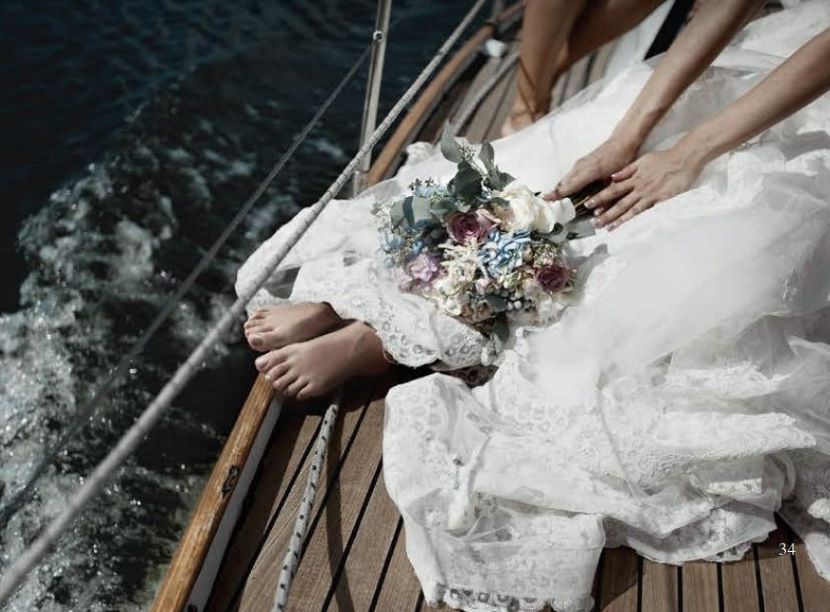 Can't decide a venue? Our wedding planners can help you choose it! 
The Paradisus Cancun celebrates all in love, so they offer LGBTQ+ community weddings.
The wedding packages remain exactly the same for every single couple.
You don't have to worry about anything when planning same-sex weddings at this resort.
Need help with the documentation? Our wedding experts can help you with it.
The architecture of Paradisus Cancun is reminiscent of 4,000 year-old Mayan culture.
Even the rooms you book will have a hint of culture and local art embedded.
All rooms offer you breathtaking views of either the lagoon or the sea. 
Now that's what we call a win-win situation!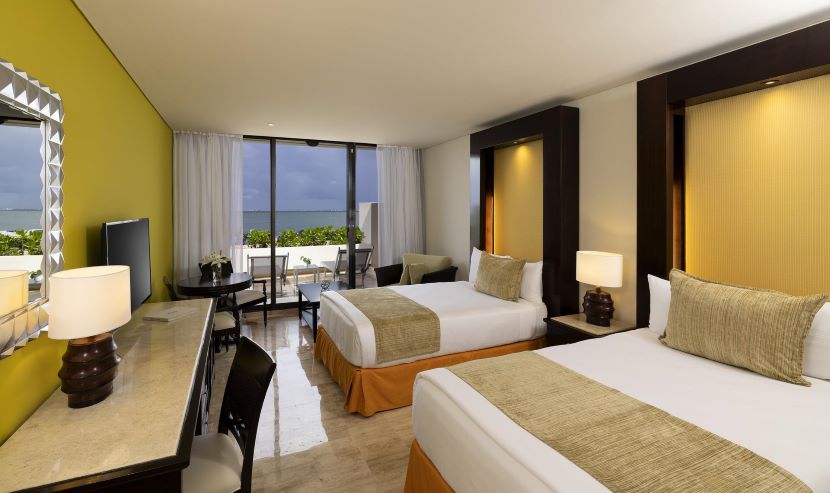 Although there are 17 types of rooms at the resort, some are exclusively for either The Reserve upgrade guests or the Nikté upgrade guests.
If you don't want an upgrade, you get to choose from these 7 suites…
1. Junior Suite Lagoon View – 1 King Or 2 Double Beds
2. Junior Suite Ocean View – 1 King Or 2 Double Beds
3. Junior Suite Luxury Ocean View – 1 King Or 2 Double Beds
4. Premium Junior Suite Lagoon View – King Size Bed
5. Premium Master Suite Lagoon View – King Size Bed
6. Premium Suite Lagoon View – King Size Bed
7. Premium Two Bedroom Master Suite – 1 King Or 2 Double Beds
For the newlyweds, we recommend the THE RESERVE SUITE with Ocean View!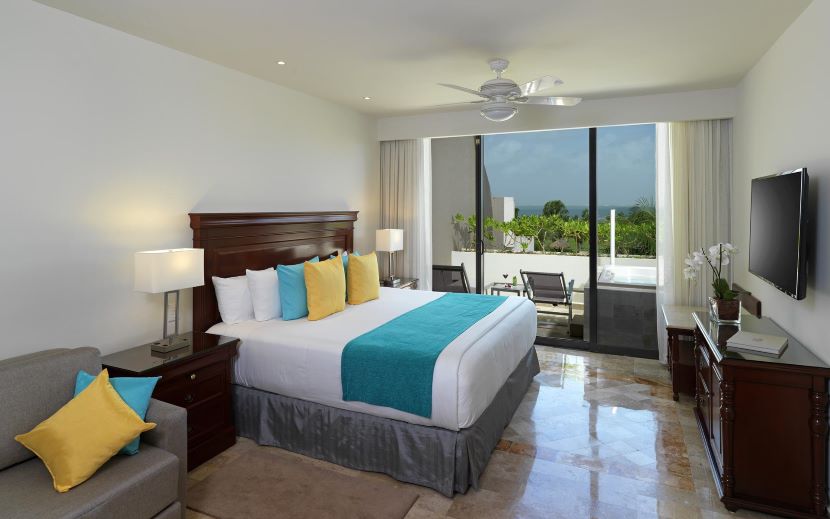 This lovely bedroom has a small lounge and an attached terrace.
Amenities include minibar, in-room coffee and tea service, and a luxurious shower and bathroom, among other things!
The best part? 
There's a whirlpool bathtub on the terrace!
The Paradisus Cancun has 4 lavish pools for you to explore!
The resort also has a swim-up bar where you and your guests can enjoy cocktails without ever leaving the pool! (where the party's at!)
You can even lounge around the pools and chat with family and friends!
The resort has a beautiful sandy beach perfect for a leisurely swim.
However, occasionally, the water gets rough. So beware of the flag!
There are plenty of sun loungers, cabanas and parasols along the beach for you to chill at! 
The 10 restaurants at the resort will definitely satiate the palates of all your guests!
In the mood for partying and bar-hopping?! The 7 bars at the resort can take care of that too!
Our favorite is the Taquería Blue Agave Bar which serves sinful Mexican spirits, beers and wines!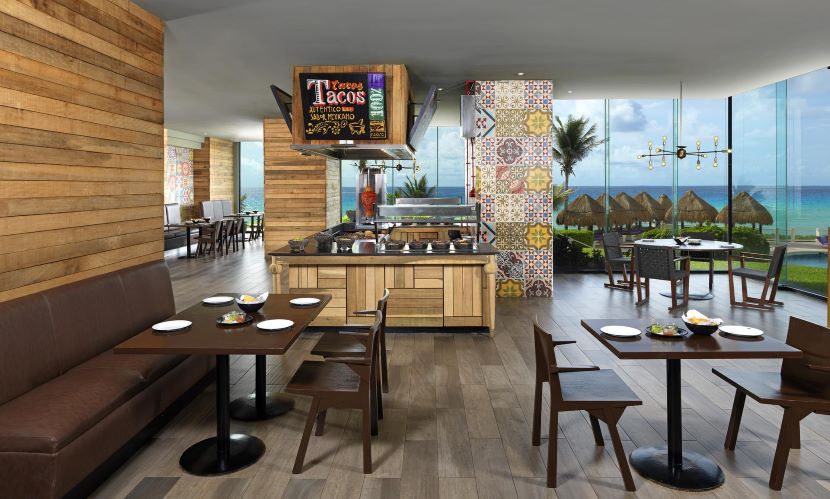 10 Restaurant options include… 
Sal Steak Cave | Steakhouse
Malva Food Bazaar | International cuisine
Kanna Beach Club | Ecological cuisine
Cielo | Mexican cuisine
Santé | Mediterranean cuisine
Lunch Box | Latin American and Mexican cuisine
Lemon Fish | Asian fusion cuisine
Agua Marina | International cuisine
Cappella | Italian Cuisine
Taquería Blue Agave | Mexican cuisine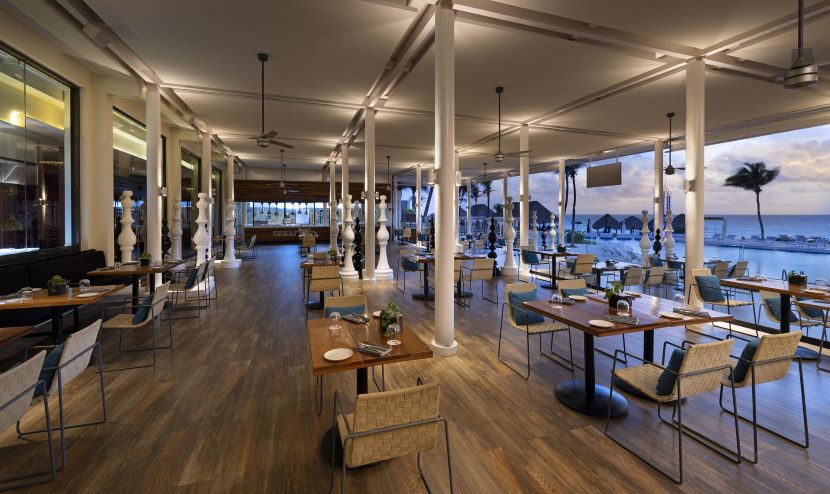 Every day you spend at the Paradisus Cancun can be a day full of thrilling activities!
Be it yoga sessions, pool parties, sushi workshops, wine tastings, or even cooking classes, they have it all here!
There's even Kidsdom – a dedicated play and activity area for kids aged 5 and above. 
Fun activities and entertainment include…
Golf
Daytime and night time live entertainment
PT sessions
YHI Spa
Eco Spa
Non-motorized water sports
Diving demonstration
Kids Club
Yoga classes
Wine tastings
Sushi workshops 
I'm sure you've still full of questions about Paradisus Cancun.
Worry not! We have the answers!
Q. What does Paradisus Cancun all-inclusive include?
A: You all-inclusive booking at Paradisus Cancun includes the following:
– 24-hour room service
– Free golf (green fees)
– Free wi-fi
– Unlimited domestic and imported beverages
– All meals and drinks
– Access to 8 restaurants and 5 bars.
– In-room mini-bar that is restocked daily
– Use of the gym
– Use of tennis courts
– Non-motorized water sports
– Access to Kidsdom

Q: How far is Paradisus Cancun from the Cancun airport?
A: The resort is just a 20 minutes' drive from the airport.
Q: How much is a taxi from Cancun airport to Paradisus Cancun?
A: A taxi ride from the airport to the resort costs approximately $24.  
Q: Is the Paradisus Cancun an adults-only resort?
A: No, the resort is family friendly. However, they do have an adults-only section which you can gain access to if you upgrade to The Reserve service. 
Q: How do I decide which wedding venue to choose?
A: You can leave the hassles of wedding planning to us! Our wedding specialists can help you shortlist the wedding venue based on your requirements.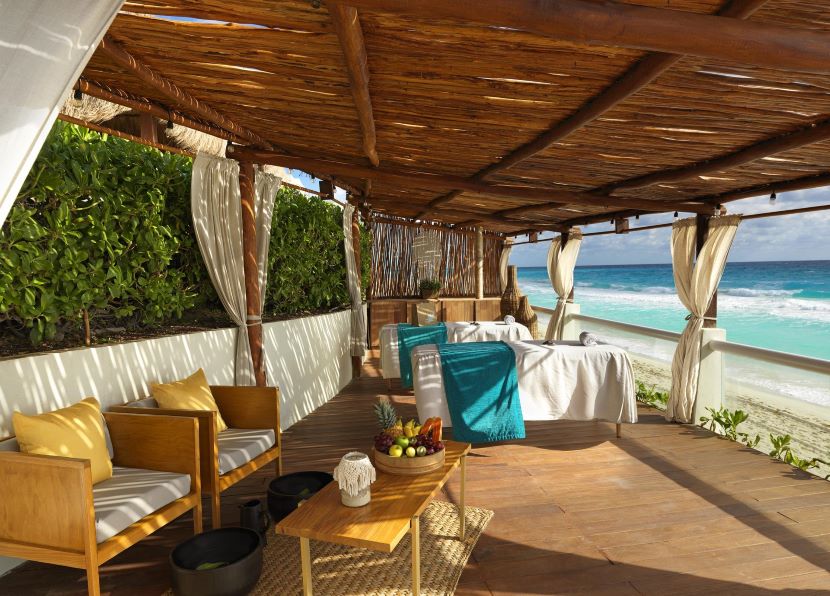 Booking an all-inclusive resort for your wedding can be overwhelming.
You're probably still wondering if the Paradisus Cancun is too good to be true!
Hey, we get it! 
There are pros and cons to everything, even this resort.
Here's what our wedding planners had to say about the resort. 👇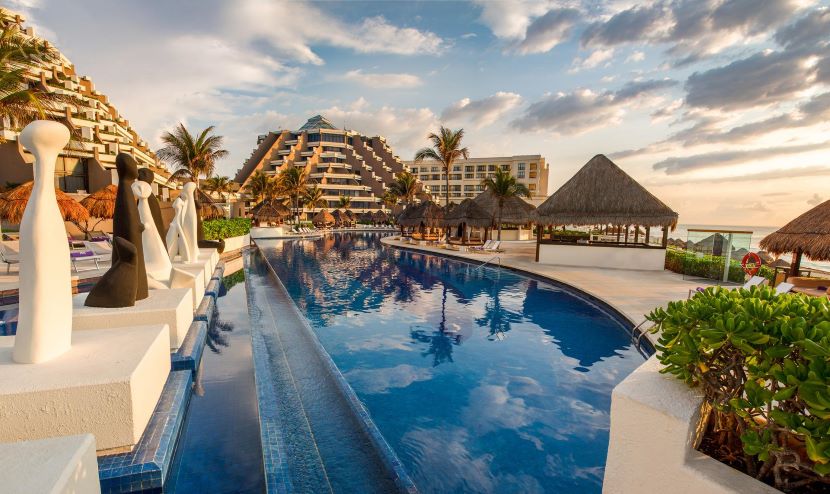 Things we love:
Excellent service.
Unique architecture.
Spacious rooms.
A wide variety of cuisines.
Wonderful for families. (Kids love the science experiments)
Nice beach!
Things we don't love:
Older property and what comes along with it.
Many of the restaurants don't have a kids' menu.
The best-of-the-best is reserved for guests who opt for upgrades.
No swim-up suites!
Several restaurants don't take reservations. (first-come first-serve line-ups)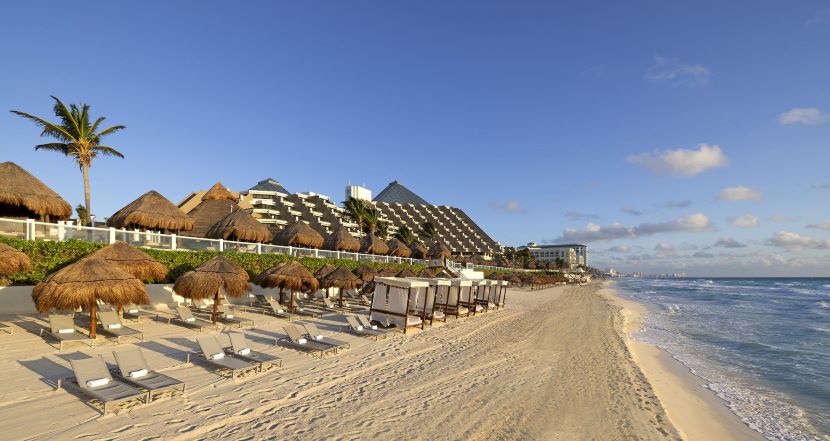 Still unsure? 
Take a look at these 3 similar resorts that could be perfect for your wedding. 
Ready to plan your wedding? 
Or looking for other options?
We can help!
Our team at ParadiseWeddings.com have planned 100's of weddings and yours could be next. 
Call us today at 877-737-0177 or contact us here for your free consultation.
Can't wait to hear from you!