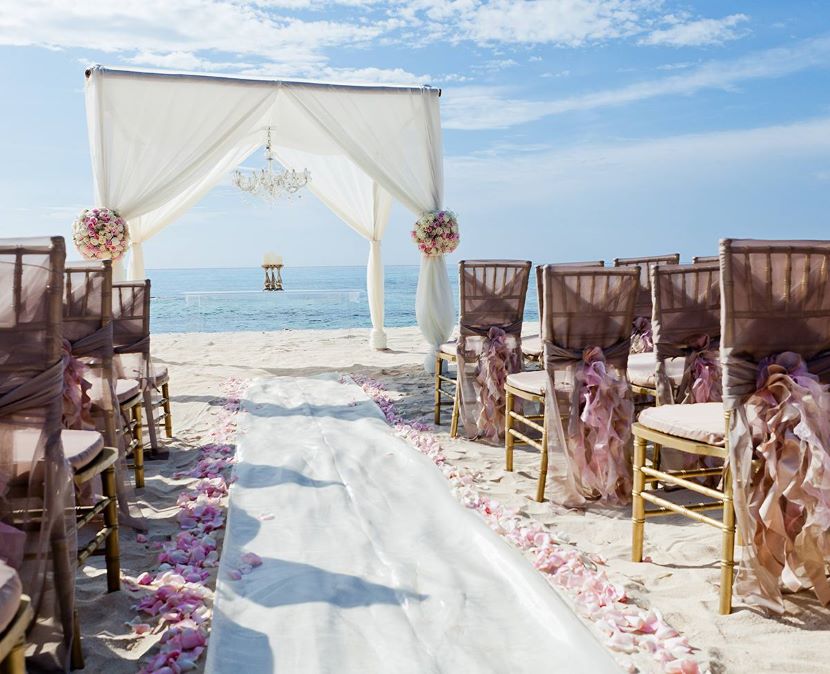 Weddings At El Dorado Casitas Royale | Our Honest Review
Will the El Dorado Casitas Royale be perfect for your wedding?
You're about to find out!
Our wedding planners know exactly what to look for when planning your big day in Mexico!
And they're serving up all the insider scoop on the resort! 
Grab your spoons and dig in!
The El Dorado Casitas Royale is an adults-only resort that has everything you could ask for destination weddings!
Dine and drink at any of the 14 restaurants and 17 bars (yes, you read that right!) stroon across the resort.
Or dive into any of the 14 pools, most of which have swim-up bars!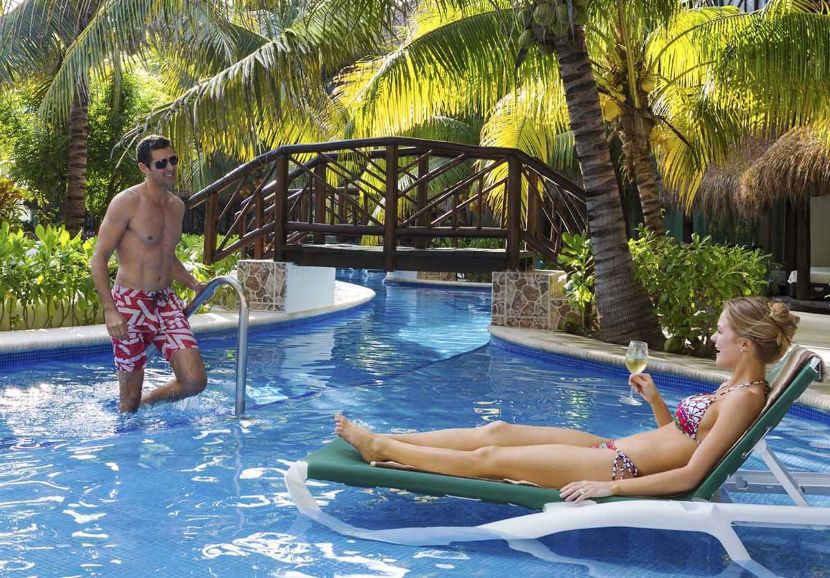 Suites at the resort are in the form of romantic tropical casitas.
The best part about the resort? Personalized concierge service and beach butlers! 
Talk about living the high life! 
At the El Dorado Casitas Royale, you'll find the perfect setting for every part of your wedding celebration.
The resort has 4 wedding packages for you to choose from.
Whether you want an intimate wedding, or a large extravaganza, the resort can arrange it for you!
The 4 wedding packages include:
1. Always & Forever | $950 or complimentary if some conditions are met
2. Ultimate Memorable Moments | $7,985 for 24 guests
3. Private Enclave Wedding Experience | $19,550 for 34 guests
4. South Asian Wedding Experience | $16,799 for 50 guests
Private Enclave Wedding Experience
Despite being on the pricier side, the Private Enclave wedding experience is our most popular one.
For good reason!
For $19,550, you get all of these amenities:
Access to 14 pools, 14 restaurants, 16 bars and 2 spas
Private wine and cheese celebration
Private Mexican beach fiesta with live Mexican Trio music
Wedding ceremony decor
Wedding day hair and makeup
Wedding guests concierge
Floral arrangements
Bouquet and boutonniere
Wedding minister
Live DJ entertainment
3 tier signature wedding cake
2 for 1 sky massage for the couple
Bridal floor spa suite
And the list goes on and on!
Want to know more about this wedding package? Reach out to our wedding planners!
The El Dorado Casitas Royale has, brace yourself, 19 wedding venues!
That you'll be spoilt for choice is an understatement!
Bonus: There's a magical cenote located close to the resort which can be booked for wedding ceremonies. 
Their 19 Wedding And Reception Venues Include:
1. Aqua Terrace
The Aqua Terrace is surrounded by beautiful hues of the ocean.
Perfect for hosting your wedding ceremony, this venue can be customized according to your wishes.
The best part? Obviously the see-through platform! Looks like you are floating over water when you walk down the aisle! 
You can host up to 100 guests at this venue.
2. Beach Gazebo 55
Available for wedding ceremonies and cocktail receptions, this oceanfront gazebo makes for the most beautiful background!
It is a semi-private setting that can be completely customized.
You can invite up to 150 guests here.
3. Bellinis Gazebo
The picturesque Bellinis Gazebo is perfect for hosting smaller groups. 
The venue can be used for wedding ceremonies, receptions as well as cocktail hours. 
The colors of the décor can be customized as per your wedding theme.
Up to 50 guests can join you in the celebrations here.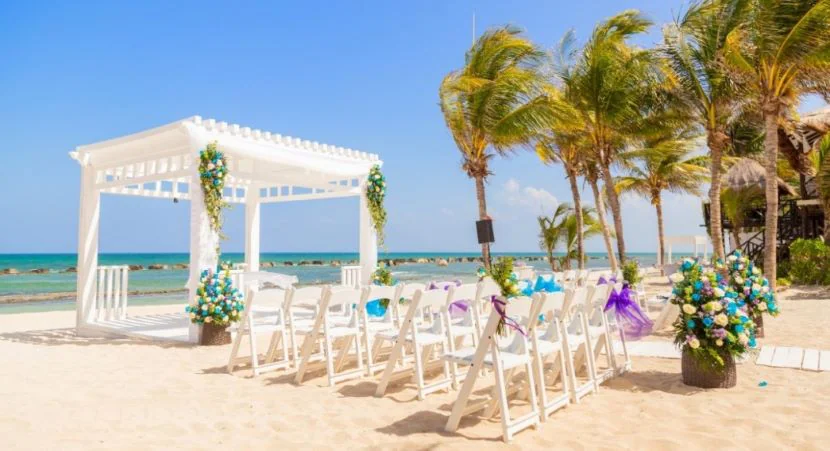 4. Casitas Tepee
Want a more intimate setup? Then this is the venue for you!
Quirky and bohemian, the Casitas Tepee has amazing views and a cool breeze right from the Mexican Caribbean!
You can host up to 16 guests here.
5. Chapel
For a more formal and traditional ceremony, you can opt for the chapel. 
Boasting of a long aisle, you can flaunt your wedding gown's dramatic train and watch as everybody goes "awww"!
You can invite up to 40 guests here.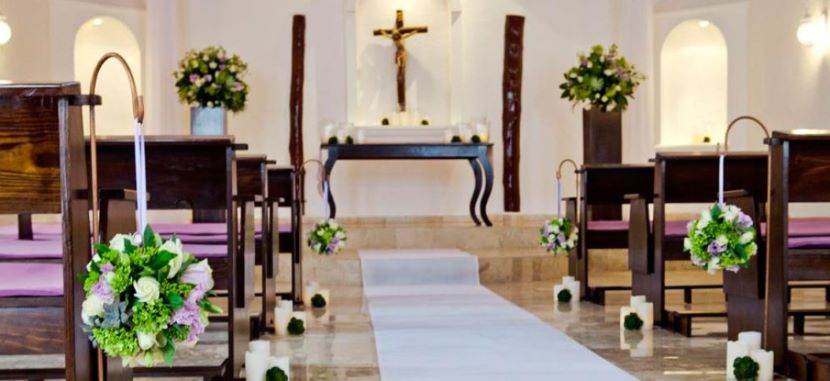 6. Enchanted Orchid Garden
The Enchanted Orchid Garden stands true to its name! 
You'll be surrounded by lush landscaped gardens and palm trees!
It is perfect for hosting intimate wedding ceremonies, receptions, cocktail parties and even welcome parties. 
You can invite up to 40 guests here.
7. Grand Ballroom
If you want to host a grand, over the top wedding, this is the venue for you! 
The Grand Ballroom is an indoor venue and has a capacity of hosting 800 guests. 
Have a smaller group of say, 100 – 150 people? The venue has multiple room set-ups to accommodate your guest size.
8. Jungle Rock
The Jungle Rock is perfect for a couple looking for an offbeat wedding venue in Mexico!
It is available exclusively for wedding ceremonies.
You can host up to 80 guests here.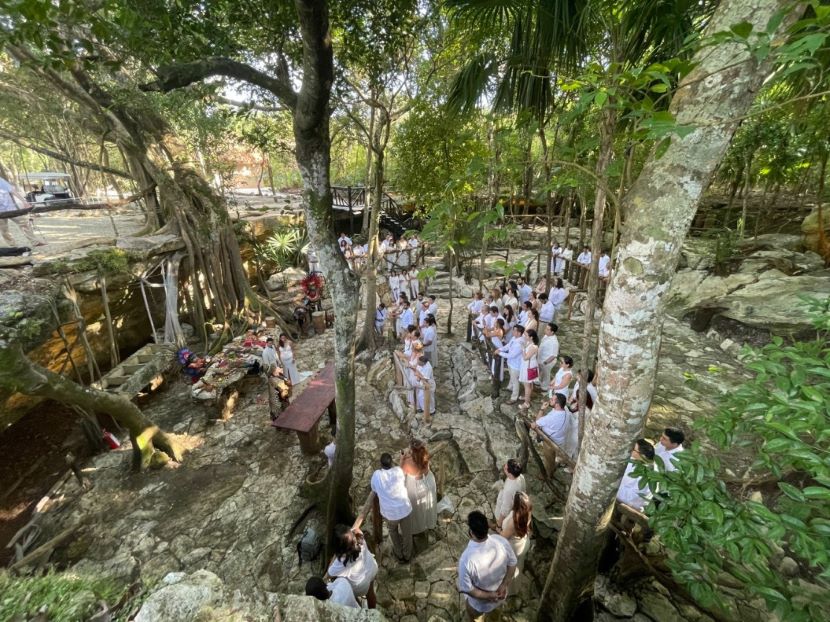 9. La Glorieta
Well, if you've been dreaming of having a wedding that's completely unique and fun, La Glorieta is the place for you!
It hosts weddings dipped in Mexican customs and traditions. 
Right from the Callejoneada (wedding parade) to the decked up donkey, you'll experience it all here! 
Oh, did we mention there'll be a mariachi band too?!
You can invite up to 80 guests here.
10. White Gazebo
The White Gazebo is an ideal place for a ceremony, cocktail hour, and reception!
It has a concrete floor which is perfect for you since you don't want sand between your toes!
Invite up to 300 guests to join you!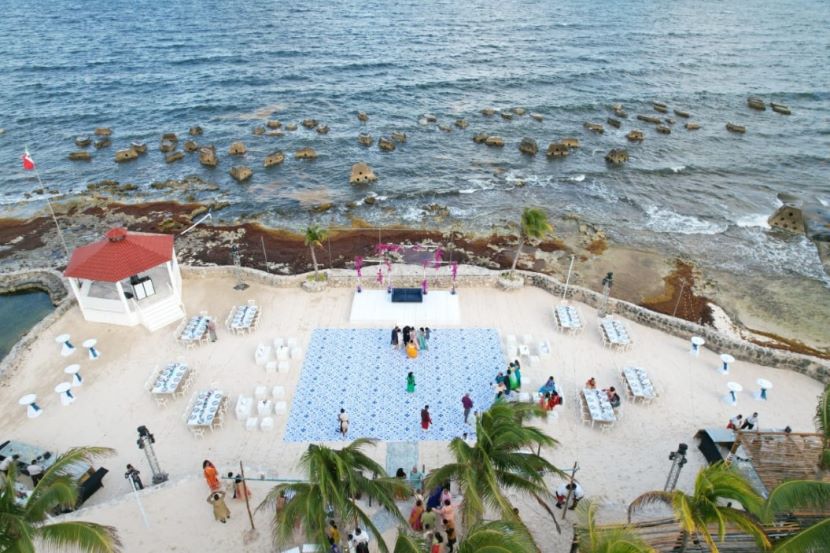 Other venue options:
Chapel Terrace Gazebo | up to 80 guests
Cocotal Restaurant | up to 40 guests
Frida Garden Terrace | up to 150 guests
Fuentes Beach Gazebo | up to 100 guests
Grand Ballroom Garden | up to 300 guests
Health Bar | up to 40 guests
Mexican Kiosk Plaza | up to 70 guests
Salon Royale | up to 300 guests
Tucanes Bar | up to 100 guests
Want to know about the venues?  Our wedding planners can give you all the details you need. 
Psst! They can also help you get unpublished discounts on your booking!
Does the El Dorado Casitas Royale host and celebrate gay weddings
Yes!
Anyone from the LGBTQ+ community can host a wedding here. 
All the wedding packages remain the same no matter who you marry.
Need help with important documents? Reach out to us!
Our wedding specialists can help you with anything you need!
At  El Dorado Casitas Royale, you get to choose from 7 different types of casitas.
Each type offers something completely different based on views and amenities.
The resort also has swim-up suites which either have private pools or the lazy river attached to them.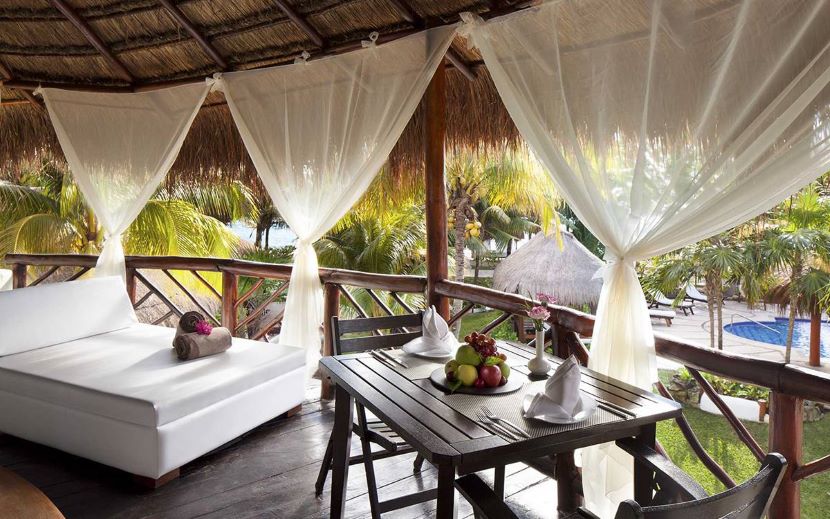 You get to choose from these suites…
Casita Suite
Beachfront Casita Suite
Swim-up Casita Suite
Private Pool Casita Suite
Honeymoon Private Pool Swim-up Casita Suite
Presidential Studio Infinity Pool Casita Suite
Presidential Studio Swim Up Casita Suite
For the newlyweds, we recommend the Honeymoon Private Pool Swim-up Casita Suite!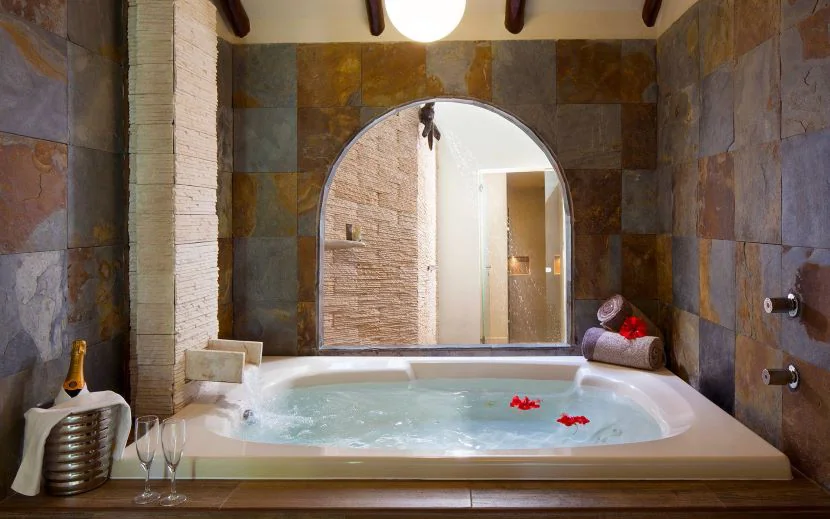 This quaint suite has everything you could possibly need – 
Private plunge pool – check!
Access to lazy river – check!
Cozy king size bed – check!
Contemporary marble bathroom with double sinks – check!
Roofless outdoor shower – check!
Indoor relaxing hot tub – check!
On a scale of 1 to 5, we give this room a 10!
You'll find 14 pools at El Dorado Casitas Royale!  
10 of these pools have swim-up bars!🥂
The biggest pool on the property is La Isla. It is 60 meters x 17 meters. To give you perspective, Olympic swimming pools are 50 meters x 25 meters!
Oh! Did we mention the lazy river?!
Safe to say, you'll have no shortage of places to cool off!
Just in case, although we doubt it, you get bored of the pools, the beach is just a few steps away! 
Don't forget to apply sunscreen before going!
El Dorado Casitas Royale has 14 restaurants that offer cuisines from all around the world.
There are also 17 bars here for you and your wedding guests to relax and party!
No matter what you want, sushi, a great steak, a simple sandwich, a pizza, or just a classic martini, you can find it all here. 
Insider scoop – our wedding planners love their Fuentes Culinary Theater where the chef puts up a gourmet performance!
Restaurant options include…
Cocotal | International Cuisine
D'Italia Villas | Italian Cuisine
Fuentes | Culinary Theater
Kampai | Oriental Cuisine
La Isla | Mexican Cuisine
Santa Fe Grill | American Fusion Cuisine
La Cabaña Pizzeria | Gourmet Pizzas
Health Bar | Healthy snacks and smoothies
If you want fun activities and entertainment during your wedding escapade, El Dorado Casitas Royale is the place for you!
Whether you want to go wine tasting, or parasailing, or even have an authentic temazcal experience, they have everything here for you!
The resort also has options for classes including crossfit, spinning, dance, Spanish lessons, yoga, and even cigar rolling lessons!
Fun activities and entertainment include…
Tour of hydroponic greenhouse
Yoga sessions
Crossfit, functional training and TRX sessions
Náay Spa
Kayaking
Snorkeling
Water and beach volleyball
Guided bicycle tour
Aqua gym
Archery
Rifle shooting
Have questions about El Dorado Casitas Royale you need answered? 
Well, our wedding planners can do that for you!
Here are the answers to some of the most asked questions!
Q.  How far is the resort from the Cancun International Airport? 
El Dorado Casitas Royale is about a 25 minute drive from the airport. 
Q. Can I bring kids to El Dorado Casitas Royale?
No. The resort is an adults-only property.
Q. Does El Dorado Casitas Royale have a saltwater pool?
Yes, the resort has a natural saltwater pool.
Q. What are some of the property amenities at El Dorado Casitas Royale by Karisma?
Some property amenities at the resort include:
Wireless internet
Valet parking service
Hospitality desk
Concierge service
24-hour room service
Daily and nightly activity program with live music and shows
Q. Is the resort pet friendly? 
No, the resort does not allow pets.
Q. Does El Dorado Casitas Royale have swim-up suites?
Yes, the resort has lovely swim-up suites.
Q. How do I know if this resort is the right one for my wedding?
Finding the right venue for your wedding can be frustrating! We get it! That's why our wedding specialists are here to guide you every step of the way.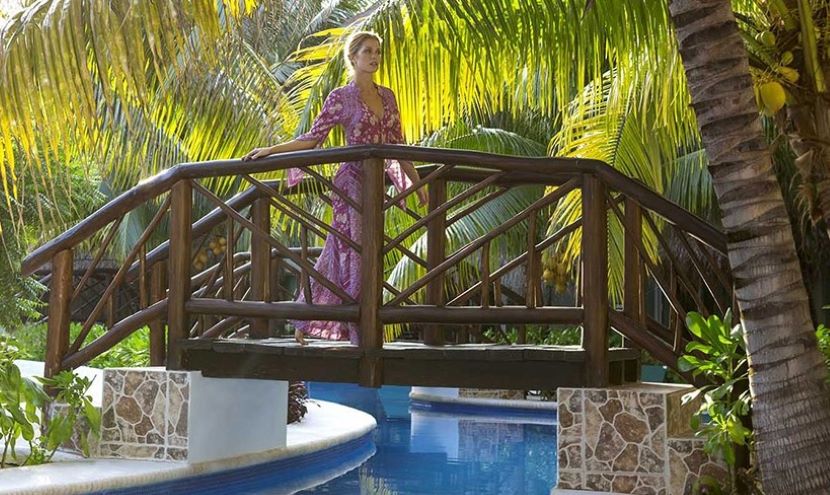 Weddings at El Dorado Casitas Royale are totally customizable.
With so many venue options to choose from, you can plan your fairytale wedding just the way you want.
You also have excellent wedding packages!
Okay, but what's the catch, you ask?!
We asked our experienced planners the same, and oh boy did they answer!
Things we love:
It has 19 wedding (very pretty )venues to choose from!
Most venues can host large groups.
Quantity of restaurants and bars.
It's a AAA Four Diamond resort.
Airy, spacious rooms.
Many Instagramable landscapes!
Things we don't love:
The shuttle service to travel within the property is unreliable.
Beach isn't too pretty. (not great for swimming)
The property needs to improve lighting at night.
Beware of bugs – carry a bug repellent!
2 restaurants are not wheelchair accessible.
Portion sizes at some of the restaurants are extremely tiny!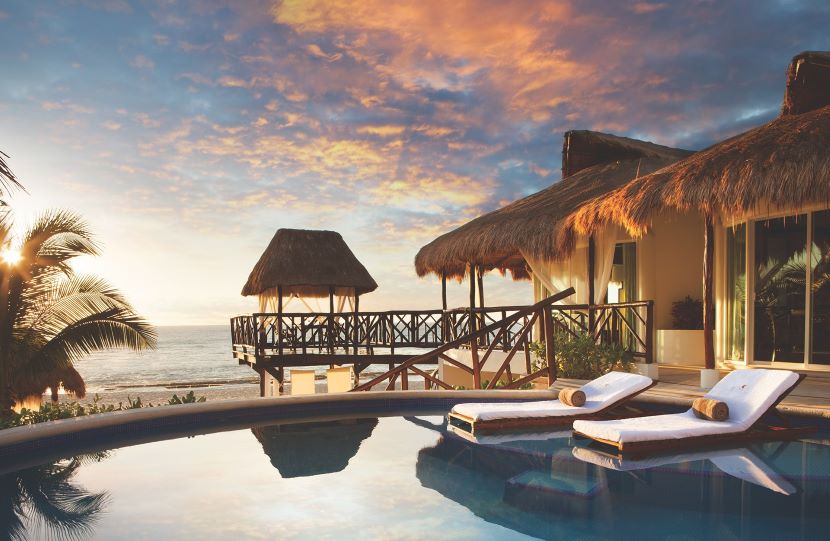 Still unsure?
Take a look at 3 similar resorts to El Dorado Casitas Royale that you should consider for your destination wedding.
Want to start planning your wedding?  
Or searching for other venue options?
We can help!
Our team at ParadiseWeddings.com have planned 100s of weddings and yours could be next. 
Call us at 877-737-0177 for a free consultation or email us at [email protected]. 
Can't wait to hear from you!