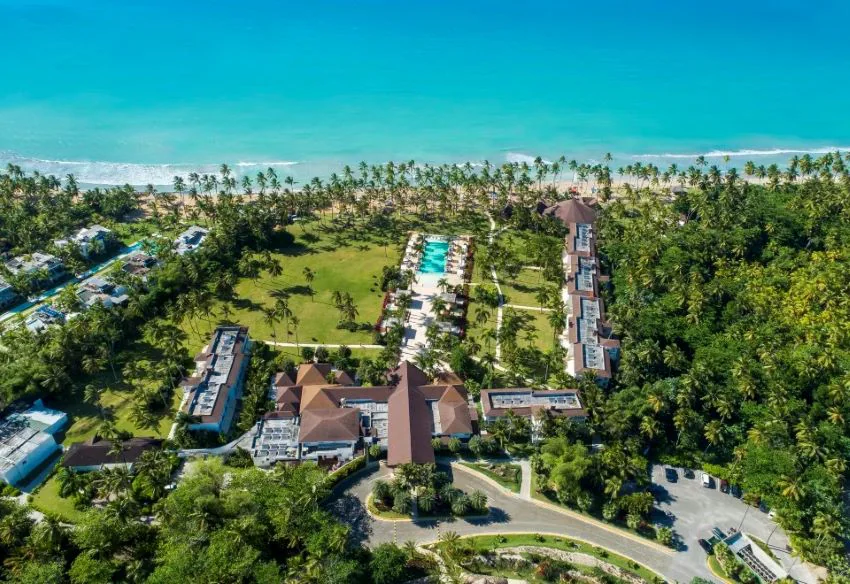 Weddings At Viva V Samaná by Wyndham | Our Honest Review
Considering Viva V Samaná by Wyndham for your dream destination wedding?
Seems like an excellent choice!
This beautiful resort in the Dominican Republic promises an unforgettable tropical paradise.
But before you say 'I do' to it, let our expert wedding specialists give you the insider scoop.
We've covered it all – from wedding packages and venue details to pros and cons of hosting a wedding at Viva V Samaná.
Trust me, you won't want to miss this.
Let's dive right in!
Nestled in the heart of the Dominican Republic's Samaná Peninsula, Viva V Samaná by Wyndham is a paradise waiting to host your dream destination wedding.
We love its stunning white-sand beaches, crystal-clear waters, and lush tropical surroundings.
Feels almost as if the resort was built to provide the perfect backdrop for a romantic celebration!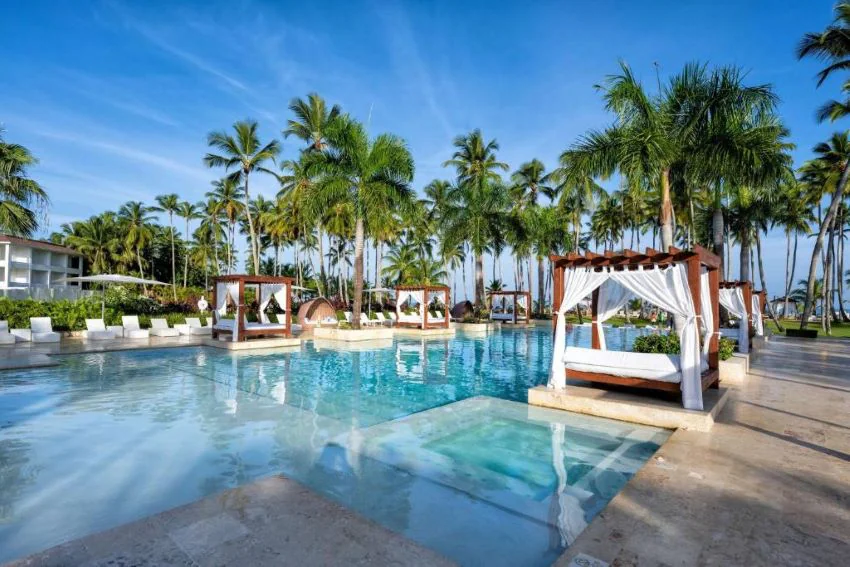 What sets Viva V Samaná apart is its intimate ambiance; our couples love how private it feels.
Your wedding guests will love indulging in delicious cuisine, or dancing the night away under the starlit sky.
The resort has a magnificent pool and fantastic accommodations with private plunge pools.
From the moment we set foot on this beachfront resort, we knew we were in for a memorable experience.
Basically, Viva V Samaná by Wyndham has all the ingredients for an unforgettable and laid-back destination wedding!
Viva V Samaná by Wyndham sure knows how to host an incredible wedding bash!
The resort offers 3 fantastic wedding packages that cater to all budgets and preferences.
The 3 wedding packages include:
Classic | $900 for 10 guests
Atlantic | $1,500 for 20 guests
Relaxing Waves | $2,000 for 20 guests
You can invite more guests to join the celebrations for $20 per extra guest.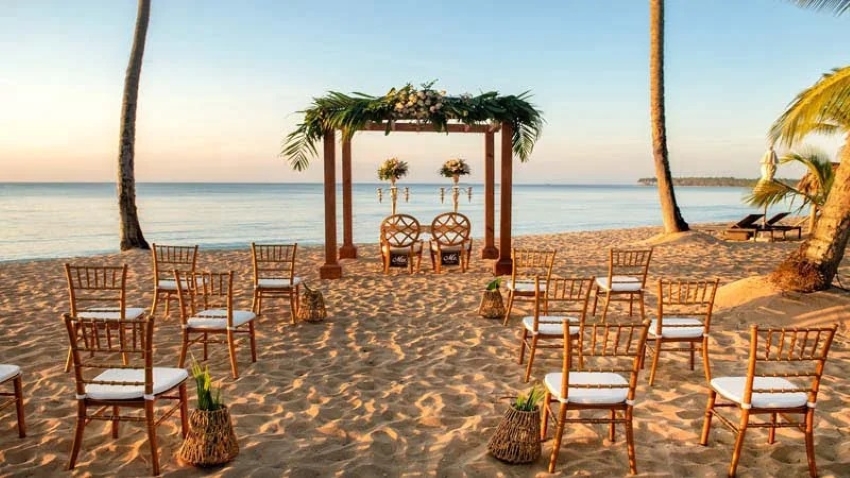 Relaxing Waves Wedding Package
You might love this destination wedding package – it's incredibly budget-friendly and comes packed with a bunch of services.
Plus, a lot of our couples choose this one! 
For $2,000, you get all of these amenities:
Symbolic ceremony.
Wedding officiant.
Wedding ceremony venue and decoration.
Bridal bouquet and a boutonnière for the groom.
Dinner reception.
Rose petal carpet for the ceremony.
Wedding cake.
Sparkling wine for toast.
Wedding Planner services.
Upgrade to an Ocean-View room for couple.
20 photographs of the ceremony.
Courtesy gift for the couple.
In-room Continental breakfast for the couple the day after the wedding.
Late check-out for the couple.
Manicure and pedicure service for the bride.
Relaxing massage for the couple.
Parque Nacional Los Haitises tour for the couple.
You've got 3 breathtaking wedding and reception venues to choose from at the Viva V Samaná resort.
Our wedding specialists love the beach wedding location the most!
But here's a lowdown on all the venues.
1. The Beach
Like I said, this one's our favorite!
And our couples love it too!
Sandy toes, a gentle breeze, you and your partner, and all your loved ones by your side… #purebliss
Ceremony – up to 100 guests
Reception – up to 100 guests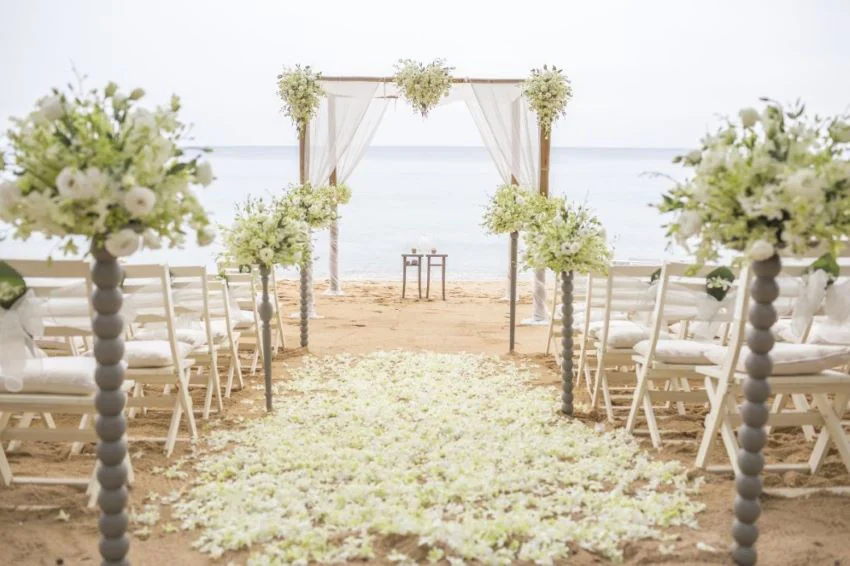 2. The Garden
This enchanting garden provides the perfect backdrop for an unforgettable celebration.
We feel like its lush palm trees and landscaped lawns set the stage for a truly fabulous wedding.
Ceremony – up to 80 guests
Cocktail hour – up to 80 guests
Reception – up to 80 guests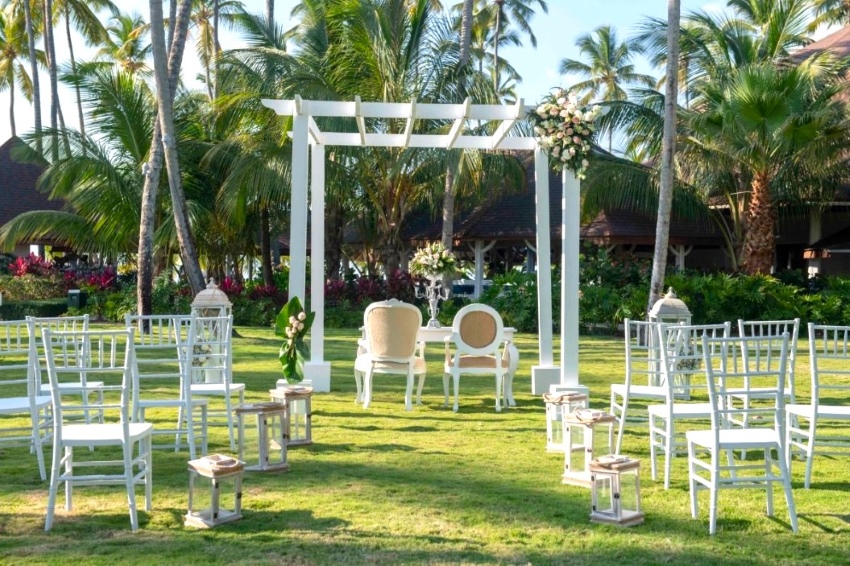 3. The Terrace
This beachfront terrace gives you and your guests stunning views of the Atlantic Ocean.
We generally recommend it for intimate ceremonies.
Ceremony – up to 30 guests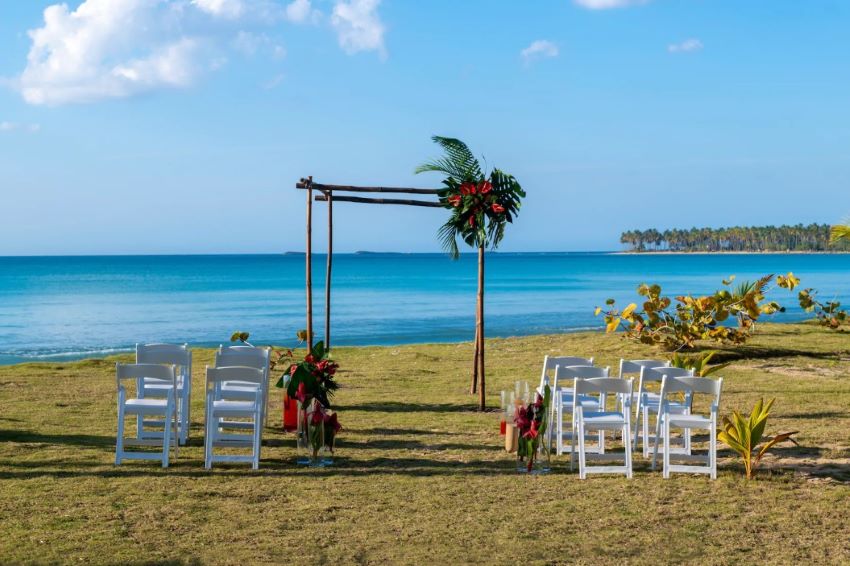 Viva V Samaná by Wyndham hosts all types of weddings, including same-sex weddings.
No matter which package and venue you and your partner choose, the resort can turn your dream wedding into a reality.
Our wedding specialists have a piece of advice for you – the Dominican Republic is relatively conservative.
While people are generally friendly, you might receive curious glances from the locals.
It's always a good idea to be respectful of the local customs and culture when traveling to any destination.
Our wedding specialists can collaborate with the resort's team to give you the wedding of your dreams. 
Need help with documentation? Our specialists can guide you with that too!
Viva V Samaná by Wyndham boasts 286 spacious accommodations, including some charming bungalows that look straight out of a storybook.
Each one of these accommodations is decked out with the most luxurious amenities you can dream of.
And here's what we love the most – many of the rooms and bungalows come with private plunge pools!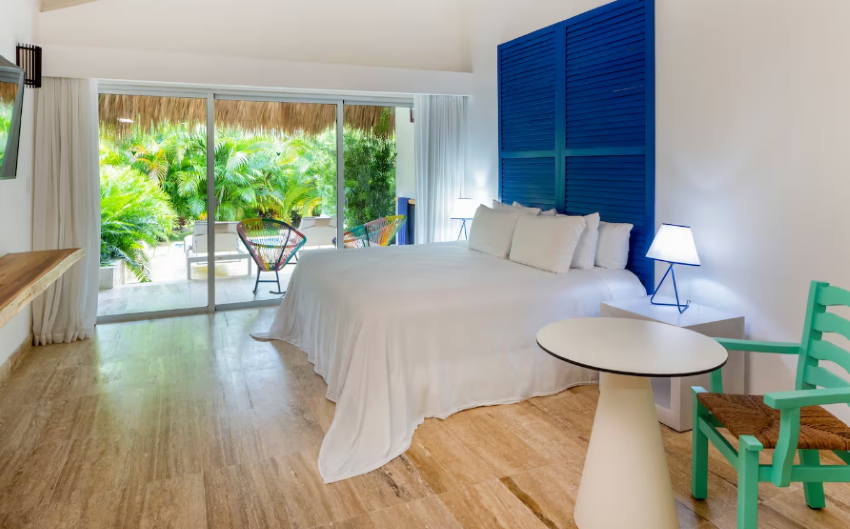 You get to choose from 3 categories…
V Room – 1 king-size bed, or 2 queen size double beds
Vibe Room – 1 king-size bed, or 2 queen size double beds
Bungalow – 1 king-size bed, or 2 queen size double beds
For the wedding couple, we highly recommend a bungalow. I mean, look at the photo below!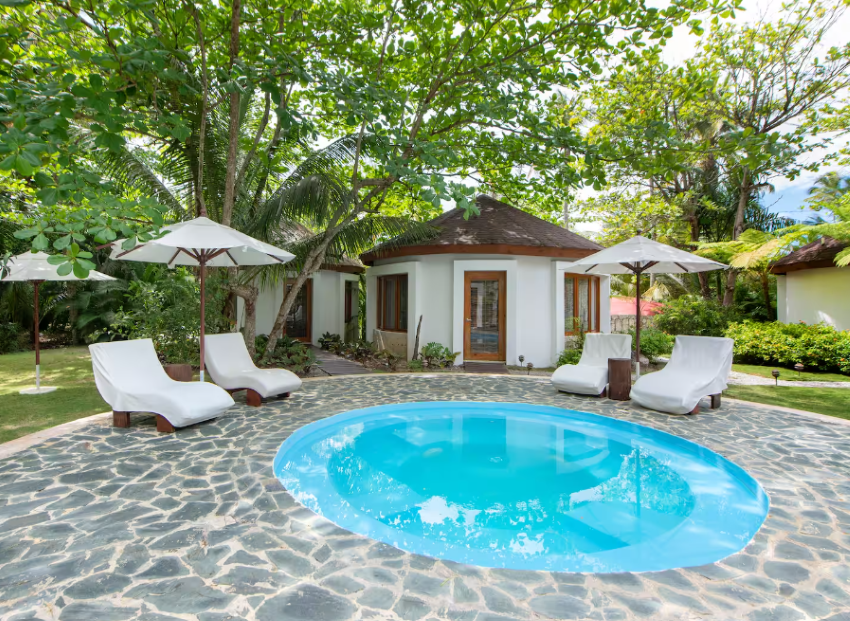 Beautiful, right?!
The bungalows are located in an exclusive area of the resort.
They come with a private plunge pool, free Wi-Fi with multimedia station, and a mini fridge and liquor bar.
You'll also have your own espresso machine, luxury toiletries and a hair dryer.
But the best part? You and your partner will receive a 15-minute foot massage!
Most rooms and all bungalows have private swim-out pools, so the resort has just 1 massive infinity pool for everybody to enjoy.
We found plenty of cabanas and loungers around the pool – there's no need to 'reserve' one for yourselves early in the morning!
And our couples find the pool area perfect for their dreamy wedding photos! #justmarried
The private beach at Viva V Samaná by Wyndham feels like a little slice of paradise.
We love how the turquoise waters meet powdery sands here.
It's the perfect spot to soak up the sun or take a refreshing dip.
Viva V Samaná is home to 7 fantastic restaurants and bars that cater to a wide range of tastes.
Get ready to indulge in a delicious mix of local and international flavors that'll satisfy even the pickiest eaters.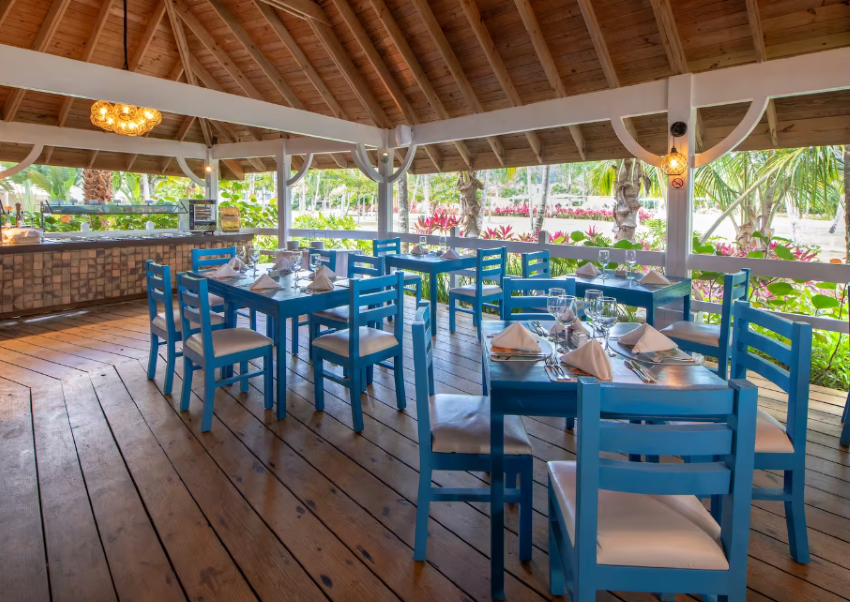 7 restaurant and bar options include… 
Mar y Fuego | Italian cuisine
Fusion | international cuisine
Las Terrenas | Mediterranean cuisine
Le Marche | market style dining
Beach Bar | bar and snacks, including wood-oven pizza
Snack Bar | grilled delicacies
El Hi | bar and cocktail lounge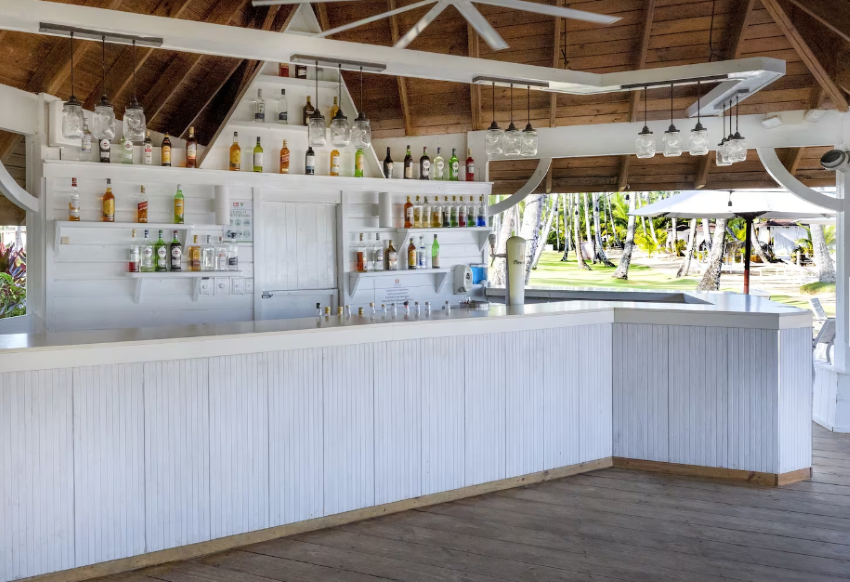 We found each day at Viva V Samaná by Wyndham full of exciting activities.
From kayaking and mixology classes to whale-watching tours, we found it all right here!
Want to just chill and rejuvenate before your big day?
The on-site spa has some fabulously soothing massages and treatments.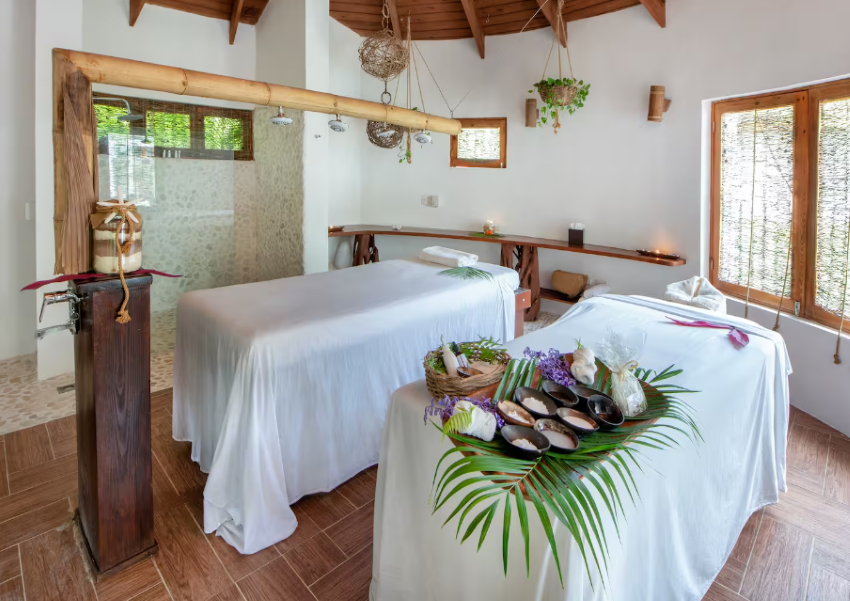 Fun activities and entertainment include…
Yoga on the beach
Cooking and mixology classes
Aqua gym
Tennis courts
Archery, beach volleyball, football, ping pong etc.
Catamaran rides
Fitness center
Spa and salon
Whale watching
Kayaking
Windsurfing
Snorkeling
Sailing
Q. How far is the airport from Viva V Samaná by Wyndham?
The El Catey International Airport is the closest airport to the resort.
It took us approximately 30 minutes to travel to Viva V Samaná by Wyndham from this airport.
Q. Is the Viva V Samaná by Wyndham resort accessible?
Yes, the resort is super accessible.
Apart from accessible common areas, it even has dedicated accessible rooms.
Q. Is Viva V Samaná by Wyndham family-friendly?
No, Viva V Samaná by Wyndham is an adults-only resort.
Q. Can 3 adults stay in 1 room at Viva V Samaná by Wyndham?\
Yes, up to 4 adults can stay in 1 room if you book the room with 2 queen-size beds.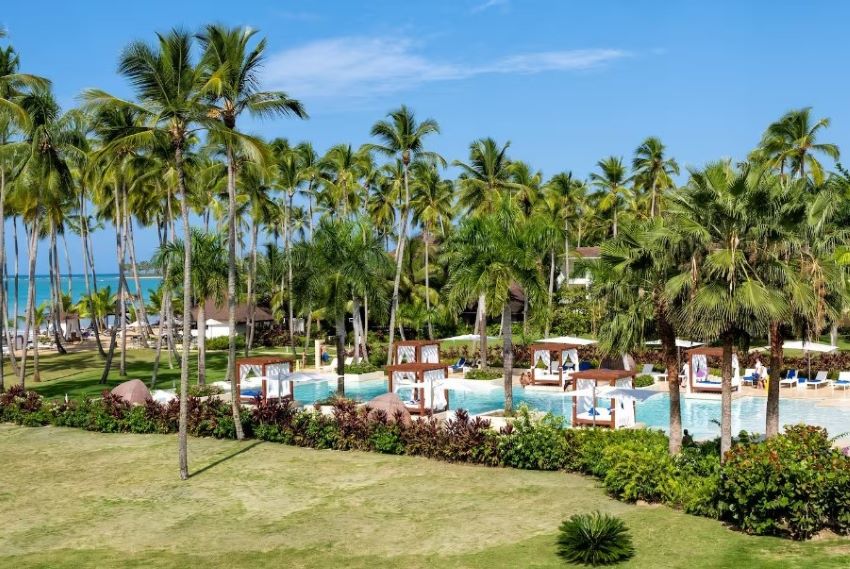 Viva V Samaná by Wyndham has a lot going for it – fantastic wedding venues, luxurious accommodations, delicious food and breathtaking views.
But it's always good to weigh the pros and cons before making your decision, right?
That's why I asked our team of seasoned wedding planners to give you the inside scoop on this resort.
Here's the lowdown… 👇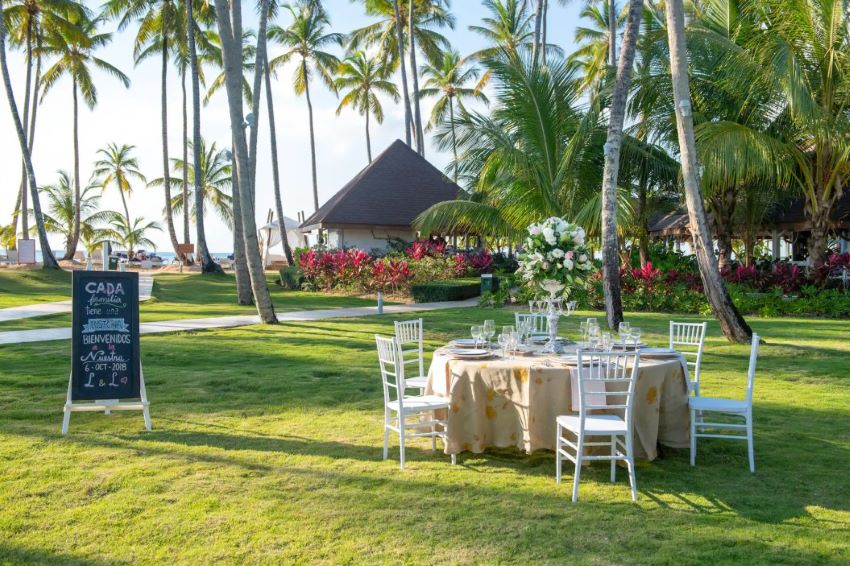 Things we love: 
Guests love the food and drinks here.
Private beach.
Plenty of activities and entertainment.
We find their mobile app super convenient and useful.
Things we don't love: 
Only 3 venue options, albeit all beautiful.
TV remotes in some rooms don't work!
Guests have complained about mosquitoes, cockroaches and even mice.
Slow service.
The management and staff could use some lessons in communication skills.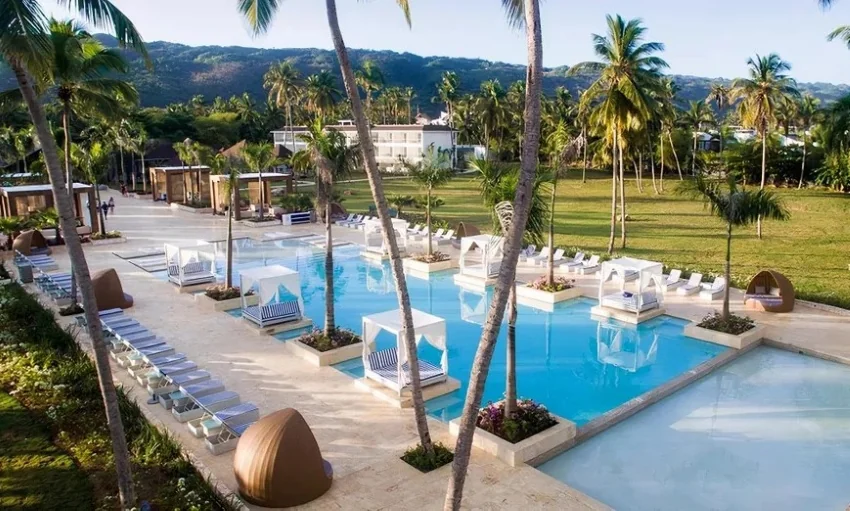 Still unsure? 
Take a look at these 3 similar resorts that could be perfect for your wedding. 
Ready to plan your destination wedding? 
Or looking for more resorts in the Dominican Republic?
We can help!
Our team at ParadiseWeddings.com has planned 100s of weddings and can guide you every step of the way. 
Call us today at 877-737-0177 or contact us here for a FREE consultation.
Can't wait to hear from you!