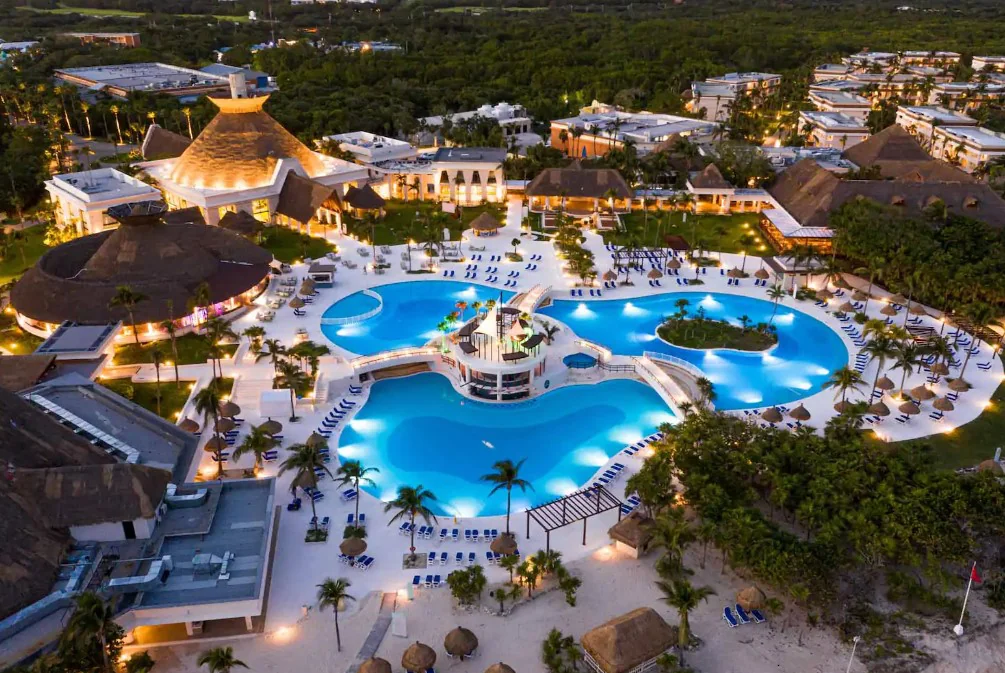 Weddings At Bahia Principe Grand Tulum | Our Honest Review
Are you considering Bahia Principe Grand Tulum for your destination wedding?
It could be a fantastic location to say "I do."
But, will it be the PERFECT fit for you and your partner?
… Maybe.
That's why our wedding specialists are spilling the beans on everything including the venues, packages, and pros + cons.
Today you'll figure out if this all-inclusive resort is "the one".
Ready to see if it's a match made in heaven?
Let's do this!
Ahh Tulum! It has a 'je ne c'est quoi' or in English 'a little something something'.
And Bahia Principe Grand Tulum has that something.
This all-inclusive resort is surrounded by breathtaking natural scenery, making it a beautiful location for a destination wedding.
Everything from a delicious array of Mexican cuisine, to plenty of outdoor activities, and gorgeous wedding venues. It has all the ingredients for an awesome wedding experience.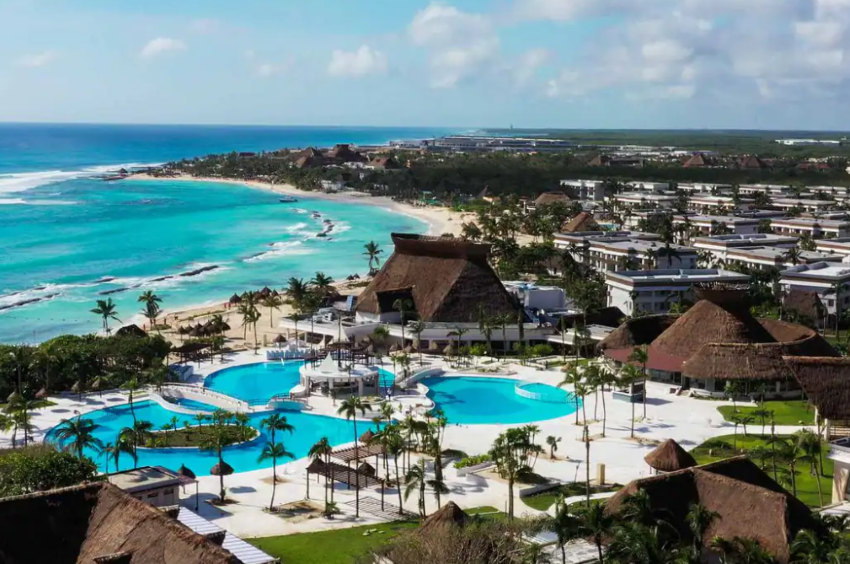 The Bahia Principe Grand Tulum resort boasts a total of 774 stunning rooms and suites equipped with spacious bathrooms and private balconies or terraces.
Before (and after!) your wedding, you can unwind and de-stress at their spa.
And they also have 3 massive pools with swim-up bar for you to cool off or make a splash. 
But the resort's most impressive feature is its elegant traditional Mexican architecture.
Bahia Principe Grand Tulum offers 3 fantastic wedding packages.
Whether you want tropical flowers, delicious food, beautiful décor, lively music… this resort can get it done for you!
3 wedding packages include:
Joyful | $899 for 10 guests (max. 25 guests)
Beautiful | $4,099 for 30 guests 
Wonderful | $8,699 for 30 guests 
More guests can be invited for $20 to $120, depending on the package you opt for.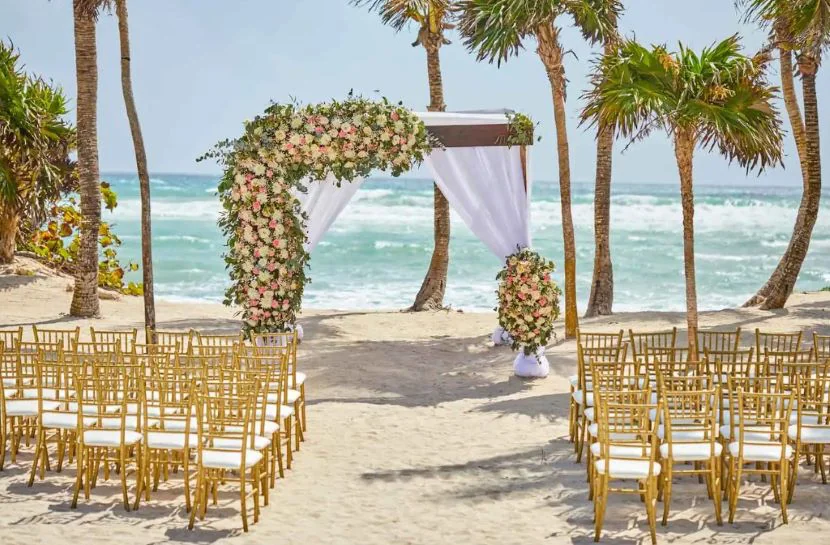 Beautiful Wedding Package:
If you go for their Beautiful wedding package, you can count on some seriously gorgeous seafront settings, amazing food, live music, and a bunch of other inclusions.
For $4,099, you get all of these inclusions:
Symbolic ceremony
Minister
Wedding venue 
Ceremony table
Brides bouquet and groom's boutonniere
Sound system with speaker and microphone
15 professional digital pictures of ceremony
Ceremony toast (sparkling wine)
1-hour cocktail hour
Private wedding dinner
Wedding cake
15% discount at the spa
Private group check in
Wedding gift
In room special decorations & amenities for the couple
Romantic breakfast in bed for the couple
Room upgrade (wedding couple)
Late check out (wedding couple)
At Bahia Principe Grand Tulum, you can choose from 7 amazing wedding and reception venues!
Whether you're dreaming of getting hitched right on the beach, or prefer a romantic poolside setting, the resort has got you covered.
7 venues at the resort include:
1. Beach Gazebo
Want to get married on the beach but don't like sand in your toes?
The Beach Gazebo will be the perfect venue for you!
It's located right by the beach and can be decorated as per your liking and wedding theme.
Ceremony – up to 80 guests
Cocktail hour – up to 120 guests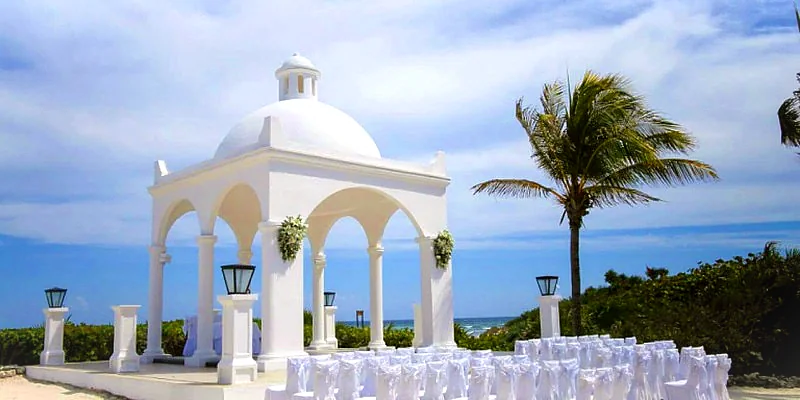 2. Mirador
A beautiful beach wedding venue, Mirador is a partly shaded area so it'll be perfect for your morning or afternoon ceremony. 
Ceremony – up to 100 guests
Cocktail hour – up to 150 guests
3. Beach Huppa
The beach venue offers the perfect setting for a romantic wedding.
With soft sand under your feet and the sound of waves as your backdrop, your wedding day will be a dreamy affair.
Ceremony – up to 100 guests
Cocktail hour – up to 120 guests
Reception – up to 50 guests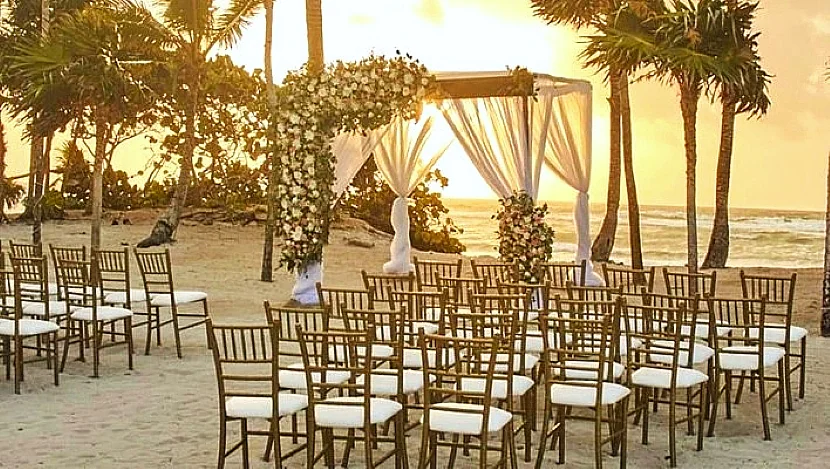 4. Beach Mirador
This one is a party venue right on the beach!
It even has an awesome dance floor!
Reception – up to 90 guests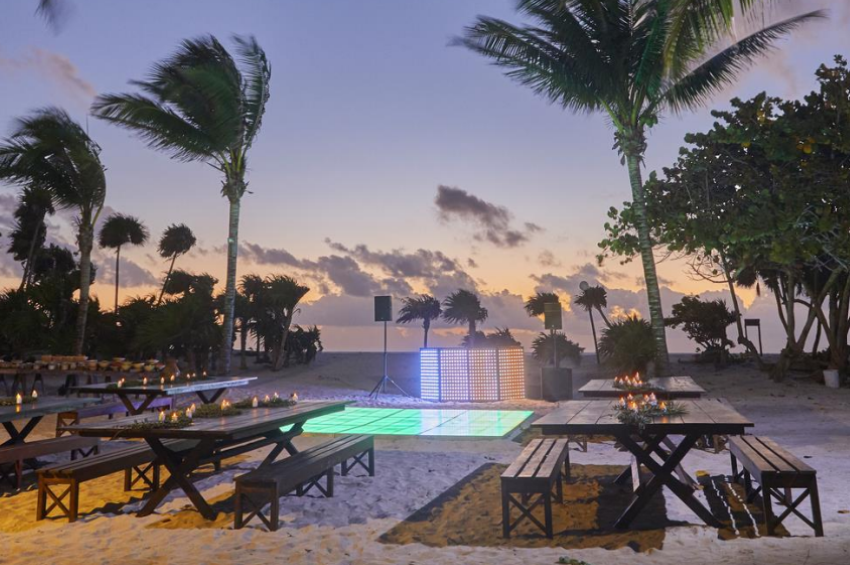 5. Pool Side
This poolside venue is a dreamy one that's perfect for celebrating your love. Its décor can be customized as per your liking. 
Reception – up to 90 guests
6. Terrace Tequila
Perfect for semi-private dinner parties, this venue offers stunning views of the sea. 
Reception – up to 60 guests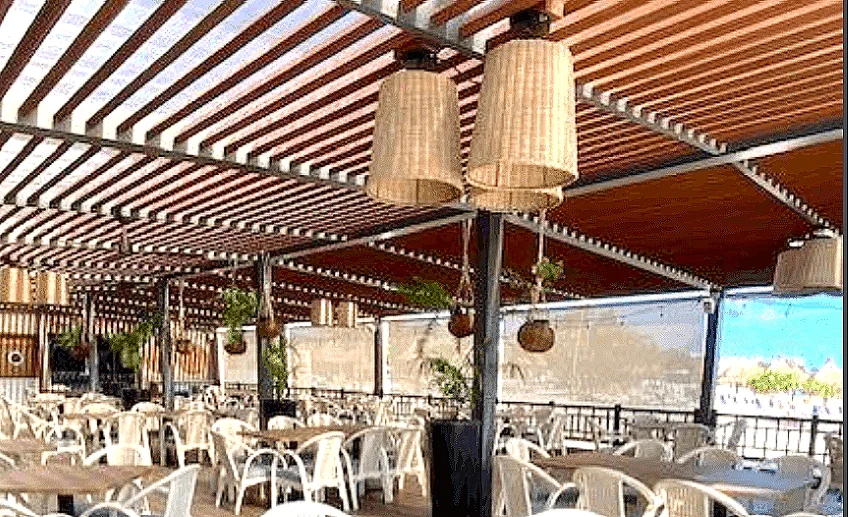 7. Terrace Gran Tortuga
The Terrace Gran Tortuga at Bahia Principe Grand Tulum is a charming venue perfect for hosting intimate and semi-private dinners. 
Reception – up to 40 guests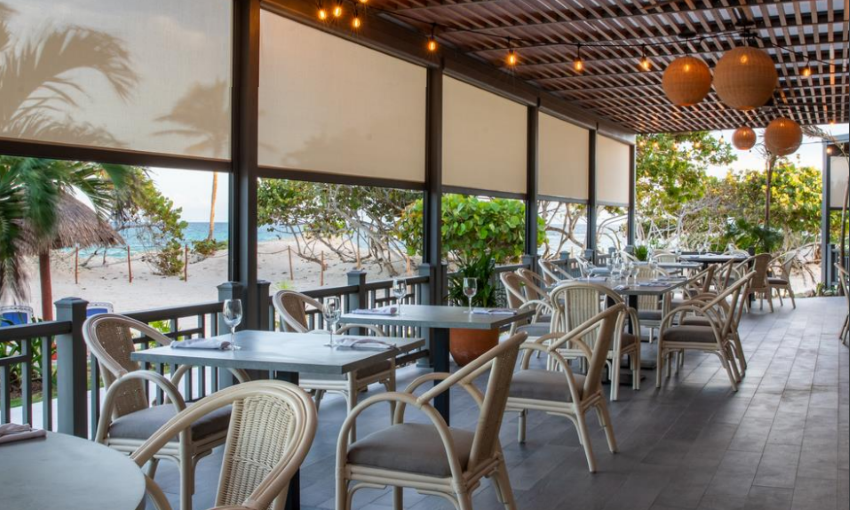 Bahia Principe Grand Tulum welcomes members of the LGBTQ community to celebrate their love.
It offers inclusive wedding packages that cater to the needs of every couple.
Need help with documentation? Our wedding experts can guide you with that!
At Bahia Principe Grand Tulum, you'll find 774 well-appointed rooms and suites that aim to pamper you!
They come equipped with a minibar, private balcony/terrace, luxury bathroom amenities and comfy beds. 
Unfortunately, the resort does not have swim-out suites. 😢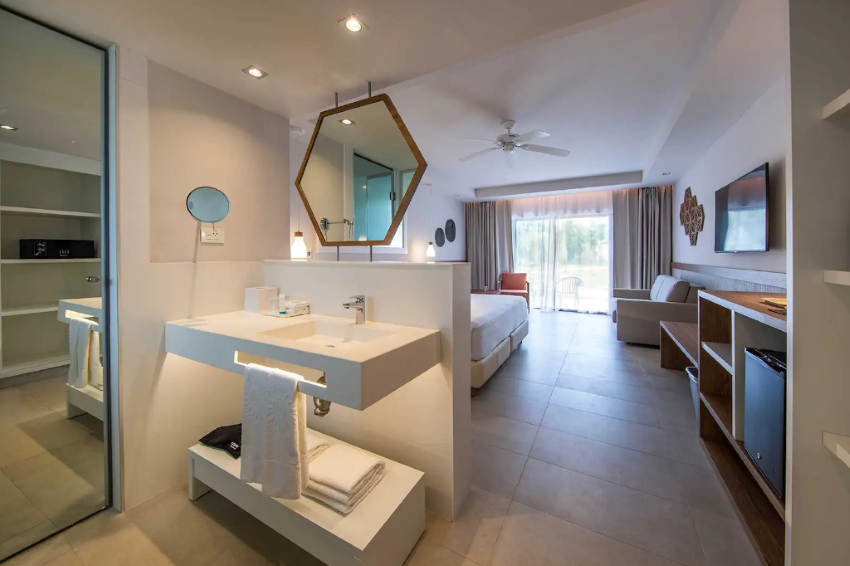 You get to choose from these 4 rooms and suites…
Premium Superior Ocean Front – 2 full-size beds or 1 king-size bed
Premium Superior – 2 full-size beds or 1 king-size bed
Junior Suite – 2 full-size beds or 1 king-size bed
2 Bedroom Suite – 2 full size beds or 1 king size bed + double sofa bed
For the newlyweds, we recommend the Junior Suite!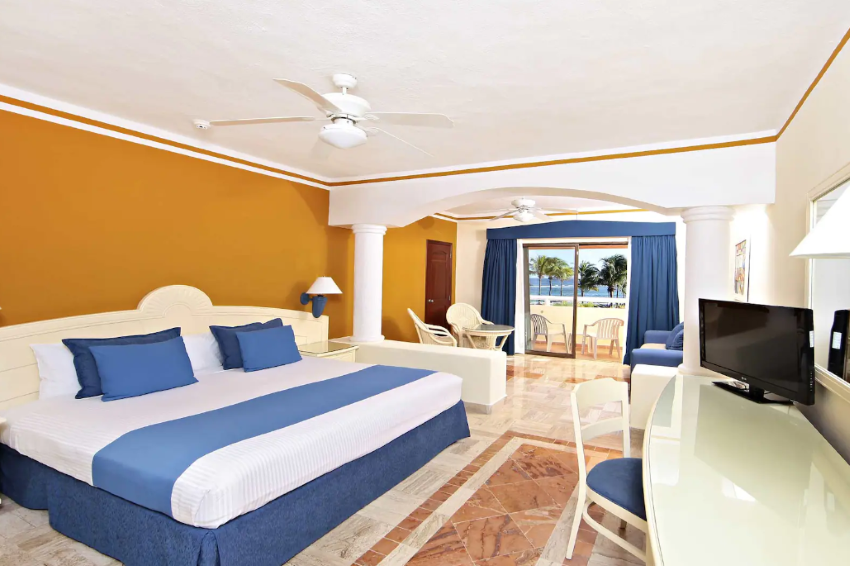 This beautiful suite comes with a private balcony, and a hydromassage bathtub with shower.
The suite is equipped with a minibar, hair dryer, iron and ironing board, and a separate sitting room.
You'll find a luxurious bed with a comfortable mattress for a restful sleep.
Did we mention that the views from here are amazing?!
Bahia Principe Grand Tulum has 3 massive pools and a children's waterpark – perfect for wedding guests of all ages!
One of the pools is a lake-style pool that winds beautifully throughout the property.
This pool is spanned by bridges that lead to terraces with loungers and bamboo straw umbrellas.
There are also outdoor whirlpool tubs for you to relax at. But the best part? Swim-up bars!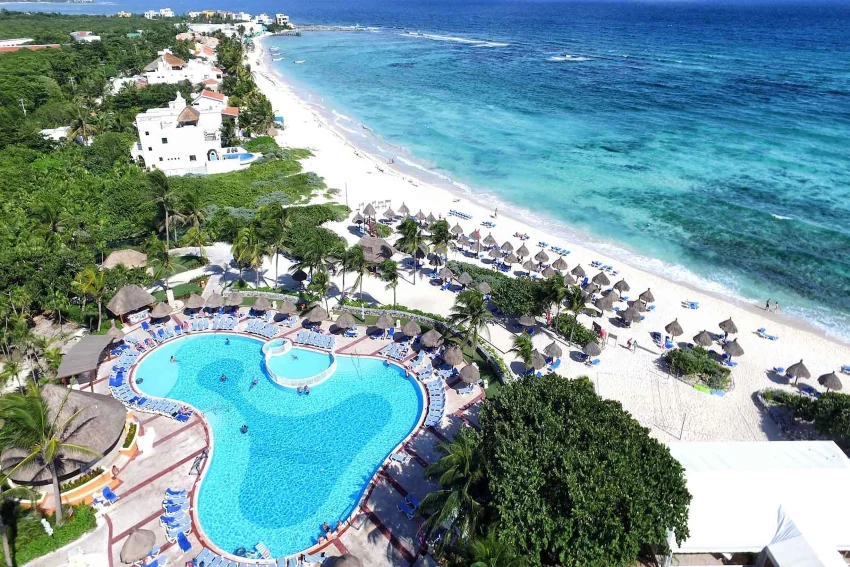 Just a few steps away is the beach. You'll find loungers and umbrellas here too.
And the beach is where you'll be able to play volleyball with your buddies!
If you're a foodie, Bahia Principe Grand Tulum is the perfect resort for you!
They've got 7 amazing restaurants that offer a culinary adventure every single day.
And then there are 5 awesome bars, including a swim-up bar, that serve seriously good cocktails and top-shelf spirits.
Get your taste buds ready for a feast!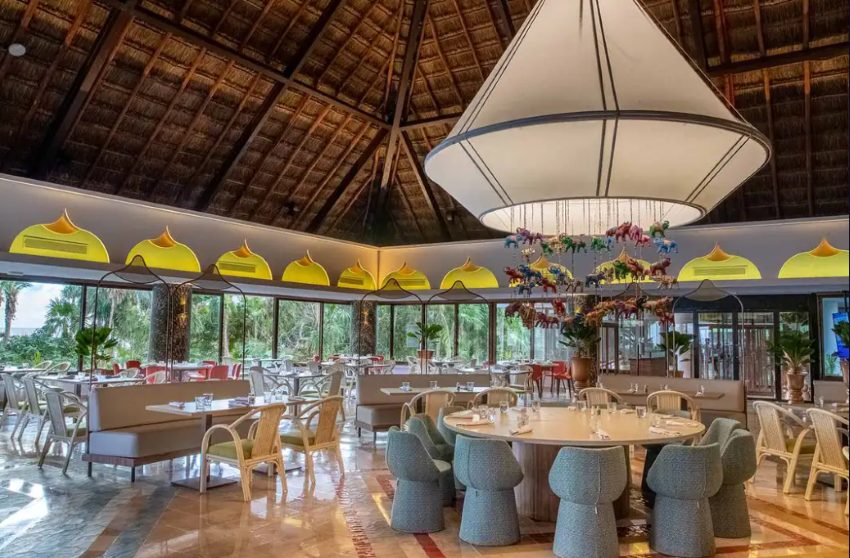 7 restaurant options include…
Yucatan Restaurant | International cuisine
Beach Food Truck | International cuisine
Burger​ Andale | Burger and picnic food
Hindu Restaurant Thali | Indian cuisine
Gran Tortuga Restaurant | Brazilian cuisine
Tequila Restaurant | Mexican cuisine
Gourmet Restaurant Don Pablo | Modernist gourmet cuisine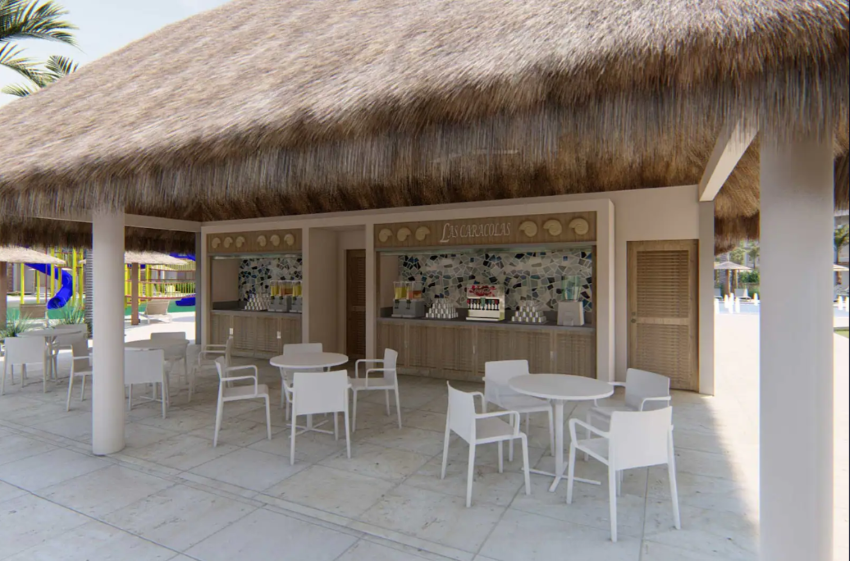 Bahia Principe Grand Tulum is the ultimate fun destination!
You can catch a live show, do yoga on the beach, or release turtle hatchlings in the sea – all in one day.
With activities and entertainment suitable for all ages, they've got something for everyone.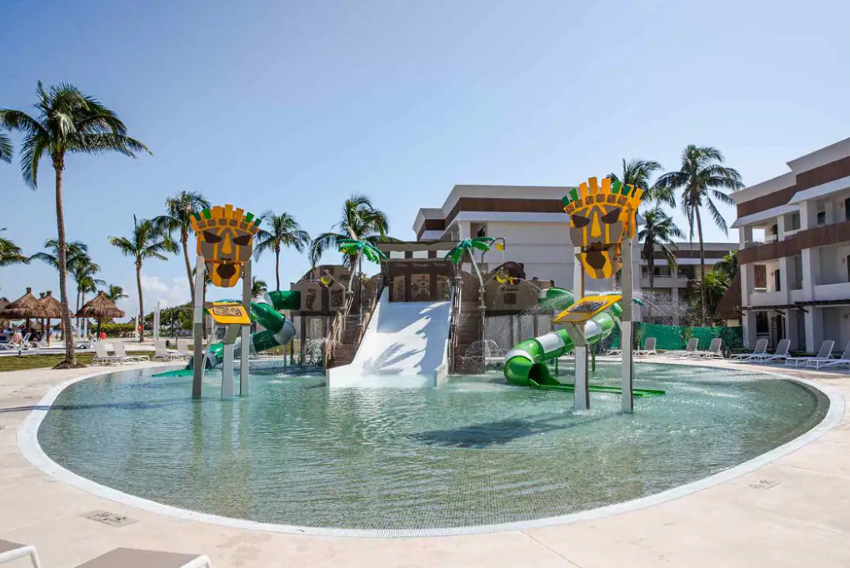 Fun activities and entertainment include…
Fascinating live shows and musicals
Water park
Scubaquatic Activities Center
Water fitness classes
In-pool scuba diving
Parasailing
Boogie boarding
Snorkeling 
Kids Club
Themed playgrounds
Kayaking
Fishing excursion
Golfing
Fitness center
Spa
Disco
Q. How far is Bahia Principe Grand Tulum from the airport?
Bahia Principe Grand Tulum is located around 1.30 hours away from Cancun International Airport.
Q. What is the difference between Bahia Principe Grand Tulum and Coba?
Bahia Principe Grand Tulum is the quieter one of the 2. It's where you'll find relaxing pools, huge rooms, and fun activities and entertainment. It's perfect for families and weddings.
Coba is where the party's at! It's got a casino, a nightclub, several activities throughout the day and even on-site shopping.
Q. How far is Bahia Principe Grand Tulum from the beach?
Just a few steps away!
Q. Which room amenities are available at Bahia Principe Grand Tulum?
Top room amenities include a minibar, air conditioning, luxury bathroom amenities, hair dryer and a flat screen TV.
Q. What is there to do at the newly renovated Bahia Principe Grand Tulum All Inclusive? 
The list is long! Ready, let's begin!
Fitness center
Massage
Sauna
Cycling
Themed playgrounds
Pool table
Snorkeling
Ping-pong
Diving
Tennis court
Canoeing
Darts
Proximity to Golf course
Evening entertainment
Water park
Kids' club
Badminton equipment
Live music/performances
Beauty services
Themed dinners
Water sports facilities on site
And so much more!
Q. Can you fly directly to Tulum Mexico?
No, you cannot fly directly to Tulum. We recommend flying to Cancun and then renting a car or getting a taxi from there.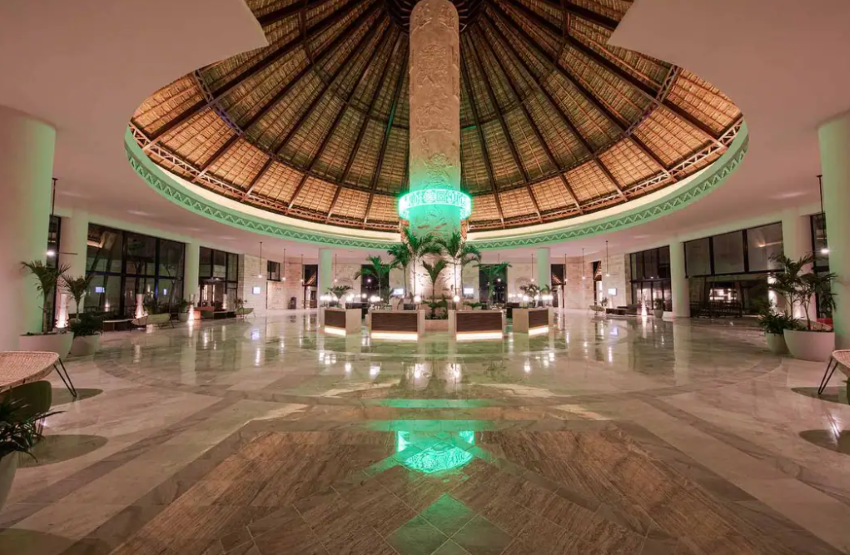 Everything at Bahia Principe Grand Tulum is simply grand!
With many venue options to choose from, you can have the wedding of your dreams.
And if you're looking for some fantastic wedding packages, they've got you covered.
But what's the catch?! 👇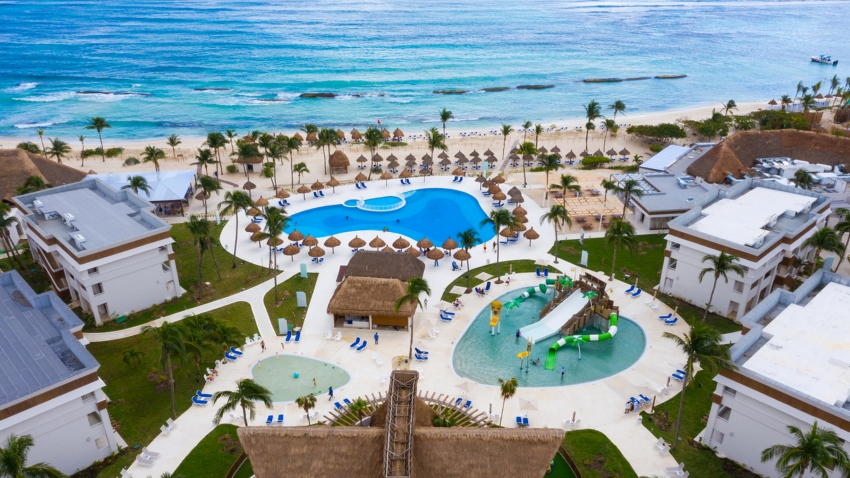 I asked our wedding planners the same question, and here's what they had to say.
Things we love: 
Many gorgeous venue locations.
The pools! 
Great entertainment – there's so much to do!
Fantastic resort for families.
Cleanliness is worth mentioning here.
Excellent massages at the sap.
Things we don't love: 
A whopping 1-hour and 20-minutes from Cancun airport.
Shuttle service is slow.
Beware of bugs, carry bug spray!
Despite being all-inclusive, some events and activities have additional fees. 
If you have special needs for food (vegetarian, vegan etc.), you might have a tough time here.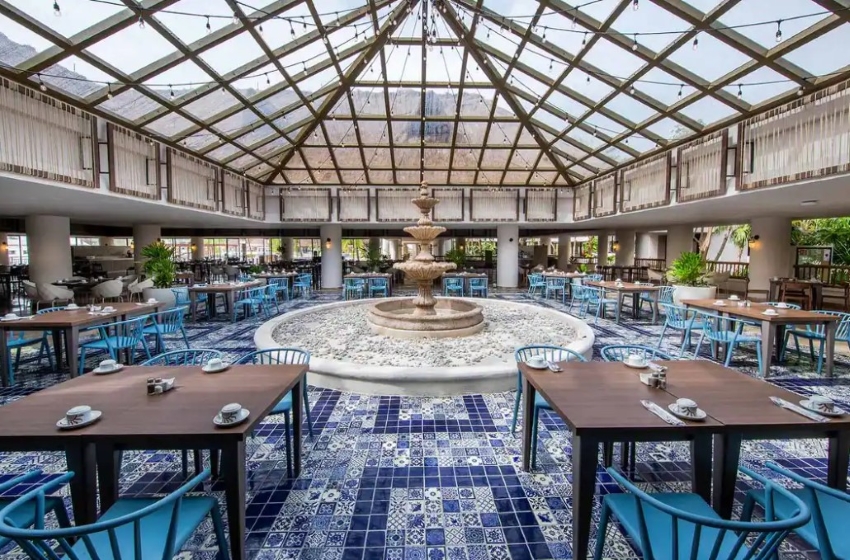 Still unsure? 
Take a look at these 3 similar resorts that could be perfect for your wedding. 
Ready to plan your wedding?
Still unsure is Bahia Principe Grand Tulum is the way to go?
We can help!
Our team at ParadiseWeddings.com have planned 100's of weddings at all-inclusive resorts. We'll hold your hand in finding the perfect resort.
Call us today at 877-737-0177 or contact us here for a free consultation.
Can't wait to hear from you!