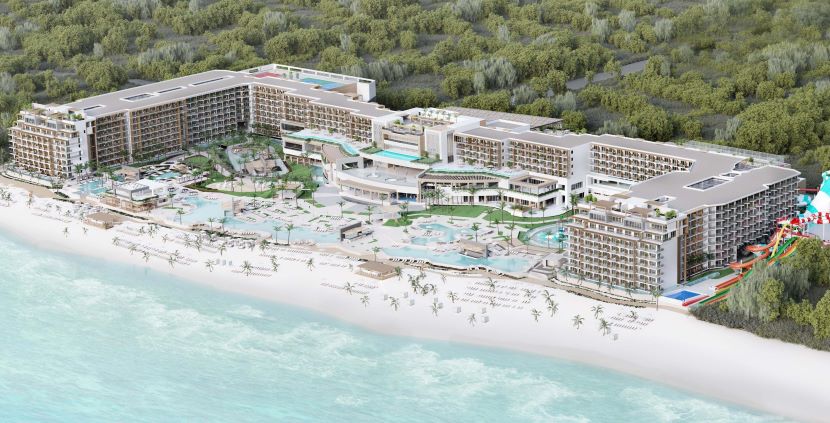 Weddings At Royalton Splash Riviera Cancun | Our Honest Review
Dreaming of getting hitched at the Royalton Splash Riviera Cancun?
But wondering if the resort's as good as it's made out to be?
Look no further!
Our expert planners have the inside scoop on weddings at this all-inclusive paradise.
From venue options to package deals, we'll cover it.
So, what are you waiting for?
Dig in!
Royalton Splash Riviera Cancun delivers a ton of fun for destination weddings!
Why? Well, it has one of the largest on-site water parks in the Caribbean!
You know the kids will absolutely love this, and their parents will love you for it while they sip margaritas with all the other guests!
Unimpressed? Jeez! Ok, here's more info…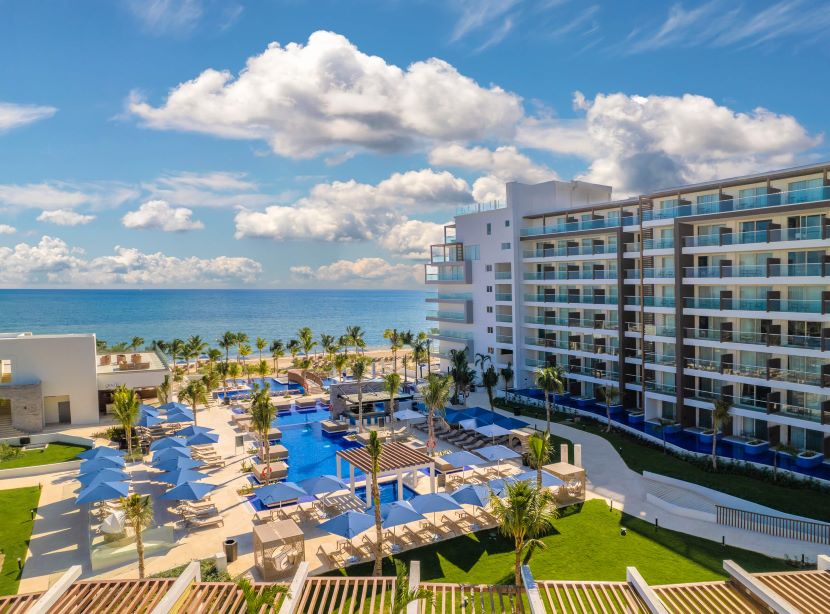 The resort offers 17 delicious dining options, including 12 restaurants, a café and an ice cream parlor.
And when you're ready for a drink, head to any of the 10 bars, including 2 swim-up bars.
The 1,005 suites at Royalton Splash Riviera Cancun are perfect for you and your guests.
They also have 2 theaters where you can enjoy live shows every night of the week.
Impressed? We knew it!
Get ready for the wedding of your dreams at Royalton Splash Riviera Cancun!
With 4 fabulous wedding packages to choose from, you'll be able to create the perfect atmosphere for every part of your special day.
Whether you're dreaming of an intimate ceremony or an extravagant celebration, the resort can make it happen!
4 Wedding Packages Include:
Just The Two Of Us | $699 for you and your partner
Luxury Complimentary Wedding | Free if conditions are met or $999. For 10 guests.
Refined Wedding | $4,199 for 30 guests
Exclusive Wedding | $11,199 for 40 guests
The resort also has 2 delightful add-on packages:
Sky Terrace Ceremony | $1,500 for holding your ceremony at the beautiful Sky Terrace Gazebo
Mexican Experience | $3,100 for authentic Mexican food and drinks, live Mariachi band performance, Mexican duo performance, and tequila tasting!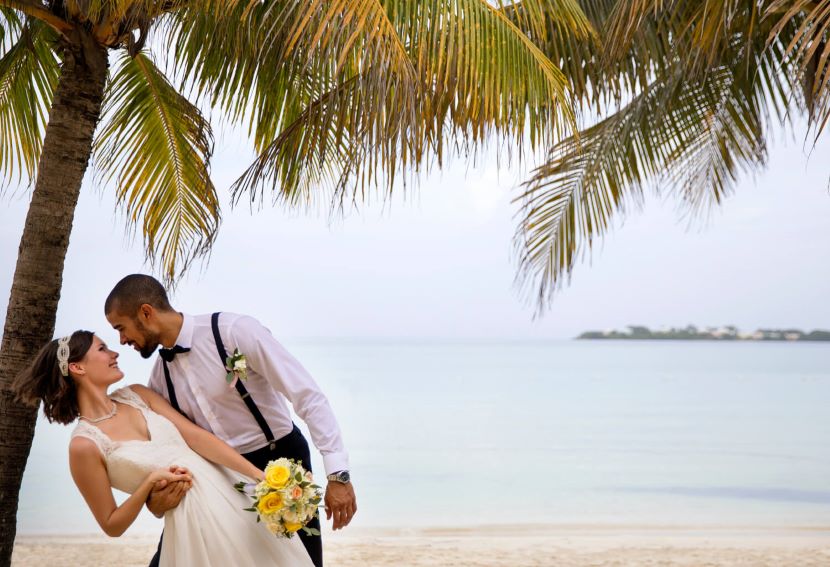 Refined Wedding Package:
The Refined Wedding package is the ultimate way to make your day truly special.
This all-inclusive package offers the perfect blend of luxury and elegance.
For $4,199, you get all of these amenities:
Ceremony location (excluding Sky Terrace)
Symbolic ceremony
Sound system for ceremony
Ceremony table with linen & tropical centerpiece
1 tropical bridal bouquet and 1 groom's boutonniere
1 tropical bridesmaid bouquet and 1 tropical groomsmen boutonniere
Sparkling wine toast
1-hour cocktail hour with open bar and 3 appetizers
3-hour private reception with delicious food and open bar
2-tier wedding cake
Personalized menu cards
Personal wedding planner & onsite coordinator
VIP welcome & late checkout for couple
Bride & groom room upgrade
Refreshments & fruit platter for the couple on their wedding day
10% discount on spa services for entire wedding group
Breakfast in bed for the couple, morning after the wedding
You don't have to restrict your guest list to 30! For $80 per person, you can invite additional guests at your wedding.
You won't be disappointed with the variety of wedding venues at the Royalton Splash Riviera Cancun!
With 5 venues to choose from, including both outdoor and indoor ones, you're sure to find the perfect spot!
Their 5 Wedding Venues Include:
1. Sky Terrace
This incredible sky venue is perfect for ceremonies, receptions and cocktail hours.
With the capacity to accommodate 200 guests, the sky's the limit when it comes to your special day!
You need to purchase the Sky Terrace Ceremony Package ($1,500) for this venue.
2. The Beach
Imagine saying your vows next to the Caribbean sea, a beautiful wedding setup arranged just for you…
Royalton Splash Riviera Cancun offers the perfect setting for a beachfront wedding ceremony.
The venue can accommodate up to 150 guests.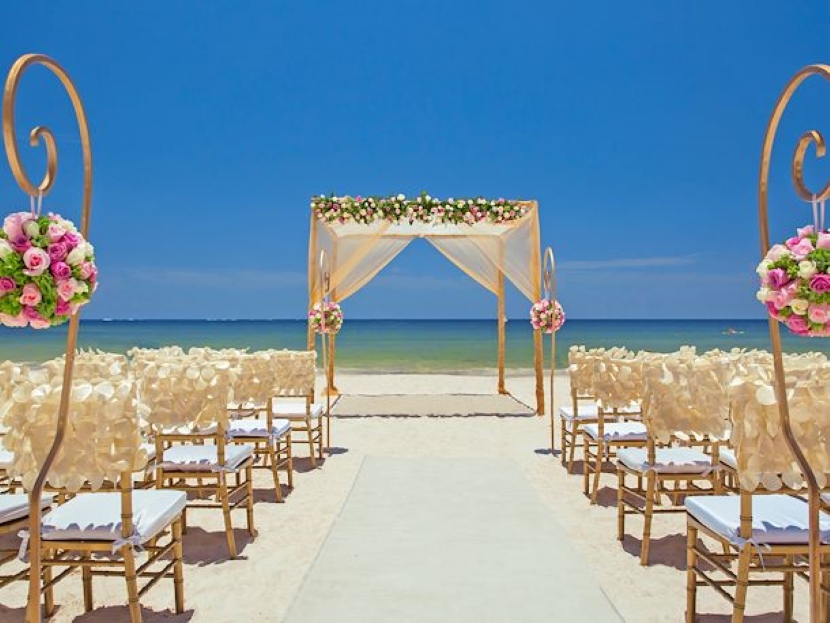 3. Grazzie Overview Terrace
Having a themed rooftop décor and banquet setting, this venue is perfect for wedding ceremonies, receptions and parties.
You can invite up to 120 guests here.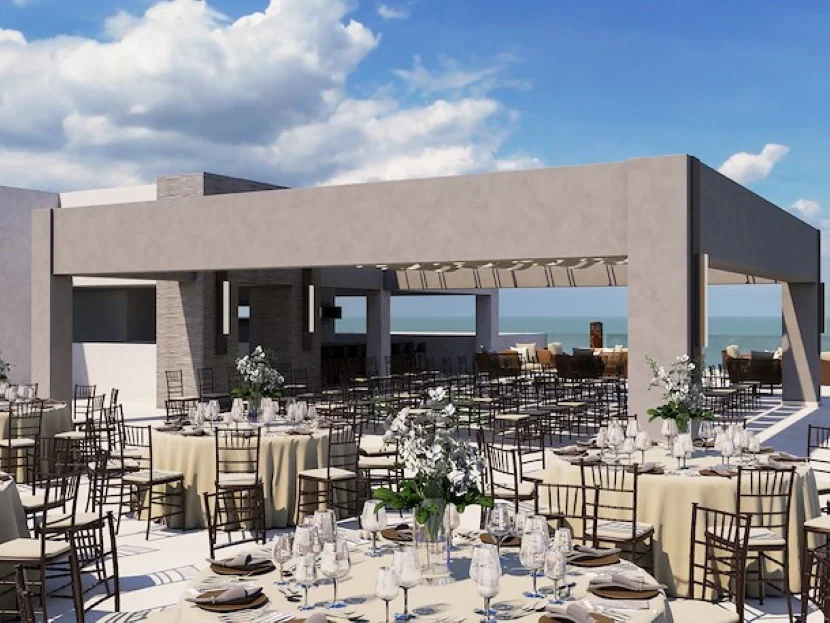 4. Grand Cenote (Multipurpose Room)
An indoor venue, the Grand Cenote is perfect for hosting larger than life reception dinners and cocktail parties!
The venue allows for flexible seating and table arrangements to optimize space and guest capacity.
You can invite up to 500 guests here.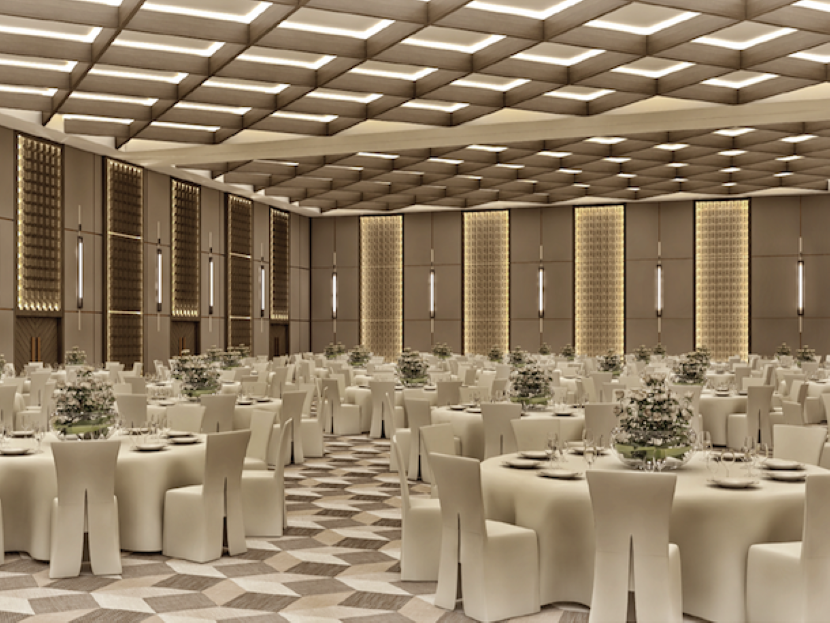 5. Blue River Ballroom
Throw a big wedding fiesta in this massive ballroom at Royalton Splash Riviera Cancun!
It can accommodate up to 1,300 guests.
Want to know more about the wedding venues? Our wedding planners can help you with that.
Royalton Splash Riviera Cancun celebrates love in all forms.
The resort offers wonderful wedding packages that stay the same for all couples.
So, you can just sit back and enjoy your wedding planning process!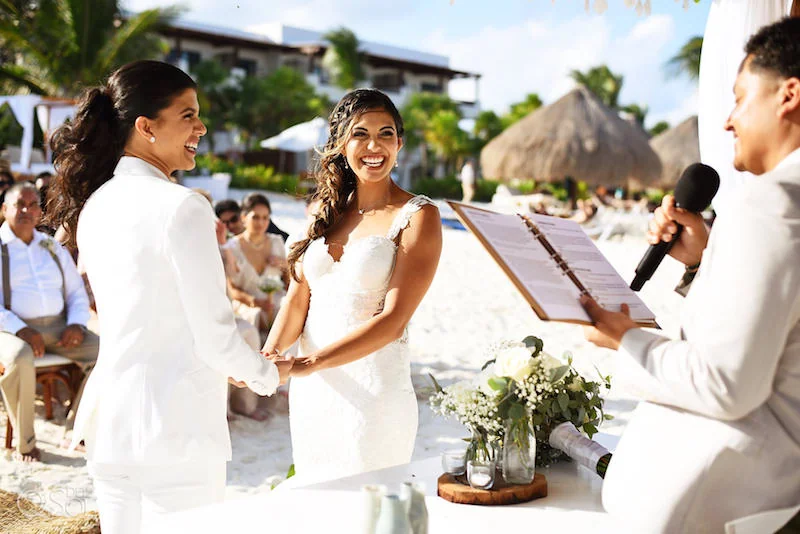 Need help with important documents? Reach out to us!
Our wedding specialists can help you with anything and everything you need!
The 1,005 spacious and luxurious suites at the Royalton Splash Riviera Cancun will make you feel like royalty!
All of them come with amenities like:
Minibar with complimentary snacks and beverages
Comfy bed with high-thread-count sheets
Royalton Signature rain shower
Garment steamer
Hair dryer
Complimentary Wi-Fi
And so many more! The suites also come with a balcony or a terrace.
Plus, for your wedding week, why not elevate your experience and upgrade your room?
That's what Diamond Club™ suites are for!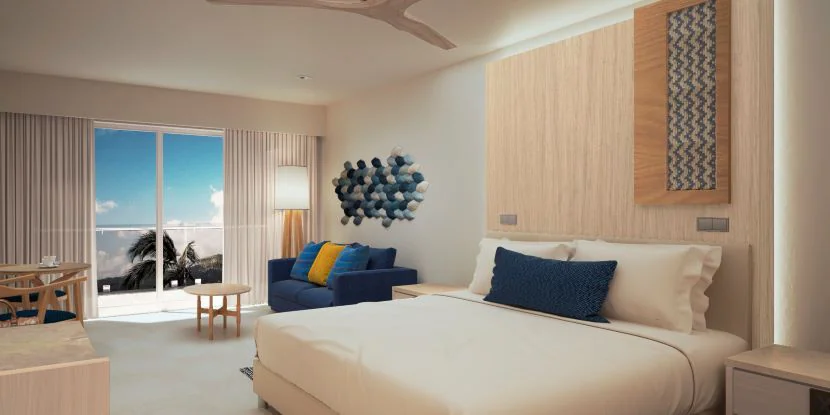 You get to choose from 9 suite categories…
Luxury Junior Suite
Luxury Two Bedroom Junior Suite
Diamond Club Luxury Junior Suite
Diamond Club Luxury Junior Suite Ocean Front With Terrace Jacuzzi
Diamond Club Luxury Junior Suite Swim Out
Diamond Club Luxury Presidential One Bedroom Suite Ocean Front
Diamond Club Luxury Two Bedroom Junior Suite
Diamond Club Luxury Sky Chairman Two Bedroom Ocean Front
Diamond Club Luxury Chairman Two Bedroom Suite Ocean Front
For the wedding couple, we recommend the Diamond Club Luxury Junior Suite Swim Out!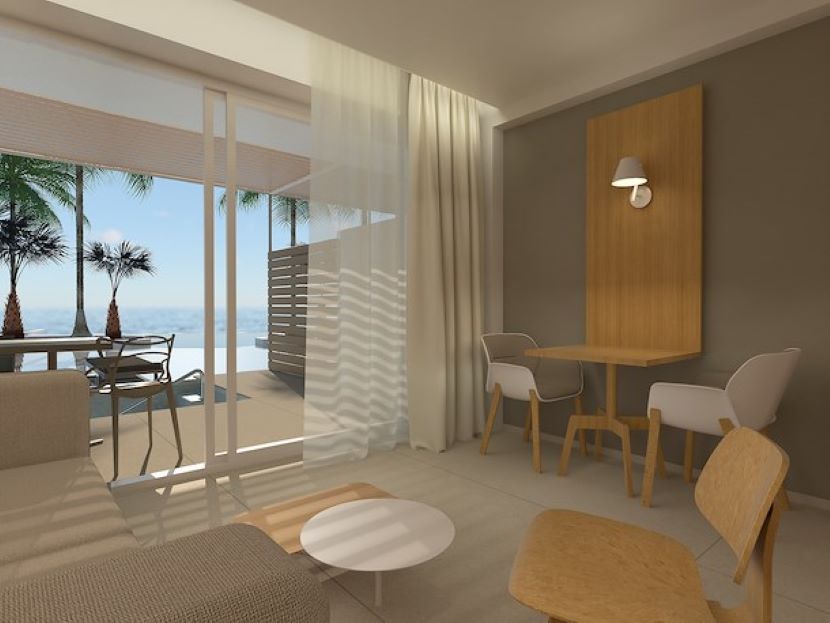 Not sure if you've ever experienced a swim out suite, but we promise you it's life-changing!
Not only does this suite have a semi-private pool, but you also get amazing amenities that'll make you feel like royalty.
Enjoy the comfy king-size bed, luxurious toiletries, rain shower, private furnished terrace, and so much more!
Get ready for a wet and wild adventure with 14 monster water slides, splash pads, lazy rivers and more at the resort's water park!
There are also several luxurious pools you can choose from to make a splash!
And you can keep the party going at the 2 swim-up bars, and 1 poolside bar!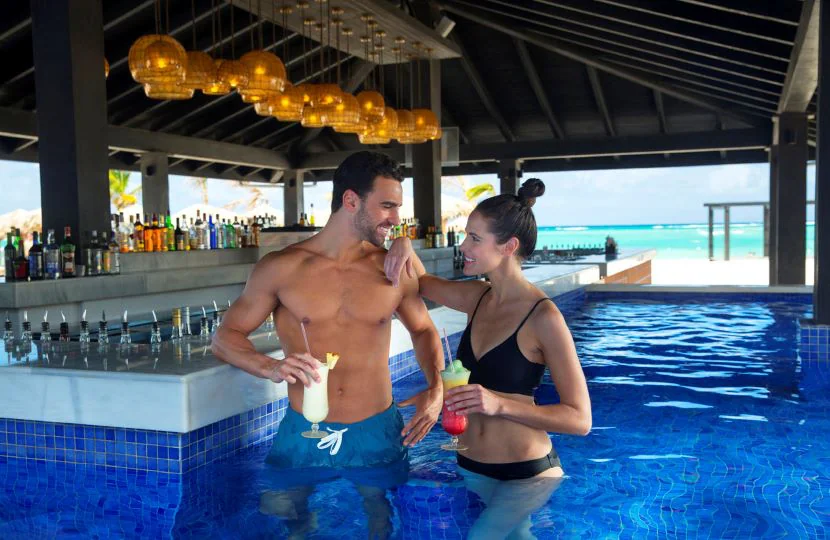 For a more of a chill vibe, head over to the private beach at the Royalton Splash Riviera Cancun.
Sip on cocktails while lounging in the beachside cabanas, catching up with your loved ones.
The restaurants and bars at Royalton Splash Riviera Cancun are just like the resort – crazy and wild, with a touch of elegance!
You can feast on eclectic cuisines from around the world at the resort's 17 eateries, including 12 restaurants, an ice cream bar, a winery, and a cafe.
No matter what you want, taco, sushi, a great steak, or a slice of pecan pie, you can find it all here.
They also have 10 bars around the resort, with each having a completely different vibe.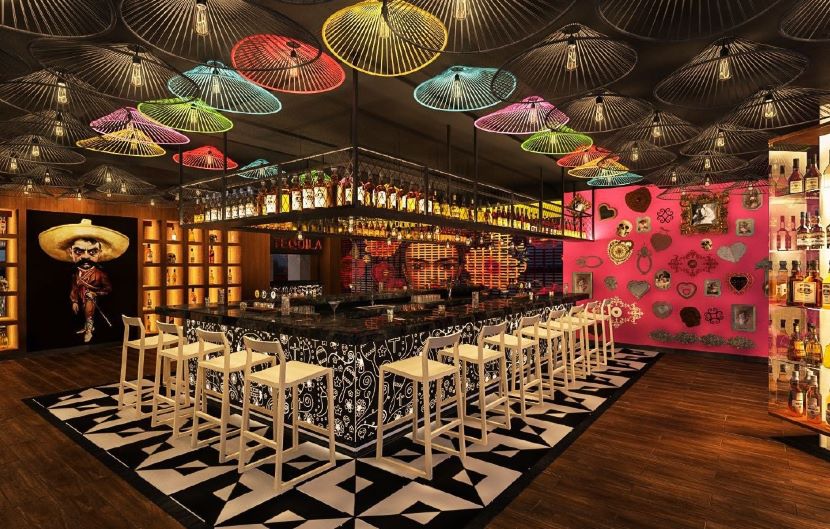 12 restaurant options include… 
Chef To Go | Quick bites
Nibbles | Snack bar
Grazie-To-Go | Pizza and snacks
The Cave | Locally inspired cuisine
Taj | Indian cuisine
Agave | Mexican cuisine
Grazie Italian Trattoria | Italian cuisine
Zen | Teppanyaki and Japanese cuisine
Rio | Brazilian grill
Smoke BBQ | Southern American BBQ
Ma Maison | French cuisine
Hunter Steakhouse | Steaks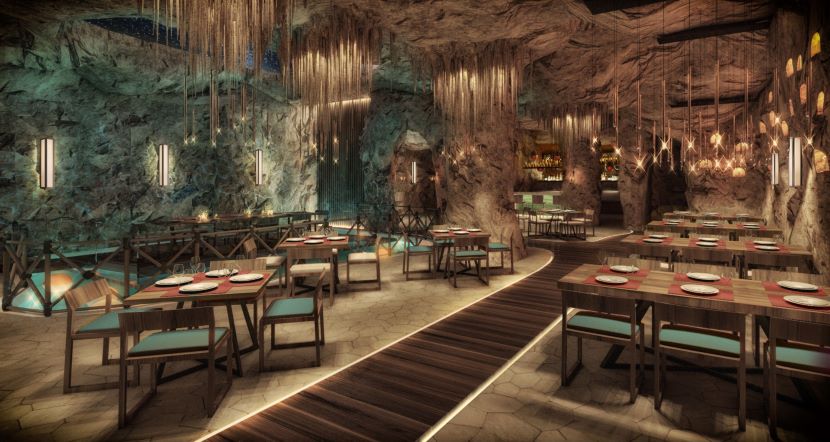 Royalton Splash Riviera Cancun is packed with fun activities for all ages!
We've already mentioned the massive water park!
But did we tell you about the Game Up zone where there's bowling, trampoline park and even laser tag?!
You can also enjoy water sports like paddleboarding, kayaking and snorkeling.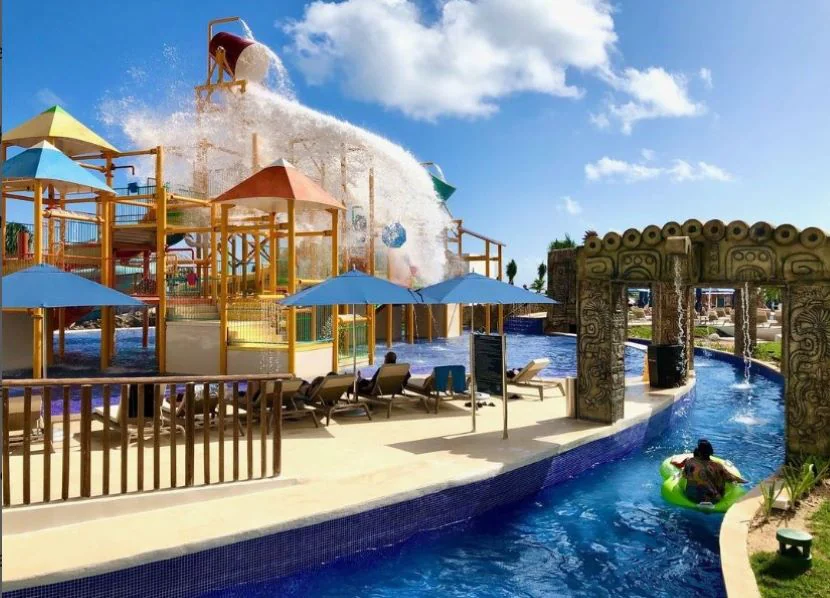 Fun activities and entertainment include…
Multisport court
Horseback riding
Scuba diving
Theaters with live entertainment
Bowling
Trampoline park
Laser tag
Helicopter rides
Catamaran rides
14 water slides
Lazy rivers
Guided tours to local Mayan ruins
Whether you're joined by adults or children, there is something for everyone to enjoy here!
You may have several questions about Royalton Splash Riviera Cancun.
Don't worry! We have the answers. 
Q: Is the Royalton Splash Riviera Cancun open?
A: Yes, the resort opened on December 20th, 2022. However, construction is still going on and the resort is not completely ready yet. 
Q: Does the Royalton Splash Riviera Cancun have a lazy river?
A: Yes, there are 2 lazy rivers at the resort!
Q: How far is the Royalton Splash Riviera Cancun from the airport?
A: The resort is a 20 minutes' drive from the Cancun International Airport.

Q: How long of a walk from Royalton Splash to the beach?
A: It takes a minute or two for you to walk down to the beach from the resort.

Q: Does Royalton Splash have swim up rooms?
A: Yes! They have beautiful swim-out rooms for you.

The newly opened Royalton Splash Riviera Cancun is a truly extraordinary resort, offering great accommodations, thrilling activities, and luxurious amenities.
But does it make for a good wedding venue?
We asked our experienced planners and here's what they had to say…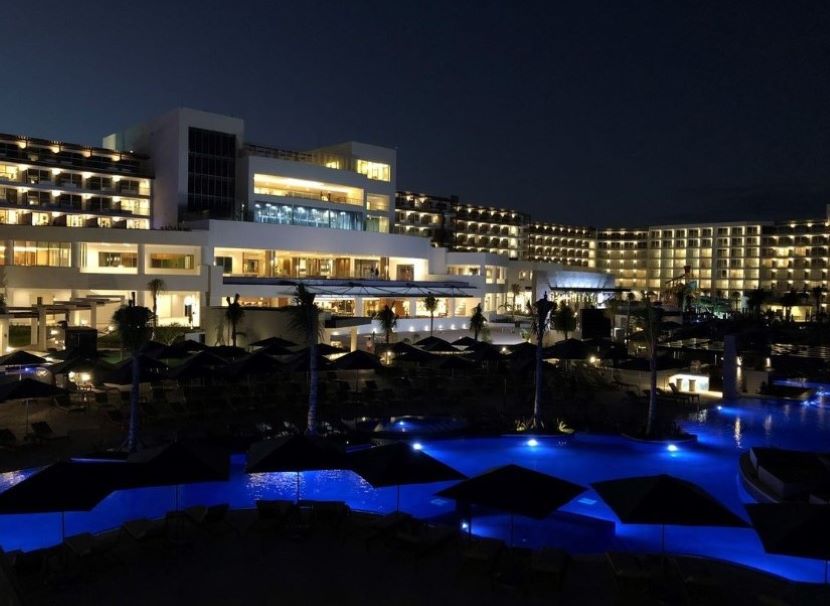 Things we love: 
Perfect for families.
Surprisingly full of lush palm trees!
2 gorgeous rooftop wedding venues.
All the pools are heated.
Rooms are modern & fresh.
Loads of restaurant options.
Amazing staff.
Things we don't love: 
Resort work is still going on – beware of construction noises.
Only half of the water park is ready. (as of Jan 26 2023)
Only half of the restaurants are open. Work is going on at the remaining ones.
The beach is so-so. 
You'll face few inconveniences that come with under-construction properties.
"It's a great family resort with a fun water park. I love that they have planted plenty of palm trees. But the best part? All the pools are heated!"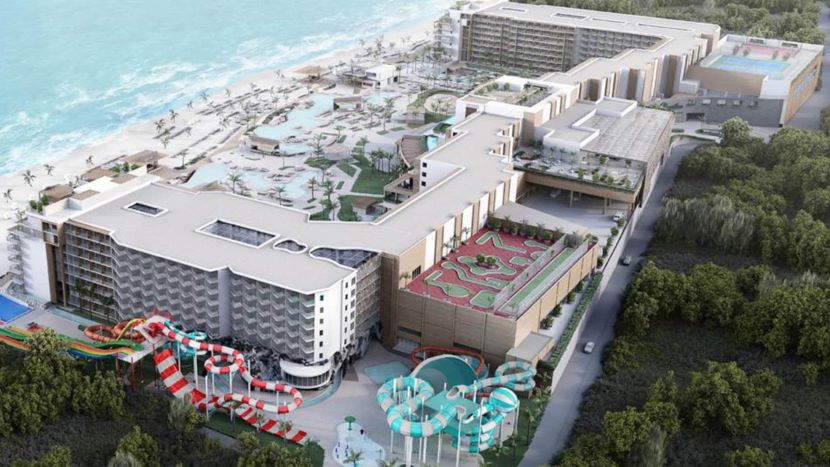 Still unsure? 
Take a look at these 3 similar resorts that should be considered if you're thinking Royalton Splash. 
Ready to plan your wedding? 
Or looking for other venue options?
We can help!
Our team at ParadiseWeddings.com have planned 100's of destination weddings and yours could be next. 
Call us today at 877-737-0177 or contact us here a free consultation. 
Can't wait to hear from you!