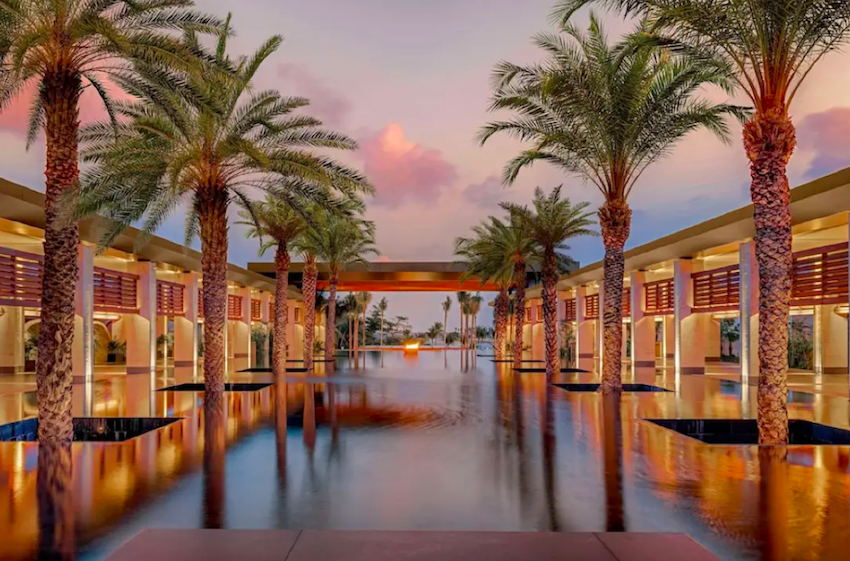 Weddings at Conrad Tulum Riviera Maya | Our Honest Review
So you're thinking of Conrad Tulum for your wedding?
Is it the perfect location?
We know, it's NOT an easy choice. (Actually, it's pretty hard)
Thankfully, you found this post. 😉
And our wedding planners are here to help you decide!!
So, let's plan your wedding… maybe even at Conrad Tulum Riviera Maya!
But first, let's start with this article!
Conrad Tulum Riviera Maya is a brand-new resort with luxury rooms, amenities, restaurants, and more. 
This Hilton hotel has its own private cove where you can soak up the sun while admiring the modern features of the resort. 
It's also family-friendly so you can take your entire clan to paradise. 🌴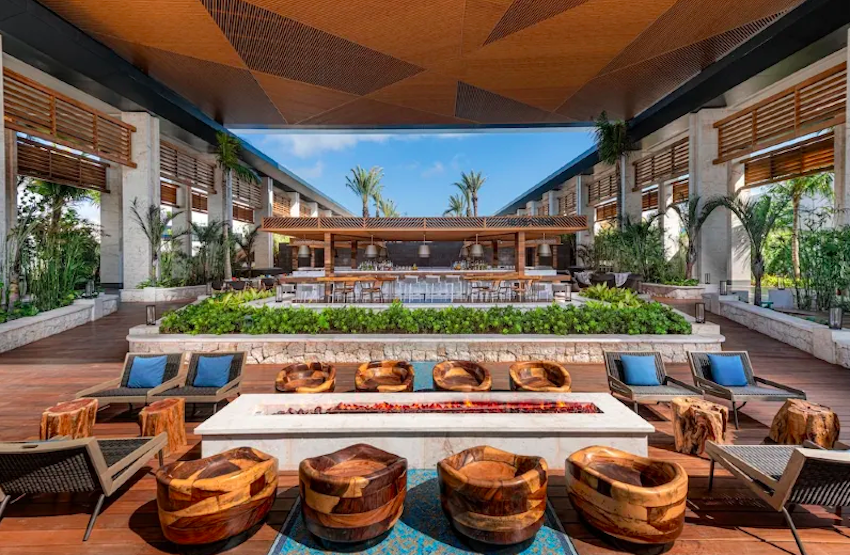 This resort hosts 349 rooms, 5 sparkling pools, and a spa with 16 different treatment rooms. 
Eat like royalty at the 7 fine dining restaurants and 2 upscale bars. 
Can't sit still? The resort has a large gym, many water activities, and amazing tours. 
Conrad Tulum Riviera Maya offers couples 4 wedding packages that each have different prices for the number of guests you want. 
Your wedding at this resort will be unforgettable no matter what you choose. 😍 
Wedding packages include: 
Intimate Toast | $2,150 for 2 guests, $2,300 for 5 guests, $2,500 for 10 guests
Emotive Cocktail | $4,000 for 10 guests, $5,000 for 20 guests, $6,000 for 30 guests
Boutique Celebration | $10,900 for 20 guests, $16,100 for 40 guests, $21,300 for 60 guests, $26,400 for 80 guests
Romantic Party | $19,500 for 20 guests, $34,000 for 80 guests, $46,600 for 120 guests, $73,100 for 200 guests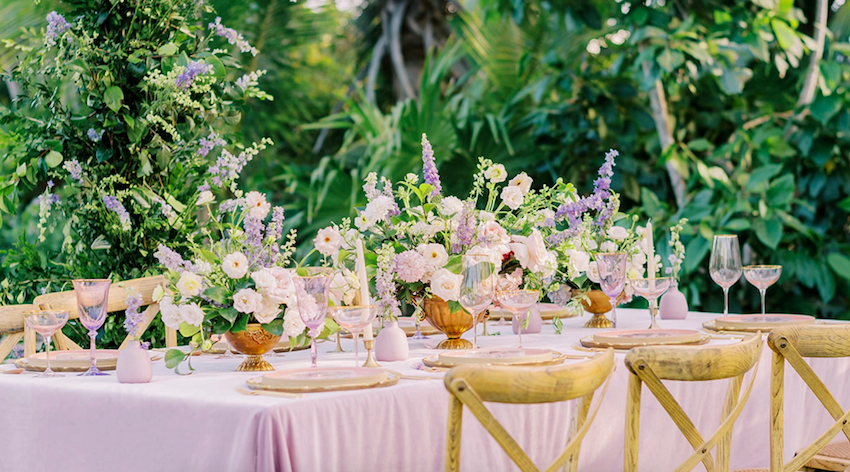 Boutique Celebration Package
The wedding package that will get you the most bang for your buck is the "Boutique Celebration" option. 
The package includes a ceremony, toast, and reception and every small detail in between. 
Choose between 20, 40, 60, or 80 guests to join you on your special day! 😍
The Boutique Celebration package includes: 
Bilingual non-denominational Minister
Floral bouquet and boutonniere
Wedding arch
Venue furniture
Sparkling toast
3-course menu
4-hour open bar 
Wedding cake
Floral centerpieces
DJ and lighting
Dance floor
Conrad Tulum Riviera Maya has so many spots where you can hold your wedding ceremony, cocktail hour, and reception.
The categories for each venue are the beaches, terraces, gardens, and ballrooms.
1. Beaches
For the beaches, you get to choose between:
Cardon Beach
Lena Beach
Crudo Beach
For the ceremony, you'll be able to pick the arch, chairs, and location.
For the reception, you can go for the classic option with tables and chairs or have pillows with a low table, which gives a more zen and boho feel. 💕
All of these locations hold anywhere from 120 to 400 guests.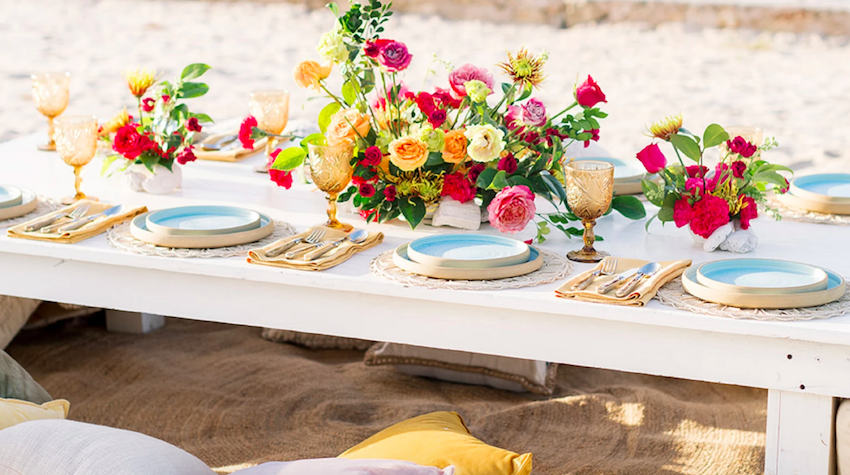 2. Terraces
For the terraces, there are 4 options that can be turned into the dream wedding spot you're looking for.
Arbolea Terrace
Crudo Terrace
Carbon Terrace
Coba Terrace
Each of these terraces has a very modern vibe and can fit 60 to 400 guests.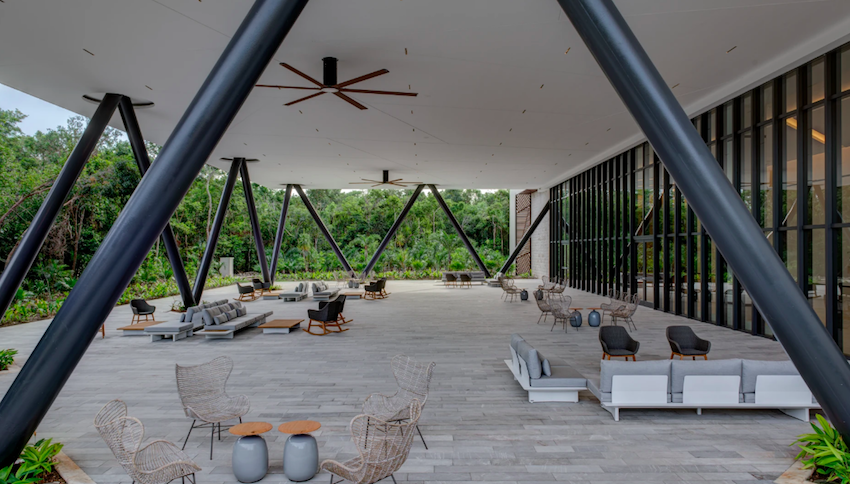 3. Garden
There is only one garden venue that can fit up to 80 guests.
This private area will allow you and your guests to have an intimate ceremony, cocktail hour, or reception.
The best part? The tables will match the garden thanks to the stunning flower centerpieces. 😍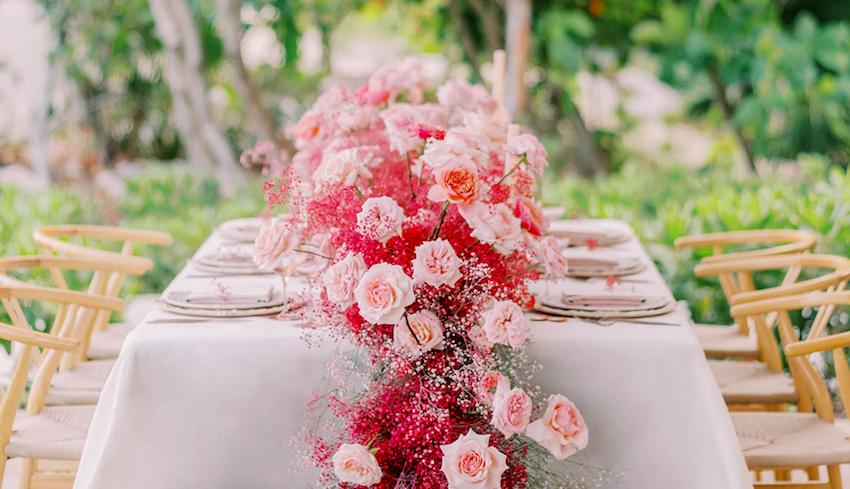 4. Ballrooms
Take your pick of the 3 ballrooms where big groups can come together and celebrate the newly married couple.
Conrad Ballroom
Conventions Center Foyer
Conventions Center Tulkalito Ballroom
Each ballroom can be used for the ceremony, cocktail hour, and reception except for the Conventions Center Foyer which is only available for cocktails.
The number of guests allowed ranges from 120 to 400.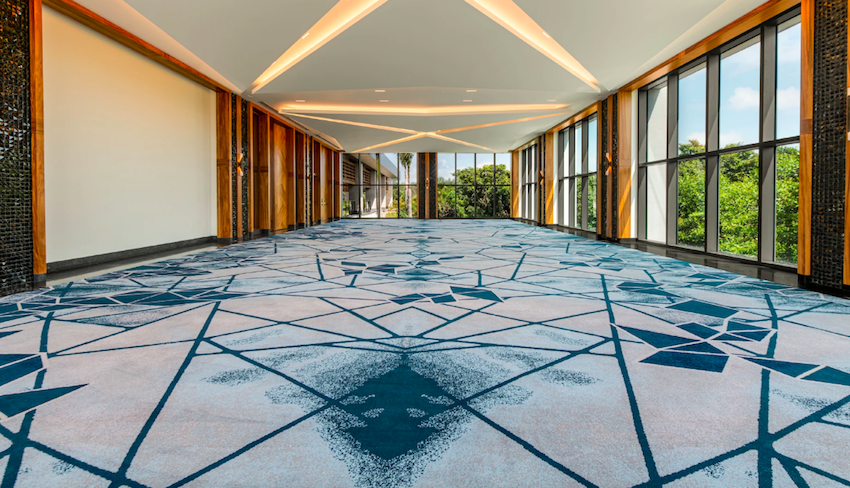 This resort accepts anyone to get married, and that includes same-sex marriages!
You can be confident here if you're a part of the LGBTQ+ community as there is a non-denominational minister to marry you. 
No matter what package and venue you choose, your wedding can be tailored to your love. ✨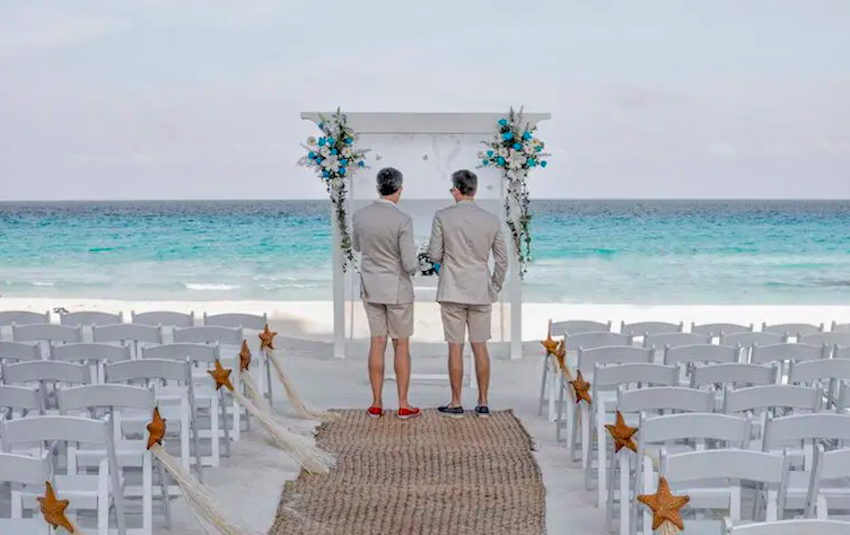 Worried about your legal documents? 
Don't worry!
Our team can help you with that and make the experience breezy and fun.
Conrad Tulum Riviera Maya has 349 rooms, all of which mirror the relaxing vibe of the resort. 
There are 11 types of rooms to choose from and all of them have a partial or full ocean view. 😍
Enjoy the views from the balcony or from the comfortable king or queen beds.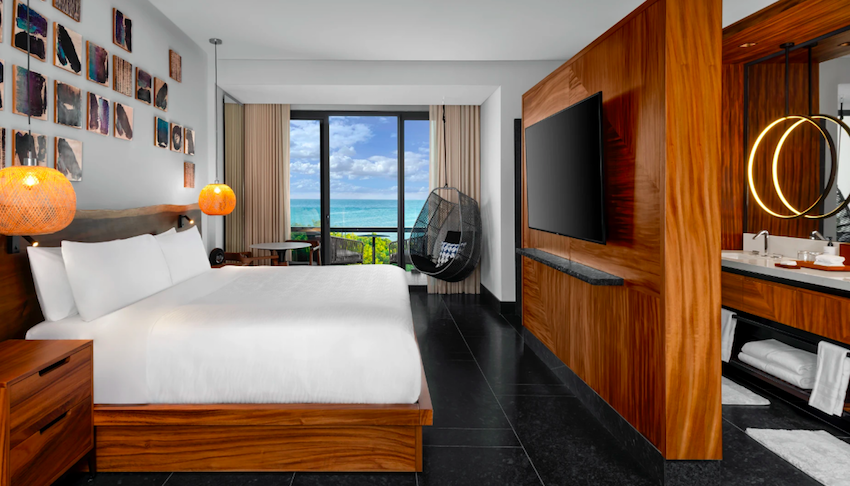 You get to choose between these rooms…
Tropical View Guestroom with King Bed
Partial Ocean View Guestroom with King Bed
Tropical View Guestroom with 2 King Beds
Ocean View Guestroom with 2 Queen Beds
Partial Ocean View Guestroom with 2 Queen Beds
Ocean View Suite with King Bed
1 King Mobility Accessible with Roll-In Shower
Ocean View Guestroom with King Bed
Tropical View Suite with King Bed
1 Bedroom Presidential Suite
1 Bedroom Governors Suite
For the soon-to-be-married couple, we suggest the Ocean View Guestroom with King Bed. 💍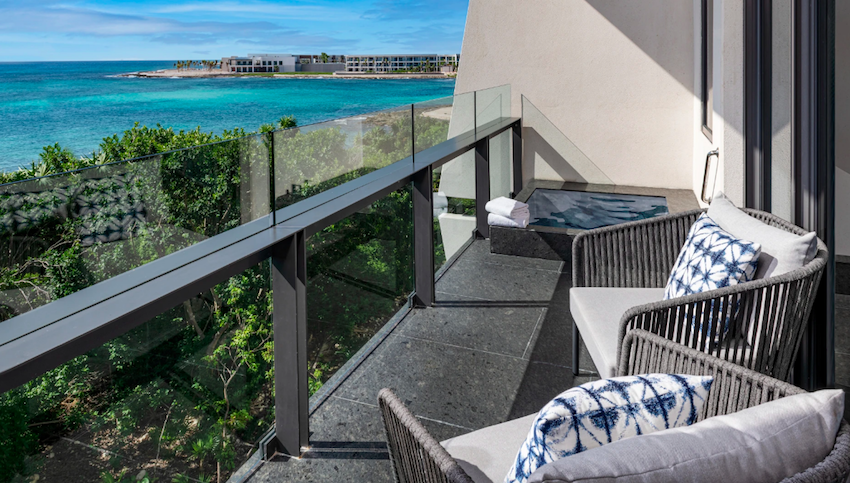 Not only is the room beautiful, but it has everything you need and more. 
The balcony has a relaxation tub that fits two and a great view of the ocean. 
It also has a seating area, a spa-like bathroom, a Nespresso machine, a large TV and balcony furniture. 
The beach at Conrad Tulum Riviera Maya is a private paradise where you'll find soft, white sand and the bluest waters. 
Just a few steps from the resort, you'll find comfortable beach chairs where you can read, take a nap, or just take in the view. 😌
If you're hungry, there's a pool bar at the pool that you can sneak over to!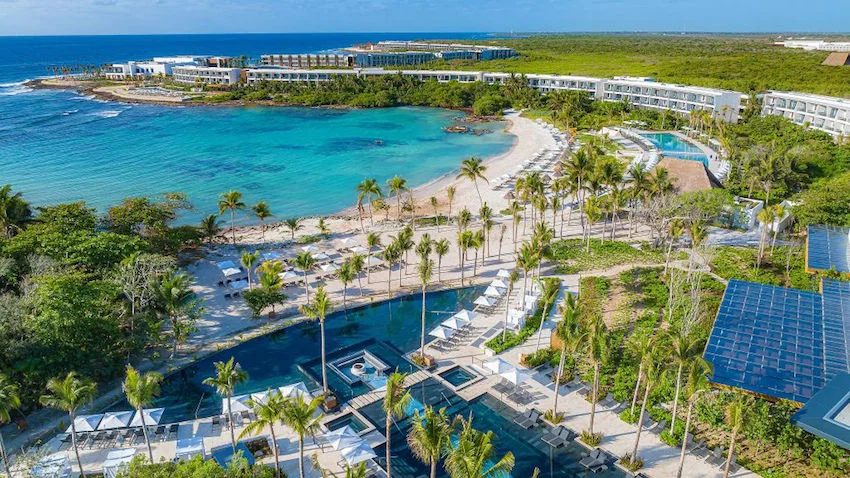 If for some reason you get sick of the beach, you can choose between 5 large pools!
Sip on a cocktail while lounging on one of the in-pool lounge chairs! 🍹
If you're a foodie, you'll thrive at Conrad Tulum. 
They have 7 restaurants and 2 bars that range in different cuisines. 
Need coffee in the morning? Just a snack? There are many options for you! ☕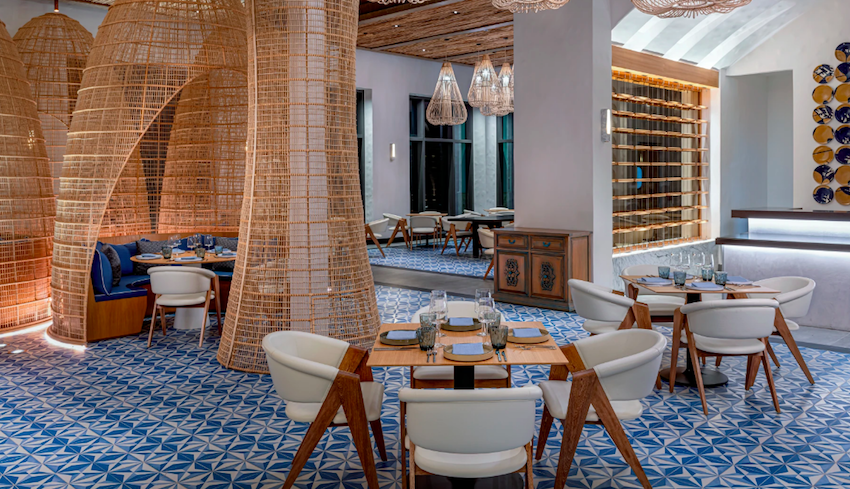 Restaurant options include…
Autor | International
Kengai | Japanese 
Ukai | Sushi
Chiringuitos | Snack Bar
Arbolea | Breakfast
Maratea | Mediterranean
Cafétal | Café
There are 2 bars at the resort including a pool and lobby bar!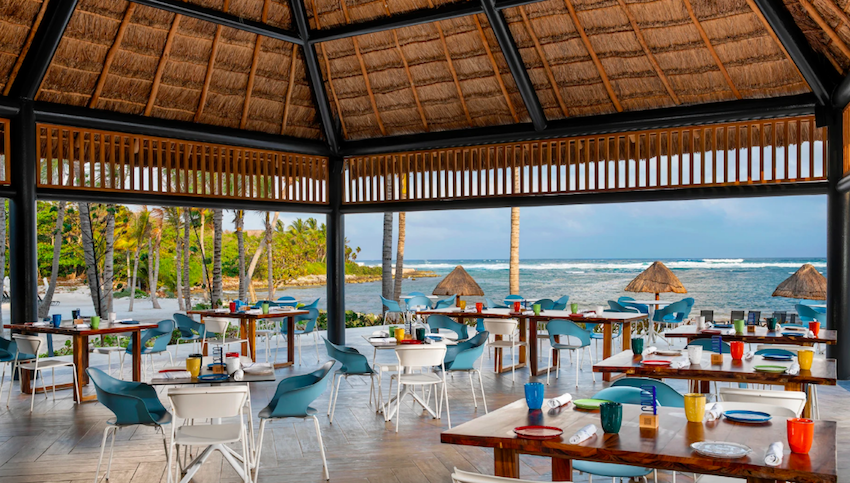 Conrad Tulum Riviera Maya isn't just a beautiful resort. 
It also has amazing amenities that are perfect for those of all ages! 
Whether you like snorkelling, going on tours or needing a spa day, you won't be disappointed. 😍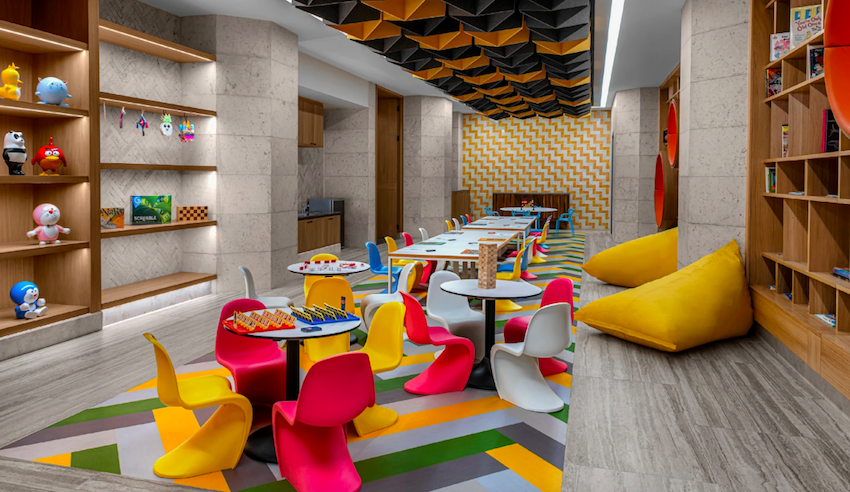 Fun activities and entertainment include: 
5 outdoor pools
Kayaking
Snorkelling
Paddleboarding
Mayan Ruins tours
Guided meditation
Fitness gym with classes
Spa
Teens Zone for 13 to 17-year-olds
Kids C for 4 to 12-year-olds
Have questions? Well, we have answers!
These FAQs are important if you're looking to have your wedding here.
Q: What are the check-in and check-out times?
A: The check-in time is 3 pm and the check-out time is 12 pm. 
Q: Does the resort have Wi-Fi?
A: Yes, the resort has free Wi-Fi in the room and lobby. 
Q: Are there animals allowed at the resort?
A: The only animals allowed are service animals. 
Q: How far is the resort from the Cancun International Airport?
A: The resort is 1 hour and 15 minutes from the airport.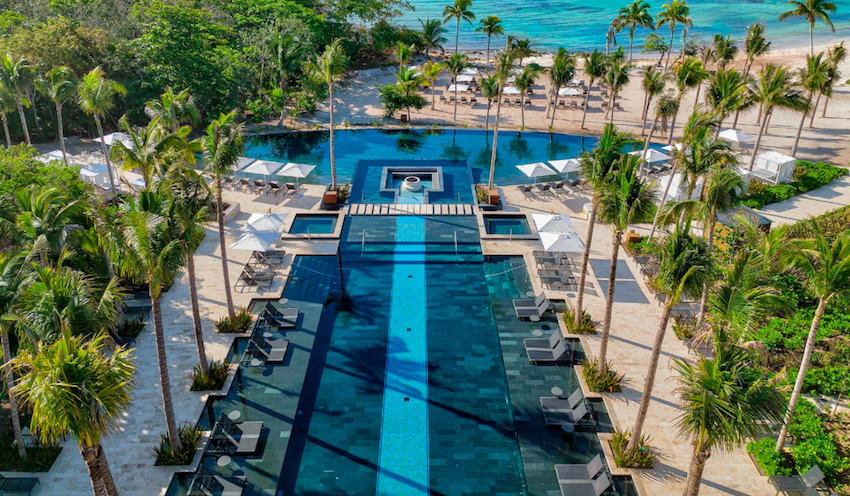 We have to be honest with you.
This resort is beautiful and one-of-a-kind. 
But just like anything, it has its pros and cons. 
We asked our amazing team of wedding experts to give us the details and this is what they had to say! 👇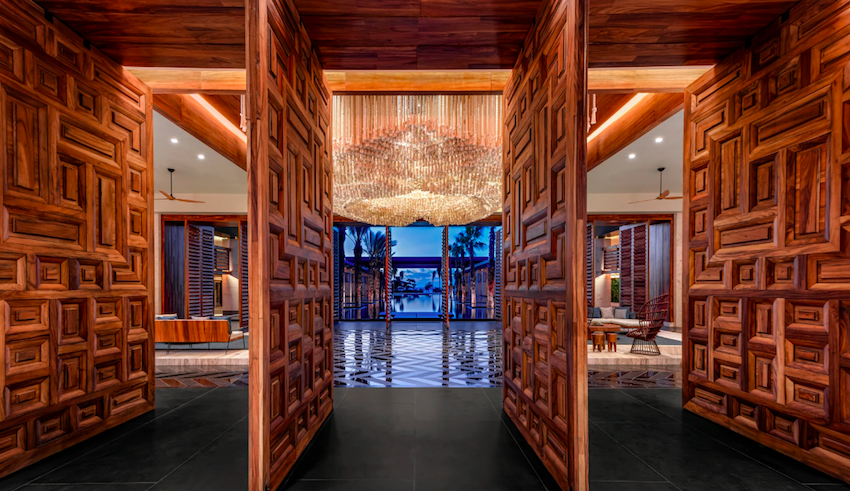 Things we love: 
Brand new resort
Food options are great and fresh
Beautiful beach
Amazing wedding venues
Modern, luxury rooms 
Things we don't: 
Far from airport
Very expensive 😳
Not all-inclusive
Conrad is next level in every way - design, service, locations, flexible & responsive wedding team.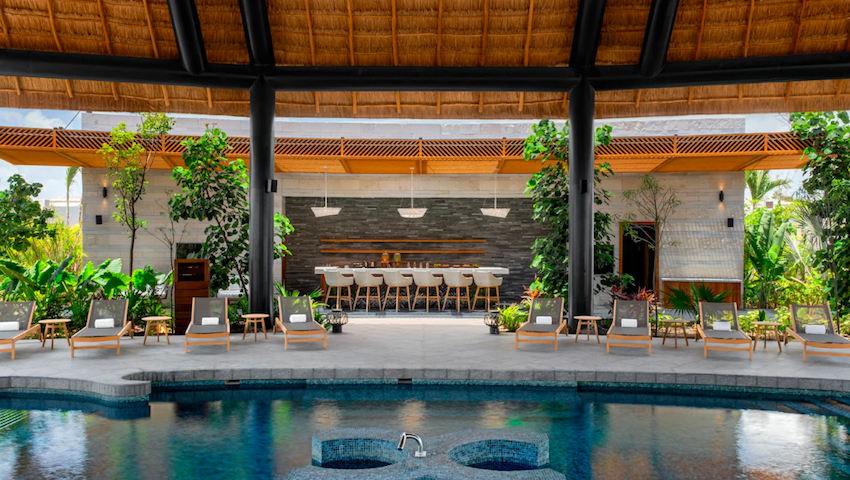 Still unsure? 
Check out these 3 similar options that could be great for your wedding. 
Have more questions about this resort?
Or do you want a completely different vibe?
That's what we're here for! 😍
Our team at ParadiseWeddings.com have planned 100s of weddings and can help you out too.
Call us today at 877-737-0177 or contact us here for your free consultation.
Can't wait to hear from you!