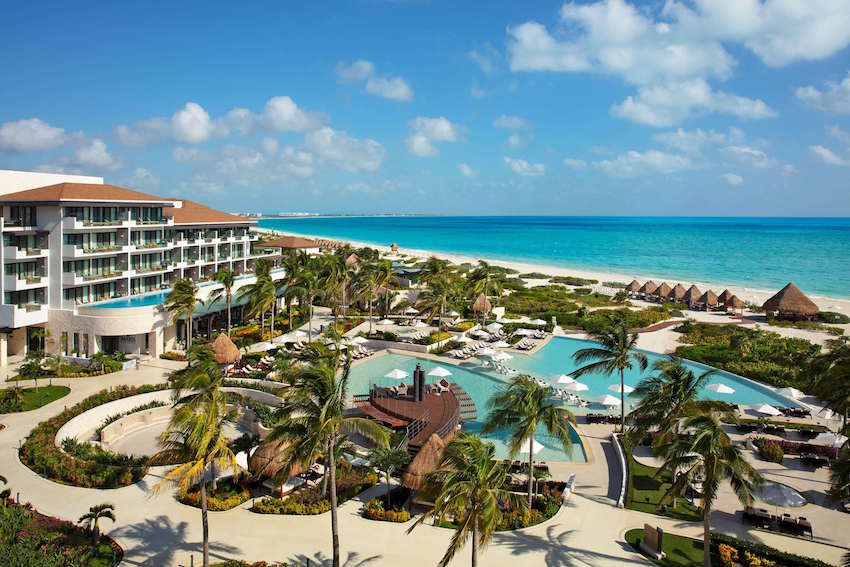 Weddings at Dreams Playa Mujeres Golf & Spa Resort | Our Honest Review
Dreaming about having your wedding at Dreams Playa Mujeres? 
Well, wake up!
You need to learn more about this resort, pros & cons, pronto.
Our wedding planners have organized 100s of destination weddings and helped prepare this post just for you. 💍
So now…
Grab a cup of coffee because we get into detail!
Dreams Playa Mujeres Golf & Spa Resort is a beautiful sanctuary that's located in a gated community in Playa Mujeres. 
This resort is known for its famous golf course, its own dedicated beach, and its unique weddings. 
You and your family and friends can spend time relaxing here in the 2 infinity pools. 
Looking to stay in your room? Every suite has a terrace or balcony that comes equipped with a hot tub! 😍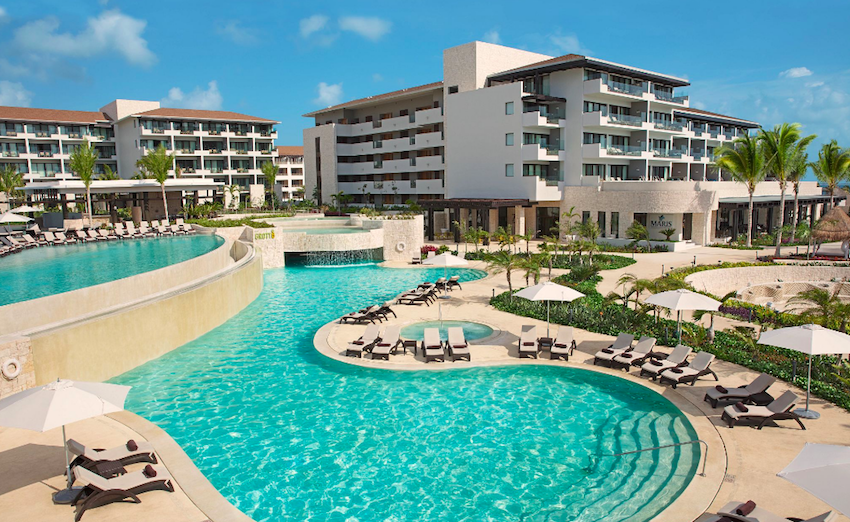 This resort has 502 rooms, 6 outdoor hot tubs, and a 16,000 sq. ft. dreamy spa. 
You can choose from 10 restaurants and13 bars and lounges, all of which are covered in your all-inclusive package!
If you like to stay active, even on vacation, you can play tennis, go for a workout at the gym, or even sign up for a pilates or yoga class. 
Dreams Playa Mujeres offers 5 wedding packages and each one differs in price, amenities, amount of guests, and more. 
The best part? Each package is affordable depending on your budget! 😍
Wedding packages include:
Dreams Wedding in Paradise | $999 for 10 guests
Dreams of Love | $3,399 for 30 guests
Dreams Ultimate | $3,799 for 30 guests
Beyond Memorable | $7,500 for 50-79 guests and $11,999 for 80-100 guests
South Asian wedding anyone?
They have packages for that as well. 
Dulha & Dulhan Wedding Package | $7,500 for 50 guests and $11,999 for 100 guests
Shaadi Wedding Package | $25,999 for 75 guests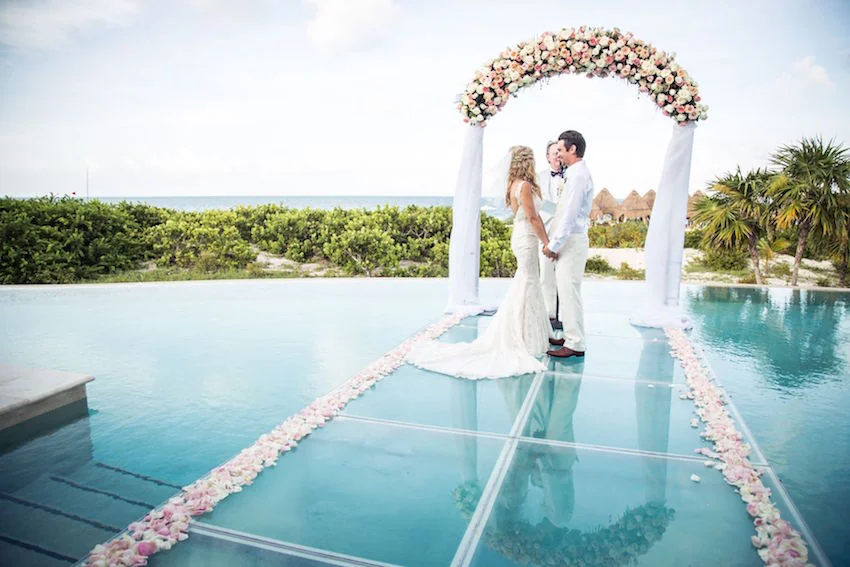 Dreams Ultimate Package
The post popular wedding package is called "Dreams Ultimate" and once you've read what's included, you'll see why!
For $3,799, you get all the details you will ever need without paying an arm and a leg. 
Bring 30 of your closest friends and family to make it the ultimate wedding experience. 💕
Dreams Ultimate package includes: 
Complimentary room for one for the night before the wedding
Ironing of the couple's outfits
Bouquets and boutonnieres
Hair and makeup for one 
Ceremony decor 
Rehearsal dinner for 10 people max
Wedding cake for up to 30 guests
Sparkling wine for up to 30 guests
Private cocktail hour
Private dinner reception
Floral centerpieces
15% off all spa treatments
Breakfast in bed
Turndown service
30-minute ceremony video
Late checkout
Complimentary anniversary nights
If you need any other service that's not on the list, our team of wedding experts can help you with that!
Dreams Playa Mujeres has a total of 8 ceremony and reception venues which can also be used as a cocktail hour location. 
1. Beach Gazebo Venue
This beach wedding gazebo has a lot to offer!
It can host 150 of your preferred guests along with chairs that you can choose to compliment your theme. 😍
There is also a wooden platform leading to the gazebo, which can also be designed to your liking!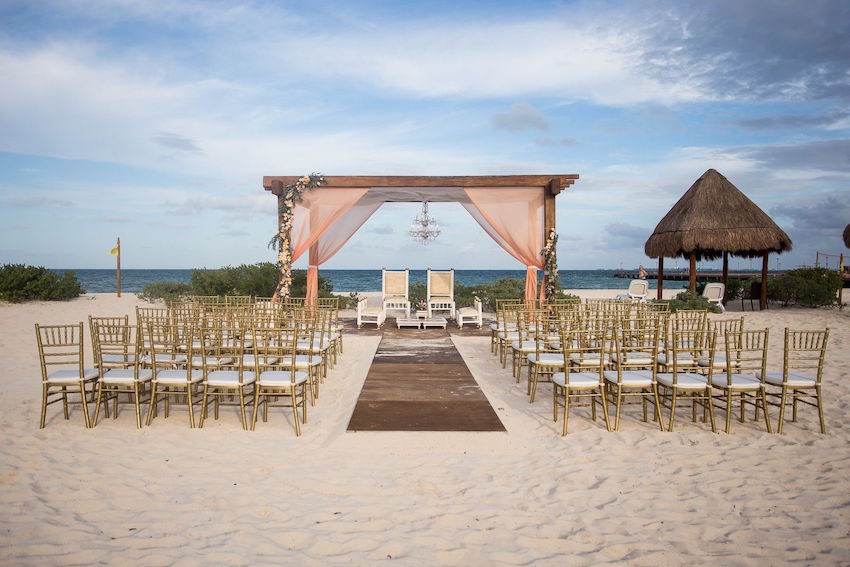 2. Oceanview Rooftop Venue
This rooftop is part of the Presidential Suite, which has the perfect view of the ocean. 
It can hold up to 80 guests and has an acrylic see-through floor that will add the coolest touch to your wedding!
The floor and archway are not included in the package price.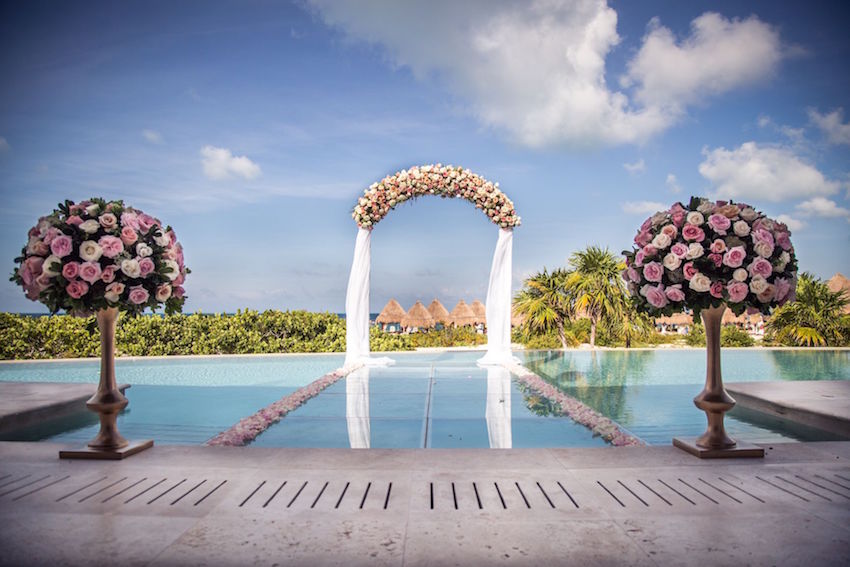 3. Beach Venue
The beach location is available for the ceremony and reception and can hold up to 300 guests. 
Make it your own by adding flowers, decor, custom chairs, and more!
The venue is stunning at all times of the day. 😍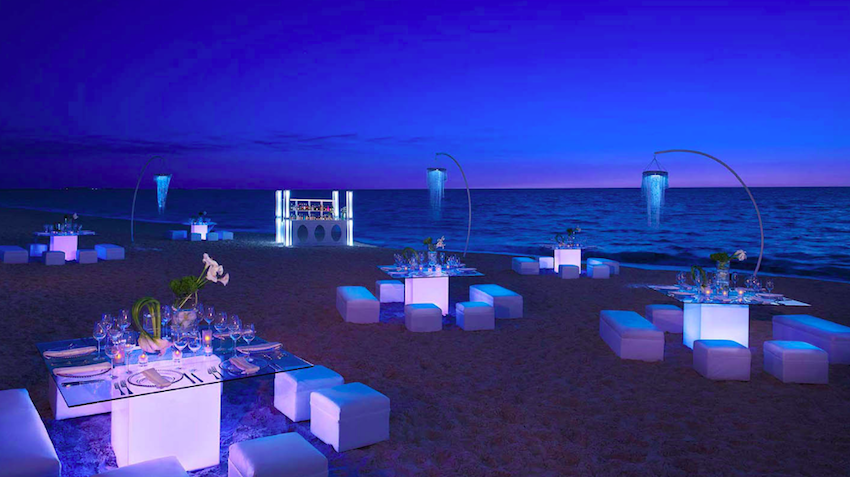 4. Paramount Suite Venue
The Paramount Suite is a great location for your ceremony or reception. 
It has gorgeous views of the ocean and can hold up to 60 guests. 
It is also perfect for a more intimate gathering. 😀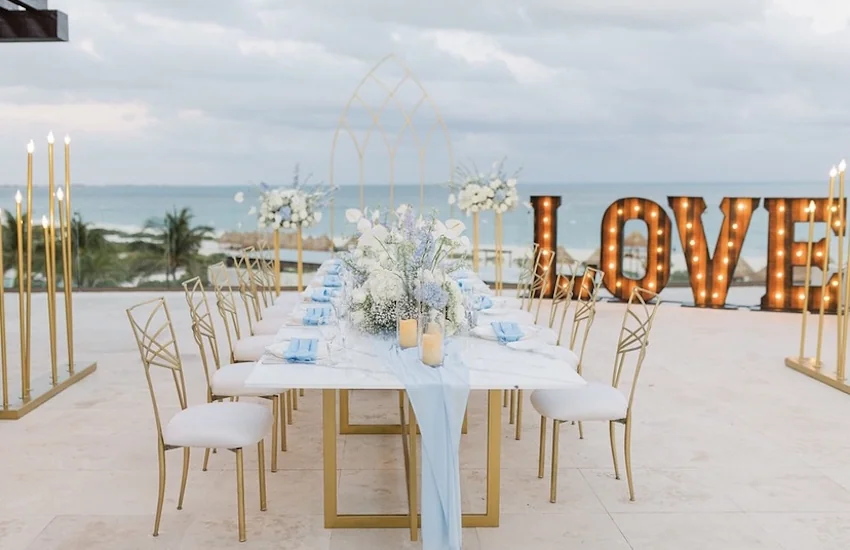 5. Central Garden Venue
The Central Garden venue is an option for those who want their wedding outside but not in the sand. 
It can hold up to 350 guests and can be used for the reception or ceremony. 
You can use this venue until midnight, so get ready for a great wedding night!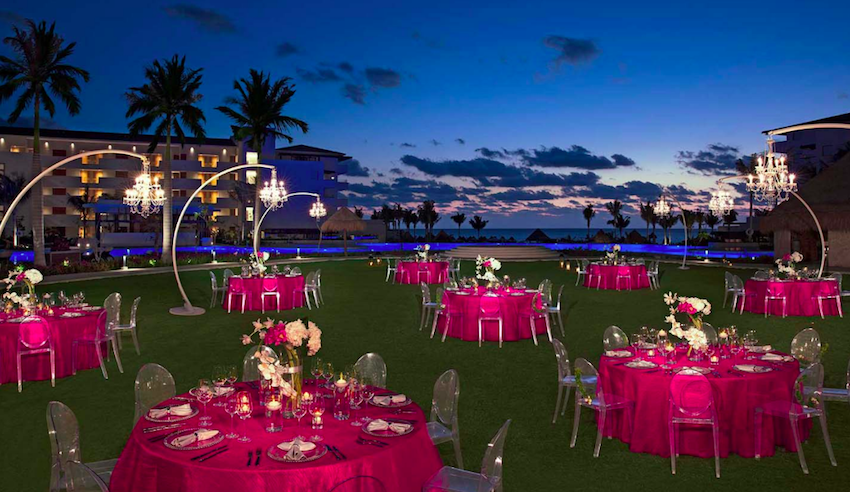 6. Platform in Central Garden Venue
This platform, located in the central garden area, is just another way of staging your wedding here! 😍
Host 150 of your guests here and decorate the space with chairs, flowers, and even an archway.
This location is only available at 5 pm or 6 pm.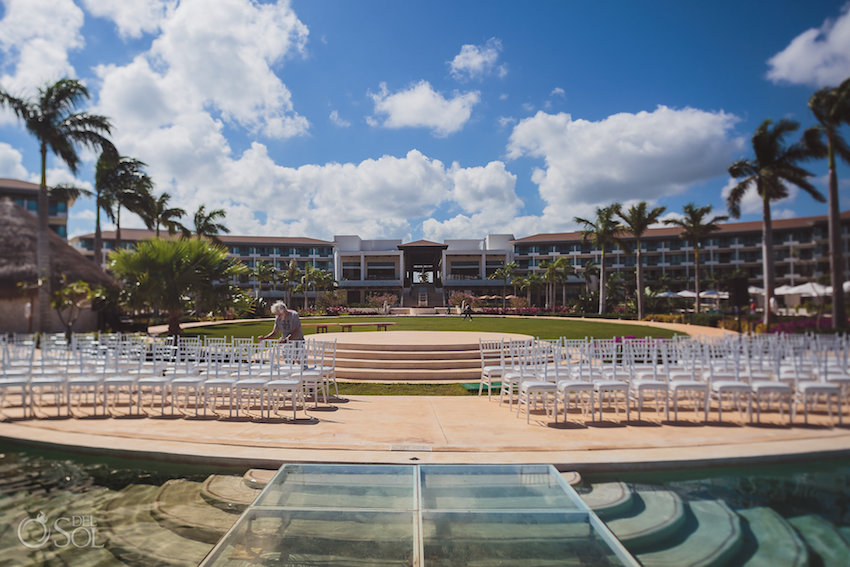 7. Ballroom Venue
If you're looking for a more classic wedding look, then the ballroom is an option you may like. 
250 guests fit into this venue and it can be completely customized to your liking. 
This is also the backup location for those unfortunate rainy wedding days.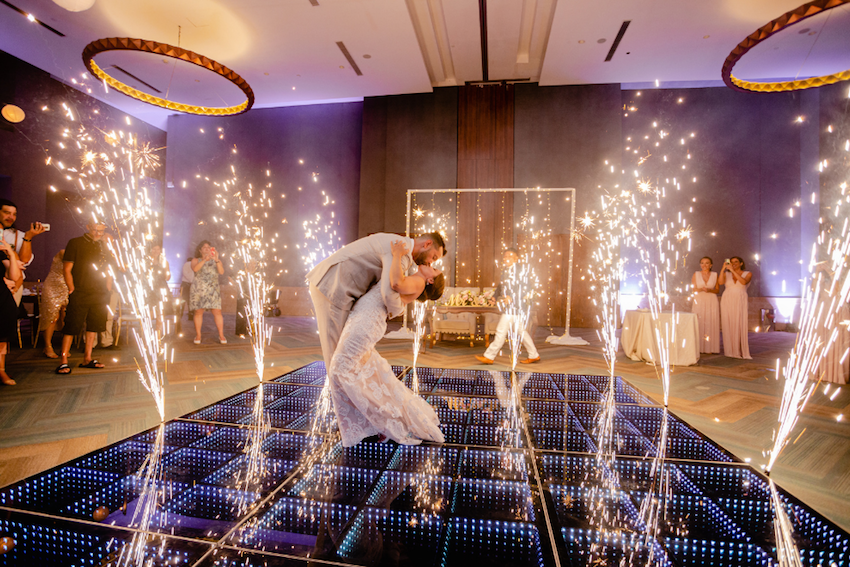 8. Azure Veranda Venue
Azure Veranda is an indoor and outdoor location that can also be used for inclement weather. 
On the inside, it's a typical ballroom that can host 100 guests. But on the outside, it's a beautiful terrace that has a great view. 
You can also customize this venue to your liking! 😍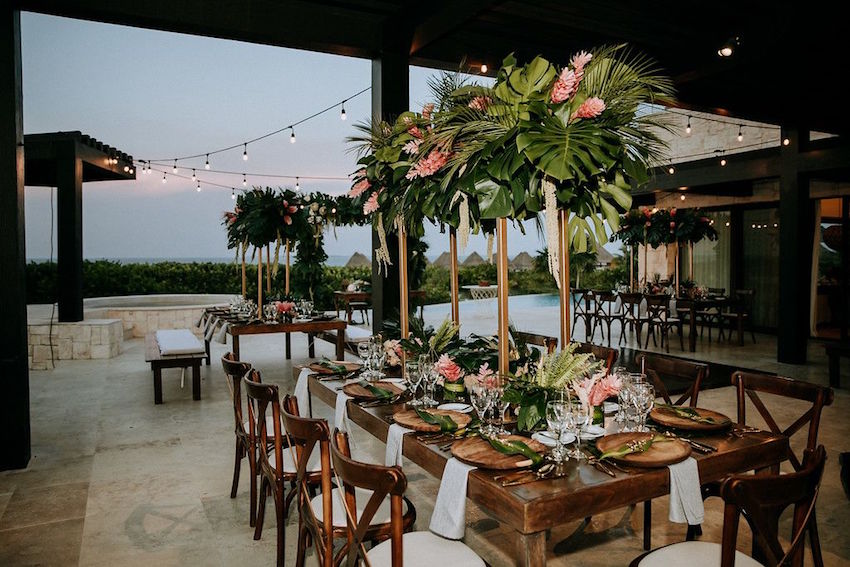 Anyone can get married at Dreams Playa Mujeres, including those who are part of the LGBTQ+ community!
Our wedding experts will work tirelessly with the team at the resort to make sure you have the greatest experience. 
This is actually a very popular resort for same-sex marriages! 💍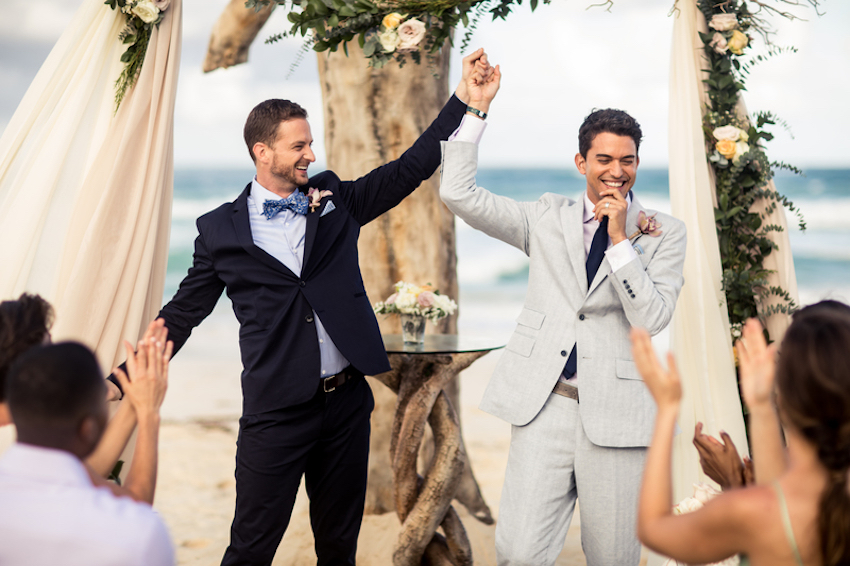 Every couple gets assigned either or a judge or a minister to marry you. 
This is no different for gay weddings! 
As for your wedding documents, we can help you with that.
Dreams Playa Mujeres has 502 suites available and each one of them is a luxury heaven. 
There are 8 types of suites that have either an ocean, garden or pool view. 
You can see that view from your private terrace that comes equipped with a hot tub! 😍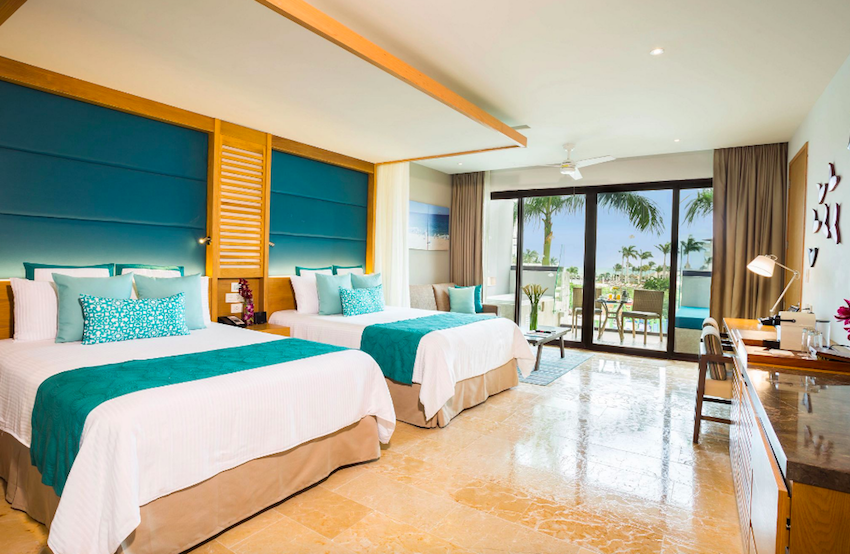 You get to choose between all of these suites…
Junior Suite Garden View
Garden Suite Pool View
Junior Suite Partial Ocean View
Junior Suite Ocean View
Family Junior Suite Garden View
Family Junior Suite Ocean View
For the wedding couple, we suggest the Junior Suite Ocean View.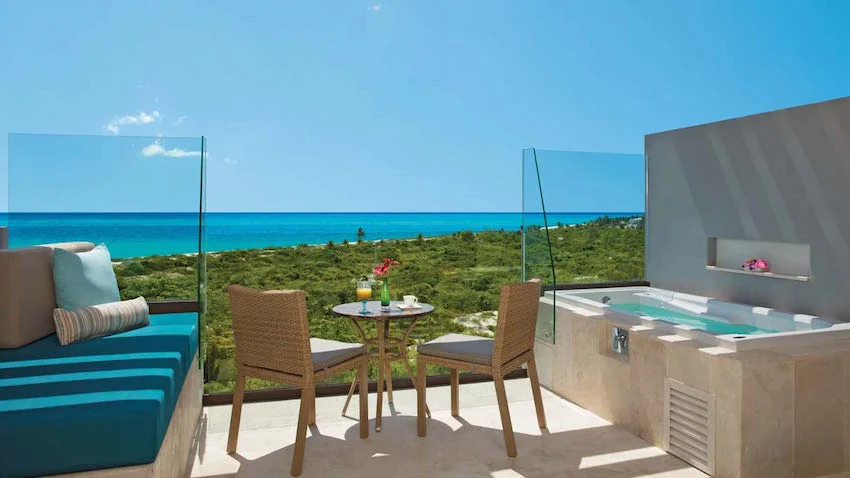 It really has everything you need and more including a king bed, a rain shower, and 602 sq. ft. of pure bliss. 
It also has a separate living room area with a comfortable sofa that pulls out into a bed. 
If you want a little privacy but still want to be outside, the terrace holds a small table and chairs, a lounge chair, and of course, the hot tub. 😍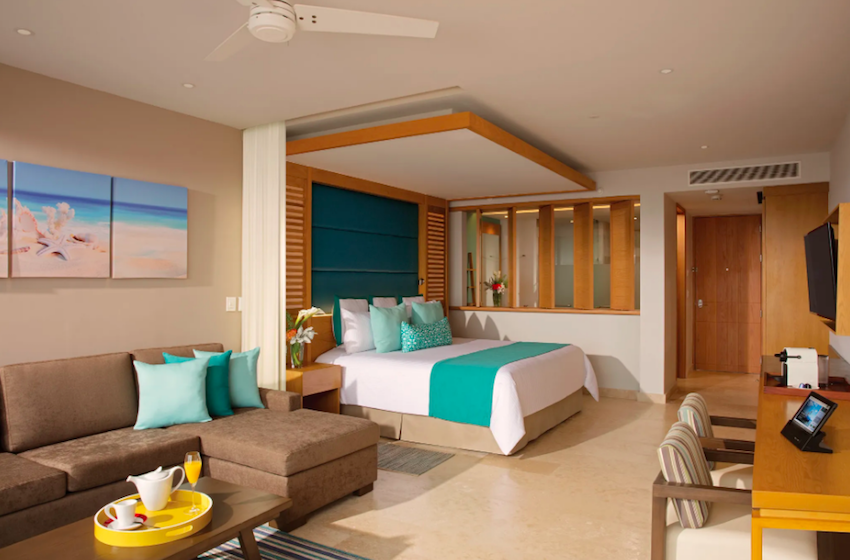 Every suite comes with: 
Wi-Fi
24-hour room service
24-hour concierge
Sofa
Mini bar
Rain shower
Balcony/terrace
Hairdryer
Fan
Alarm Clock
TV
The beach at Dreams Playa Mujeres feels like you have it all to yourself.
Because you kind of do! 😌
The resort has its own dedicated beach area which means you get miles and miles of soft, white sand to relax on. 
You can even reserve a spot on the beach so you don't miss out!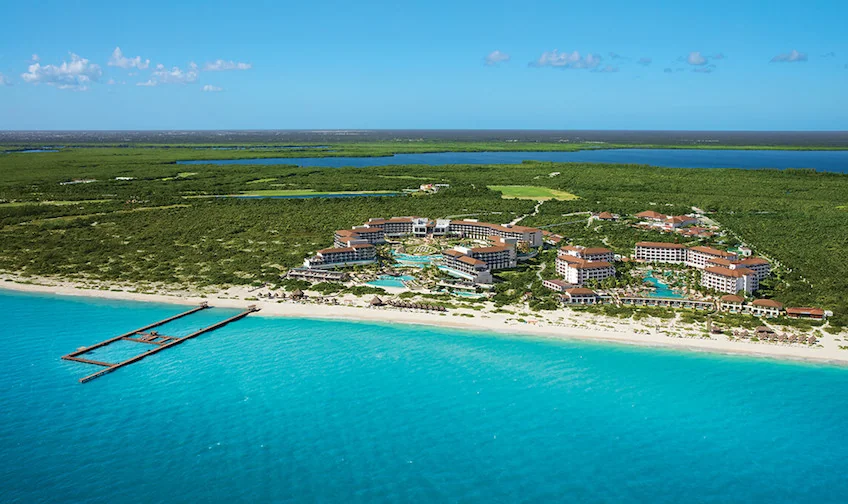 Feeling thirsty? You can hit up the beach bar under the palapa and go and relax under a smaller palapa!
Not a huge fan of the beach? Take a dip in the 2 infinity pools that have the most incredible views. 😍
Dining and drinking at this resort may become your favourite activity. 
You can choose from 10 restaurants and 13 bars, which gives you a ton of options for every night that you're there!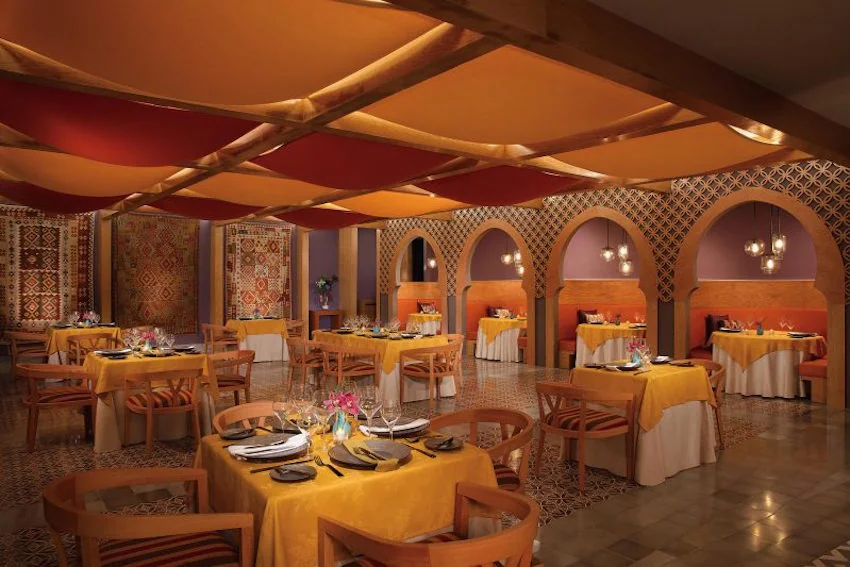 Restaurant options include…
Dolce | Coffeehouse
Fusion | Japanese
Gaucho Grill | Brazillian Steakhouse
L'Etoile | French
Maris | Seafood
Mezés | Mediterranean
That's A Wrap | Salads and Wraps
Tides | Grilled Snacks
Tres Colores | Mexican
World Cafe | Buffet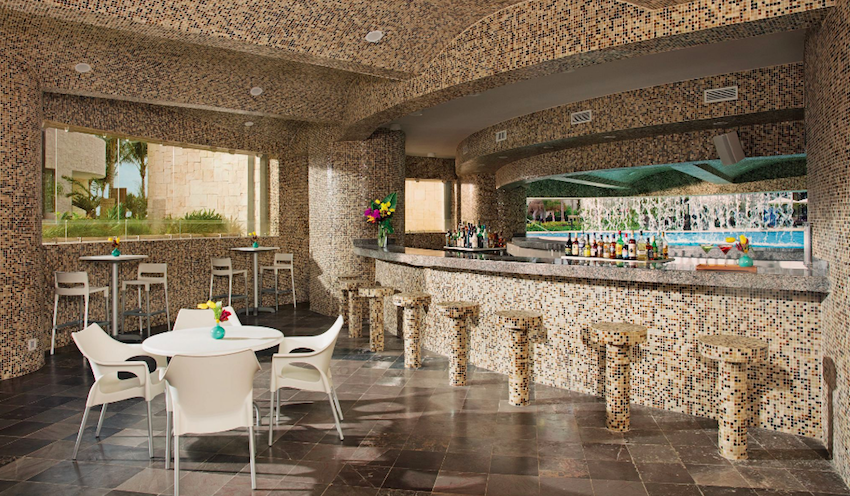 The 13 bars around the resort include swim-up bars, pool bars, a lazy river bar, beach bar, sports bar, and way more!
Dreams Playa Mujeres is full of activities that will keep you entertained throughout your stay. 
The most popular activity at this resort is the lazy river and the water park.
You won't want to get out of the water! 😍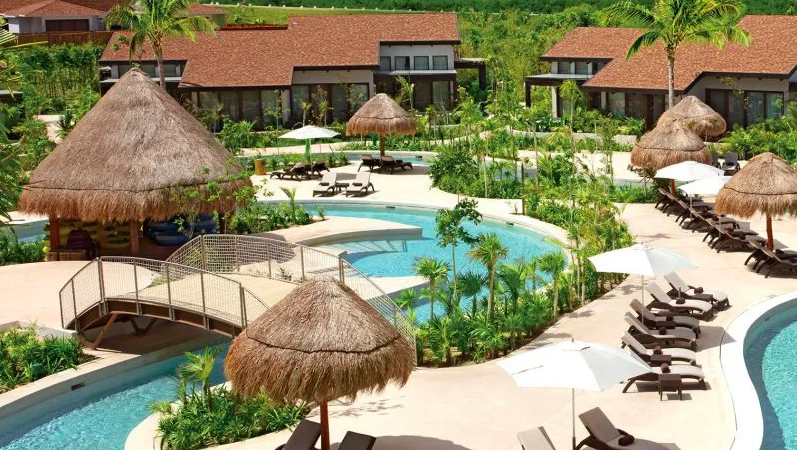 Fun activities and entertainment include:
Six outdoor hot tubs
Archery
Tennis
Beach and pool volleyball
Scuba diving 
Live musical performances
Cooking classes
Wine and tequila tastings
Theme nights
Beach parties
It's important that you know all the answers when you are questioning where you want your destination wedding to be. 
We're here to help!
Q: How many weddings are there per day?
A: There is a max of 2 weddings per day. 
Q: How far is the resort from the airport?
A: The resort is about 45 minutes from the Cancun International Airport. 
Q: Is there an additional charge for extra wedding guests?
A: Yes there is. Speak with our wedding experts to get the exact price. 
Q: Are animals allowed at the resort?
A: Yes, but only small dogs. It's important that you choose a room that is pet-friendly. 
Q: Are there a lot of activities for kids?
A: Yes! In fact, there is a Kids Club that anyone from age 3 to 17 can join. They have two children's pools and the waterpark is perfect for kids as well. 
Q: What are the check-in and check-out times?
A: The check-in time starts at 3 pm and the check-out time starts at 12 pm.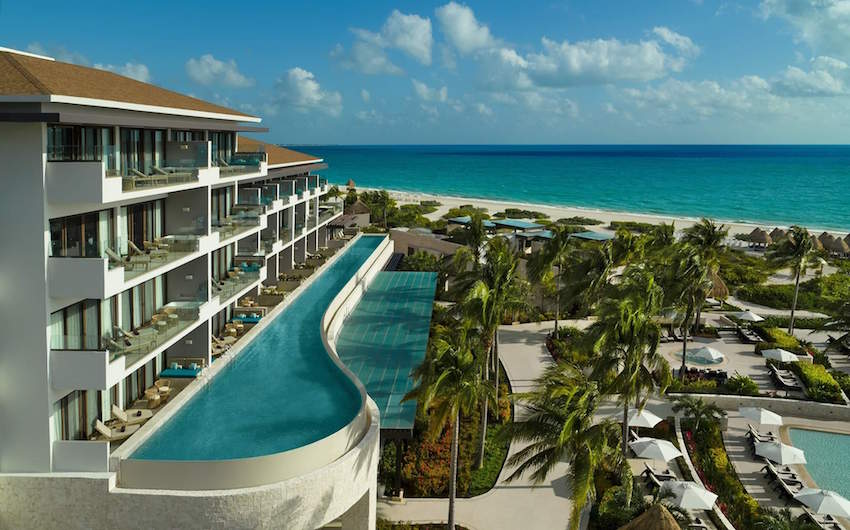 Dreams Playa Mujeres Golf & Spa Resort is one that you'd be lucky to stay at. 
From the day that you arrive to the day of your wedding and after, you will feel taken care of. 
But our wedding experts still want to tell you what they like and don't like, about this resort! 😌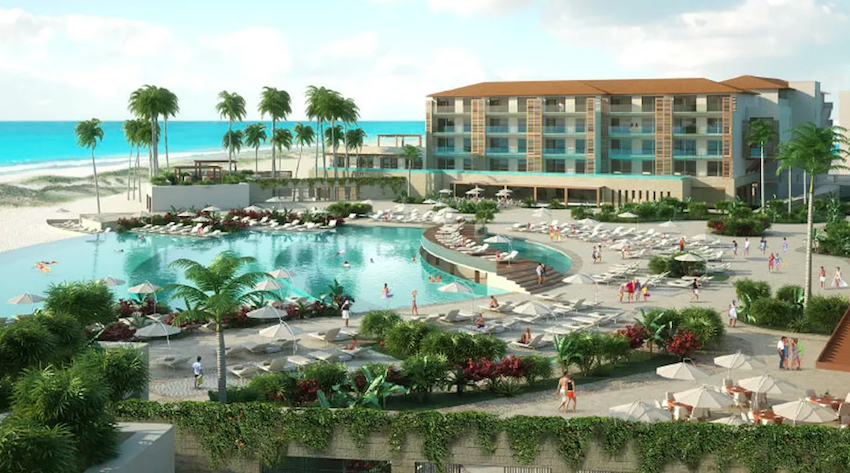 Things we love: 
Beautiful resort
Amazing wedding venues
The resort shares facilities with Secrets Playa Mujeres, so it's like a two-for-one deal!
Has its own dedicated beach
Things we don't: 
Books up very fast, no weekend weddings available for 2023
Very hard to find a date during the week
Far away for anyone wanting to do day trips
New wedding package prices are a lot higher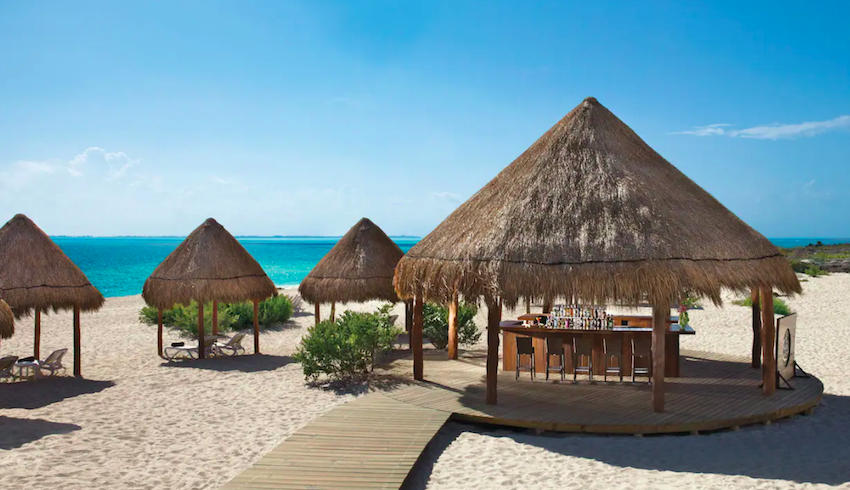 Still not sure?
Check out these comparable resorts that could be great for your wedding.
Do you have more questions about Dreams Playa Mujeres? 
Or are you just as confused as before? 
Don't worry! We're here to help. 😌
Our team at ParadiseWeddings.com can help you every step of the way, no matter what. 
Call us today at 877-737-0177 for a free consultation or email us at [email protected]. 
Can't wait to hear from you!