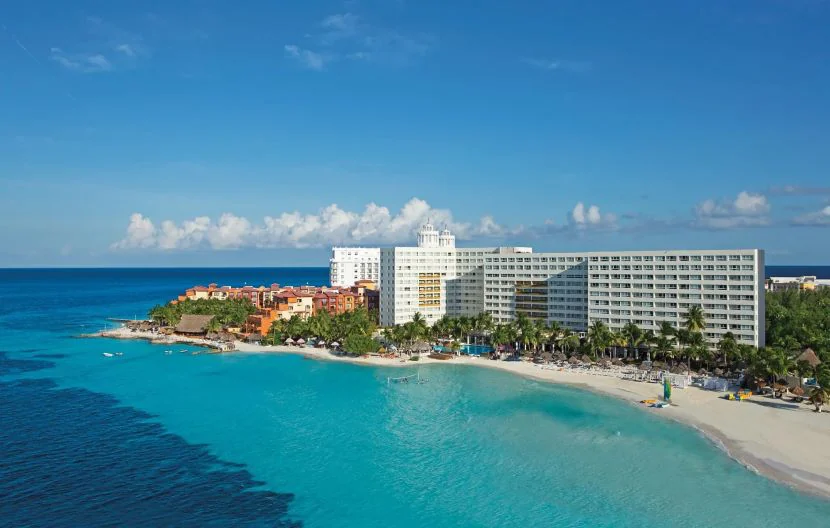 Weddings At Dreams Sands Cancun Resort & Spa | Our Honest Review
Thinking of getting married at the Dreams Sands Cancun Resort & Spa?
You're in for a treat!
Our experienced planners will dish-out all the insider info on weddings at this all-inclusive resort.
Venues, packages, pros and cons. The works!
So, is the Dream Sands Cancun perfect for your wedding?
Lets find out…
Dreams Sands Cancun Resort & Spa could be paradise on earth!
The resort boasts 9 incredible dining experiences, including a café with an ice cream parlor.
Time for a drink? Head to one of the 4 bars, including a swim-up bar and a music lounge.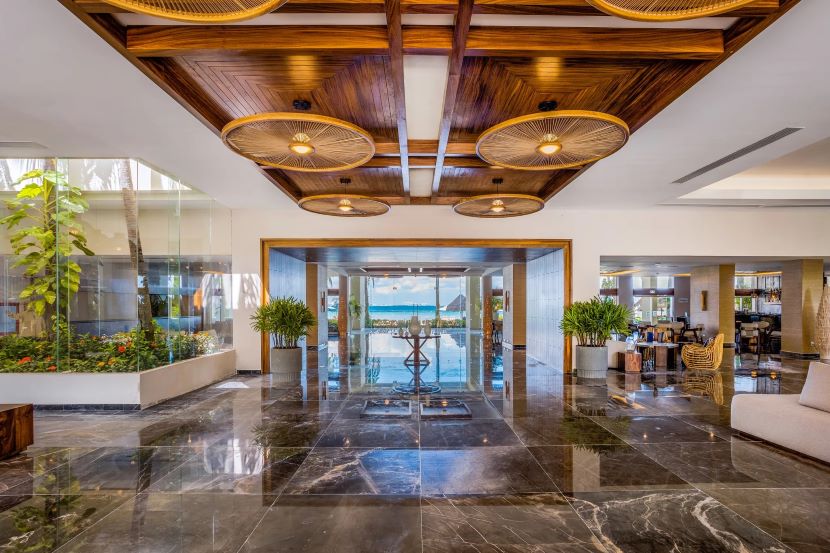 The 438 rooms and suites at Dreams Sands Cancun Resort & Spa are beautifully designed with modern décor.
They offer incredible views of the Caribbean Sea.
Take a dip in one of the 2 pools, or relax in any of the 3 outdoor hot tubs, the choice is yours!
The resort also offers a variety of activities and entertainment for guests of all ages.
At the Dreams Sands Cancun Resort & Spa, you'll find an idyllic location for every aspect of your wedding celebration.
The resort offers a range of options with their 5 wedding packages.
5 wedding packages include:
Elope In Luxury | $1,100 for the two of you
Wedding In Paradise | free if conditions fulfilled, or $999 for 10 guests
Dreams Of Love | $3,399 for 30 guests
Ultimate Wedding | $3,799 for 30 guests
Beyond Memorable | $7,500 for 50 to 79 guests, $11,999 for 80 to 100 guests
Beyond Memorable Wedding Package
The Beyond Memorable wedding package is a complete packages that offers a lavish experience for your special day.
We love this package. Not only does it cater to most requests, it also has elements that ensure your guests have an unforgettable time!
For $7,500, you get all of these amenities:
Wedding organization
On-site wedding coordinator
Preparation and ironing of the couple's wedding day attire
Symbolic ceremony
Wedding decor
Bouquet(s) and/or boutonniere(s) for the couple
1-hour private welcome cocktail party
2-hour rehearsal dinner
3-hour private wedding reception
Private bar with bartender
Dessert station
Couple's choice of wedding cake
Romantic breakfast in bed with mimosas the day after the wedding
Sparkling wine and fresh fruit for the couple and parents upon arrival
Complimentary room for 1 member of the part the night before the wedding
Romantic turndown service for the couple
Late checkout for the wedding couple
Every 5th room free (up to 10 complimentary rooms)
1 complimentary upgrade for every 10paid rooms
Sound system
20% discount on spa treatments for couple and their parents
Complimentary access to spa's hydrotherapy areas for couple and parents
Free anniversary nights
$100 in resort coupons per guest
Private group check-in
The Dreams Sands Cancun Resort & Spa has 8 different wedding venues to choose from.
They've got outdoor as well as indoor venues.
And trust us, you won't be disappointed with the options!
Their 8 Wedding Venues Include:
1. Waves and Sands
The Waves and Sands venue is ideal if you want to have a beach wedding.
It can be customized according to your vision and wedding theme.
Perfect for the ceremony, you can invite up to 120 guests here.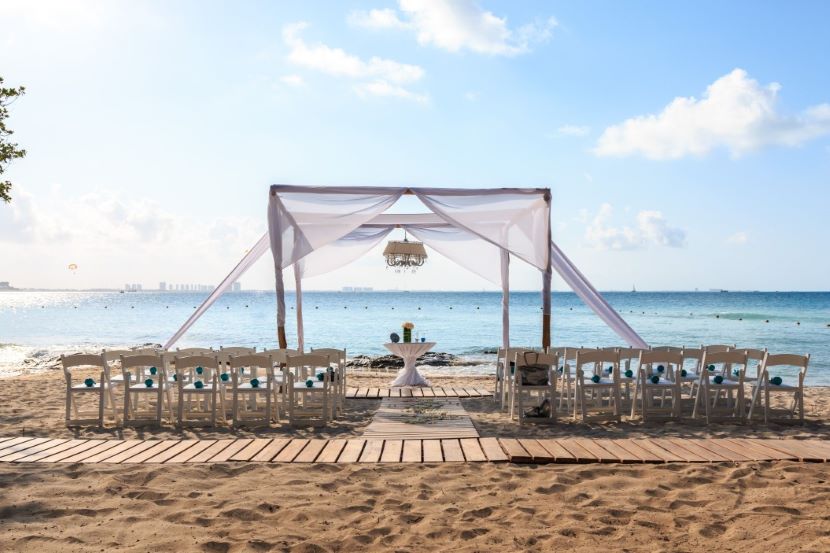 2. Waves and Sands Beach
Picture saying "I do" with the sound of the waves crashing in the background!
This beach venue is exclusively available for wedding ceremonies.
You can invite up to 100 of your closest friends and family to join in on the celebrations.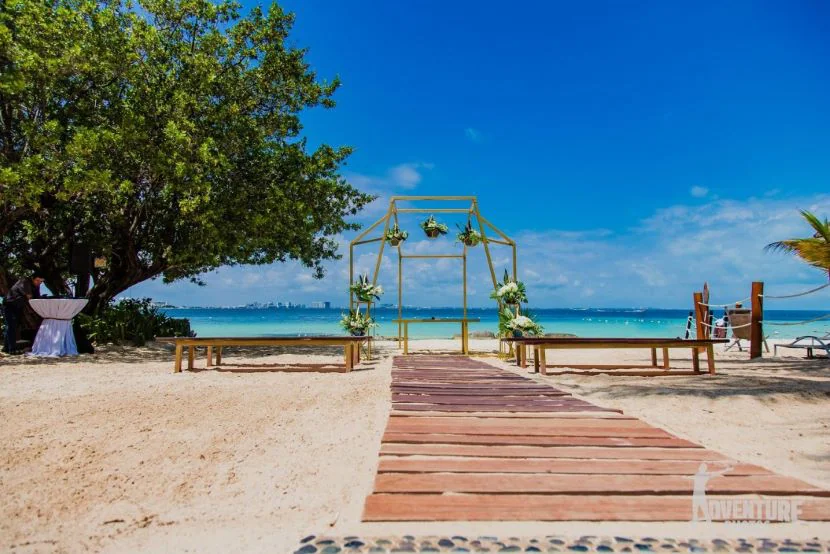 3. Wayak Garden
If you're looking for an intimate and charming setting for your dinner reception or cocktail hour, this is the place for you!
This garden-surrounded venue has a hard wood flooring and the perfect ambiance for a memorable celebration.
You can invite up to 80 guests here.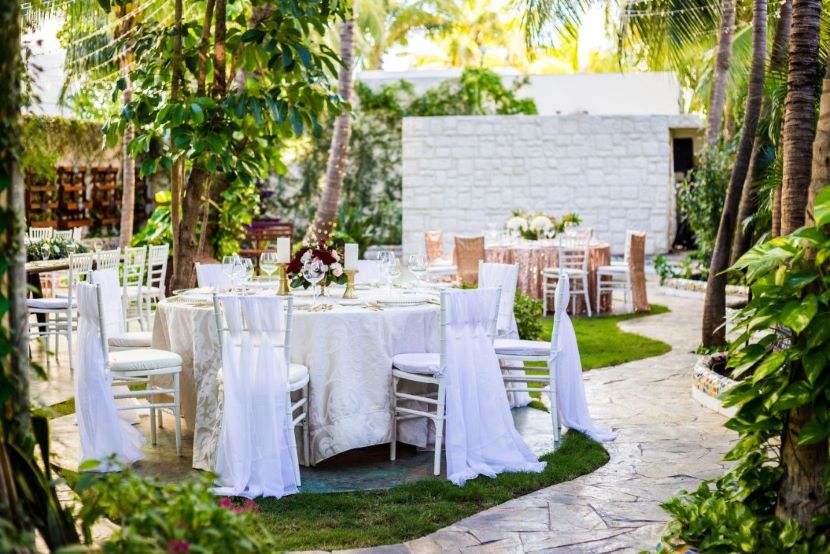 4. El Patio Terrace
This venue is located in the pool area and surrounded by palm trees.
It can accommodate up to 120 guests and is perfect for hosting a wedding reception.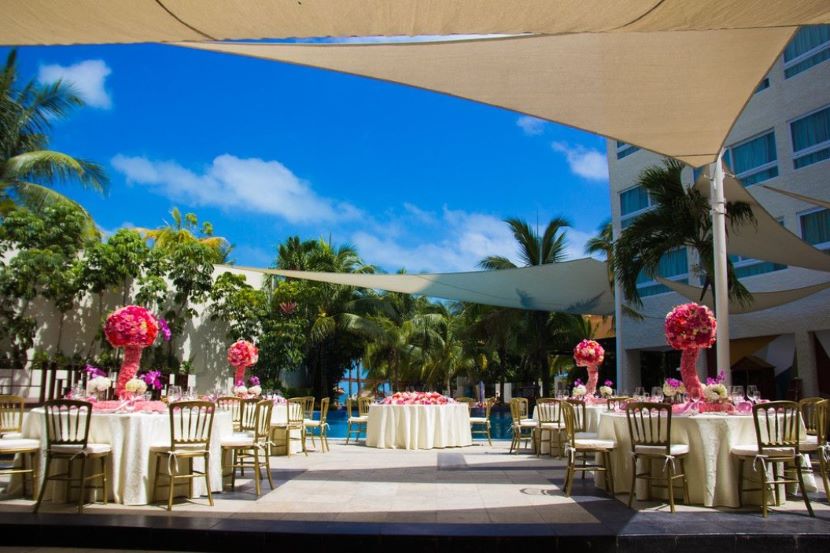 5. Spa Beach
The Spa Beach venue is a peaceful one!
It is an excellent choice for a cocktail party or dinner reception.
You can invite up to 120 guests to celebrate with you.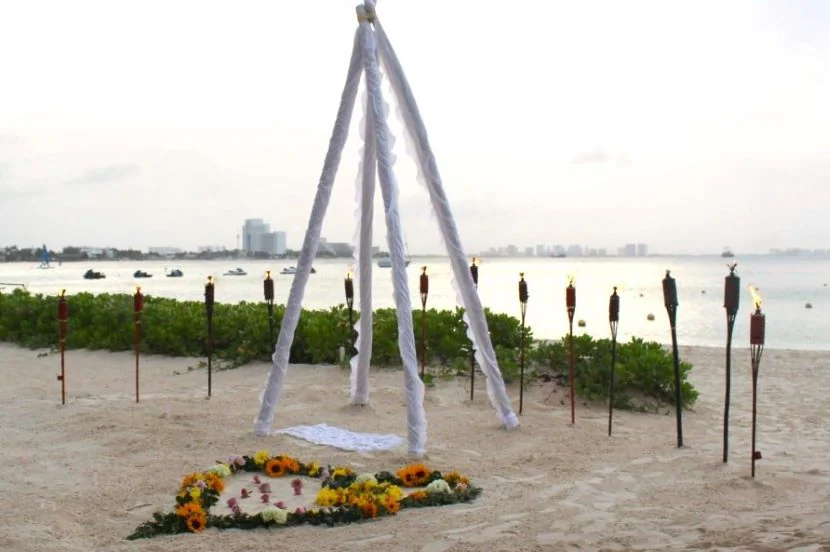 6. El Desire Terrace
Want an ocean view without being right on the beach? Check out the El Desire Terrace!
This palapa is located between the pool area and the beach.
The atmosphere is cozy and perfect for small receptions and cocktail parties.
You can invite up to 100 guests here.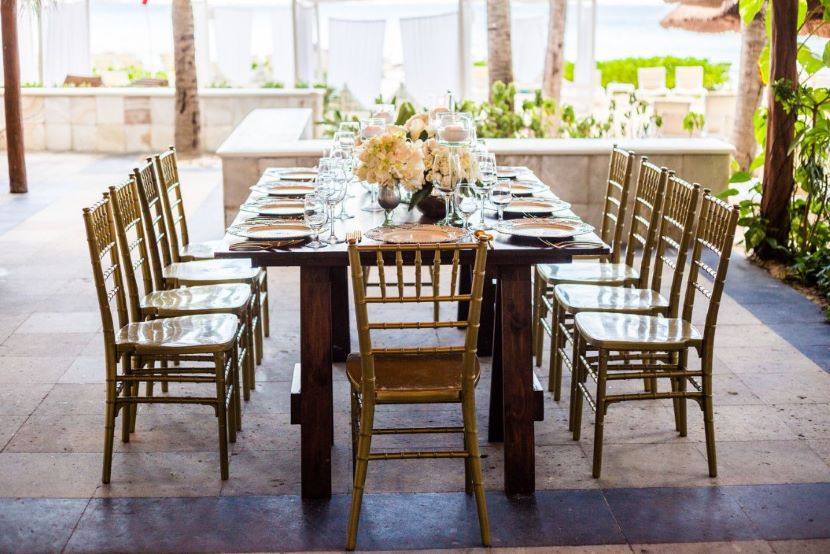 7. Ballroom
Accommodate your guests in style at the Ballroom at Dreams Sands Cancun Resort & Spa.
This indoor venue is perfect if you are having a monsoon wedding.
It can be used for cocktail hours and wedding receptions.
You can invite up to 120 guests here.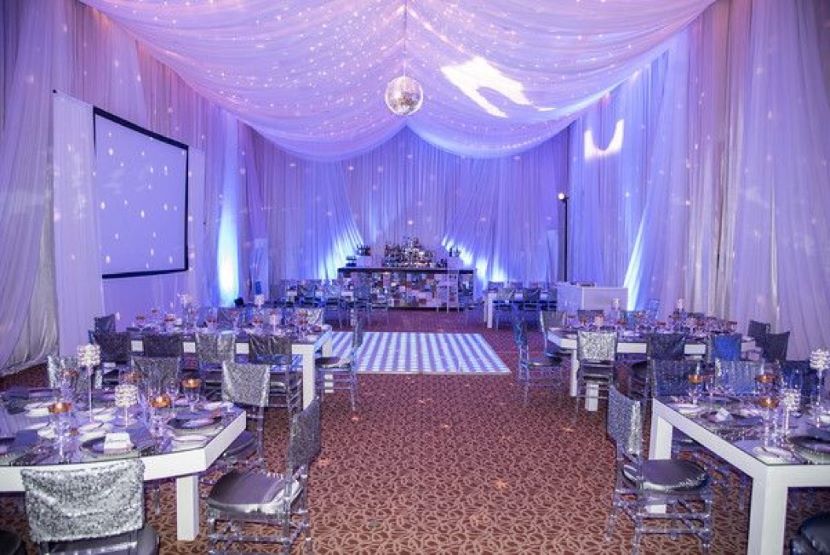 8. Cevicheria
This beachfront restaurant is a stunning venue for dinner receptions and cocktail hours.
It can accommodate anywhere between 50 to 80 guests.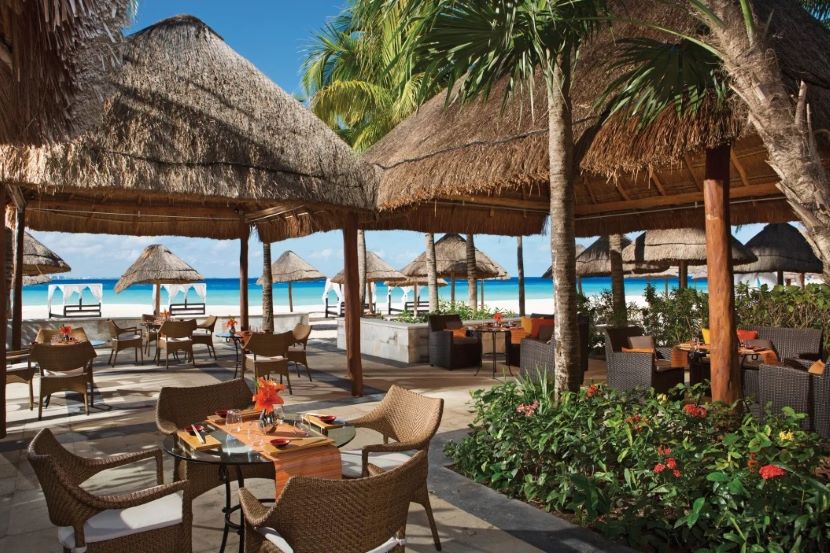 Curious about the venues available for your big day? Our expert wedding planners can give you all the information you need!
Dreams Sands Cancun Resort & Spa celebrates all forms of love and marriages!
They offer inclusive wedding packages for all couples, regardless of their sexual orientation or gender identity.
Planning a wedding can be a bit overwhelming, we get it.
But don't worry, we're here to help!
Whether you need assistance with paperwork or have any questions about the process, our team is here to guide you through every step.
With 438 elegantly decorated rooms and suites, all non-smoking, you and your guests can enjoy a comfortable stay at this resort.
The charming contemporary décor creates a warm and inviting atmosphere, perfect for your special occasion.
There are 5 room types; if you opt for their Preferred Club membership, you get an upgraded suite, access to an exclusive lounge, concierge service and other enhanced amenities.
Unfortunately, the resort has no swim-up suites. Not sure if you've ever experienced a sim-up but once you have you're never the same.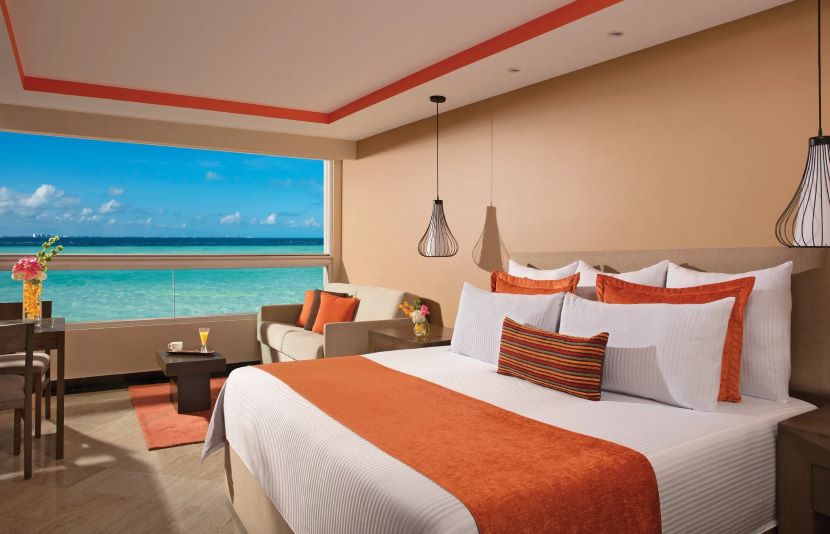 You get to choose from these rooms and suites…
Deluxe Partial Ocean View – 1 king-size or 2 double beds
Deluxe Partial Ocean View with Balcony – 1 king-size bed
Deluxe Ocean Front – 1 king-size or 2 double beds
Deluxe Ocean Front with Balcony – 1 king-size or 2 double beds
Family Suite – 2 connecting rooms, one with a king-size bed, one with 2 double beds
For the newlyweds, we recommend the Deluxe Ocean Front with Balcony room!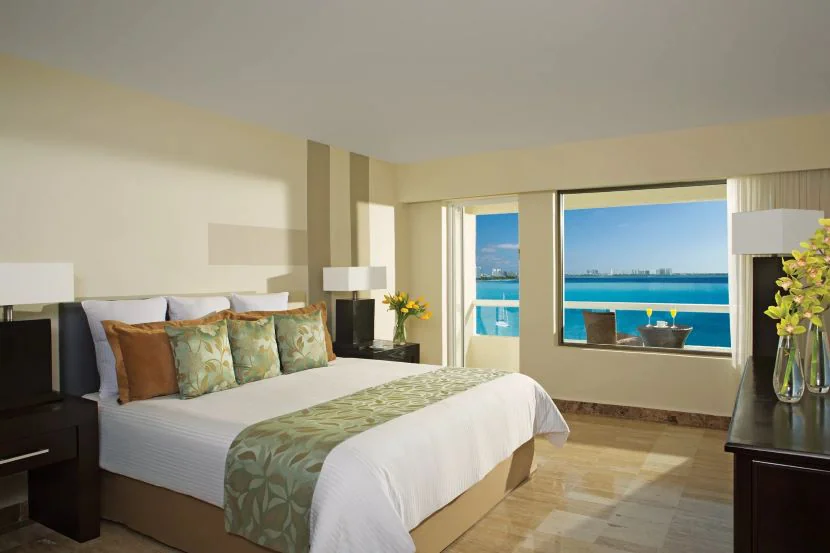 This gorgeous room gives you a clear view of the beautiful ocean.
It has an extremely comfortable king-size bed!
The room has a large, spacious bathroom with shower or bathtub, a furnished balcony and TV.
Want to soak up the sun or just take a dip in the refreshing waters? The resort has 2 lavish pools for you to enjoy.
And let's be real, what's a pool day without a refreshing cocktail?!
The swim-up bar Manatees will keep you and your guests well hydrated without ever having to leave the water!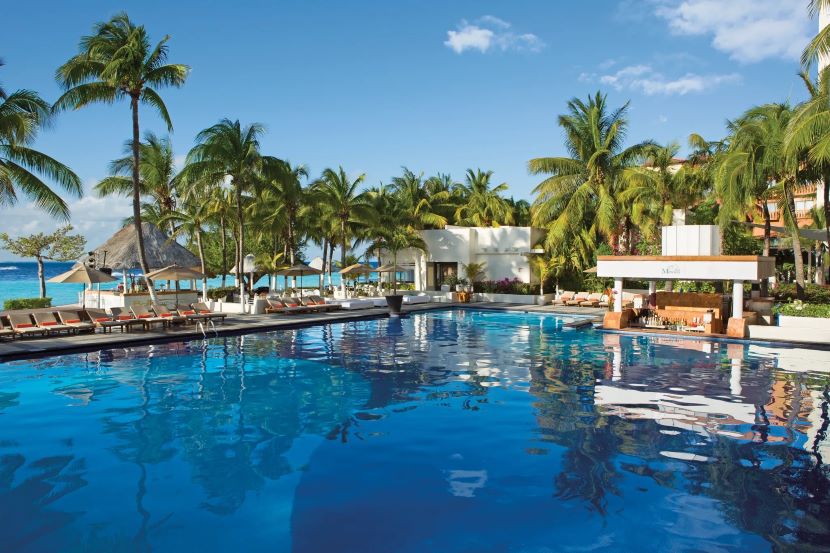 Just a few steps away is the breathtaking white sand beach.
You can lounge around, catching up with family and friends.
You can also enjoy the resort's beach wait service here.
Dreams Sands Cancun Resort & Spa has 9 restaurants.
You'll have so many options for every day you're there!
You'll also find 4 bars here that serve top-shelf spirits, fine wines and ice-cold beer.
Preferred Club members get access to 2 additional bars.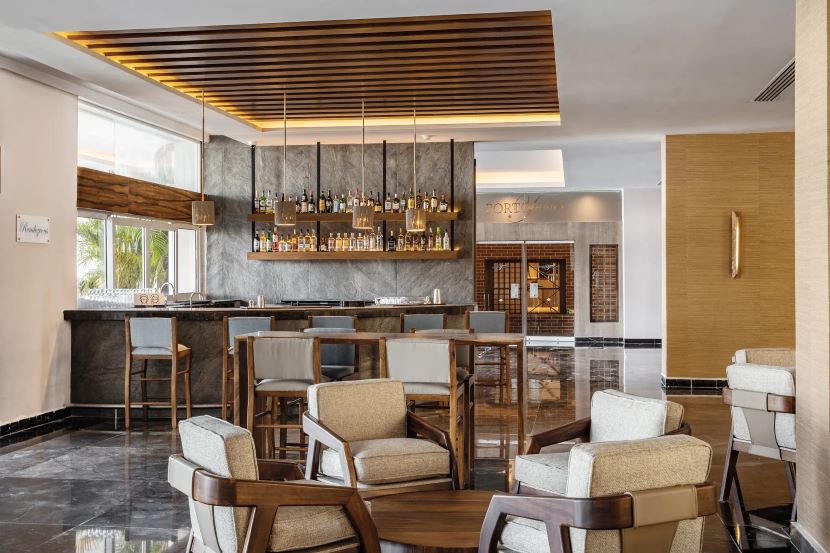 9 restaurant options include…
Barefoot Grill | Grilled snacks
Coco Café And Ice Cream Parlor | Coffee, snacks, ice cream and crêpes
El Patio | Mexican cuisine
Gaucho Grill | Grilled specialties
Himitsu | Pan-Asian cuisine
Olio | Mediterranean cuisine
Portofino | Italian
World Café | International buffet
Cevicheria | Beachfront restaurant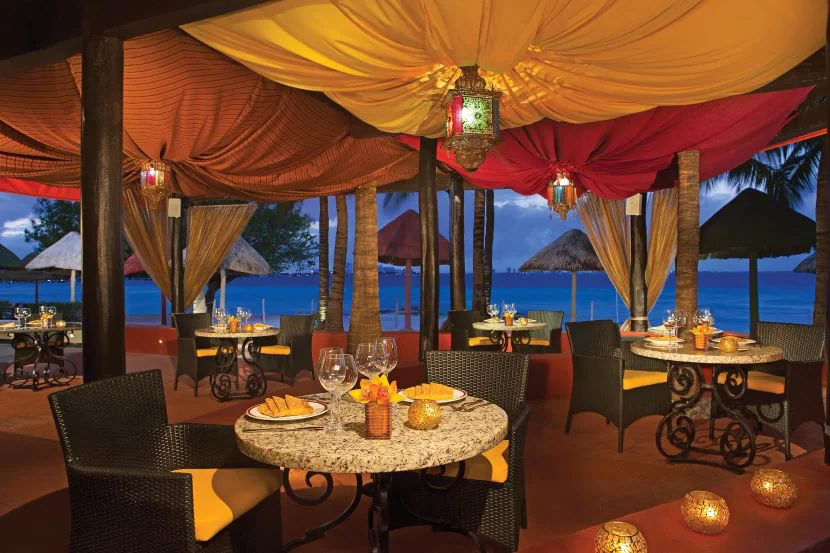 The activities at Dreams Sands Cancun Resort & Spa will keep you and your guests pretty entertained and occupied!
Caribbean dance lessons, ocean volleyball, scuba diving, beach yoga… There's a lot to do here!
Just don't tire yourself before your big day!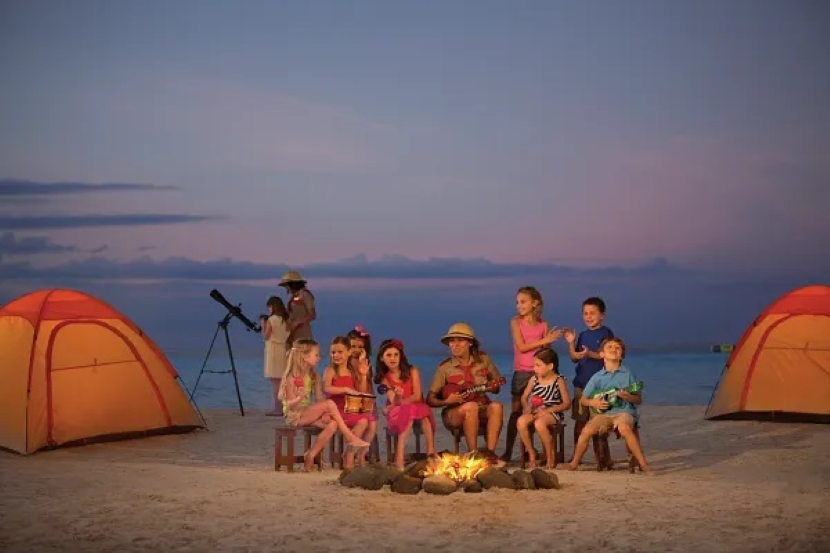 Fun activities and entertainment include…
Non-motorized water sports
Ocean trampoline
Ocean volleyball
Scuba diving with lessons
Kayaking
Catamarans
Caribbean dance lessons
Bingo
Spanish lessons
Cooking and cocktail-making classes
Explorers Club for kids ages 3-12
Sight-seeing and excursions
Live musical performances
Theme nights and parties
Spectacular stage shows
Big screen movies on the beach
Regardless of whether there'll be kids at your wedding, or it's an adults-only occasion, there'll be something for everyone.
You might have some questions about Dreams Sands Cancun Resort & Spa.
Worry not, we have the answers!
Q: How far is the resort from the Cancun International Airport?
A: Dreams Sands Cancun Resort & Spa is around 25 minutes from the airport.
Q: Is the resort pet-friendly?
A: Is your dog the ring bearer? Well, good news! The resort welcomes pets!
Q: Does the Dreams Sands Cancun Resort & Spa have a swim up bar?
A: Yes, the resort does have a swim up bar that serves heavenly cocktails.
Q: What kind of resort is Dreams Sands Cancun?
A: It is a luxury family-friendly all inclusive resort.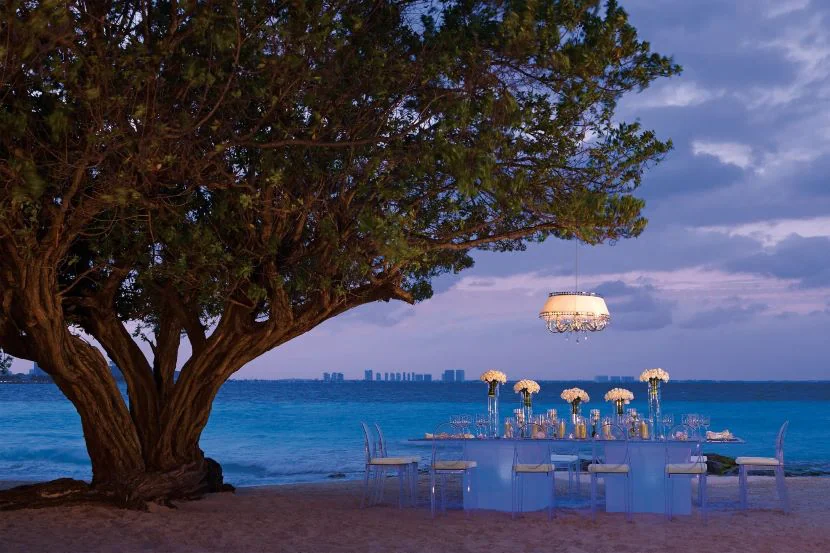 With stunning views, luxurious accommodations, and delicious dining options, Dreams Sands Cancun Resort & Spa is a popular choice for both vacations and weddings.
But is it too good to be true?
We asked our wedding specialists for their honest thoughts on the resort.
And they had plenty to say!
Check it out!
Things we love: 
Recently renovated stylish architecture and décor.
Gorgeous beach!
Phenomenal staff.
Wonderful wedding venues.
Just 15 minutes from downtown Cancun.
Pet friendly.
No reservations required at the restaurants.
Things we don't: 
A lot of the rooms don't have balconies.
The hallways have no AC and their ceilings are super low!  
Several restaurants don't have a kids' menu.
No swim-up suites!
Venues are small – not suitable for large weddings.
Some restaurants have a dress code.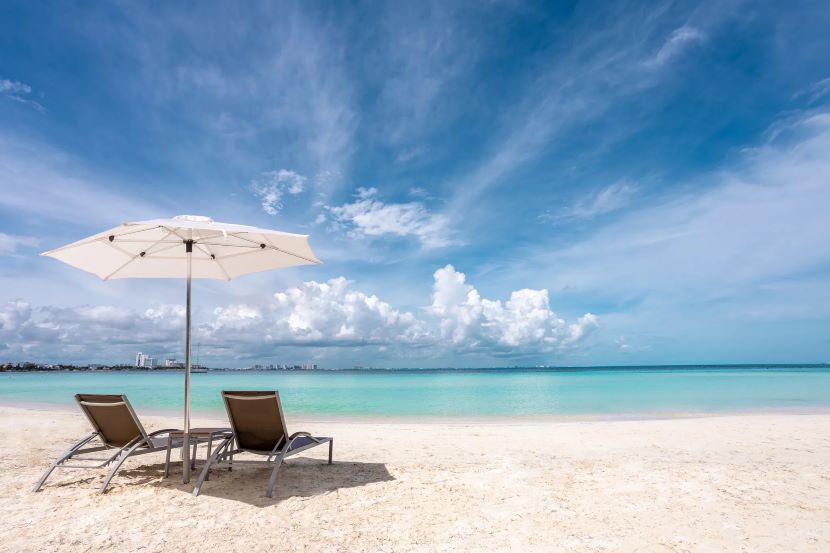 Still unsure? 
Take a look at these 3 similar resorts that could be perfect for your wedding.
Ready to plan your wedding? 
Or looking for other options?
We can help!
Our team at ParadiseWeddings.com have planned 100's of destination weddings and yours could be next.
Call us today at 877-737-0177 or contact us here for a free consultation.
Can't wait to hear from you!