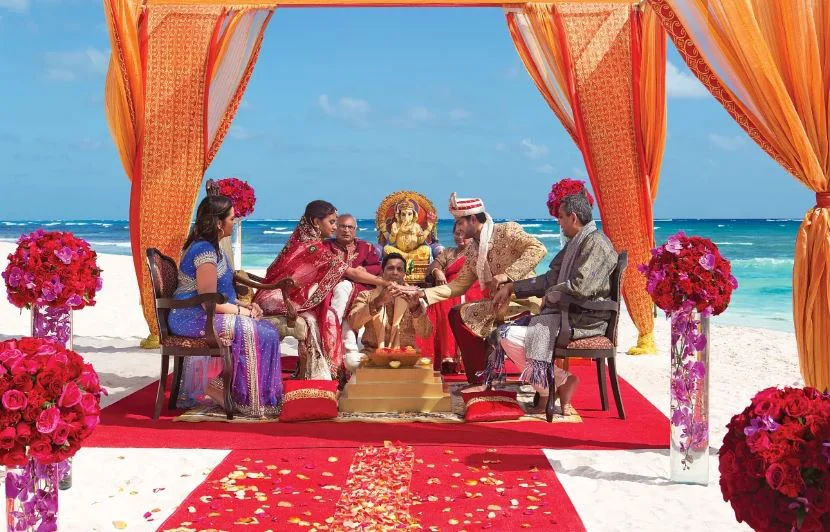 So you're considering an Indian wedding in some far-off, exotic land?
I feel you!
But let's not kid ourselves: planning an Indian wedding is tough enough!
Now add 1000's of miles, and unfamiliar laws to the mix and it could get chaotic!
But don't worry, this South Asian has your back!
Our team of planners put together this ultimate Indian Destination Wedding Checklist just for you.
Ready to make your pheras as easy as pie?
Let's get started!
Yes, your wedding date is fixed and it might be far off, but it's a good idea to start planning ahead of time.
These are the tasks you should tackle ASAP to keep everything on track:
☐ Decide Your Wedding Budget
Your wedding budget should be the first thing you consider before making any more plans. It's a crucial factor that will heavily influence all of your decisions moving forward. Take a moment to reflect on your financial comfort level and allocate resources accordingly.
☐ Create A Tentative Guest List
Indian weddings = a huge guest list! What if you accidentally overlook someone significant?!
You'll want to create a guest list and classify individuals into categories such as family, close relatives, distant relatives, friends, neighbors and colleagues.
☐ Pick A Wedding Destination
Pick a country or region you both love. Don't forget to factor in weather conditions. If you're thinking Mexico, here's a list of the best all-inclusive Indian wedding packages for you!
☐ Research The Marriage Laws
Ensure that you are familiar with the legal requirements of the country where you have chosen to hold your wedding. Many couples opt for a civil ceremony in their country and then have a symbolic one at the destination.
☐ Search For Venues
You're gonna have fun doing this one! Need help? Here are 10 beautiful resorts for Indian weddings in Mexico.
☐ Hire A Wedding Planner
When you're planning a wedding from another country and dealing with foreign rules and language, it's super important to have an experienced pro on board. They'll make the process run like a dream, and bonus points if they speak the local lingo!
☐ Visit The Venue
Done shortlisting a few venues? Time and budget permitting, it's a great idea to visit your potential wedding resorts before making a decision.
You can check out their venues and wedding packages, and even taste-test the food (not everyone can do justice to the flavors of Indian food!).
You can also check for accessibility features; the grandparents might not be able to walk from the resort to the beach gazebo or forest pavilion.
☐ Book The Venue
Choose your wedding venue and secure the date with a deposit.
☐ Check Passport And Visa Requirements
Don't get caught with an expired passport right before the big day! Make sure to check that your passports and travel visas (if required) are valid and up to date before you leave.
The when and where of your destination wedding are sorted! It's time to now focus on the next set of priorities.
☐ Finalize Your Guest List
Your parents might have a few last minute additions! Once your list is final, send your save the dates so your guests have plenty of time to plan and save up for the trip.
☐ Research A Wedding Room Block
As a general practice, it's the bride, groom and their families who pay for wedding accommodations of the guests.
However, things are changing. Many guests pay for their own stay.
Check out room options for your guests, located at or near the venue, and see if there are any promo codes available to snag a sweet deal.
Thinking Mexico as your wedding destination? Our wedding specialists can hook you up with some secret discounts on resort accommodations!
☐ Make An Event List
Each religion has its unique customs and ceremonies. Creating a list of events can help you stay organized.
This is especially essential for inter-religion marriages or for couples who want to incorporate different traditions into their wedding.
Make a list of events and include details such as venues, outfits, seating arrangements, and music.
This will help to streamline the planning process and avoid any last-minute stress.
☐ Launch A Wedding Website
The website should have all the info about travel and accommodations.
Local maps, weather forecasts, airport information, schedules for haldi, sangeet, mehendi, cocktail party, mahurat for pheras etc. should also be mentioned.
Share this link with your guests. They can even RSVP via the link.
☐ Create Your Gift Registry
Although not a very "Indian" thing to do, having a gift registry is all the rage at Indian weddings now!
But, keep in mind that guests traveling for your wedding are already incurring expenses. Consider assuring them that their attendance is a gift in itself.
☐ Inform Your Place Of Employment
Coordinate with your employer to ensure you have the necessary time off, taking into account additional days before and after the wedding for celebrations, temple visits, and even your honeymoon!
☐ Book Your Vendors
Photographers, videographers, sangeet choreographers, panditjis, mandap decorators, wedding planners, bandwalas, mehendi artists, classical singers or DJ… But check your Indian wedding package first, maybe the service is already included in it.
☐ Book Your Flights
And get those early bird discounts!

Not even a year to go! Preparations will now begin in full swing!
☐ Finalize Pre And Post-Wedding Events
With the help of your wedding specialist, finalize venues and menus for all the events and ceremonies taking place at your wedding.
☐ Finalize Your Wedding Invitation
Indian wedding invitations are way more than just a card you send out to your guests!
They're super elaborate and have many components.
And you can customize pretty much everything – from the color and pattern to the paper and feel, and you can even add little gifts inside.
Take your time browsing through all the options and pick out the wording and layout that's just right for you!
Don't forget to include the details to all the ceremonies.
☐ Send Out The Formal Wedding Invitations
Might seem too early, but this will give your guests enough time to plan their trip. Keep an eye on those RSVPs!
☐ Go Clothes Shopping!
Factor in all the ceremonies and events you'll be having at your wedding.
You'll need something to wear for the haldi/pithi, a jazzy number for the sangeet, a sleeveless and short dress for your mehendi and so on…
Check the lead time with your designer, and also factor in the climate of the destination.
Here are 15 beautiful Indian outfit ideas for a destination wedding.
☐ Pick A Caterer
The unwritten but widely accepted rule of good food = happy guests means whatever is served at your wedding needs to be the star! No pressure!
If your chosen venue doesn't offer Indian catering, or if you have a specific local caterer in mind, it's time to reach out to them now!
☐ Plan Your Honeymoon
Time to get those honeymoon plans in order! Pick out your dream destination, find a cozy place to stay, book those flights, and plan out your activities. Just check your wedding package first, the resort might have a complementary honeymoon included!
☐ Go Jewellery Shopping! 
Time to go shopping for rings, mangalsutra, gold ornaments etc.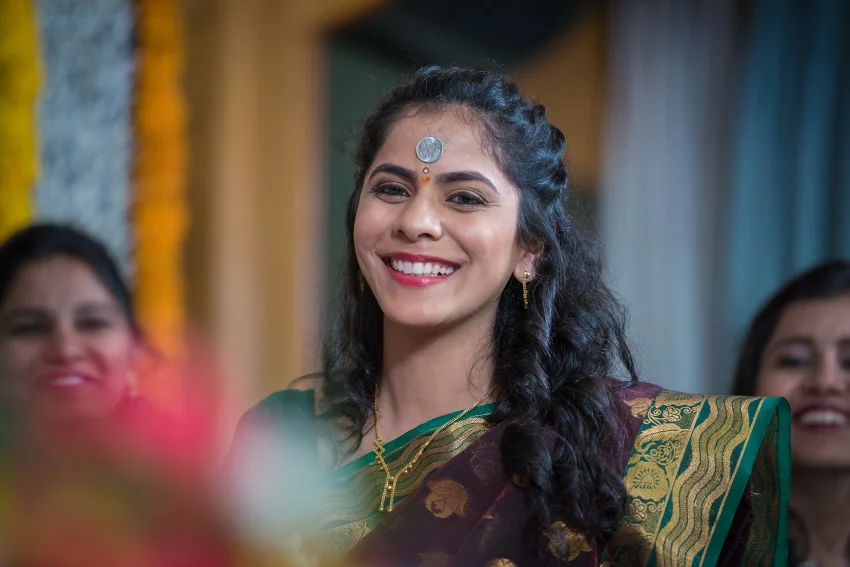 With the wedding just a few months away, it's time to wrap up any unfinished tasks and double-check all the logistics for the big day.
☐ Time For That Glow Up!
Begin your pre-wedding routine for skincare and wellness now. Put that ubtan to good use! This is not a drill!!
☐ Final Headcount
Check the RSVPs you've received and let the resort, wedding planner, vendors, and anyone else involved know the final headcount.
☐ Guest Transportation
Work together with your wedding specialist and resort to organize transportation for your guests, including arranging transfers to and from the airport and hotel.
☐ Buy Goods And Accessories
Biodegradable confetti, handheld fans, any personalized décor, welcome bags, hangover kits etc…
☐ Double Check The Documents
Make sure that all required legal documents have been submitted and approved.
☐ Talk To Guests
This one will probably be done by the elders in your fam. But, do reach out to your closest ones and check if they've made arrangements for flights and lodging.
☐ Shoes And Accessories Shopping
You need stunning pairs of shoes to go with your dresses and suits!
Mojaris, juttis, chappals, sandals… Mix and match em with all your festive wear.
Also, don't forget to buy accessories you'd be needing to complete your look (maang tikka, bindi, pocket square, tie, gold dupatta etc.)
☐ Confirm Details With All Your Vendors
Number of mehendi artists and their rates, photography and videography package, mandap decorators, pooja arrangements, choreographer's song list, food and drink menus… get it all in writing!
☐ Book A Hairstylist & Make-Up Artist
Your planner or the resort could suggest a good one. Check your wedding package first, your bridal makeup and hairstyle might already be part of it.
☐ Schedule Activities For The Guests
Arrange leisure activities for the guests, like snorkeling in the ocean, or day hikes in the mountains, or sightseeing tours.
Put all the details on your wedding website for guests to stay informed.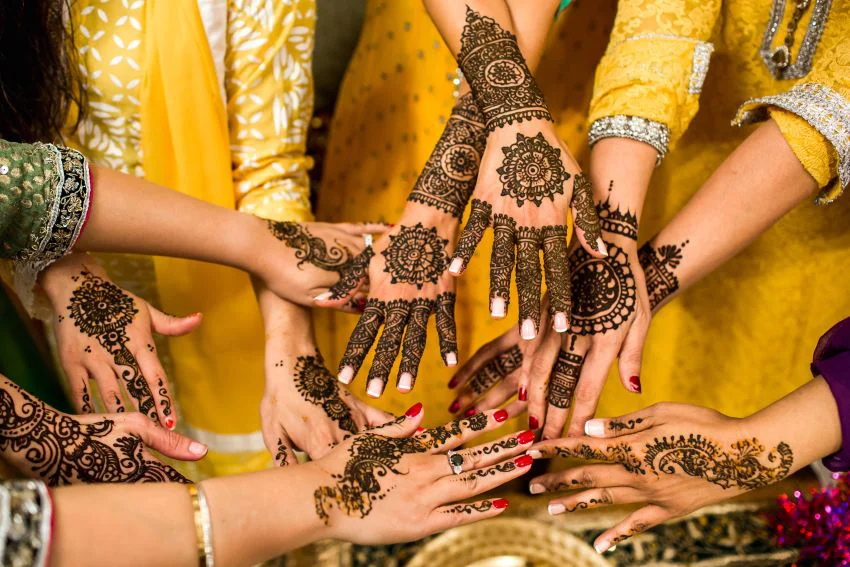 Just 30 days to go! Ready for a whole new adventure?
☐ Consider Getting Vaccinated
If required, get your vaccinations and any compulsory blood tests done.
☐ Pre-Wedding Photoshoot
Always wanted to have one? Now's the right time to get those dreamy shots!
☐ Buy Wedding Favors
Order cute wedding favors for your guests… Think shawls, stoles, potlis, spice boxes, dry fruits and nuts boxes, small idols of deities, mithai boxes etc.
☐ Make A Packing List
Think matching dupattas, jewelry accessories, saree pins, safety pins, travel adapters, local currency, destination-centric clothing, travel documents etc.
It's often the small but important things that get overlooked.
☐ Deliveries And Pickups
Take the help of your loved ones for this. The last thing you want is to be exhausted running all across town before your big day!
☐ Make Payments
Pay and settle all the invoices with your resort, vendors, planners and suppliers.
☐ Wedding Outfits
It must be time for your final fittings by now. Remember to bring your shoes and accessories to ensure a complete look.
Going to an Indian wedding as a guest? Here are 20 stylish Indian outfit ideas!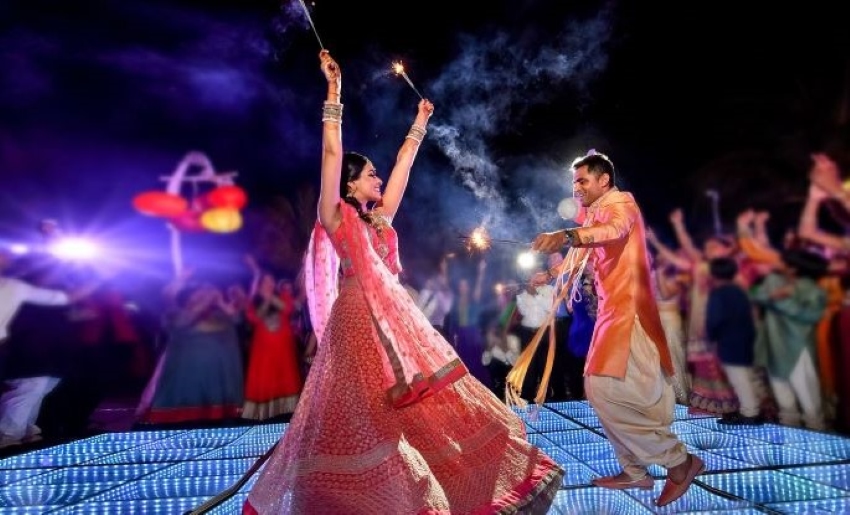 Just a handful of days remain… Time to bask in the splendor of this final week with your partner, enveloped in the warmth of your dearest ones…
☐ Packing
Refer to the list you had created last month while packing your bags.
☐ Courier Items To The Resort
This one's a wedding planning hack! Arrange to send any items that can be shipped beforehand to your resort or the on-site wedding coordinator.
This will help you avoid extra baggage fees, and ensure that everything is in place for your big day.
☐ Travel Day
With many events and ceremonies to face, you should be at your destination a few days before everything begins!
It'll give you time to plan as well as relax.
☐ Meet Your Wedding Planner
Take a final walk-through of the venue with your wedding planner and make any necessary last-minute adjustments.
This is also the perfect opportunity to double-check that everything is in order with your vendors for the big day.
And if you haven't already, you can even squeeze in some food tastings!
☐ Apply For A Marriage License
Many resorts also provide symbolic marriage certificates.
☐ Attend Your Trials
Time to attend your hair and makeup trials! Just take screenshots of your bridal look inspo and let the pros do the rest!
☐ Head Over To The Spa
Take this time to relax, unwind, and soak up some tranquility before your big day. Indulge in a luxurious and rejuvenating spa session.
Check your wedding package, a couple's massage is typically included in it.
☐ Welcome Guests
Meet and greet guests as and when they start arriving.
From personal experience, I can tell that you won't even know half of the guests! Just smile and look at your parents for hints!😉
☐ Relax!
Remember to take a deep breath and enjoy your wedding celebrations.
Allow yourself to unwind fully and cherish every moment without worrying or feeling overwhelmed.
Cheers to a wonderful celebration and an even more incredible journey ahead!