Got invited to an Indian wedding?
And now you're thinking, "what am I gonna wear?!"
Don't stress, it's a universal question!
But I've got your back, as always!😇
Here are some tips and ideas to help you pick out the perfect outfit for attending an Indian wedding.
Read on…
1. Go Colorful!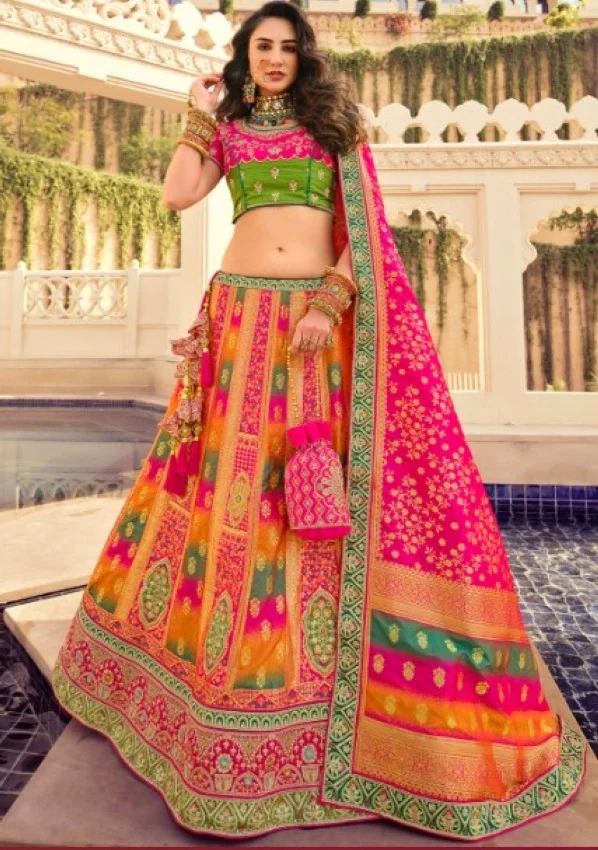 Want to know the secret to rocking an Indian wedding?
It's all about bright and vibrant colors!
Whether it's summer or winter, indoors or outdoors, you can never go wrong with a pop of color.
Unless there's a dress code or theme, go crazy with your choices!
Just avoid black – it's considered inauspicious for traditional functions.
2. Or Wear White!
Indian brides and grooms rarely wear white – it's super basic for a function as special as a wedding!
So go ahead and wear your fav whites, nobody will say you upstaged the bride!
Just don't forget to accessorize with a bit of color – even gold or silver will do.
Tip – At south Indian weddings, the brides generally wear white and gold kanjivaram sarees. So avoid wearing white here.
3. Dhoti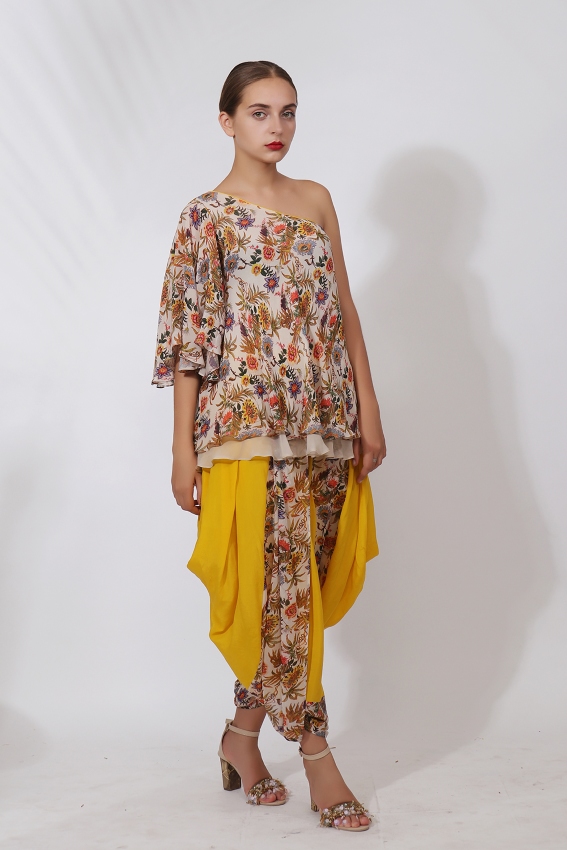 Image source – Nikasha
Unisex fashion at its best!
Dhoti used to be traditionally associated with men.
But it's taken over women's fashion as well.
Comfy, breezy and beautiful, you'll love this Indian outfit!
4. Saree Made From Indian Textiles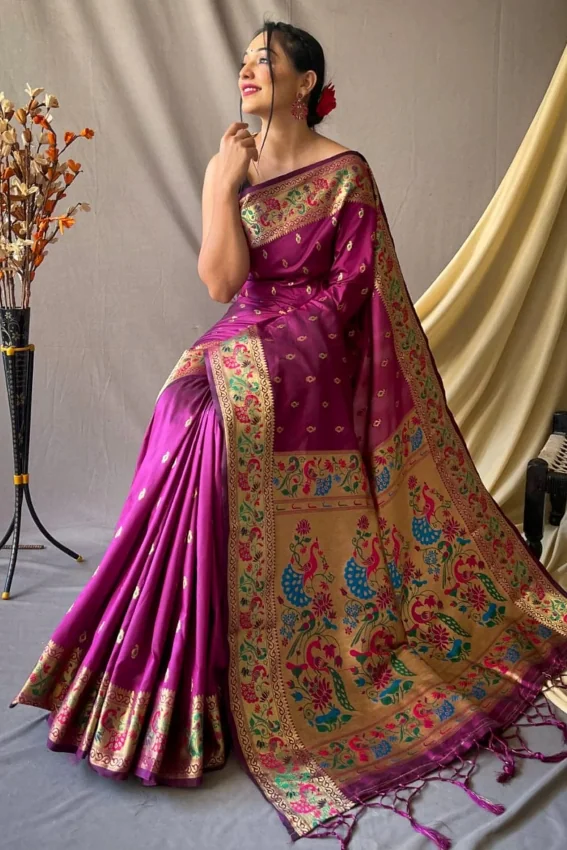 Image source – Karagiri
India is known for its textiles and patterns.
From Lucknow's chikan embroidery to Punjab's phulkari…
From Varanasi's brocade to Odisha's ikat…
From Maharashtra's paithani to Rajasthan's aari embroidery..
The choices are unlimited!
5. Jumpsuit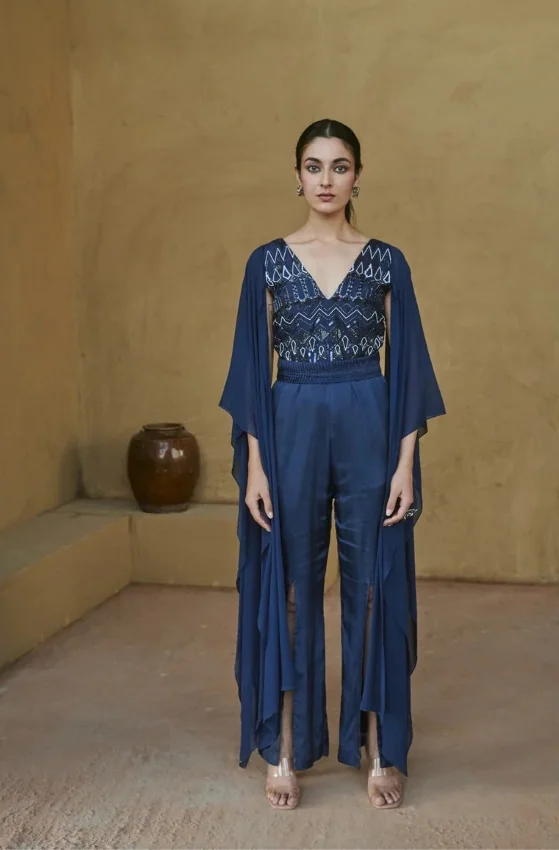 Image source – Studio Radical 
Why not?!
It's convenient, it's unconventional, it's stylish, and it also comes with embellished motifs and patterns!
6. Sharara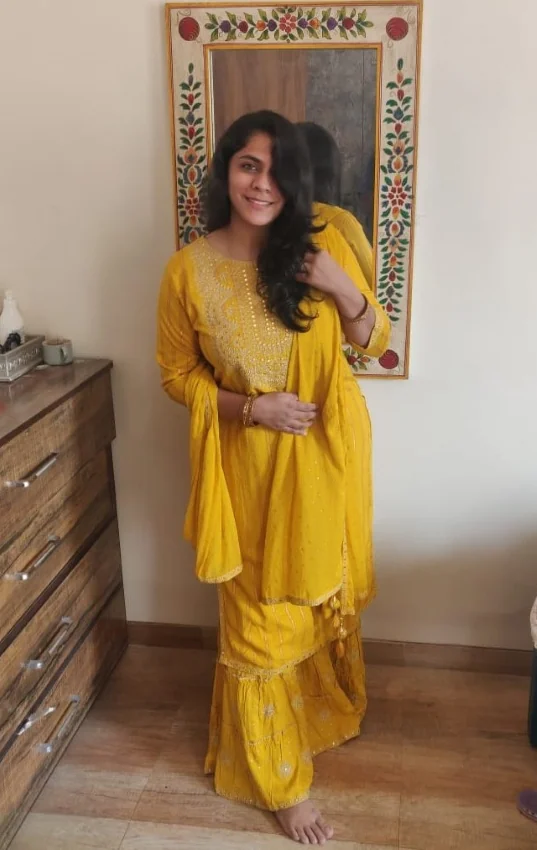 That's me in my sharara!
Fun, flirty, and comfy!
Sharara comprises a long or short kameez, but can even be paired with a crop top.
The magic of sharara, however, lies in its flared pants that often come with ruffles, zari work, or other embellishments.
7. Anarkali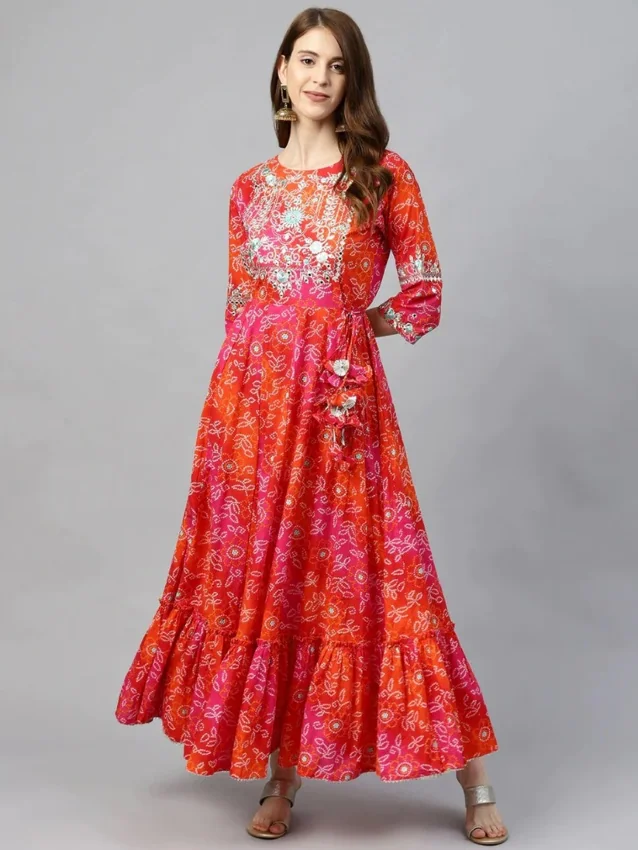 Image source – Ishin
Anarkalis are floor-length or mid-length dresses often paired with a salwar or churidar.
They are known for their swirly fabrics and waist-snatching design!
8. Blazer Set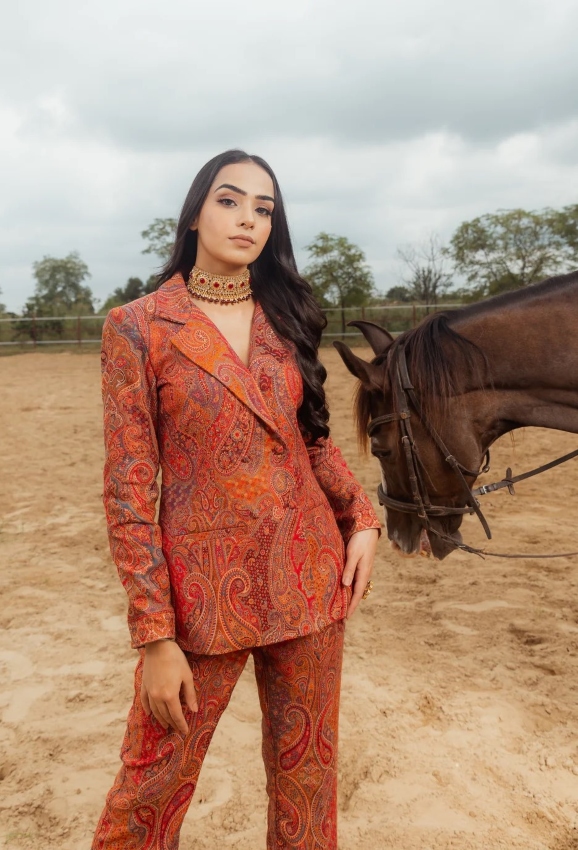 Image source – Safaa
As mentioned before, India has a variety of textiles and patterns.
And a lot of designers are incorporating these into chic indo-western outfits.
So, a blazer set with traditional motifs is a winner!
9. Asymmetric Hemline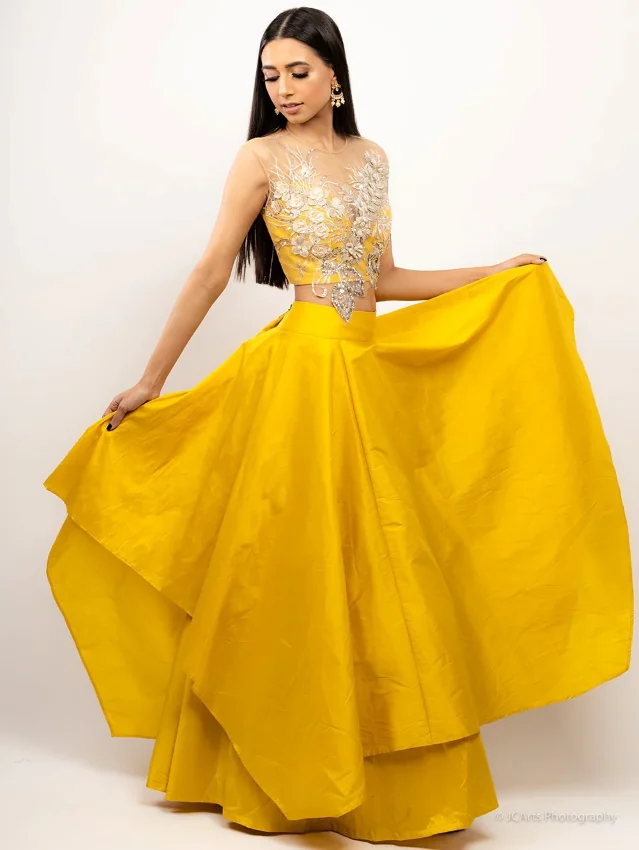 Image source – B Anu Designs
A lehenga with an asymmetric hemline not only looks cool, but also is a conversation starter!
Besides, the layered flair gives it a pizzazz of its own.
10. Long Jackets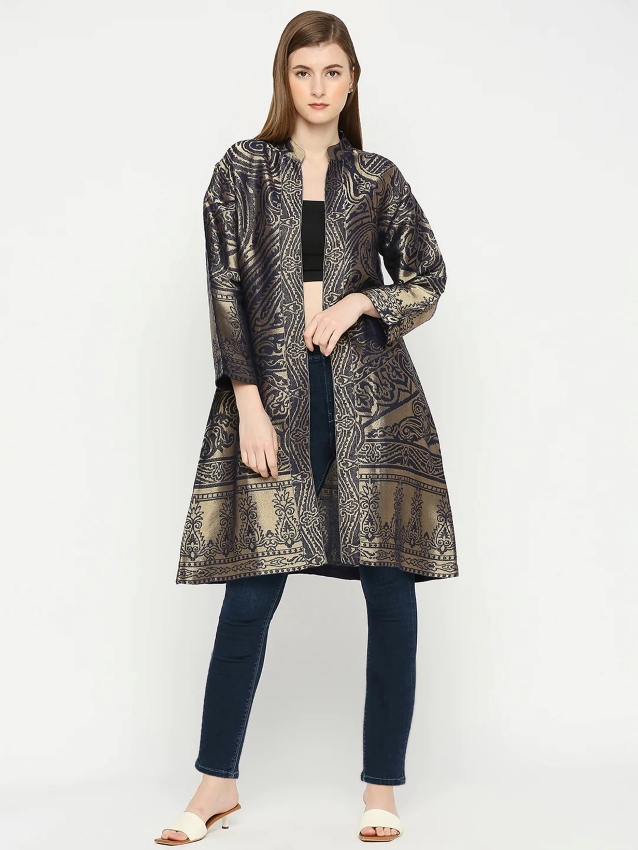 Image source – Cloth Haus
Ethnic long jackets are the hottest fashion trend right now.
Wearing plain jeans and a basic tee? Throw on an embellished jacket and jazz it up!
Solid coloured kurta and churidar? Wear a metallic jacket to give it a stylish makeover!
You get the gist!
Here's your guide to Indian weddings & what to expect. 
1. Vibrant Kurta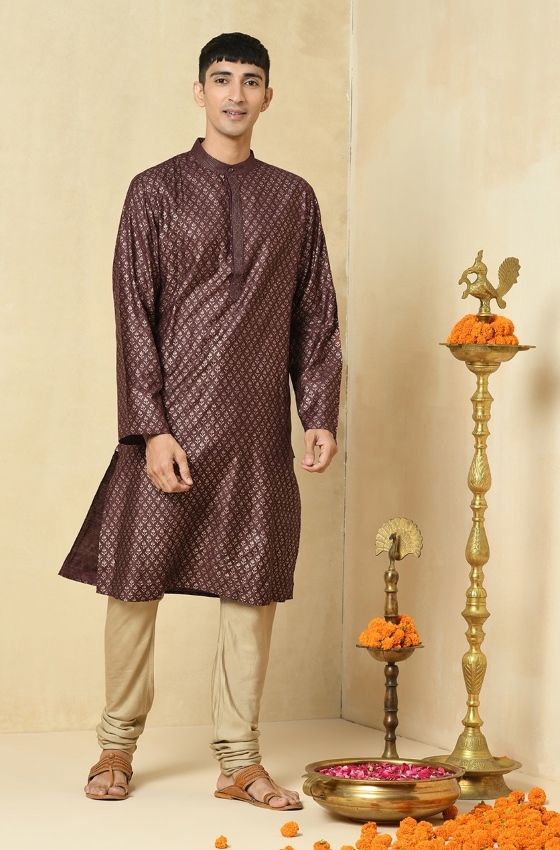 Image source – Fabindia
You can never go wrong with a kurta!
The brighter the color, the better.
Team it up with a pajama, churidar, dhoti, or even jeans.
Tip – avoid wearing black for the main ceremonies; it's considered inauspicious.
2. Pastel Kurta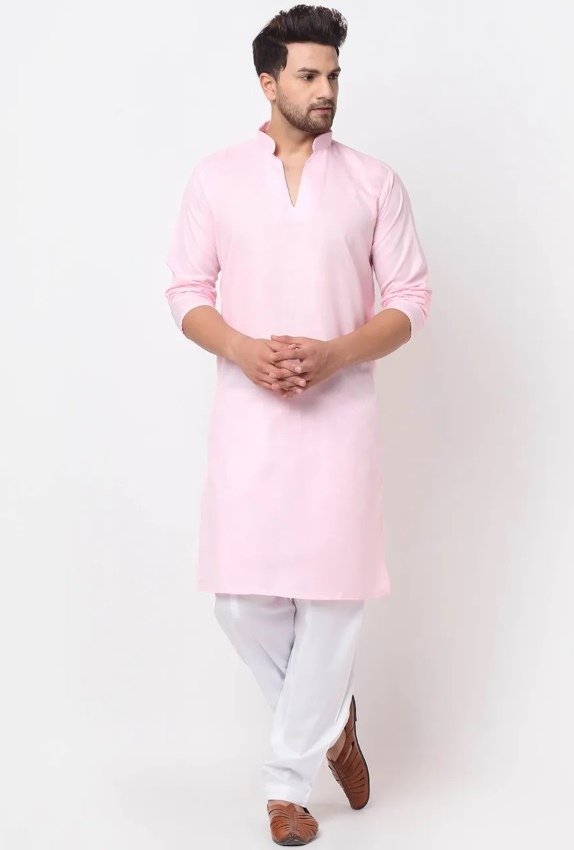 Don't want to wear a bright kurta? No problem.
You can even opt for pastels if you want, no one will judge you!
The main aim is to have fun at the various functions.
3. Short Kurta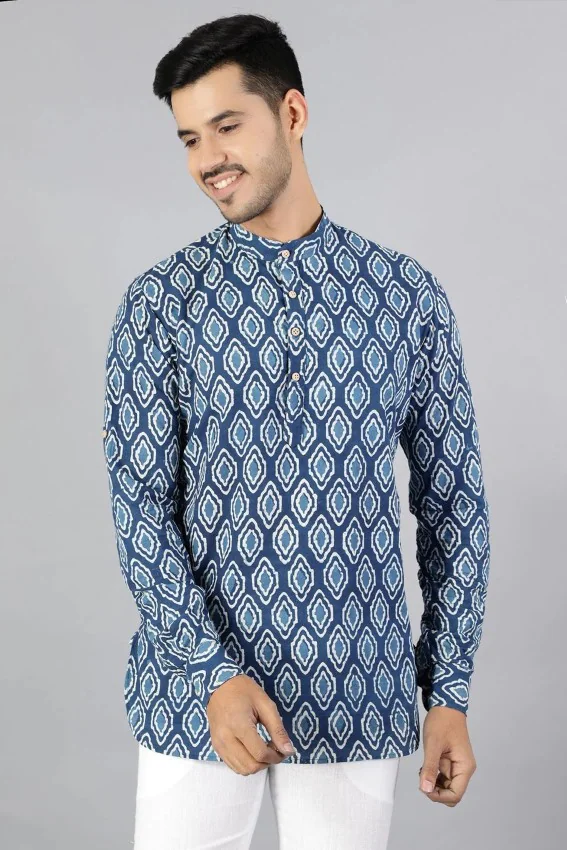 Image source – Wintage
The younger brother of the classic kurta, a short kurta ends at your waist.
Pair it up with a white chino and you are good to go.
Talk about keeping it simple and classy!
4. Bandhgala Jackets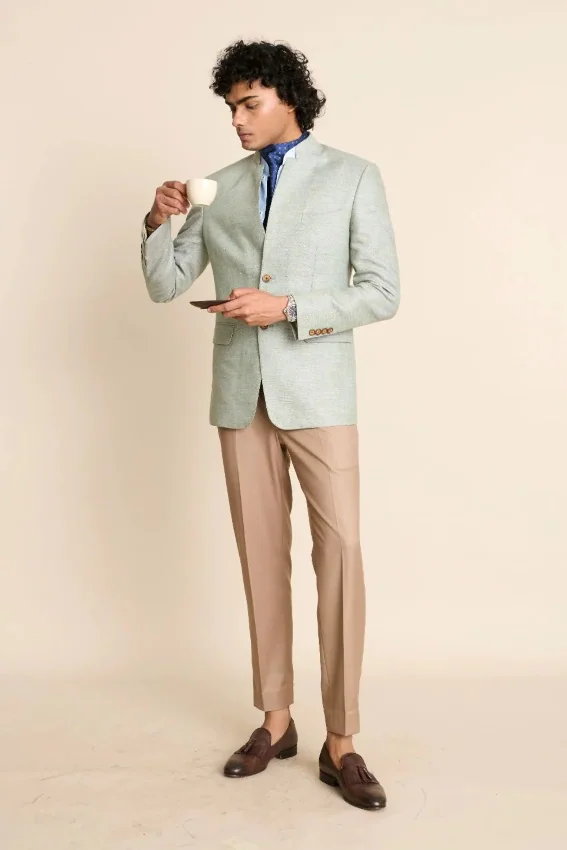 Image source – Gargee Designers
Also known as Jodhpuri, bandhgala is a smart band collared jacket.
It also comes in suit form, but if you are heading to a tropical destination, the heat will get to you.
The safer bet is to wear the bandhgala jacket over a kurta or formal shirt.
You can then remove it if it gets too warm.
5. Blazers Made From Indian Handlooms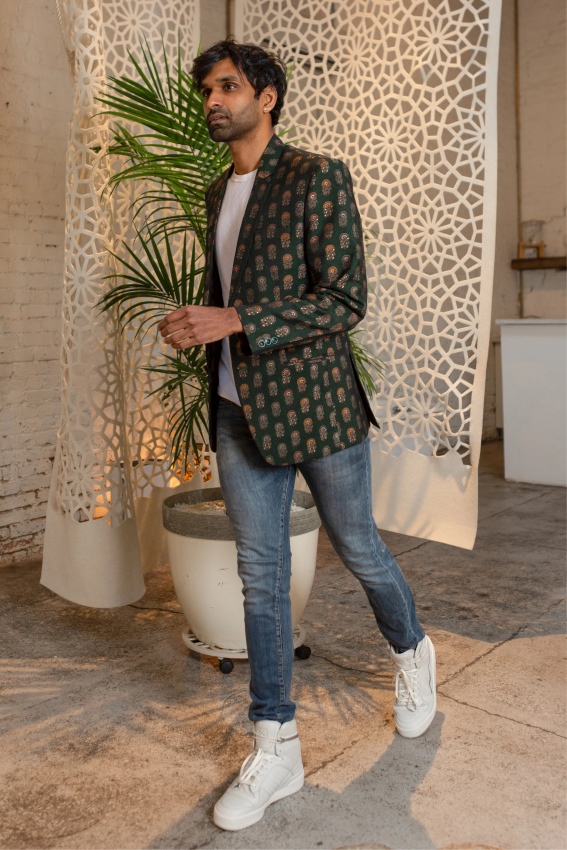 Image source – Holi Chic
Why wear the plain boring blue, gray or black blazer when you can flaunt beautiful patterns?
Many designers are now using Indian handlooms to make sexy blazers!
Ready to make heads turn?!
6. Sherwani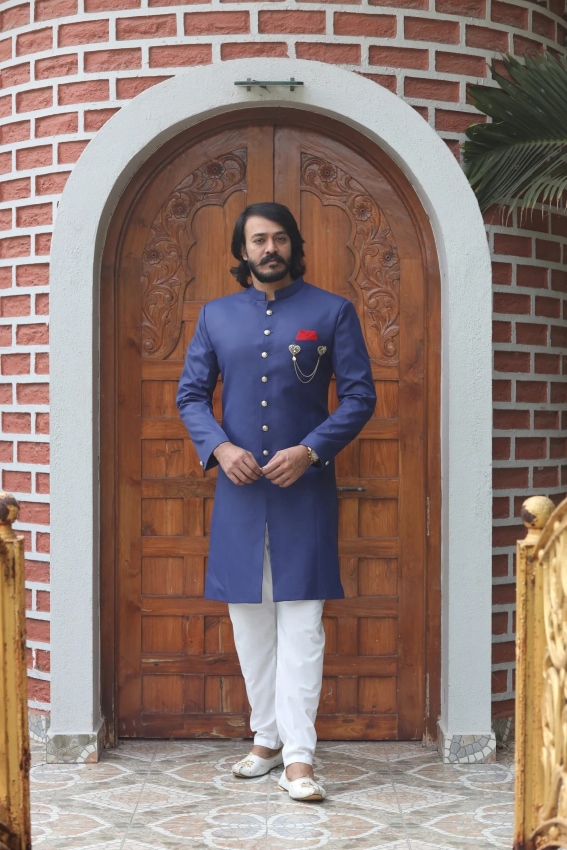 Image source – Amzira
Once worn by royalty, the sherwani is now a staple at Indian weddings.
Grooms and guests both wear it, so you know you won't stick out like a sore thumb!
Just wear a plain or lightly embroidered one – the heavy ones are reserved for the groom.
7. Nehru Jacket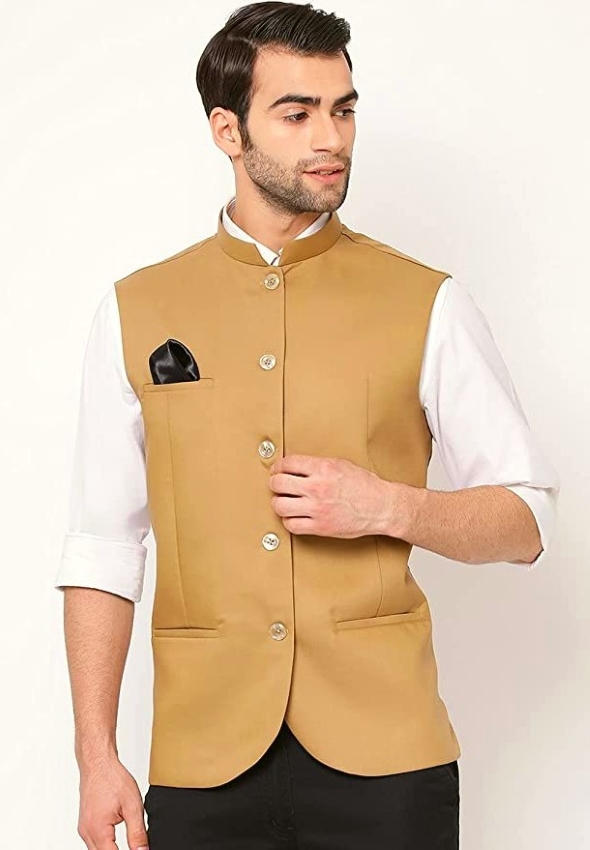 A Nehru jacket is a sleeveless jacket with a band collar.
It looks best when paired with formal pants and a shirt.
But you could also wear a kurta – pajama set under it.
8. Colorful Tuxedos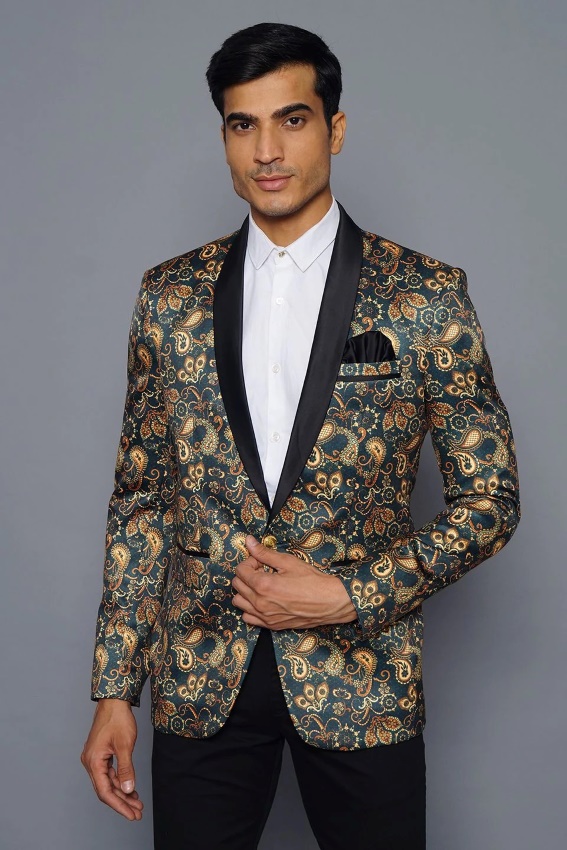 Image source – Wintage
Remember the motto – anything but plain ol' boring!
When dressing for an Indian wedding, don't reach for the black tuxedo.
Reach for a patterned, colorful or embellished one instead.
You'll blend right in with the festivities.
9. Patterned Trousers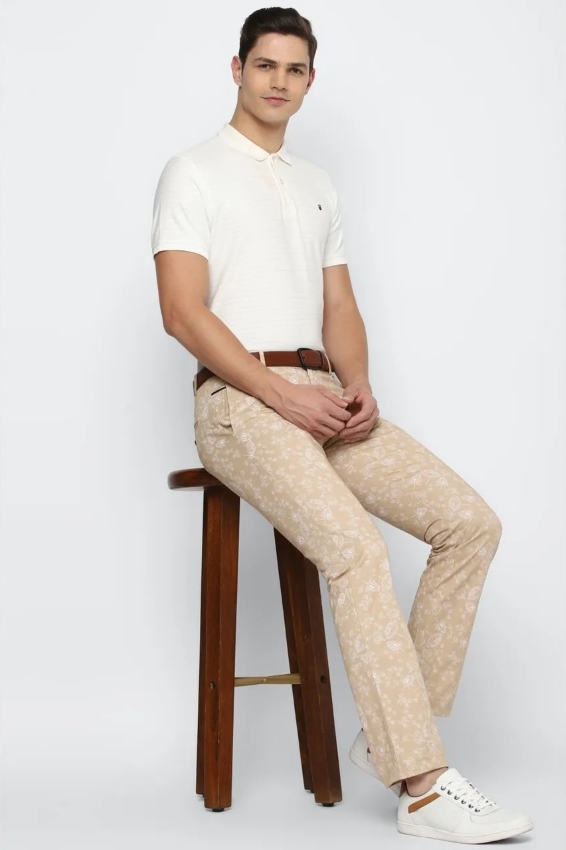 Image source – Allen Solly
Business on the top, party on the bottom!
This unique combo is slowly catching up, so only wear it if you want to be a trendsetter!
10. Open Jacket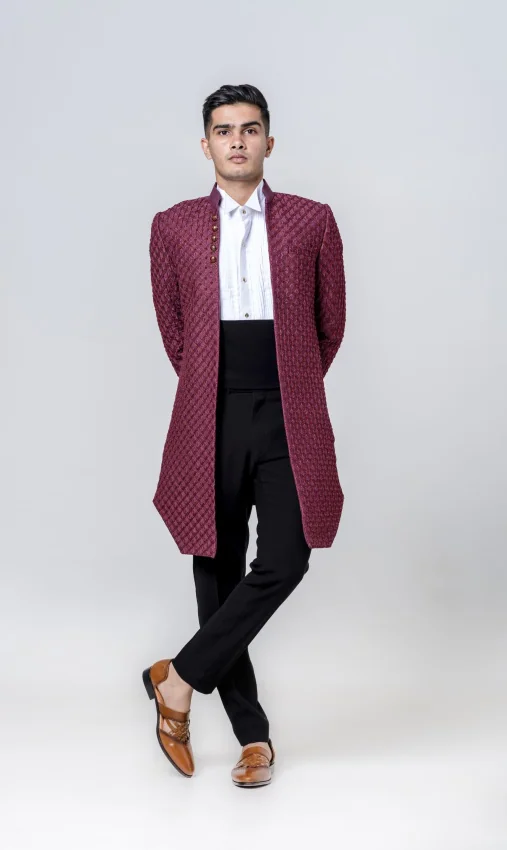 Image source – Amrit Dawani
A delightful piece of clothing that can be mixed-and-matched as per your liking.
Wear it over formal trousers and a shirt.
Or jeans and a t-shirt.
Or even a short kurta.
The possibilities are endless!
Don't go empty handed! Here are 50 wedding gift ideas for every budget.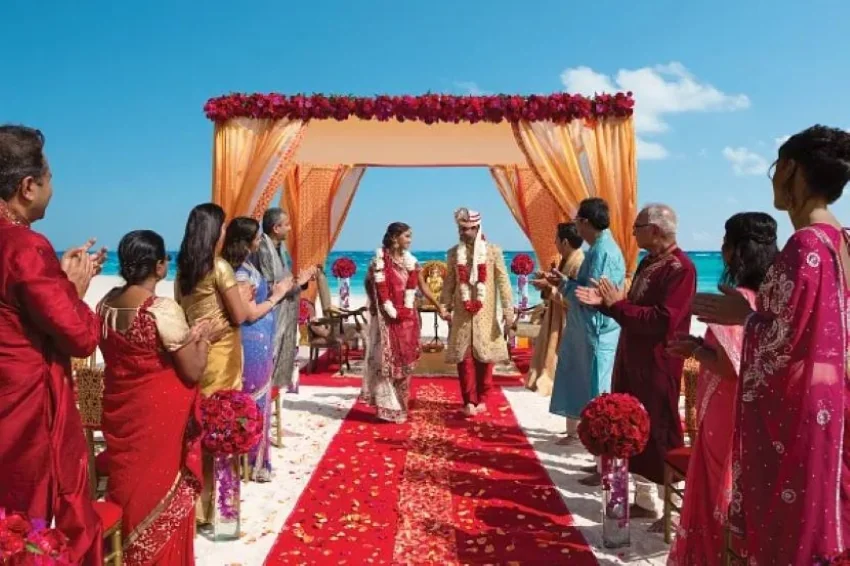 1. Indian weddings are a multi-day affair – you should pack several outfits from the above list!
2. Traditionally, it's expected that everyone dresses in conservative outfits that cover the shoulders and knees. However, that's not the norm anymore, especially if you are super close to the couple and their families. 
3. Ladies! Your lace bustier can serve a dual purpose as a blouse for a sari!
4. Remember to bring along some kaftans, kurtas, and kurtis to wear during miscellaneous celebrations.
5. Ensure that your clothing is comfortable as you may end up dancing more than you anticipate!
6. Accentuate! Beautiful handbags, earrings, rings, bangles, and necklaces will help you out here.