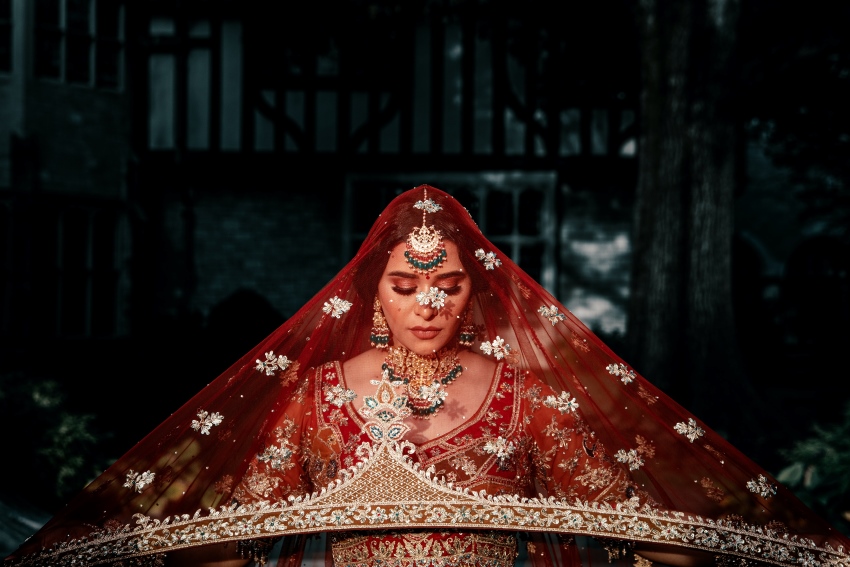 You're having a destination wedding! YAY!
But what will you wear?!?
I opted for a wispy pre-stitched nine-yard saree that could be zipped up like a pant!
Why? Our traditional fabrics and heavy zari work didn't translate well on beaches or gardens.
So, here's all my research…
Your very own list of trendy Indian wedding outfits for destination weddings.
And damn! These are sexy enough for you, and sanskari enough for your parents! 😉
Grab that adrak waali chai and dig in!
1. Anything But Red!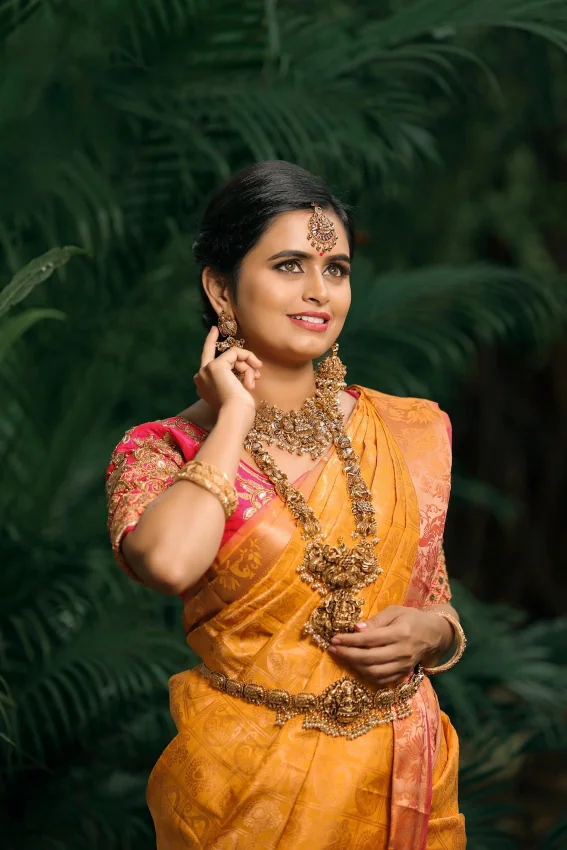 We all know that red is the go-to color for Indian brides.
It's the classic choice for wedding sarees and lehengas, and always looks stunning.
But, why settle for the usual when there are so many other beautiful colors to choose from?
Don't be afraid to mix it up and try something new on your big day!
2. Monochromatic Lehenga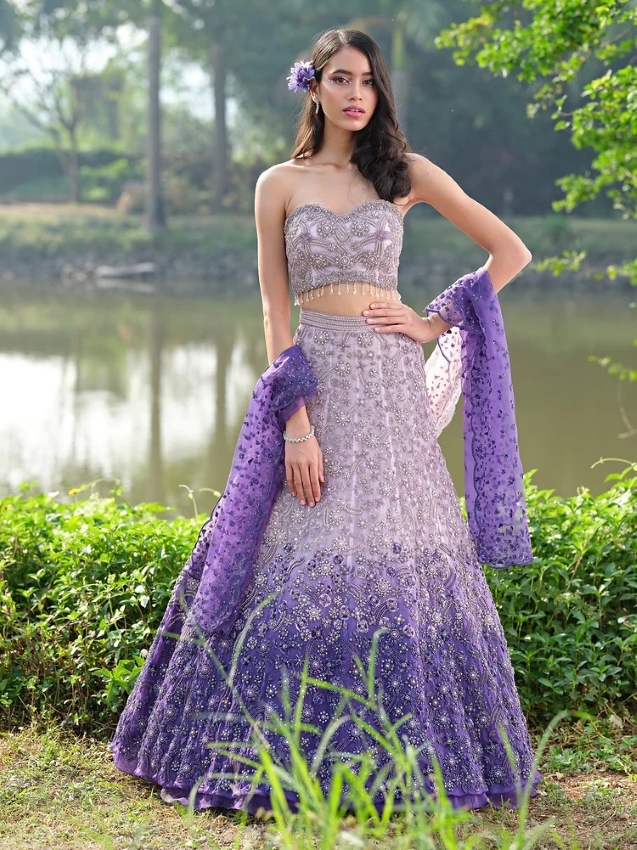 Image source – Natasha Dalal Label 
Sticking to a single solid color is so passé!
Make a statement with a stunning monochromatic lehenga, perfect if you want to go bold with your style.
You'll look absolutely gorgeous!
3. Jumpsuit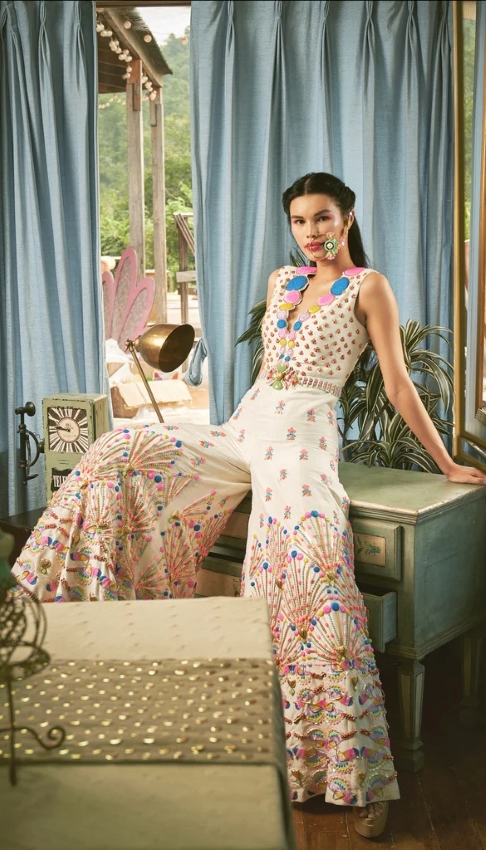 Image source – Papa Don't Preach By Shubhika
You'd think a jumpsuit would not make a good wedding outfit… But look at this!
How gorgeous is this jumpsuit with intricate traditional motifs?
Besides, if you're having a beach wedding, a jumpsuit will be really easy to carry…
Walking in the sand, sitting down for the vidhis, taking the pheras… It'll all be a cakewalk in a jumpsuit!
And think about it, hardly anyone has rocked a bridal jumpsuit before, so you'll be setting a trend and showing the fashion police what's up!
4. Saree Gown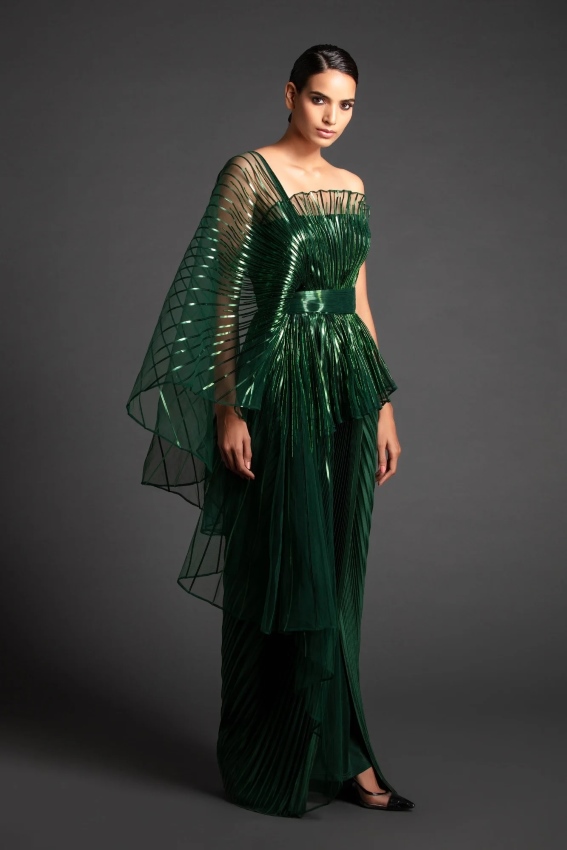 Image source – Amit Aggarwal
Look!
It's a saree!
It's a gown!
It's a saree gown!
A stunning fusion of the Indian saree and a red-carpet gown, this unique look will be perfect for your destination wedding.
5. Jacket Set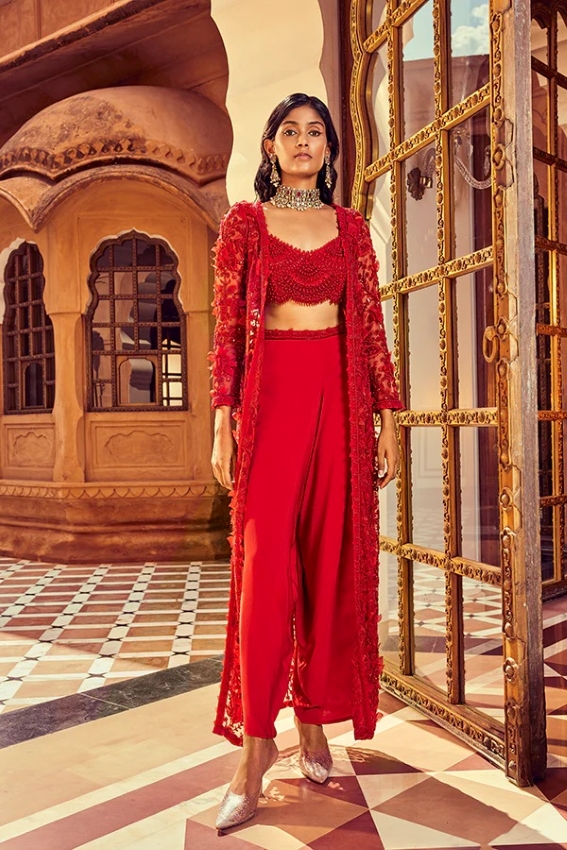 Image source – Ridhima Bhasin
Jacket sets are all the rage right now!
Comfy, convenient and oh so stylish, just wear your gorgeous smile with a jacket set and you're good to go!
Searching for destinations? How about Cancun? Here are top resorts in Cancun for Indian weddings. 
6. Metallic Lehengas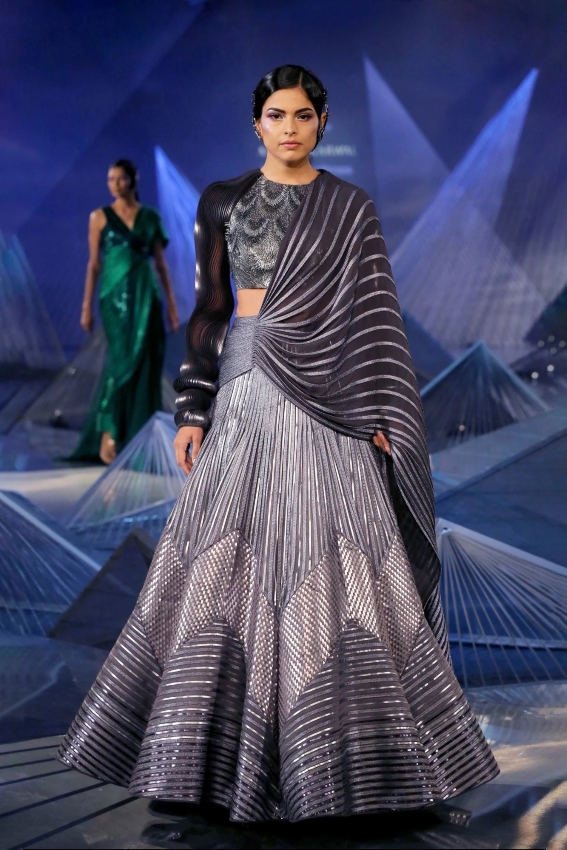 Image source – Amit Aggarwal
We're totally crushing on the vibrant and energetic metallic lehengas!
Pastel shades have been ruling bridal couture the last few years… So, it's about time for a fresh and unconventional trend!
Don't get us wrong, we still adore pastels, but a little experimentation never hurt anyone, right?
7. Dramatic Trails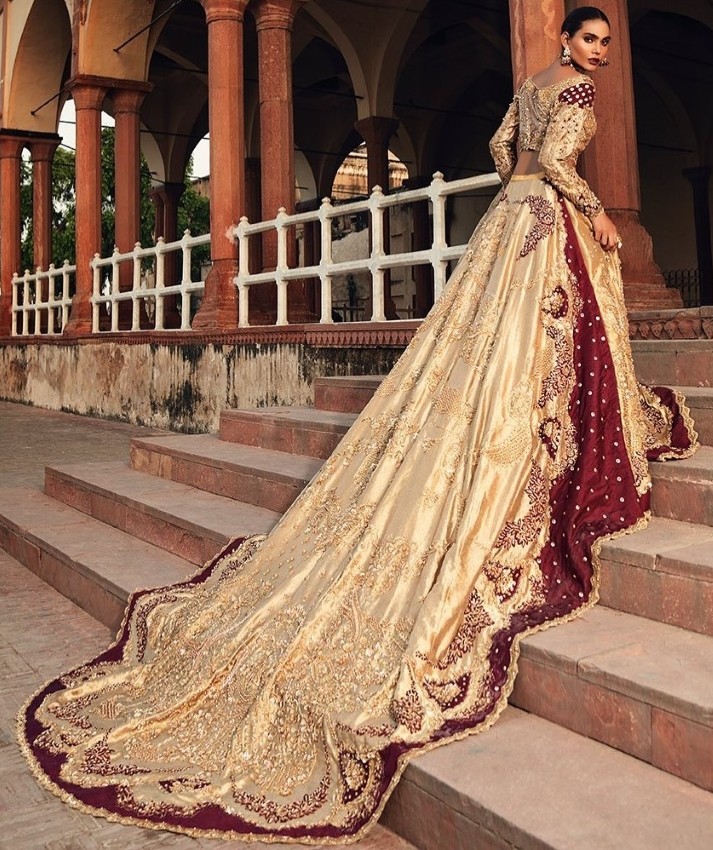 Having a sweeping trail on your bridal outfit can make you feel like royalty…
Nowadays, many fashion houses and couture labels are cleverly incorporating these stunning and elegant trails into their lehenga designs.
And we're absolutely loving the trend!
8. Slay In Sleeves!
Image source – Kalki Fashion
You gotta check out the dramatic sleeve blouses – they're an awesome addition to your wedding wardrobe!
This style statement can be worn for various wedding functions, and can also be paired with a simple saree post-marriage.
You can even wear the blouses as crop tops!
Feeling overwhelmed with all the wedding prep? Here's the ultimate Indian destination wedding checklist just for you!
1. Why Not Wear Red?!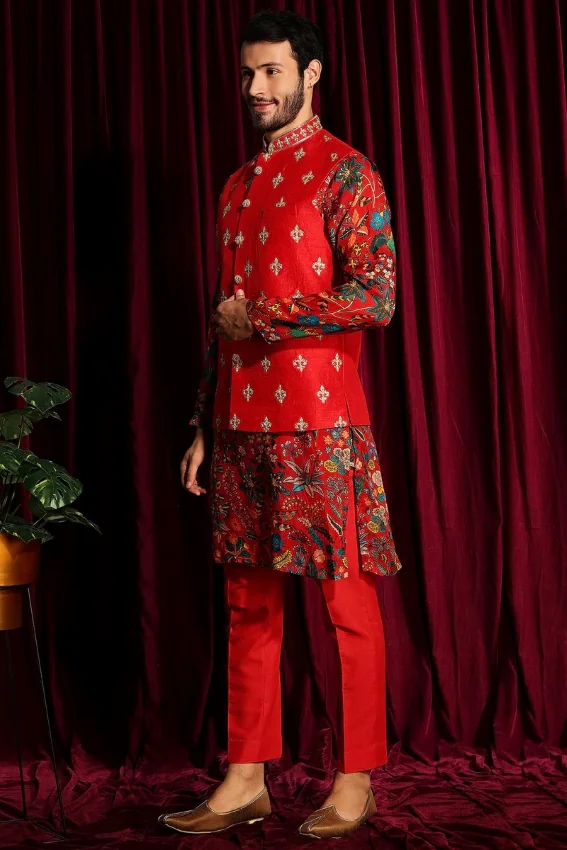 Image source – Aayushi Maniar
Red's a color typically associated with Indian brides.
But why not challenge the gender bias and wear red to your destination wedding?
No matter where you get married – in the woods, on a pristine beach, in a valley, you'll stand out for sure!
2. Patterned Tuxedo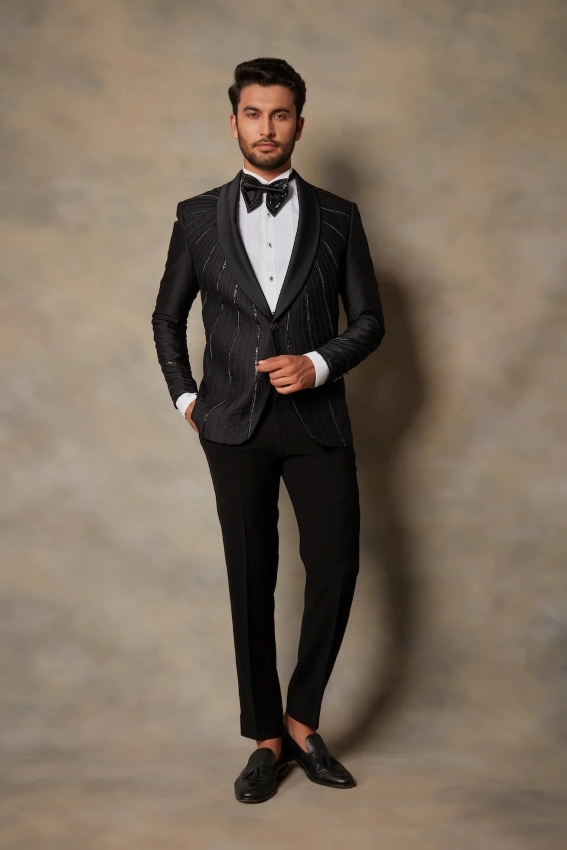 Image source – Gargee Designers
In a world full of solid colors, stand out in a patterned tuxedo!
Be it embroidered or painted, floral or checks, sequined or embellished, a patterned tuxedo beats a plain black or gray one any day!
3. Mirror Work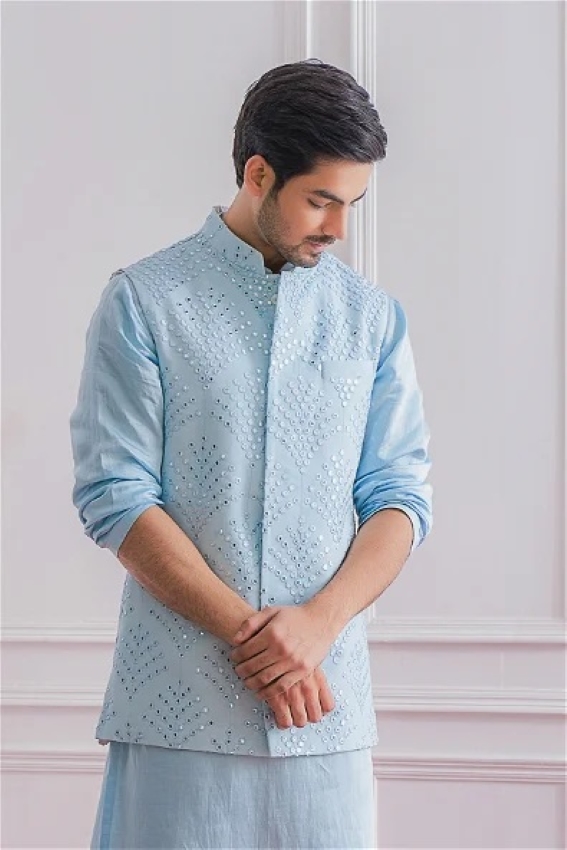 Image source – Ankit V Kapoor
Let your love reflect in your wedding outfit… Literally!
Some believe that the mirrors also keep the bad juju away…
Now what's a better shagun than that?!
4. Indo-Western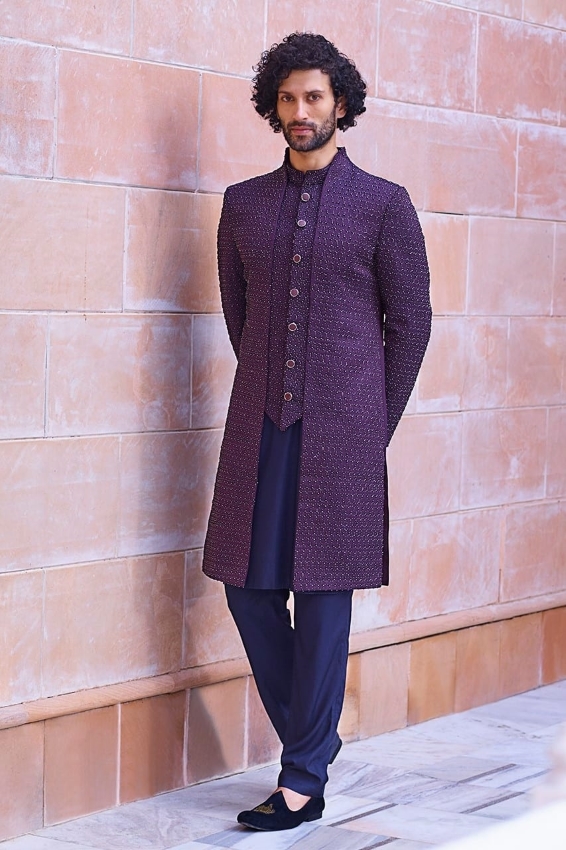 Image source – Manyavar
Indo-Western fashion, or fusion fashion, blends the best of Western and Indian styles to create something unique and beautiful.
It's all about breaking free from geographical boundaries and expressing your creativity.
So, if you're looking to make a statement, fusion wear is definitely the way to go!
5. Patchwork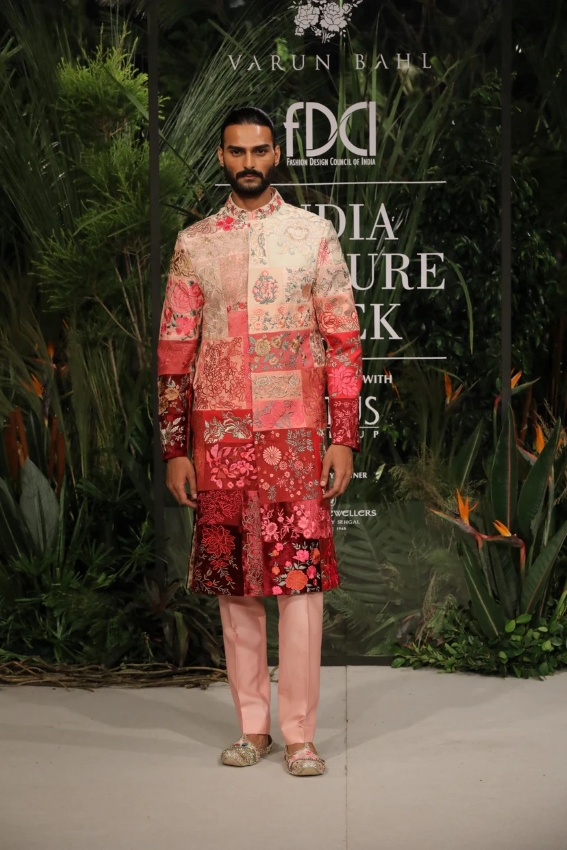 Image source – Varun Bahl
Be a riot of colors, patterns and fun in a patchwork outfit.
Your partner, and everybody else, won't be able to stop looking at you!
Going as a guest? Here's what to expect at Indian weddings.
6. Metallic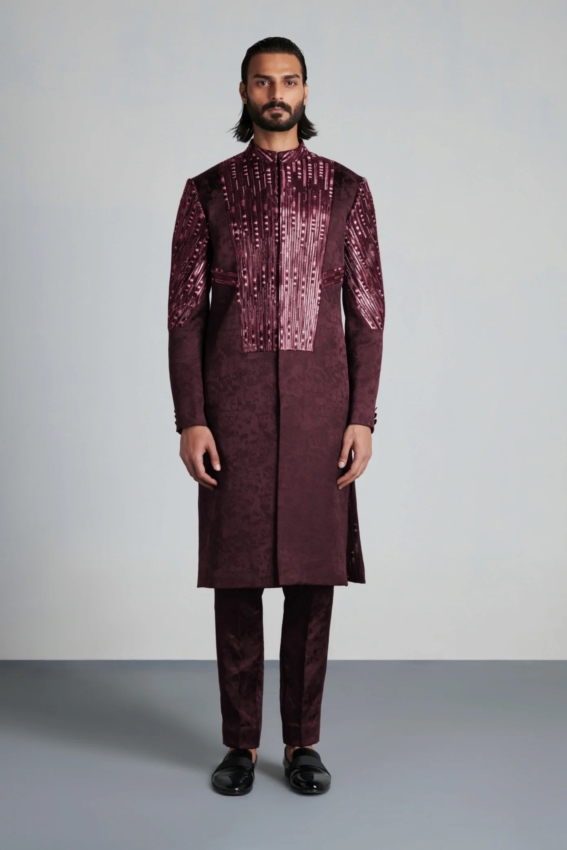 Image source – Amit Aggarwal
Hey soon-to-be grooms, if you're also tired of the usual solid colors and patterns, you should definitely check out the metallic trend!
It's a great option for a destination wedding, especially if your partner's rocking the metallic trend too!
7. Dhoti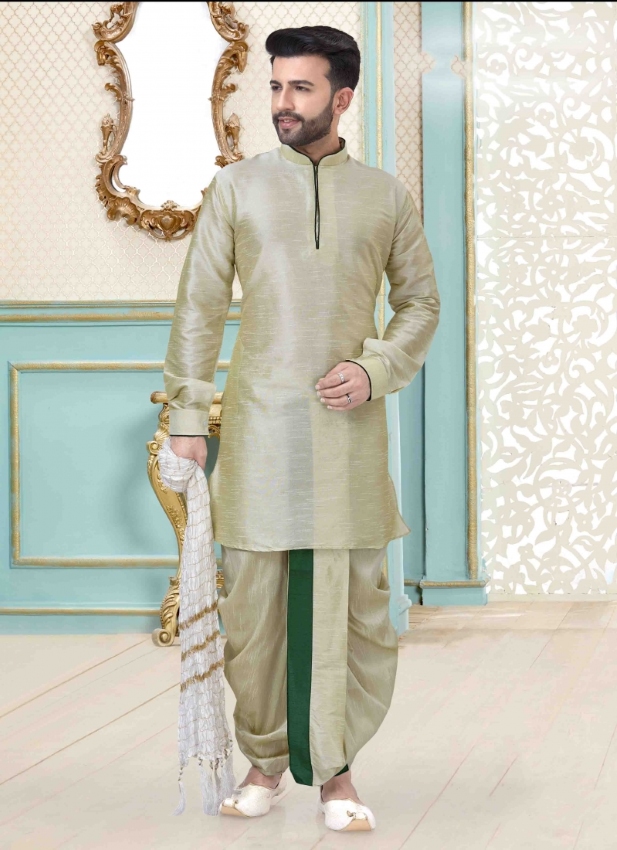 Traditional dhotis got a glam makeover!
Slay at your wedding in a dhoti teamed with a kurta or sherwani.
Comfy, breathable and easy to walk around in, a traditional dhoti will be perfect for your tropical destination wedding.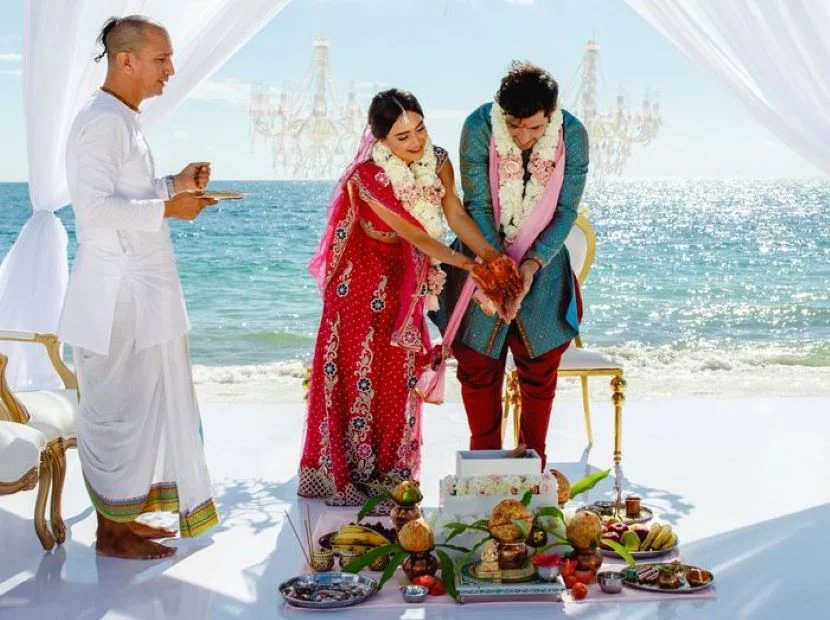 1. It's not a great idea to wear heels to a wedding by the beach or in the forest. It's much better to go for flat shoes like juttis or mojaris instead.
2. Bandhgala suits look sexy on a man. But they might not be practical for a warm climate. Either skip them or opt for a bandhgala jacket which can be removed when you start feeling hot.
3. Make sure you bring a cool statement stole, scarf, or pashmina just in case it gets a bit chilly in the evenings.
4. Don't forget your sunglasses – you might need them!
5. Heading to a tropical destination? Don't forget to pack open kaftans and cute sarongs.
6. Many couples forget to factor in the temperature at their wedding location and end up sweating buckets. Let's face it, bridalwear can be heavy! That's why it's really important to choose the right fabrics. It could make all the difference!
7. To be honest, having your hair blowing in your face, getting stuck to your lipstick, and generally making you look messy is the worst when you're somewhere windy, like the beach maybe. So here are 30 charming beach hairstyles for your destination wedding.