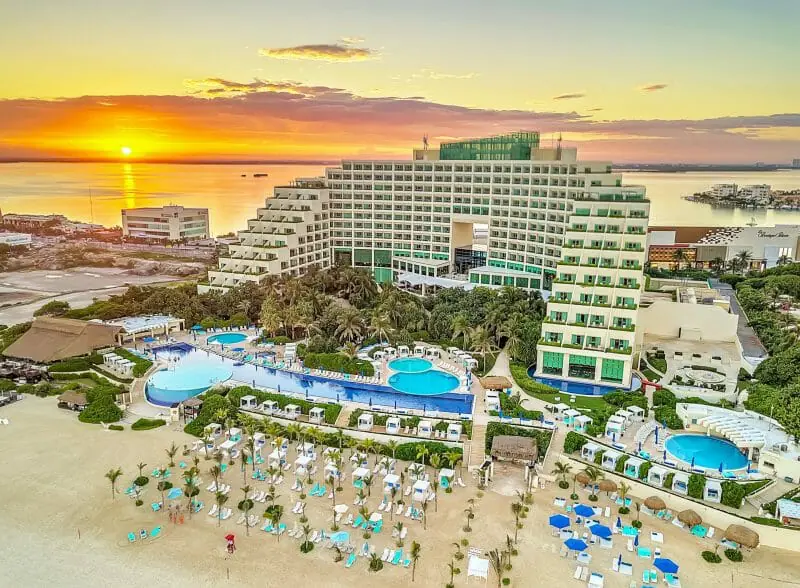 Weddings at Live Aqua Cancun | My Honest Review (2022)
Wondering if Live Aqua Cancun is the right spot for your dream destination wedding?
You've come to the right place. 
Our team here at ParadiseWeddings.com has planned 100s of destination weddings in Mexico.
We know all the ins & outs of local resorts, and I'm here to share the inside scoop…
You'll learn about everything, from wedding packages to beaches, entertainment, and more.
Plus, I've got the low down on how you can get FREE wedding planning help and sweet deals for your big day.
Sound good?
Let's get started…
Your Live Aqua Cancun Wedding
1. Hotel Overview
★★★★★| Adults-Only | All-Inclusive | Cancun
Are you looking for an adults-only getaway in the tropics of Mexico?
Then Live Aqua might be just what you are looking for! 
This resort is all-inclusive & adults-only, surrounded by azure blue waters and white sand beaches.
It's a modern & upscale resort that aims to provide luxury to its guests. 
With 7 restaurants & 3 bars to choose from, it's a place where adults can indulge in a worry-free holiday.
It's also in a prime location only 20 minutes from the Cancun airport.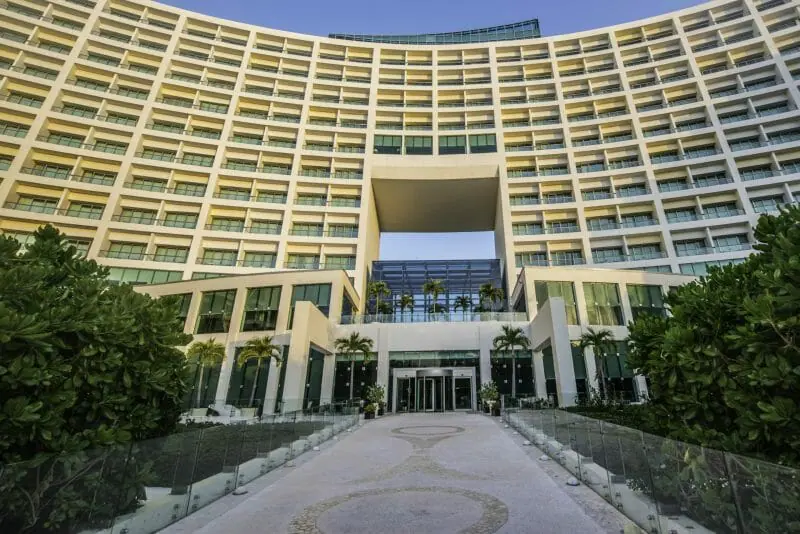 Commonly Asked Questions
What does All-Inclusive include at Live Aqua Cancun?
Your all-inclusive stay gets you buffet and à la carte meals, snacks, and beverages.
You have access to 24-hour room service & an in-room minibar (all beverages included).
If you want to stay active, you also get to use the fitness facilities.
And for those seeking entertainment, on-site entertainment & activities are also included. 
NOT INCLUDED: 
Airport transfers
Laundry/dry cleaning services
Spa/beauty facilities & services
Off-site tours
Which popular attractions are close to Live Aqua Beach Resort Cancun?
If you're looking for things to do outside the resort, there are plenty of options!
The resort is located in the heart of the hotel zone. 
Take an excursion on a yacht, go swimming in a cenote, visit Chichen Itzá, or go on a Tequila tasting tour.
2. Wedding Package Options
Are you looking for different wedding options?
This resort offers symbolic, equality, Mayan & multicultural ceremonies.
So whether you're looking for a symbolic or legal union, Live Aqua has just what you want.
The resort hosts only 1 wedding per day, so you don't need to worry about sharing your day with anyone else. 
This also means you'll get attentive staff and your top pick of venue & ceremony type. 
How Much Do Wedding Packages Cost at Live Aqua Cancun?
Prices range from $1579 – $10,179, depending on the package you pick & the number of guests. 
Wedding Packages:
***PLEASE NOTE PRICES ARE SUBJECT TO CHANGE SLIGHTLY YEARLY***
Serenata
Beso
Abrazo
Corazon
Just the 2 of us 
Up to 20 hotel guests
Up to 30 hotel guests
Up to 50 hotel guests

$1,975 USD 

$146 USD per additional guest 

$163 USD per additional non-registered guest

$2,440 USD 

$26 USD per additional guest

 $163 USD per additional non-registered guest

$6,085 USD


$90 USD per additional guest 


$163 USD per additional non-registered guest

$8,032 USD 


$12,724 USD – up to 100 guests
 

$90 USD per additional guest 
$163 USD per additional non-registered guest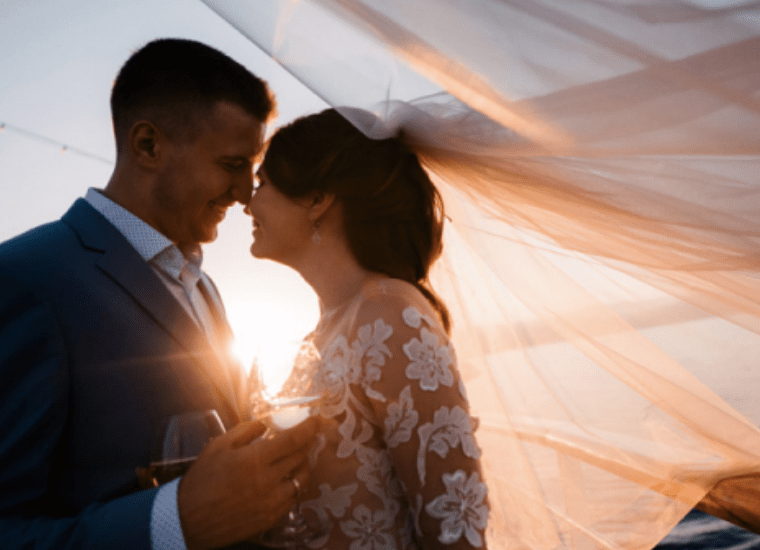 Optional Add-Ons
Personalized set-up
Fireworks
Tours & Activities
Entertainment
Flower Arrangements
Spa & Beauty Services
Dance Floor
Ground transportation services
In-room amenities
Wedding favours
Live music & DJ
Lighting
Car rental 
Wedding coordination
Photo, video & audio services 

Commonly Asked Questions
What services does Live Aqua Beach Resort offer for wedding events?
All wedding events include:
Symbolic ceremony
Decorated wedding altar or gazebo
Aisle runner, garden chairs, and ceremonial table
Bouquet(s) and/or boutonnière(s) for the wedding couple
Wedding cake
Sparkling wine for the toast
Breakfast in bed for the wedding couple the morning after the ceremony
15% discount on spa treatments
Dedicated celebration expert at the resort
What furniture & decorations does Live Aqua Beach Resort have available for weddings?
The resort can take care of basic set decorations (location, tables, centrepieces), wedding altar, and more.
They also offer bouquets and/or boutonnieres for the bride & groom.
Extra decor like tents, stages, and lights are always available for an additional fee.
What are the "extras" that the bride & groom get for the wedding? 
Couples have the option of visiting the resort before making the decision to host their wedding.
You'll get a special rate which would be credited to the wedding stay (max. 2 nights).
During your stay, you'll get the opportunity to tour the venues, meet with vendors, have a hair & makeup consultation, and even a menu tasting for your big day. 
After the wedding, you'll get: 
Romantic turn down service 
Breakfast in bed
Pool or beach cabana
Anniversary or honeymoon certificate to be redeemed at any La Coleccion Resorts. 
2 nights complimentary after a 3 night stay or 3 nights complimentary after a 5 night stay
3. Ceremony & Reception Venues
There are 6 ceremony & reception venues with different capacities and styles to choose from… 
1. Beach
Say "I do" in a space of 10,000 sqft surrounded by turquoise water, white sand and a warm sea breeze. 
Capacity:
Ceremony: 800 people

Cocktail: 800 people

Banquet: 500 people

Venue Fee: $25 USD per person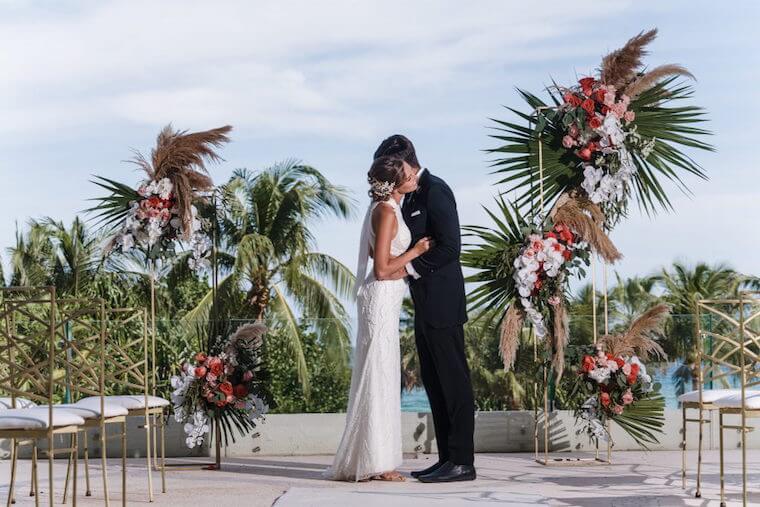 2. Presidential Suite Terrace
This suite offers an intimate celebration on a terrace overlooking the Caribbean and the Nichupté lagoon.
Say "I do" here as the sun sets over the ocean. 
Capacity:
Ceremony: 30 people
Cocktail: 30 people
Banquet: N/A
Venue Fee: $2,000 USD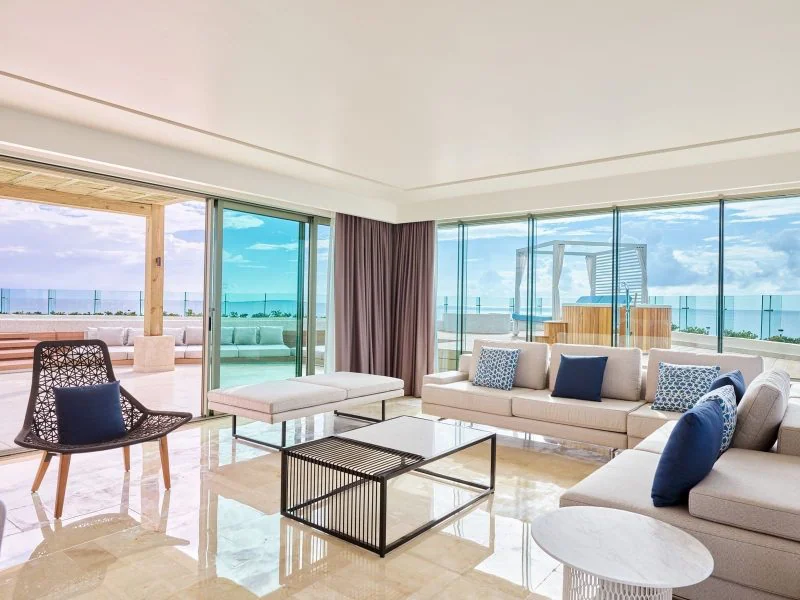 3. Pool Club
Share the best moments and surprise the senses of your guests with this unique space facing the sea.
This area has a pool bar open during the day and a private area at night. 
Capacity:
Ceremony: N/A
Cocktail: 70 people
Banquet: 70 people
Venue Fee: $1,500 USD
4. Azur Pool
This area can be private to give you a special atmosphere.
It's located around a small pool, which can be covered with a plexiglass structure to give a special touch to the dance floor or expand the space for the event.
Capacity:
Ceremony: N/A
Cocktail: 200 people
Banquet: 250 people
Venue Fee: prices vary 
5. Egos Terrace
Dreaming a modern & stylish destination wedding?
Leave your guests amazed with the contemporary interiors here. 
Capacity:
Ceremony: 70 people
Cocktail: 70 people
Banquet: N/A
Venue Fee: $1,500 USD
6. Grand Aqua Ballroom
An avant-garde space where every detail has been created to inspire. 
The Grand Aqua adapts to your needs and can be divided into 9 independent rooms. 
Capacity:
Ceremony: 800 people
Cocktail: 800 people
Banquet: 500 people
Venue Fee: prices vary
There are also beautiful garden venues that are great for cocktail hours. 
4. Gay Weddings at Live Aqua Cancun
Live Aqua Cancún boasts certification by the equality institute. 
They offer a specific package for LGBT+ weddings which includes a civil ceremony that will be recognized in any country where same-sex weddings are legal.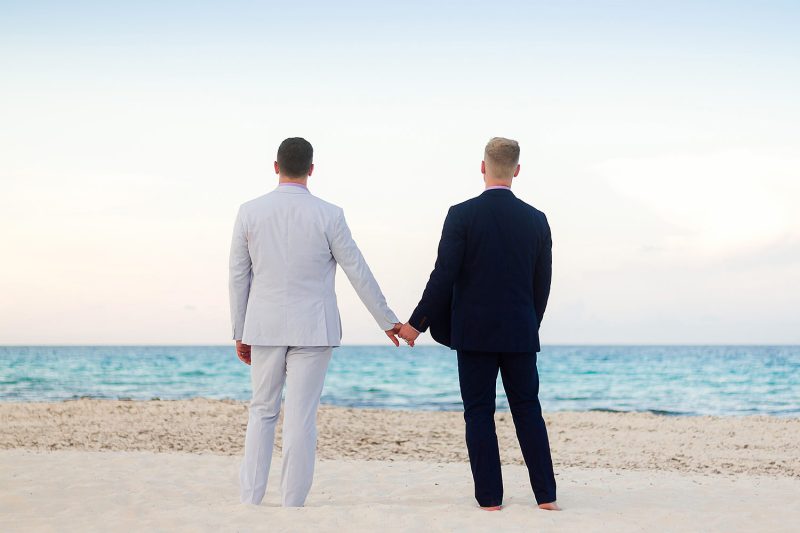 Photo by Dean Sanderson Weddings
If you need any help with the paperwork, our wedding planners can take it off your hands.
Just give us a call at 877-737-0177 
The rooms at this resort are one-of-a-kind.
There's something to entice all your senses, including:
An aromatherapy menu,
Adjustable lighting system to set the mood you want,
And automated curtains to enjoy the view with the touch of a button. 
Each of the 371 rooms has unbeatable amenities with a capacity of up to 3 adults. 
Rooms include:
In-room Wi-Fi
24 hour room service
Coffee makers
Smart TV HD
Iron board
Robes & slippers
Luxury bathroom setup 
You can choose from a garden view, ocean view, ocean front, or ocean front with terrace.
Prices start at $357 for the Premium Garden View and increase to $561 for the Premium Ocean Front + Terrace.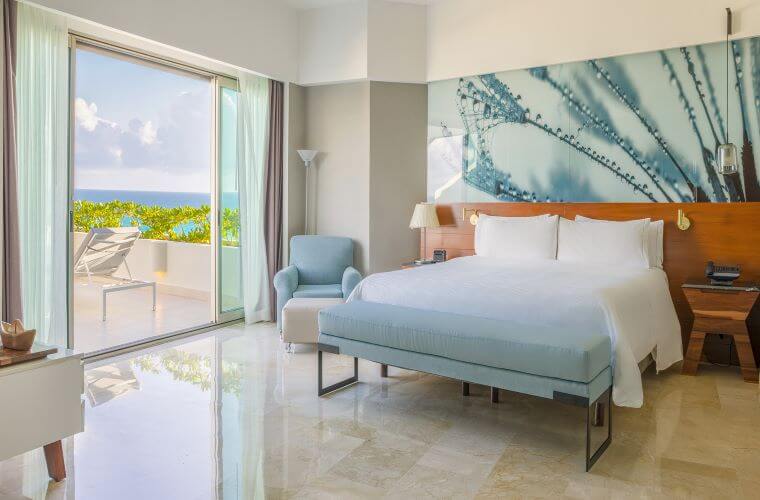 Live Aqua also offers high-end suites that are modernly decorated and provide all the amenities you need.
These include:
Living room
Jacuzzi
Balcony or terrace
Breakfast, cocktails & appetizers (depending on the suite)
Princes for suites start at $829 for the Viento Suite and increase to $2996 for the Suite Presidencial.
Get away and experience luxury in paradise. 
This resort has a breathtaking beach where you can get lost gazing at the deep blue waters.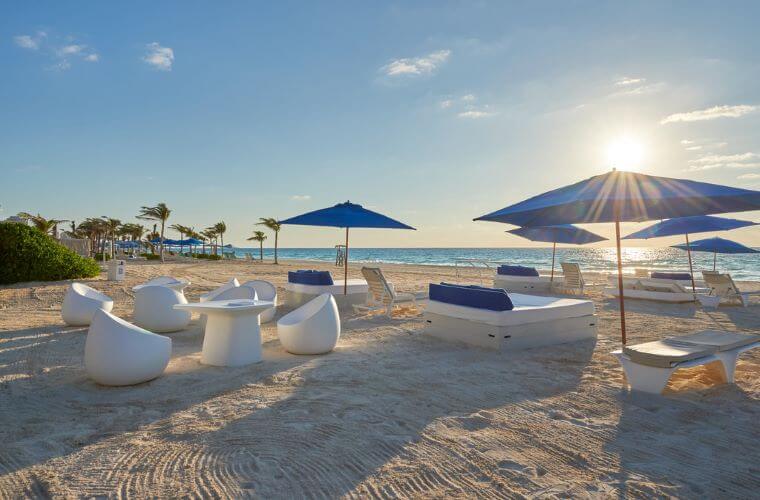 How magical does that beach look?
It's the perfect place to lay out and catch some sun, read a book or enjoy a cocktail or 2. 
With 7 restaurants and 3 bars, this resort has national & international cuisine to indulge in. 
Chef César Germain supervises and makes sure that all the food is authentic and delights your taste buds. 
The meals & drinks are included in your all-inclusive package.
But you should keep in mind that some places might have a stricter dress code than others.
Restaurants include:
Varenna (Italian)
MB (Mexican)
Sea Corner (Seafood)
Siete (Mexican)
Azur Mexican (International)
InLaack'ech (International)
Sushi Station (Sushi)
Hidden Garden (Asian)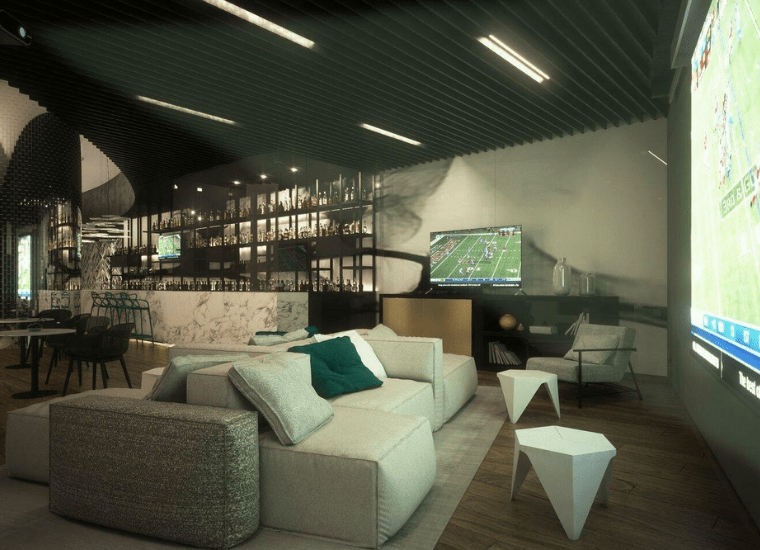 For drinks, head over to Egos Bar or Aka Bar for a range of national & international options. 
And if you're looking for a midday pick-me-up, Cafe Deli Boutique services coffee, tea, and delicious desserts.  
8. Activities & Entertainment
There's something for everyone at this resort, from the adventurer to the lounger. 
Stretch away the stress with morning yoga at the Hidden Garden restaurant. 
Or, spend a romantic couple's day at the spa with massages and other world class treatments.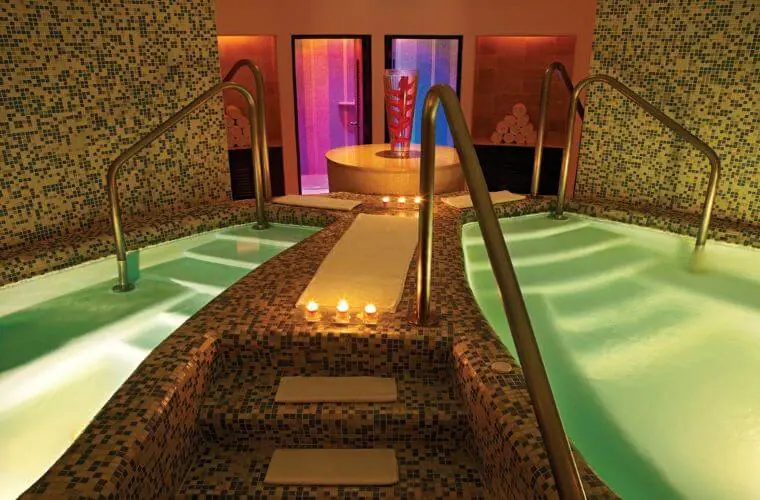 The resort also has pool aerobics classes, golf, daytime sports activities, dance and culinary classes.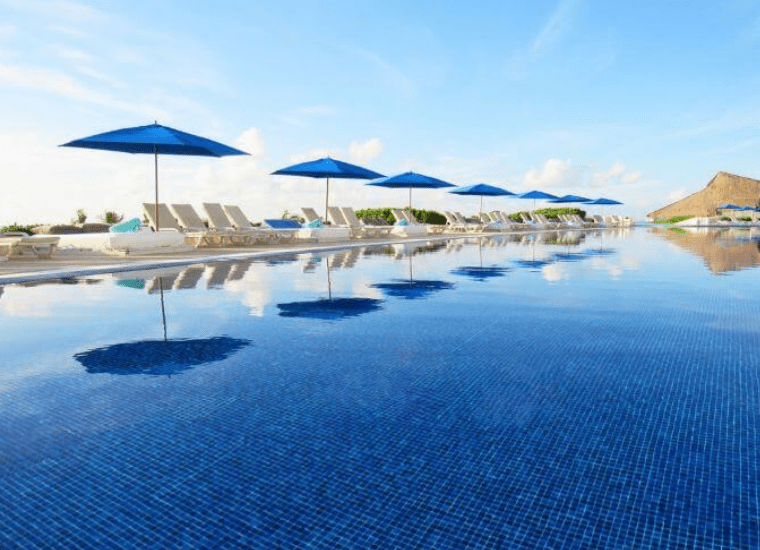 They keep you entertained day & night with nightly entertainment such as:
Live music
Casino
Silent party
Traditional vintage band with theme nights
"I cannot say enough good things about Live Aqua. My husband and I celebrated our 3rd wedding anniversary there, and we had a wonderful time. We loved the activities available—the activities team was terrific! Thank you to Andy for working so hard. She was a true gem—from volleyball to water aerobics, she made our experience wonderful!" ~ Mckensie V
"My family and I have made 4 visits to live aqua and it has yet to disappoint us! My daughter got married here last October during the pandemic and the week before the wedding 2 hurricanes hit and still this resort managed to accommodate all our needs! With that said, the food, the cleanliness and the staff are incredible! Pedro Álvarez has been our favorite one of all! Everyone is amazing but Pedro has gone above and beyond to make our stay incredible!! Would recommend this resort 100% to anyone!" ~ Delma C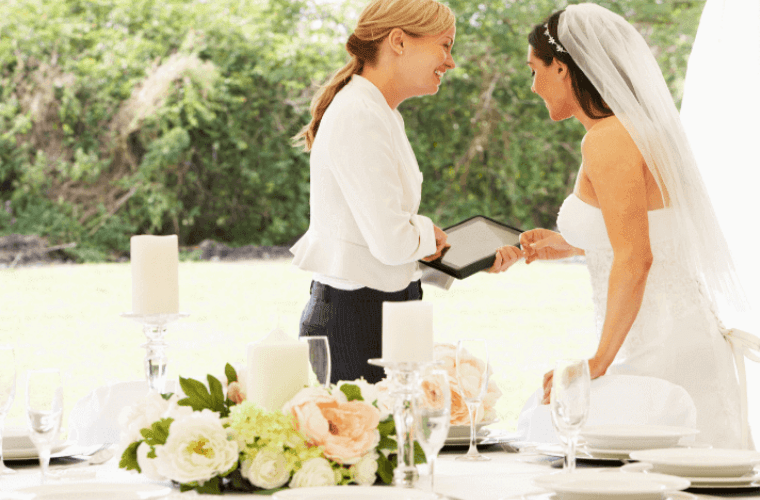 "During my week at Live Aqua, I was impressed by everything that is offered here. There is something wonderful around every corner. The resort is very clean and organized. The staff are so friendly & helpful. I felt right at home. I especially enjoyed the friendliness and amazing service of Amin and Daniel who worked poolside. Also Paula was a great pleasure to speak with. Live Aqua has a half-dozen restaurants to choose from with GF and vegetarian options. So wonderful! One special delight is the fresh juice & smoothie station operated by Marco at Breakfast. I only wish these healthy smoothies were offered all day. I will definitely return here!" ~Kimberly M
I've said it before and I'll say it again! 
I don't share anything I don't love myself and I never will, so this resort is no different. 
We love what we do and only work with businesses that are as passionate about destination weddings as we are at ParadiseWeddings.com
There are many things to love at Live Aqua Cancun. 
Some of my favourites are:
Their commitment to a world class top rated service
The modern yet relaxing atmosphere
International menu options
The numerous wedding options and their commitment to love & equality
Live Aqua gives you a truly unique well-rounded experience.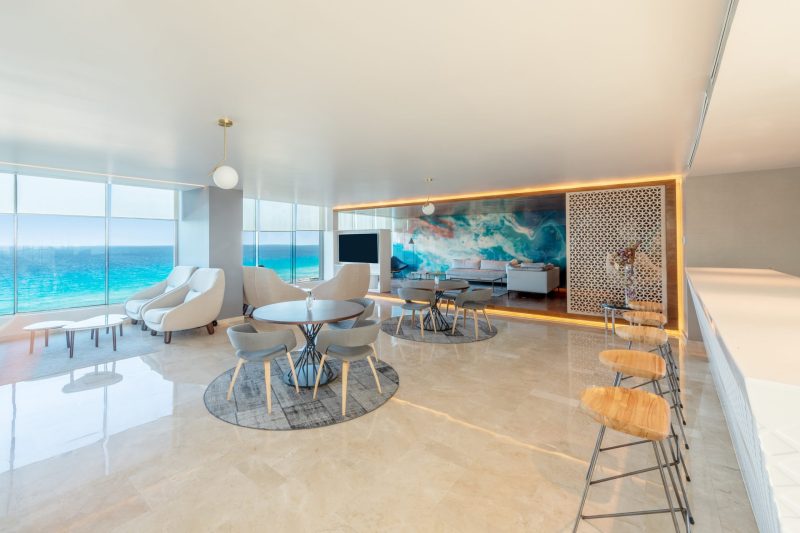 You'll feel like you are in your own world of tranquility at this resort.
That's not to say you can't experience a fun party here…
The amazing location in the middle of the hotel zone gives you the best of both worlds.
You can take advantage of being here by joining local excursions and experiencing Mexican hospitality in the community.
Don't let the burdens of wedding planning stress you out.  
We can help!
We're local to the resort and have planned 100s of events at ParadiseWeddings.com.
Our wedding planners love what they do (and they do it well). 
Their goal is to make sure you have the wedding of your dreams.
We can help you with everything from planning, excursions, and reservations to the very last detail. 
I can't forget to mention that it's 100% FREE to work with us. 
Call us toll-free at 877-737-0177 to speak with one of our wedding planners.
Or contact us via email at [email protected]
Best wishes on your planning journey!