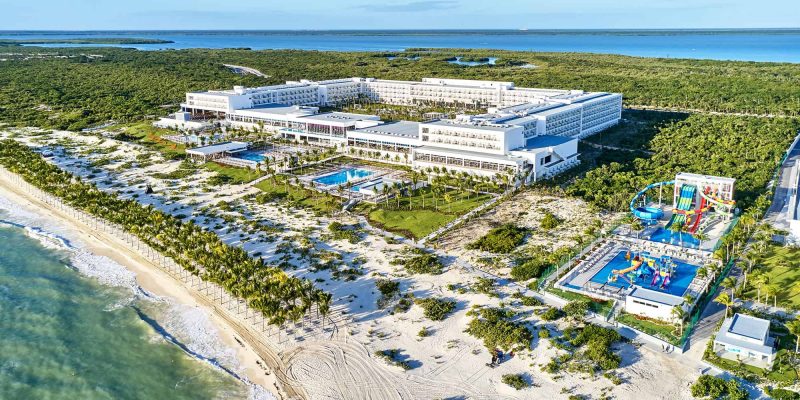 Weddings at Riu Palace Costa Mujeres | My Honest Review (2023)
Thinking about having your destination wedding at Riu Palace Costa Mujeres?
Choosing the right spot can be overwhelming, especially when you're not  from the area. 
Lucky for you, our team here at ParadiseWeddings.com is local to the resort.
We've helped 100s of couples and know all the ins & outs of wedding planning…
And I'm here to share them with you.
I'll cover everything you need to know, from room details, wedding packages, to deals, discounts, and more!
Sound good?
Let's dive in…
Your Riu Palace Costa Mujeres Wedding
1. Hotel Overview
★★★★★ | All-inclusive | Family-FRIENDLY | CANCUN
Nestled in the middle of paradise is the 4-storey Riu Palace Costa Mujeres Resort. 
Grab a bite to eat in 1 of the 11 restaurants, or go shopping at the nearby shopping centre. 
This resort offers 24hr all-inclusive service, which means there is food, entertainment, and room service all day, every day. 
Head to the spa to unwind, or chill out with drinks at the swim-up bar with your bridal party…
You'll never get bored here!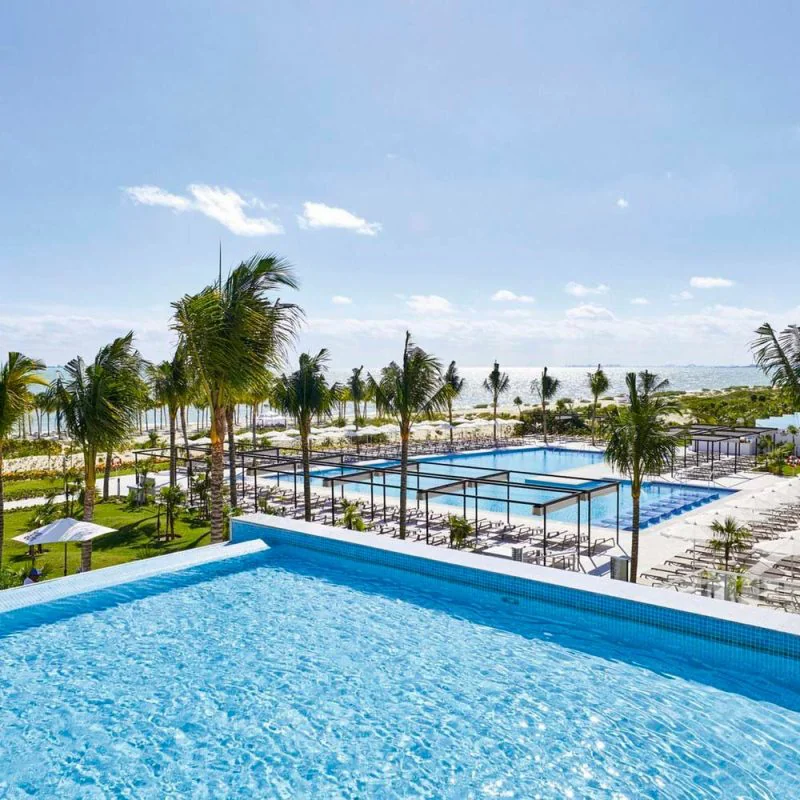 Commonly Asked Questions
How far is Riu Costa Mujeres from Cancún Airport?
The resort is about 35.7 km or a 40-minute drive from the Cancún Airport. 
Take advantage of the airport transport services, or let us take care of your transportation arrangements. 
Then just kick back and enjoy the ride to your resort while the excitement of the days ahead builds up! 
Average Price Per Person, Per Night
The room prices range from $130 – $270 per person, per night.
Kids can splash around in the Splash Water World while the adults can swim in 1 of the 5 swimming pools.
Or, get a tan on the sun terrace.
This resort is perfect for special events and holidays without the rowdiness of spring break type crowds.
With the no spring breaker policy, you can be sure of a tranquil getaway at Riu.
2. Wedding Package Options
Every wedding package at Riu comes with the following: 
A wedding planner 
Decoration for the ceremony
Bouquet and matching boutonnière
Music 
Semi-private dinner at one of the restaurants
Wedding cake 
Wine
Not only that, but the wedding couple gets a romantic decoration for their room and surprise wedding gift. 
Who doesn't love surprises?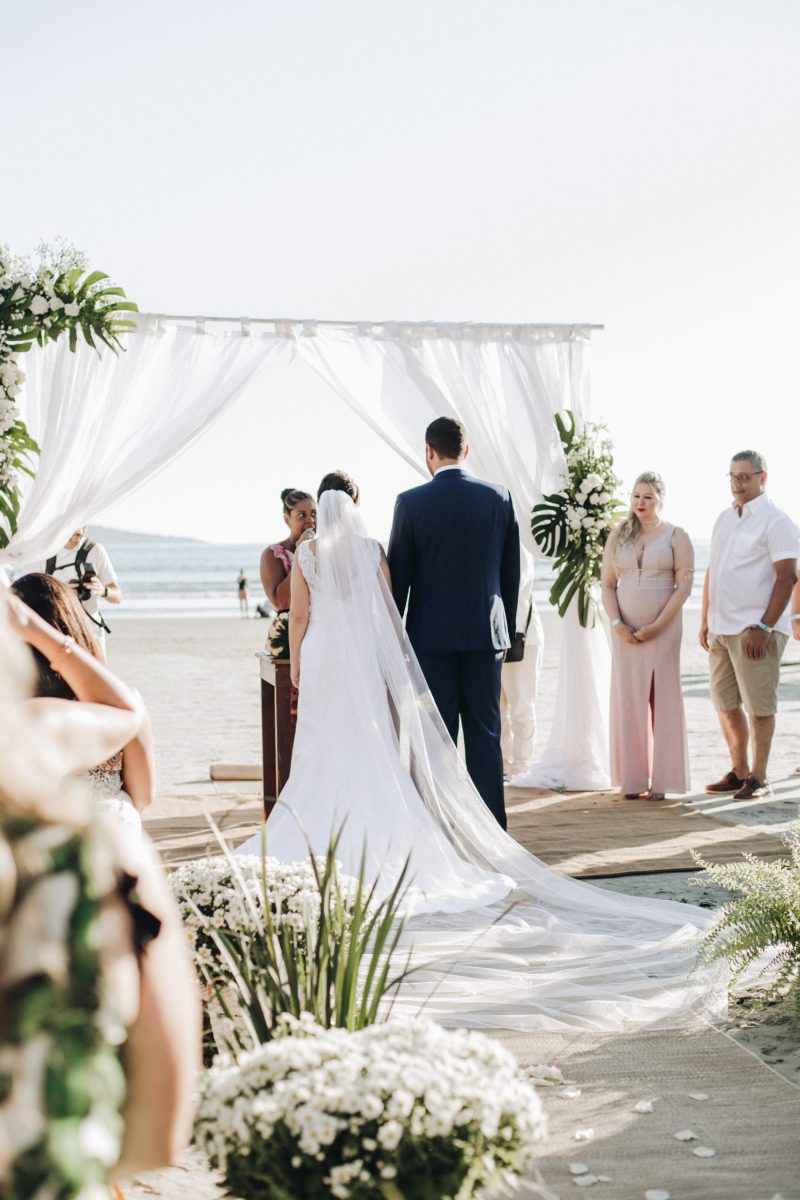 The packages accommodate at least 20 guests and require that the couple & 80% of your guests stay at the hotel. 
Any extra guests not included in the package have an extra fee. 
How Much Do Wedding Packages Cost at Riu Palace Costa Mujeres?
***PLEASE NOTE, PRICES ARE SUBJECT TO CHANGE***
Package prices for 2022 range from free to $4699.
Free Package
Standard setup
Recorded music
Bridal bouquet & matching boutonniere
Semi-private dinner at one of the restaurants 
Wedding cake & sparkling wine toast
Romantic room decoration on wedding night
Classic (from $899)
Everything in the Base package
Minister/judge services
Royal (from $2499)
Everything in Classic package
Private dinner at select location
Surprise gift for couple
10% discount for the couple & guests in all spa treatments
Caprice (from $3999)
Everything in Royal package
Bouquet & boutonniere for maid of honor and best man
Private cocktail after dinner 
Room updarage and late checkout
Wedding night turndown service with chocolate-covered fruit and sparkling wine
Photo session credit 
Newlyweds breakfast in bed
50 minute massage for the couple
Indulgence (from $7199)
Everything in Caprice
Private cocktail and 45 minutes of live music
4 hour private reception event with special menu, open bar and DJ with lighting set
Complimentary 1-night stay for 1st anniversary
Romantic dinner with special set up and decoration
Please note that prices are subject to change slightly depending on the season in which you book and year on year. 
Optional Add-Ons
There are some extras you can add on to your package to tailor it to your needs. 
Choose from additional floral arrangements, food & beverage, and music services. 
3. Ceremony & Reception Venues
There are 2 gorgeous ceremony & reception venues you can choose from here.
Each location has a maximum capacity of 100 people. 
1. Beach
The beach is 1 of the most sought after destination wedding venues.
I mean, where else would you want to get married in Mexico?
2. Terrace
You can pick from an ocean or garden view for your ceremony on the terrace.
Whichever you choose, you can be sure of a breathtaking backdrop.
The best part is the resort won't host more than 2 weddings a day. 
4. Gay Weddings at This Resort
Riu Palace Costa Mujeres is a great place for LGBTQIA+ weddings.
Same-sex marriage is legal in some Mexican states, which means that you can choose to have a legal ceremony in Mexico. 
You would have to make sure you have all the necessary paperwork to make it legal and transfer the legality to your home state. 
If you're looking for a symbolic ceremony and want to leave the paperwork out of it, then you can do that too. 
Riu Palace gives you either option, so you'll definitely find something that works for your needs. 
Our wedding planners can walk you through each step so you don't lose your head from all the stress in the process! 
Riu Palace has 670 luxury rooms to choose from.
Each room has Wi-Fi, AC, a minibar, liquor dispenser, and an electronic safe.
Maximum capacity:
3 adults
2 adults & 2 children
Or 3 adults & 1 child
Room types include:
Junior Suites 
Junior Suites with an ocean view
Big Junior Suites
Suites oceanfront. 
Swim-out Junior Suites are adults-only. 
You can choose from a terrace or balcony view as well.
This way you'll get a glimpse of paradise, no matter what. 
The resort makes sure its beaches are clean & litter free.
You might see some newly washed up seaweed, but it shouldn't distract you from the gorgeous landscapes. 
Lounge under the sun or take a dip in the clear blue waters of the Caribbean…
It's simply paradise.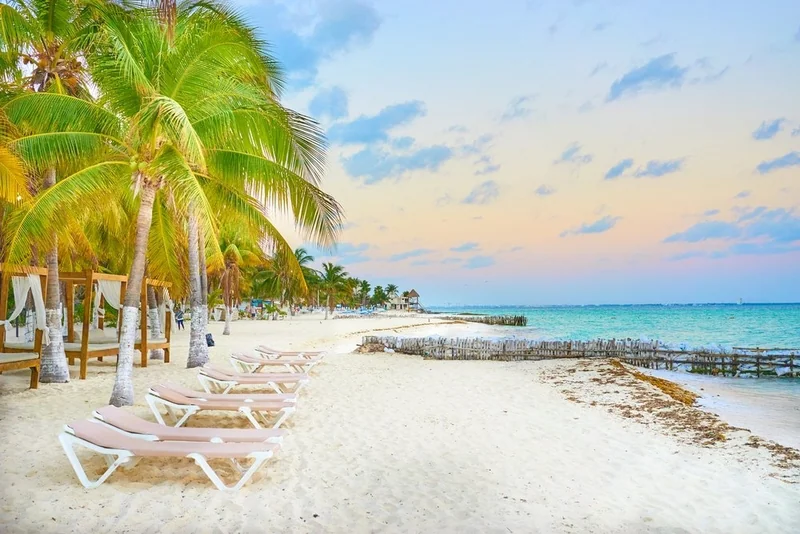 There are unlimited options for the foodie's at Riu Palace.
Snacks & food are available 24 hours a day and it's included in your package.
Choose from 1 of the restaurants & lounges.
They all offer you a taste of a different part of the world!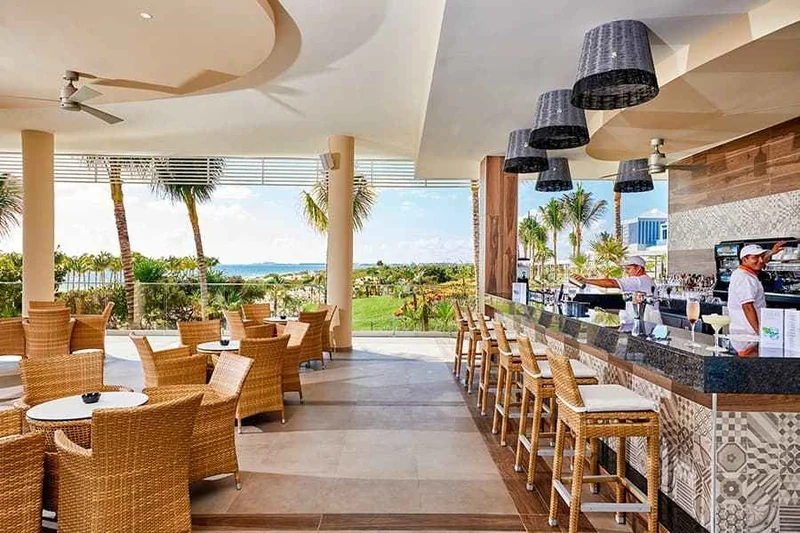 Japanese, Italian, Mexican and even a fusion option are just some of the cuisine options you have. 
You can have a breakfast buffet at Spaces, grab a snack at the ice cream parlour, and finally cool off with a drink at 1 of the swim up bars. 
Restaurants include:
Spaces 
Japan (Japanese)
Roma (Italian)
Zarape (Mexican)
Krystal (Fusion)
Pepe's Food (Grill)
Tastes (Steakhouse)
Capuchino (Ice cream parlor)
Bars include:
Mezcal (Swim-up bar)
Tequila (Poolside & swim-up bar)
Lounge 24
Caribic (Lounge bar)
Square Garden (Lobby Bar)
You have access to Riu Dunamar next door for more food options!
8. Activities & Entertainment
Are you looking to have activities to do after your "I do's"? 
Riu Palace offers you the perfect mix of relaxation and adventure. 
Spend the day at 1 of the 5 pools.
Or have a morning workout at the free gym & sports facilities. 
Follow that with winding down at the gym's steam bath or relaxation pool. 
 Massage the day away or take advantage of the other services at "Renova Spa" Wellness Centre.
Renova also has a hairdresser & beauty salon available to you. 
Get your fill of entertainment with daily day & night live shows, or head next door to the discotheque for some dancing at Riu Dunamar.   
Other options include:
Bodyboarding
Kayaking
Scuba diving
Golf
9. What People Are Saying
"Selected this hotel for wedding and family vacation this past January. We like the way the hotels are set up in playa mujeres (hôtel site, à natural zone and beach section) as this provides a more natural environment
The wedding organizer, ITZEL, did an awesome job. Very proactive prior to our arrival and was always reassuring on the various aspects of our celebration. On the special day, everywhere we went, she made sure everything was ready for us
The ambiance is relax everywhere at the hotel (beach, pool, restaurant, etc) and delays for à la carte restaurants are acceptable and gives you time to enjoy a drink, or two at the garden and getting to know ROGER
you must go to the Krystal and ask for capitan DANIEL. He makes every guest special. As example, he took white rose petals and wrote "love" on our table the day after our wedding
For all those reasons, and many more, including proximity to the Dunamar, we recommend this resort. Enjoy" ~ M&G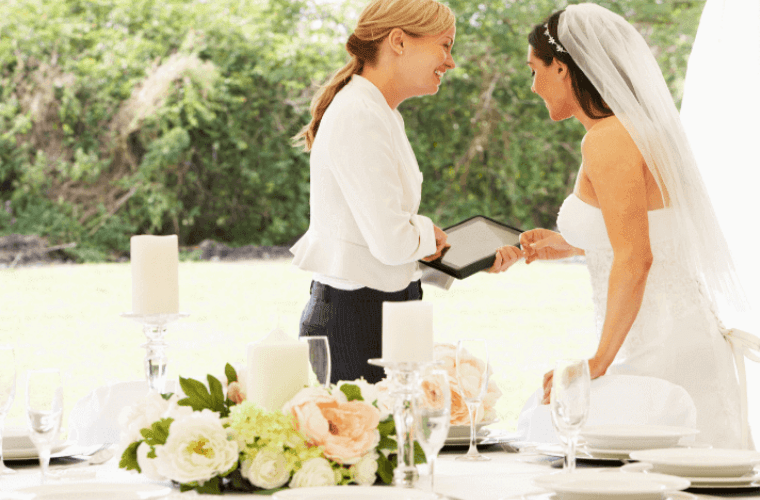 Aside from the raving reviews, there are many reasons we like Riu Palace.
The incredible spa, numerous gastronomy options, pools & drinks to cool off…
And there's even more things to do next door at Riu Dunamar!
What can I say, I like to have options, but I also like the best of the best. 
I wouldn't recommend a place I don't personally like or believe in.
The resort offers romance, fun, and relaxation all in one! 
The staff are even known to throw in a few romantic gestures if they know you just got married.
Attentive staff and outstanding service is what makes an okay place great.
Riu has it all.
Wherever you are in your planning journey, we can help.
Our expert wedding planners live locally and have all the connections you need.
We'll get you the best deals so you can have the wedding of your dreams.
Let's start planning today! 
Call us toll-free 877-737-0177 or contact us here.
We look forward to hearing from you!!