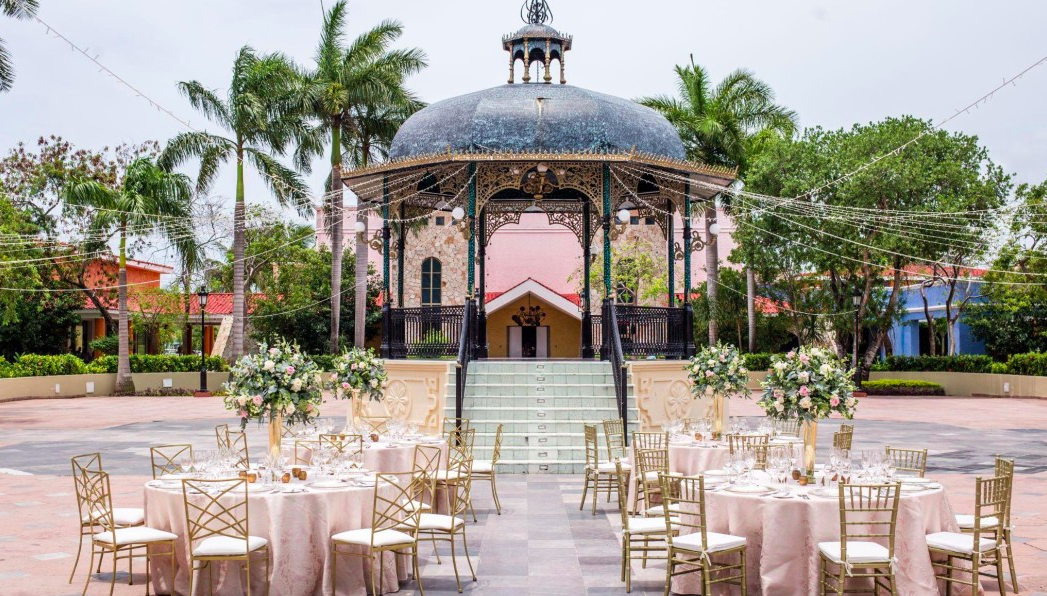 Weddings at Iberostar Selection Paraiso Maya Suites | Our Honest Review
Soooo… how is wedding planning going?
If you're reading this article, we can assume you're either in the early stages or panicking. 
You could probably use some help, right? 
Start off with our review of Iberostar Selection Paraiso Maya Suites and then give us a call! 
Whether you fall in love with the resort or want more options, we're here for you.
Ready? Let's get into it!
Iberostar Selection Paraiso Maya Suites is located in the Riviera Maya and is a dream resort to host your wedding!
This 5-star paradise has so much to offer its guests.
Whether you like to lay by the pool (8 of them here!) or go on adventures, this is the place to be.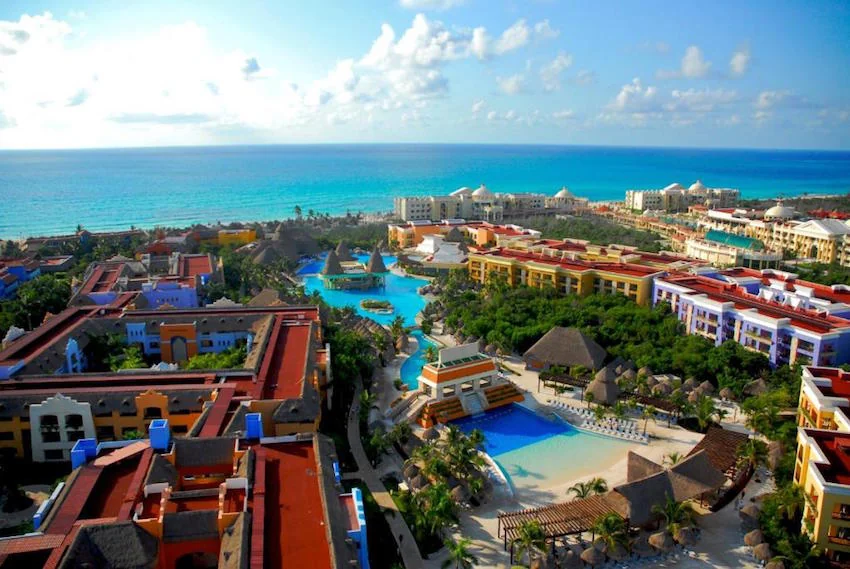 The resort has 6 restaurants and 7 bars, leaving you and your guest's many options. 
Oh, and along with the number of pools available, there's also a lazy river and a waterpark!
Just wait until you see the stunning suites! This all-inclusive resort offers views from every room.
Wedding packages at Iberostar Selection Paraiso Maya Suites are affordable, picturesque, and charming.
There are 3 wedding packages to choose from and you'll be shocked at the deals!
Each package comes with a ceremony and reception dinner, and of course, other amenities. 
Wedding packages include: 
Star Wedding | $999 for 10 guests
Silver Star Wedding | $1,999 for 20 guests
Gold Star Wedding | $2,899 for 20 guests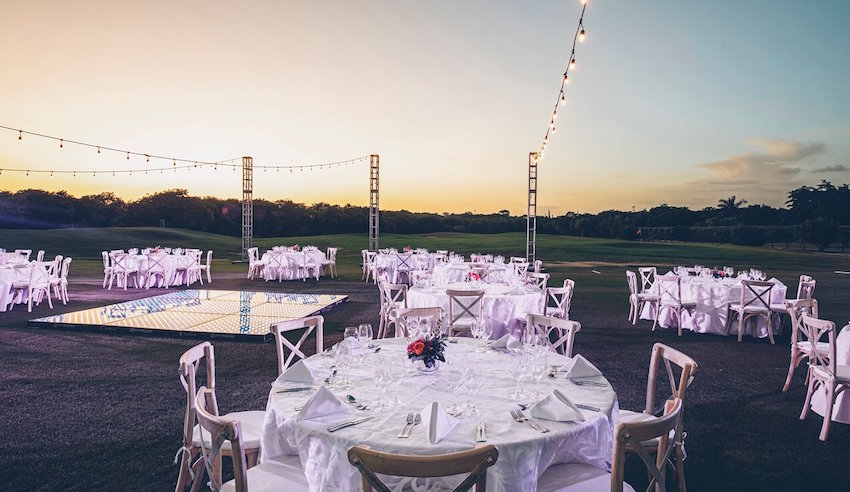 Gold Star Wedding
Gold Star Wedding is the most elaborate package the resort offers and includes beautiful floral arrangements and white linen accents. 
With this package, you can expect amenities for the ceremony, cocktail hour, and reception!
With the Gold Star Wedding package, you get… 
Symbolic ceremony
Witnesses
Bouquet and boutonniere
Wedding venue setup
Sparkling wine
Floral centerpieces
45-minute live music set
Wedding cake with white frosting and flowers
Reception dinner at a specialty restaurant
Room upgrade
Late checkout
Hairstyle for the bride
30-minute massage
Romantic couple's dinner
There are 7 wedding venues at this resort and no matter your style, you'll find the perfect one for your special day.
If you want to feel the sand between your toes or say "I do" in a chapel, it's all available to you!
1. Beach
This beautiful beach can be converted into a venue for your wedding day.
It's available for the ceremony, cocktail hour, and reception and can hold up to 300 guests.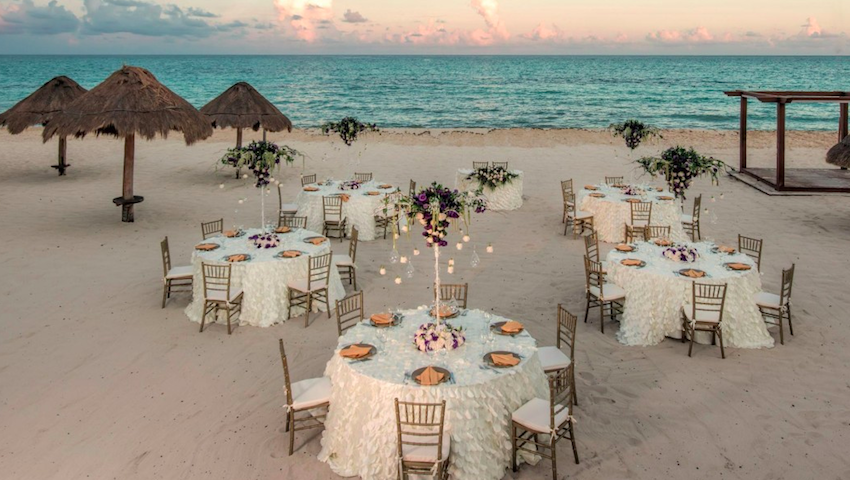 2. Gazebo
This gazebo is colorful and vibrant and is perfect for weddings that are more intimate.
It's available for the ceremony and cocktail hour and can hold up to 30 guests.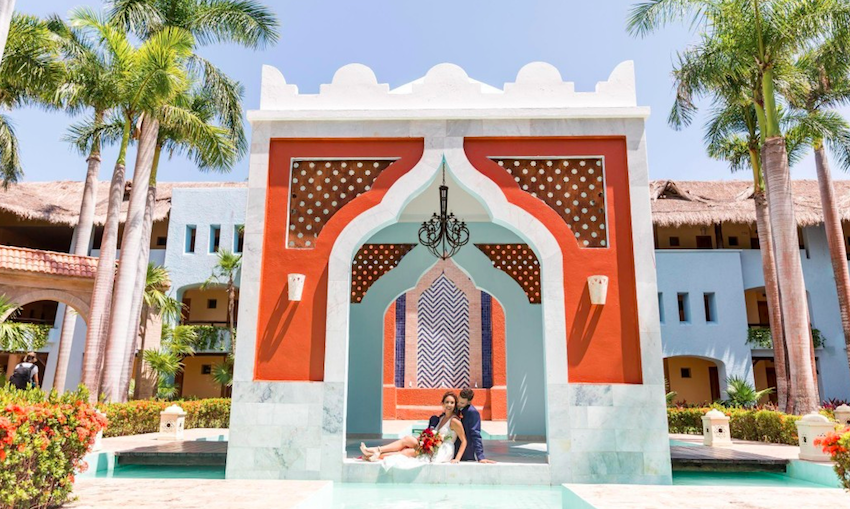 3. Shopping Center Terrace
The Shopping Center Terrace has an elegant gazebo that is great for wedding ceremonies.
It's available for all wedding events and can hold up to 700 guests.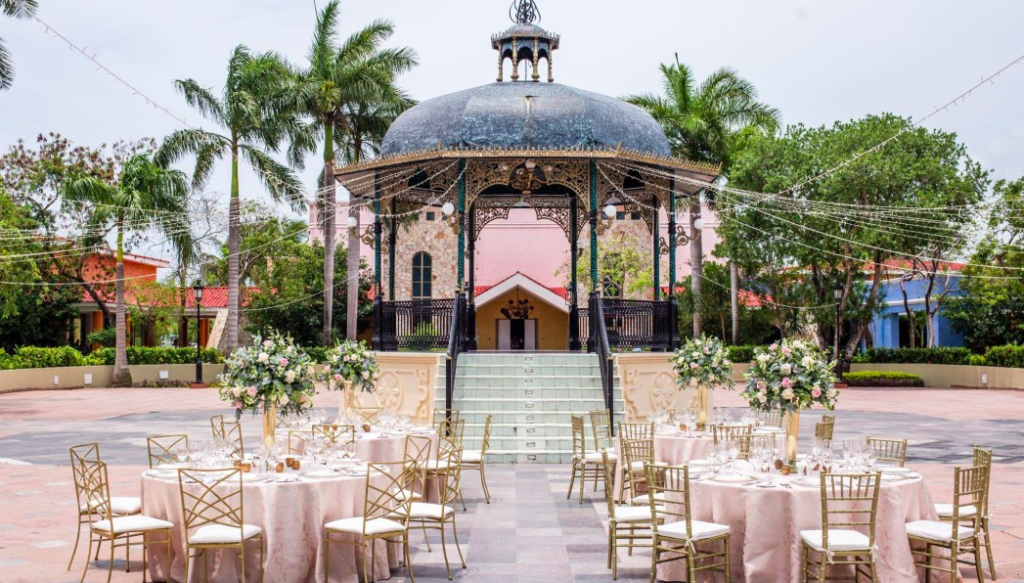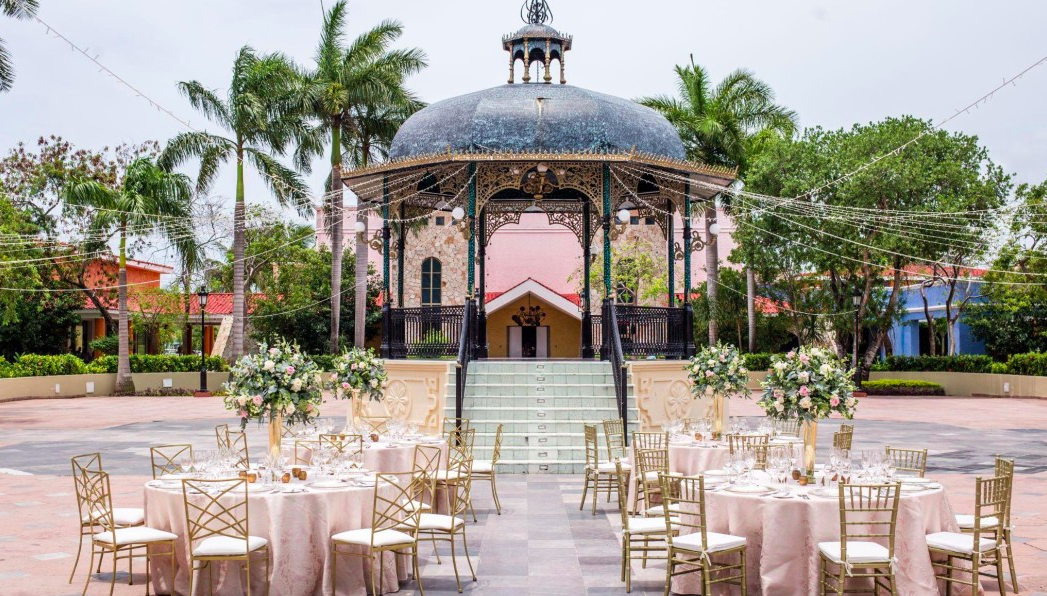 4. L'Etoile Restaurant
This French restaurant serves authentic dishes and is a great option for receptions.
You can sit indoors or on the outside terrace with 80 guests.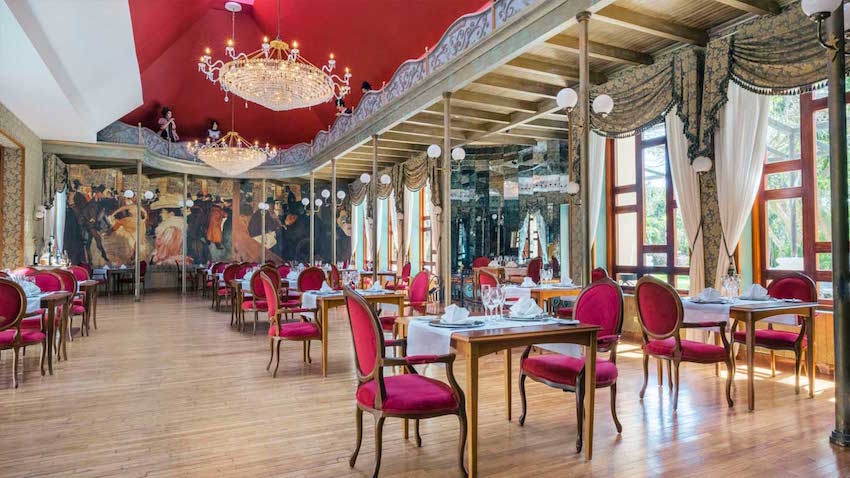 5. Garden Terrace
Looking for a wedding venue with tons of space? The Garden Terrace allows you to invite up to 400 guests!
It's available for the ceremony, cocktail hour, and reception.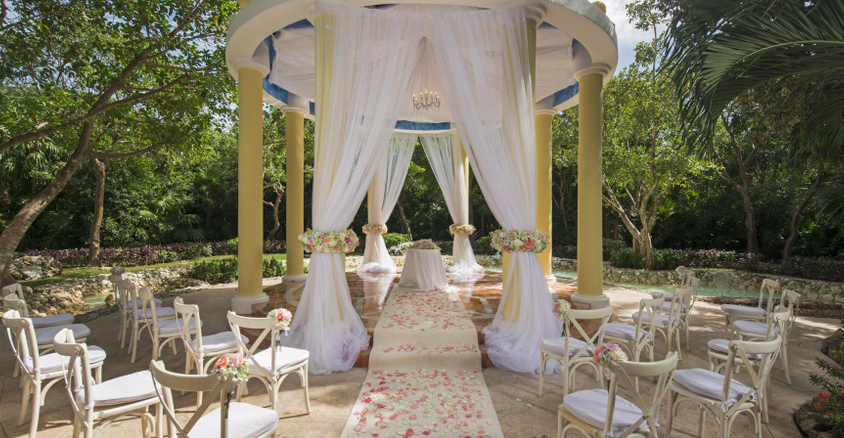 6. Nuestra Señora del Paraiso Chapel
This chapel is used for Catholic ceremonies and is one of the most beautiful venues the resort offers.
It can hold up to 150 guests!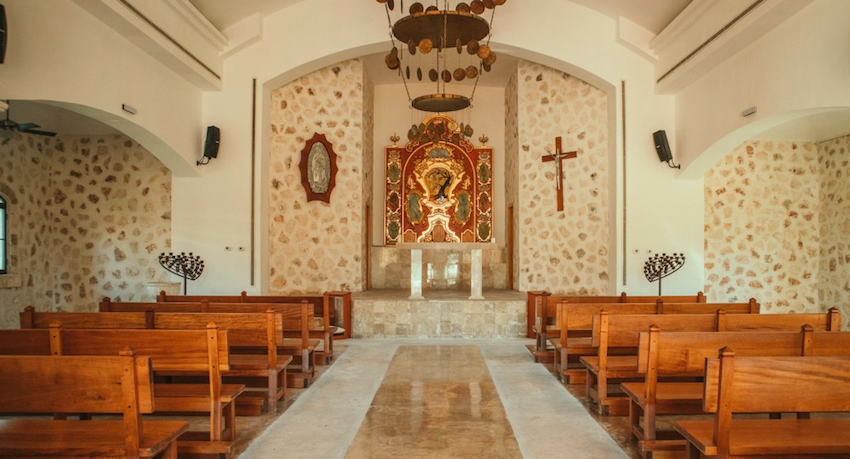 7. Convention Center Foyer
The Convention Center Foyer, also known as the Ballroom, is a great option for inclement weather or if you want an indoor wedding.
It is available for cocktail hour and reception and can hold up to 120 guests.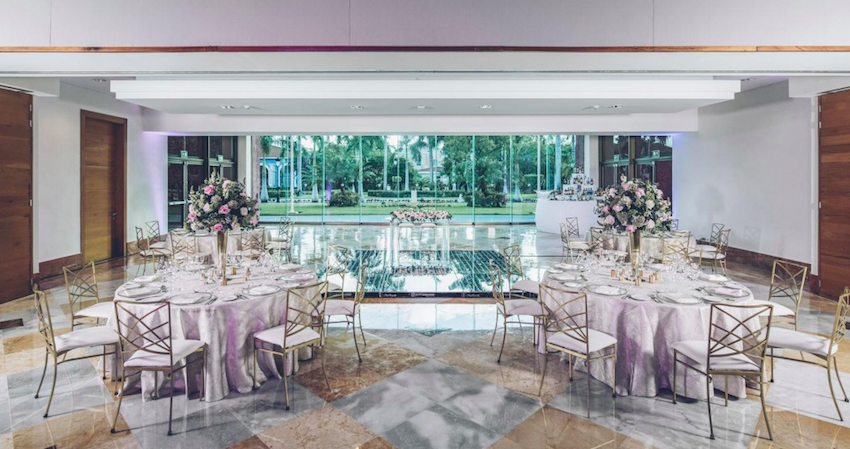 Feel welcomed by everyone at Iberostar Selection Paraiso Maya Suites, no matter who you are!
This resort is LGBTQ+ friendly and all wedding packages are available for every couple to use!
Need help with documents or planning? 
Reach out to our team today so we can guide you in every way!
Iberostar Selection Paraiso Maya Suites is, you guessed it, an all-suite resort!
These rooms have beautiful views of either the garden, beach, or pool!
There are 432 suites available and believe us, you won't be disappointed with the one you choose!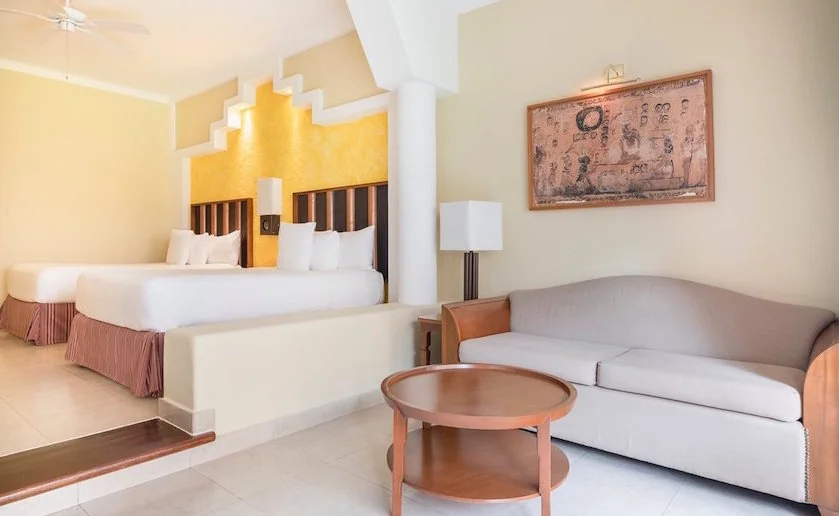 You get to choose from these suites…
Junior Suite
Junior Suite Near Pool
Junior Suite Pool View
Junior Suite Superior
Family Two Bedrooms Junior Suite
Superior Two Bedroom Family Junior Suite
Suite Presidential
For the newlyweds, we recommend the Junior Suite Pool View!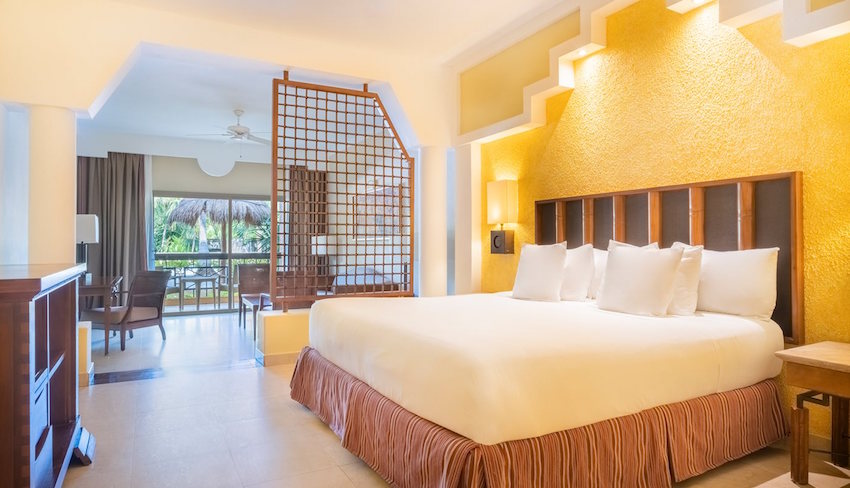 This suite is just steps away from the beach and pool — you can even see both from your balcony!
Enjoy a king bed, a whirlpool bath, 24-hour room service, air conditioning, and more!
Don't worry, there's a coffee maker and a minibar too!
Remember when we said this resort has 8 pools? We weren't lying!
This eco-friendly resort not only has 8 pools but also has a lazy river AND a full-on water park, Aquapark. 
You and your guests, no matter their age, can relax by one of the many pools or have fun in the sun at the water park.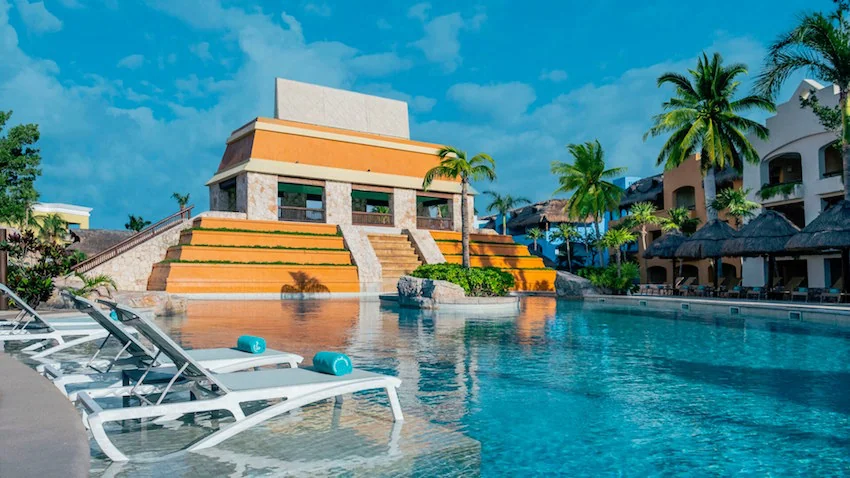 Just a few steps away is the beach, and on your way, you can grab a drink at one of the pool bars!
Tired? Grab a coffee instead. 
Enjoy 6 restaurants, all of which offer different cuisines and experiences. 
Choose from restaurants that serve seafood, bar food, Italian food, and more!
There are 8 bars around the resort — one you can even get ice cream at.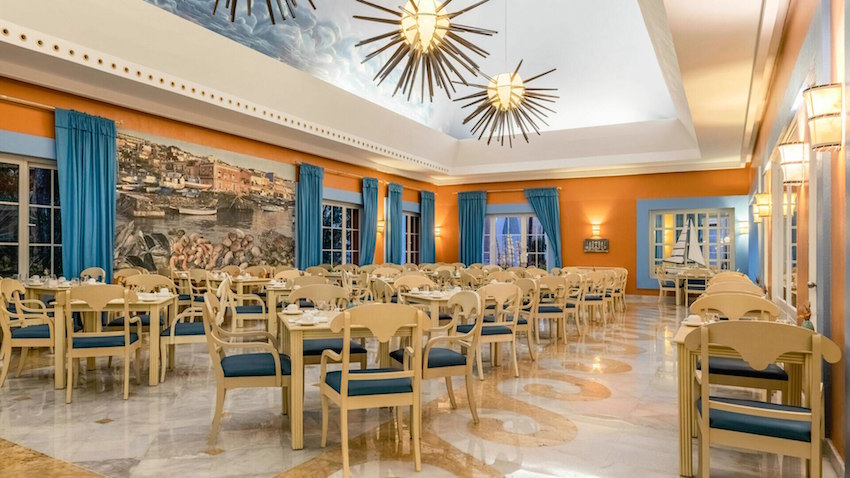 Restaurant options include…
Under the Sea | Seafood grill
Lemon & Spices | Greek cuisine
Trattoria Olivetti | Italian cuisine
La Pagoda | Buffet
Corner Sports Bar | Sports bar
Coco Snack Bar | Beach bar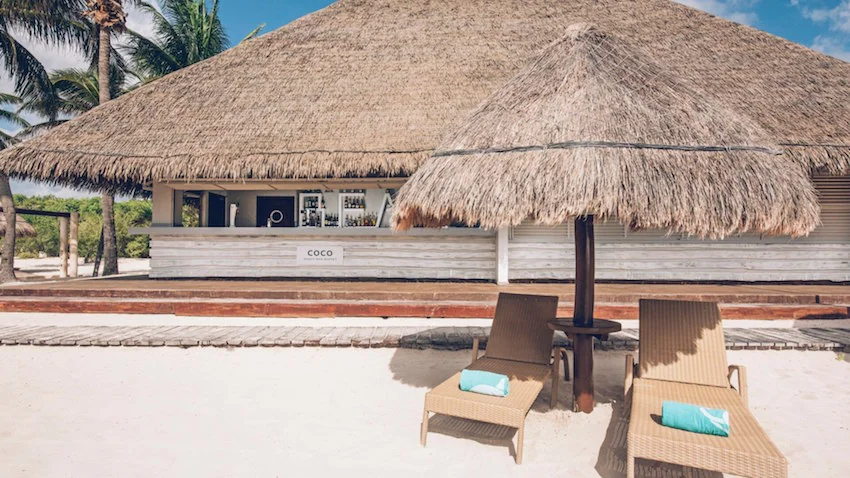 You'll find that there is so much to do at Iberostar Selection Paraiso Maya Suites. 
From the massive water park to an even bigger golf course, your time in the sun will be well spent!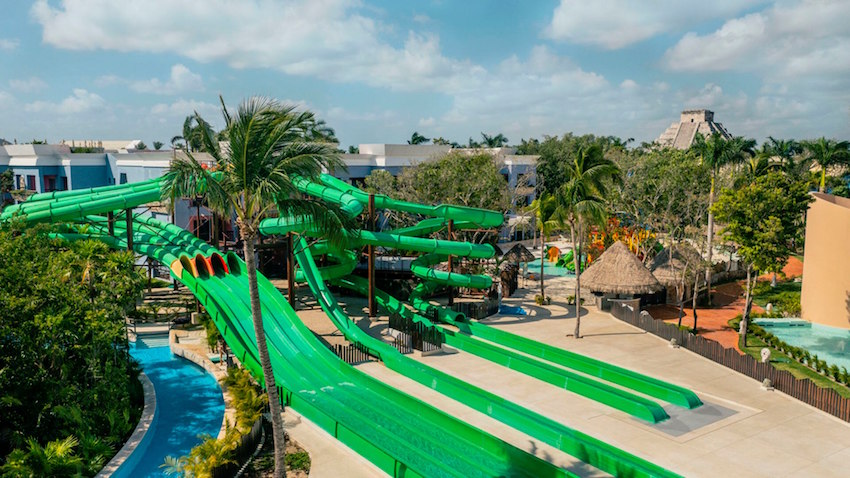 Fun activities and entertainment include…
Spanish lessons
Dance lessons
Golf
Water sports
Water park
Archery
Snorkeling 
Cirque de Soleil shows
Tennis courts
Live shows
Lazy river
Wave pool
You may have some questions before you decide to book this resort.
Not to worry! 
We're here to give you the answers. 
Q: How far is the resort from the Cancun International Airport? 
A: The resort is about a 30-minute drive from the airport. 
Q: Is the resort pet friendly? 
A: No pets are allowed at this resort. 
Q: Does the resort have WiFi? 
A: Yes! WiFi is available throughout the resort. 
Q: What are the check-in and check-out times?
A: Check-in starts at 3 pm and check-out starts at 12 pm.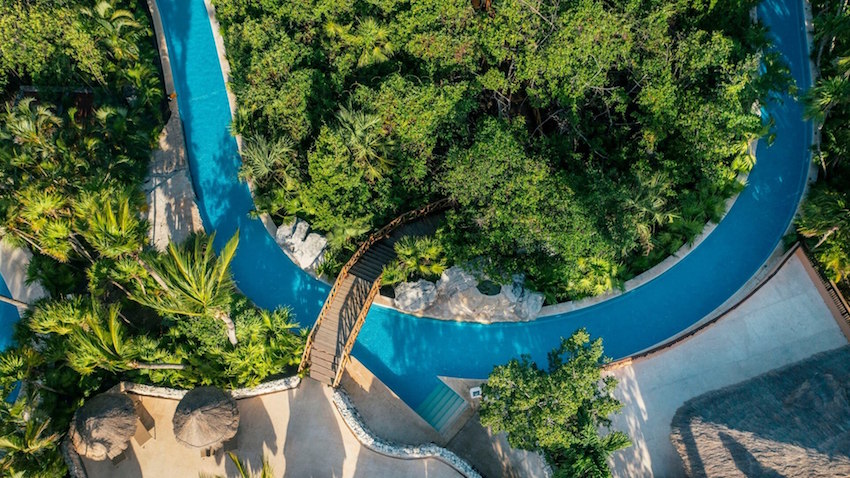 This resort could have everything you want for your wedding day. 
Great amenities, activities, accommodations, restaurants… the list goes on and on!
But just like with any major decision, you need to weigh the pros and cons. 
We asked our talented wedding team their thoughts on weddings here and they did not hold back!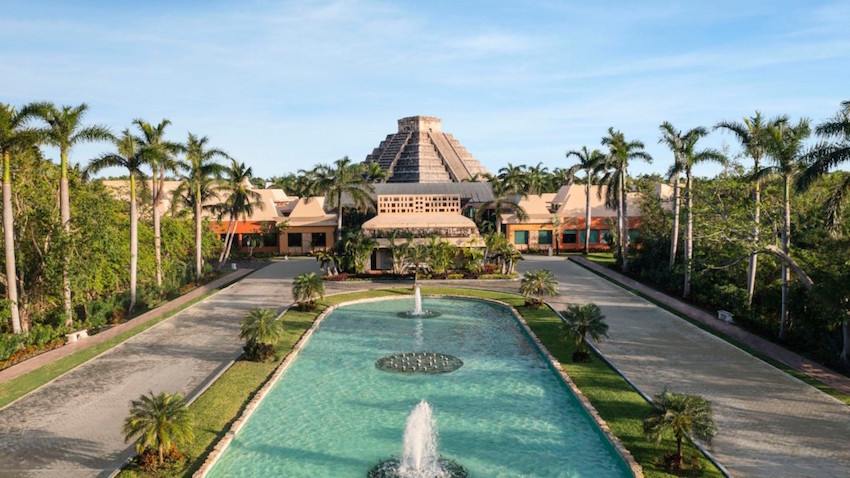 Things we love: 
Eco friendly
Stunning tropical scenery
Beautiful beach 
Old school resort
Large wedding venues
Lots of fun activities for families
Kid's Club is amazing
Very good food
Great all-inclusive packages
Full-on night club on-site
Large and comfortable rooms
No plastic is used at all!
Things we don't: 
Rooms are older
No swim-up suites
Slow transportation 
Service needs work
The wave pool isn't always working
Iberostar Selection Paraiso Maya Suites is one of my top choices for families with kids and those looking for large wedding venues!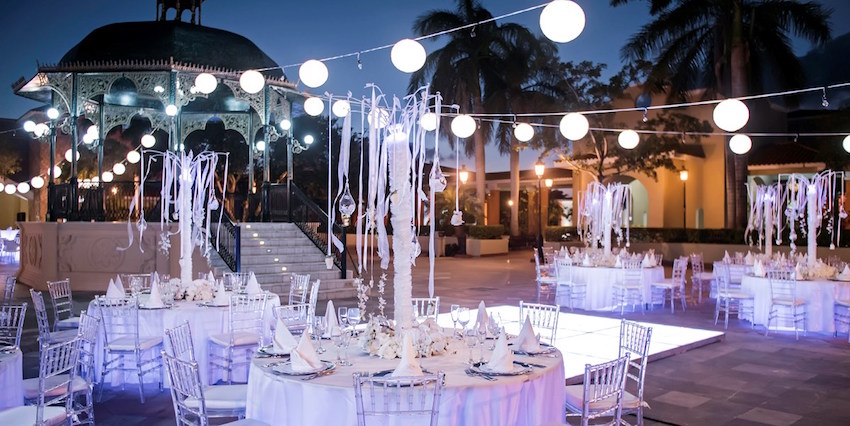 Still unsure?
Check out these 3 similar resorts that you may like. 
Love this resort? Not your style?
If you're starting to panic about finding the right resort for your wedding, don't!
We're here to help.
Our team at ParadiseWeddings.com has planned so many weddings and can help every step of the way.
Call us today at 877-737-0177 or contact us here for a free consultation.
Can't wait to hear from you!