Weddings at Moon Palace Cancun | Our Honest Review
Considering a wedding at Moon Palace Cancun?
We have the inside scoop you're looking for right here. 🙌
Our team of wedding planners have organized 100's of destination weddings.
So… you've found the motherload.
You'll learn about wedding package options, venues, accommodations, and restaurants & bars at the resort. 
Ready to discover if Moon Palace is the right choice for your wedding?
Dig in… 
Your Wedding at Moon Palace Cancun
1. Hotel Overview
★★★★★ | Family Friendly | Cancun
Looking for a lively, kid-friendly resort for your wedding? Moon Palace has everything you need.
There's an energy and vibrancy about this place, no matter what time of day it is.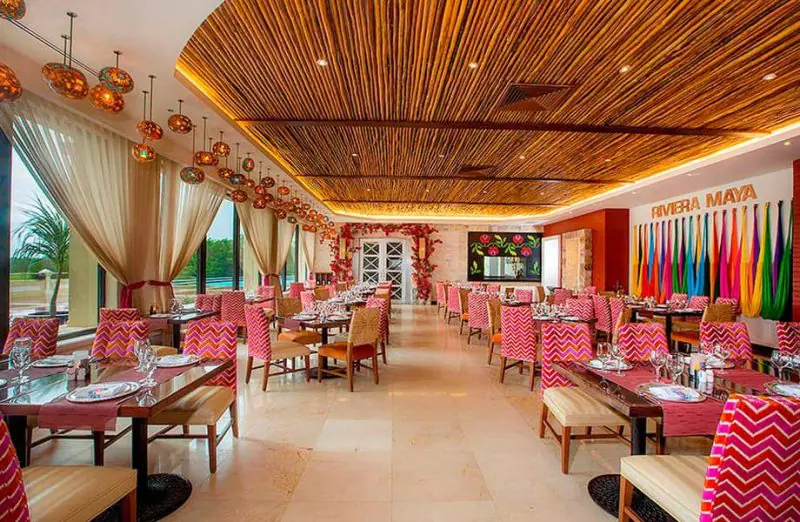 Prefer an experience with a touch of tranquility? 
Choose accommodation in the Nizuc side of the resort for the ultimate cozy vibes. 
On the other hand, the Sunrise side of Moon Palace is more hustle and bustle. You get amazing nightlife, plus an arcade and console lounge.
Like the sound of both sides of the Moon? No problem…you have access to all the facilities whether you choose Nizuc or Sunrise.
There's also a pool with access for people with disabilities. 
2. Wedding Package Options
Looking for a destination wedding package that perfectly matches your style and personality? 
I'm with you there. 
One thing I really love about the weddings at Moon Palace is that there's no 1 size fits all approach. 
There is a basic package for 30 guests which costs $1,500 (this can be FREE if you meet booking requirements for your group).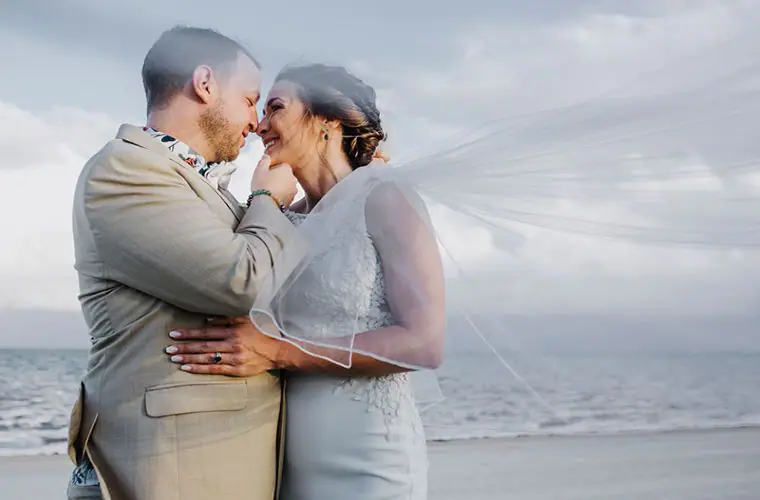 This package covers essentials like:
Services of the onsite wedding coordinator. 
Ceremony location. 
Minister to perform symbolic ceremony. 
Ceremony setup and decor. 
30 white avant-garde chairs.
Audio system for the ceremony. 
Sparkling wine for the ceremony. 
Semi-private dinner for up to 30 guests. 
But that's just the start of the story…
You also get to design your perfect wedding at Moon Palace. 
This includes:
Tailoring your ceremony. 
Booking hair & make-up for the day. 
Hiring the services of a photographer and/or videographer. 
Choosing a private reception venue. 
Selecting reception add-ons. 
3. Ceremony & Reception Venues
Looking for a resort with a variety of ceremony and reception venue options?
You get 10 different spaces to choose from at Moon Palace.
Here's a glimpse of what to expect…
1. Beach
This location is set against the stunning backdrop of the Caribbean Sea and skies. You can have an unlimited number of guests for your ceremony on the beach.
Quick heads up…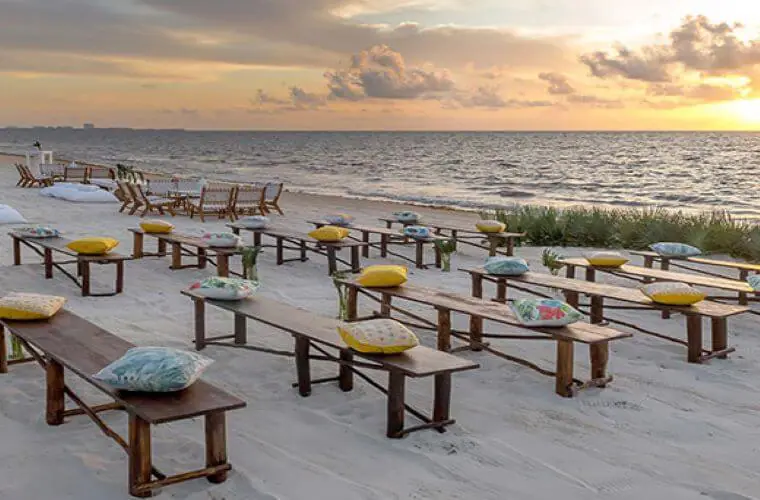 ☝️ The beach at Moon Palace is not the best in the area. ☝️
I'll expand on this later when I take a closer look at the beach.
2. Bugambilias Gazebo
100 guests can join you for your wedding ceremony in this beautiful gazebo.
You get to share your special day with your loved ones surrounded by stunning swaying palms.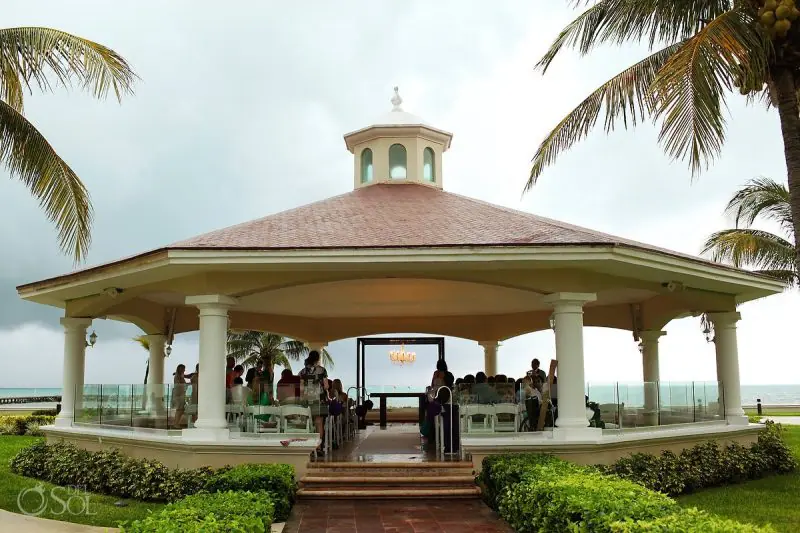 Photo by Del Sol Photography
What's not to love?
3. Bugambilias Terrace
After a gazebo ceremony, everyone can gather to celebrate your love on the Bugambilias Terrace.
This tropical venue is set up to accommodate 70 guests for a buffet or 140 guests for cocktails.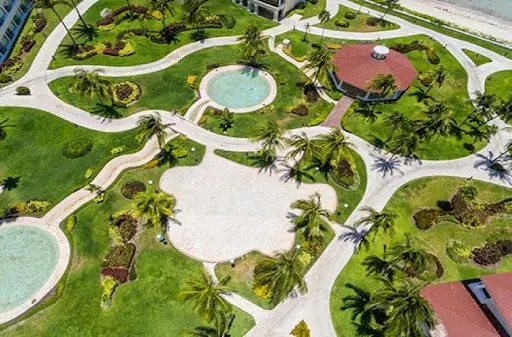 4. Chapel
If you opt for a religious ceremony, the Chapel is the perfect location.
60 guests can join you seated in wooden pews. Or, you can open the occasion to 80 guests standing.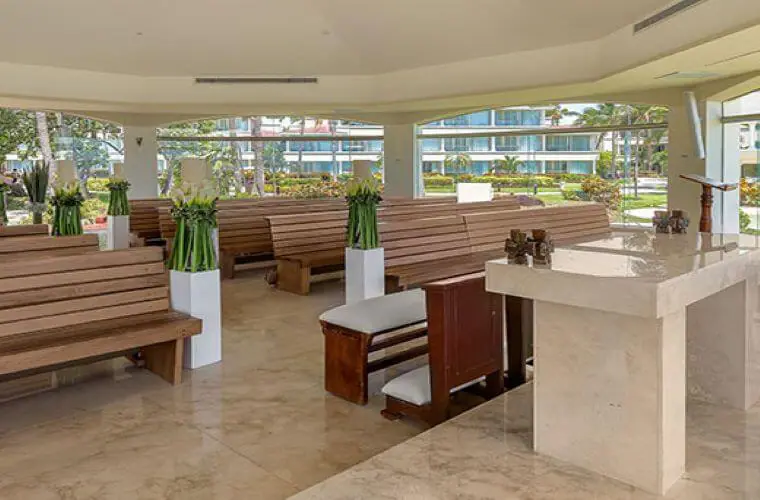 5. Chapel Garden
Looking forward to cocktails after your Chapel wedding?
200 guests can join you in the green and tranquil garden. If you prefer a buffet, the garden can accommodate 100 guests.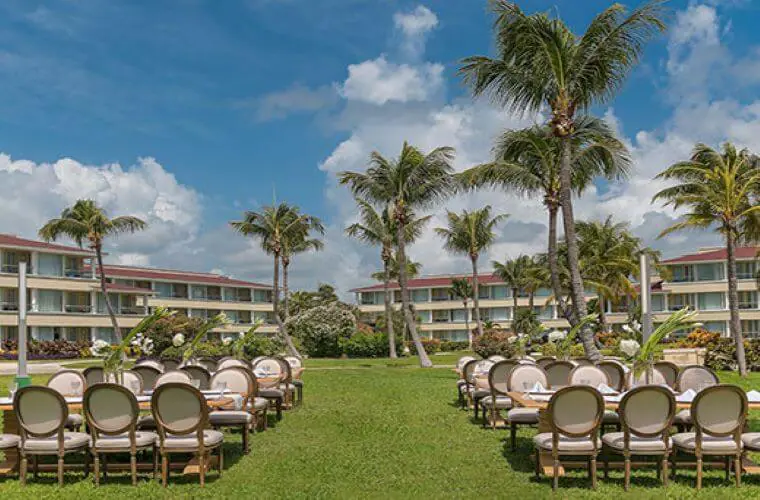 6. Lake Terrace
Having a big destination wedding?
The Lake Terrace is the largest reception space at Moon Palace. It can accommodate 300 guests for cocktails or 150 guests for a buffet.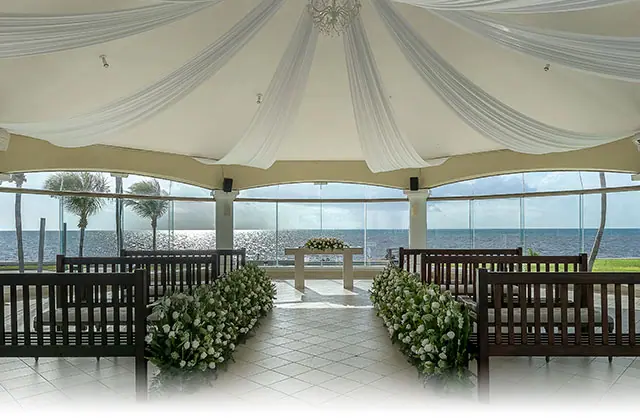 7. Tucan Gazebo
This is another picturesque gazebo at Moon Palace.
You can hold your ceremony amidst the tropical landscape with 100 guests in attendance.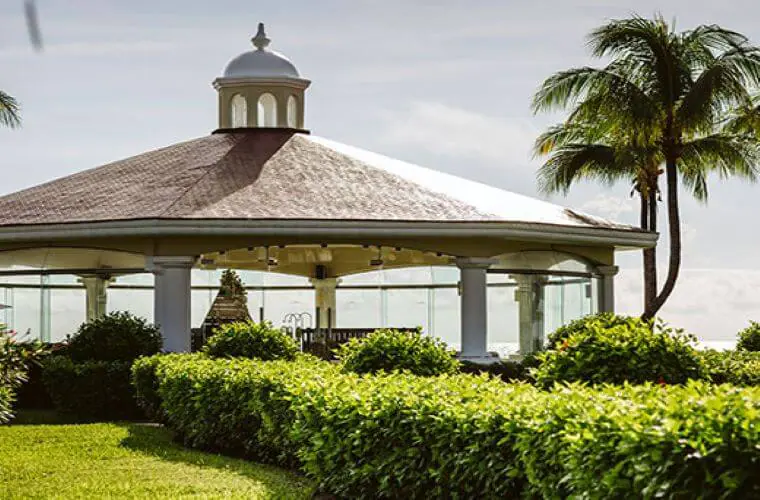 8. Tucan Terrace
Sip cocktails with guests at your wedding reception on this terrace beside the beach.
You can celebrate with 140 guests for cocktails and 70 guests for a buffet.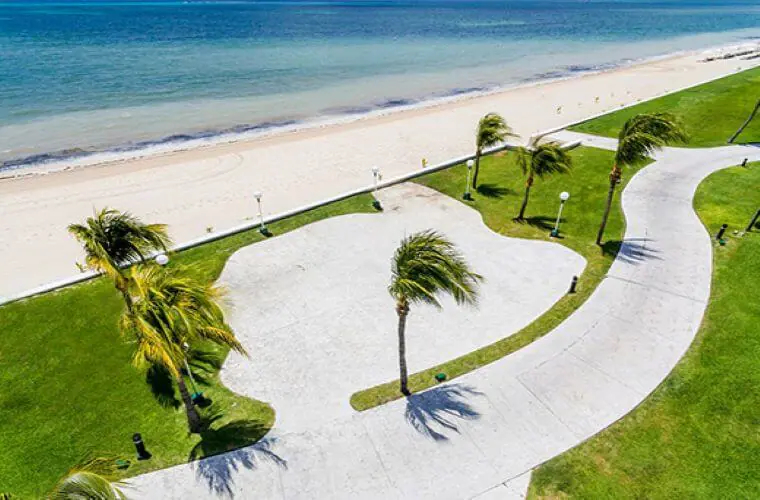 9. Venado Terrace
This is another enchanting outdoor space for wedding receptions at Moon Palace.
Choose this venue and you can celebrate with 140 guests for cocktails and 70 guests for a buffet.
10. Ballrooms
Prefer an indoor location for your destination wedding reception?
The ballrooms at Moon Palace are perfect with their romantic and delicate decor. You can share your celebrations with up to 160 guests for cocktails and 80 guests for a buffet.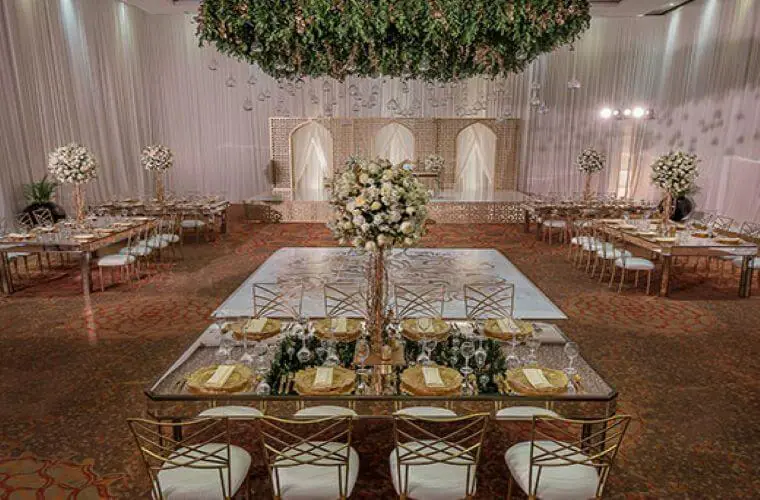 4. Gay Weddings at This Resort
Moon Palace Cancun is proud to host same-sex weddings. 
Most couples choose to have a symbolic ceremony and take care of the legal paperwork at home.
But, same-sex couples can have a legal wedding in Mexico with a little extra effort and documentation. 
Need help sorting out the details of your destination wedding?
Get in touch with our team of experts and we'll inform you of your options in a simple step-by-step process.
Looking for a resort with luxury accommodation for your destination wedding in Cancun? 
You won't be disappointed at Moon Palace. 
There are over 2,400 rooms at the resort (including Grand at Moon Palace). Every room features modern decor and amenities such as double whirlpool tubs, daily refreshed minibars, and luxury beds. 
For a more romantic vibe, I love the Superior Honeymoon Suite. As you can see, it's the perfect place to relax with your partner after your celebrations. 
Plus, you get two 25 minute massage sessions included!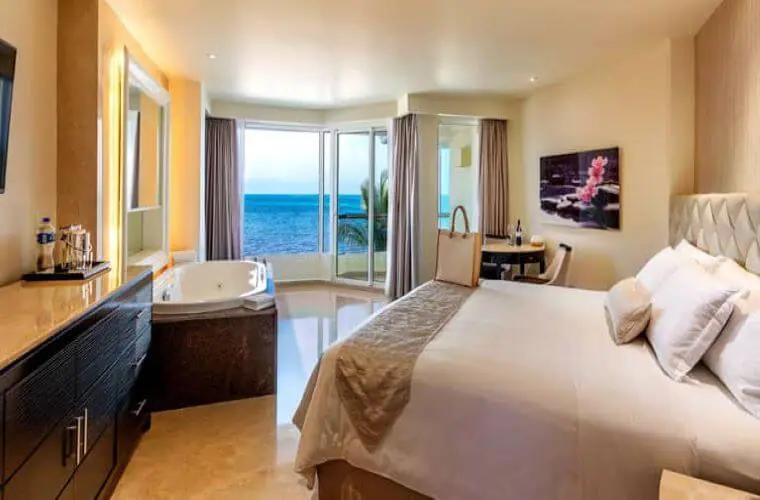 You also get to choose the view from your accommodation. 
For instance, you can savor the sights from:
Deluxe Garden View (Superior). 
Superior Junior Suite Golf Course View. 
Deluxe Ocean View (Superior). 
Superior Deluxe Ocean Front. 
For other options, you can stay in a:
Swim-up Suite. 
Superior Governor Suite. 
Need Space for a Group of People?
There are 2 accommodation options with a maximum occupancy of 6, the highest in the resort. 
Superior Family Suite. 
Superior 2 Bedroom Presidential Suite. 
The Presidential Suite is my personal favorite. 
Who doesn't love full-on luxury with 2 bedrooms, stunning ocean views, and a personal bar area? 
How Much Does Accommodation Cost? 
The average cost of staying at Moon Palace is around $450 per person, per night based on double occupancy. 
Exact rates depend on the dates and accommodation you choose. 
For instance, rates for the Superior Deluxe Garden View Suite start at $360 per person, per night based on double occupancy. 
Whereas rates for the Superior 2 Bedroom Presidential Suite start at $1800 per person, per night based on double occupancy. 
How Far is the Resort From Cancun Airport?
Moon Palace Cancun is just a 15 minute drive from Cancun International Airport.
If you book accommodation for 4 nights or more, you get complimentary roundtrip transportation.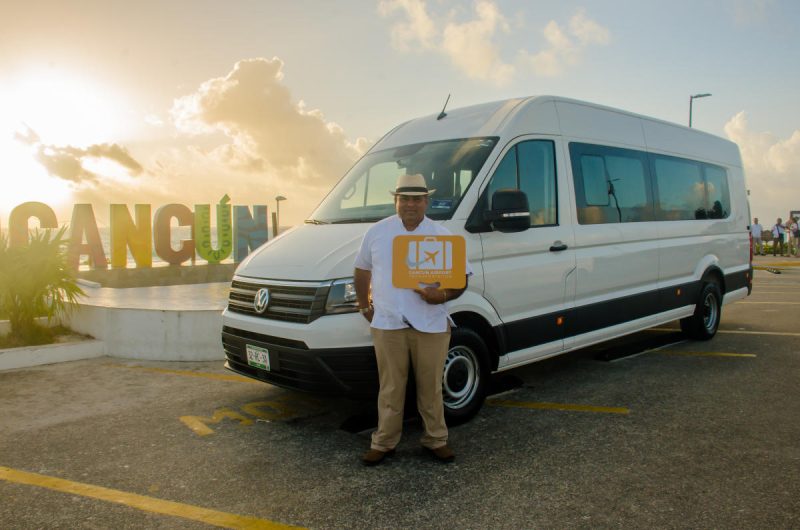 Photo from The Mexican Caribbean
To keep it real, the beach at Moon Palace isn't the best. 
There isn't much sand and the water isn't crystal clear. The resort also has some problems with seaweed. 
But, I have good news…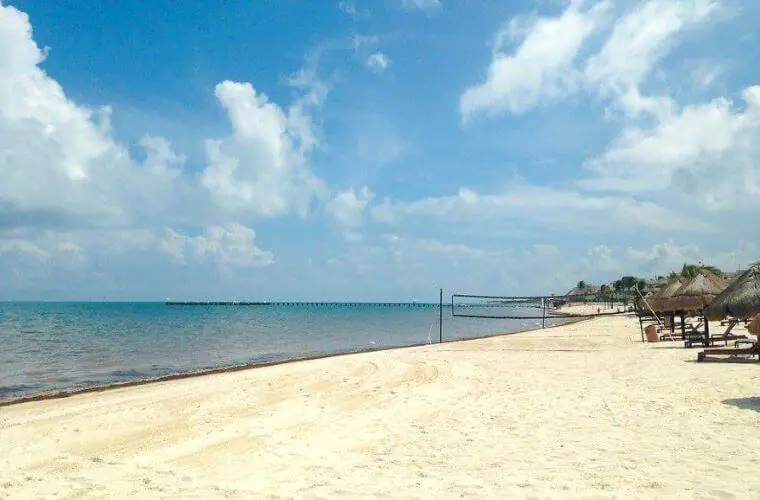 You get access to the sister resorts of Beach Palace, Sun Palace, Playacar Palace, Cozumel Palace or Isla Mujeres. 
I've tested out the beach at the Beach Palace and it's way better. 
So, you can get all the great amenities at Moon Palace and pop to the beach elsewhere for some relaxation on the sand. 
7. Food & Drink at Moon Palace Cancun
Wondering what your dining and drinking options are at this resort? 
There are 12 amazing eateries at Moon Palace with diverse menus. 
Vegan and vegetarian guests are well catered for, as are those following a gluten free diet. 
Here's a glimpse at what you can expect at some of these restaurants..
Arrecifes for typical Brazalian style steakhouse fare. 
La Trattoria for romantic Italian meals with your partner. 
Riviera Maya for traditional Mexican food from the Yucatan Peninsula. 
Burgueria for all your pool food needs. 
The restaurants are spread across the Nizuc and Sunrise sections and you have access to them all, no matter where your accommodation is.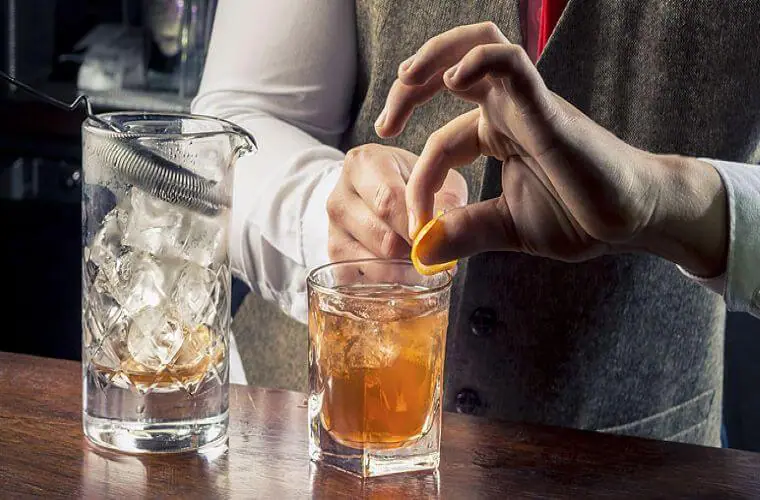 Moon Palace is also home to some amazing bars. 
For vibrancy and energy visit Noir, Skybar or Los Columpios in the Sunrise section. 
Nizur has a Lobby Bar where you can hang out with the wedding party.
And then there's The Pub, which sports a traditional British vibe where you can grab a pint and relax. 
8. Activities & Entertainment
Looking for activities to keep you and your guests occupied? 
I'll start with the pools…
There are several of them, but the main pool is where it's at.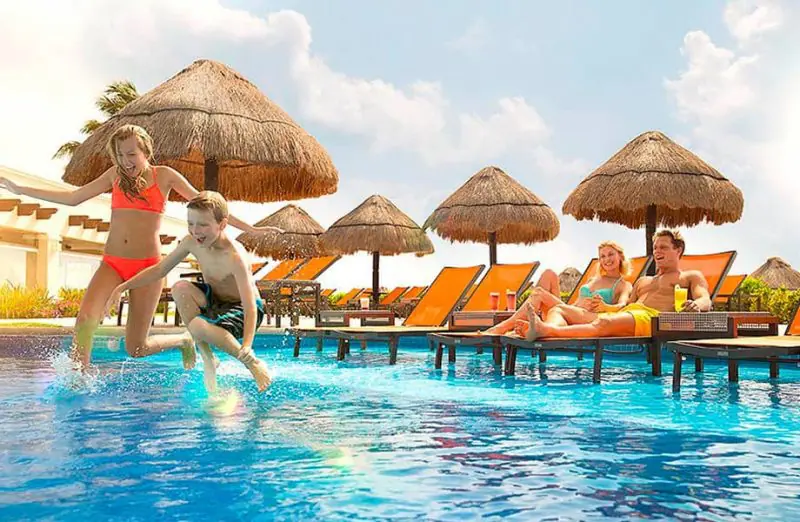 And if relaxing by the pool is more your thing, you can sip cocktails at the swim-up bar. 
That's just the start of the activities at Moon Palace…
You could also take a bike ride during the day before sampling the nightlife when the sun goes down.
Is there an Adults-Only Option at Moon Palace?
Moon Palace is a family-friendly resort, though there are adults-only facilities, like the pool. 
Prefer a location where there are no kids running around?
You may like their sister property Sun Palace which is adults-only with a more intimate vibe.
The Grand at Moon Palace Cancun
The Grand is a super luxurious part of the resort. 
If you book to stay at Moon Palace, you do not get access to Grand facilities.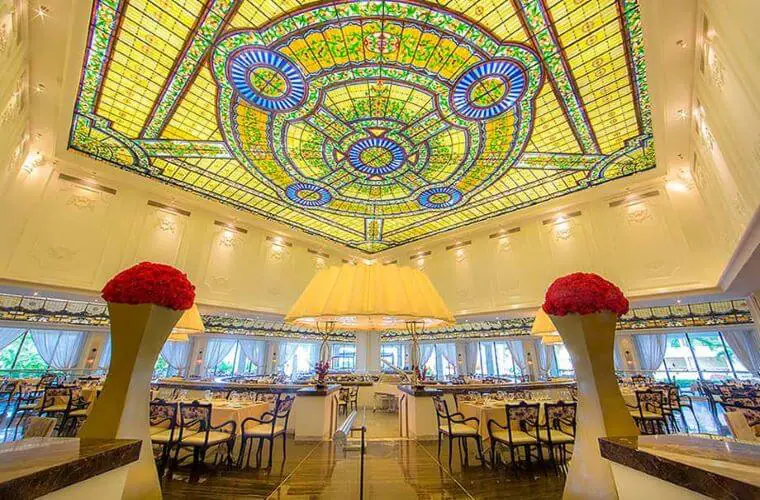 You can, however, purchase a Grand Day Pass for $99 for adults and $50 for kids. 
This gives you access to the state of the art facilities at The Grand at Moon Palace for 1 day from 7:00 a.m. – 11:00 p.m.
Amenities at the Resort
I'm a spa time type of girl. 
So, I recommend spending time at the world-class spa at Moon Palace. 
There are 36 treatment rooms offering services including massages, facials, and body scrubs.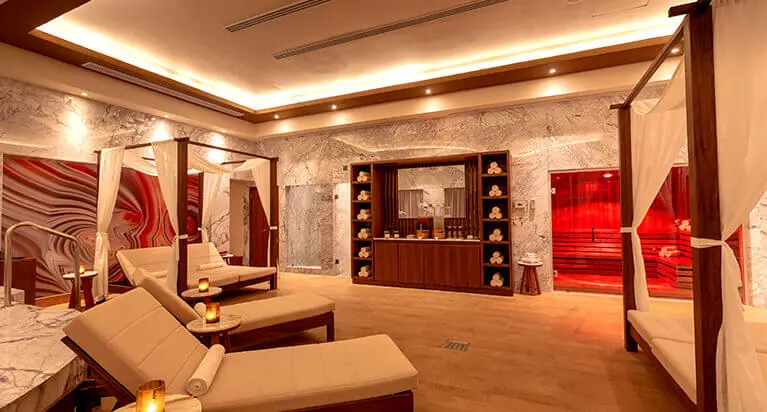 Have guests who are traveling with kids?
Guest with kids love the playgrounds at Moon Palace!
In Sunrise, the playground is for kids aged 4-12 and includes a fashion catwalk, video games, and a creativity area. 
In Nizuc, the playground is for kids aged 4-10 years and includes a school, baby area, mini dining room, and play area. 
Both playgrounds are open from 9:00 AM to 10:00 PM and all resort guests can use them both.
Other top-class amenities at Moon Palace include: 
The Wired Lounge gaming center and arcade. 
Fully equipped gym. 
Tennis courts. 
27-hole Jack Nicklaus signature golf course with an unlimited afternoon's play available for an extra fee. 
"Our wedding was beautiful and all our guests are already wanting to go back. Best hotel I've been to and we have been to Cancun 3 times! Going to Cancun? MOON PALACE IS THE WAY TO GO !!!" Carlos H
"Eduardo was our on-site coordinator and with the help of Myra the rehearsal and wedding were nothing but beautiful and perfect! The wait staff for our events were top notch and Benjamin already knew what most of us wanted to drink. The food was amazing and buffet style, the cake was delicious, but the donut wall was to die for!" Tayla Sue
And here's one from a wedding guest… 
"We visited the Moon Palace Sunrise for a wedding. And we had an amazing, relaxing, safe experience from beginning to end. Every aspect of the resort was clean. Everyone on staff was extremely friendly. We especially enjoyed our daily breakfasts at the Golf Course Riviera Maya restaurant. Our waitress Elsi, took great care and attention to detail each day. She is great!!! This resort was awesome, we are excited to return."

C McCadd
The team at ParadiseWeddings.com loves helping couples make their wedding dreams come true. 
So, I'll never be anything but completely honest about a resort. 
Pros:
The impressive choice of wedding venues.
Restaurants that cater for vegan, vegetarian and gluten-free diets. 
Playground facilities for younger guests. They have an awesome waterpark for kids of all ages + an absolutely incredible Play Room. but that's only for the "fancier section" at the Grand at Moon Palace.
Amenities that give you the opportunity to be healthy and a bit unhealthy too.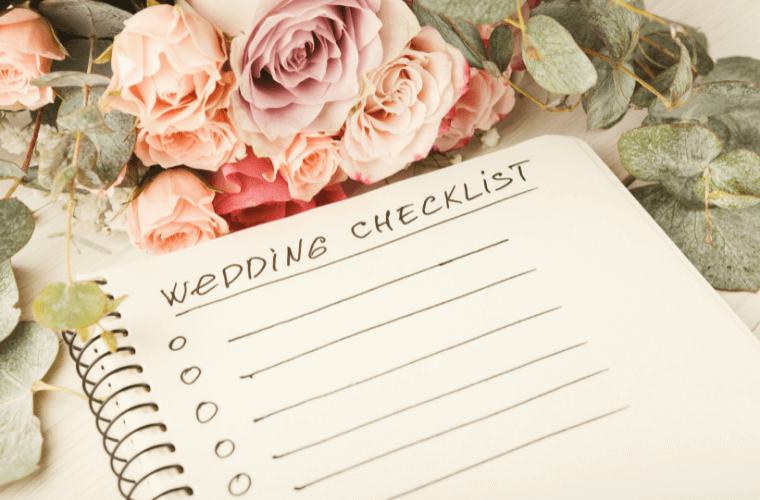 Cons:
In all honesty, the beach isn't great but you get access to better beaches at the sister resorts so this is not a major deal. 
4-night minimum on contracts is common.
The process of securing wedding dates is NOT easy.
Can be expensive.
Must stay at The Grand to get more inclusions otherwise not EVERYTHING is included like waterpark etc
Nadiya from our team says…
"They always try to steal our wedding groups. Every time we've reached out to them they try to convince couples to book directly with them. Couples choose us for unbiased, experienced advice – and a team they can rely on… which they don't get by working with a resort."

Considering Moon Palace? You'll want to check out…
Have any questions about Moon Palace Cancun? 
Let us know in the comments below. 👇
We always love to hear from you! 
Not sure how to start planning your dream destination wedding?
The team at ParadiseWeddings.com would love to be part of your exciting journey. 
We're local to the resort and have the knowledge and experience to get the best deals for you. 
Call us at 877-373-0177 to speak with one of our wedding planners.
Or email us at [email protected]
Best wishes on your planning journey!