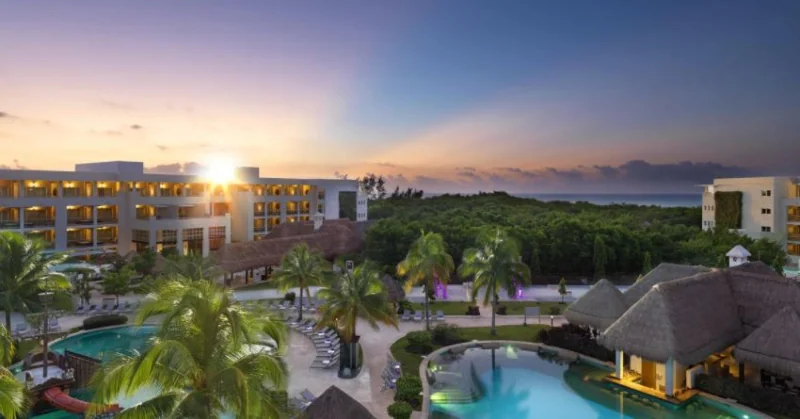 Weddings at Paradisus Playa del Carmen | Our Honest Review 2022
Should you have your wedding at Paradisus Playa del Carmen?
You'll find out soon!! 🙏
Our wedding planners are local to the area & we're sharing all the info you need.
From packages & prices to room types, pros & cons and more…
By the end of this post, you'll know whether Paradisus is the one for you.
So, are you ready to get started?
Let's go…
Paradisus Playa Del Carmen Wedding Review
1. Hotel Overview
★★★★ | FAMILY-FRIENDLY | ALL-INCLUSIVE | PLAYA DEL CARMEN
Paradisus Playa del Carmen is a luxury, all-inclusive resort located in the heart of Mexico's Riviera Maya.
The resort features spacious accommodations, award-winning restaurants & a variety of activities for guests of all ages…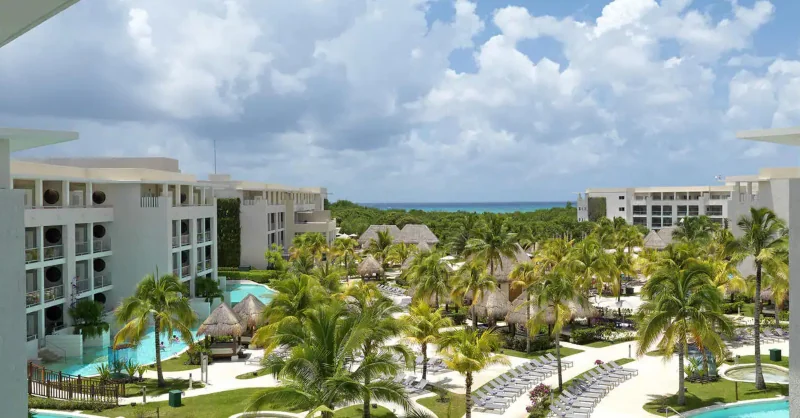 It's separated into 2 main sections:
Family-Friendly
Adults-Only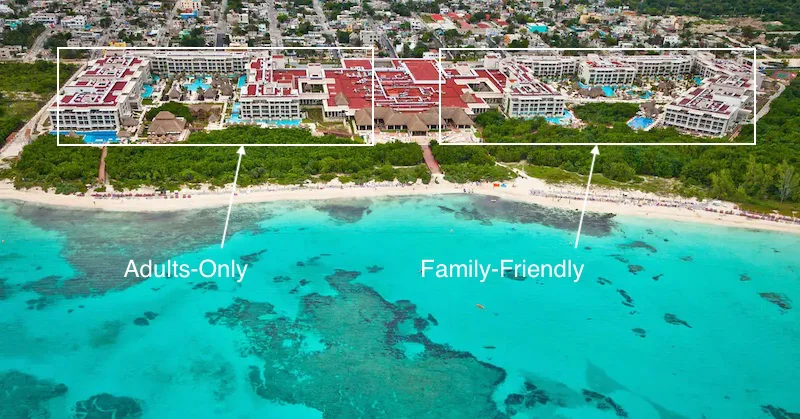 The only time I saw a child was when I took a walk to the other side of the resort.
With its convenient location to Playa del Carmen, breathtaking views & endless amenities, Paradisuscan be a dream location for your destination wedding.
Paradisus Playa del Carmen offers a variety of wedding packages to suit every budget & style.
There are 5 wedding packages in total & prices range from $5,000 – $18,500.
They can also host ethnic ceremonies, such as Jewish or South Asian weddings.
Package options w/ an estimated cost for 30 guests include:
No Shoes Allowed | $5000 – $9000
Nature Vibes | $5000 – $11,5000
Out With A Bang | $8000 – $17,500
All Aboard | $11,500 – $18,500
It Takes Two or a Few | Complimentary w/ 7-night stay in Reserve Categorywe
If you're looking for a chic & laid-back ceremony, No Shoes Allowed is perfect.
This package includes…
Ceremony:
Symbolic ceremony with registrar
Wedding archway decorated w/ tropical foliage & white flowers
Foliage in the aisle leading to the archway
Tiffany chairs
Bridal bouquet & buttonhole for groom
Musical playlist
AV equipment (1 loudspeaker & 1 microphone)
Cocktail: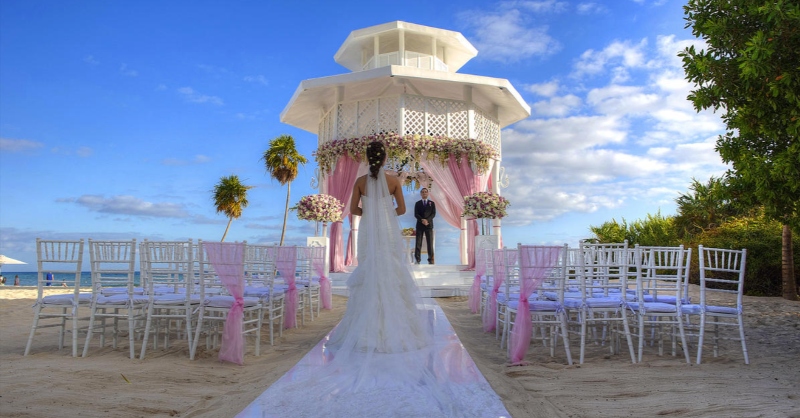 Reception:
Round wooden tables
Wishbone-style chairs
Cake table
White napkins
Menu:
And if you're looking to go all out, their most glamorous package is Out With A Bang.
Get more details on Paradisus wedding packages.
Or contact our wedding planners at ParadiseWeddings.com for help getting organized. (our services are free!)
3. Ceremony & Reception Venues
The resort has several beautiful indoor & outdoor wedding venues for your ceremony & reception!
5 Ceremony Locations:
Beach
Gabi bridge (bridge to beach)
Gazebo
Ballroom
Catholic Church
6 Reception Locations: 
Restaurants
Poolside
Beach
Ballrooms
Terrace
Gabi Beach/Club
No matter what your vision is, Paradisus has a venue that will make your dream wedding come true.
Paradisus Playa del Carmen proudly welcomes LGBT+ couples!
They offer all the same packages & services to same-sex couples.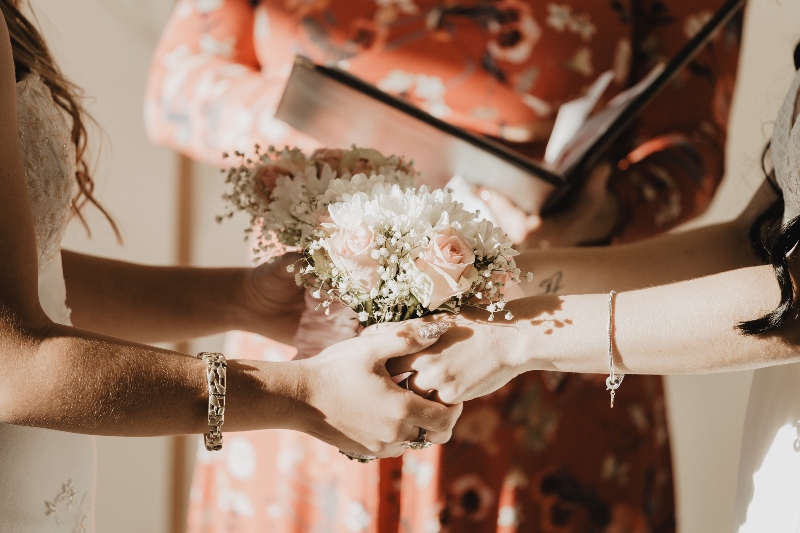 Most couples choose to have a symbolic ceremony since the legal paperwork is easier to deal with in their home country.
Considering a legal ceremony?
It's still possible with some extra planning & paperwork!
If you need help, reach out to our experts & we'll make sure everything goes smoothly.
Paradisus has over 500 spacious suites to suit every need & budget.
Prices start at $304/night and all rooms have a contemporary design, chic decor & neutral tones.
Plus, they come with a private furnished terrace, rainfall shower, minibar stocked daily & more!
So you & your guests are sure to feel like royalty during your stay.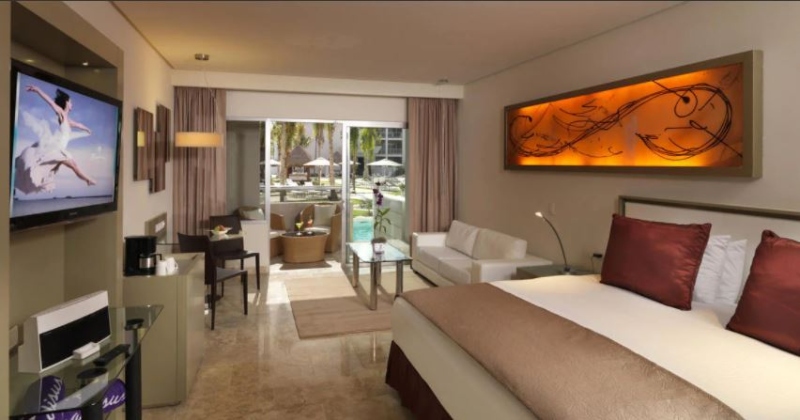 Room categories include:
Roulette Room
Junior Suite
1 Bedroom Suite
1 Bedroom Master Suite
The Reserve Deluxe Suite
Reserve Deluxe Swim-Up Suite
The Reserve 1 Bedroom Deluxe Suite
Reserve 1 Bedroom Deluxe Swim-Up Suite
The Reserve 1-Bedroom Deluxe Master Suite
Reserve 1 Bedroom Deluxe Master Swim-Up Suite
The Reserve Presidential Suite
2 Bedroom Master Suite
For the bride & groom, we recommend the 1 Bedroom Master Suite!
This room comes with 893 sqft of space with a kitchenette, dining & living area, and a terrace with a jacuzzi.
The Paradisus Playa del Carmen is located on one of the most beautiful beaches in Mexico…but then the seaweed came in.
Over a 1 mile of coastline, there's plenty of space for you & your guests to enjoy a walk!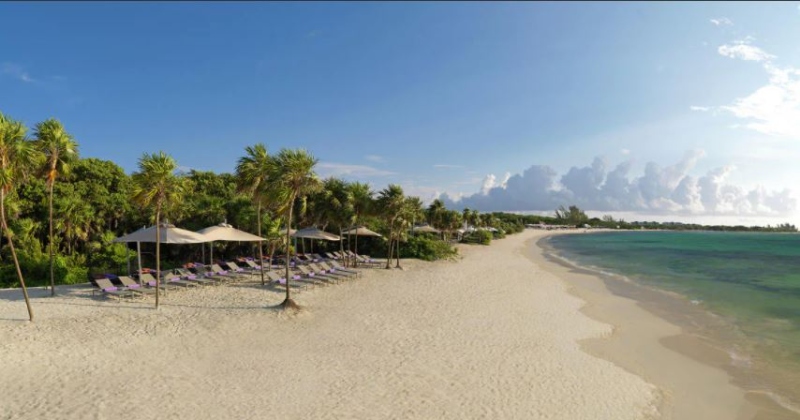 The white sand and beach bar is a perfect place to relax, read a book and have e drink.
And there are plenty of beach activities to keep everyone entertained, like volleyball, kayaking, & more.
The resort has 9 restaurants & 5 bars, so you're sure to find something to your taste!
There's a mix of international & local cuisine, as well as plenty of vegetarian & vegan options.
Restaurant options include:
Fuego | Latin Fusion cuisine
Sal Steak Cave | International steakhouse
Naos | International buffet
Capella | Italian cuisine
Olio (for Reserve guests)
Bana Family | Asian cuisine
Hadar | International buffet
The Market
And when it's time to cool down with a cocktail, you can head over to:
Gabi Club
Red Lounge (adults-only)
Blue Agave
M Bar
North Avenue Bar
8. Activities & Entertainment
No matter what your interests are, there will always be something for you do at Paradisus.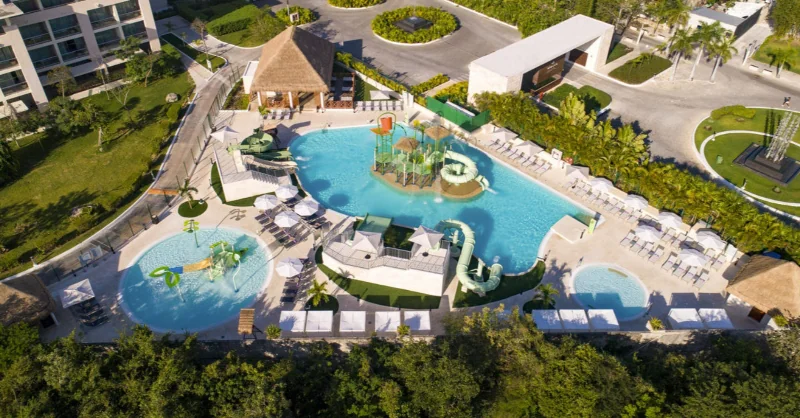 Here are some of the activities & entertainment options available:
Water sports like snorkeling, kayaking, & more
Yoga & meditation
Live music & nightly shows
Pool parties
Cuban cigar rolling classes
Cocktail mixology classes
Fitness center
Kids club & babysitting services
There's also a world-class spa on-site for when you need to relax & rejuvenate!
9. What Brides & Grooms Said...
"In May 2021, my husband and I had the pleasure of having our wedding at the Paradisus Playa Del Carmen, specifically The Reserve adults only side.
Each one of our wedding guests could not stop raving about the service they received at the resort.
I wish I could have a wedding at the resort every year it was truly an experience like no other. The resort was impeccable, the food, the atmosphere, the staff a truly incredible experience. I cant wait to get back to the resort the staff became family. I highly recommend for a family, couple, or friends trip and for any occassion!!!" – Kristina Gallagher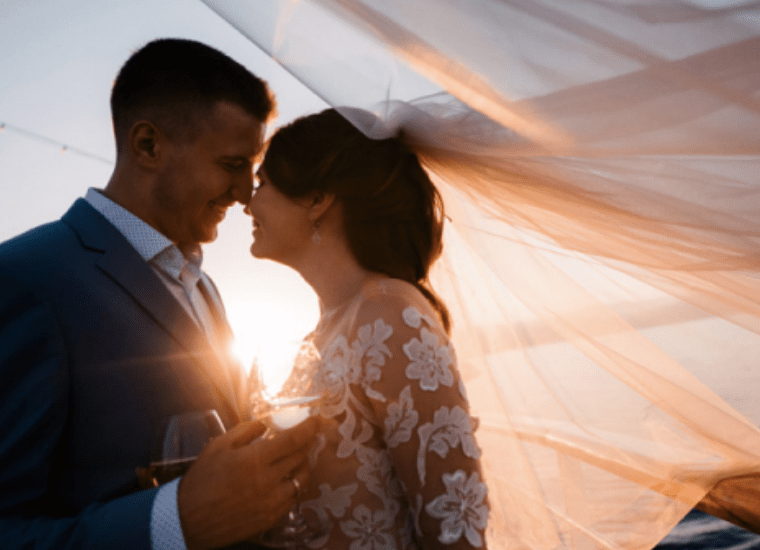 "We spent 11 days at this wonderful resort. We celebrated our wedding on April 16th 2021 and we were so happy that even though it was Covid times our family and friends (60 of us all together) had the best experience, the hotel followed an strict protocol. We really enjoyed our time at the resort and are very happy we chose this resort to host our wedding." – Pilar F.
10. Why We Like It (Pros/Cons)
There's a lot to like about the Paradisus Playa del Carmen!
Here's what our wedding planners had to say:
Things we love:
Family-friendly & adults-only options with proper separation.
Waterpark for kids.

Plenty of restaurants & bars on-site.

Great service. Attentive staff!
Food is delicious with quality of a-la-carte restaurants.
Modern, spacious rooms.
Gabi Club is a fantastic private venue for a wedding.
Close to Playa del Carmen so you can do the tourist thing.
Swim-up suites have access to the pool bar!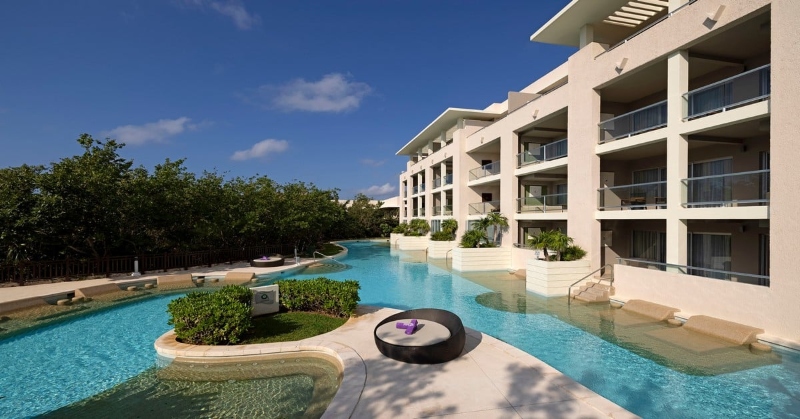 Things we don't love:
It can be a bit pricey.
Beach is not the best.
You don't really see the beach from areas in the resort.
But overall, it's an excellent option for a wedding in Mexico!
Have more questions about Paradisus Playa del Carmen?
Not sure if it's the right resort for your wedding?
Our wedding planners can help!
We've organized 100s of weddings in Mexico & our services are totally free.
So give us a call at 877-737-0177
Or email us at [email protected]
And let's start planning your dream day today!