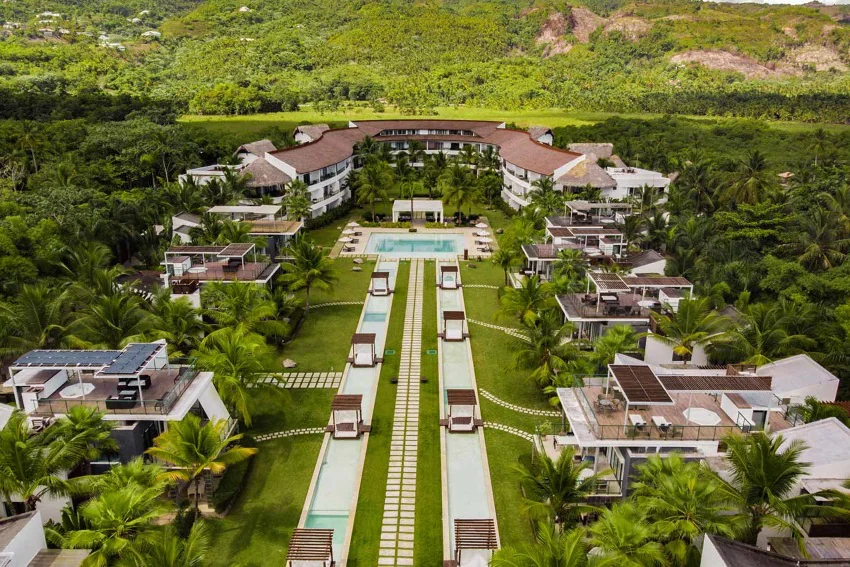 Weddings At Sublime Samana | Our Honest Review
Considering a wedding at Sublime Samana?
Well, with so many resorts out there, it's a big decision.
That's why you're here right?
To dig into the juicy details and make the best choice?!
Our wedding experts got together to help you in figuring out if Sublime Samana is your perfect match.
You'll get pros and cons, alternate options, and more.
Ready? Let's roll!
Sublime Samana is not your run-of-the-mill resort; it's more like a private paradise.
The resort oozes luxury, and you'll find yourself surrounded by lush greenery and beautiful beaches.
One thing we love about this resort is that it's not a massive, crowded resort.
It's more intimate and perfect for a romantic wedding.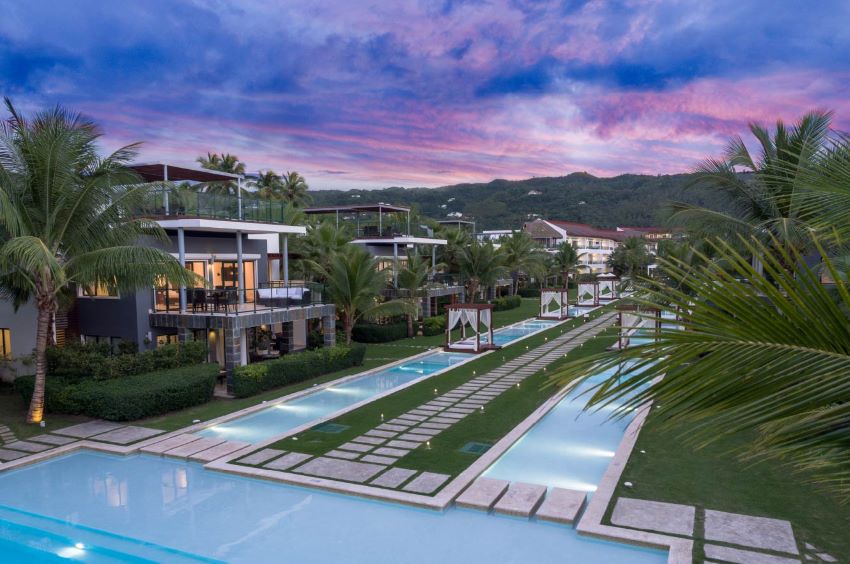 The rooms are spacious and stylish, and most of them come with stunning ocean views.
And if you're a foodie, you're in for a treat because the dining options here are mouthwatering.
Having said that, keep in mind that it's not the most budget-friendly resort.
And some folks might find the remote location a bit of a hassle.
But honestly, it's part of what makes this resort so unique.
At Sublime Samana, they've got 3 fabulous wedding packages.
And the best part?
They're totally flexible and can be customized to match your wildest wedding dreams and Pinterest boards!
3 wedding packages include:
You & I – $3,149 for you 2
Intimate Beach Affair – $5,100 for 12 guests
Sublime Wedding – $10,560 for 25 guests
Depending on the package you choose, more guests can be invited for $125 – $255 per person.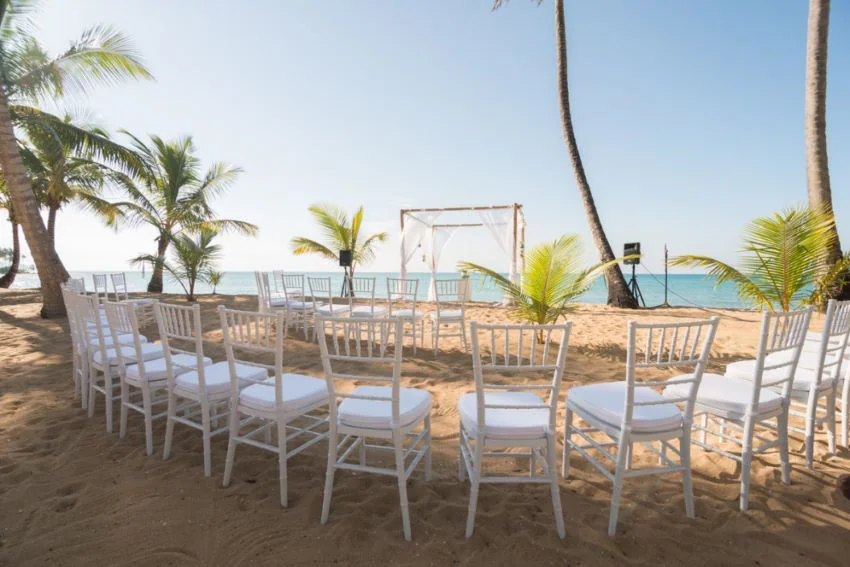 Intimate Beach Affair Wedding Package
The most popular wedding package with our couples is the Intimate Beach Affair package.
It includes a beautiful wedding ceremony plus a cocktail party.
For $5,100, you get all of these amenities:
Bamboo arch with fabric and floral arrangements.
Ceremony setup.
Bride's bouquet + groom's boutonniere.
Music during the ceremony.
Photos on CD or USB (30-50 photos)
Hair and makeup for the bride.
Cava toast.
Intimate and private cocktail setup on the beach.
Cocktail setup includes 2-hour open bar, 6 appetizers, wedding cake 
Sublime Samana offers 6 stunning wedding and reception venues.
You can say "I do" with your toes in the sand, or opt for a lush garden setting.
1. Beach
Our wedding planners love this beach venue.
Its golden sand, swaying palms and breathtaking backdrop makes it a hit with our couples too. 
Ceremony – up to 200 guests
Cocktail – up to 200 guests
Reception – up to 170 guests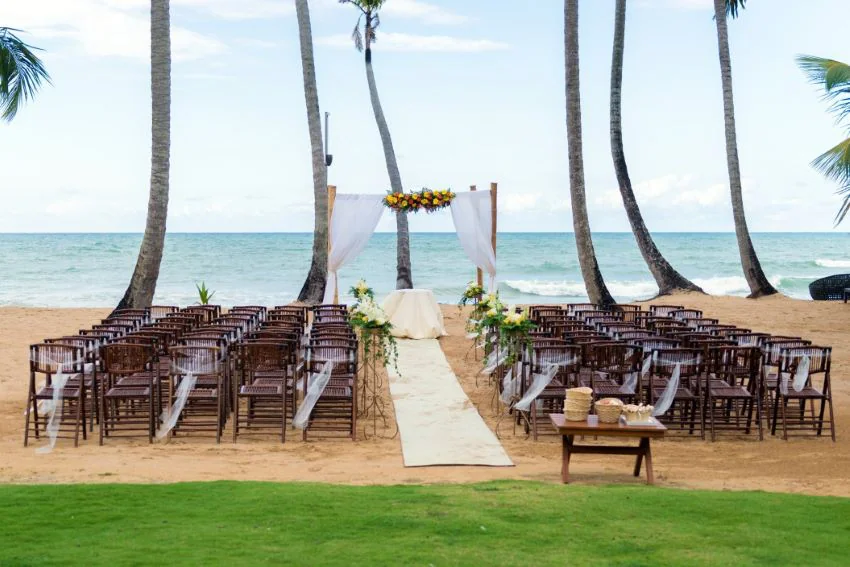 2. Bistro and Terrace
The cozy Bistro and Terrace is the perfect venue to host your laid-back wedding celebration.
Whether you prefer an indoor gathering or an al fresco experience, this venue can make your wedding a breeze.
Ceremony – up to 40 guests
Cocktail – up to 40 guests
Reception – up to 25 guests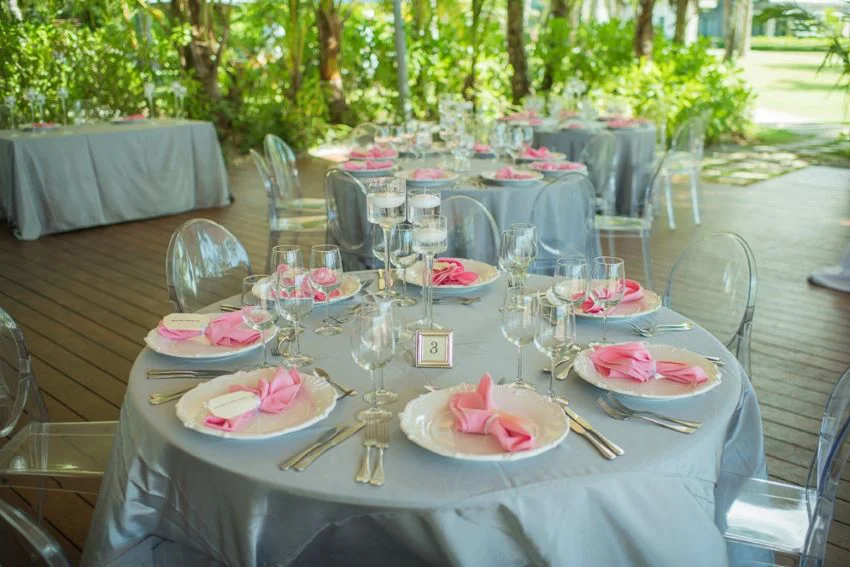 3. Garden
This one's also a favorite with our couples and wedding specliasts.
You can exchange your vows surrounded by lush greenery and the soothing sounds of the waves.
Ceremony – up to 300 guests
Cocktail – up to 300 guests
Reception – up to 300 guests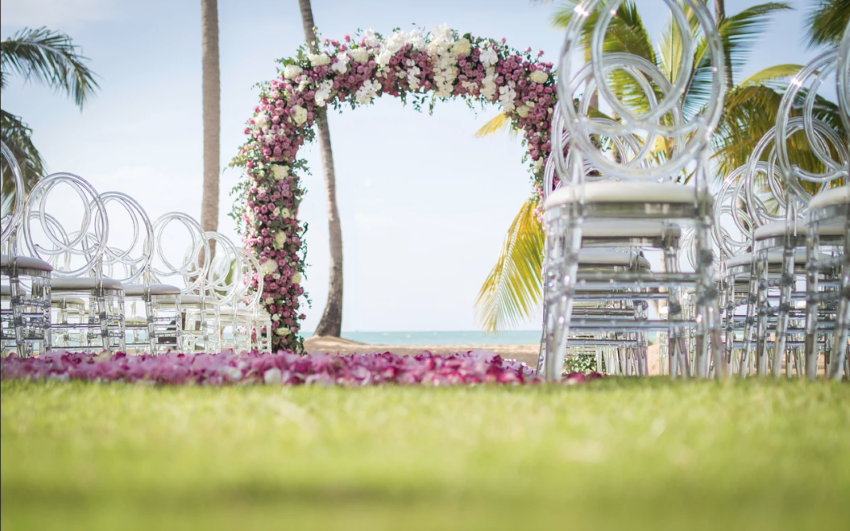 4. Penthouse
Situated within the main building and overlooking the gardens, the penthouse offers a cozy setting for your intimate wedding celebration.
But, our wedding planners don't recommend it – it's too basic!
Ceremony – up to 30 guests
Cocktail – up to 30 guests
Reception – up to 15 guests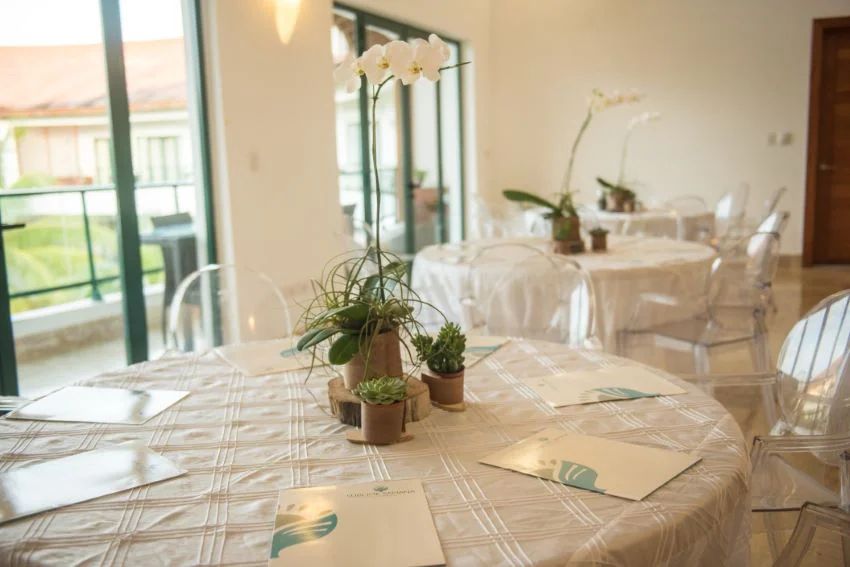 5. Gazebo
The Gazebo offers a contemporary and enchanting backdrop for both cocktail parties and dinner receptions.
It's located at the heart of the property. 
Cocktail – up to 60 guests
Reception – up to 40 guests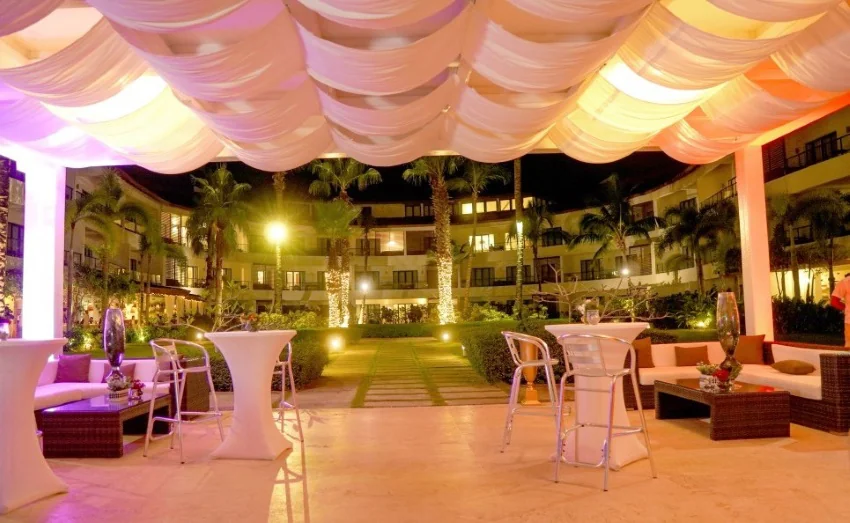 6. La Palapa
Just a stone's throw from the beach, the Palapa provides a covered setting.
It's got a chill vibe and is perfect for your cocktail party, and dinner reception.
Cocktail – up to 150 guests
Reception – up to 110 guests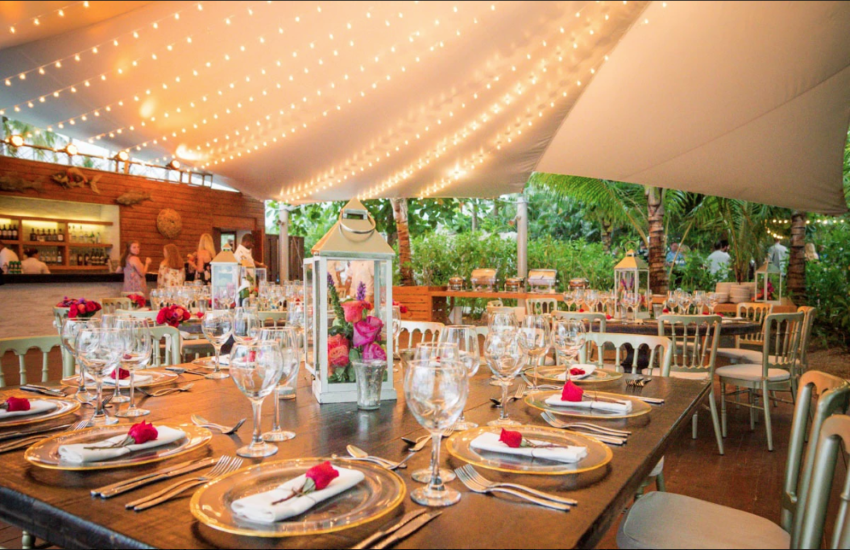 Sublime Samana is an inclusive and welcoming resort that embraces diversity.
It's a fantastic choice for hosting LGBTQ weddings.
Need help with documentation? Our specialists can guide you with that.
Here's some advice from our wedding specialists: The Dominican Republic is super warm and welcoming, but is also conservative.
While the locals are friendly, couples from the LGBTQ community might attract curious glances.
At Sublime Samana, they offer an exclusive selection of casitas and suites.
These accommodations are beautifully and thoughtfully designed, boasting expansive floor-to-ceiling windows that offer breathtaking ocean and mountain views.
Each one is tastefully furnished, equipped with a full kitchen, dining area, and a balcony or terrace.
We have a feeling you and your wedding guests wont want to leave!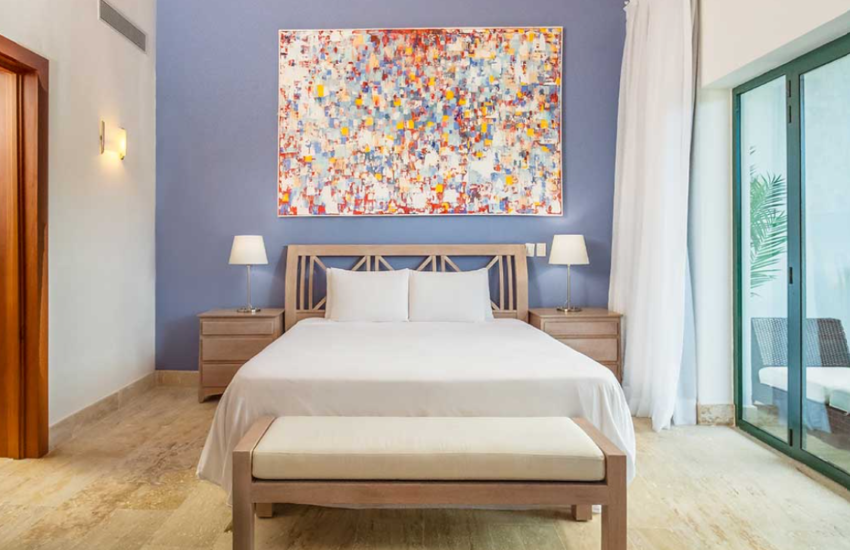 You get to choose from 5 categories…
One Bedroom Suites – 1 king-size bed 
Two Bedroom Suites – 1 king-size bed + 2 queen-size beds
Two Bedroom Casitas – 1 king-size bed + 2 queen-size beds
Three Bedroom Casitas – 1 king-size bed + 2 queen-size beds + 2 full-size beds
Presidential Suite – 3 king-size beds + 2 full-size beds
Although the One Bedroom Suite is more practical, we highly recommend the Two Bedroom Casita for the wedding couple!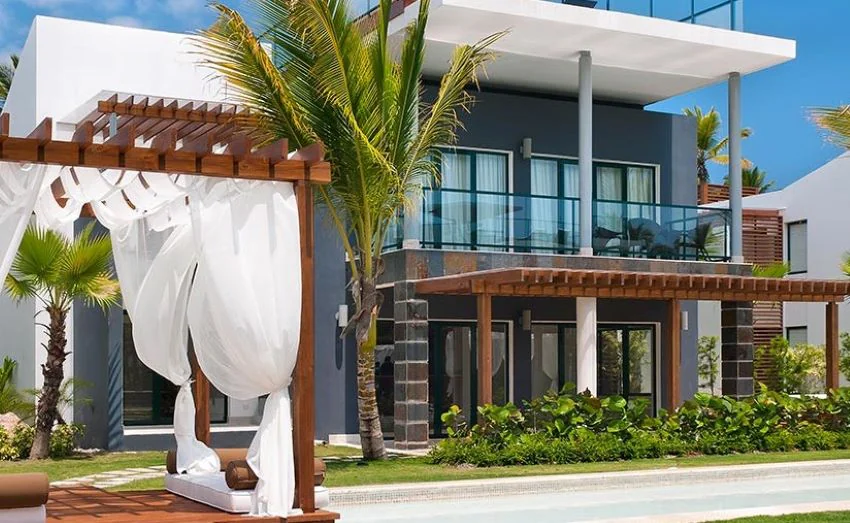 The beach-adjacent Two Bedroom Casita gives you the choice to stay on the first level with a Jacuzzi, or on the second level with a rooftop terrace and Jacuzzi.
And no matter which you choose, the private Jacuzzi will leave you feeling pampered for sure!
Our couples love the walk-in showers, and the freedom to cook their meals in the fully equipped kitchen.
We find the layout of the pools at Sublime Samana super unique.
There are 2 main pools connected by 2 water canals having individual plunge pools.
Makes you feel like you have your very own private pool!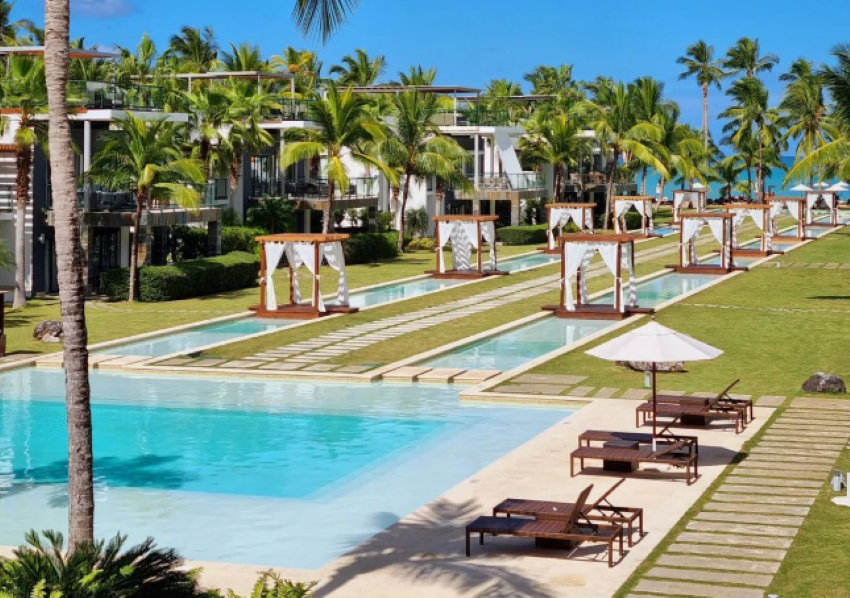 The beach at Sublime Samana is gorgeous and the waters are teeming with coral reefs and tropical fish.
We love the lobster wrap at their open-air beachside grill 😋 You should definitely try it.
Sublime Samana boasts 2 sensational restaurants, 1 lively bar, and a beachside grill. 
You and your wedding guests are in for a treat! 
Their menu features an array of seafood delights, with a strong focus on fresh, locally-sourced ingredients.
The menu changes weekly, highlighting the daily catch from Las Terrenas.
And fear not, they have delicious options for vegetarians as well.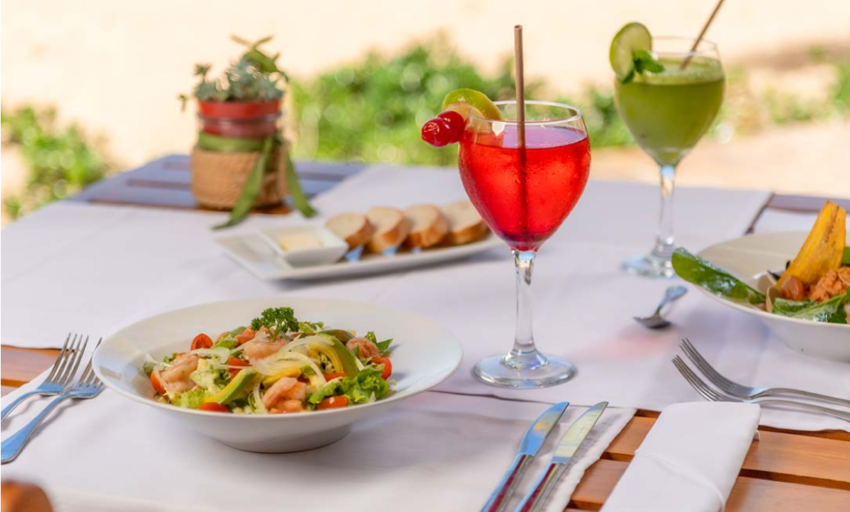 2 restaurant options include… 
Bistro | global cuisine
La Palapa | local and global cuisine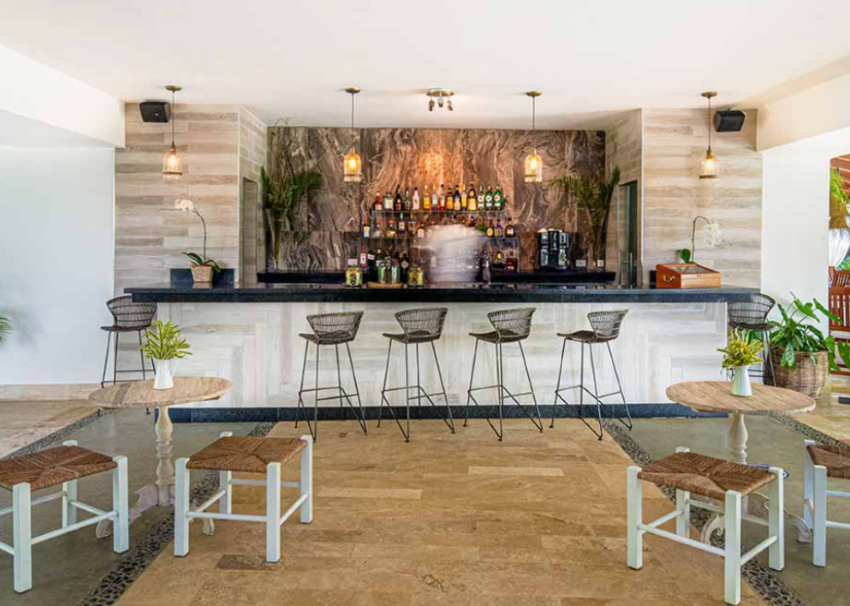 At Sublime Samana, you'll find plenty of exciting activities awaiting you!
Whether you want to play water sports with your guests, unwind poolside, or pamper yourself with soothing spa treatments, the resort's got it all covered!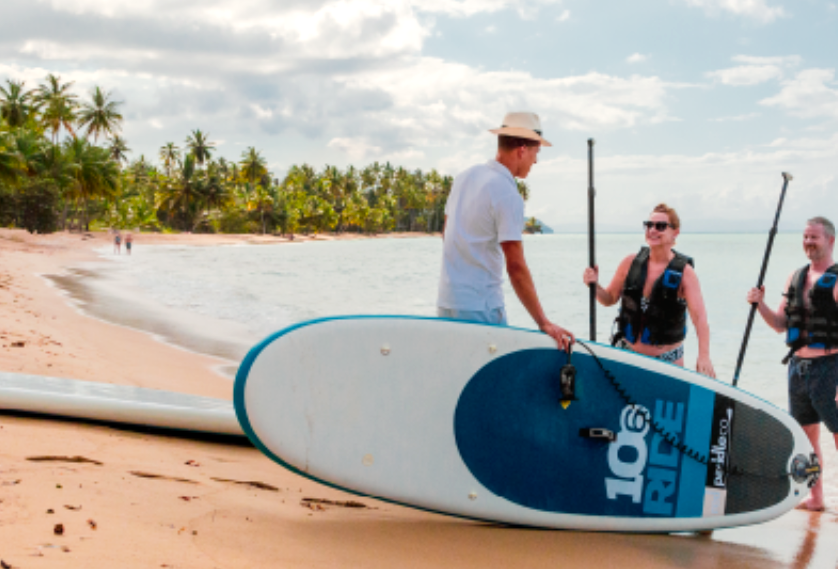 Fun activities and entertainment include…
Snorkelling
Paddleboarding
Kayaking
Windsurfing
Whale watching tours
Catamaran tours
Spa
Fitness center
Tennis and basketball courts
Yoga classes
Cooking classes
Treks to El Limon Waterfall
Tours to Los Haitises National Park
Q. Which is the closest airport to Sublime Samana?
The Samaná Airport (AZS) is approximately 30 minutes' drive from the resort.
Q. Is there a spa at Sublime Samana?
Yes, there's a spa at Sublime Samana. The Coconut Whisper's Spa offers massages, facials, body wraps and the signature rain massages.
Q. Is Sublime Samana all-inclusive?
No, Sublime Samana is not an all-inclusive resort.
Q. Does Sublime Samana offer complimentary airport transfers?
No, you need to pay for the airport transfers. It costs approximately $90 one-way per car from the Samaná Airport.
Q. What is Samana known for?
The Samaná Peninsula is known for its verdant mountains, beautiful beaches, and humpback whales.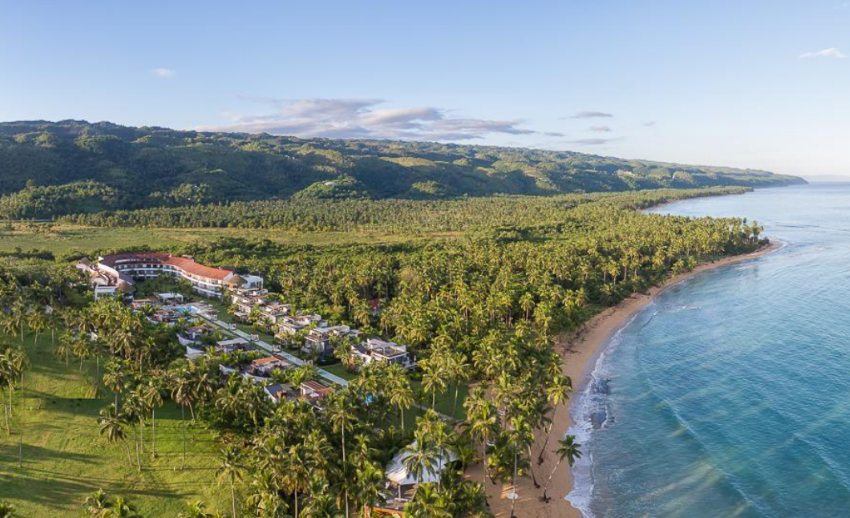 Sublime Samana has some seriously amazing wedding venues, luxurious accommodations, delectable cuisine, and mind-blowing views!
But you want to weigh the pros and cons before making a decision, right?
I asked our team of destination wedding planners to spill the beans on this resort.
Here's what they had to share… 👇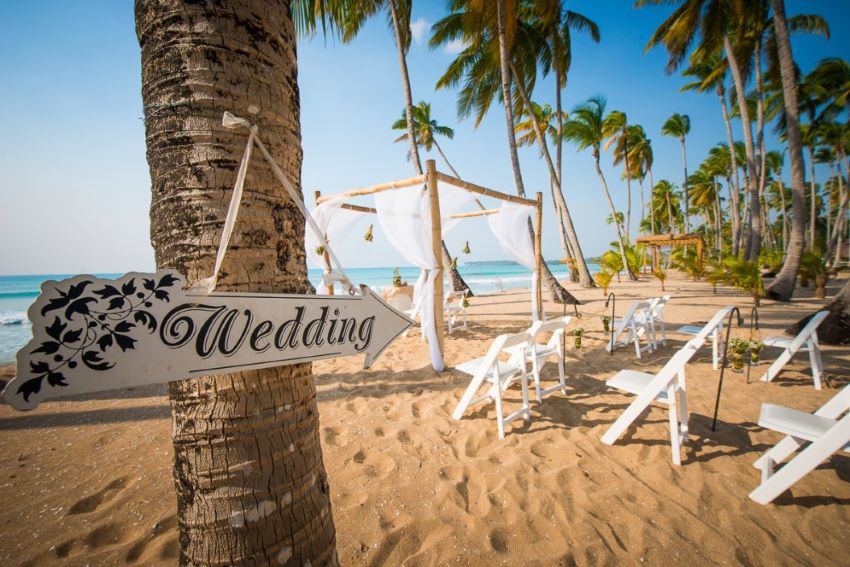 Things we love: 
A variety of gorgeous venues and locations.
Luxurious accommodations.
They have a Kids Menu in their restaurants.
Guests love the complimentary shuttle service to the town of Las Terrenas.
Things we don't love: 
No kids' club.
Not an all-inclusive resort. However, your breakfast is included.
Wedding packages are expensive compared to other resorts in the area.
Outside guests are not allowed. Your wedding guests need to stay in the resort itself. If they decide to stay elsewhere, you need to get their visit approved from the resort management.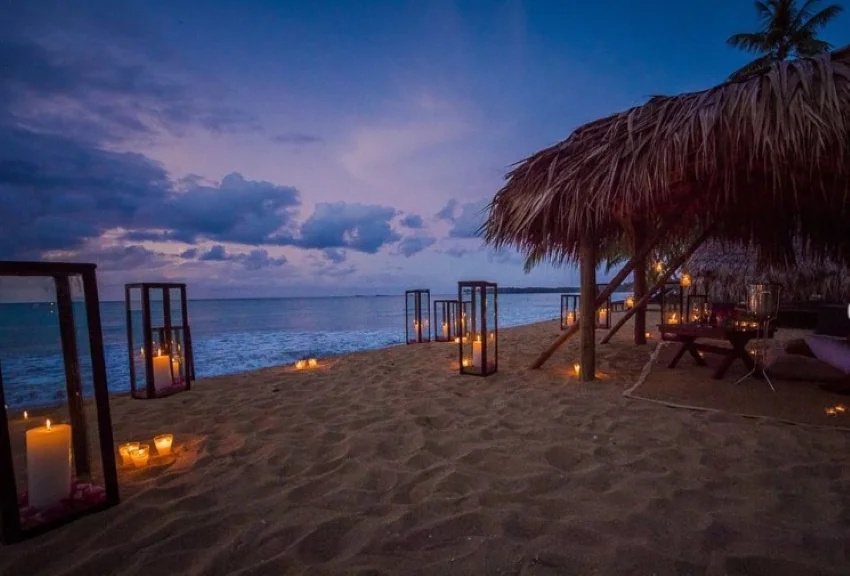 Still unsure? 
Take a look at these 3 similar resorts that could be perfect for your wedding. 
Ready to plan your destination wedding? 
Or maybe you're looking for other options.
We can help!
Our team at ParadiseWeddings.com has planned 100s of weddings and can guide you every step of the way. 
Call us today at 877-737-0177 or contact us here for a FREE consultation.
Can't wait to hear from you!