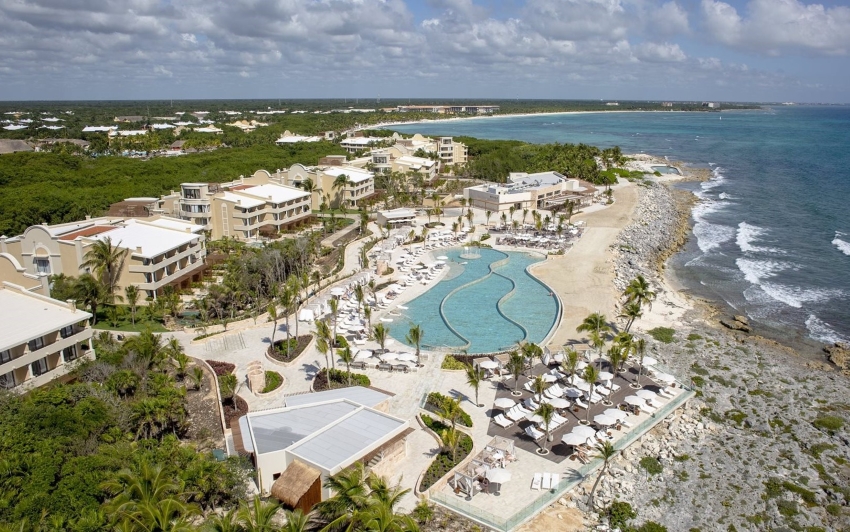 Weddings At TRS Yucatan | Our Honest Review
Wondering if TRS Yucatan would be the perfect resort for your destination wedding?
You're about to find out!
Our wedding specialists have organized 100's of destination wedding in Mexico, and many at TRS.
So, you'll get all the juicy wedding-related details on this all-inclusive resort, including the pros and cons.
Enjoy!
TRS Yucatan is a beautiful 5-star resort in Riviera Maya that's both lively and calming.
This adults-only resort is great for couples looking for privacy and personal service.
The 454 fully-fitted suites come with 24/7 room service, so be ready to get pampered!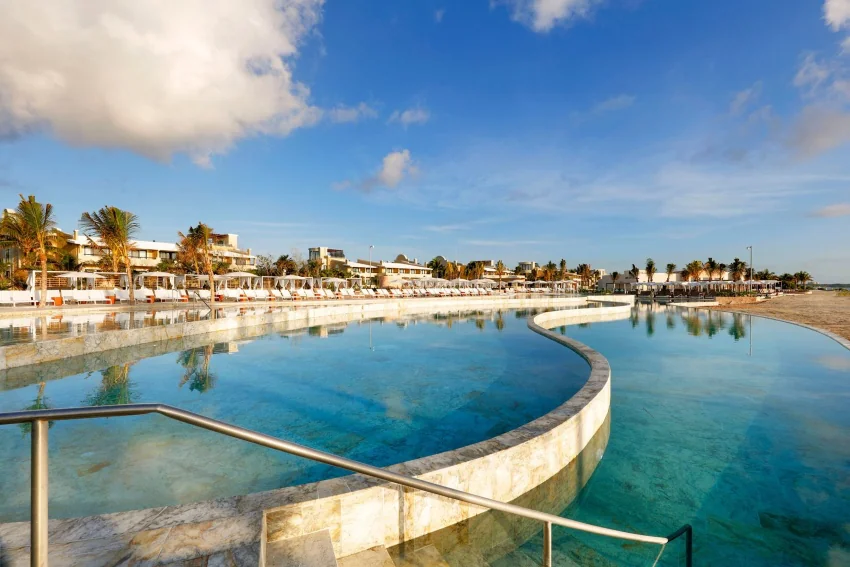 Wanna relax before your big day? Lounge around the 3 pools with jacuzzies built right in. Or kick back on the beach.
Plus you gotta check out the spa! They have all sorts of body treatments to help you relax.
And oh boy, the food! There are 6 restaurants and 6 bars to choose from, and they're all amazing!
For an unforgettable wedding celebration, TRS Yucatan is the ultimate destination!
This resort has everything you need to make your special day perfect, with a range of 6 wedding packages to choose from.
Whether you're planning a small and intimate ceremony or a grand and lavish affair, the resort can make it happen. 
The 6 wedding packages include:
Lovebirds | $1,100 for 10 guests ($20 +/- guest)
Palladium With Love | $2,400 for 20 guests ($20 +/- guest)
Waves Of Love | $2,690 for 20 guests ($20 +/- guest)
Evermore | $2,690 for 20 guests ($20 +/- guest)
Bliss In Bloom | $2,690 for 20 guests ($20 +/- guest)
Timeless | $2,690 for 20 guests ($20 +/- guest)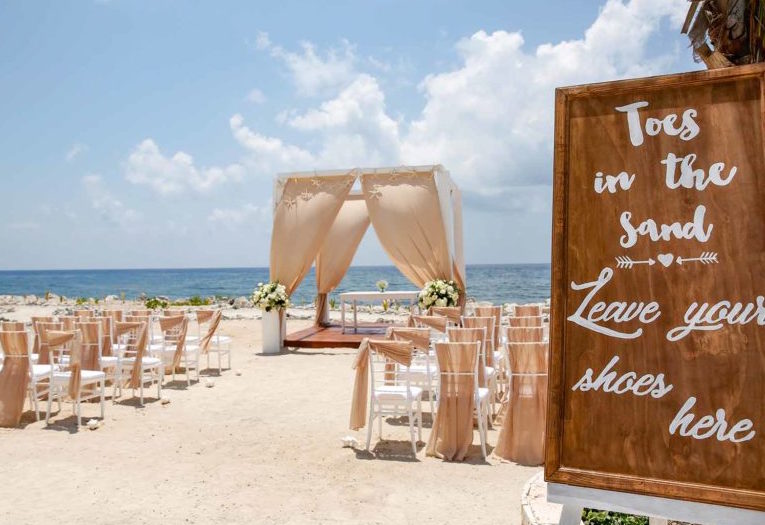 Waves Of Love Wedding Package:
Want a wedding right on the beach? The Waves Of Love package is the one for you!
It's inspired by sun, sea and sand; our couples and wedding planners love the elemental décor of this package. 
For $2,690, you get all of these amenities:
Ceremony location
Sheer curtains/draping in your choice of colors
4 Baby's Breath aisle markers
Starfish garlands and seashell aisle decor
Waves of Love personal flowers for the couple
Choice of white folding garden chairs or Tiffany chairs
2-tiered wedding cake
Private check-in and late check-out for the couple
Dedicated wedding planner
Ceremony sound system
Breakfast in bed for the wedding couple
Wedding gift
Room upgrade for couple
Dinner reservation at an on-site restaurant (non-private)
Sparkling toast immediately following the ceremony
Free access to the Hydrotherapy Area at spa
15% discount on spa services
Honeymoon amenities
Get pricing for all their wedding packages + venues pictures here  👉
At TRS Yucatan, you'll have the luxury of choosing from 7 stunning wedding and reception venues!
Whether you're dreaming of a romantic garden setting, a traditional chapel ceremony, or a breathtaking beach backdrop, the resort has got you covered.
1. Beach Pergola
Exchange your vows right on Riviera Maya's white sandy beach!
This beautiful venue is perfect for your wedding ceremony.
It can accommodate up to 150 guests.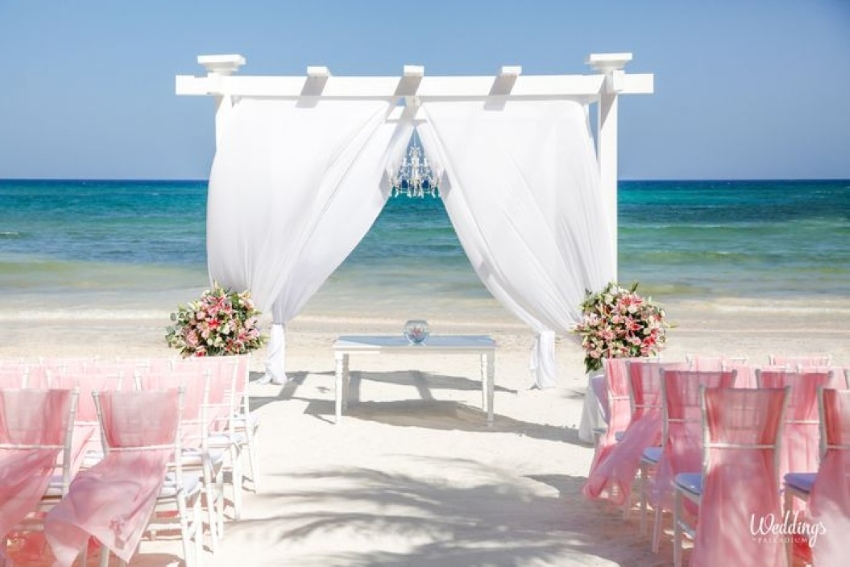 2. Beach Gazebo
Perfect for twilight weddings!
This stunning beachfront location can be booked for ceremonies.
It can host a maximum of 100 guests.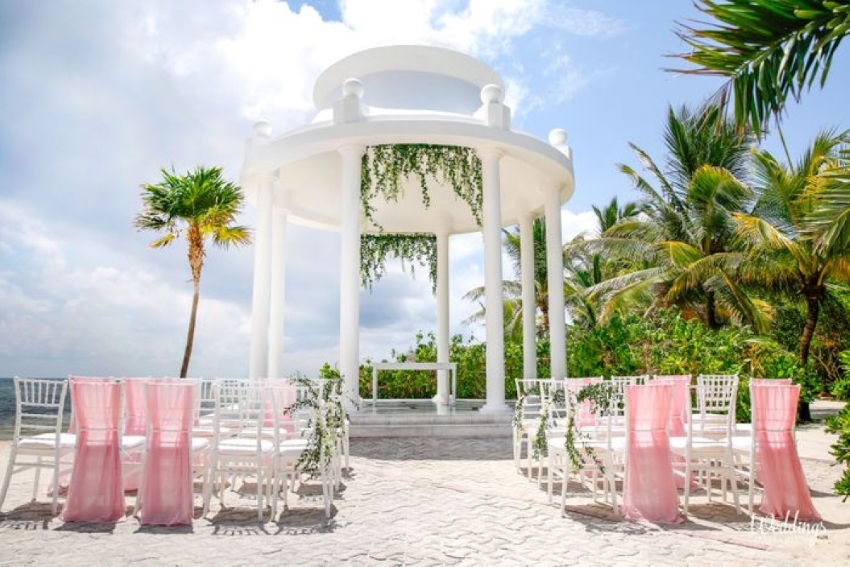 3. Garden Gazebo
Surrounded by lush gardens, this venue belongs in a fairytale!
It's perfect for hosting an intimate wedding ceremony and you can invite up to 80 guests here.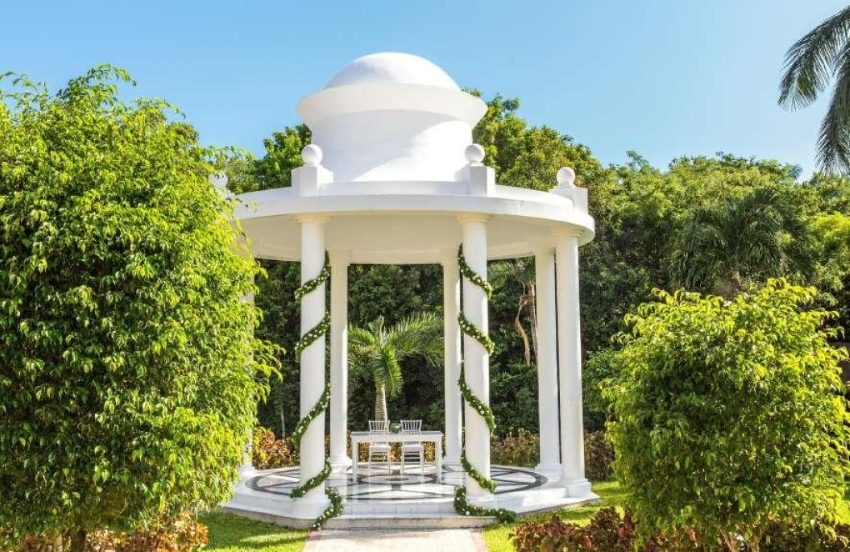 4. Nuestra Señora de las Nieves Chapel
If you're after a destination wedding that's got all the charm of a classic religious ceremony, the Nuestra Señora de las Nieves chapel is the place to be!
Its beautiful colonial-style architecture is sure to take your breath away.
It can accommodate up to 120 guests.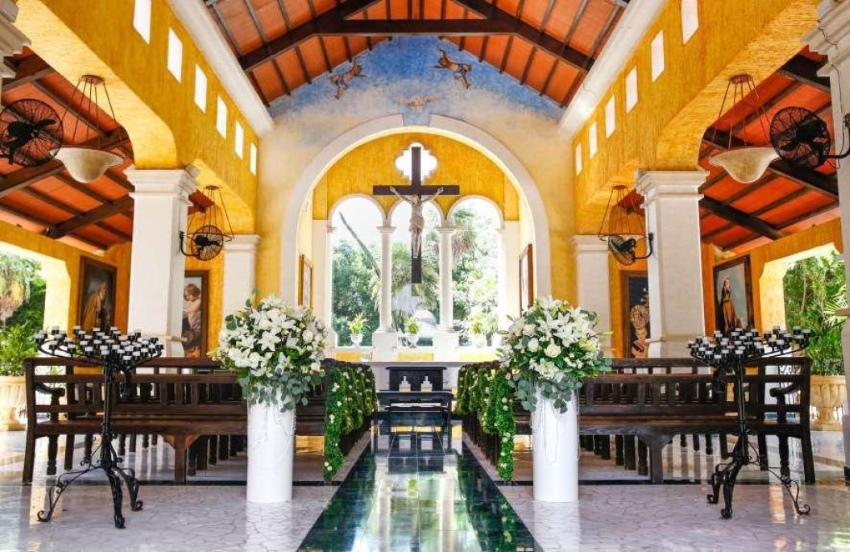 5. El Gran Azul y La Laguna Terrace
Glamorous and jazzy, the El Gran Azul y La Laguna Terrace can be used to host your reception and cocktail hour.
You can invite up to 200 guests here.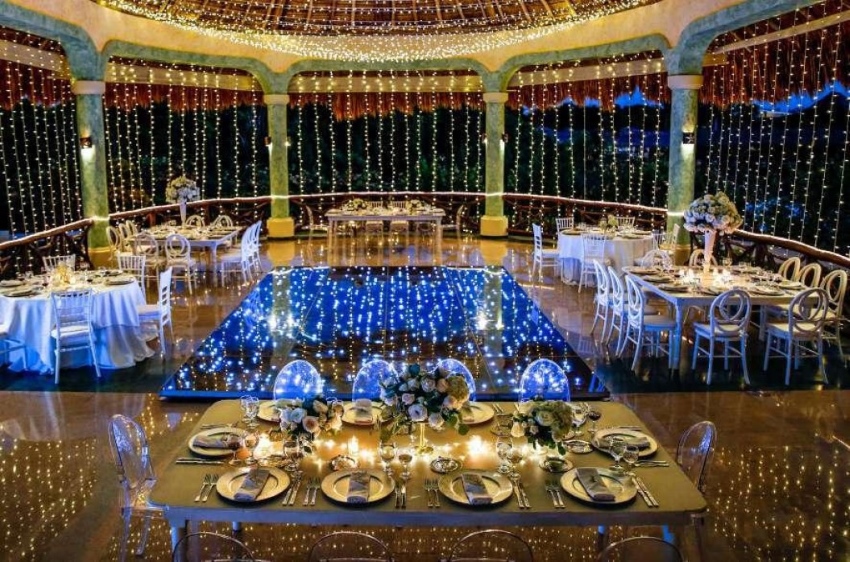 6. Beach Kantenah
You get the best of both worlds at this location – swaying palm trees, and a gentle ocean breeze…
This beachfront location can be used to host reception dinners and cocktail parties.
Up to 200 guests can be accommodated here.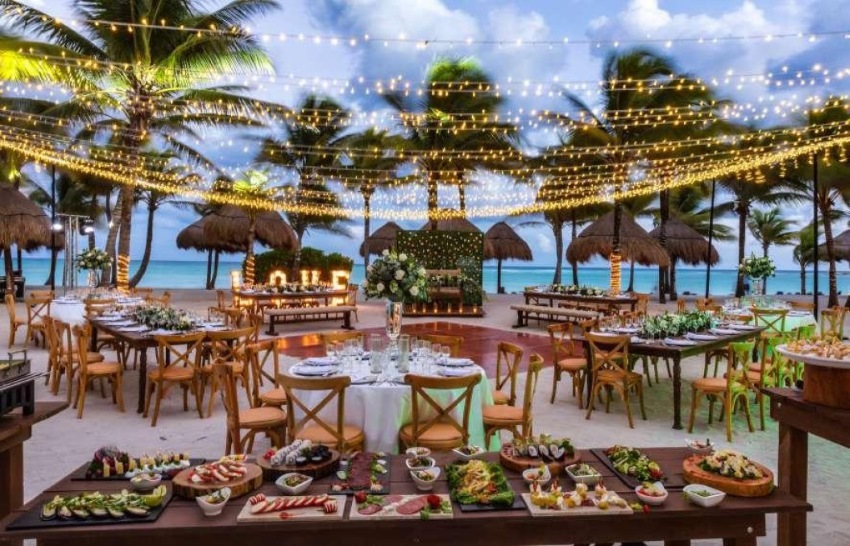 7. Las Olas Beach Club
For a small and intimate reception or cocktail hour, this venue is the right choice.
You can host up to 50 guests here.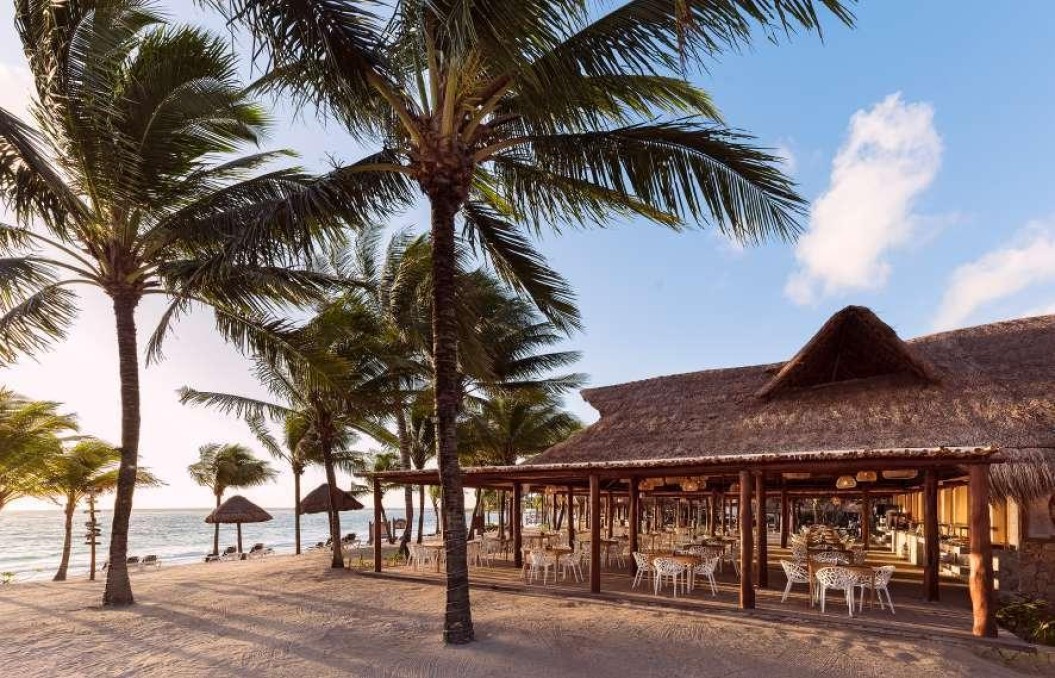 At TRS Yucatan, couples from the LGBTQ+ community are warmly welcomed.
You can choose your desired wedding package and venue, and your ceremony will be customized to celebrate your love.
Our wedding experts are here to create an unforgettable experience for you.
And hey, if you need help with any documentation, we've got you covered!
At TRS Yucatan, you won't find ordinary rooms, but rather 454 luxury suites and even a private villa!
Plus, some of these suites come equipped with their very own private pools – how cool is that?
And trust us when we, these modern and classy accommodations are a real treat for the eyes!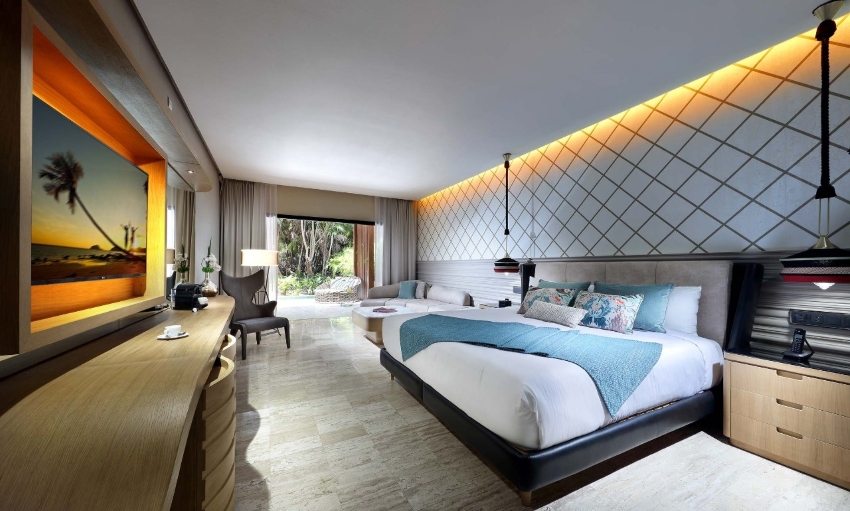 You get to choose from these 14 suites…
Junior Suite Garden View – king-size bed or 2 double beds
Junior Suite Poolside – king-size bed or 2 double beds
Junior Suite Poolside Ocean View – king-size bed or 2 double beds
Junior Suite Jacuzzi Terrace Poolside – king-size bed or 2 double beds
Suite Garden View – king-size bed
Suite Poolside – king-size bed
Suite Jacuzzi Terrace Poolside – king-size bed
Junior Suite Private Pool Garden View –  king-size bed or 2 double beds
Junior Suite Private Pool Poolside – king-size bed or 2 double beds
Romance Bungalow By The Lake –  king-size bed
Suite Private Pool Garden View – king-size bed
Suite Private Pool Poolside – king-size bed
Wellness Junior Suite Garden View – 2 double beds
Ambassador Suite Panoramic Ocean View – king-size bed
For the newlyweds, we recommend the Romance Bungalow By The Lake!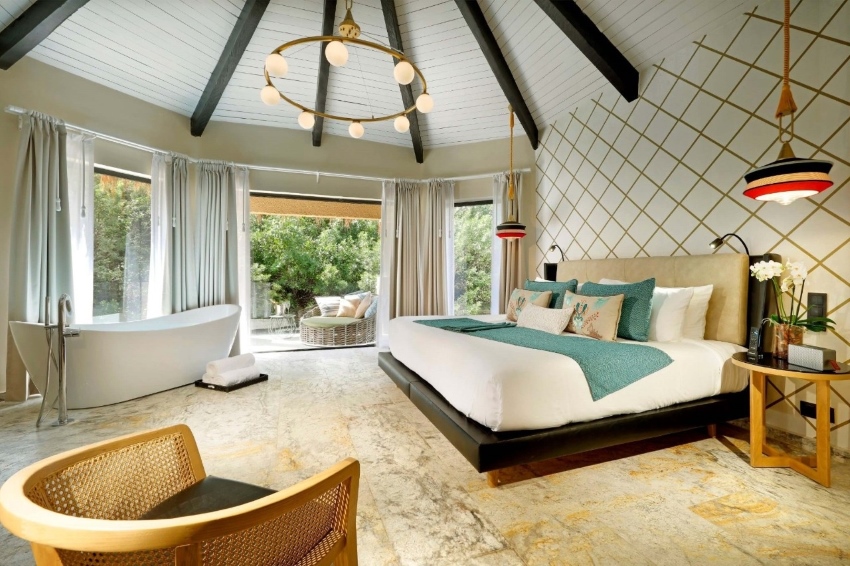 This lakeside cabin-style suite comes with a private entrance, jetty, and access to canoes.
The bungalow is spread across 67 square meters and boasts a charming palapa thatched roof.
You'll have access to an outdoor Mayan shower to awaken your senses, a terrace to take in the views, and a hydromassage bath for ultimate relaxation.
You'll find a luxurious king-size bed with a memory-foam mattress for a restful sleep.
You'll even get butler service!
This is the perfect suite for you to unwind and enjoy some quality time with your partner.
There are 3 magnificent pools at TRS Yucatan, all with built-in jacuzzis and waiter service.
Their infinity pool has the most amazing sea views and Bali beds where you can chill out and catch some sun.
Plus, some of the suites come with their own private pools!
Oh, and don't miss out on the swim-up bar at the main pool with its delicious handcrafted drinks.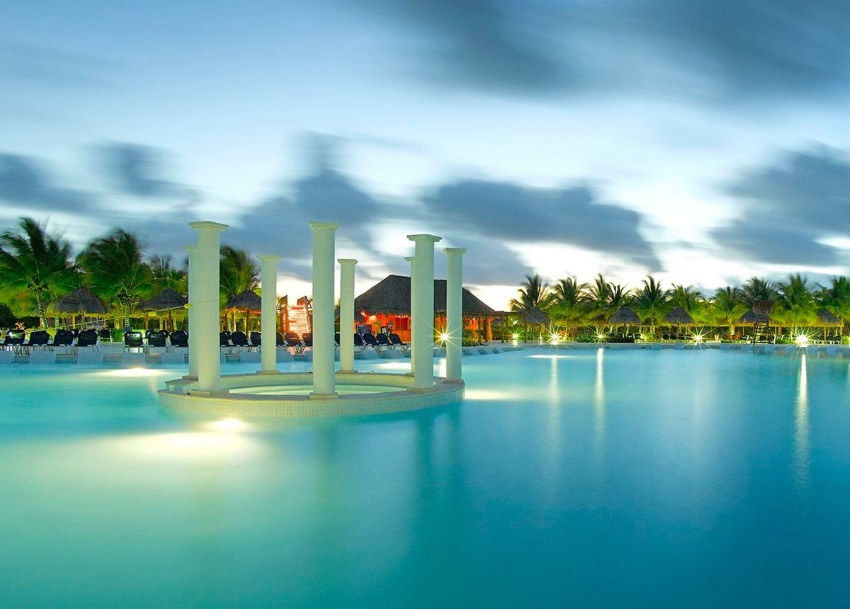 And for some extra VIP treatment, head over to the resort's premium beach area with comfy loungers and waiter service.
TRS Yucatan is a foodie's paradise!
With 14 amazing restaurants, you can look forward to a culinary adventure every single day.
And that's not all – there are 6 bars to explore too, including a swim-up bar, with some seriously good cocktails and top-shelf spirits.
Get your taste buds ready for a feast!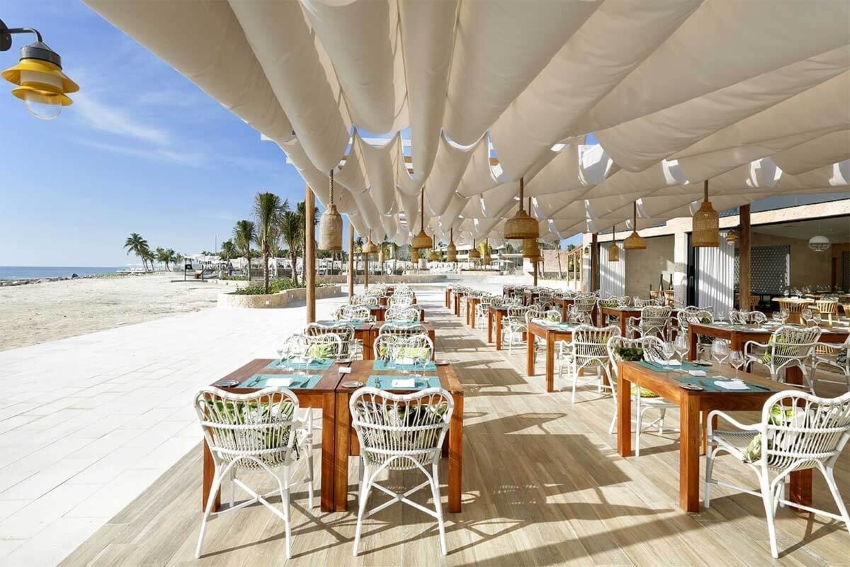 14 restaurant options include…
Helios | Global cuisine   
El Gaucho | Argentinian specialities
Tentazione | Italian cuisine
La Bohème | French cuisine
Capricho | Global cuisine 
El Dorado | steakhouse 
La Adelita | Mexican cuisine
Ribs & More | American cuisine
Sumptuori | Japanese
Portofino | flavors of the Mediterranean
La Lola | Spanish cuisine
Chang Thai | Thai cuisine
Bahia E Brasa | Brazilian cuisine
Tikal | buffet restaurant with global cuisine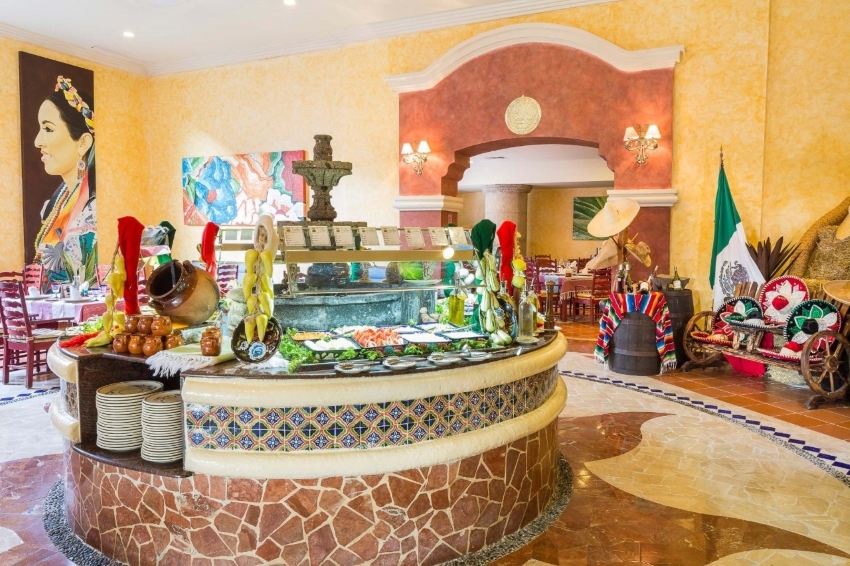 You and your guests won't be bored at TRS Yucatan – there are tons of fun activities to keep you busy!
From scuba diving courses to private catamaran excursions, you'll have plenty of options.
Just make sure not to exhaust yourself before the big day!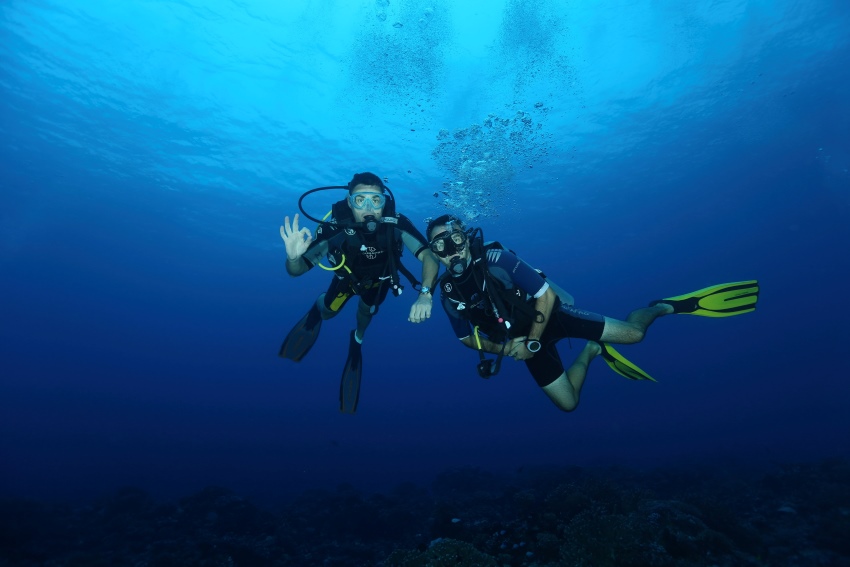 Fun activities and entertainment include…
Gastronomic and sensory experience at Chic Cabaret & Restaurant
Sport fishing
Snorkelling
Scuba diving
Spa
Fitness center
Luxury yacht and catamaran rental 
Yoga
Aerobics
Kayaking
Windsurfing
Paddle boarding
Q. What services are available when you stay at TRS Yucatan?
454 fully-equipped suites
24-hour room service
14 restaurants and 6 bars
VIP area on the beach with loungers and waiter service
Luxury spa
3 private swimming pools with jacuzzi and waiter service
A wide range of activities like yoga and aerobics, kayaking, diving etc.
Q. Is parking available at TRS Yucatan?
Yes, TRS Yucatan has free parking available to guests.
Q. What does TRS hotel stand for?
TRS means "The Royal Suites." The key focus of the resort is on making you feel like royalty, and everything has been designed with that in mind.
Q. Can you smoke at TRS Yucatan?
Yes, there are designated smoking zones where you can smoke. 
Q. What are the check-in and check-out times at TRS Yucatan – Adults Only?
Check-in at the resort is from 3:00 PM, and check-out is until 12:00 PM.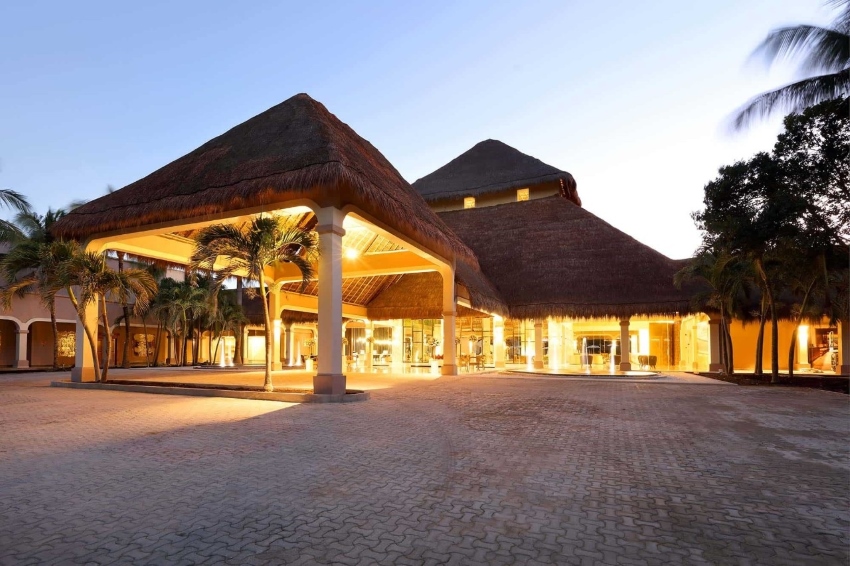 If you're planning a wedding at TRS Yucatan, you're in luck because everything is luxurious!
There are loads of venue options to choose from, so you can make your fairytale wedding a reality.
Plus, there are some amazing wedding packages to take advantage of too
Wondering what the catch is?!
I asked our expert wedding planners the same question – and they had some seriously good answers!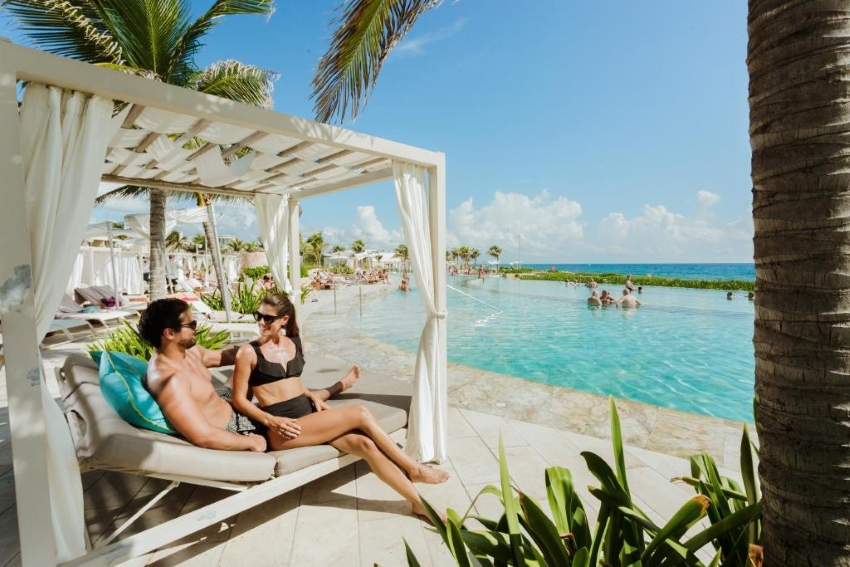 Things we love: 
Luxurious suites.
Love the private pools that some of the suites have!
Wait-service at the pools and beach!
You get access to the Grand Palladium's restaurants, bars, and amenities.
Things we don't love: 
No suites with beach access.
Beware of raccoons!
Dinner reservations are required, walk-ins are discouraged.
Expect delayed service during peak season.
Slightly on the expensive side.
Beach is a little rocky for swimming.
A guest complained that the staff was unresponsive or unfriendly. (only once!)
We've also had complaints of maintenance issues by 2 guests. (appliances that didn't work)
"This is a great resort for people who love the jungle and want privacy in their room."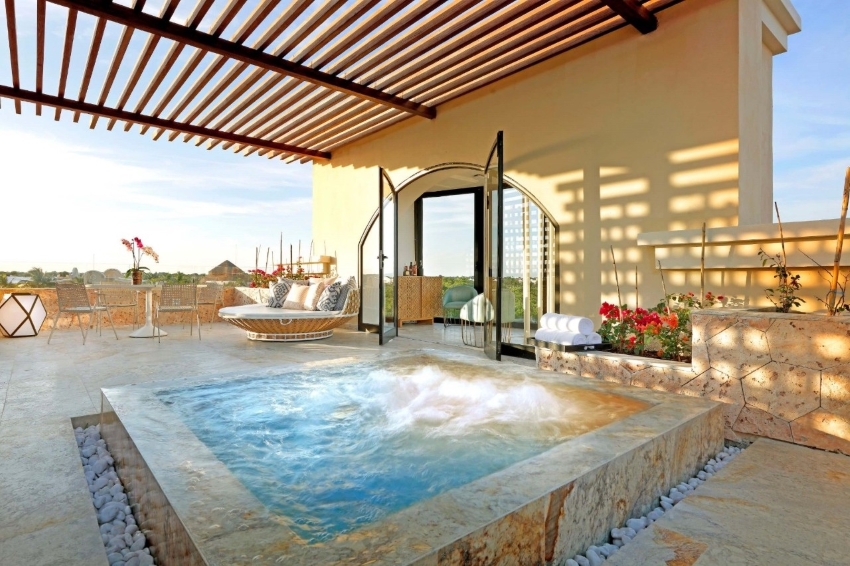 Still unsure about TRS?
Take a look at these 3 similar resorts that could be perfect alternatives for your wedding.
Ready to plan your wedding? 
Or looking for other resort and package options? 
We can help!
Our team at ParadiseWeddings.com have planned 100s of weddings and yours could be next. 
Call us today at 877-737-0177 or contact us here for a free consultation.
Can't wait to hear from you!