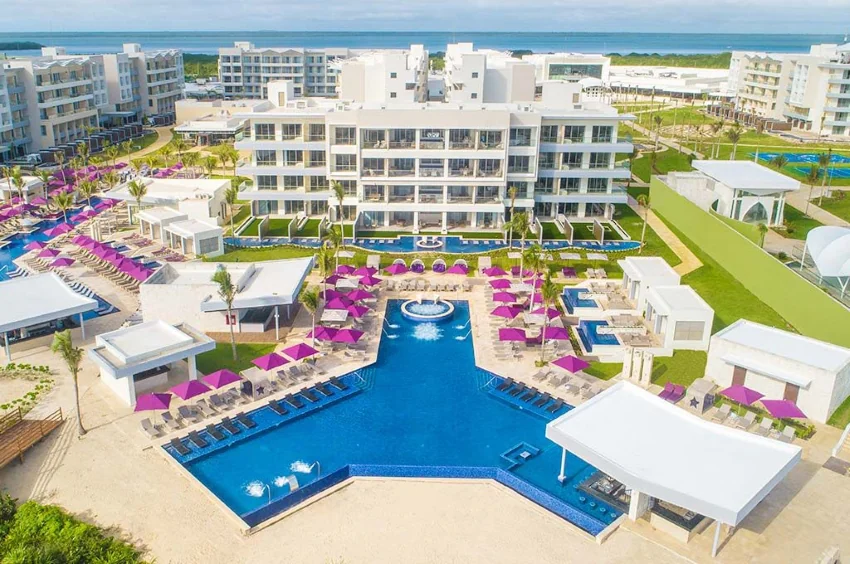 Weddings At Planet Hollywood Cancun | Our Honest Review
Dreaming of tying the knot at Planet Hollywood Cancun?
But need more info about the resort?
Our wedding planners have got your back!
They've organized 100's of destination weddings, and put this post together just for you.
We're not just gonna gush about all the good stuff.
We'll also spill the beans on the cons and what to expect.
Let's do this!
Located in Costa Mujeres, Planet Hollywood Cancun will make you and your wedding guests feel like celebrities!
This beachfront resort even has real Hollywood memorabilia peppered all over the place, and cool shows based on famous movies.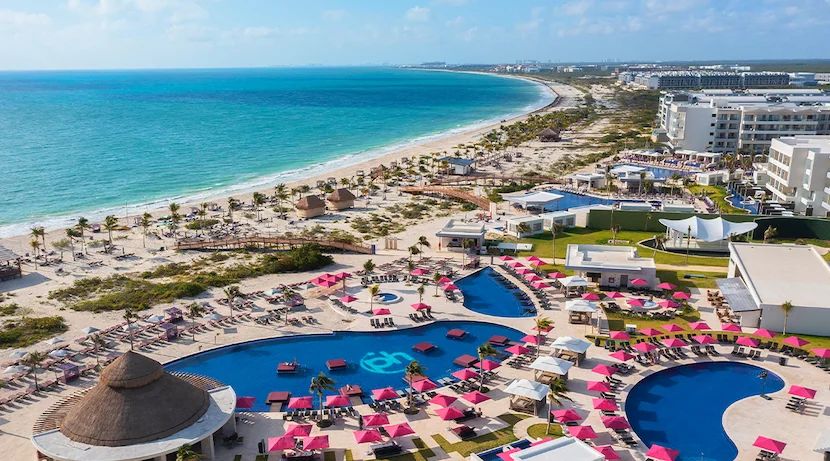 Planet Hollywood Cancun is an all-suites resort and has 648 suites that are super luxurious.
And they have 11 restaurants and 11 bars;  perfect to try out different cuisines and cocktails from around the world!
Did we mention the on-site water park?!
This resort offers so much, it should leave you and your wedding guests impressed!
Planet Hollywood Cancun plans blockbuster weddings. (sorry, i just had to)
Each and every wedding package is complete enough and accommodate a certain number of guests… but you can always add or remove if needed!
Their 4 wedding packages include:
PH Free | Free if conditions are met, or $999 for 10 guests ($20 +/- guest)
PH Tie The Knot | $699 for you and your partner
PH Love | $4,199 for 30 guests ($80 +/- guest)
PH Glam | $11,199 for 40 guests ($120 +/- guest)
PH Love Wedding Package
The PH Love package is the perfect balance between the basic and the luxurious wedding packages!
And you won't need any extra amenities – this package has got everything!
It takes care of the ceremony, reception, and even throws in a private cocktail hour.
For $4,199 you get the following amenities:
Personal wedding planner & onsite day-of coordinator
Celebrity VIP welcome for the bride & groom
"Getting ready" refreshments & fruit platter for bride & groom
10% discount on spa services for entire wedding group
Breakfast in bed for couple the morning after the wedding
Symbolic ceremony
Sound system for ceremony
Bridal and bridesmaid's bouquets, Groom's and groomsman's boutonniere
Ceremony table with linen and tropical centerpiece
Sparkling wine to toast the newlyweds
1-hour cocktail hour with 3 appetizers and standard open bar service
1 hour couple's personalized piped music selection for cocktail hour
3-hour private reception with open bar
2-tier wedding cake
Personalized menu card
Want to know more about this wedding package? Reach out to our wedding planners!
Planet Hollywood Cancun has a total of 7 ceremony and reception venues, and some of them can also be used to host cocktail hours. 
The venues are customizable and are perfect for all types of weddings.
Their 7 Wedding and Reception Venues Include:
1. Beach Surf's Up
A fabulous seafront location, this beach can make all your tropical wedding dreams come true!
It's perfect for hosting ceremonies, receptions and cocktail hours.
You can invite up to 500 guests to join the celebrations!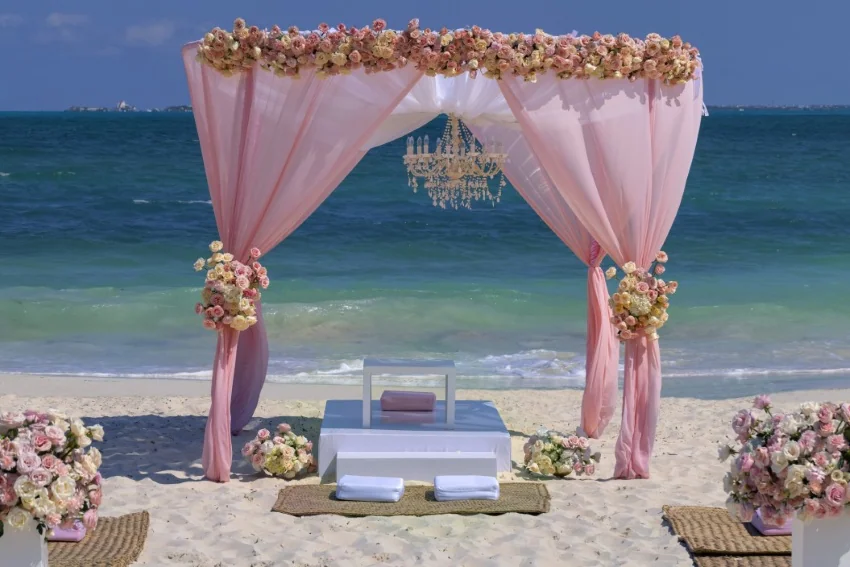 2. Roof Top 24
This beautiful seaview rooftop is perfect for your ceremony.
It also doubles up as a cocktail party venue.
You can host up to 120 guests here.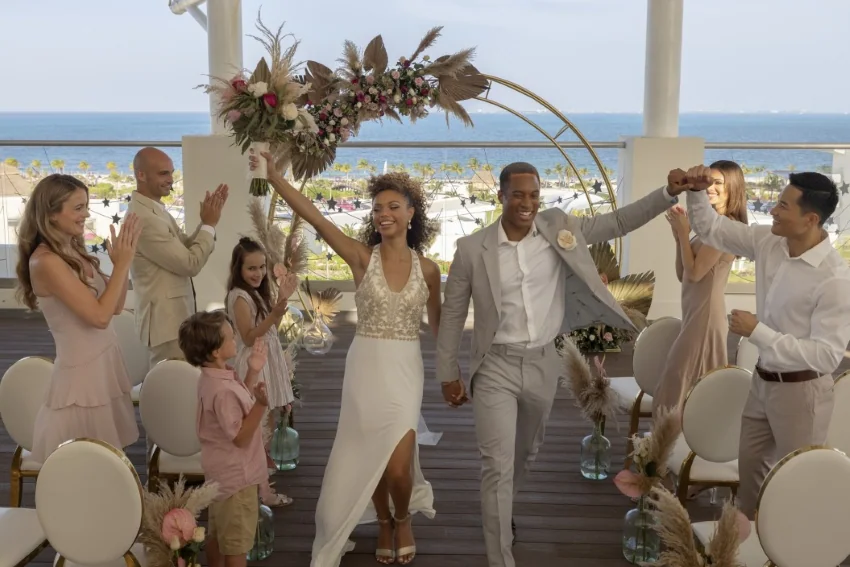 3. Rooftop Wedding Gusto
The Rooftop Wedding Gusto is located in the middle of the resort and offers gorgeous views of the sea and the resort. 
It's perfect for your ceremony, reception and cocktail hour and can accommodate up to 120 people.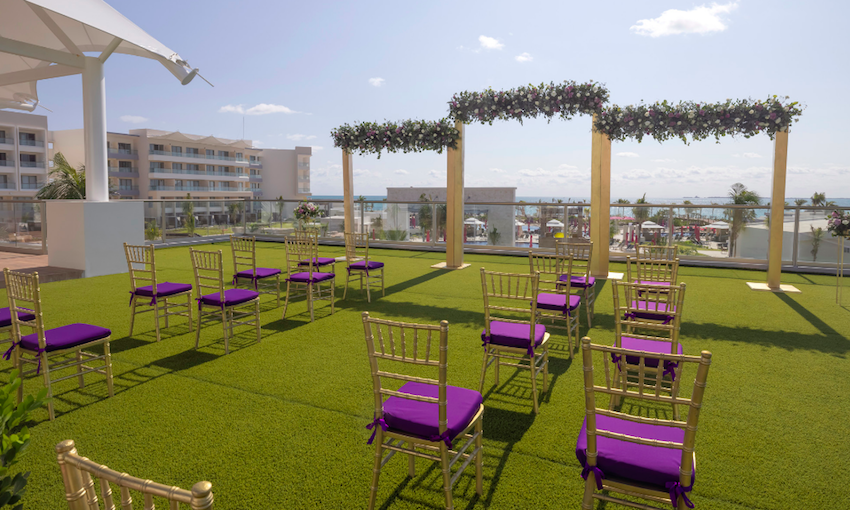 4. Palm Pavilion 1
This outdoor venue located in a huge fountain-like structure is dreamy and charming.
You can host up to 90 guests here.
It's perfect for ceremonies, receptions and cocktail parties.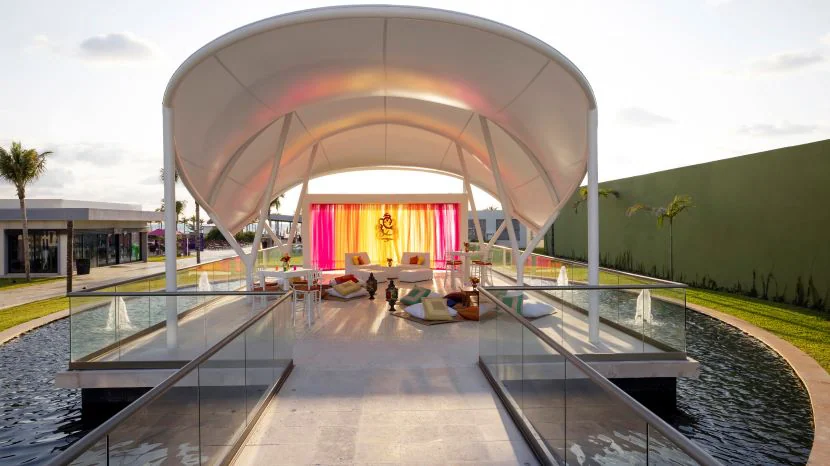 5. Palm Pavilion 2
This indoor venue is perfect for intimate celebrations.
Although indoors, Palm Pavilion 2's floor to ceiling windows offer beautiful views of the landscaped gardens.
You can invite up to 70 guests here.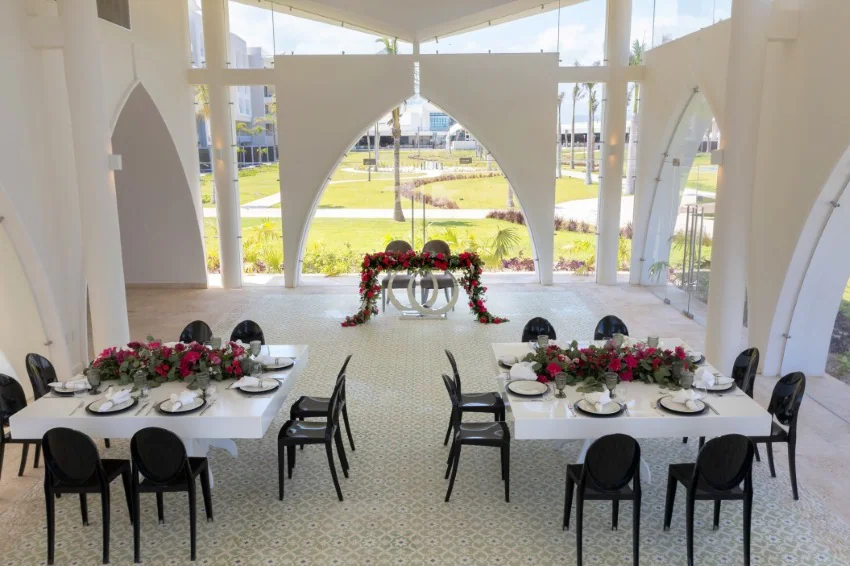 6. Sunset Terrace
As the name suggests, you can witness magnificent sunsets from this venue.
Available for cocktail hours and large receptions, the guest capacity for each differs.
While you can invite up to 100 guests for the cocktail hour, there's a minimum of 200 guests you need to invite for the reception.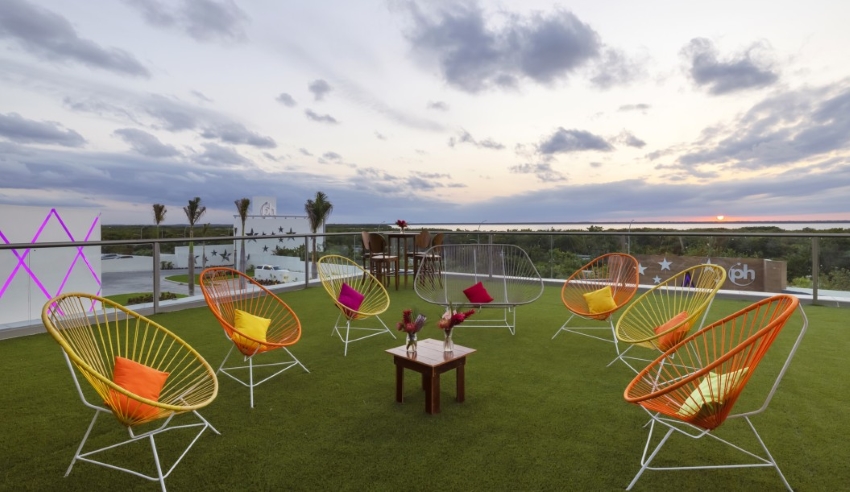 7. Blockbuster Ballroom
An indoor venue fit for royalty!
This ballroom has a capacity of 500 people and can easily accommodate your large wedding guest list!
You can host your reception and cocktail hour here.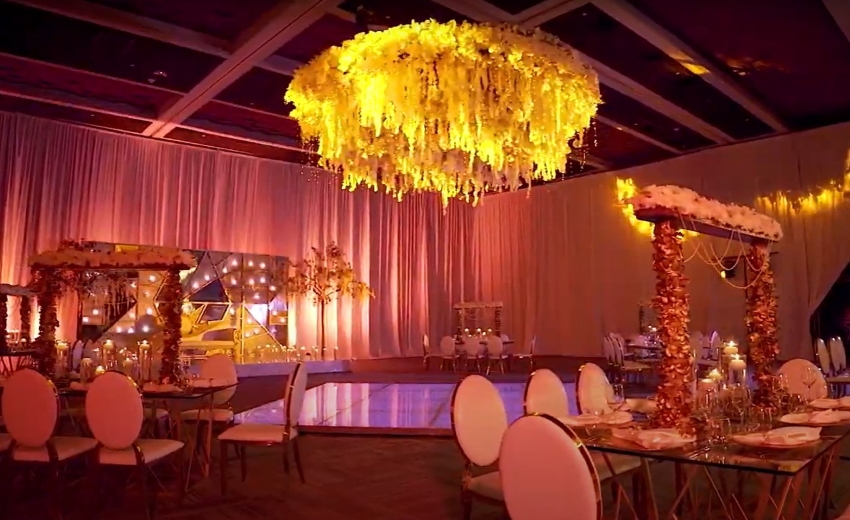 Planet Hollywood Cancun welcomes everyone, including LGBTQ+ couples, to tie the knot.
In fact, this resort is a hot spot for same-sex weddings!
Our wedding experts can collaborate with the resort's team to create an unforgettable experience for you.
Need help with documentation? Our wedding experts can help you with that too!
The suites at Planet Hollywood Cancun are simply gorgeous, roomy, and totally chill!
With a whopping 648 suites to choose from, your entire stay will be like a dream come true.
And since you're here for your wedding week, why not treat yourself to an even fancier suite?
That's where the Star Class Upgrade comes in!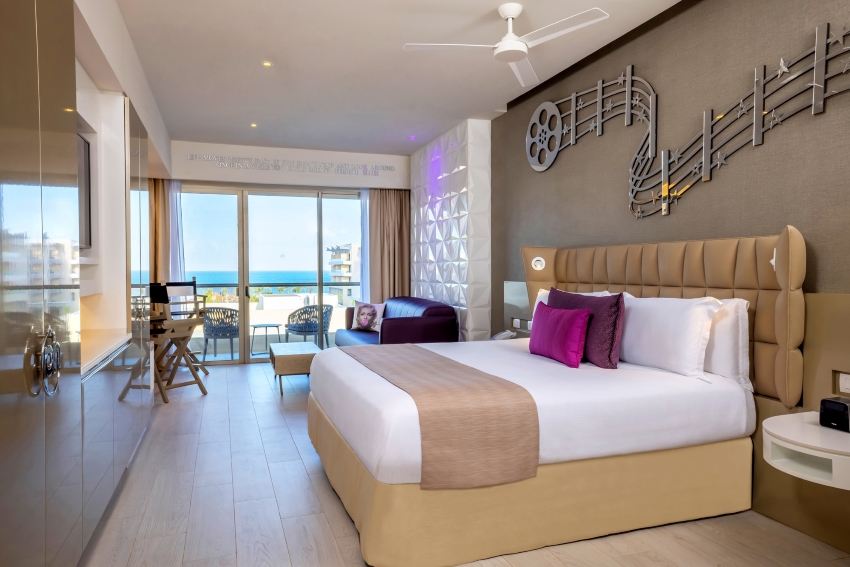 You get to choose from 10 room categories…
Junior Suite – 1 King or 2 Queens and Sofa Bed
Entourage Suite Family Room – 1 King and Sofa Bed
Director's Suite 1 Bedroom – 1 King and Sofa Bed
Director's Suite 2 Bedrooms – 1 King and 2 Queen Beds
 Junior Suite Star Class – 1 King or 2 Queens and Sofa Bed
Entourage Suite Family Room Star Class – 1 King and Sofa Bed
Director's Suite 1 Bedroom Star Class – 1 King and Sofa Bed
Director's Suite 2 Bedrooms Star Class – 1 King and 2 Queen Beds
Producer's Suite 1 or 2 Bedrooms Star Class – 1 King and 2 Queen Beds
Producer's Suite 3 Bedrooms Star Class – 2 King And 2 Queen Beds or 1 King And 4 Queen Beds
For the newlyweds, we recommend the Director's Suite 1 Bedroom!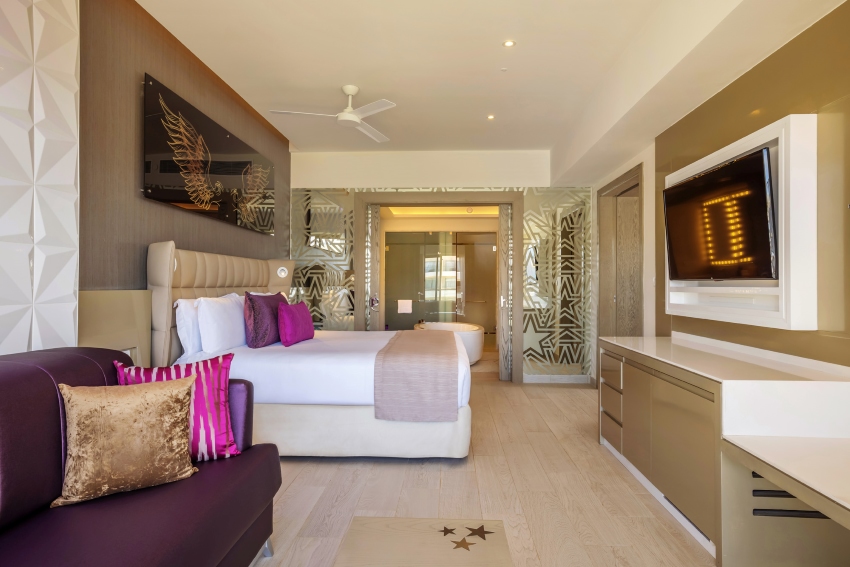 Get ready to live like a celebrity in this amazing suite!
You'll be blown away by the awesome views and super stylish décor.
Wake up in the morning feeling totally refreshed in your comfy PHabulous Bed™ and take a refreshing shower in your spa-like bathroom with a rain shower.
Then head over to the living area to brew yourself a cup of coffee from your in-suite bar!
This suite has it all – a Jacuzzi, private terrace or balcony, and even a semi-private pool option for you to kick back and relax.
The suite is spread across a whopping 1,227 sq.ft. and comes with swim out, and garden view options.
There's so much water fun to be had at Planet Hollywood Cancun!
Catch a wave on the FlowRider® surf simulator, take a chill ride down the lazy river, or have a blast with the little ones at Jurassic Splash Park.
Plus, the resort doesn't have just 1, or 2 pools… there are 5 pools!
If you're all about that beach life,  the pristine white-sand beach is just a few steps away and has plenty of loungers for you to soak up some sun.
Whether you're in the pool or on the beach, every moment here is totally Instagram-worthy!
You're gonna love hanging out and having drinks and food at this resort – it could easily become your fave thing to do!
Planet Hollywood Cancun has got a whopping 11 restaurants and 11 bars, so you've got tons of choices for each night of your stay.
The resort also has a unique lazy river float-up bar where you can enjoy sinful concoctions.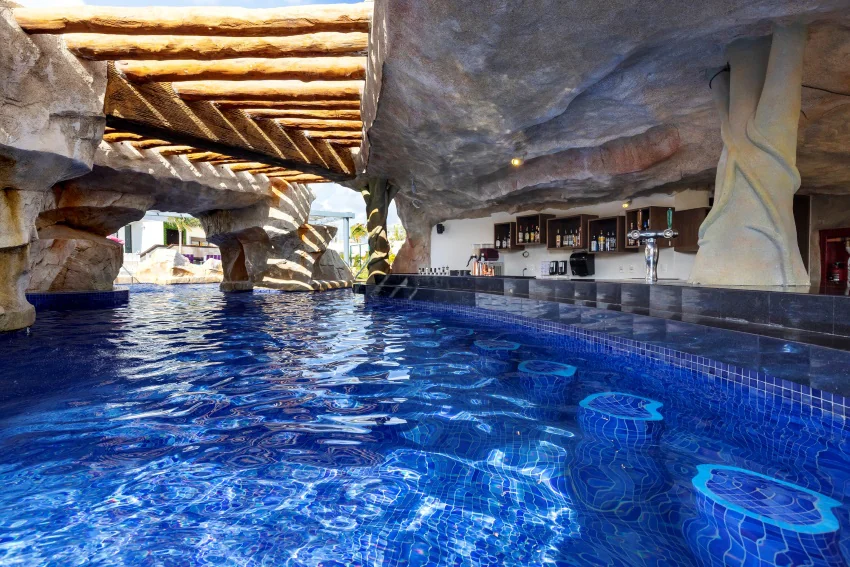 11 restaurant options include…
Guy's! Burger Joint | Restaurant by Guy Fieri – burgers and sodas  
So Cal Gourmet Emporium | flavors of Southern California
East Sushi & Teppanyaki Bar | Japanese cuisine
Sunset Strip Steakhouse & Grill | Steakhouse
Gusto Italian Trattoria | Italian cuisine
Overtime Sports Bar | pub food
Sutra Indian Restaurant & Hookah Lounge | Indian cuisine
La Cocina | Mexican cuisine
The Shores Beach Club & Restaurant | grilled delicacies
6th Sense | Unique experience of a private chef and a menu catered to you 
Star Class Bar & Grill | grill cuisine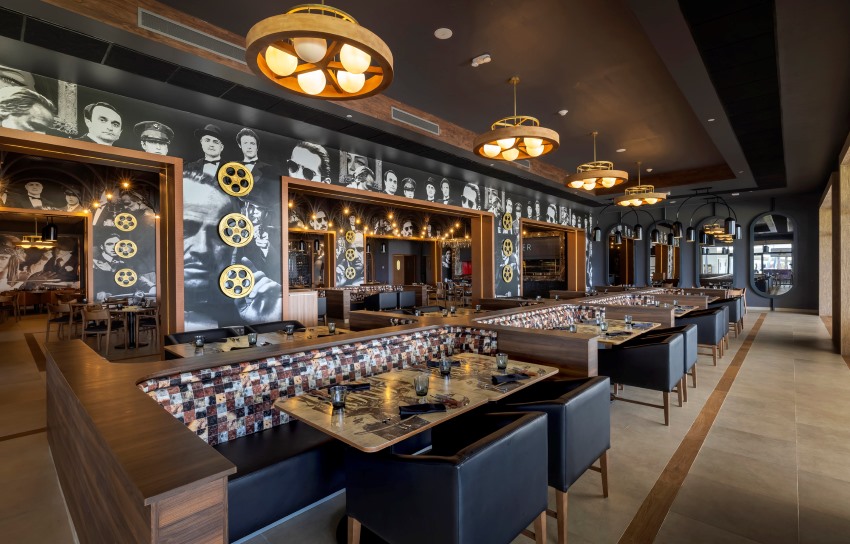 There's never a dull moment at Planet Hollywood Cancun!
They offer a bunch of awesome activities like kayaking, theme parties, and scuba diving lessons.
No matter what age you are, there's something for everyone!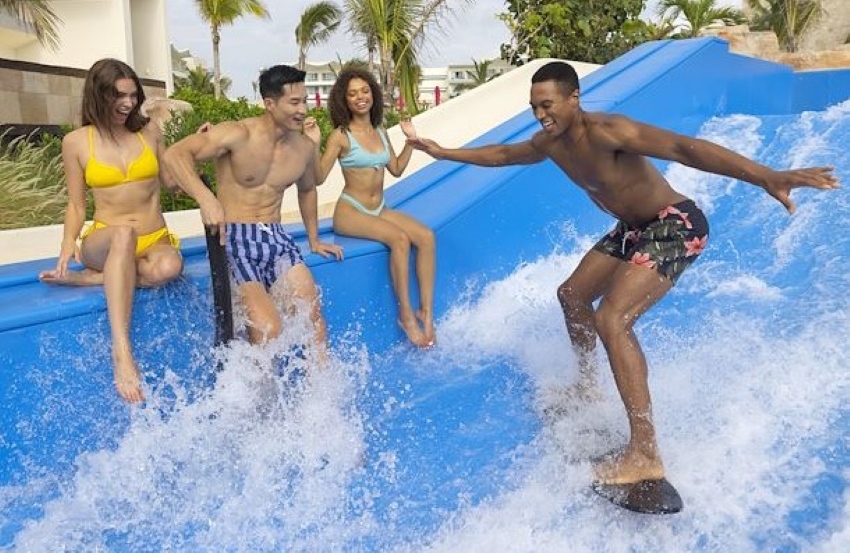 Fun activities and entertainment include…
Snorkelling
Kayaking
Scuba diving
FlowRider® wave machine
Spa
Fitness center  
Mini golf
Unique fast drive track
Hollywood experiences
Live shows
Stars Kids Club
Planet Play entertainment destination with things like trampoline, golf simulator, and basketball court
Q. What are the room amenities at Planet Hollywood Cancun?
The room amenities at Planet Hollywood Cancun include:
24/7 room service
Private balcony or terrace
In-room coffee machine
Plush bathrobes and slippers
PHTV™ satellite television
Minibar stocked with drinks and snacks
Bluetooth speakers
Safe
Ironing board
Plugged In™ resort-wide high-speed Wi-Fi
Q. How old is Planet Hollywood Cancun?
The resort is pretty new – it opened in January 2021.
Q. What's not included at Planet Hollywood Cancun?
Pretty much anything you can think of is included at this resort! The only thing worth mentioning could be no outdoor Jacuzzis (although you might have one in your private bathroom) and no outdoor hot tubs. 
Q. How far from the airport is Planet Hollywood Cancun?
Planet Hollywood Cancun is around 21 miles from the Cancun International airport.
Q. Is there a dress code for Planet Hollywood Cancun?
A few of the on-site restaurants do require you to follow a basic dress code. For example, bathing suits, wet clothes, or cut-off shirts/shorts are not permitted.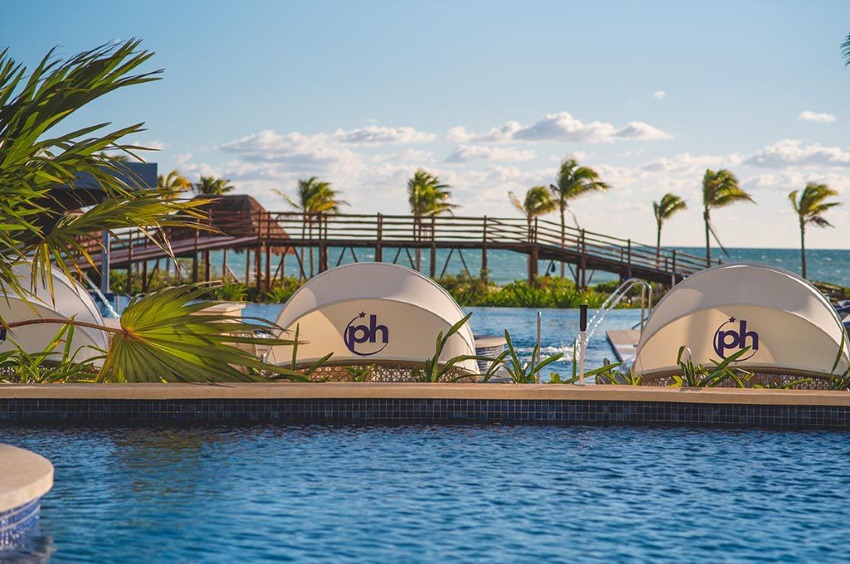 Planet Hollywood Cancun is just awesome!
The accommodations, pools, and food options make it an ideal resort for your wedding.
We asked our wedding planners for their thoughts on this place, and they didn't hold back!
Check out their list of pros and cons below.
Things we love:
The beach is stunning.
They have a lot of activities on site.
The fast drive track is pretty unique and thrilling.
A separate, dedicated adults-only section.
Good food with great options.
Lots of entertainment for the whole family.
Hollywood movie theme all throughout the resort.
Things we don't love:
Feels like a concrete jungle sometimes.
Lobby décor is inspired by Las Vegas; kinda kills the tropical Mexican vibe.
Service by the housekeeping department can be improved.
The indoor board games need upgrading.
They can have long wait times at check-in, which isn't fun when guests have been travelling for 6hrs and just want a room.
It's a popular and lively resort so it can get loud.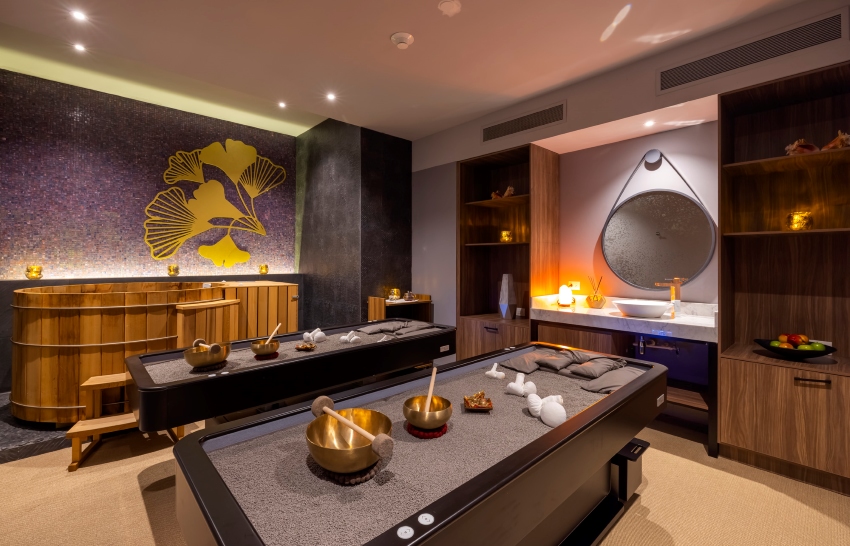 Still unsure? 
Take a look at these 3 similar resorts that could be perfect for your wedding. 
Ready to plan your destination wedding here?
Or looking for other options in Cancun?
Don't be afraid to ask for help!
Our team at ParadiseWeddings.com has planned 100's of weddings and can guide you every step of the way.
Call us today at 877-737-0177 or contact us here for a FREE consultation.
Can't wait to hear from you!