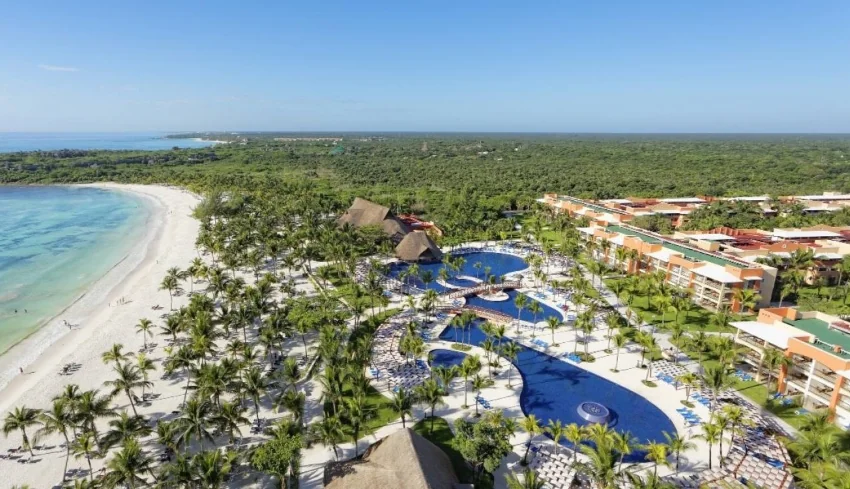 Weddings at Barcelo Maya Beach | Our Honest Review
Planning a wedding at Barcelo Maya Beach?
Great idea, it is a gorgeous resort!
But is it the perfect fit? I kinda know that's why you're here.
Today you'll get the lowdown on everything, including the good and the not-so-good thanks to our experienced planners .
Trust me, you don't want to miss out on these deets!
Ready? Let's dive in!
We've recommended the Barcelo Maya Beach for many couples because it can be ultimate fairytale wedding.
Why?
It's a breathtaking all-inclusive resort situated on the edge of the Riviera Maya, boasting a 1.25-mile stretch of beach that's straight out of a postcard.
Soft white sand, crystal-clear waters, palm trees, and endless sunshine – it's paradise… and their wedding venues are very pretty.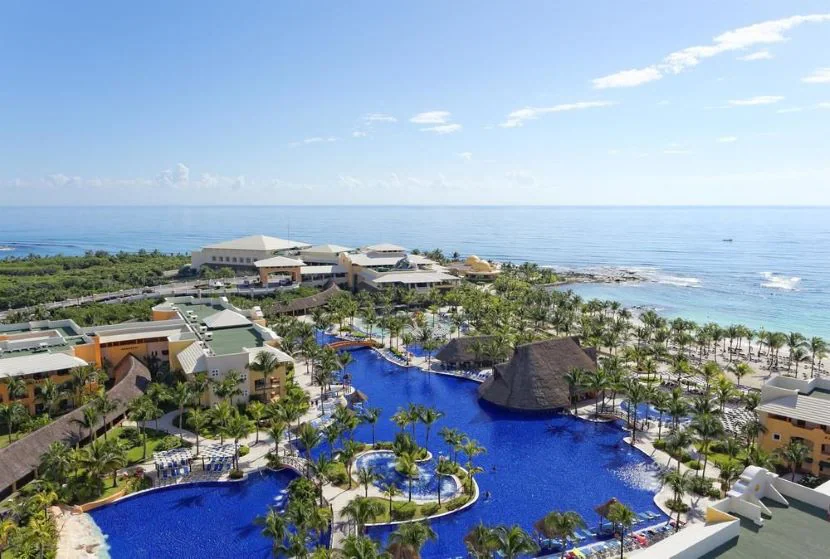 With luxurious accommodations, great service, and top-notch amenities, Barcelo Maya Beach resort leaves many guests feeling pampered.
Plus there are plenty of on-site restaurants and bars that can handle their hunger pangs.
Here's a nice perk... Guests staying at Barcelo Maya Beach enjoy the services and facilities of the Barcelo Maya Grand Resort!
There are other resorts you should consider if Barcelo Maya Beach is on your list. We'll cover those at the bottom of this post.
But for now, let's dig into their wedding packages.
Barcelo Maya Beach resort has got for you 8 incredible wedding packages, including 3 South-Asian options.
Whatever your dream wedding looks like – stunning tropical flowers, mouthwatering food, gorgeous décor, lively music – this resort has everything you need to make it happen.
8 wedding packages include:
Coconut Paradise | possibly free for max. 25 guests.
Moksha (South Asian) | possibly free for up to 50 guests.
Blueberry Dream | $2,000 for max. 25 guests.
Mint Breeze | $2,750 for 30 guests 
Strawberry Passion | $4,300 for 30 guests 
Dharma (South Asian) | $4,500 for 50 guests 
Tangerine Sunset | $11,400 for 35 guests 
Karma (South Asian) | $14,000 for 50 guests 
You can invite more guests for $20 to $79 per guests, depending on the package you choose.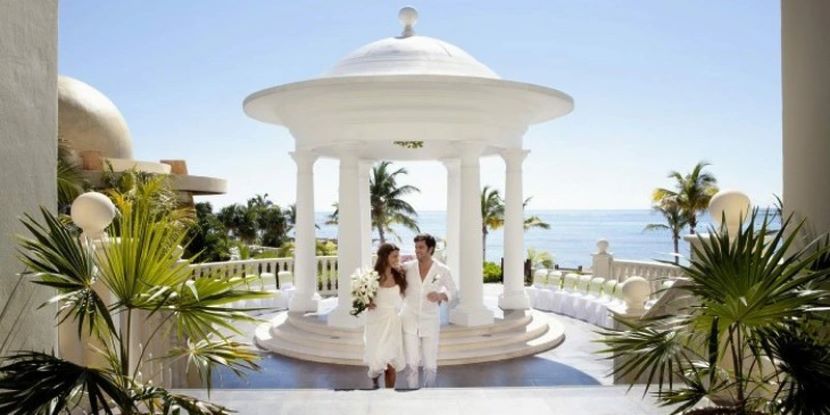 Strawberry Passion wedding package:
For a dreamy destination wedding in Mexico, we recommend the Strawberry passion package. 
Romantic décor, live music, and amazing food… this package has it all.
For $4,300, you get all of these inclusions:
Wedding venue.
Wedding coordinator.
Premium wristband for bride and groom.
Justice of the Peace or non-denominational Minister.
Marriage certificate. (documents issued in Spanish if it is a Legal wedding)
Witnesses for legal ceremony if required.
Live music during the wedding ceremony.
Bridal Bouquet and Groom Boutonniere.
Wedding cake
Sparkling wine for ceremony toast
3-hour private dinner reception and open bar served on the beach
50-minute couples massage
Breakfast in bed the next morning for the couple
Special Amenities and bottle of sparkling wine sent to the couple's room
Late check out for bride and groom
Manicure and pedicure for bride
Bridal hair style with natural white orchid and make-up
You'll have 3 gorgeous wedding venues to choose from at Barcelo Maya Beach.
And although 3 might seem like a small number, trust me, you won't be disappointed with the options!
1. Gazebo Palace
With stunning views of the sea, this venue is the ultimate romantic setting for your big day.
Just don't get distracted by the soothing sound of waves crashing against the shore!
Ceremony – up to 80 guests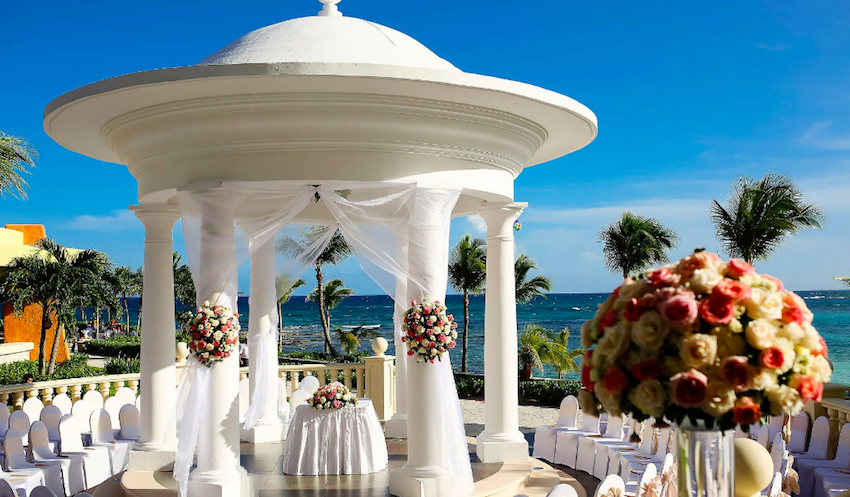 2. Chapel
This wedding chapel is surrounded by a beautiful tropical garden.
It's a magical place for your special day.
You and your loved ones can enjoy an intimate ceremony over here.
Ceremony – up to 100 guests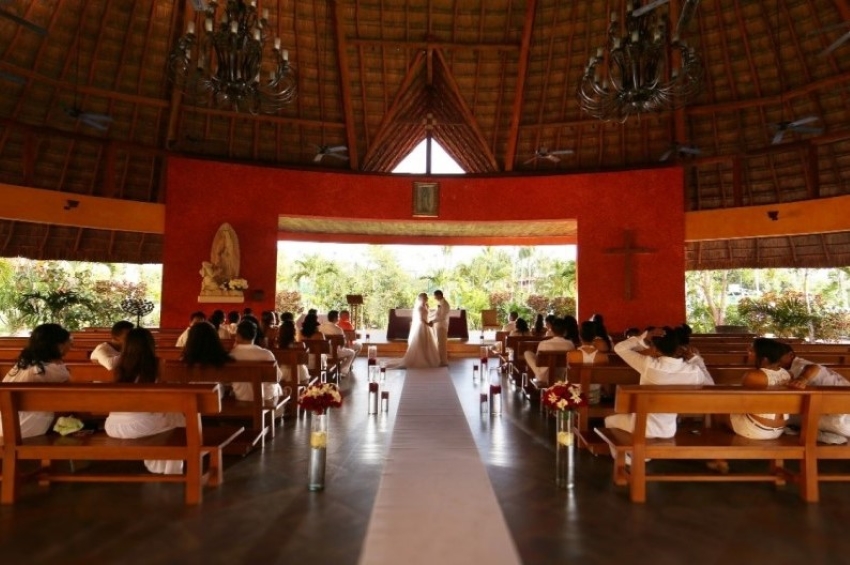 3. The Beach
With the sea as your backdrop, and sand between your toes, the beach at Barcelo Maya Beach resort proves to be a beautiful wedding venue. 
It can be customized with the décor of your choice. 
Ceremony – up to 1000 guests
Cocktail – up to 1000 guests
Reception – up to 1000 guests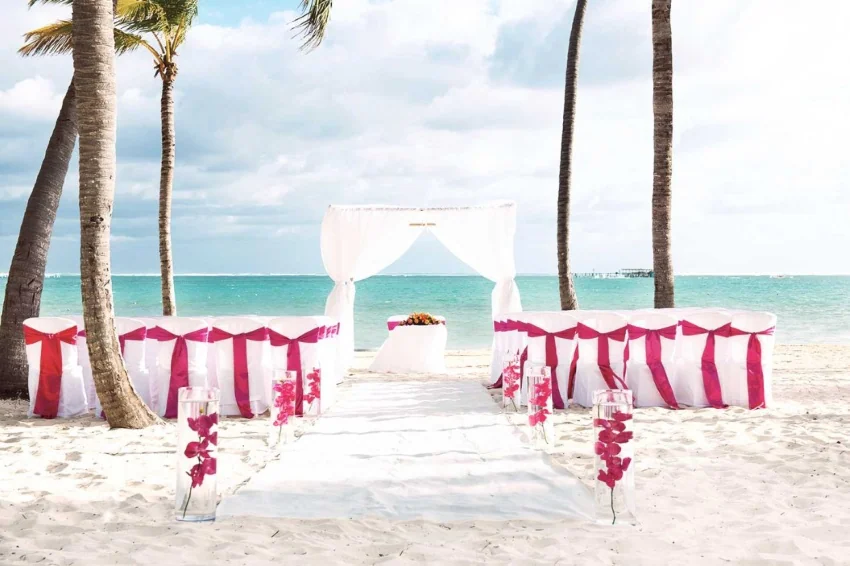 Searching for an LGBTQ+ friendly resort in Mexico?
You've found it!
At Barcelo Maya Beach resort, all couples are treated with love and respect.
Plus their wedding packages cater to everyone, equally.
Need help with documentation? Our wedding experts can guide you with that🙂
All 630 rooms and suites at Barcelo Maya Beach resort come with charming balconies.
You can take in breathtaking views of either the lush gardens or the stunning beach – it's a tough choice!
Sadly, there are no swim-out suites at this resort😢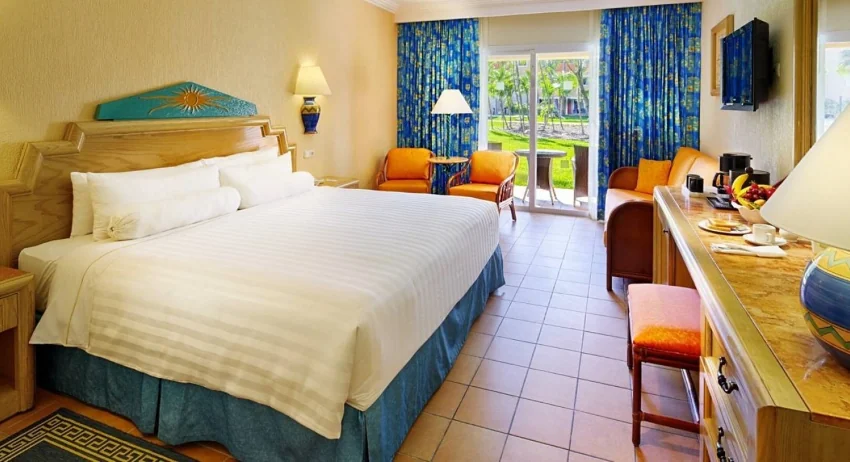 You get to choose from these 4 rooms and suites…
Superior Room – 2 full-size beds or 1 king-size bed
Junior Suite Ocean Front Premium Level – 2 full-size beds or 1 king-size bed
Family Room – 1 king-size bed
Ocean Front Premium Level Suite – 1 king size bed 
For the wedding couple, we highly recommend the Ocean Front Premium Level Suite!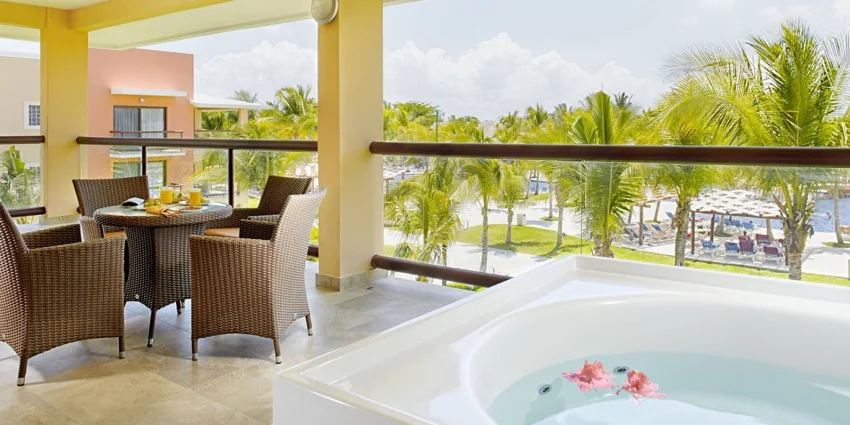 The Ocean Front Premium Level Suite offers you a bedroom with a king-size bed, a large terrace with a hot tub, and 2 fully equipped bathrooms.
But wait, that's not all! 
The suite also comes with a coffee machine, a mini-bar, a pillow menu, and one more hot tub in the bathroom!  
The resort's got 8 pools! Yes, you read that right!
This includes special shallow areas just for the little ones, semi-Olympic sized ones for the pros, and pools dedicated just for adults.
Oh, and they also have the Barcy Water Park for kids, with castles, slides, and waterfalls.
Did I mention the Surf Rider wave pool?
Fun times guaranteed!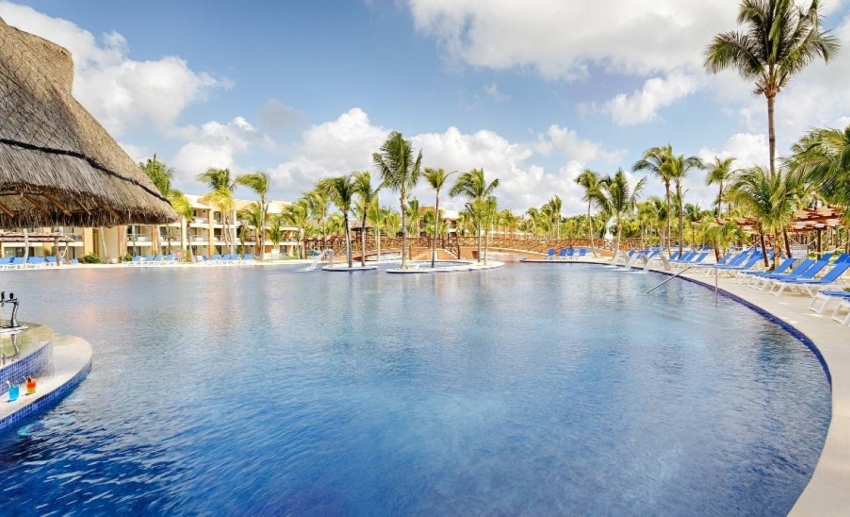 Just a few steps away is the breathtaking white sand beach.
You can lounge around, catching up with family and friends.
Or you can take a dip in the turquoise waters.
Just don't forget your sunscreen!
The 3 restaurants and 3 bars at Barcelo Maya Beach resort will take you on a culinary adventure!
And the swim-up bar serves some of the most decadent cocktails everrr!
Plus you also get access to the other eateries and lounges located within the Barcelo Maya Grand Resort complex.
I'll cheers to that 🥂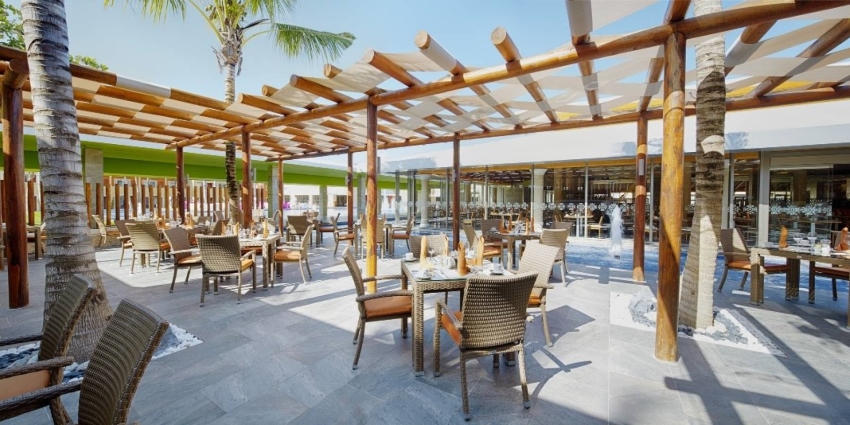 3 restaurant options include… 
Beach Buffet Restaurant | international cuisine
Mexico Lindo Restaurant | Mexican cuisine
Rancho Grande Restaurant | international cuisine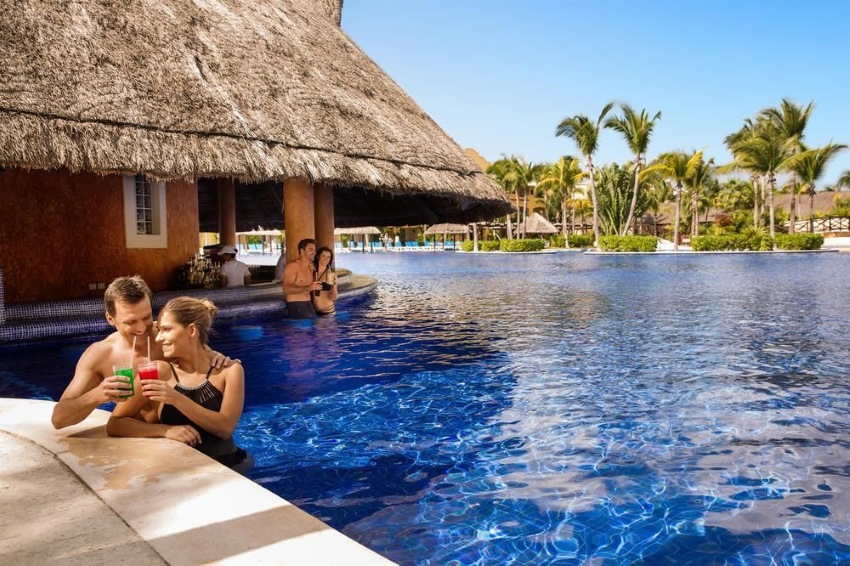 You and your guests will love the endless fun and exciting activities that the Barcelo Maya Beach resort has for every age group!
Whether you love land sports, water sports, adventures, spa days, or live shows, you'll find it here!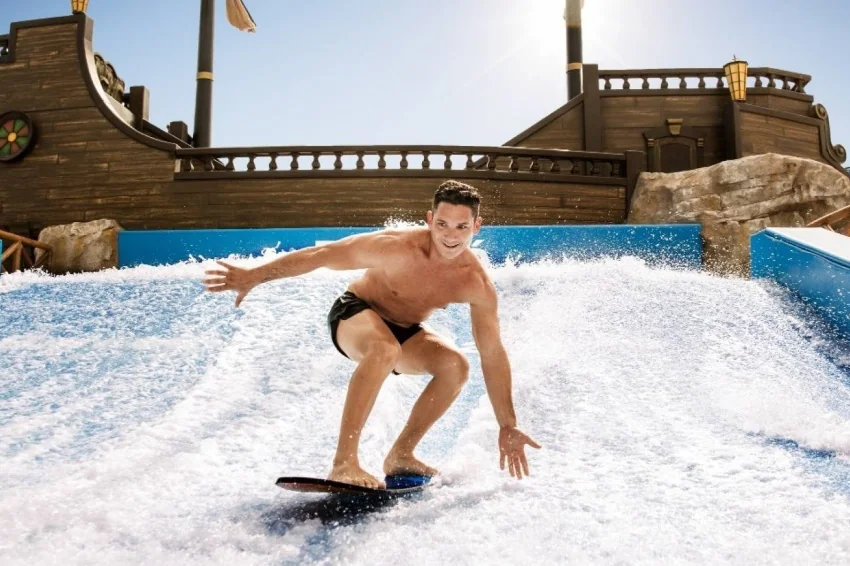 Fun activities and entertainment include…
Snorkeling
Scuba diving
Deep sea fishing
Jet skiing
Multi-sports court
Tennis courts
18-hole mini golf course
Surf Rider wave pool
Water park
Kids' Club
Spa
Fitness center
U-Kids spa
Escape rooms
Nightclubs
Please don't tire yourself before the wedding, that's all I ask!
Q. How far is Barcelo Maya Beach from the airport?
The nearest airport is the Cancun International airport which is 1 hour away from this resort. 
Q. Are Barcelo Maya Beach and Barcelo Maya Colonial the same?
No, these are 2 different resorts located within the same complex. 
Q. Is Barcelo Maya Beach resort pet friendly?
No, pets are not allowed at this resort.
Q. What are the check-in/check-out times for the Barcelo Maya Beach?
Check-in time is anytime after 3 p.m., and check-out time is anytime before 12 p.m. You can enjoy some of the resort facilities until 3 p.m. after your check-out.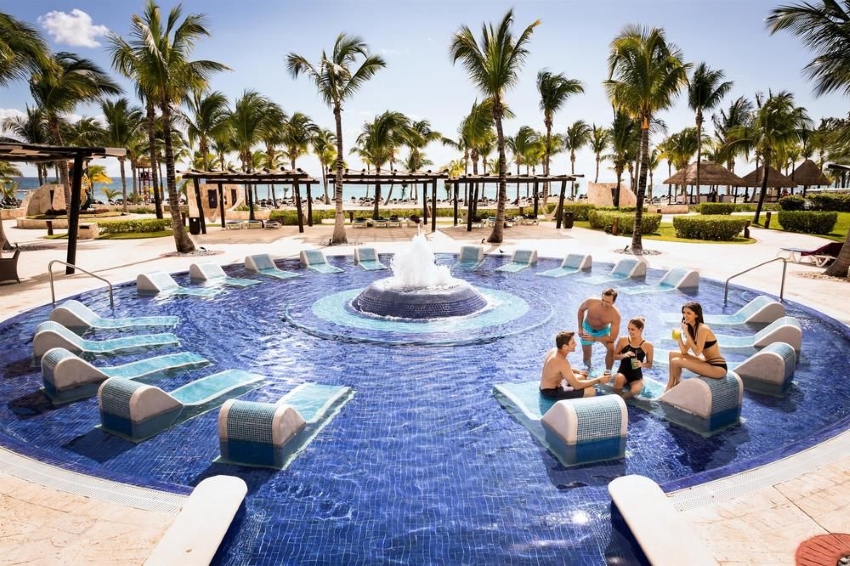 The Barcelo Maya Beach resort has everything you could need for your destination wedding in Mexico – amazing venues, great wedding packages, luxurious accommodations, good food, and stunning views…
But, you want the pros and cons before making a decision, right? 
We asked our team of wedding planners what they thought of this resort. 
Here's their honest opinion… 👇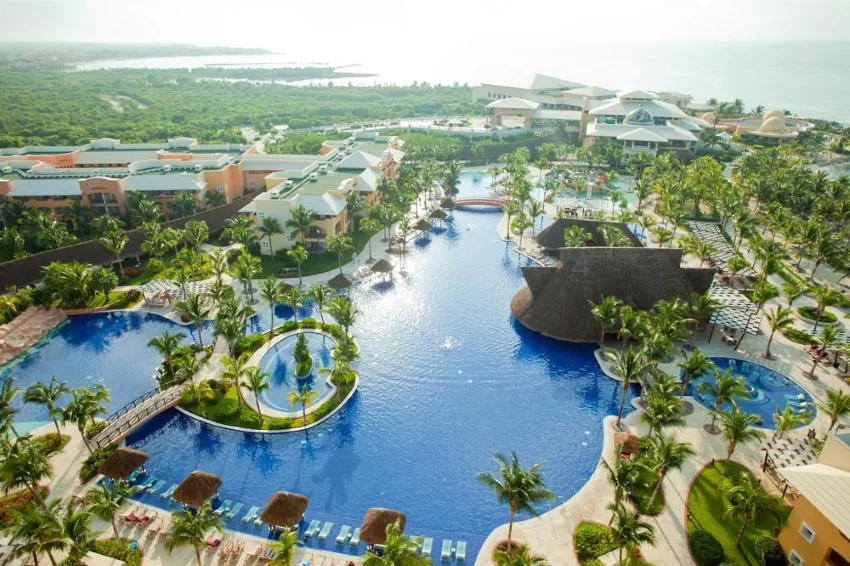 Things we love: 
An almost private beach with many loungers. 
Plenty of activities and entertainment.
Rooms are really affordable. 
Fantastic resort for families.
In-house shopping center and souvenir shop.
The hydro circuit therapy at the spa is out of this world!
Access to the other resorts within the Barcelo Maya Grand Resort complex.
Things we don't love: 
The food is alright. 
Many activities are not included and you need to pay extra.
1 hour from the nearest airport!
No waiters around the swimming pools.
Long waiting time at check-in during peak season.
The best part about this resort is the beach! It's just breathtaking! The grounds are beautiful and well maintained. And I love how affordable the rooms are!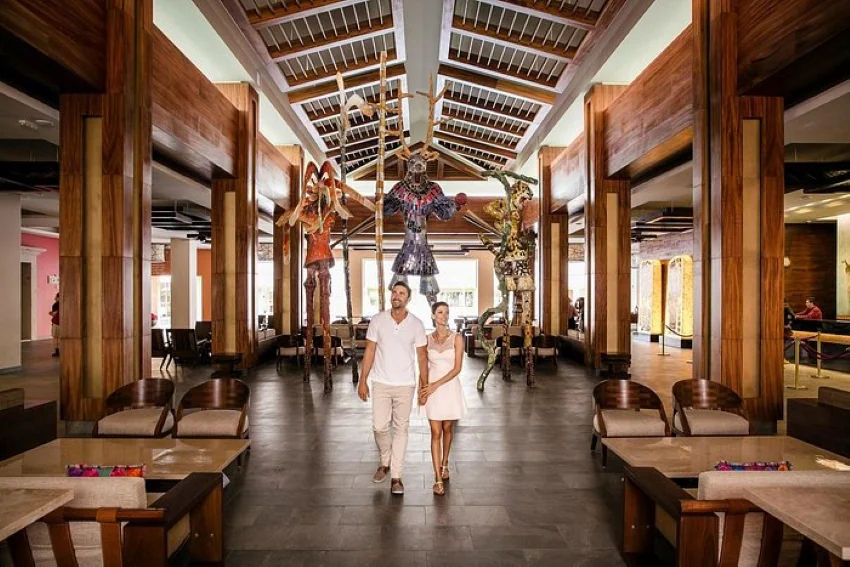 Still unsure? 
Take a look at these 3 similar resorts that could be perfect for your wedding. 
Still unsure whether Barcelo Maya Beach resort is the way to go? 
We can help!
Our team at ParadiseWeddings.com has planned 100's of weddings at all-inclusive resorts.
And we can help you in finding the perfect one for your destination wedding.
Call us today at 877-737-0177 or contact us here for a free consultation.
Can't wait to hear from you!