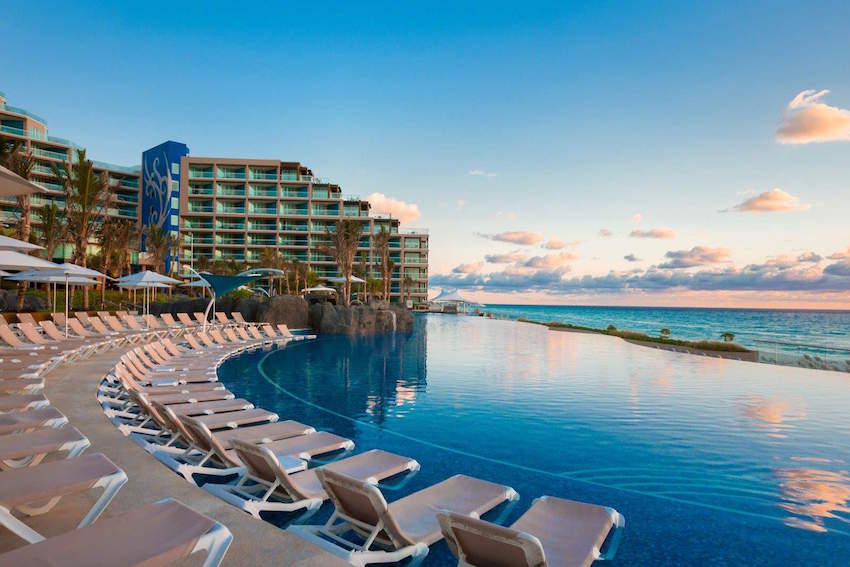 Weddings At Hard Rock Cancun | Our Honest Review
Considering having your wedding at Hard Rock Cancun?
Not sure if it's the right place for you?
No worries, I got you covered with this ultimate guide!
You'll get packages, pricing, and pros and cons from our our experienced planners so you can make the right decision.
Trust me, you won't want to miss out on this!
Let's get started…
The Hard Rock Cancun is an awesome beachfront paradise that mixes Mexican vibes with a contemporary setting.
We have to admit, it's lively! But, that's usually what couples look for in a wedding resort. You want your guest to have fun, and Hard Rock Cancun helps deliver just that. 
Spa treatments, golfing, water sports, and live entertainment day and night.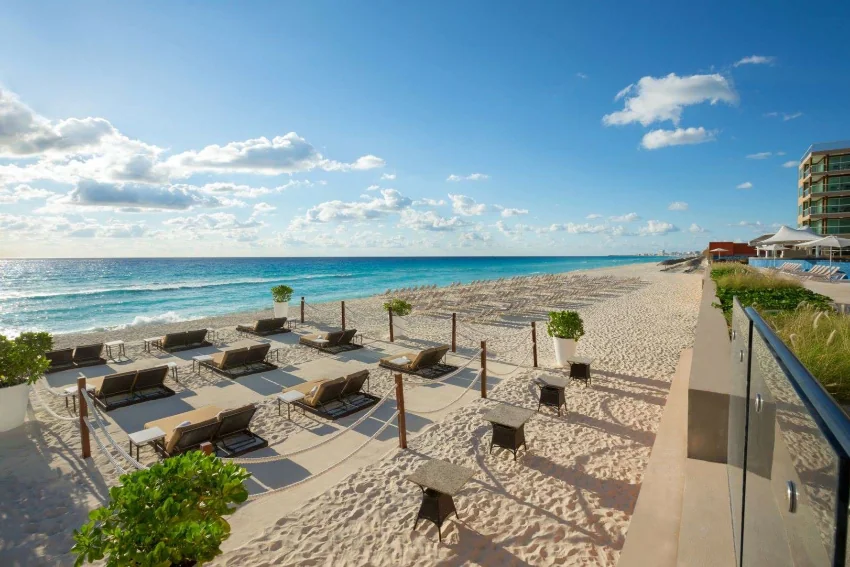 It's large enough with 601 rooms and suites that feature breathtaking ocean views and private balconies.
You also get 5 restaurants to choose from, and 7 bars where you and your wedding crew can partyyy 🎉
Plus, if you love music, Hard Rock Cancun has the Sound of Your Stay program – from curated playlists to access to a Fender guitar, this audio experience is awesome! 
At the Hard Rock Cancun, you get to choose from 5 different wedding packages.
Each one has its own theme and décor. How cool is that?!
5 wedding packages include:
Complimentary | free if conditions are met, for 32 guests 
Free Spirit | $3,500 for 32 guests 
Tropical Paradise | $4,000 for 32 guests 
Modern Enchantment | $4,500 for 32 guests 
Lavish Daydream | $5,000 for 32 guests
Tropical Paradise Wedding Package:
This wedding package can make all your dreams of having an exotic tropical destination wedding come to life!
For $4,000, you get the following amenities:
Wedding ceremony location
Tropical structure with greenery
Ceremony seating for guests, including tropical pillows
4 vases with mixed tropical leafs lining the entrance of the aisle
Natural burlap or white wooden aisle runner
Clear vase with coral anthuriums and gold vase with greenery at the base
Themed bouquet/s and boutonniere/s
Themed 2-tier wedding cake
Non-denominational Minister to perform symbolic ceremony
Soloist for wedding ceremony (Violin, Saxophone, Guitar)
Sparkling wine for toast following ceremony
Honeymoon Wishes Website and Wedding Registry
Audio system available for ceremony
Event consultant and onsite wedding coordinator
Complimentary honeymoon package
They have 8 stunning wedding and reception venues at Hard Rock Cancun.
Your options are endless, from gorgeous terraces and beautiful gardens to breathtaking beaches. 
Let's review them…
1. North Beach
Imagine getting married on a gorgeous beach with the waves crashing as you exchange your vows…
You'll get to have that and then some more at the North Beach!
Ceremony – up to 60 guests
Cocktail – up to 100 guests
Reception – up to 60 guests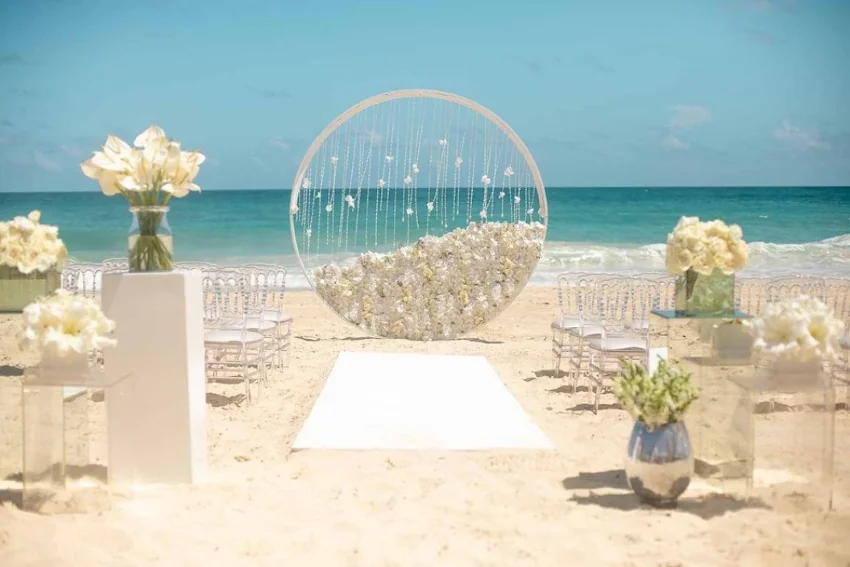 2. South Beach 
The South Beach is perfect for a romantic destination wedding in Mexico.
Besides, think of the amazing wedding photos you'll get to click here!
Ceremony – up to 280 guests
Cocktail – up to 200 guests
Reception – up to 100 guests
3. Sunset Garden
The Sunset Garden is seriously gorgeous – lush greenery everywhere you look.
With its customizable décor, it'll be such a romantic setting for your wedding.
Ceremony – up to 90 guests
Cocktail – up to 120 guests
Reception – up to 80 guests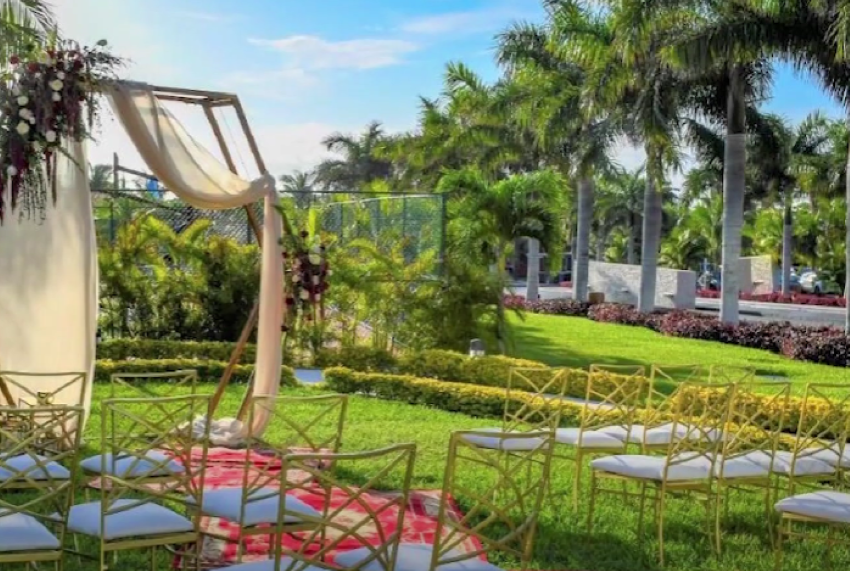 4. Diamond Terrace
The views from the Diamond Terrace are amazing.
You'll have plenty of natural light and a stunning backdrop for your wedding.
Plus it's the perfect setting for an intimate ceremony.
Ceremony – up to 50 guests
Cocktail – up to 50 guests
Reception – up to 40 guests
5. Ballroom
This spacious venue with high ceilings, chandeliers, and a large dance floor is perfect for hosting your special day.
I mean, just look at the pic down below! It's enchanting, isn't it?!
Ceremony – up to 750 guests
Cocktail – up to 750 guests
Reception – up to 750 guests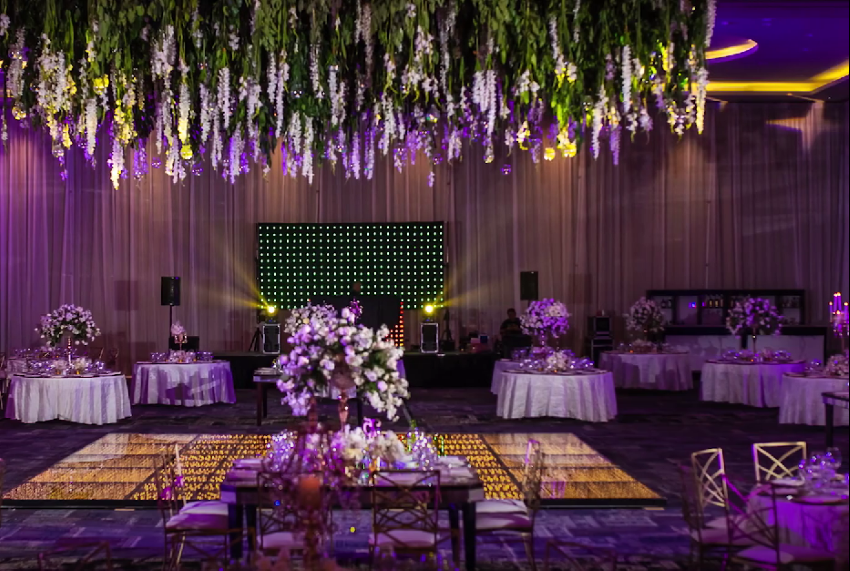 6. Sunset Terrace
As the name suggests, you'll get to witness an amazing sunset from here.
Perfect for hosting LARGE events, this terrace might leave you and your guests in awe!
Cocktail – up to 800 guests
Reception – up to 600 guests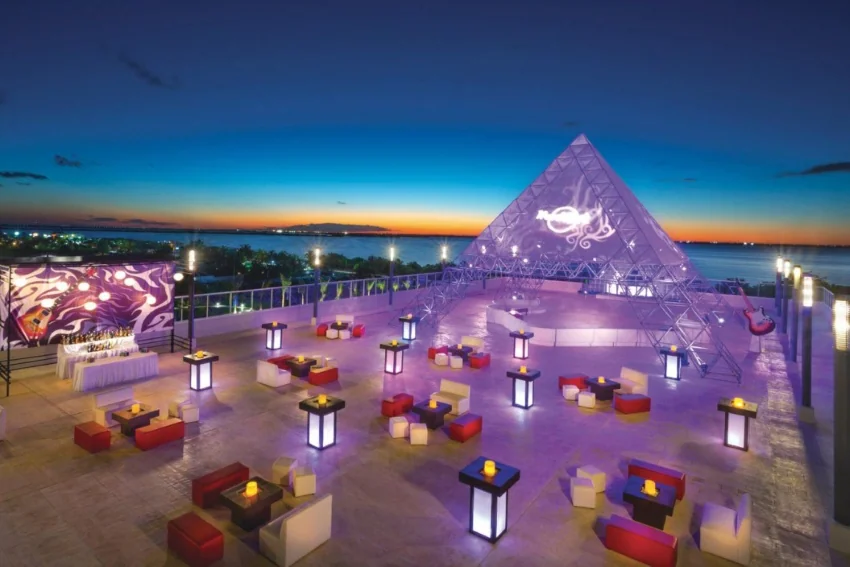 7. Breeze Terrace
For a semi-private event, you can opt for the Breeze Terrace.
Centrally located, it offers stunning views of the beach, pools, and the resort itself. 
Cocktail – up to 150 guests
Reception – up to 100 guests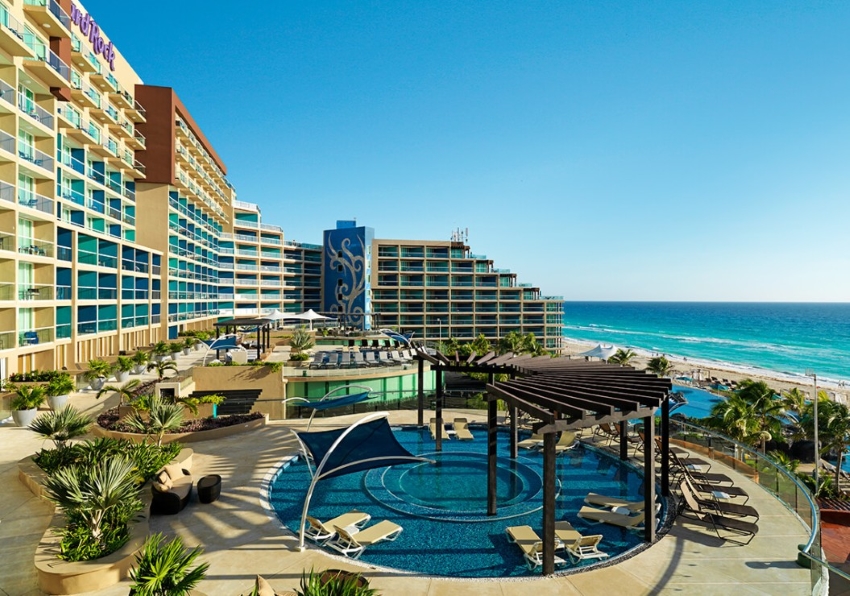 8. Garden Terrace
With its charming ambiance, the Garden Terrace is the perfect spot to celebrate your wedding with loved ones.
The décor for the venue can be customized as per your liking and wedding theme. 
Cocktail – up to 250 guests
Reception – up to 150 guests
Hard Rock Cancun is all about making wedding dreams come true for everyone, including LGBTQ+ couples.
All their wedding packages are inclusive and designed to meet the needs of every couple.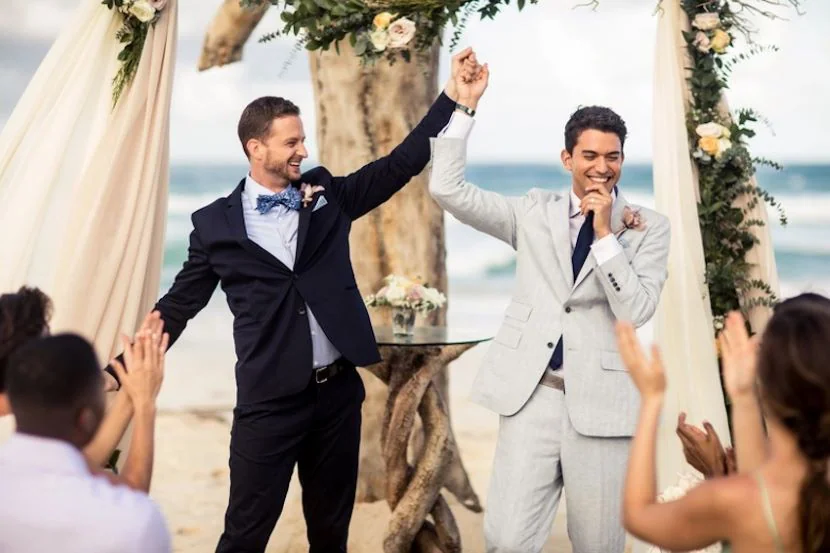 Our wedding experts can collaborate with the resort's team to create an unforgettable experience for you.
Need help with documentation? Our wedding experts can help you with that too!
Even the rooms and suites at Hard Rock Cancun make you feel like a legit rock star! 
The accommodations are gorgeous, spacious, and totally chill!
With a whopping 601 rooms and suites to choose from, you and your guests will be spoilt for choice. 
And since you're here for your wedding week, why not treat yourself to an even more luxurious suite?
That's where the Rock Royalty Upgrade comes in!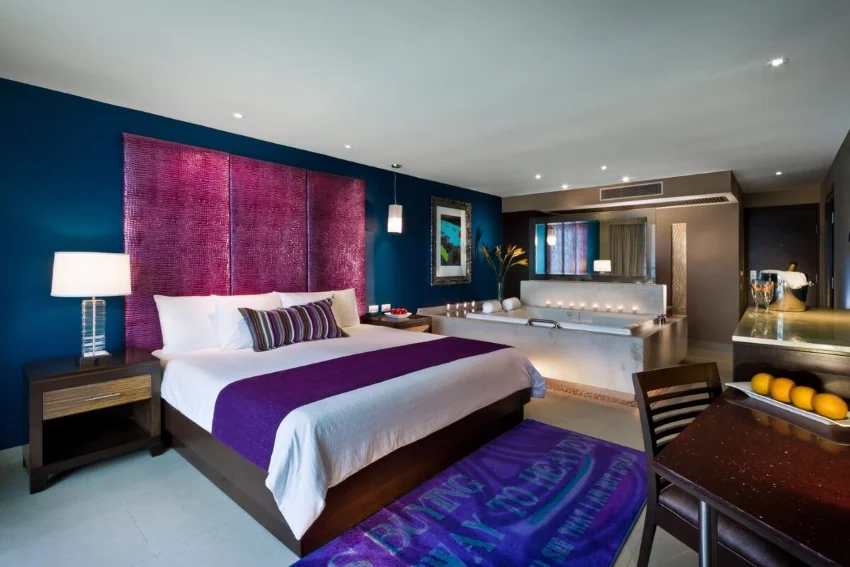 You get to choose from 9 room categories…
Deluxe Lagoon View – 1 king or 2 double beds
Deluxe Pure Wellness  – 1 king or 2 double beds
Deluxe Ocean View – 1 king or 2 double beds
Diamond Ocean View – 1 king bed
Rock Royalty Ocean View – 1 king or 2 double beds
Deluxe Family Lagoon View – 1 king and 2 double beds
Rock Suite Ocean View 1 Bedroom – 1 king bed
Rock Suite Ocean View 2 Bedroom – 1 king and 2 double beds
Rock Star Suite Ocean Front 2 Bedroom – 2 king beds 
For the newlyweds, we recommend the Rock Royalty Ocean View!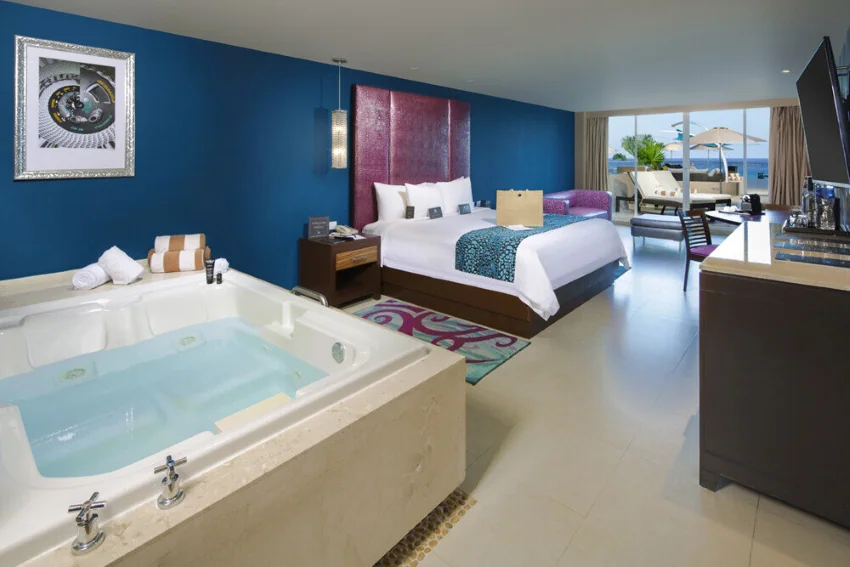 Get ready to live the celeb life in this kickass suite!
The amazing views and super stylish décor will totally blow your mind.
Apart from the double hydro spa tub and Nespresso coffee machine, you also get your own dedicated telephone concierge!
Other highlights include priority booking for Bali beds, aromatherapy and a pillow menu for a relaxing sleep. 
Get ready to unwind in style at Hard Rock Cancun's massive lagoon-style pool.
It even comes with poolside waiter service!
You'll also find 2 swim-up bars here, so you won't have to leave the pool to party!
For the children, there's a separate kid-friendly pool with slides and tons of exciting water sports.
Plus, there are 2 outdoor hydro spa tubs, including one just for adults.
And then there are rooftop pools for the Royalty Level guests.
What more could you want?!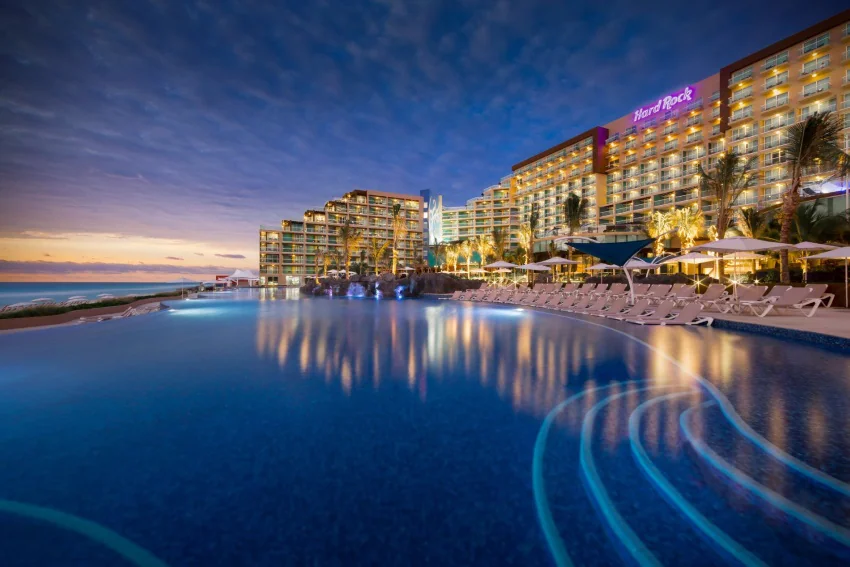 If you're a beach lover, the beautiful beach is just a few steps away.
The resort's got plenty of comfy loungers for you to relax and soak up the sun.
The best part? You'll get beachside service here!
Hard Rock Cancun's got 5 amazing experiential restaurants and 7 bars for you to choose from every night of your stay.
And if you're feeling lazy or just wanna chill in your room, they've got 24-hour room service.
So you can enjoy a delicious meal without ever leaving your bed!
5 restaurant options include… 
Frida | Mexican cuisine
Zen | Asian cuisine
Ciao | Italian specialties
Toro | steakhouse
Pizzeto | brick oven-style pizzas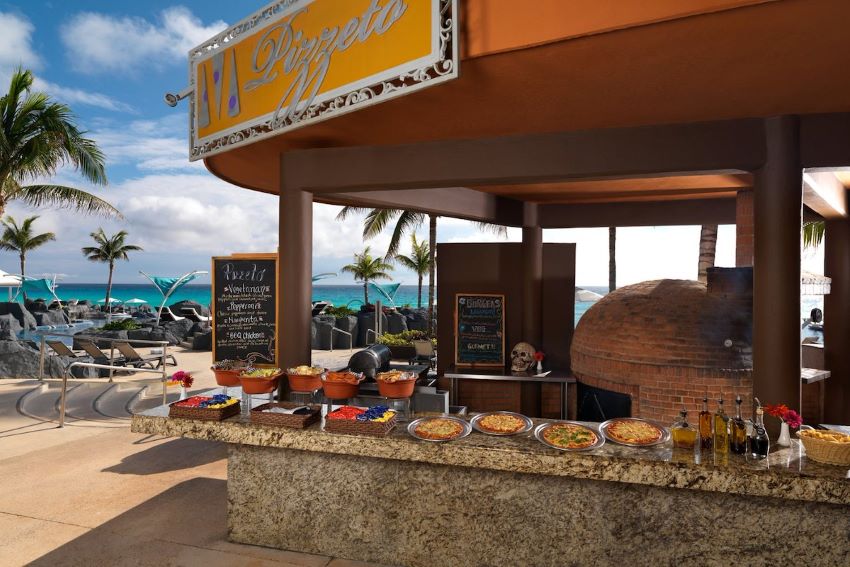 You'll never get bored at Hard Rock Cancun!
They've got tons of amazing stuff to do like kayaking, cenote diving, and even creating your own music!
The activities and entertainment options are perfect for people of any age.
Fun activities and entertainment include…
Snorkeling
Tequila and wine tastings
Swimming with dolphins
Ziplining
Cenote tours
Kids Club
Music Lab (accelerated stage training)
Golfing
Jungle tours
Ride aboard a semi-submarine
Spa
Fitness center
Q. Which room amenities are available at Hard Rock Hotel Cancun?
All rooms and suites at Hard Rock Cancun have the following amenities:
Double hydro spa tub
Private bath with shower
Balcony with two chairs and a table
Mini bar with soda, bottled water, juice & domestic beer
Purified water
Nespresso coffee machine with capsules
Free wireless internet
24-hour room service
LCD TV with satellite
Digital safe
Individually controlled A/C
Bluetooth-enabled wireless alarm clock radio
Rock Spa® bath amenities
Hair blow dryer
Iron/ironing board
Q. How far is Hard Rock Cancun from the airport?
It is located around 20 minutes from the Cancun International airport. 
Q. Does Hard Rock in Cancun have a casino?
No, this one does not have a casino.
Q. How old is Hard Rock Cancun?
Approximately 11 years old. Hard Rock Cancun opened its doors to the world in October of 2012. 
Q. Does Hard Rock Hotel Cancun have Internet access?
Yes, you'll have access to free Wi-Fi all across the hotel. They also have computers available in the lobby for you to use. 
Hard Rock Cancun is just awesome!
The rooms, pools, wedding venues, packages, restaurants and bars are perfect for a destination wedding.
But, I asked our wedding planners about it, and here's what they had to say…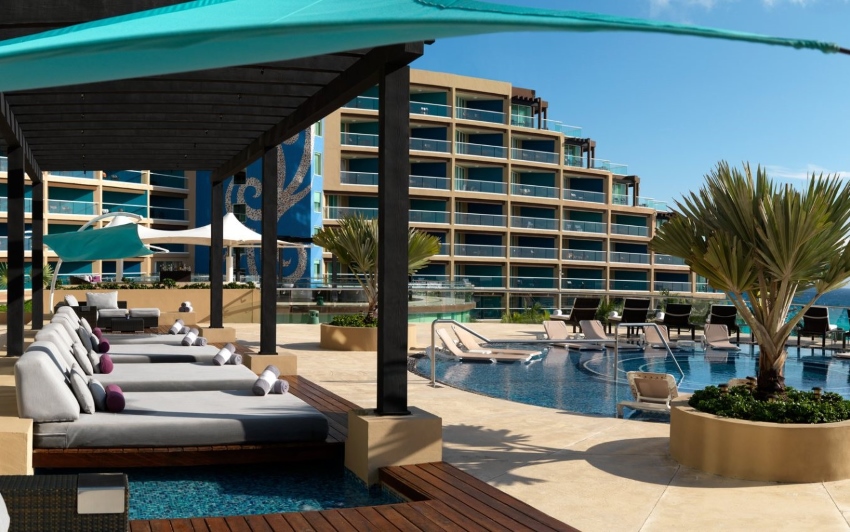 Things we love: 
Variety of gorgeous venues.
Located on a beautiful beach. 
Spacious rooms with double jetted tubs.
Massive lagoon-style infinity pool with 2 swim-up bars.
Things we don't love: 
Not very transparent with the wedding pricing. (surprise fees 🤮)
Maintenance issues. 
Can get super noisy during peak tourist season.  
The best is saved for upgraded guests or VIP members.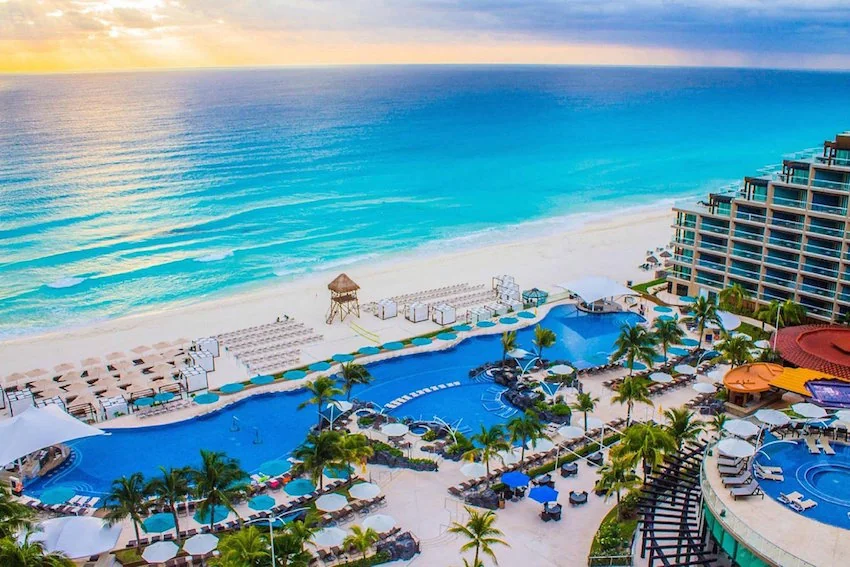 Still unsure? 
Take a look at these 3 similar resorts that could be perfect for your wedding.