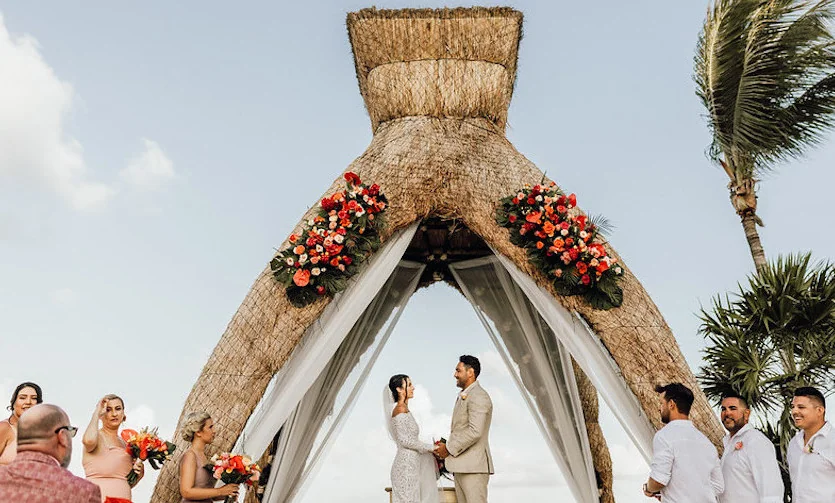 Planning your wedding in Cancun?
Yeah, it can be intimidating! Where do you even start, right?
No need to panic, I'll hold your hand every step of the way. 🙏🏻
And you're in good hands because our experienced planners have organized 100's of weddings in Cancun. (we know our stuff)
Ready to get started?
Let's dig in….
I know you're excited right now, and you should be.
You're planning a wedding in Cancun! 😍
Our most important tip – hire a wedding planner.
Planners can help you with…
Setting a realistic budget.
Help you negotiate with resorts or private venues.
Reserve accommodation for your friends and family.
Take care of the minor and major details.
Choosing wedding packages.
And so much more.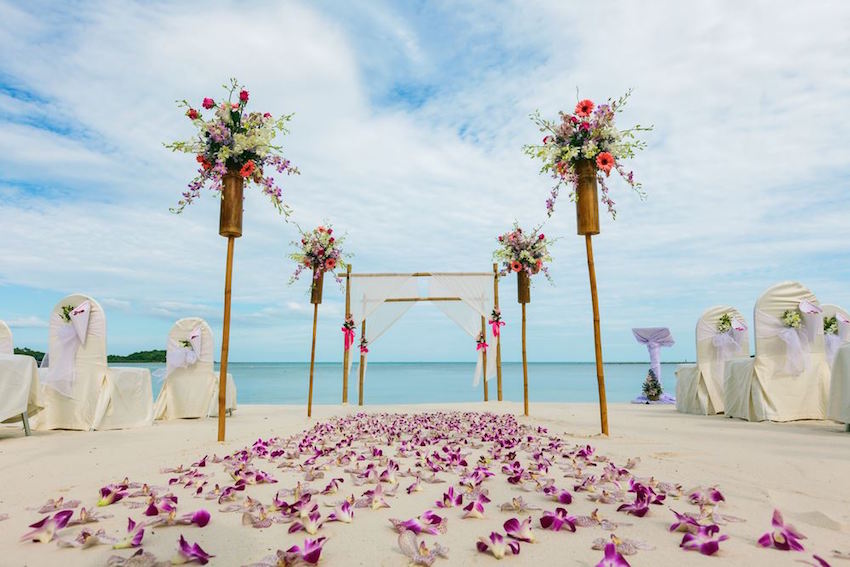 3 simple steps to getting married in Cancun…
1. Hire a wedding planner
It makes every step much easier and less stressful for you. Wedding planners in Cancun know the area much better than American-based planners.
2. Find a resort you love
Choose your top options from this ist of all-inclusive wedding resorts. If you need help choosing, well, good thing you have a wedding planner!
3. Choose a wedding package & venue
Resorts are ready for you. They have wedding packages and venue based on your budget, number of guests, wedding look book and more.
See? You're already on the right track!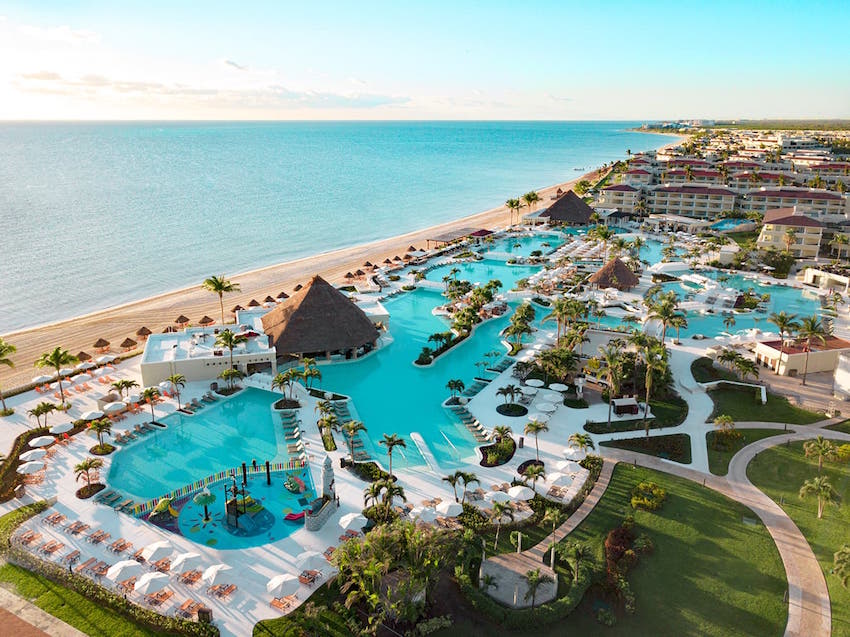 Short answer: Yes!
The average cost of your traditional wedding is around $28,000. 
However, the average cost of a destination wedding in Cancun is around $5,000 to $7,000, minus airfare. 
That's about $22,000 back in your pocket! 😍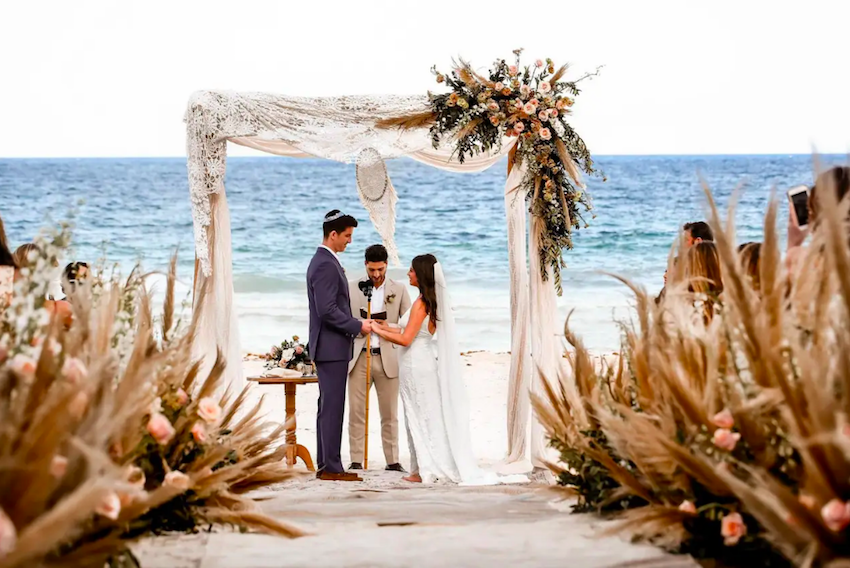 So why weddings are cheaper in Cancun?
 All-inclusive resort wedding packages
Group discounts
Local vendors
Honeymoon is included a lot of the time
More casual attire—including a wedding dress
Keep in mind that every resort has 3-5 wedding packages and venues to choose from!
Prices for wedding packages typically start at $999 and hit an average of $5500 for 35-50 guests.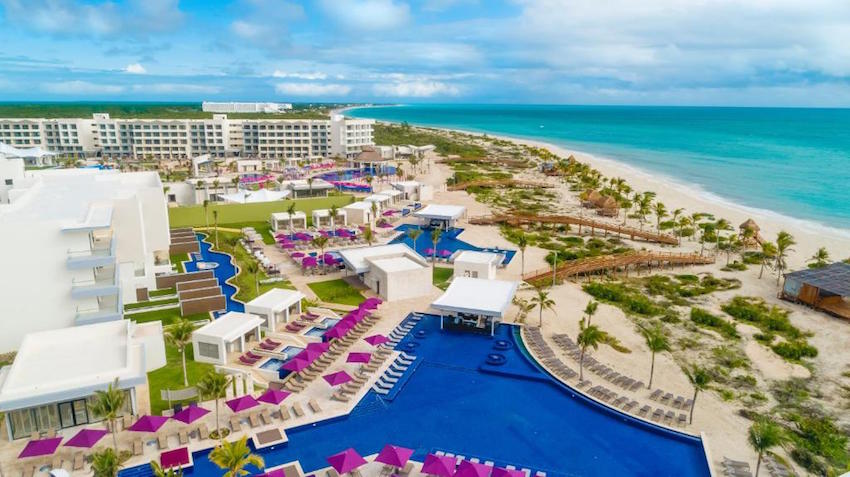 A ton of resorts also give a great discount on rooms based on how many you book. 
Resorts offer discounts like a free room for every 5 rooms booked or a percentage off for every 10 rooms. It's all different! 
You can absolutely get legally married in Cancun. 
In fact, Cancun is a popular spot to get married, especially with those in the LGBTQ+ community!
No matter if you're wanting a Catholic, Hindu, Sikh, or Jewish wedding, you can celebrate freely!
There are a few legal documents and requirements you need to have a civil or Catholic ceremony.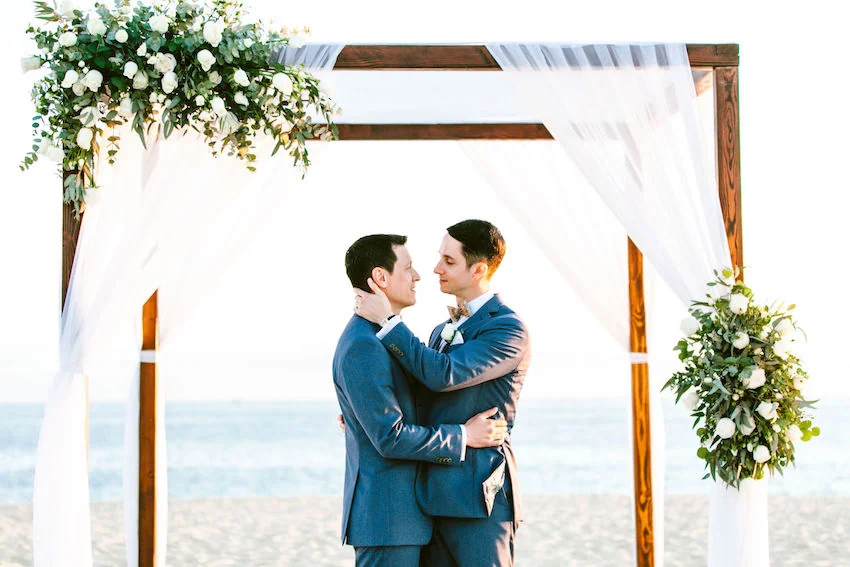 Legal Documents and Requirements for a Civil Ceremony:
Original and a copy of both parties birth certificates translated into Spanish
Passports
Clinical test results for VDRL, HIV, and RH (results are only valid for 15 days before)
2 witnesses' original passports and copy per party
4 witnesses' information including name, age, address, and occupation  
Immigration status 
Application and copy of official oath or affirmation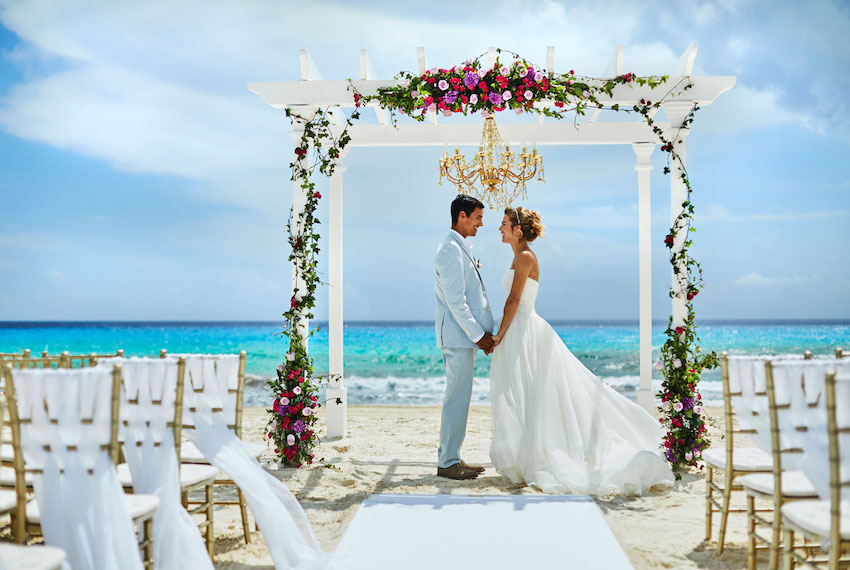 Legal Documents and Requirements for a Catholic Ceremony: 
Baptism certificates for both parties
Confirmation certificates for both parties
A letter from the Catholic church of your choosing giving permission
One witness per party
Passport-size photo of the wedding couple
Prenuptial counselling before the wedding 
If there are any other documents or requirements for your wedding day, your wedding planner will let you know! 
You get also get all the details on how to legally get married in Mexico here.
Think of an all-inclusive wedding like you would an all-inclusive vacation. 
Everything, unless the resort states otherwise, is included in the wedding package you choose! 😀
Let's talk about what you can expect from an all-inclusive wedding.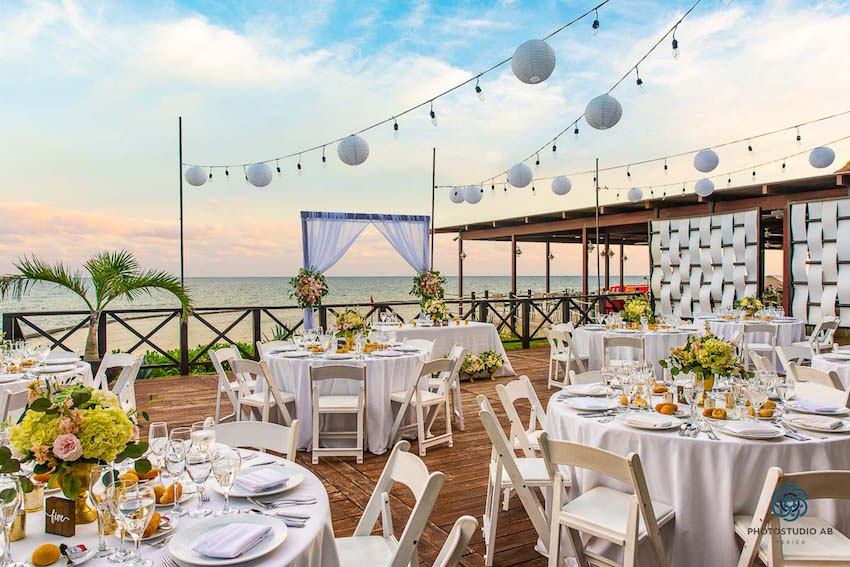 Ceremony, Reception, and Cocktail Hour Location
Most of the time, the ceremony, reception, and cocktail hour are included in the wedding package. 
As for the wedding venues, they change at every resort!
Typical wedding venues available:
Multiple terraces
Gardens
Ballrooms
Rooftops
Chapels
Beaches
Gazebos
Food and Drinks
Food and drinks may be the most important part of the experience, aside from getting married to your partner, of course.
Thankfully, this part of the wedding is always taken care of!
You can expect either a buffet or a 3-course plated dinner. Each menu is different and can be personalized. 
As for drinks, most bundles include a 1 to 3-hour open bar with a talented bartender! 🍹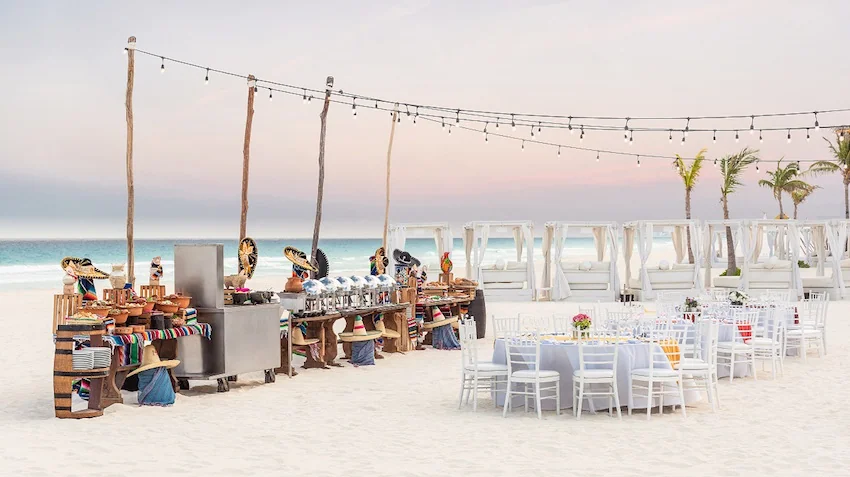 Decor, Flowers, Music, Etc 
When looking at the description of a wedding package, there are a ton of miscellaneous amenities included. 
Typical amenities included: 
Chairs
Linens
Tables
Gazebo decor
Centerpieces 
Bouquets
Sound systems
Flowers
This is also where a lot of things are not included in the all-inclusive package. 
Extra flowers, a DJ, a dance floor, a photo booth, linens, and miscellaneous decor may not be provided by the resort. 
Just ask your wedding planner what they recommend adding in terms of more add-ons!
Let's be honest, there is never a bad time to get married in Cancun!
Planning your wedding around the weather wouldn't be our first tip. 
Not only is it completely unpredictable, but it's not likely that it will rain for a prolonged period!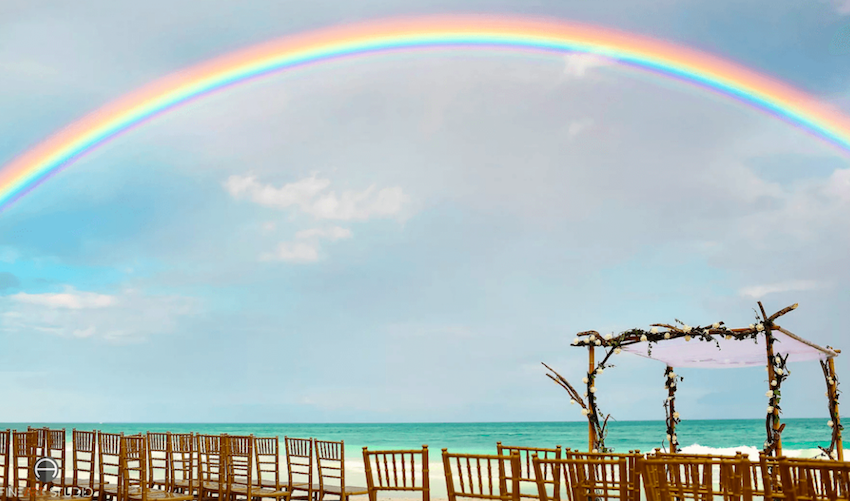 The Best Months to Visit Cancun:
When choosing the best months to visit Cancun, a lot has to be taken into consideration. 
Tropical places like Mexico are known for their seasons, including: 
Hurricane season
Rainy season
High Season
Low Season
Shoulder season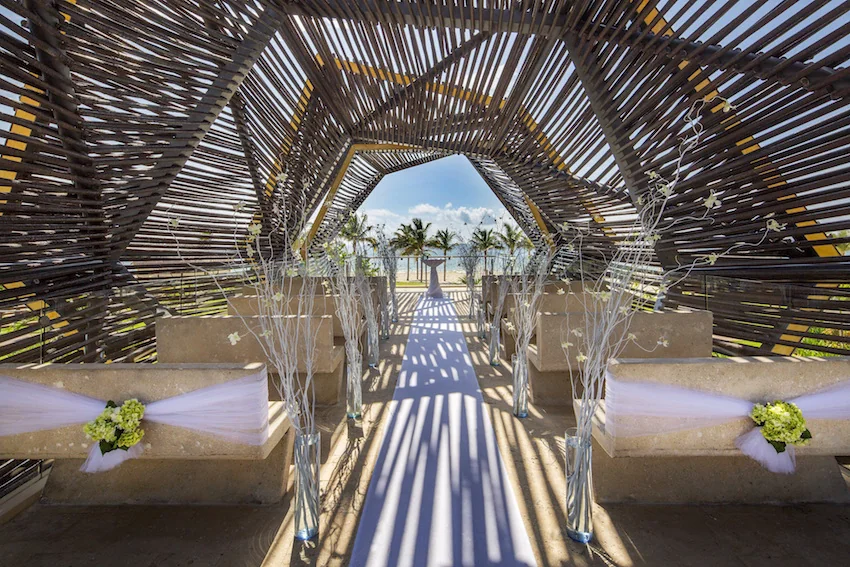 Shoulder season is all you need to worry about. April, May, November and through mid-December are prime months for Cancun.
These months come with mostly sunny days, fewer crowds, and a low chance of rain. ☀️
Wedding planning is pretty much a full-time job if you decide to tackle it alone. 
A Cancun wedding planner can take that stress off your shoulders and let you enjoy the process!
There are 3 important things to consider when choosing your wedding planner.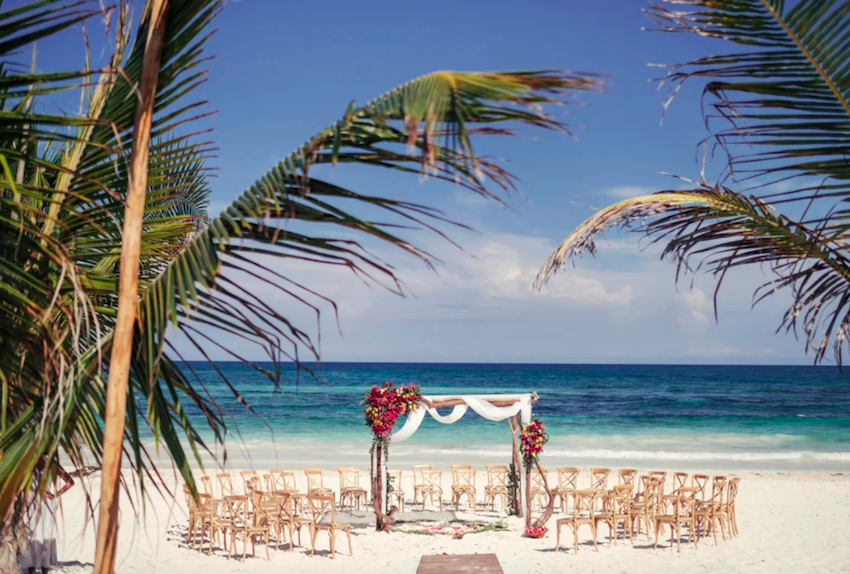 1. Portfolio and Reputation
Don't trust wedding planners just on their word alone. 
Make sure to ask for their portfolio and read their reviews!
This is key to making sure they have planned weddings similar to yours and that their style matches what you want. 
2. Good Communication
Destination wedding planners are busy people. However, they shouldn't be too busy to answer your calls and emails. 
It's very important that they keep you up to date on every aspect of your wedding. 
They should answer in a timely matter!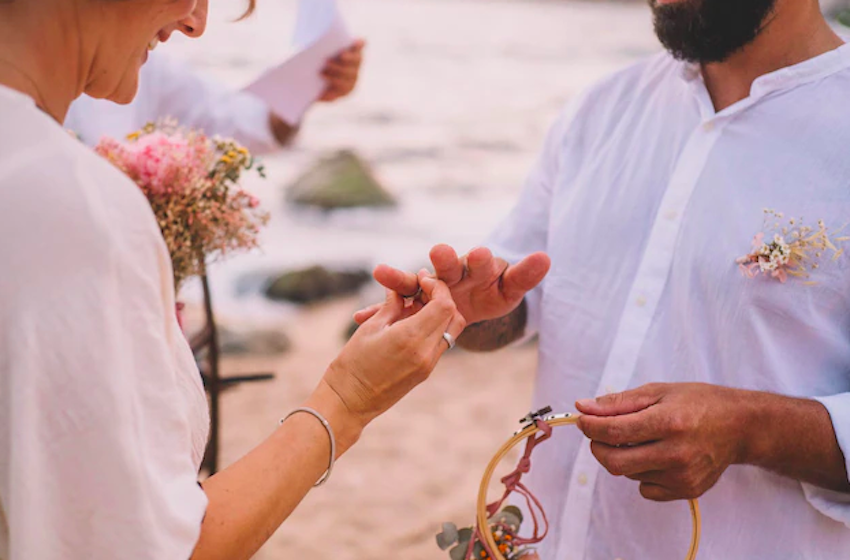 3. Trust and Personality 
Trusting the person who is planning your wedding is crucial. 
How do they handle stress? How do they handle last-minute emergencies? 
Their personality will also say a lot about how they prepare, how they handle multiple emails from you, and so much more. 
The price of a wedding planner in Cancun varies depending on a few things.
Experience
Popularity
Relationships with resorts/vendors
Reputation
Their job requires hours of dedication for your special day!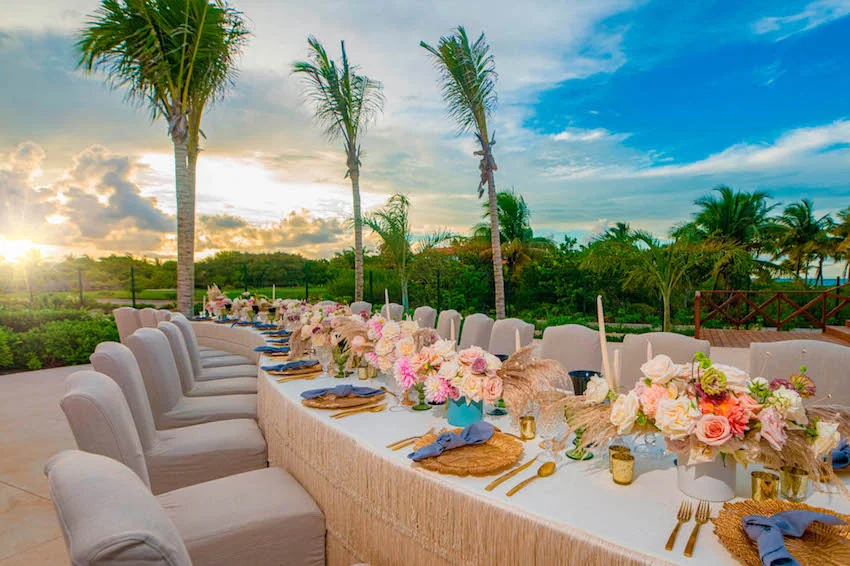 There are 2 types of wedding planners in Cancun…
1. All-inclusive resort wedding planners
Wedding at an all-inclusive resort? You'll need a specialist.
Think of these planners as travel agents but that specialize in destination weddings. Most resort planners don't charge for their services since they'll be reserving accommodation for your guests. (like a travel agent)
Some charge $850 to $5,000 just to work with them.
2. Custom wedding planners
Thinking private venue (outside resorts) for your wedding? For this you'll need a wedding planner that does custom weddings.
Cancun wedding planners charge between $2,500 to $12,000 or more depending on the number of guests and details required.
When budgeting for your wedding, experts say to hold onto 5 to 10% for your wedding planner.
Not sure where to start? Our team at ParadiseWeddings.com have organized 100's of destination weddings, and our services are complimentary. Start planning here.
When it comes to Cancun wedding packages, let's just say the options aren't scarce.
If you're looking for specifics including the number of guests, budget, or even just the best of the best, we got you!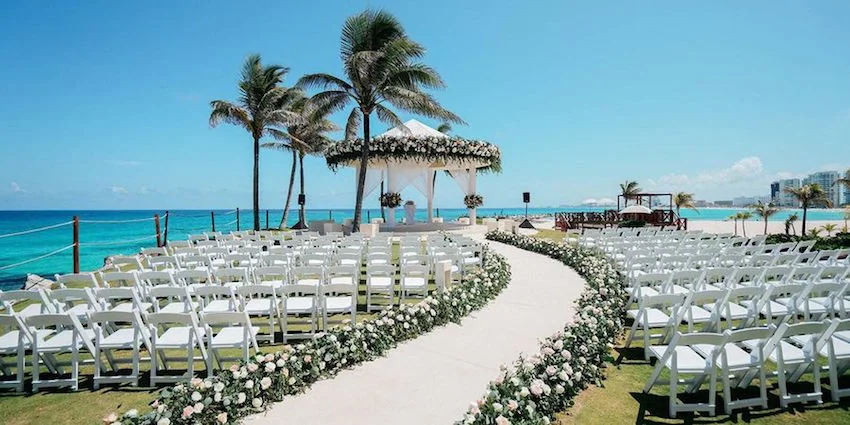 Thinking 50 guests? There are wedding packages for up to 50 guests, including Hyatt Ziva Cancun and Grand Palladium Costa Mujeres.
Want an even bigger wedding? Check out these wedding packages for over 100 guests. There are a many all-inclusive packages that can accommodate BIG weddings including Sandos Cancun and Generations Riviera Maya.
Have a 10k budget? We got your covered. Explore these packages under 10k in Cancun.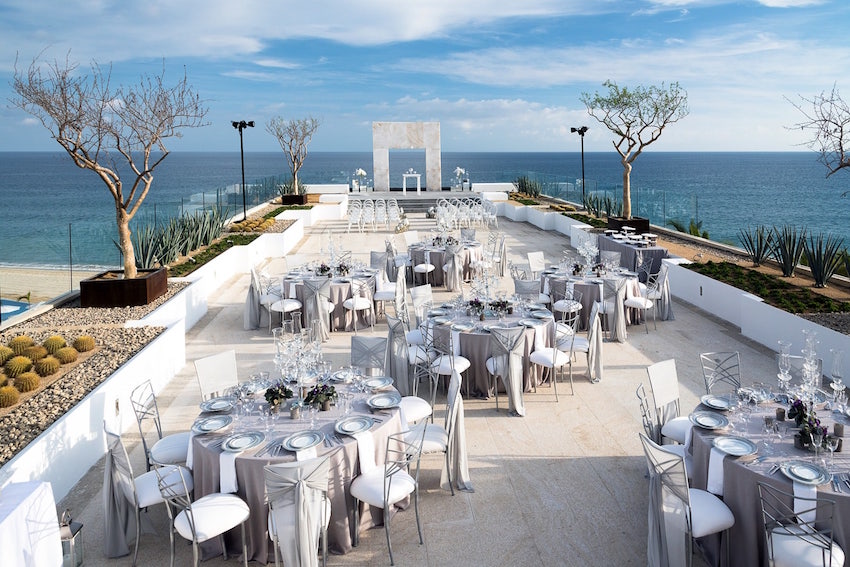 Trust us when we say you can get an entire wedding for under $10,000 in Cancun!
If you want your wedding to be adults-only, you can have that too!
While every resort in Cancun is great, if you want the best of the best, look no further. We rounded up the 10 best wedding packages and venues—just for you!
At ParadiseWeddings.com, our wedding planners take your special day as seriously as you do! 
If you need help planning, reach out to us today. 
Our wedding experts will be there for you from the first call to even after the wedding is over! 
Plus, you get a free consultation! 😍
Sound good? Call us today at 877-737-0177 or contact us here. 
We look forward to hearing from you!