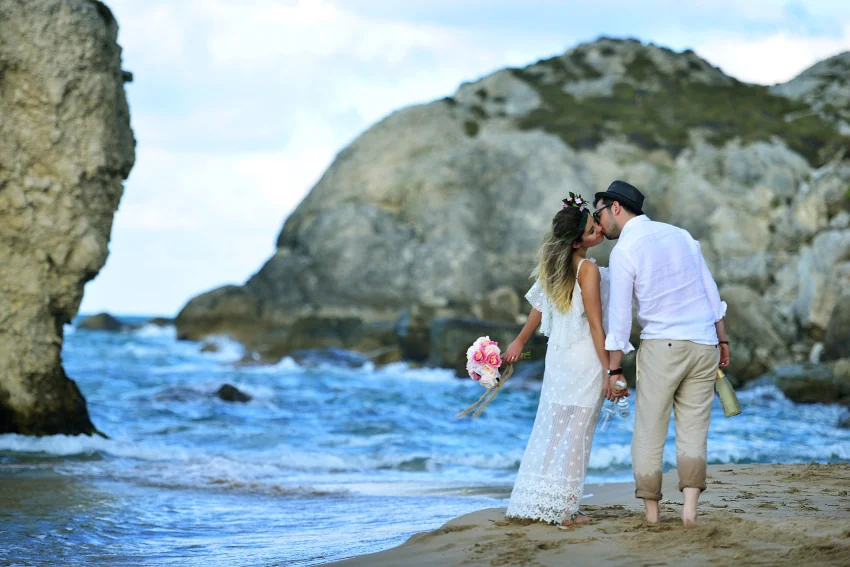 Thinking of having a destination wedding?
I totally get it…
But, let's be real: planning a destination wedding is no cakewalk…. believe me!
With 1000's of miles, unfamiliar languages, and foreign regulations to consider, it can be a daunting task.
Don't fret – I've got your back!
Experienced planners helped me create this ultimate Destination Wedding Checklist just for you.
Ready to make your journey to Happily Ever After a smooth one?
Let's begin!
Your wedding might seem ages away at this point, BUT it's smart to start early. To make sure everything runs smoothly, here are the top tasks you should get done ASAP:
☐Set A Wedding Budget
Before you do anything else, figure out your wedding budget. It's the most important factor that'll shape your choices from this point forward. Take a minute to think about how much you're comfortable spending and plan accordingly.
☐Create Your Guest List
You don't have to finalize your guest list at the moment, but having a rough idea will help you estimate the venue needs and expenses.
☐Research Destinations
Choose the country or area where you want to tie the knot. Make sure to research the seasons with the most favorable weather.
☐Research Marriage Requirements
If you're not planning to have a civil ceremony before the wedding day, make sure you know what the requirements are in the country you've picked to make the wedding legal.
☐Research Possible Venue Options
The possibilities for this are endless! Explore our top destination wedding venues in Mexico for some wedding inspo!
☐Hire A Planner
Hiring an experienced professional is important when you're planning a wedding from afar and dealing with international regulations. It'll help you handle the process smoothly. And if the planner speaks the local language, even better!
☐Visit The Site
If time and budget allow for it, it's a good idea to visit the resort you're considering before making a choice. You can see the various wedding venues they have, check out different wedding packages, and even sample the food.
☐Reserve Your Date
Settle on the venue and put down a deposit for the date of your wedding.
☐Check Passports And Visa Requirements
Make sure to confirm that your passports and travel visas (if you need them) are valid and up to date. You don't want to be stuck dealing with an expired passport right before the wedding!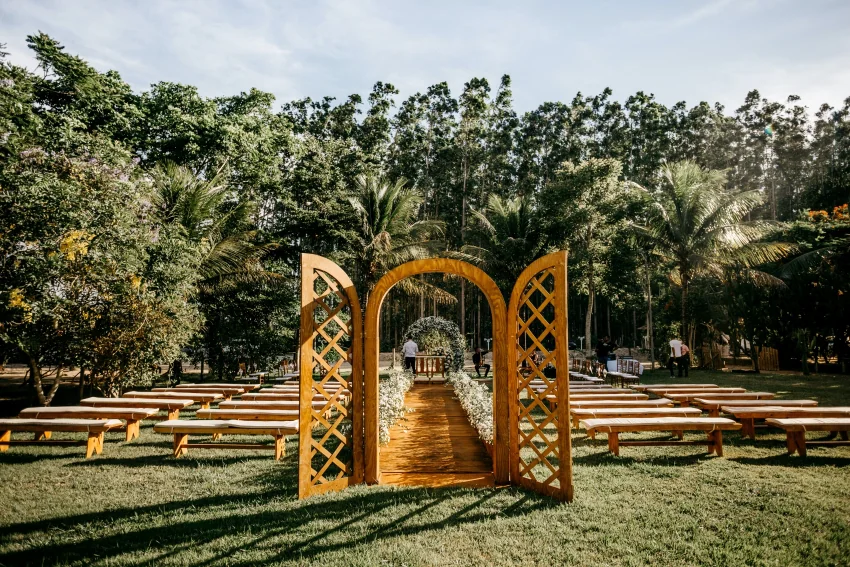 You have the when and where figured out; it's time to get moving on your priority list! These next steps are crucial for bringing your destination wedding plans to life:
☐Select The Members Of Your Bridal Party
Ensure that everyone has the necessary passports and other forms of identification to travel (or knows how to obtain them).
☐Finalize Your Guest List
And send out your save the dates. It might seem early, but your guests too will need time to plan and budget for the trip.
☐Create A Wedding Website
This should cover everything related to travel and lodging. Provide local maps, airport details, and schedules, along with weather forecast so your guests can pack accordingly. Share the link with your guests; you can even collect RSVPs through it.
☐Research A Wedding Room Block
Look into good hotel options for your wedding guests, either close to or at the venue, and inform them of any promo codes they can use to get a special rate. If you've chosen Mexico, our wedding specialists can help you land wicked deals on resort accommodations!
☐Create Your Gift Registry
But remember that guests traveling for your wedding are already spending a lot. It might be a good idea to reassure them that their presence is enough of a gift.
☐Book Your Flights
Why not get those early bird deals and discounts!
☐Plan Your Leaves
Make arrangements with your employer for any necessary time off, taking into account extra days before or after the wedding, such as your honeymoon.
☐Book Your Vendors
Photographers, videographers, florists, wedding planners, DJ… But check your wedding package first, maybe the service is already included in it.
☐Create Your 'Dream Wedding' Board (if you haven't already!)
Start creating Pinterest boards with ideas and inspirations for your wedding planner.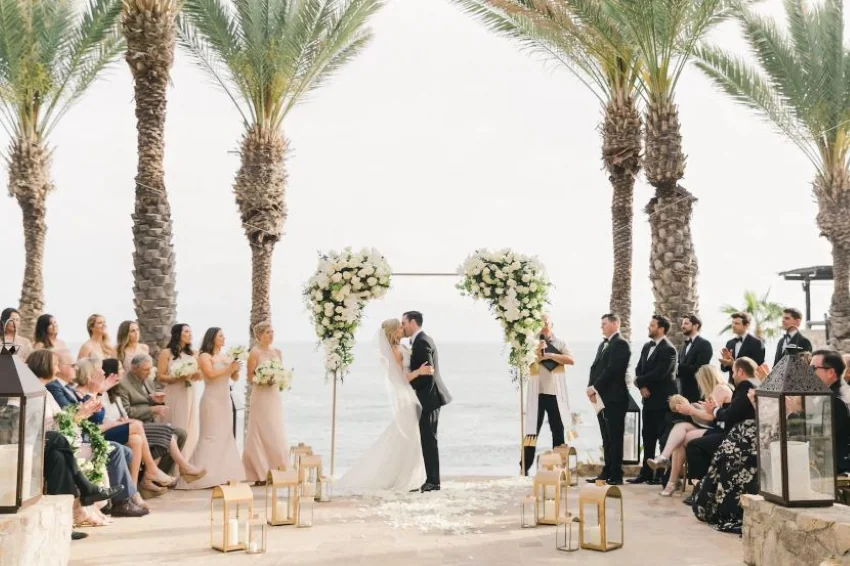 It's starting to feel a little real now!
☐Say Yes To The Dress (And/Or Tux)!
Check for the lead time if you have a particular designer in mind. Take into consideration the destination's climate.
Psst! Here are 30 stunning wedding dresses for your destination wedding!
☐Bridesmaids And Groomsmen Clothes
Select your bridesmaids' dress style and color. Go shopping with your groomsmen for their matching tuxes. Needless to say, make a fun day out of it!
☐Send Out Your Formal Wedding Invitations
Still too early, but like we mentioned earlier, it gives your guests enough time to plan their trip. Start tracking those RSVPs!
☐Select Flowers
Often included in your destination wedding package, you'll still have to choose the flowers you want for your bouquets, boutonnieres, décor, and centerpieces.
☐Choose Your Menu & Cake
Now's the right time to work with your wedding planner to select your wedding's menu. Pro tip- get a taste of the local culture by choosing a unique and whimsical cake that blends with the exotic surroundings of your destination!
☐Finalize Pre And Post-Wedding Events
With the help of your wedding specialist, finalize venues and menus for events like welcome dinners, rehearsal dinners, cocktail parties, and other group events.
☐Time To Book That Honeymoon!
Finalize your honeymoon plans – destination, accommodations, flights, itineraries, activities, massages, romantic dinners, edible lingerie (optional!) et al!
Just check your wedding package, maybe it already has a complementary honeymoon for you!
☐Ring Ring!
For some bling on your fing, buy that wedding ring! Ok, we forced that rhyme, but you get the point!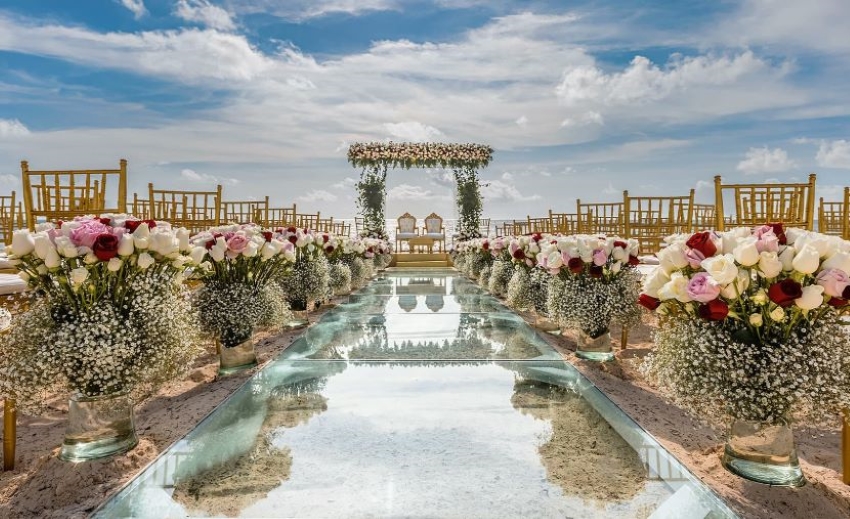 As the wedding day approaches in a few months, it's time to finalize any remaining tasks and verify the logistics for the big day.
☐Time For That Glow Up!
Now's the right time to begin your pre-wedding routine for skincare, beauty, and wellness.
☐Vow Them!
Now's also a good time to begin writing your wedding vows. Why wait till the last minute and write something lame under stress?!
☐Final Headcount
Check and confirm all the RSVPs you have received and send the final headcount to the resort, your wedding planner, and any other relevant suppliers.
☐Guest Transportation
With the help of your wedding planner and resort, arrange transportation for wedding guests, which includes transfers to and from the airport and hotel.
☐Get Vaccinated
If required by your destination, get your blood tests and any necessary vaccinations done.
☐Finalize Reception Seating
This can be stressful so don't shy away from seeking help from your parents and in-laws! You can also read our seating arrangement guide.
☐Buy Goods And Accessories
Guest book, cake topper, biodegradable confetti, welcome bags, hangover kits etc…
☐Double Check The Documents
Verify that all necessary legal documents have been submitted and approved.
☐Talk To Guests
Touch base with your guests and confirm that they have made arrangements for flights and lodging.
☐Shoes And Accessories Shopping
You need great shoes to go with your dress/tuxedo! Also, don't forget to buy any other accessories you'd be needing to complete your look (pocket square, tiara, tie etc.)
☐Confirm Details With All Your Vendors
Photography and videography package, floral arrangements, DJ song list, food and drink menus… get it all in writing!
☐Book A Hairstylist & Make-Up Artist
Your wedding planner or the resort might be able to recommend a good one. Check your wedding package, bridal makeup and hairstyle might already be included in it.
☐Schedule Fun Activities For The Guests
Arrange any casual leisure activities. While optional, organizing a group snorkeling trip could be enjoyable in a tropical paradise. Keep your wedding website up to date with the latest plans for guests to stay informed.
☐Wedding Favors
Order cute wedding favors for your guests (think hand fans for a beach wedding, custom koozies, custom soaps, cute fridge magnets etc.)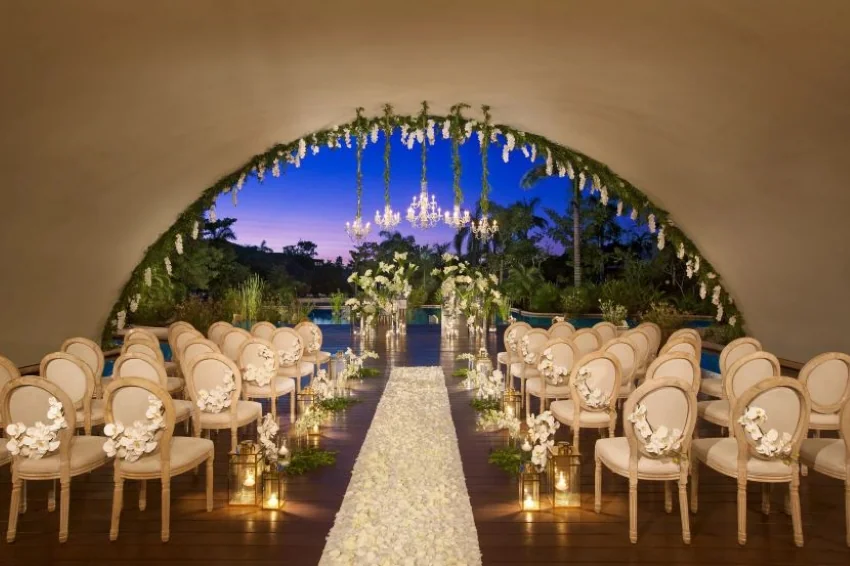 With the wedding day fast approaching, it's time to get ready for your upcoming journey! Complete these last-minute wedding planning duties before embarking on your trip.
☐Make A Packing List
Think travel adapters, local currency, destination-centric clothing, wedding accessories, travel documents etc.
☐Confirm Rental Delivery Times And Pickups
And when it's time to go collect things, don't run all across town alone! Ask your friends and family to help you.
☐Courier Items To The Resort
Ship any items that can be shipped in advance to your resort or on-site wedding coordinator. Things such as wedding favors and welcome bag items can be a part of this shipment. By doing this, you can avoid paying additional baggage fees.
☐Payments
Settle all final invoices with your resort, vendors, planners and suppliers.
☐Pick Up Wedding Dress
Your final dress fitting should be about now. Don't forget to take your shoes and accessories with you. You're gonna look stunning, we know it!
☐Vow Them – Part 2!
By now, your wedding vows should be finalized. Rehearse them a few times before your big day.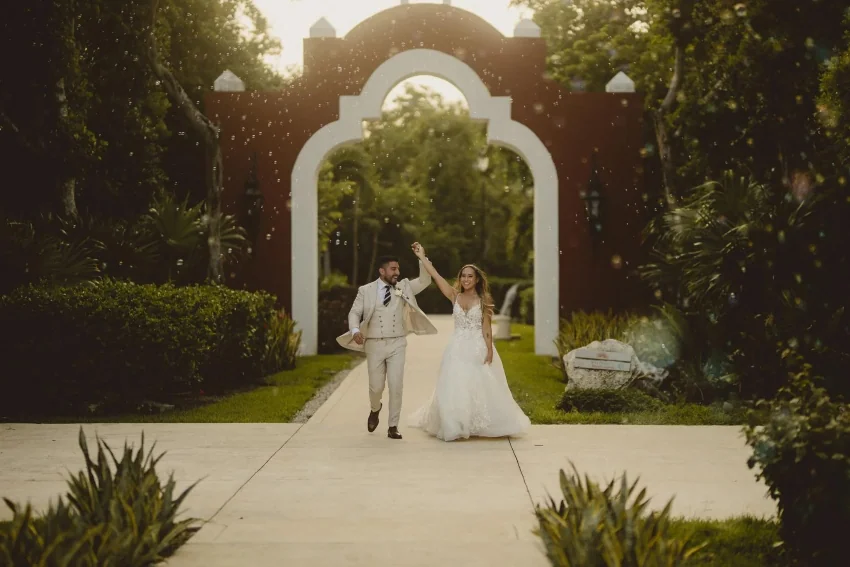 The time has come! With only a few days remaining until you exchange vows, enjoy this last week with your partner, surrounded by loved ones…
☐Packing
Remember that packing list you created last month? Refer to it while packing your bags.
☐Travel Day!
You should ideally be arriving at your destination a few days before your guests do.
☐Meet With Your Wedding Planner
Along with them, conduct a final walk-through of the venue and make any last-minute adjustments. Use this chance to ensure that all wedding day arrangements with your vendors are in order. Squeeze in food and cake tastings here if you could not before.
☐Apply For A Marriage License
Many resorts also provide symbolic marriage certificates for you to treasure lifelong.
☐Attend Your Trials
Attend your hair and makeup trials and find a look that best suits you and your wedding theme (if any). Squeeze in a mani-pedi too!
☐Head Over To The Spa
Enjoy a soothing and pampering session at the spa. Generally, your wedding package includes a couple's massage.
☐Welcome Guests
Meet and greet guests as and when they start arriving.
☐Relax!
Just remember, all you need to do is relax and enjoy the vibe of your wedding… Don't stress, don't panic…
Happy wedding day to you! Here's to a great day and a fabulous life ahead🎉
Ready to plan your destination wedding? 
Allow us to help!
Our team at ParadiseWeddings.com have planned 100s of destination weddings and yours could be next. 
Call us today at 877-737-0177 or contact us here for a free consultation.
Can't wait to hear from you!