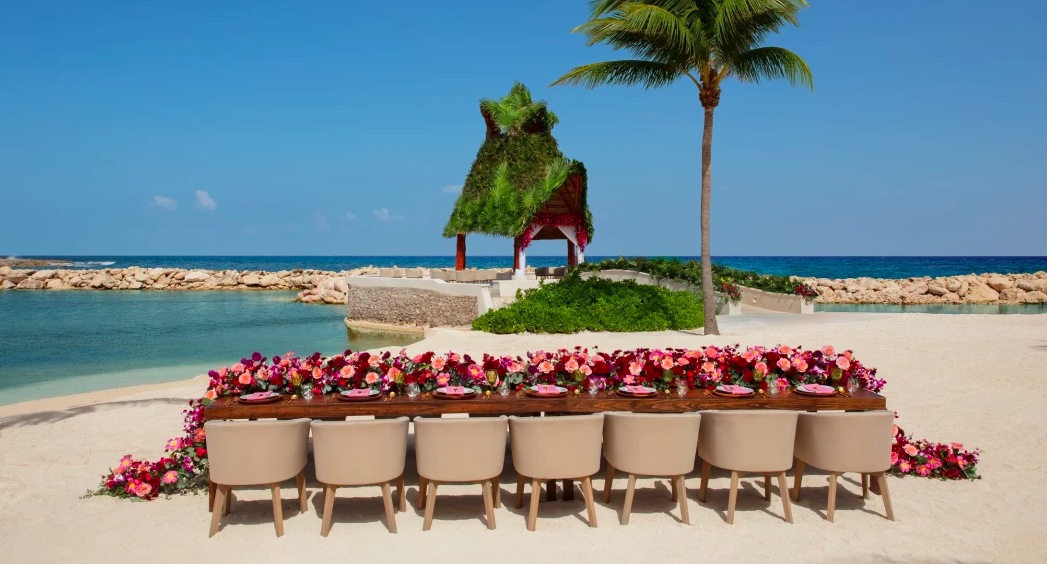 Weddings at Dreams Aventuras Riviera Maya | Our Honest Review
So you're looking for your dream wedding resort…
Well, what could be more appropriate than a resort with dream in the title?
Dreams Aventuras Riviera Maya provides so many options — including wedding packages and venues. 
But hold on! We don't just tell you all the good things about this resort. 
Our planners also tell you the cons and what to expect. 
Ready to find out? Let's go!
Dreams Aventuras Riviera Maya is set on a secluded beach where privacy and luxury come together. 
This all-inclusive resort is not only romantic but the accommodations and amenities will make this a trip to remember. 
Lay back and relax at the beautiful beach or at one of the 2 sparkling pools.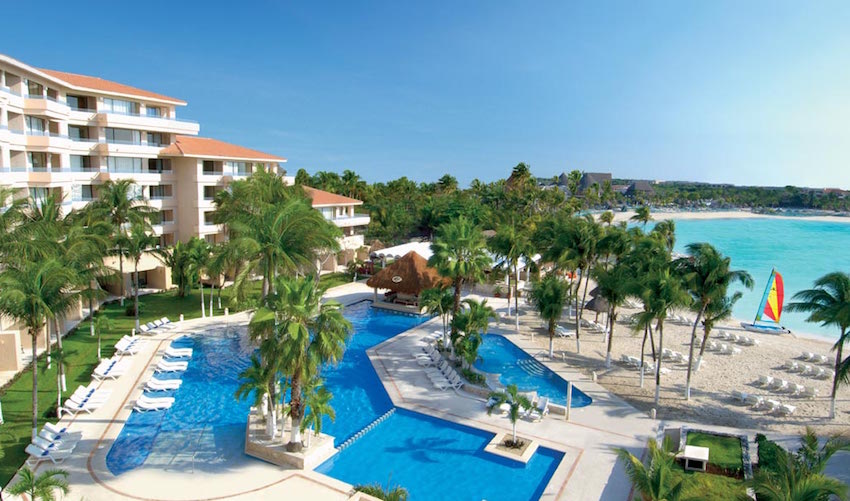 The resort has 8 restaurants and 4 bars, including some that are open 24 hours a day!
You'll be able to choose from buffets, 2 swim-up bars, a gelato factory, and more!
This resort offers so much to its guests. Just wait!
You can find great packages for any budget at Dreams Aventura Riviera Maya!
Whether your budget is next to nothing or over $10,000, you can find it all here. 
Even if you just want 10 of your closest friends and family there with you, there's a package for that!
Wedding packages include: 
Dreams Weddings in Paradise | Complimentary or $999 for up to 10 guests
Elope in Luxury | $1,100 for 2
Dreams of Love | $3,399 for up to 30 guests
Dreams Ultimate | $3,799 for up to 30 guests
Beyond Memorable | $9,499 for 79 guests, or $14,399 for 100 guests
Depending on the package you choose, you can invite more guests for $18 – $138 per person.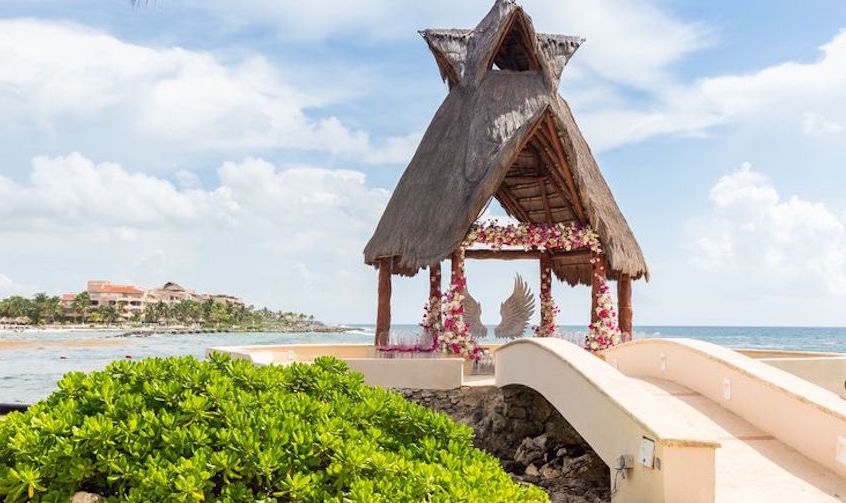 Dreams Ultimate
Dreams Ultimate wedding package has so many essential amenities and add-ins that you didn't even know you needed. 
With this package, you get coverage for the ceremony, cocktail hour, and reception dinner!
For just $3,799 you can get all of the below amenities. 
With the Dreams Ultimate package, you get… 
Symbolic ceremony
Semi-private rehearsal dinner
Ceremony decor
30-minute ceremony video
Bouquet(s) or boutonniere(s)
2 corsages and boutonnieres for the wedding party
Two table centerpieces
Wedding cake
Sparkling wine
Private cocktail hour
Private dinner reception
Late checkout
Hair and makeup
Live music during cocktail hour
15% off spa treatments
50 colored photos in a photo album
Complimentary room for one the night before the wedding
Free anniversary nights
Newlywed package
There are 8 wedding venues at Dreams Aventuras Riviera Maya and each one of them is unique and special. 
If you want a gazebo, rooftop, terrace, or more — you got it!
1. Dream Garden Terrace
Take in the lush gardens at this dreamy terrace. 
It can be decorated to your liking and is great for an intimate ceremony. 
You can invite up to 80 guests to join you here.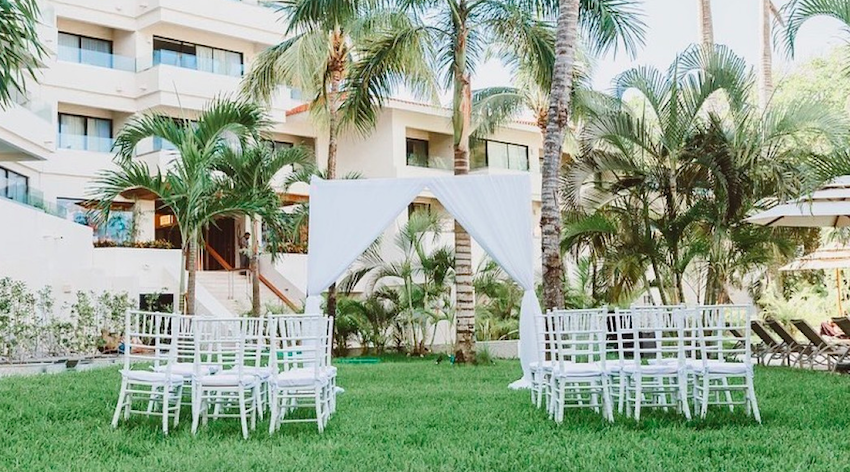 2. Rooftop Terrace
This rooftop terrace gives you and your guests views for days!
It's a contemporary option and is best used for bigger parties. 
Invite up to 250 guests to celebrate with you.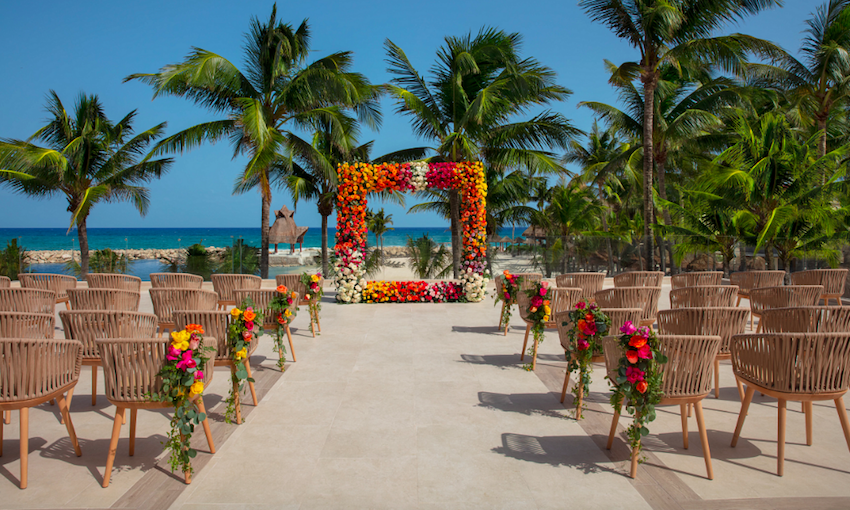 3. El Patio Restaurant
This oceanview restaurant offers delicious Mexican cuisine under a palapa. 
Host your reception here for a more laid-back feel. 
You can invite 100 guests!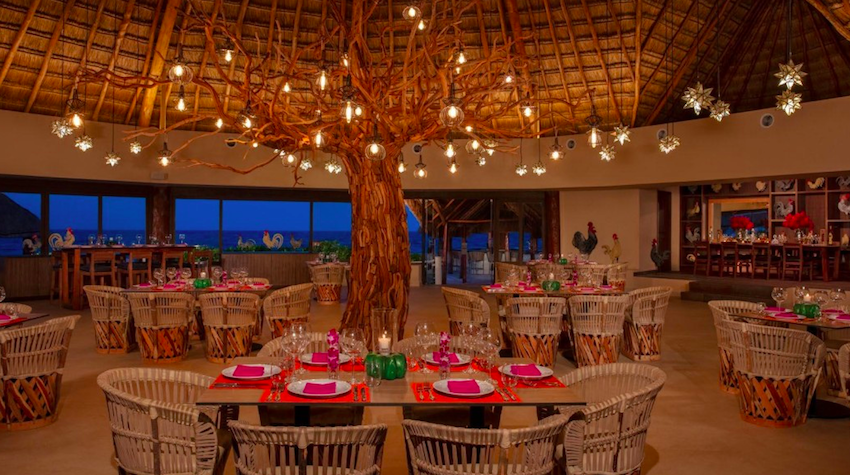 4. Gazebo Beach
Gazebo Beach is an ideal place for a ceremony, cocktail hour, and reception!
It has amazing views and a cool breeze right from the Caribbean Sea. 
120 guests can join you here.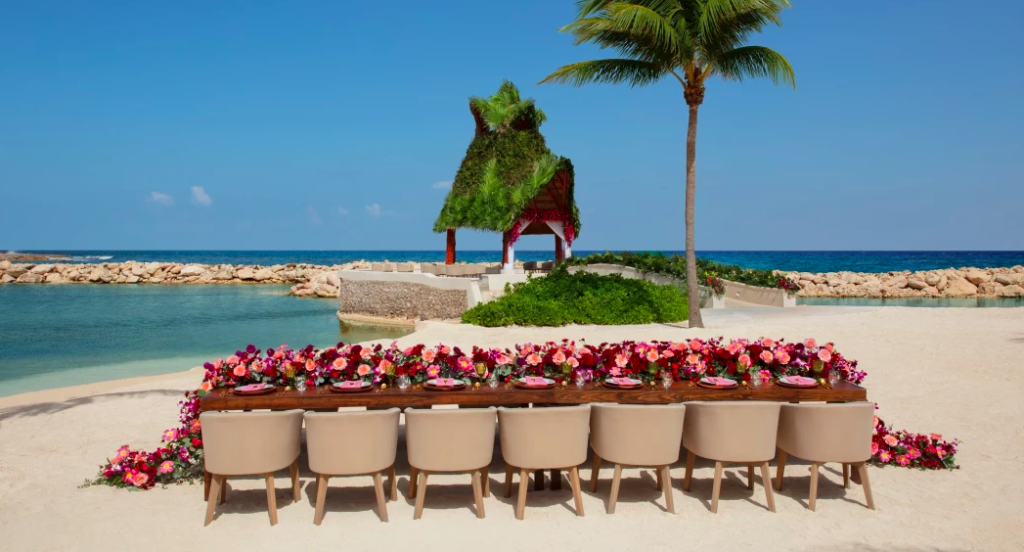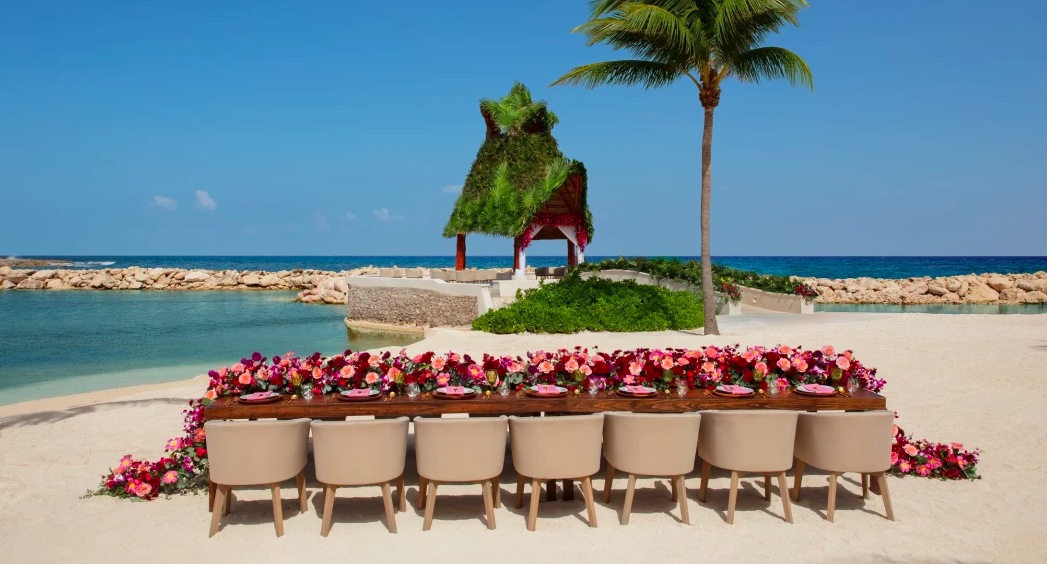 5. Beach
No matter if you are wanting a small wedding or a big crowd to celebrate with, the beach is an amazing option!
Hear the crash of the waves right behind you as you say "I do". 
Invite up to 250 guests to join you here.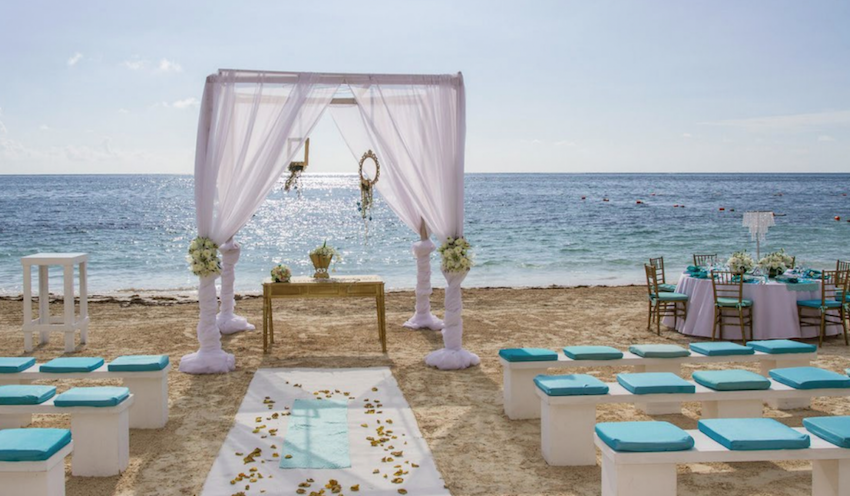 6. Oceana Restaurant
The Oceana Restaurant offers amazing views and delicious seafood dishes. 
Located on a terrace, this venue is perfect for those wanting a smaller group to celebrate with. 
Invite 70 guests to join you here.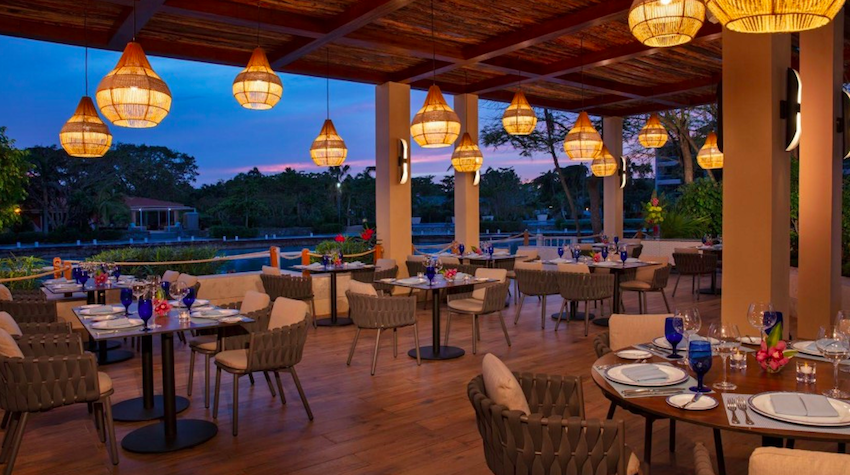 7. Gazebo
This beachfront gazebo is a beautiful and unique option as it sits on the edge of the property, with waves crashing against the side!
Decorate it however you want, including flowers, chair styles, and more!
You can invite up to 90 guests to join you.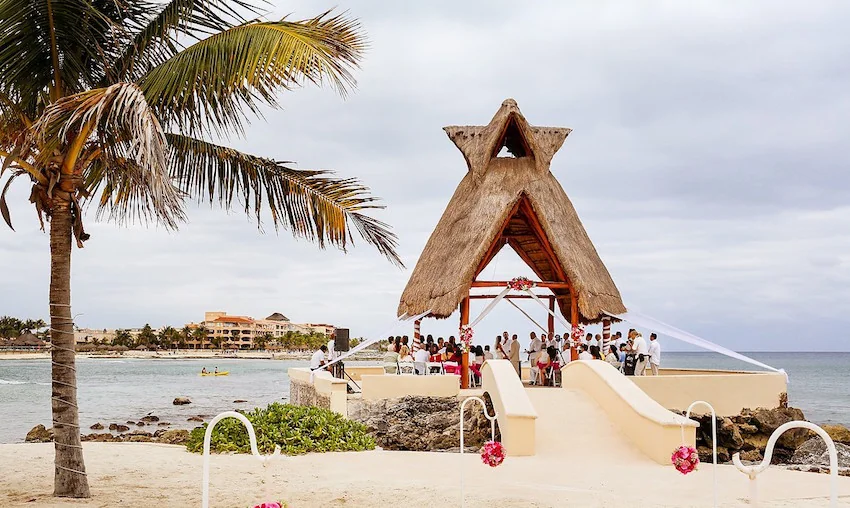 8. Ballroom
Take your wedding inside and dress it up with centerpieces, flowers, and more decor!
This is also where your wedding is held if there is any inclement weather. 
Invite up to 80 guests to celebrate with you!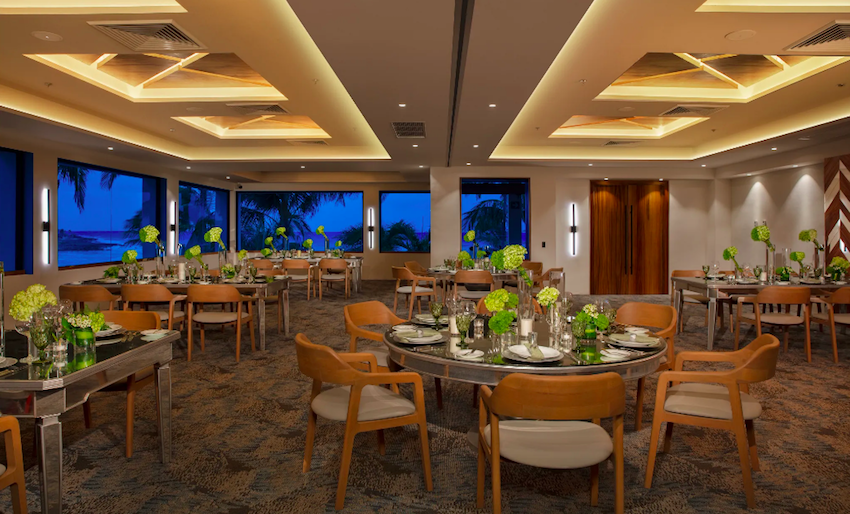 Will Dreams Aventuras Riviera Maya host an LGBTQ+ wedding?
Yes! No matter who you are, you can get married at this resort. 
Plus, the wedding packages stay the same for every couple.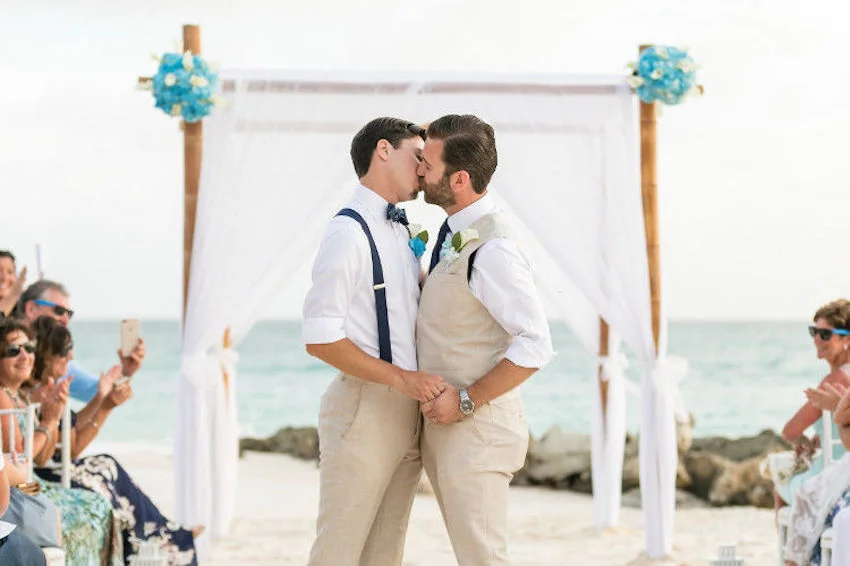 Need help with documents or have any questions?
Our talented team of wedding specialists can help you along the way!
Rooms at Dreams Aventuras Riviera Maya are beautiful, spacious, and relaxing!
There are 305 luxurious rooms that will make your whole stay a dream. 
Plus, for your wedding week, why not upgrade your room? 
That's what Preferred Club Level is for!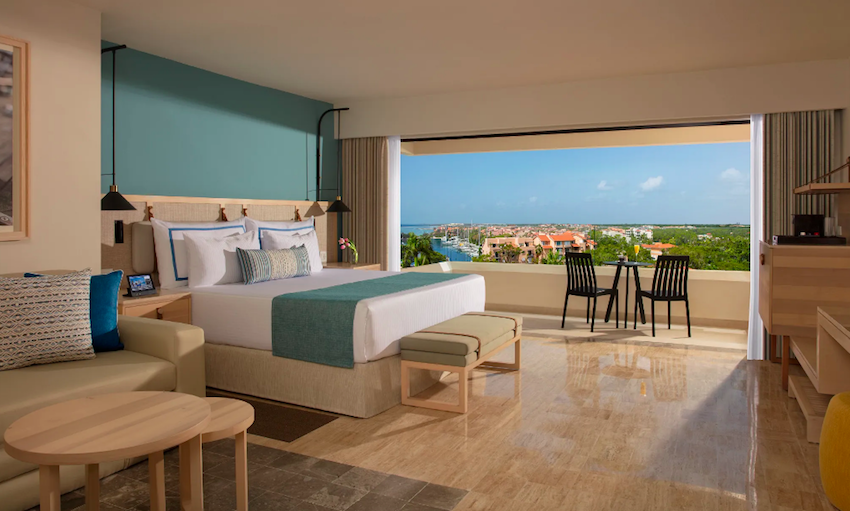 You get to choose from these suites…
Deluxe Pool View
Deluxe Swim Out
Deluxe Ocean View
Deluxe Marina View
Family Suite Deluxe Garden View
Family Suite Deluxe Pool View
Family Suite Deluxe Swim Out
Family Suite Deluxe Ocean View
Honeymoon Hot Tub Marina View
Honeymoon Hot Tub Ocean View
Preferred Club Marina View
Preferred Club Ocean View
Preferred Club Family Suite Ocean View
Master Suite Ocean View
Preferred Club Master Suite Ocean View
For the newlyweds, we recommend the Deluxe Swim Out suite!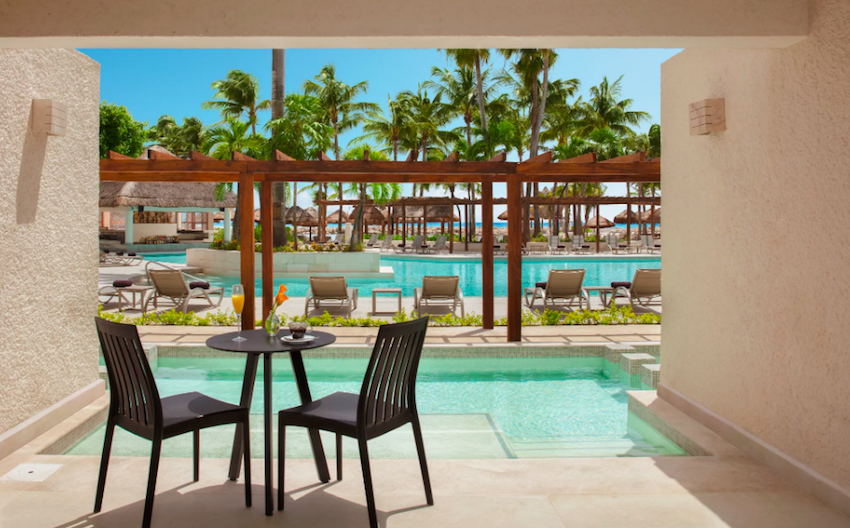 With the Deluxe Swim Out suite, you get to sleep on a king-size bed that feels like a cloud. 
Three is also a private furnished terrace that lets you swim out right behind the main pool. 
You also get the perfect sunset view from this room! 
At this resort, you can enjoy 2 pools that are vastly different!
Both pools are heated and have loungers that you can relax on, especially with a drink in your hand!
There are swim-up bars at each pool as well. 
Travelling with kids? Check out the kid's water park that has slides and a bucket drop!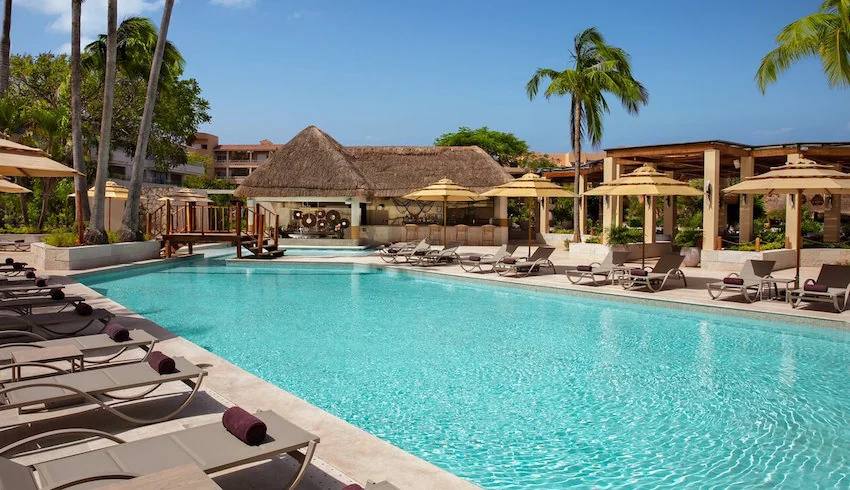 You also get a private beach that spans yards and has loungers to relax on!
The crystal clear blue water doesn't hurt, either. 
With 8 restaurants at this resort, you can expect some delicious cuisine and amazing dining experiences!
You have many options including a sushi lounge, a gelato factory, and more!
Thirsty? Head to the beach bar, music lounge, or the 2 swim-up pools.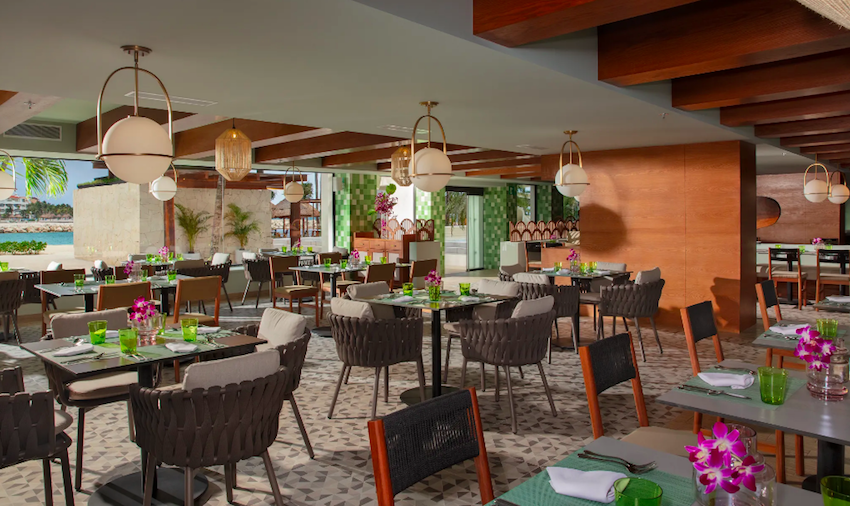 Restaurant options include…
Barefoot Grill | Grilled cuisine
Coco Café/Gelato Factory | Coffee and gelato options
El Patio | Mexican cuisine
Gohan | Sushi lounge
Oceana | Seafood 
Portofino | Italian cuisine
Seaside Grill | Snacks and steak
Word Café | Buffet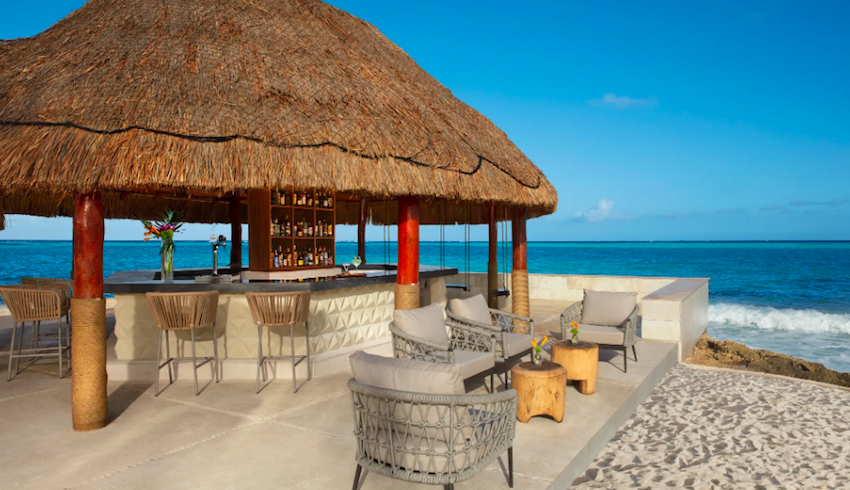 At Dreams Aventuras Riviera Maya, you can expect fun activities for kids, teens, and adults. 
There are kids' and teen's clubs, a ton of water sports, and live entertainment during the day and at night!
Want to chill out before your wedding? Book a day at the relaxing spa.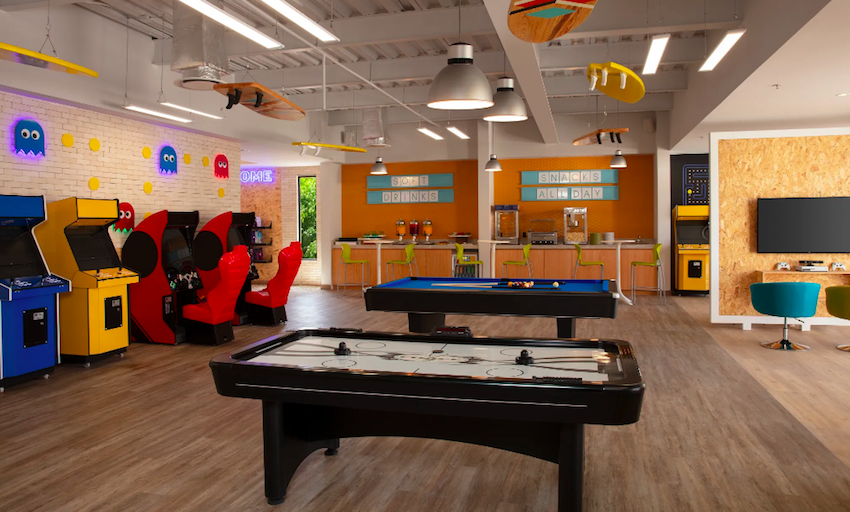 Fun activities and entertainment include…
Bicycle riding
Beach volleyball
Water park
Spa
Teen's Club
Kid's Club
Scuba diving
Deep sea fishing
Movies on the beach
Musical performances
Cocktail classes
Dance classes
Fitness center
Have questions about the resort? Don't worry, we got you!
You can find answers below to some of the most asked questions about Dreams Aventuras Riviera Maya!
Q: How far is the resort from the Cancun International Airport? 
A: Dreams Aventuras Riviera Maya is about an hour and 15 minute drive from the airport. 
Q: Is the resort pet friendly? 
A: Yes! Dogs are allowed under 22 pounds. 
Q: What are the check-in and check-out times?
A: Check-in starts at 3 pm and check-out starts at 12 pm. 
Q: Does the resort have WiFi? 
A: Yes! There is WiFi available all throughout the resort.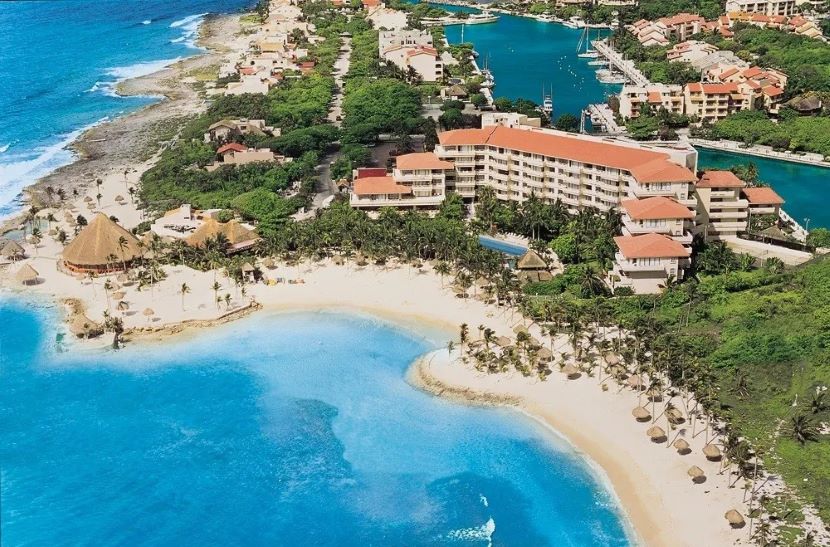 What's not to like about Dreams Aventuras Riviera Maya?
From the accommodations to the pools to the gastronomy, it's a great resort option for your wedding!
Well, we asked our talented wedding team what they thought about this resort. 
Wonder what they had to say? They share their pros and cons below!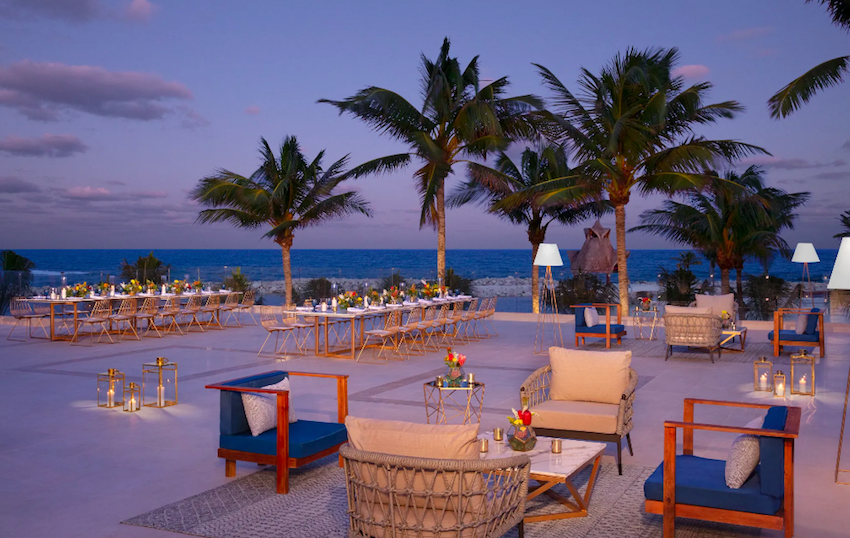 Things we love: 
A smaller, intimate resort
Adults-only section
Calm waters at the beach
Amazing resorts, especially the gazebo
It's in a great area
Delicious food
Things we don't: 
Seaweed can be bad here
Pools are small
Entertainment/evening shows aren't great
Service could be better
Long wait times at restaurants
This resort has an adults-only and family side, so there is something for everyone!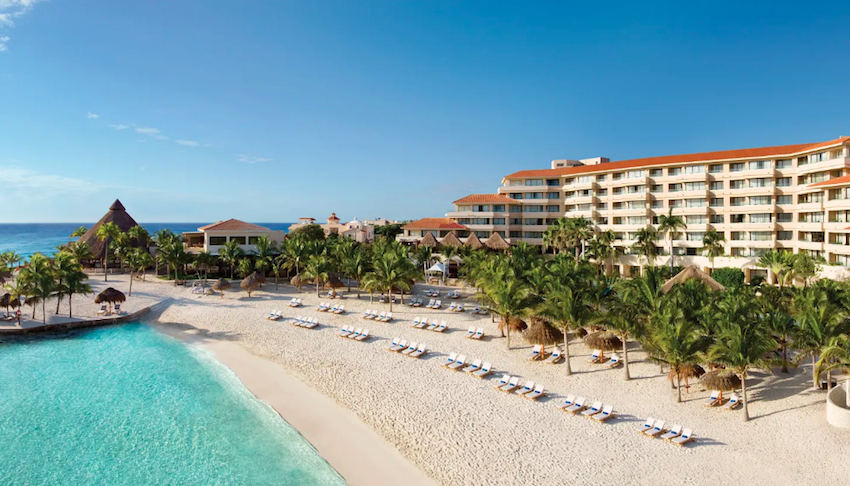 Still unsure?
Check out these 3 similar options that you may love. 
Whether you like this resort or not, planning a wedding can be tough.
Why not do it with some help?
Our team at ParadiseWeddings.com can guide you throughout the process so you're never alone!
Call us today at 877-737-0177 or contact us here for a free consultation.
Can't wait to hear from you!