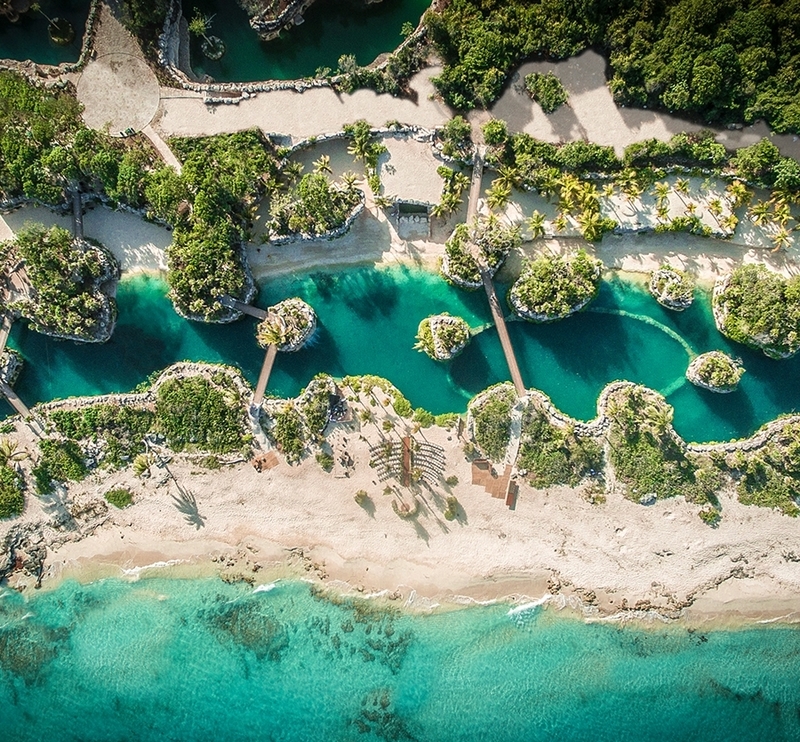 Weddings at Hotel Xcaret | Our Honest Review 2022
So, planning to have your destination wedding at Hotel Xcaret?
You're in for a treat! 🙌
Our wedding planners have organized 100s of weddings in the Riviera Maya.
We've got all the inside info you need!
Today, you'll get a closer look at Hotel Xcaret… and what sets part from other Mexican wedding resorts.
You'll get wedding options, room types, prices, activities, and more!
Ready to find out if Hotel Xcaret is THE wedding resort of your dreams?
Let's get started…
1. Hotel Overview
★★★★ | FAMILY-FRIENDLY | ALL-INCLUSIVE | PLAYA DEL CARMEN
Hotel Xcaret is an eco-archaeological resort located in Riviera Maya.
It's situated on a gorgeous stretch of coastline, surrounded by lush jungles & ancient ruins.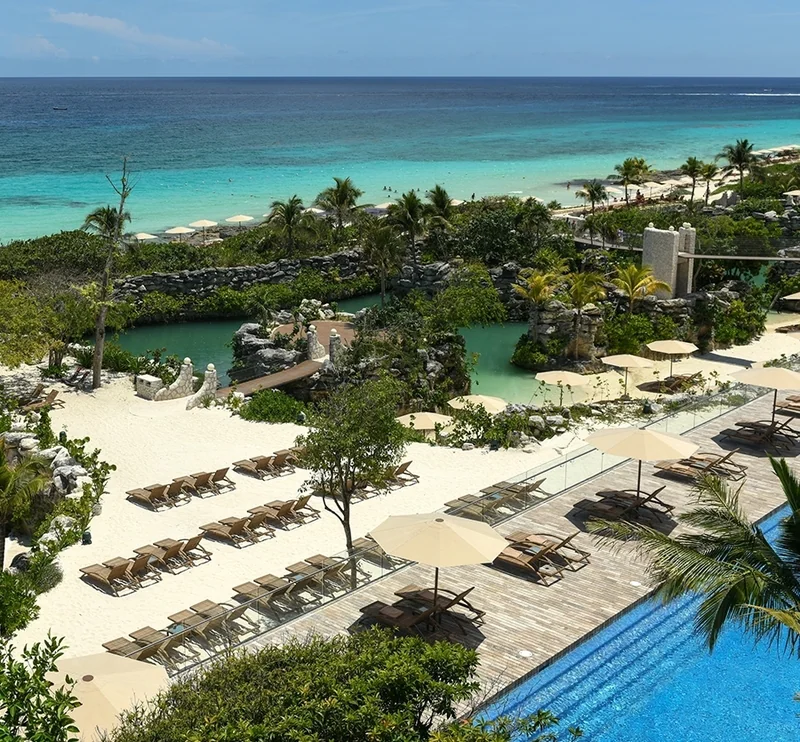 This all-inclusive resort features 5 Mayan-inspired Casas that house 900 suites…
As well as a variety of restaurants, bars, shops, and amenities!
There are also plenty of activities & entertainment options on-site. 
With access & round-trip transportation to 8 Xcaret parks as well as Isla Mujeres, it's the perfect place to stay for couples, families, and big groups!
2. Wedding Package Options
Hotel Xcaret offers 4 wedding options that can be customized to fit your needs.
Your options include…
For the mystics among us, a Mayan wedding in Mexico can be the perfect start to the rest of your life.
This unique ceremony includes a traditional shaman officiating the ceremony & performing a cleansing ritual.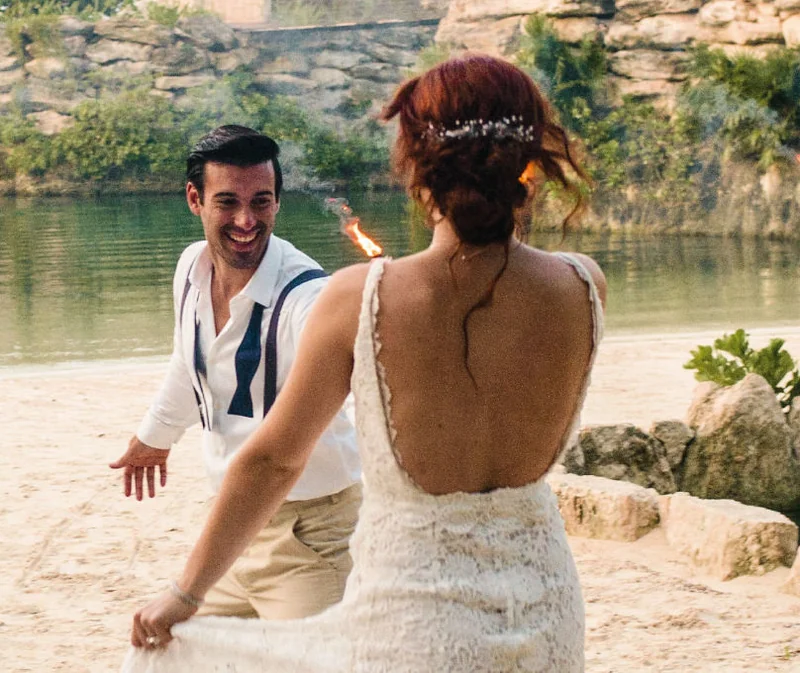 The shaman will call upon the 4 natural elements (water, fire, earth and air) & Goddess Ixchel (of the Moon, Sea and Fertility) to bless your union.
If you're looking for a more traditional ceremony, a Catholic wedding might be the right choice for you.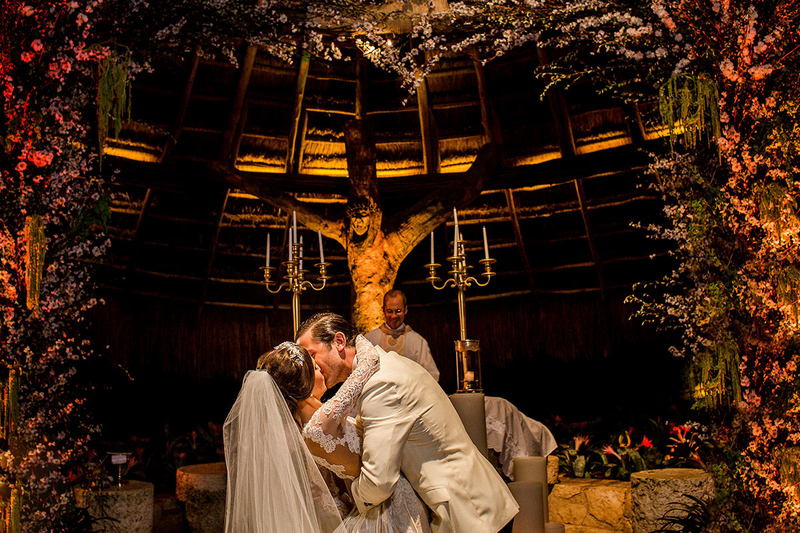 The on-site chapels at Hotel Xcaret are beautiful & perfect for Catholic ceremonies!
A symbolic ceremony is a great choice for couples that want to keep things simple.
This type of ceremony doesn't legally bind you, but it's a beautiful way to celebrate your love!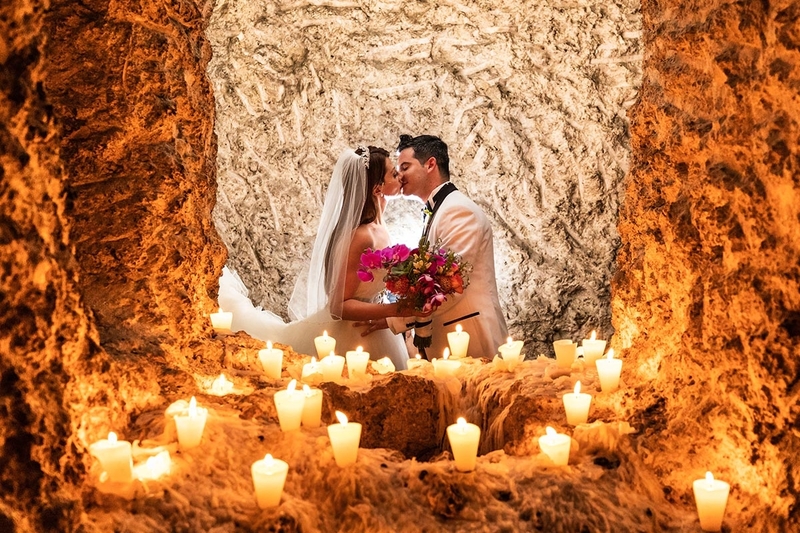 The hotel has a variety of locations that would be perfect for a symbolic ceremony, like the beach or 1 of the many gardens on-site.
Don't worry, you'll be getting a more in-depth look at their venues shortly…
For couples that want to get married quickly & without any fuss, a civil ceremony is the way to go.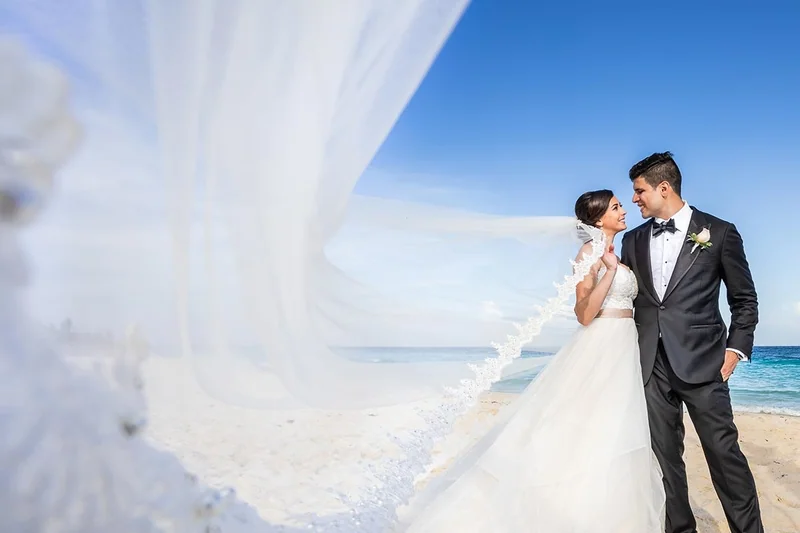 Hotel Xcaret can help you arrange everything with the local government office, so all you have to do is show up on your wedding day!
Plus, you'll get to reap some amazing benefits by having your wedding here!
Things like…
Early check-in
Room upgrade for the bride & groom
15% discount on their Muluk Spa for ALL wedding guests
Romantic amenities on your wedding night
Romantic breakfast the morning after
Late check-out
Get your 4th night free if you choose to come back for your 1st anniversary
They also offer a "Renovation of Vows" ceremony for married couples wanting to celebrate their love!
3. Ceremony & Reception Venues
Hotel Xcaret has a variety of wedding venues to choose from.
Whether you're looking for an intimate gathering or a large-scale event, they've got you covered.
Your options include…
1. Chapel of Todos Los Angeles
This is a stunning chapel is located at the top of the Xpiral Pyramid, 148 feet above the Mayan Jungle.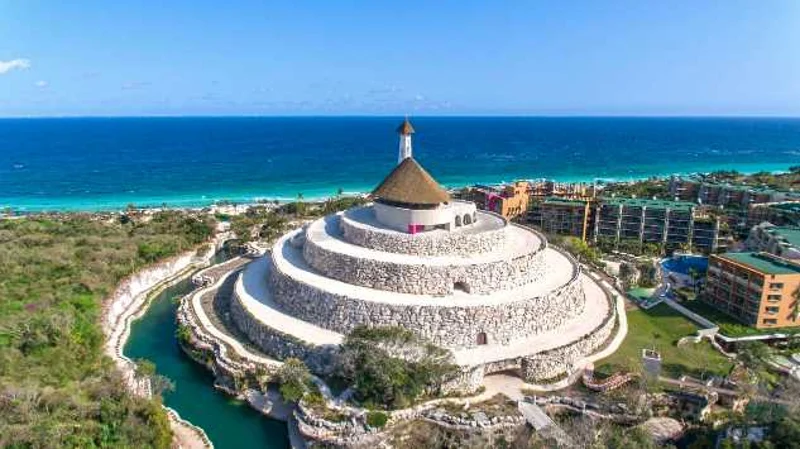 With 180-degree views of the Caribbean and jungle, this venue will be sure to leave your guests in awe!
It's perfect for Catholic ceremonies and can accommodate up to 150 guests.
The hotel's private beach is the ideal place to exchange your vows.
With the turquoise water & white sand as your backdrop, it's a truly magical setting!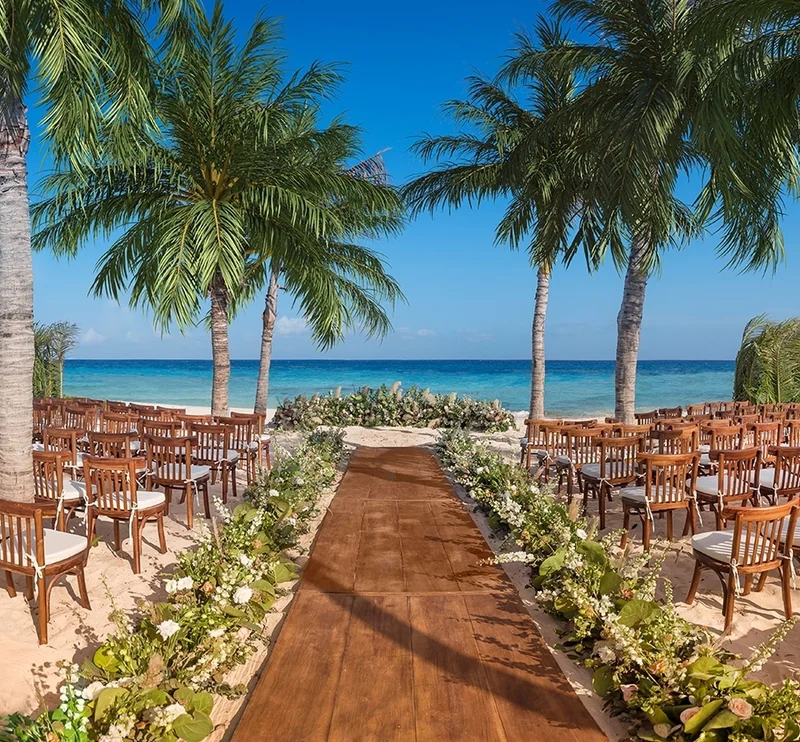 The beach can accommodate up to 150 guests for a ceremony or reception.
This is a unique venue located at the edge of a cenote.
It has amazing views of the jungle and can accommodate up to 350 guests.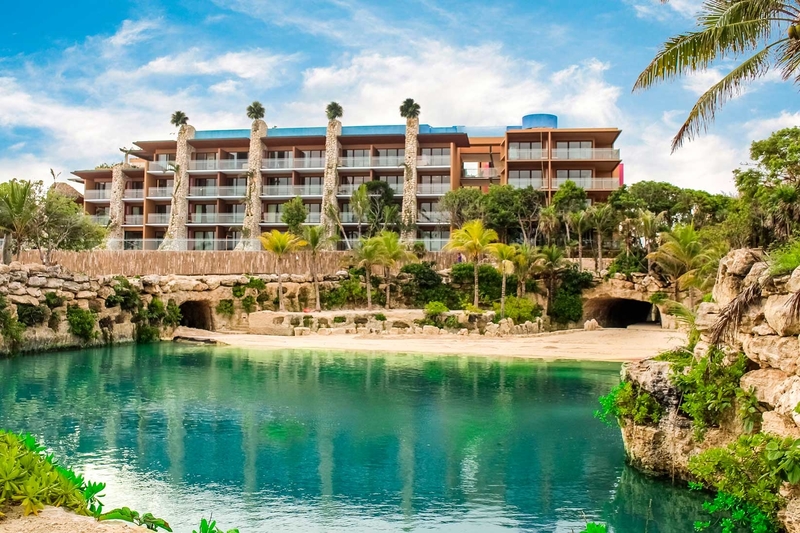 Guests will be able to take a dip in the refreshing waters of the cenote during your reception!
This is a beautiful, open-air venue that's perfect for couples wanting a fairytale wedding.

The stone columns, lush greenery & emerald waters make for a truly majestic setting!
This is an intimate, underground venue that's perfect for couples wanting a unique & romantic setting.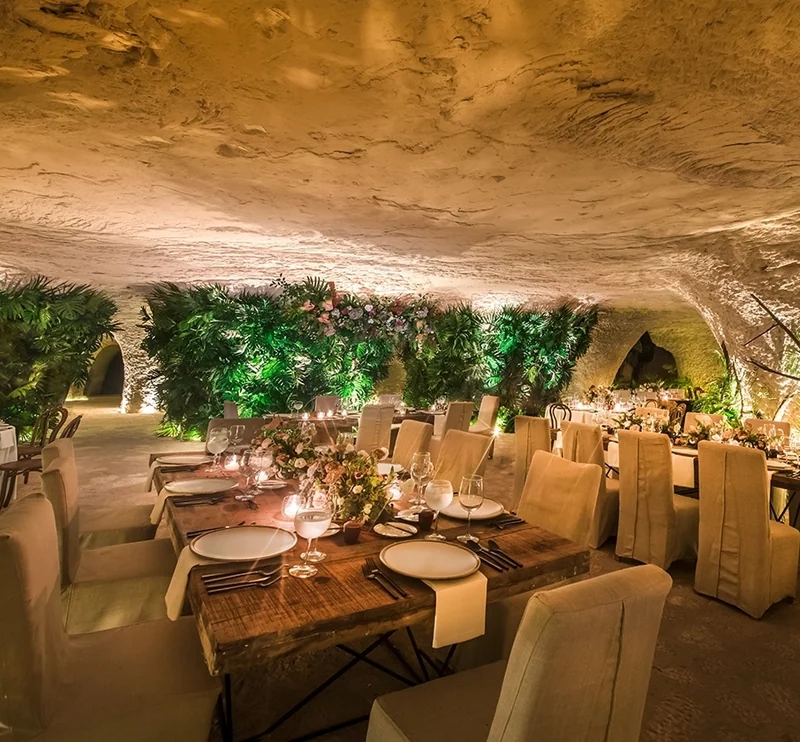 This is a beautiful ballroom with floor-to-ceiling windows and views of the Caribbean.

It's perfect for large weddings & can accommodate up to 500 guests!
There are also plenty of restaurants on-site that would be great for a reception, like Las Cuevas, Trajinera, or Teatro Del Rio.
At ParadiseWeddings.com, we only work with resorts that share our values!
Hotel Xcaret is a gay-friendly resort that welcomes all couples with open arms.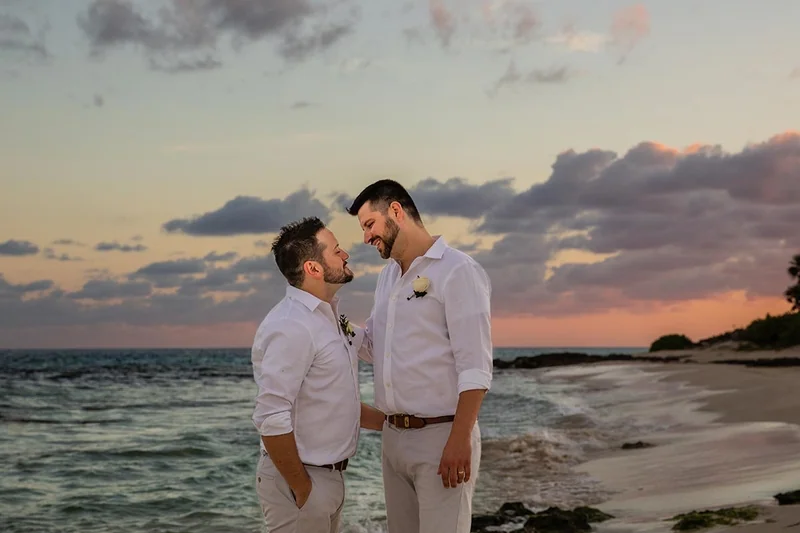 They offer all of the same services & benefits to same-sex couples as they do to straight couples.
So whether you're looking for a traditional ceremony or something more unique, you'll be able to make your dream wedding a reality!
The hotel has 900 suites spread across 5 buildings called Casas:
Tierra – best for families
Fuego – best for adults-only
Espiral – best for weddings & big groups
Viento – best for families with little ones
Agua – best for a zen getaway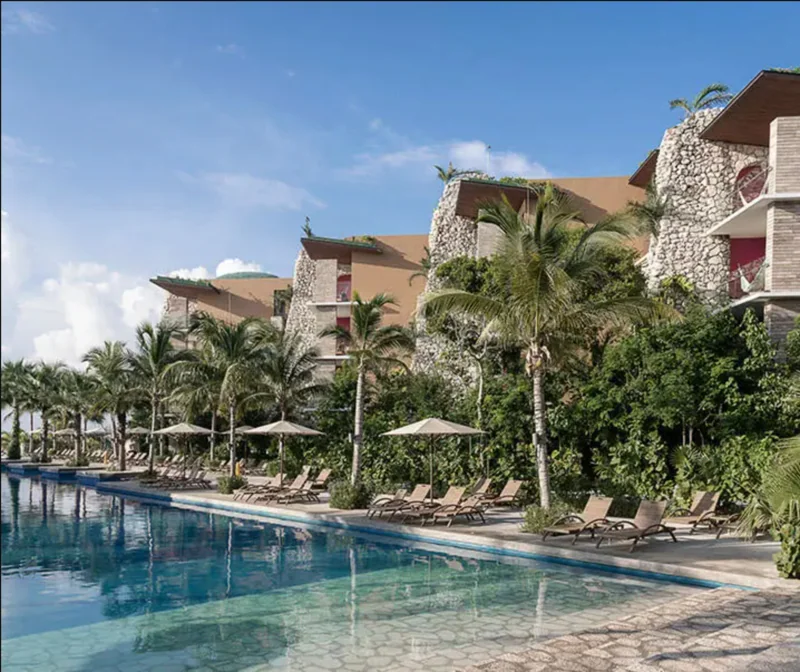 Each Casa pays tribute to the Mayans, drawing upon inspirations in its unique style.
They are all represented by a universal element from Mayan culture: Spiral, Air, Water, Earth, and Fire.
All suites are spacious, modern & comfortable.
Plus, the decor in the suites were handcrafted by artists from local communities!
Their room options include…
These spacious & luxurious rooms offer views of the jungle, river, sea, or beach!
Prices start at $944 per night depending on your suite type.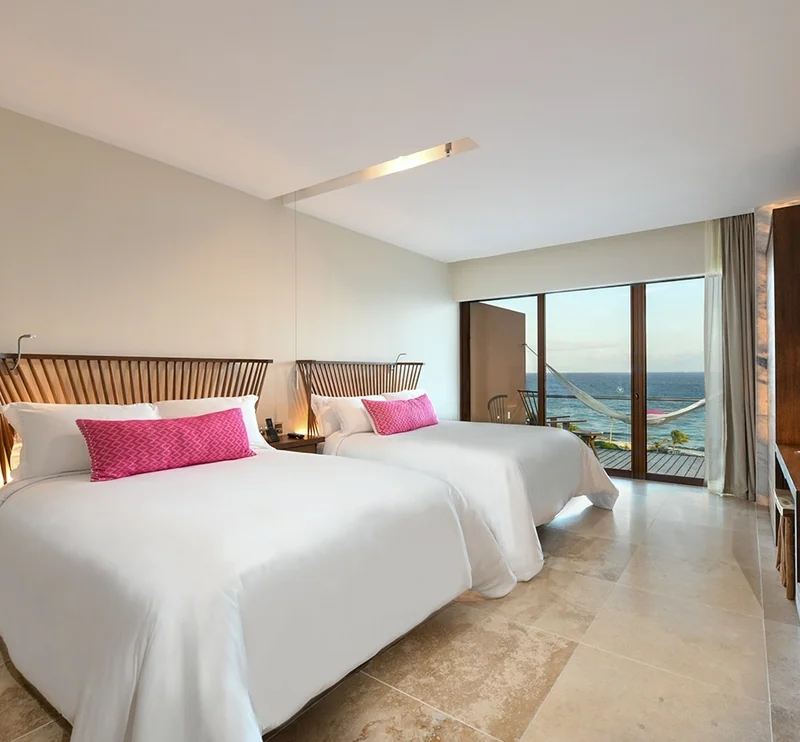 They come with a king-size bed or 2 double beds, a balcony or terrace, and a marble bathroom with a rain shower and more!
These rooms are best for guests wanting a space that makes them feel at home. 
Prices start at $1,391 per night depending on your suite.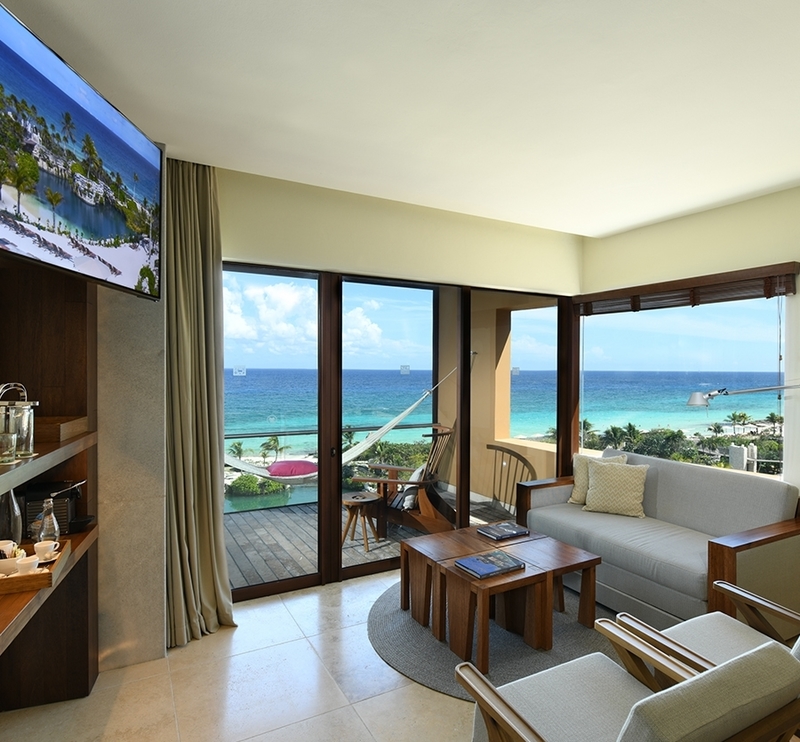 They come with a king-size bed, a terrace overlooking the sea, dining room for 2, and plenty of room to relax.
These suites offer direct access to 1 of the hotel's pools!
Prices start at $1,282 per night.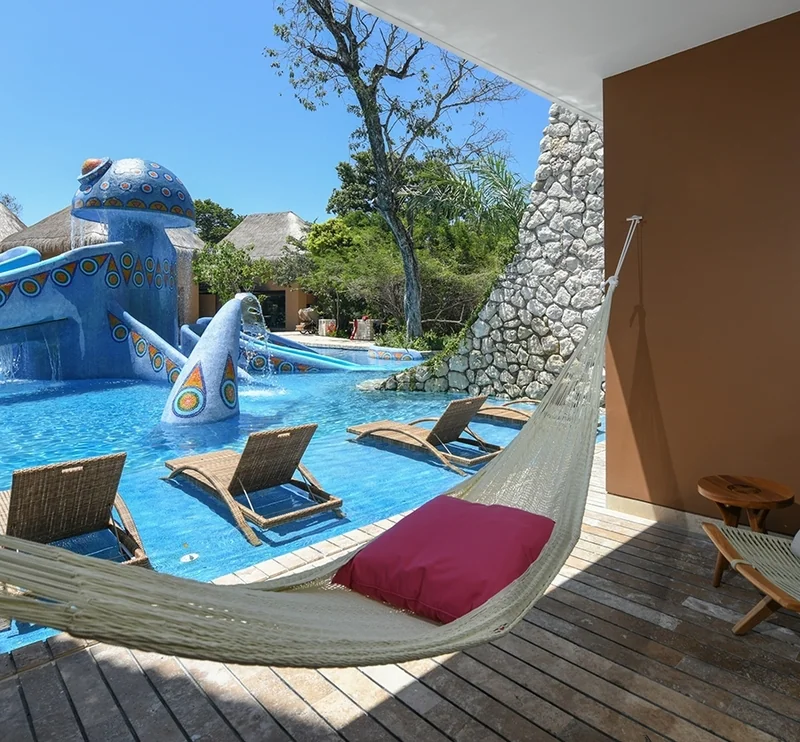 They come with a king-size bed, a terrace, and premium organic amenities!
These are the most luxurious suites at the hotel!
Prices start at $2,640 per night.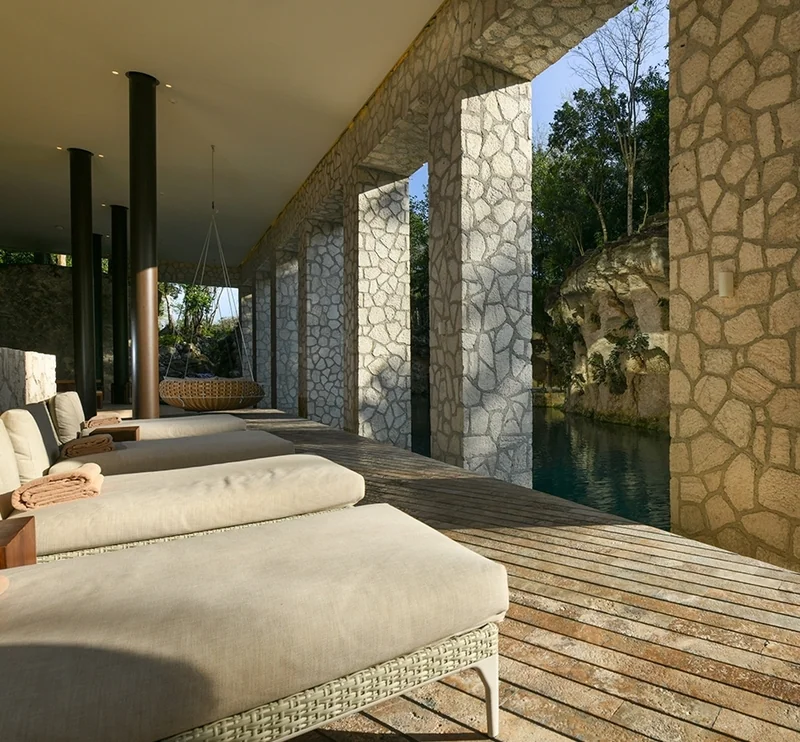 They come with a king-size bed, living room, jacuzzi, plus a terrace with amazing views and a lounge area.
The beach here is absolutely stunning & definitely 1 of the highlights of the resort!
The water is crystal clear and the sand is soft & white.
There are plenty of beach umbrellas & sun loungers for guests to use.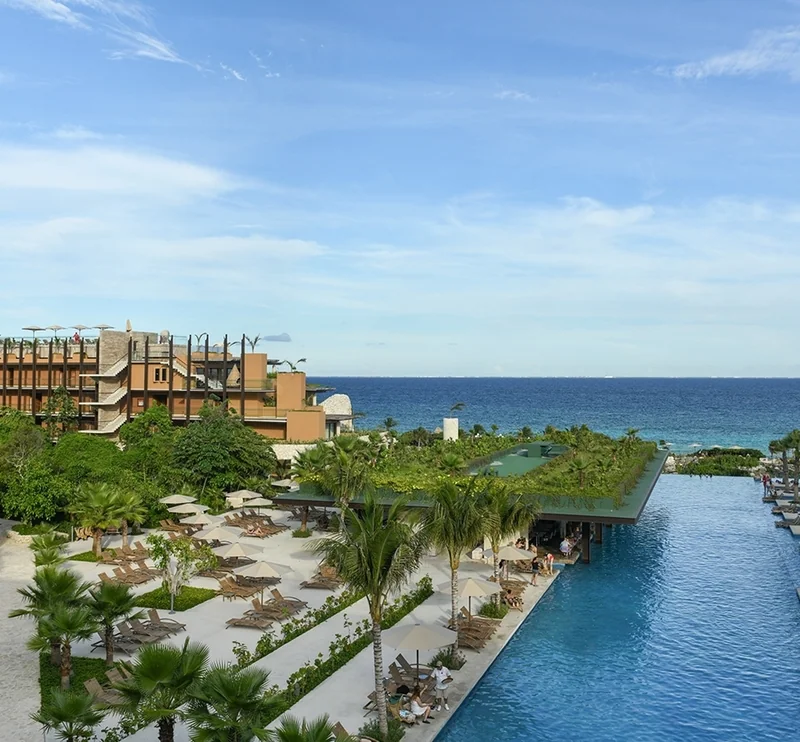 Plus there are staff members who will bring you drinks & food while you relax on the beach!
There's also a section of the beach that's reserved for adults only, so you can enjoy some peace & quiet if you want.
There are 12 restaurants at Hotel Xcaret, so there's definitely something for everyone!
1 of the highlights is the Mexican buffet that's served for breakfast, lunch, and dinner.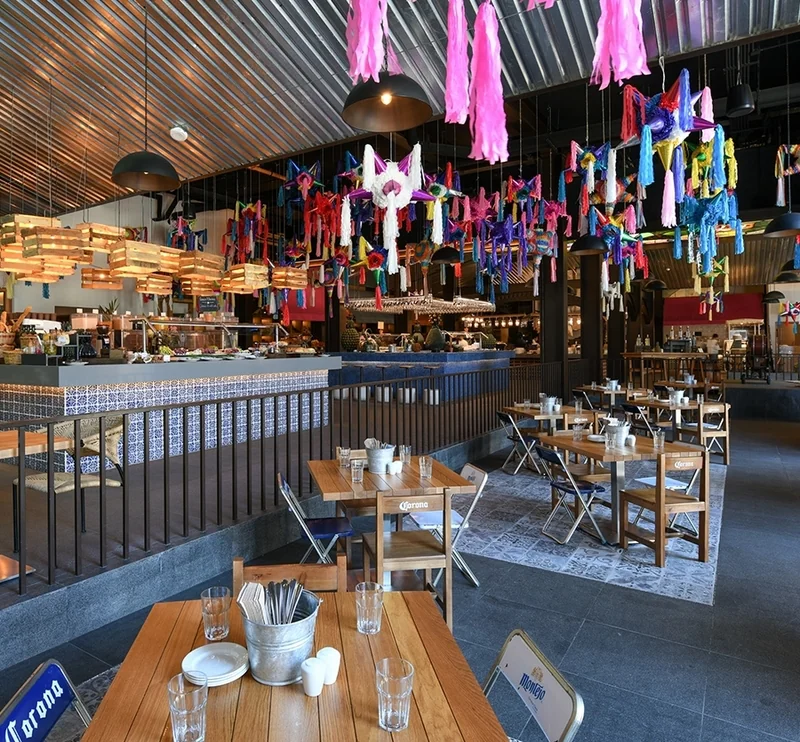 It features all of your favorite traditional Mexican dishes, plus there are live cooking stations where you can watch the chefs prepare your food.
There are also plenty of international options like Italian, Japanese, and more.
Plus, there are 10 bars on-site so you'll never go thirsty!
For a quiet & sophisticated jazz night, you'll want to check out the Lobby Bar. 
8. Activities & Entertainment
This is an all-inclusive resort, so there are plenty of activities & group entertainment options included in your stay!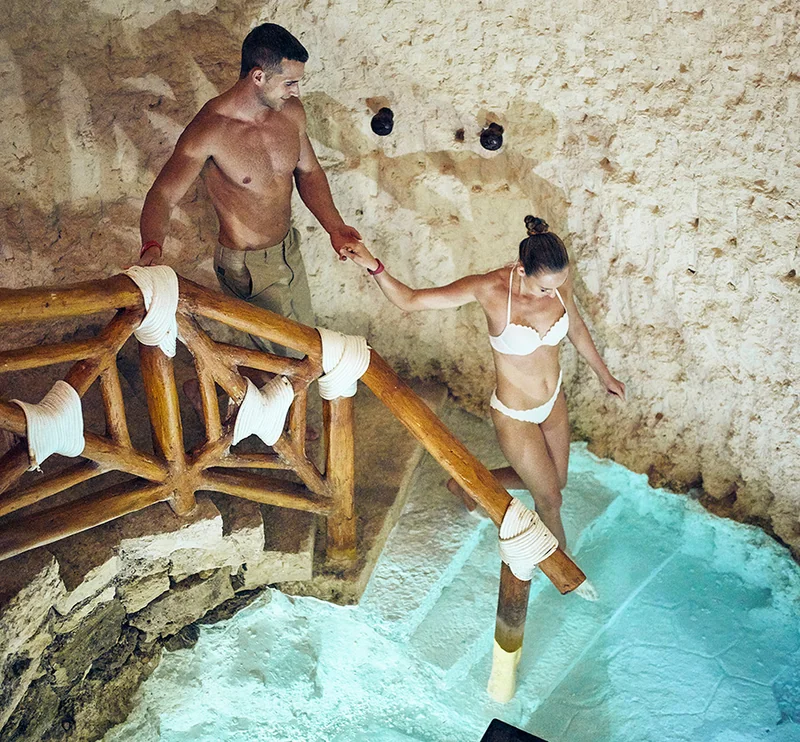 Some of the highlights include:
Unlimited access to all of the hotel's parks & attractions
Snorkelling & scuba diving in the world's 2nd-largest coral reef
Mayan cooking classes
Guided eco-tours of the nearby mangroves
Stargazing in the planetarium
And that's just a peek of what you can expect…
With an on-site spa, 3 gyms, kid-friendly & adults-only sections, there's truly something for everyone here!
9. What Brides & Grooms Are Saying...
"Got married at HXM on 2/2/22 and I could NOT be any happier that we chose this amazing resort for our wedding. The food and drinks were absolutely delicious EVERYWHERE. The hotel staff and butlers are so helpful and accommodating. The hotel is HUGE and absolutely gorgeous. We spent a lot of time just wandering around and exploring and it was great! The (all-inclusive) excursions were easy to book and so much fun (Xoximilco was hands-down everyone's favorite). Our guests were in love, nobody wanted to leave! We absolutely cannot wait to return for our anniversary next year!" – Chanel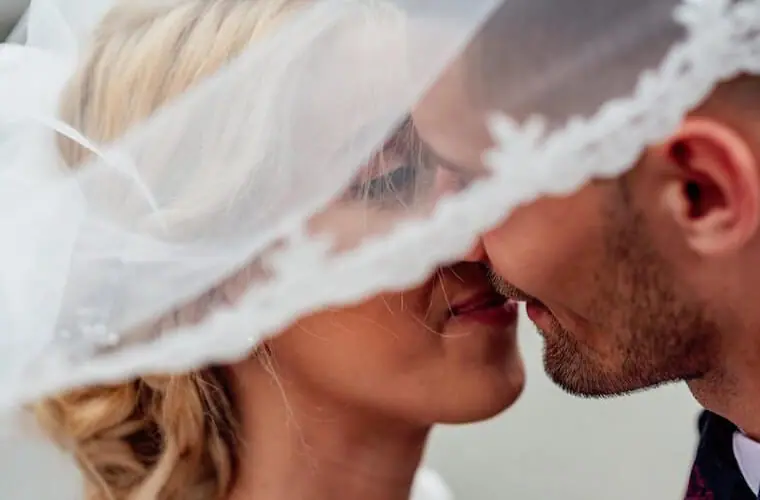 "We had an absolutely great time at Xcaret. We were there for a week and it wasn't enough time. The hotel was amazing and beautiful, the staff was great and helpful. We had our wedding at the resort along with 30 family member and everyone is already talking about going back. Our wedding coordinator Daniel was great, we stayed in the Fuego building and had 2 great butlers, Daniel and Ernesto, and one staff member in the building, Adilene, was also great and took our picture on the roof with a just married sign. The parks were also great, we went to as many as possible, but our favorite was the Xenotes tour, I highly recommend it. The hotel was a lot of fun, we cannot wait to go back." – Jarrett G.
10. Why We Like It (Pros/Cons)
Hotel Xcaret all-inclusive stay is one of the most comprehensive we've seen, so you definitely get your money's worth.
Here's what our wedding planners had to say:
Things we love:
It doesn't get more family-friendly.
The hotel is fabulous & huge… always something new to explore.
The staff is incredibly friendly & helpful.
Food is fantastic!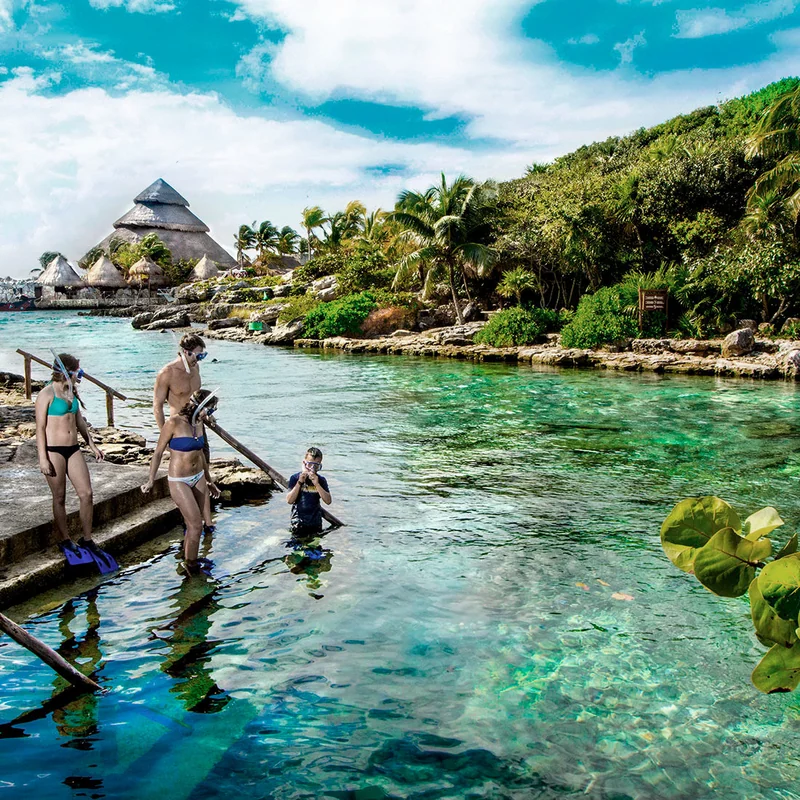 When it comes to the resort is that it can be a bit overwhelming because there's SO much to do!
But trust me, that's the best problem you can have.
Things we don't love:
Boring at night. No entertainment.

Wedding team is awful, even with couples 😱
Alison from our team says…
The wedding department is beyond slow – attention to the brides is terrible! They have minimum room restrictions for various days of the week… eg for weddings from Sunday to Thursday it's 11 rooms and Friday 20 rooms and Saturday it's 25 rooms.. Also they don't allow groups of more than 80 people unless it's an Indian Wedding.

 

 
Have you ever been to Hotel Xcaret? Have question?
We'd love to hear more in the comments below!👇
You can also check out our 10 Best All-Inclusive Resorts to Get Married at in Cancun!
Feeling overwhelmed & need some help narrowing down your options?
Our wedding planners would love to chat with you!
We'll help you figure out which resort is the best fit for you & your guests.
Plus we can negotiate group rates & perks that you wouldn't be able to get on your own!
Ready to start planning?
Call us today at 877-737-0177
Or send us an email at [email protected]!