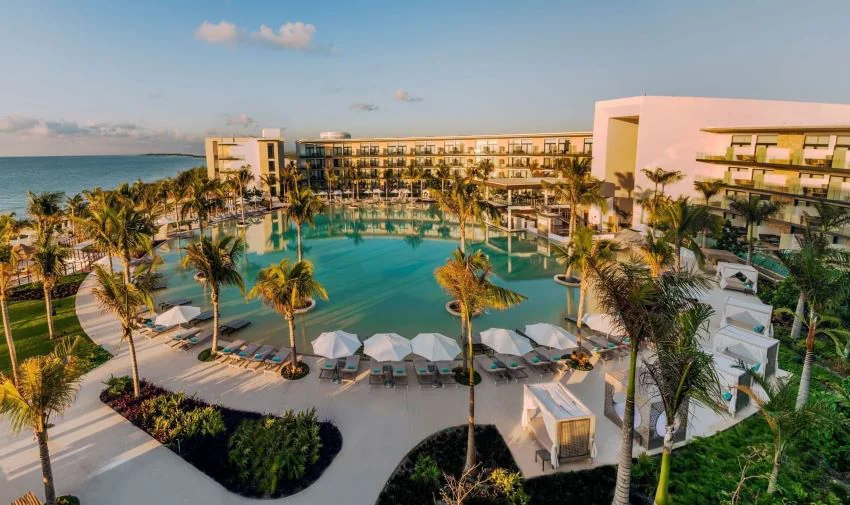 Weddings at Haven Riviera Cancun | Our Honest Review
Thinking of hosting your destination wedding at Haven Riviera Cancun?
But wondering if it's the perfect resort for you?
Well, brace yourself because we're about to give you all the insider information!
Our team of wedding specialists is spilling all the beans on this all-inclusive resort.
And yes, that includes both the good and the ugly. 
Excited? Read on!
Haven Riviera Cancun is an oceanfront paradise where luxury meets elegance.
It's an exclusive adults-only, all-inclusive resort sprawling over 250 acres, boasting beautifully landscaped grounds.
We love the stunning views of the Caribbean Sea from here.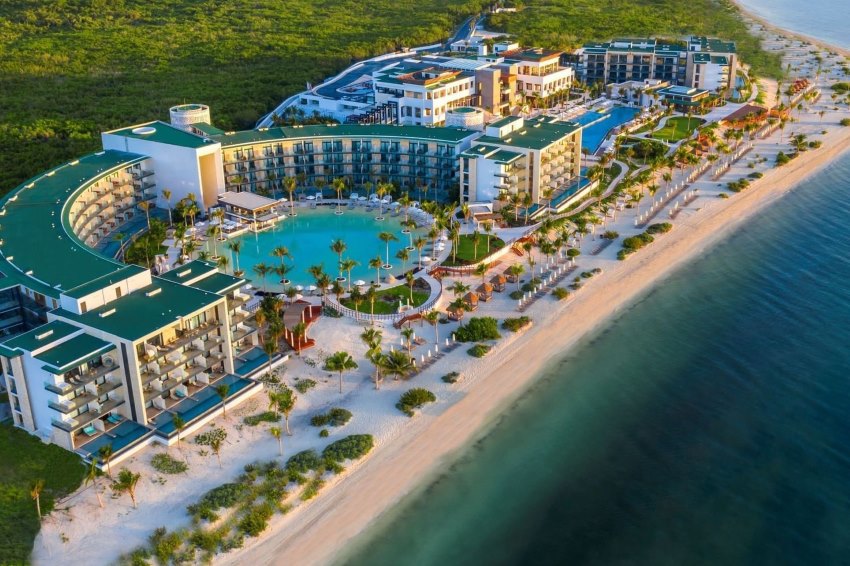 Haven Riviera Cancun resort offers a variety of spacious suites, including those with direct swim-out access.
And all you foodies, get ready to celebrate!
With a main restaurant styled like a market, 5 à la carte dining options, a cozy coffee bar, and 2 snack bars, every single craving of yours will be satisfied!
As if that's not enough, there are 4 pools for you to dive into, including one with an oversized in-pool whirlpool.
Both you and your wedding guests are definitely going to enjoy this incredible haven!
At Haven Riviera Cancún, you'll find 3 fantastic wedding packages that perfectly match every budget.
3 wedding packages include:
Haven In Love | $ 2,500 for 10 guests
Wedding Bells Are Ringing | $ 2,999 for 20 guests
Tie The Knot | $ 4,999 for 20 guests
More guests can be invited for $15 to $75, depending on the package you choose.
Wedding Bells Are Ringing Wedding Package:
Our wedding planners love this package – it offers all the essentials for a destination wedding celebration!
For $2,999, you get the following:
Services of a wedding coordinator.
Preparation of ceremony attire (steam/press)
Bridal Suite on the wedding day.
Symbolic ceremony.
Choice of wedding ceremony locations.
Hairstyle and make-up for the bride or the groom on the day of the ceremony.
Unique ceremony floral decorations.
Bridal bouquet and groom's boutonniere.
Tiffany or avant-garde chairs for the ceremony.
Wedding gazebo.
Audio system for the ceremony.
45-minute instrumental soloist for ceremony or cocktail reception.
2 bottles of champagne for your wedding toast.
Wedding cake.
1-hour private cocktail reception with hors d'oeuvres & open bar.
2-hour private dinner reception with 4-course dinner & open bar.
30-minute couples' massage.
15% discount on all additional MySenses Spa treatments for the wedding couple, their parents, bridesmaid, and best man.
15% discount on digital wedding photo & video services.
Special wedding turn down service on the wedding night.
Complimentary "Lasting Moments" Honeymoon Package for couple.
Complimentary "Our-Versary" Anniversary Package for couple.
And that's why this package is a hit with our couples too! It just includes so much!
You have 12 beautiful wedding and reception venues to choose from at Haven Riviera Cancun.
Whether you want a beach, a garden space, or a terrace, all your options are stunning and versatile. 
1. The Vora Deck
The Vora Deck is a gorgeous wooden deck constructed right by the poolside, extending out over the beach.
Ceremony – up to 300 guests
Reception – up to 300 guests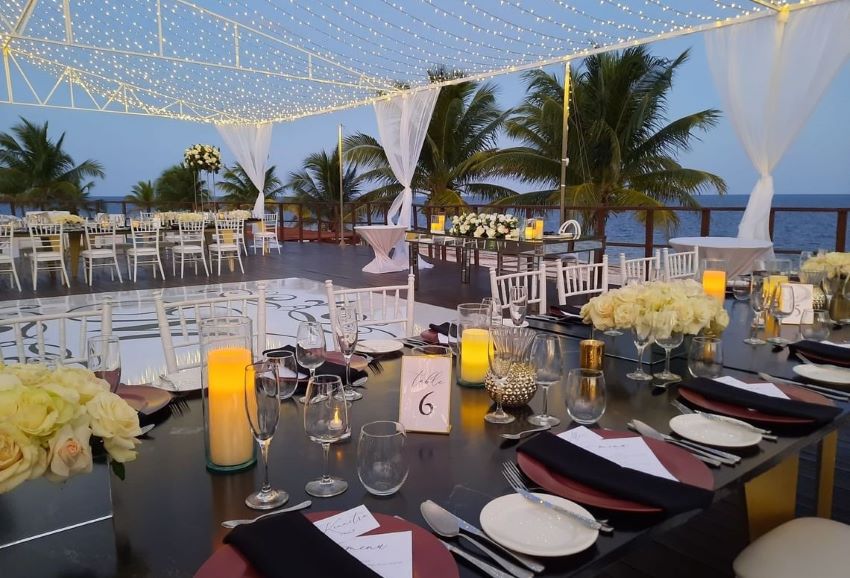 2. Sunset Terrace
This breathtaking venue provides amazing views of the ocean, jungle, and sunset, all from one place!
With an unobstructed and adaptable design, this venue can be customized for any special event.
Ceremony – up to 400 guests
Reception – up to 400 guests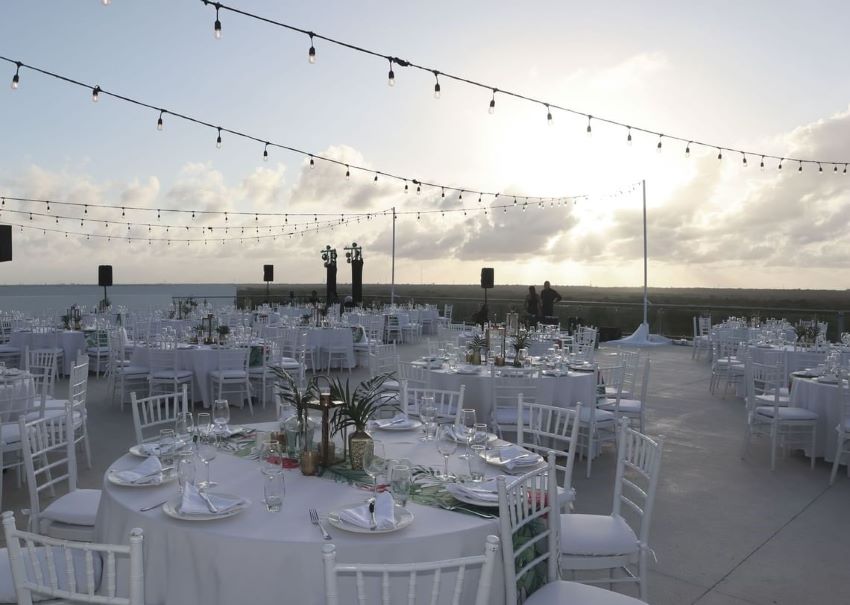 3. Fire Pit
This is a cozy and intimate beachfront venue perfect for intimate ceremonies, romantic dinners, or even marriage proposals.
Ceremony – up to 50 guests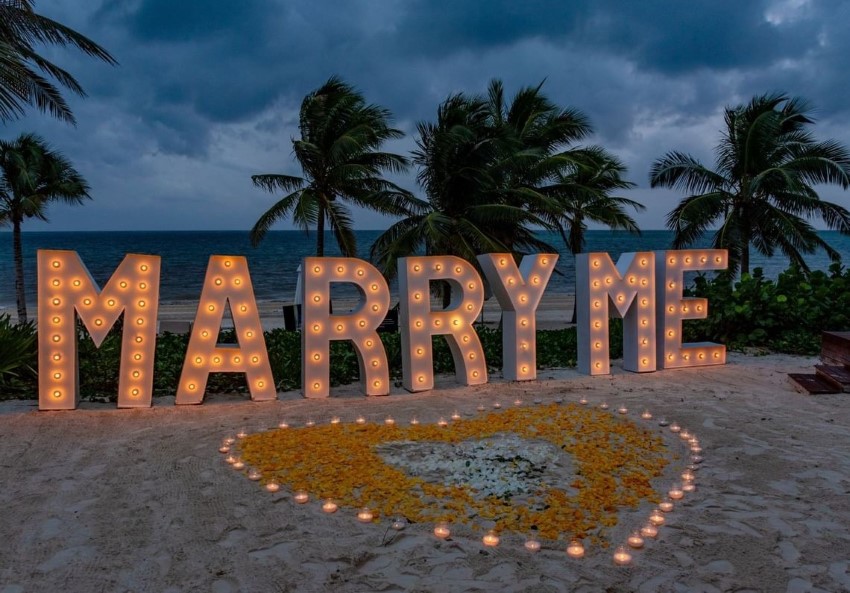 4. Ceiba Garden
This is a semi-private, open air venue located in a peaceful area, away from guest activity.
This beautiful garden offers a quiet option for outdoor events.
Ceremony – up to 200 guests
Reception – up to 200 guests
5. Beach Area
This venue is a hit with our couples!
It lets you have the tropical beach wedding of your dreams!
Ceremony – up to 400 guests
Cocktail – up to 400 guests
Reception – up to 400 guests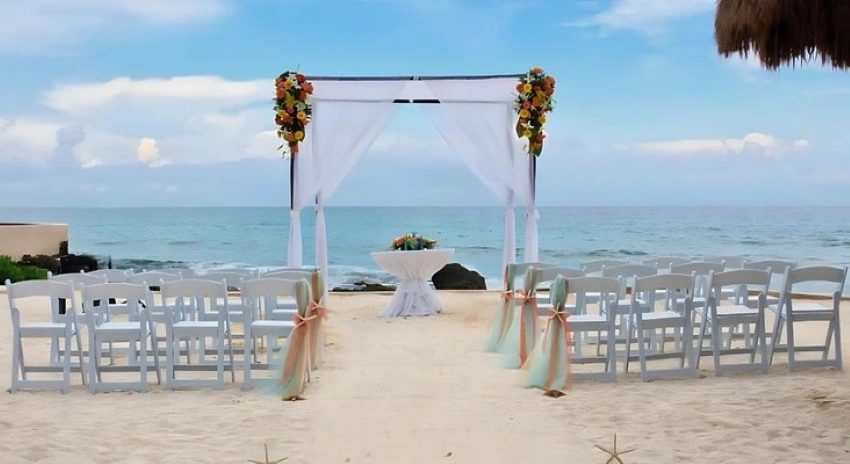 6. Vora Garden
This beautiful garden venue is where you can have an oceanfront wedding, without the icky sand in your toes!
We generally recommend this venue to couples who want a beachfront wedding, but without the sandy mess.
Ceremony – up to 200 guests
Cocktail – up to 200 guests
Reception – up to 200 guests
7. Mirador
This small and private venue is perfect for having an intimate wedding.
The views of the Caribbean from here are breathtaking.
Ceremony – up to 20 guests
8. Serenity Terrace
This private rooftop location is secluded and gorgeous.
You and your guests will love the views of the sea from here! 
Ceremony – up to 100 guests
Cocktail – up to 100 guests
Reception – up to 100 guests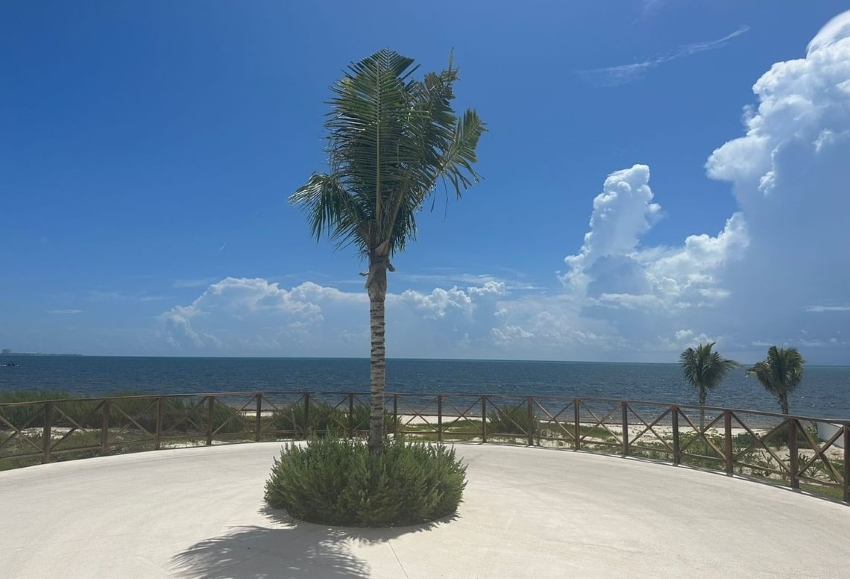 Other venues include:
The H
The Convention Center
Vistas
Tahani Deck
Haven Riviera Cancun is a welcoming resort that embraces diversity.
It's a fantastic choice for hosting LGBTQ weddings.
Our wedding specialists collaborate with the resort's team to give you the wedding of your dreams. 
Need help with documentation? Our specialists can guide you with that too!
Haven Riviera Cancun brings together chic design, top-notch amenities, and personalized services that rival the best resorts worldwide.
We're talking 435 suites, each embracing a modern Mexican style.
All the suites are loaded with luxurious perks like whirlpool tubs, aromatherapy menus, and even your own pillow menu.
Oh, did we mention there are spectacular swim-out suites as well?!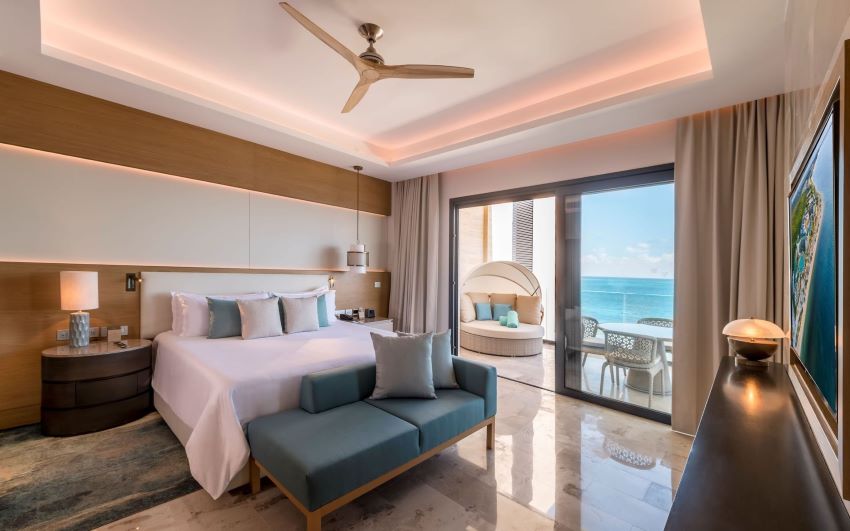 You get to choose from 5 suite categories…
Junior Suites – luxurious accommodations with stunning views.
Swim-out Suites – feature infinity-style private swim-out pools.
Serenity Club Suites – exclusive Serenity Club Ocean Front and Ocean View Suites with upgraded amenities.
Romance Suites – warm, inviting suites with turndown service, bottle of chilled premium sparkling wine, and chocolate-dipped strawberries.
PURE ® Wellness Suites – undergo a 7-step process intended to eliminate viruses, bacteria, and airborne particles.
For the wedding couple, we highly recommend the Swim-out Suite!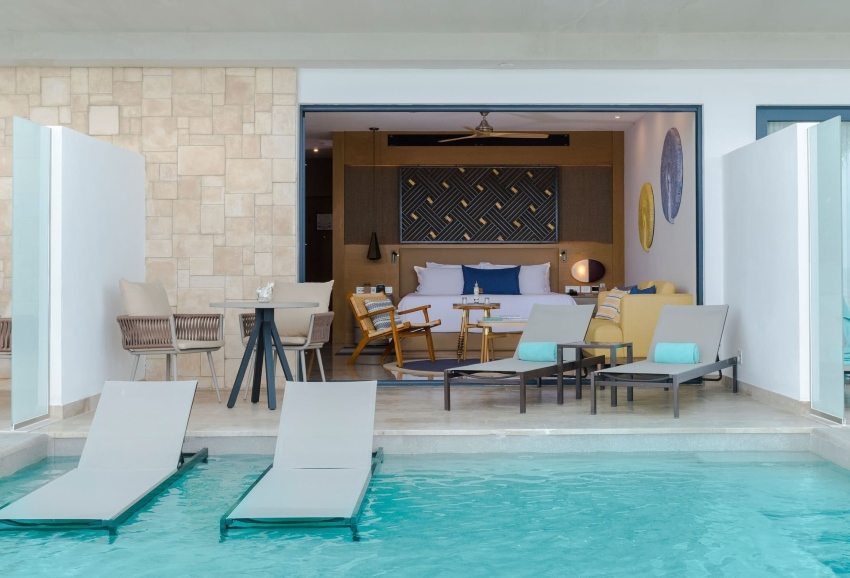 The exquisitely furnished swim-out suites come with a private terraces and infinity style swim-out pools.
The king size beds, luxurious linens, and in-room aromatherapy ensure a fantastic night's rest.
You can also indulge in a gorgeously designed bathroom equipped with a shower for 2.
Additional amenities include a 50″ interactive TV, a minibar restocked daily, a vanity mirror, bathroom Bluetooth connectivity, and complimentary in-room Wi-Fi.
The resort boasts a total of 4 heated pools, ready for you to dive into!
And that's not all – there are 3 swim-up bars, perfect for celebrating your wedding!
Oh, and did we mention the extra-large in-pool whirlpool? It's a real treat!
Just a short stroll away, you'll find the stunning beach. You can reserve beach cabanas to beat the heat here.
With beach concierge and pool service, our couples love lounging, sipping cocktails, and having an absolute blast with their wedding guests!
Haven Riviera Cancun has 9 mind-blowing eateries, and 6 lively bars, including swim-up bars, a cabaret, and an American style bar.
Eateries include 1 market style main restaurant, 5 à la carte restaurants, 1 coffee bar & pastry shop, and 2 snack bars.
You and your wedding guests are in for a treat!
9 restaurant options include… 
Olios | Southern European cuisine
Agua Bendita | Mexican steakhouse
Satsu | Asian fusion cuisine
Vora Mar Restaurant | Italian trattoria-inspired cuisine
Tahani | Fine dining
Flavours | Marketplace
Mistral | Snack bar
Mocaccino | Cafe
Vistas Restaurant | International cuisine
Haven Riviera Cancun is brimming with thrilling activities!
Whether you're up for water sports, lounging by the pool, or treating yourselves to some relaxing spa massages, they've got everything sorted for you!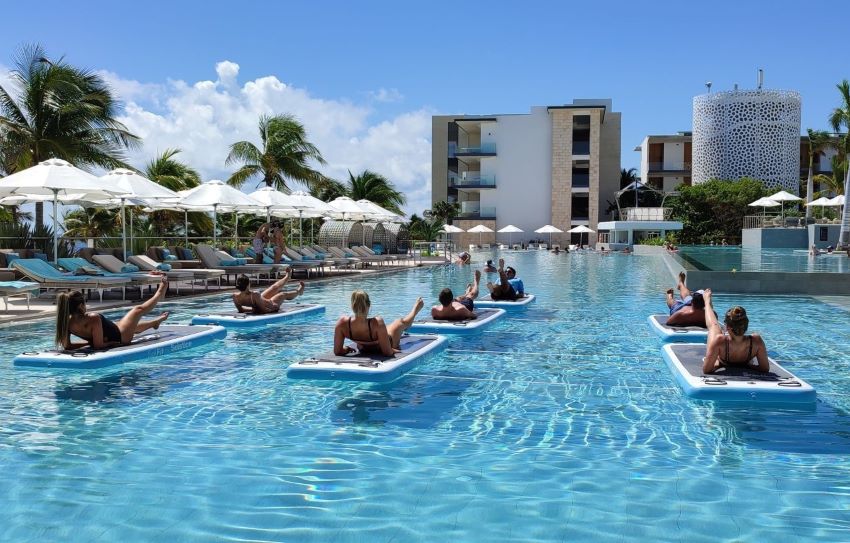 Fun activities and entertainment include…
Yoga classes
Macrame workshops
Cooking classes
Mixology classes
Kayaking
Hobbie Cat
Snorkelling
Paddleboarding
Tennis and basketball courts
Beach volleyball
Golfing
Temazcal experience
Wine tastings
Fitness center
Spa
Q. What is the closest airport to Haven Riviera Cancun?
The Cancun International Airport is only 15 minutes away from the resort. 
Q. When did Haven Riviera Cancun open?
The resort opened in 2018 and has been impressing guests ever since!
Q. How many pools does Haven Riviera have?
You'll find 4 massive pools at this resort.
Q. Can you drink the water at Haven Riviera Cancun?
Tap water is generally not purified in Mexico. Your best bet is to drink bottled water no matter which resort you stay in.
Q. Is Haven Riviera Cancun family-friendly?
No, Haven Riviera Cancun is an adults-only resort. 
Q. What company owns Haven Riviera Cancun?
Haven Riviera Cancun is a part of Hipotels Hotels & Resorts.
Haven Riviera Cancun offers some beautiful wedding venues, awesome packages, luxurious suites, delicious food, and views for days! 
But weighing the pros and cons is the way to go, right?
Only for you, I got our experienced wedding planners to spill the beans on this resort.
Here's what they had to say… 👇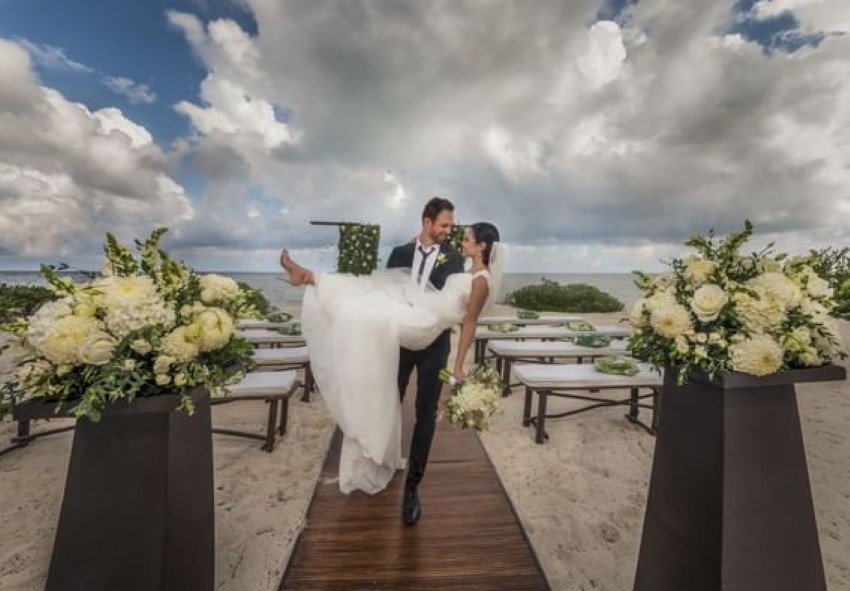 Things we love: 
A variety of stunning wedding venues. 
Guests love the beach concierge and pool service! 
Peaceful and secluded location, away from the crowded Hotel Zone.
Guests love the activities and live entertainment shows.
We love the food here!
Things we don't love: 
Pool water is heated even on warm days; guests find it uncomfortable.
Staff expects tips for everything.
The cocktails and beverages could use a revamp.
Guests have complained about room access cards not working properly. 
Language can be bit of a barrier while communicating with the resort's staff.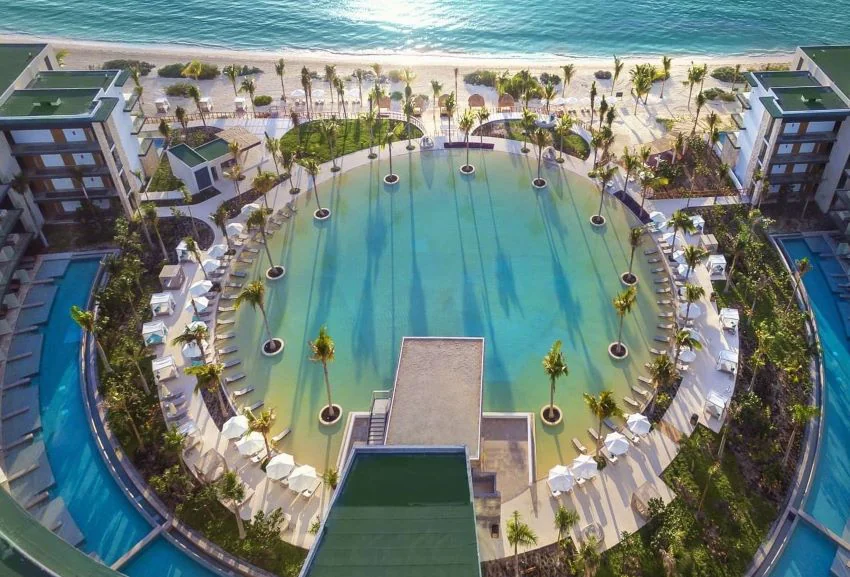 Still unsure? 
Take a look at these 3 similar resorts that could be perfect for your wedding.