Weddings At Margaritaville Island Reserve Riviera Cancun | Our Honest Review
Margaritaville Island Reserve Riviera Cancun seems like an awesome place to tie the knot!
But is it THE perfect spot for you and your boo?
Don't sweat it! Our wedding experts have got you covered.
You'll get the low-down on wedding venues and packages and the pros and cons!
So, is this resort the one to make your special day unforgettable?
Keep reading to find out!
Margaritaville Island Reserve Riviera Cancun comes with a "License to Chill"!
You'll have access to 5-star service and all-inclusive luxury.
They've got awesome live entertainment, amazing food experiences, and so many ways to relax and soak up the sun.
It's basically the perfect place to escape from the daily grind!
Their 148 rooms and suites blend island vibes with top-notch comfort.
If you're in need of some R&R, their spa has a range of body treatments to help you unwind.
Want to cool off from the island heat? Take a dip in any of their 4 sparkling pools or chill out on the beach.
And when your stomach starts rumbling, you'll be spoilt for choice with their 4 restaurants serving up some seriously delicious eats.
Margaritaville Island Reserve Riviera Cancun offers 3 fab wedding packages.
Whether you want an intimate celebration or a BIG wedding, there's an option for you to choose from.
Each package includes a whole lot of wedding amenities and services.
Plus, our wedding planners are magicians at getting you awesome deals!
3 wedding packages include:
Always and Forever – $950 for you and your partner
Love Song – $11,000 for 24 guests ($140 +/- guest)
Isle Love You – $22,000 for 32 guests ($350 +/- guest)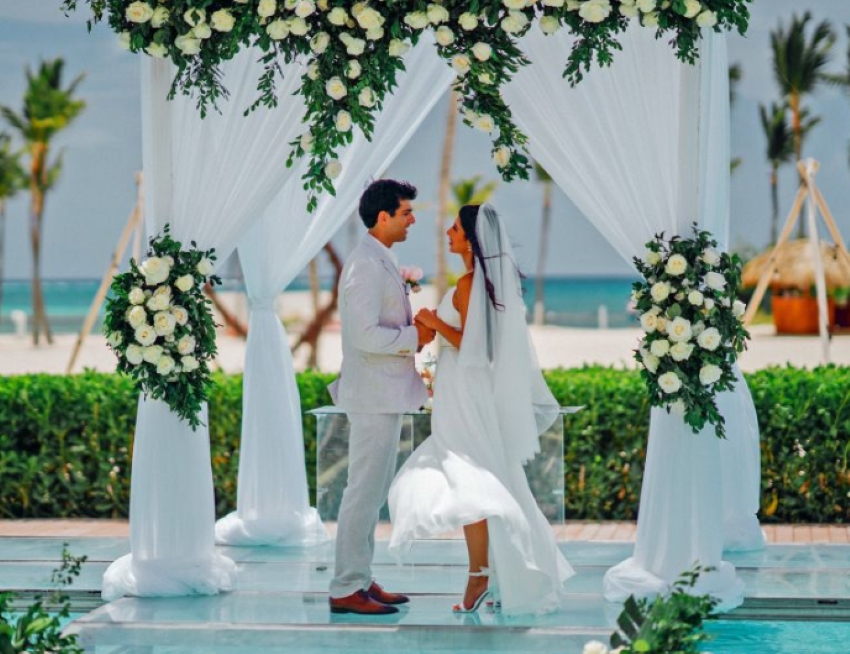 Love Song Wedding Package
This is our favorite one! It includes premium services, amenities and décor.
Plus, you also get a complimentary honeymoon package with it!
For $11,000 you get all the following amenities:
Dedicated services of a wedding designer
Premium wedding location & ceremony time guaranteed
Honeymoon registry
Private in-suite check in for the couple
Margarita Frozen Concoction Maker in suite for couple
Couple's 50-minute relaxing massage at St. Somewhere Spa
Nightly turndown service for the couple
Semi-private check in for the guests
Personalized welcome letter with group itinerary
Private 1-hour cocktail party in a premium location with open bar
4-hour private welcome dinner with 3-course plated dinner and open bar
Monogrammed dinner menu
Live Local Music- Marimba (one set of 45 min)
Groom's room day of ceremony for the gents to prepare and relax
Bridal party reservation at St. Somewhere Spa's Bridal Suite
Non-denominational minister
Symbolic wedding certificate
Sky or Beachfront wedding location
Altar table
Sound system with microphone
4-hour private reception with family style dinner menu and DJ
2-tiered cake
Margarita popsicle cart
Farewell brunch on the beach
Learn more about weddings at Margaritaville Island Reserve Riviera Cancun here.
You get to choose from 7 mesmerizing wedding venues at Margaritaville Island Reserve Riviera Cancun.
All can be customized as per your dreams and requirements.
Their 7 Wedding and Reception Venues Include:
1. Beach Gazebo
This beachfront gazebo has beautiful views of the Caribbean Sea.
If you want sand in your toes, and wind in your hair during your wedding, this is the venue for you!
80 guests can join you here.
2. Sky Wedding
This is a fantastic rooftop wedding venue.
The décor can be customized according to your vision and wedding theme.
80 friends and family members can join you here.
3. Ballroom
Searching for an indoor venue, or having a monsoon wedding?
The ballroom will be perfect for you.
It can accommodate approximately 65 guests.
4. Wave Lounge
For an intimate wedding with a quaint tropical setting, Wave Lounge is a fantastic place.
Up to 45 people can join you in your celebrations.
5. Foyer
A fabulous venue for a vivacious cocktail party!
The Foyer can accommodate 30 guests.
It can be customized according to your choice with flowers, chairs, and other elements.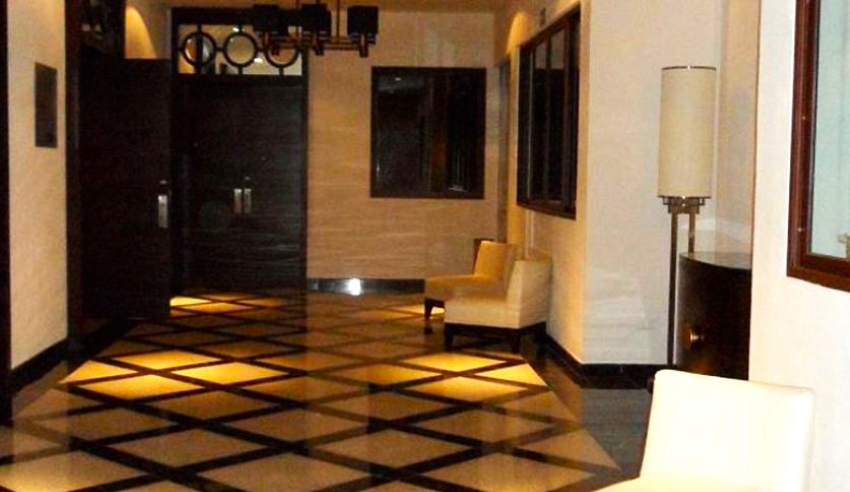 6. The Beach House
For a post-wedding dinner reception, the Beach House offers the perfect setting.
You can invite a minimum of 45 and a maximum of 65 guests here.
7. Playground Beach
The venue is nestled on the beach, surrounded by various shades of blue.
It has a capacity of 65 guests, making it the ideal spot for a wedding reception or a cocktail hour.
Can't decide a venue? Our wedding planners can help you choose it! 
Margaritaville Island Reserve Riviera Cancun welcomes all couples, including those from the LGBTQ+ community.
No matter what wedding package and venue you choose, your ceremony can be tailored to celebrate your love.
If you need help with certain documents, or have questions about the process, reach out to us!
Our team of wedding specialists can help you every step of the way.
The 148 rooms and suites at Margaritaville Island Reserve Riviera Cancun are a perfect mix of laid-back island style and luxurious comfort.
They're decorated with colors inspired by the sea, sand, and sky, and have all-white linens and custom furnishings with a hint of maritime flair.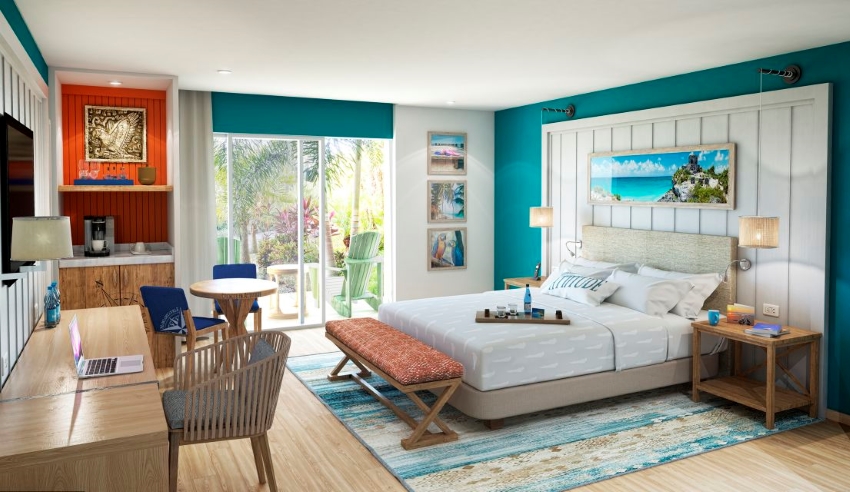 You get to choose from 8 room categories…
Paradise Room – 1 king-size bed
Paradise Junior Suite – 2 queen-size beds
Paradise Suite – 1 king-size bed
Swim Up Paradise Suite – 1 king-size bed
Royal Paradise Suite – 1 king or 2 queen-size beds
Royal Swim Up Paradise Suite – 1 king or 2 queen-size beds
Presidential Chill Out Suite – 1 king-size bed and 1 pull-out sofa
Presidential Swim Up Chill Out Suite – 1 king-size bed and 1 pull-out sofa
For the newlyweds, we recommend the Swim Up Paradise Suite!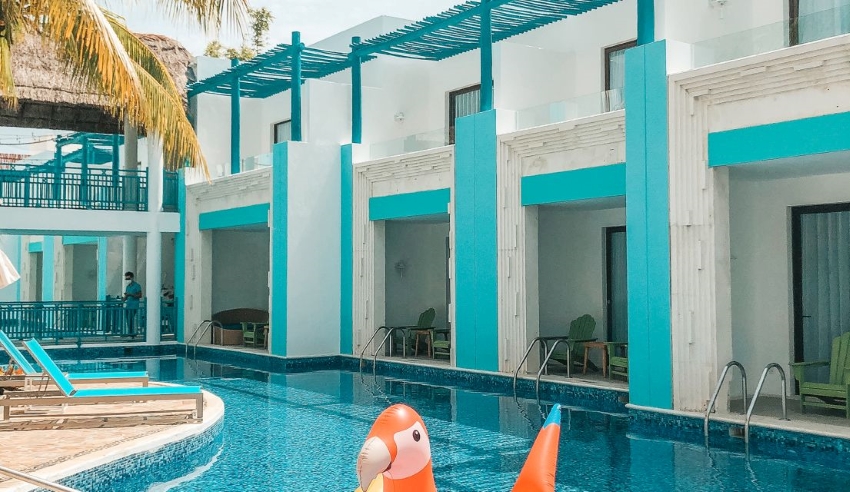 The Swim Up Paradise Suite comprises 2 rooms.
The bedroom area boasts a king-size bed draped in clean, white linens.
And the living area includes a table, chairs, and an additional TV.
The living space has an in-room bar and a sofa area, and opens onto a spacious terrace with comfortable seating.
The en-suite bathrooms feature double sinks, a rainfall shower, and a free-standing tub.
What sets this suite apart is the direct access to the pool from the terrace!
Looking to chill and soak up the sun or take a quick dip to cool off?
You're in luck because the resort has 4 pools featuring submerged lounge chairs.
And if you're feeling thirsty, there's an awesome swim-up bar.
The resort also has a special 'Floating Taco bar'. Why leave the pool when you can party right there in the water?!
The scenic beach is only a short stroll away from the resort.
There are plenty of sun loungers along the beach for you to chill at!
Prepare yourself for an exciting culinary journey at Margaritaville Island Reserve Riviera Cancun.
With 4 fantastic restaurants to select from, your taste buds will be pleasantly surprised every day of your stay.
Plus you can enjoy a drink or two at any of the 6 bars, including a swim-up bar.
To make things even more tempting, each bar offers its unique signature cocktail that you simply cannot afford to miss!
4 restaurant options include…
The Beach House | Caribbean-inspired restaurant
Rita's Taco House | Mexican cuisine
Latino | Latin and Asian fusion food
Frank & Lola's | Italian cuisine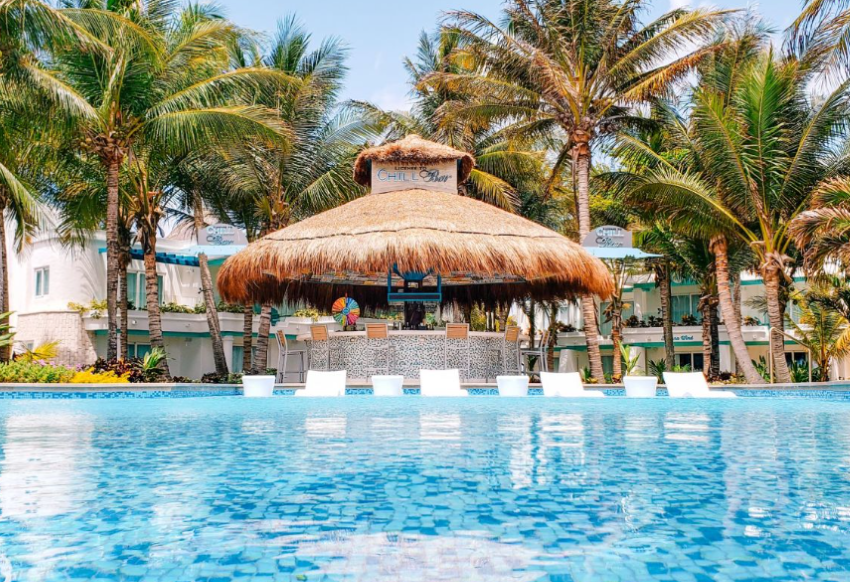 Additionally, the resort also has a Joe Merchant's Coffee & Provisions store that houses over 150 products.
By the way, while you're staying at the resort, make sure to keep an eye out for their pop-up experiences!
These fun surprises include mixology classes and spirit flights, floating pool bars, refreshing popsicles offered at check-in, and grab-and-go margaritas always within reach on the beach.
At Margaritaville Island Reserve Riviera Cancun, there's always something exciting going on to keep you entertained!
Whether you're up for margarita tastings, flip flop Olympics, or cornhole tournaments, they've got you covered.
Plus there's the Parakeets Kid's Club where kids between the ages of 4 and 12 can enjoy a dedicated play and activity area.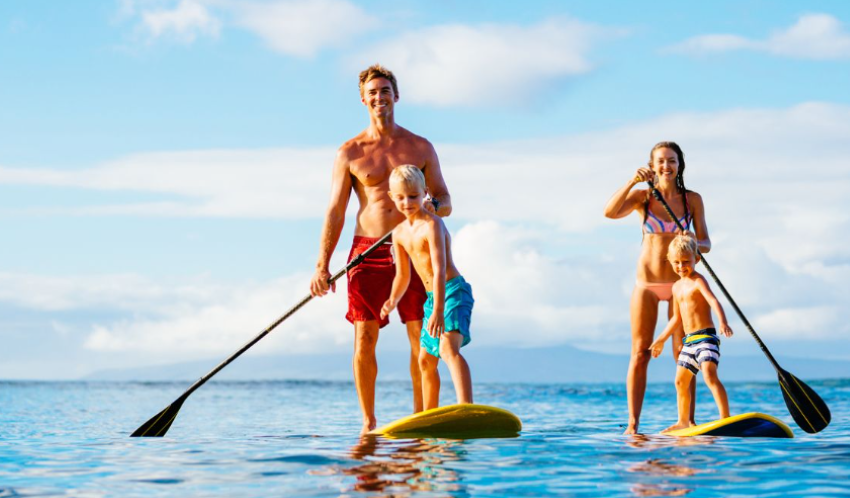 Fun activities and entertainment include…
Kayaking
Paddle boarding
Scuba clinics in the pool
Cornhole tournaments
Beach volleyball
Flip-flop Olympics with games like flip-pong, flip-flop toss etc.
Sunrise yoga
Spa
Fitness center
Spanish Lessons
Casino nights
Q. How far is Margaritaville Island Reserve Cancun from the airport?
A. The resort is 9.3 miles from the Cancun International airport. The resort offers a paid airport shuttle service.
Q. Is Margaritaville Island Reserve Riviera Cancun an adults-only resort?
A. No, the resort is a family-friendly property and welcomes guests of all ages. In fact, it has some fantastic children-friendly amenities and features.
Q. What is the Island Reserve Inclusive® Experience at Margaritaville Island Reserve Riviera Cancun?
A. This experience includes show-stopping live entertainment, immersive culinary experiences, beach and pool parties, and plenty of chances to connect with like-minded travelers.
Q. Is Margaritaville Island Reserve Riviera Cancun pet-friendly?
A. No. Only service animals are allowed on the property.
Q. How do I decide which wedding venue to choose?
A. You can leave the hassles of wedding planning to us! Our wedding specialists can help you shortlist the wedding venue based on your requirements.
Margaritaville Island Reserve Riviera Cancun is an amazing destination wedding resort.
With its luxurious amenities, spacious accommodations, and delectable dining options, it's hard not to fall in love with it!
But, we also asked our team of talented wedding experts for their thoughts on the resort, and here's what they had to say…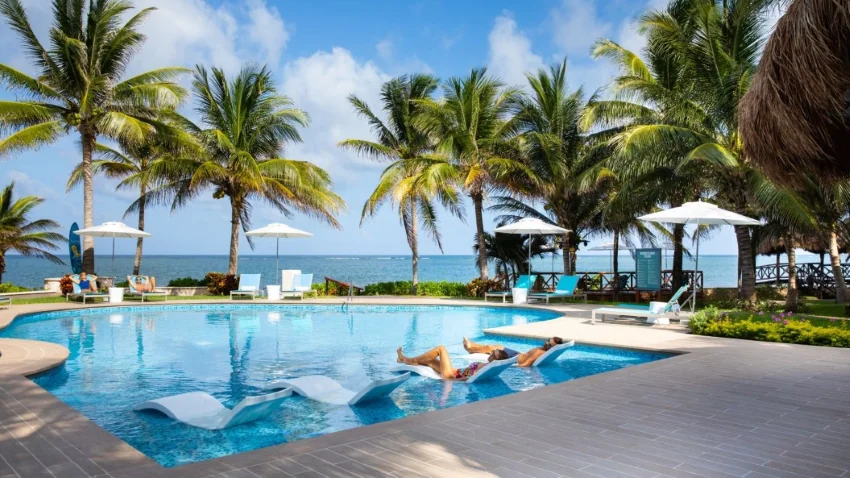 Things we love:
Their floating taco trays!
Live music every day.
Fun activities and parties in the pools.
They have some amazing all-inclusive wedding packages.
The children-friendly amenities like cribs, baby monitors, and safety gates at swim-up suites.
Things we don't love:
Language can be a bit of a barrier while communicating with the staff.
Hidden fees and extra costs can be tricky to understand.
Service can get slow during off-season.
If you stay for long, you'll realize the food tends to get repetitive.
It's a parent's DREAM! I LOVE the children's amenities they offer. Cribs, baby monitors, safety doors in swim-out suites etc.
Still unsure? 
Take a look at these 3 similar resorts that could be perfect for your wedding. 
Ready to plan your wedding? 
Or looking for other resort options?
We can help!
Our team at ParadiseWeddings.com have planned 100s of weddings and yours could be next.
Call us today at 877-737-0177 or contact us here for a free consultation.
Can't wait to hear from you!