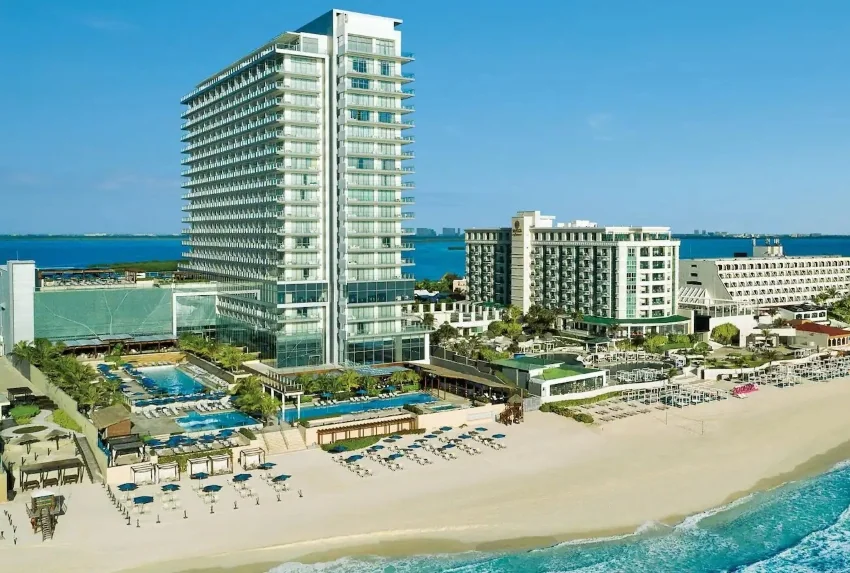 Weddings At Secrets The Vine Cancun | Our Honest Review
Wondering if Secrets The Vine Cancun is the ultimate resort for your dream destination wedding?
The decision can be a tough one; there are so many resorts in Cancun after all.
But we've got your back.
Our wedding specialists are spilling the tea on all things wedding – packages, pricing, accommodations, and the pros and cons.
Alright, let's dive in!
Nestled in the heart of Cancun, on the popular Zona Hotelera (Hotel Zone), Secrets The Vine is like the cool kid on the beach block!
This adults-only haven serves up luxury with a side of laid-back vibes.
We love its sleek architecture that screams Instagram-worthy at every turn!
Our wedding specialist Ryan feels it's got a more modern, cosmopolitan feel, especially when compared to the other Secrets resorts. 
With 497 chic rooms and suites offering stunning ocean views, you and your wedding guests are in for a treat.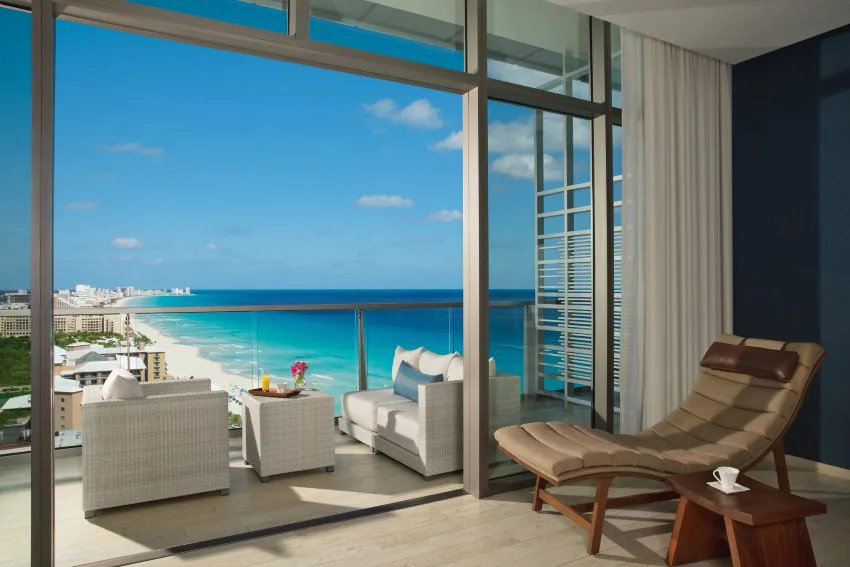 But it's not just about the aesthetics – get ready for top-notch dining from around the world, and a spa experience that'll titillate all your senses.
And did I mention the infinity pools overlooking the Caribbean Sea?
They look right out of a postcard!
Dreaming of a romantic destination wedding in Mexico?
Secrets The Vine Cancun's got you covered with 5 wedding packages that are as dreamy as the ocean views.
From intimate ceremonies to grand celebrations, they've got it all.
The 5 wedding packages include:
Depending on the package, more guests can be added for $10 to $214 per person.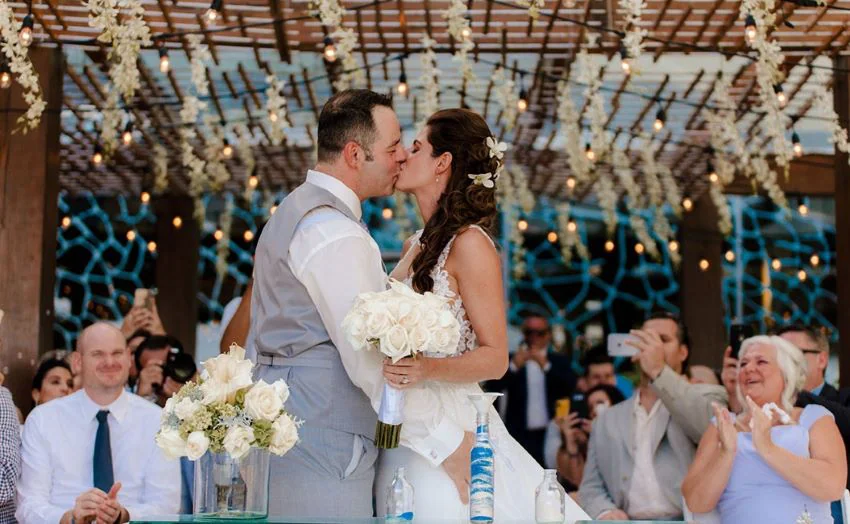 Secrets Of Love Wedding Package
Our couples love the Secrets Of Love package because it's loaded with lots of amenities and services.
For $3,399, you get:
Service of judge or minister.
Wedding organization and wedding coordinator.
Preparation and ironing of the couple's wedding day attire.
Bouquet(s) and/or boutonniere(s) for wedding couple.
Sound system with speaker and microphones.
Wedding cake and sparkling wine.
Private cocktail hour with hors d'oeuvres.
Private dinner reception.
36 full color photos and wedding album.
Free anniversary nights.
and a lot more!
Secrets The Vine Cancun has you covered with 6 beautiful wedding and reception venues.
Trust me, the options won't let you down.
Whether you want an indoor celebration, a breezy covered setup, or an outdoor location, this place has the venue of your dreams!
1. Beach
Secrets The Vine Cancun's beach doubles up as a fantastic venue.
The white sands and turquoise waves create a beautiful backdrop for your special day.
Ceremony – up to 50 guests
Reception – up to 50 guests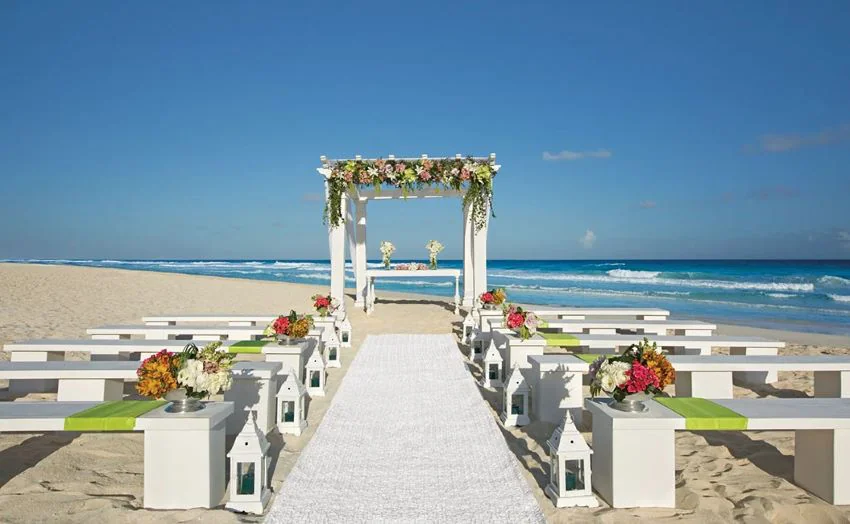 2. The Vine Terrace
This one's a favorite with our couples.
Imagine saying your vows under a beautiful pergola.
Pus the breathtaking Caribbean views add to the venue's charm. 
Ceremony – up to 150 guests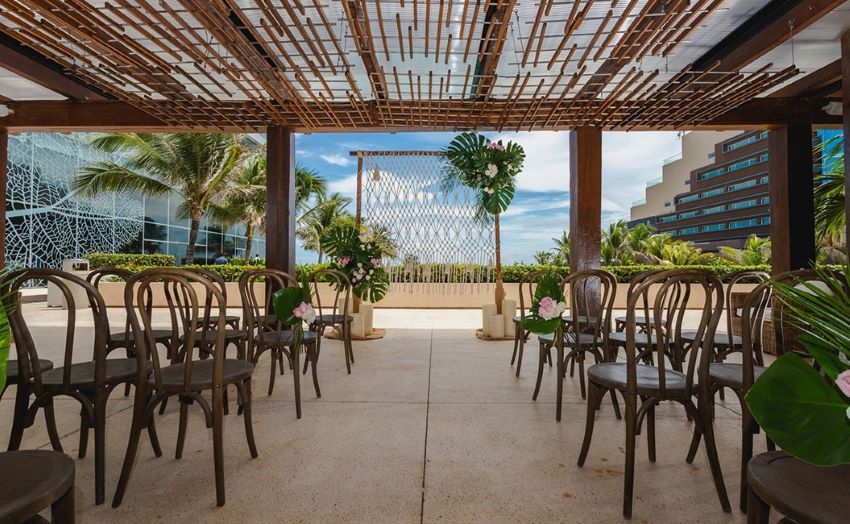 3. Gazebo
The sea-front gazebo is intimate, and cozy, and is the perfect venue for small celebrations where love takes center stage. 
Ceremony – up to 20 guests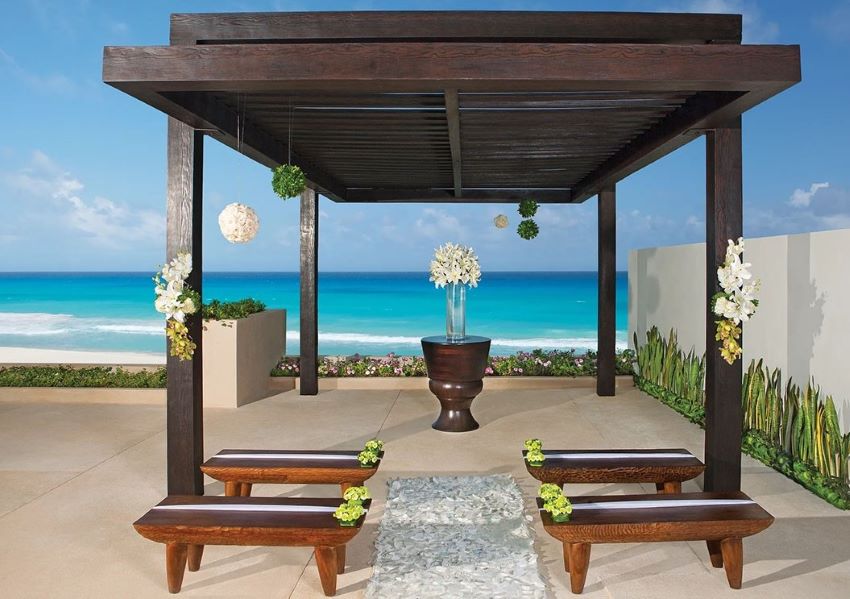 4. Gazebo Terrace
Right next to the gazebo, you've got the Gazebo Terrace.
This open-air venue is a beautiful spot for kicking back with your guests for a reception dinner.  
Reception – up to 40 guests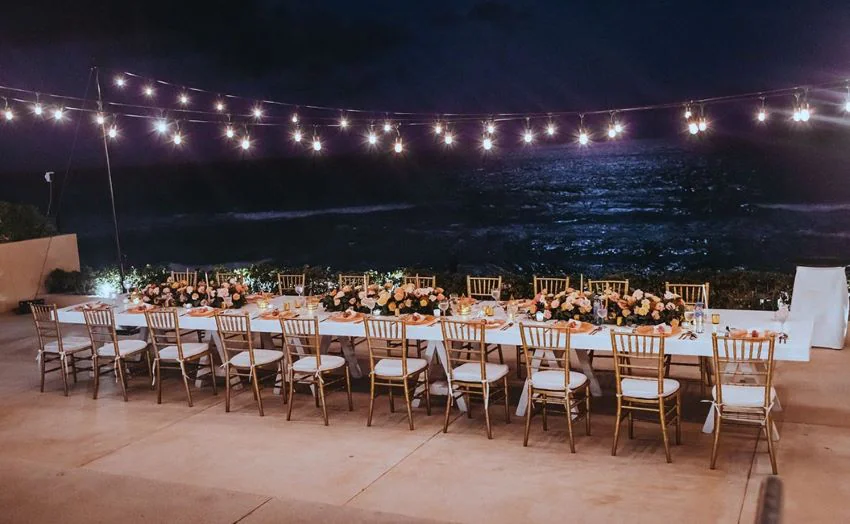 5. Pool
Our wedding specialists love the poolside area of Secrets The Vine Cancun.
Imagine celebrating under the stars, with tropical cocktails flowing… It won't be just a reception; it'll be a splash of fun!
Reception – up to 150 guests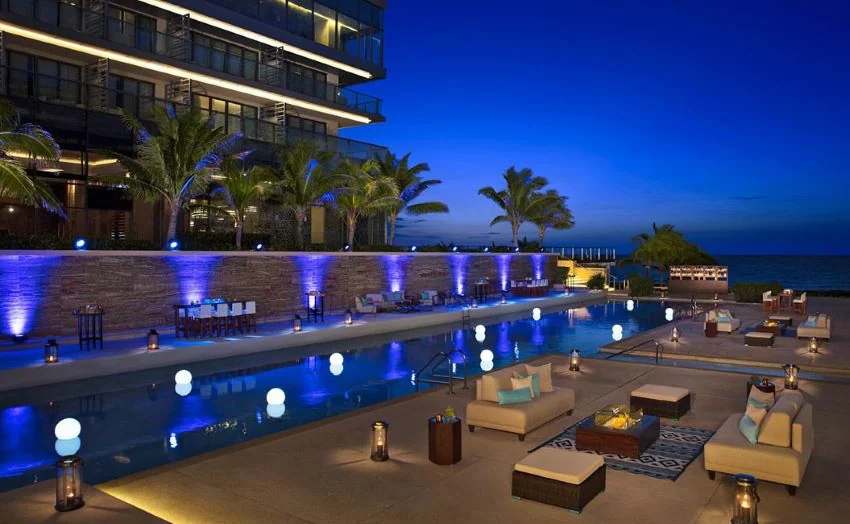 6. Ballroom
We recommend this classy ballroom at Secrets The Vine Cancun only if Mother Nature decides to throw a curveball.
Reception – up to 200 guests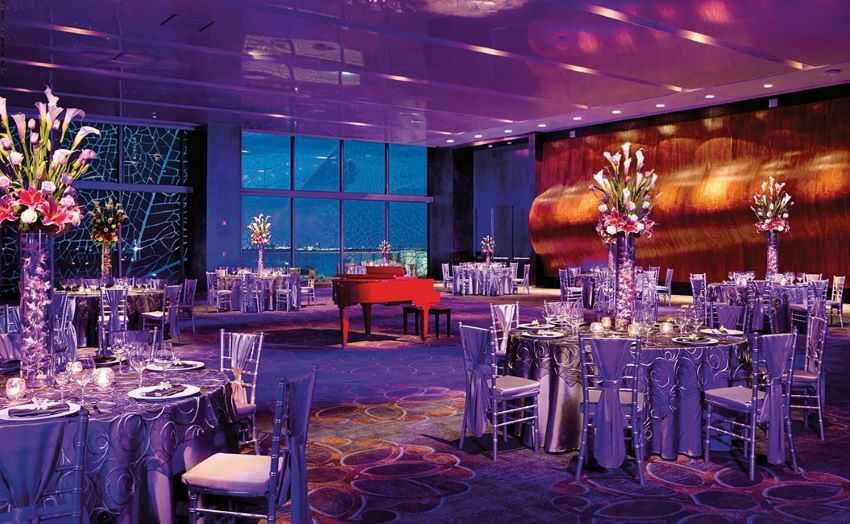 With wedding packages that embrace diversity, Secrets The Vine Cancun ensures that every couple, regardless of who they are, gets their happily-ever-after. 🌈
Need help with the documentation? Our wedding experts can guide you. 
Secrets The Vine Cancun offers 497 gorgeous rooms and suites.
Our guests love the Italian porcelain floors and teak wood furnishings.
The best part? All accommodations have breathtaking ocean views.
All the accommodations feature comfortable beds with custom headboards, a furnished terrace or balcony, well-appointed bathrooms, and complimentary mini-bar.
The only thing our wedding specialists don't like are the peek-a-boo style balcony dividers; they don't give you much privacy from the folks next door.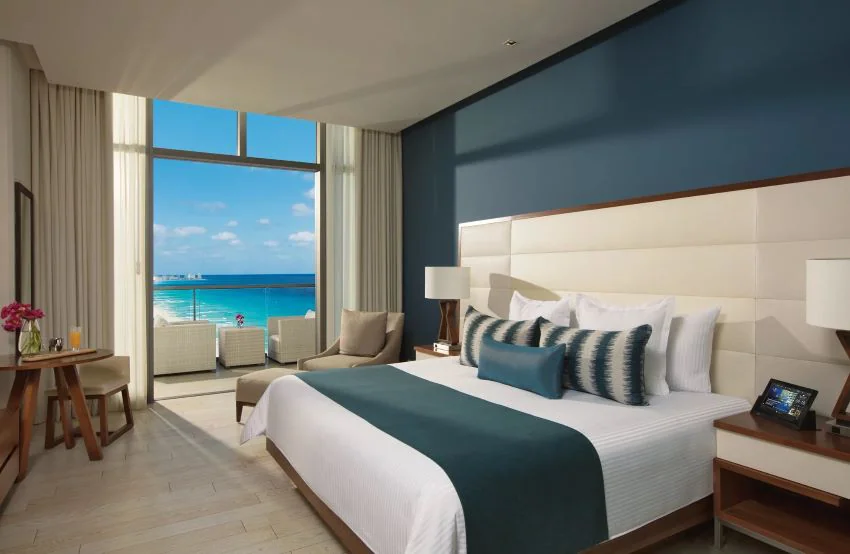 You get to choose from 7 room and suite categories…
Deluxe Partial Ocean View – 1 king-size bed, or 2 queen-size beds
Deluxe Ocean View – 1 king-size bed, or 2 queen-size beds
Junior Suite Ocean View – 1 king-size bed, or 2 queen-size beds
Honeymoon Suite Ocean View – 1 king-size bed
Honeymoon Suite Ocean Front – 1 king-size bed
Master Suite Ocean View – 1 king-size bed
Master Suite Ocean Front – 1 king-size bed
For the wedding couple, we highly recommend the Honeymoon Suite Ocean Front!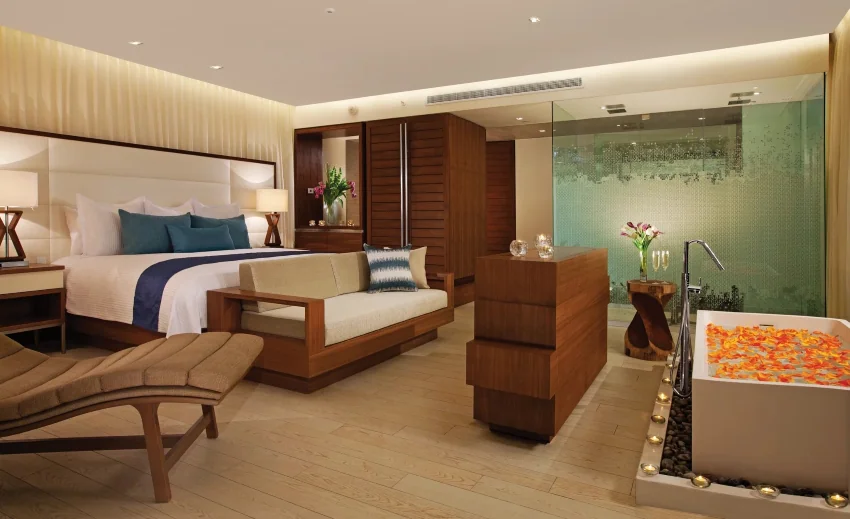 The Honeymoon Suite Ocean Front comes with magnificent views.
You can enjoy them while sipping on coffee, sitting in your private balcony with teak wood furnishings.
The suite's also got a luxurious bathroom wrapped in white glass and in-room soaking tub (pictured above).
At Secrets The Vine Cancun, you've got 2 epic infinity pools to make a splash.
They've also got 1 outdoor hot tub with sea views.
And if you're a Preferred Club member, there's an exclusive pool just for you.
Oh, did I mention the poolside waitstaff ready to make your day even better?!
Dive into any of these heated pools and let the good times flow! 🏊‍♂️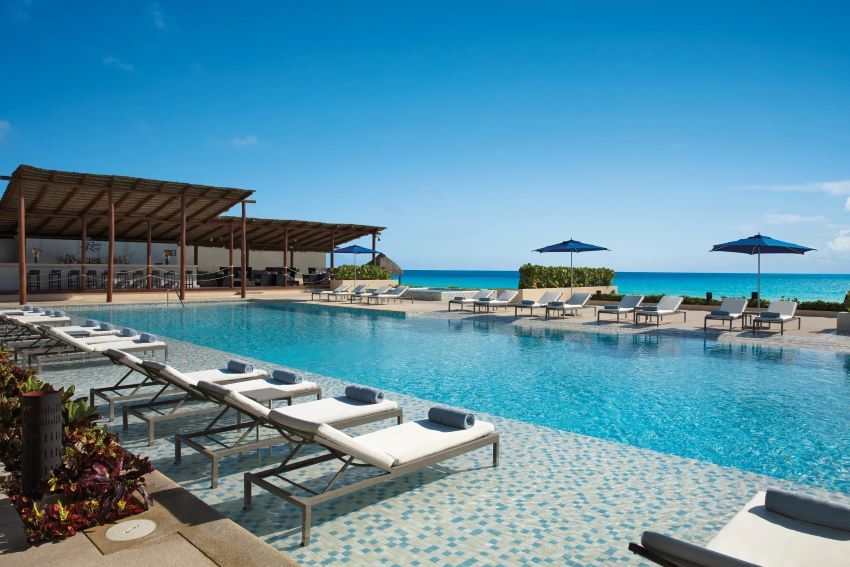 As mentioned earlier, the resort's located on a beautiful white-sand beach.
You can enjoy activities like scuba diving, snorkeling, and deep sea fishing with your guests.
And if you visit from July – December, you can experience their turtle release program.
You can savor a range of flavors, from local delights to international cuisines, at Secrets The Vine Cancun.
They've got 8 dining spots – 5 gourmet à la carte joints, a buffet hub, a grill, and a cozy café.
And we love that there's no need for reservations or wristbands; just stroll in and dig in!
Psst, you can even sneak off for a beachside date with your bae.
And the resort's also got 7 bars and lounges for those cocktail cravings.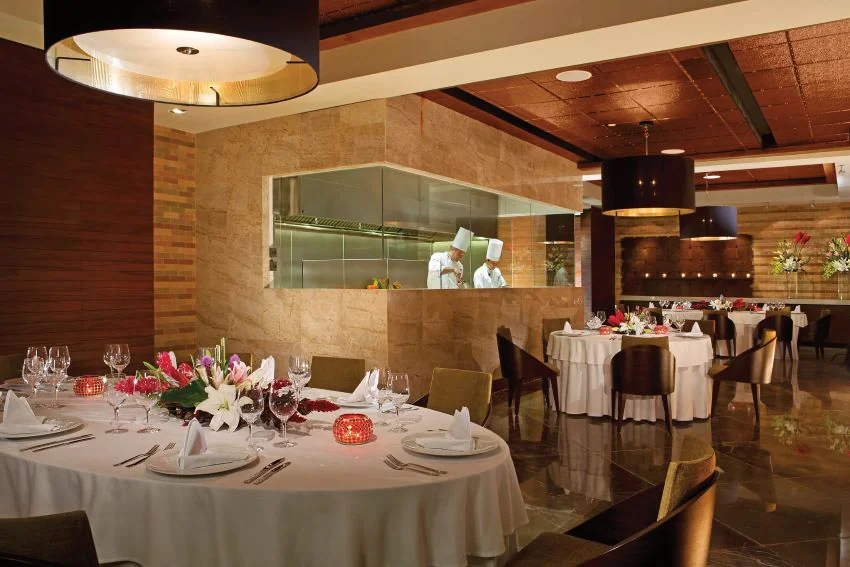 8 restaurant options include… 
Barefoot Grill | light lunch and snacks 
Bluewater Grill | grilled specialties 
Dragons | Far East cuisine 
Market Café | international & Mexican cuisine
Nebbiolo Ristorante | Italian cuisine
Olio | Mediterranean cuisine
Sea Salt Grill | Fresh seafood 
The Vine Bazaar: The Café | coffee and pasteries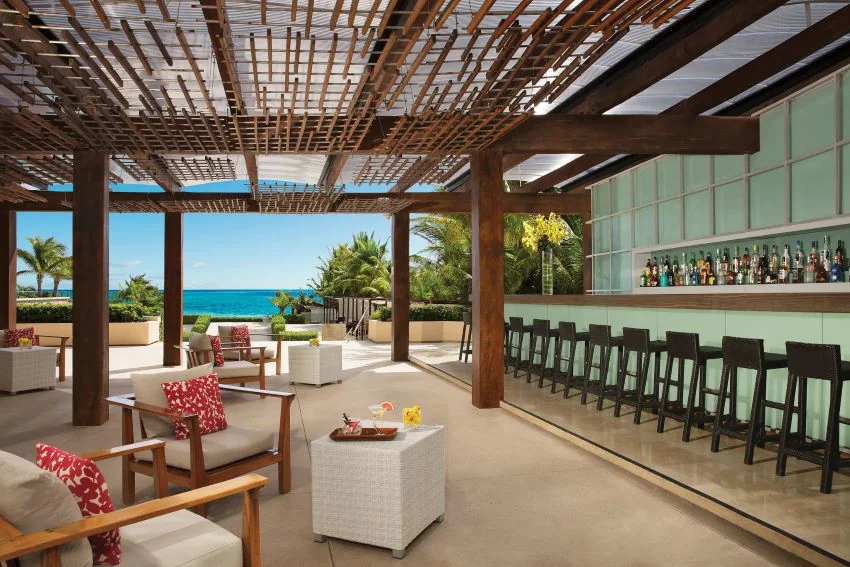 Get ready for a non-stop fiesta at Secrets The Vine Cancun!
From sunrise yoga sessions to lively theme nights, this resort's a playground for fun.
Your guests will definitely enjoy the mixology classes, beach volleyball showdowns, and movie nights under the stars.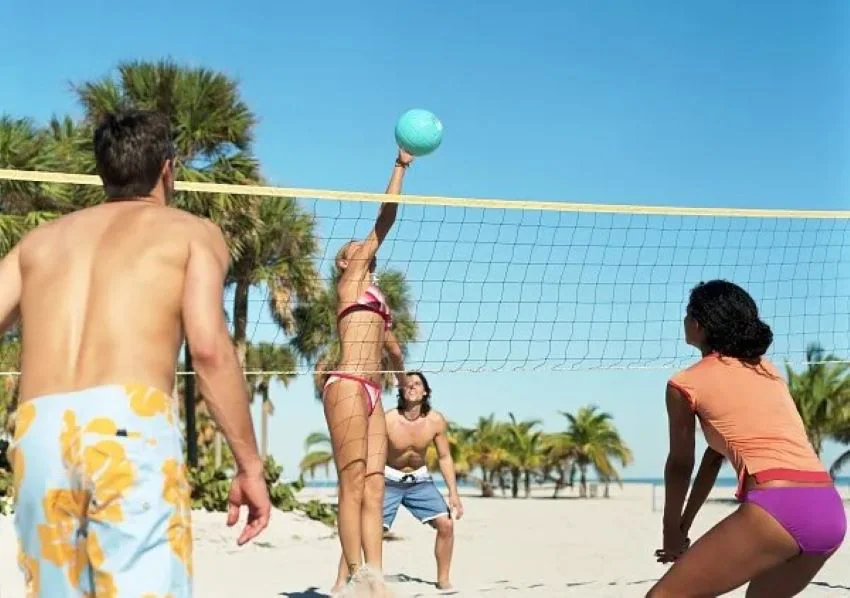 Fun activities and entertainment include…
Live musical performances
Theme nights and beach parties
Gala shows
Beach and pool volleyball
Sommelier-led wine tasting and pairing
Snorkelling
Mixology classes
Dance lessons
Scuba diving
Deep sea fishing
Q. What does Secrets The Vine Cancun include?
The all-inclusive Secrets The Vine Cancun includes best-in-class service, food at gourmet restaurants, top-shelf drinks, access to pools, spa and fitness center, and endless day and night activities.
Q. How many rooms are at Secrets The Vine?
There are 497 rooms and suites at the resort. Perfect to accommodate all your wedding guests.
Q. Does Secrets The Vine have a swim up bar?
No, there's no swim up bar at the resort. But we love how the wait staff can get you anything you want in and around the pools.
Q. Is Secrets The Vine adult only?
Yes, Secrets The Vine Cancun is an adults-only resort.
Q. Do you tip at Secrets The Vine Cancun?
The resort policy states that tip amount is already included in your stay. However, tips are always a pleasant surprise, and welcome.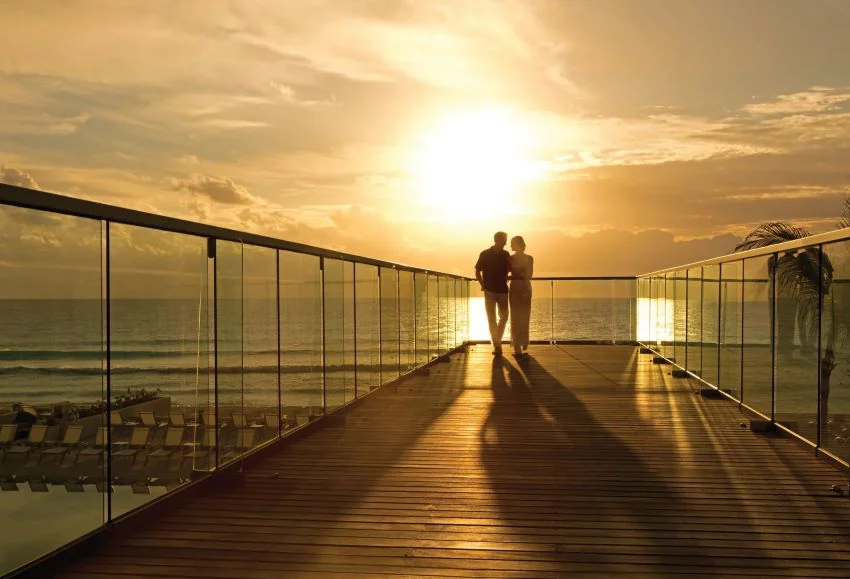 Secrets The Vine Cancun offers amazing wedding venues, comfortable stays, delicious food, and breathtaking views.
But let's consider the pros and cons.
I got the inside scoop from our destination wedding planners about this resort.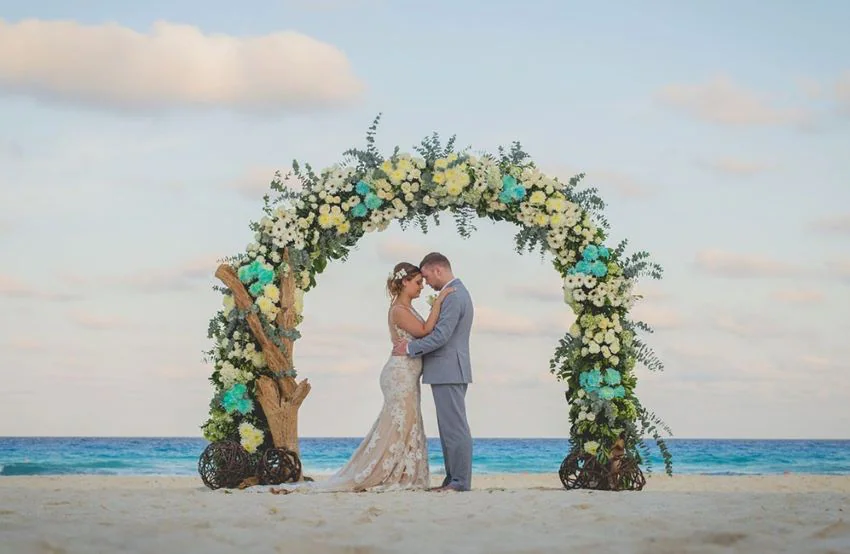 Things we love:
Plenty of wedding and reception venues!
Just minutes away from top restaurants, shopping centres, and nightclubs.
We love the fish tacos at Sea Salt Grill!
Our guests love the spa with its 14 treatment rooms.
Access to nearby golf courses.
Things we don't love:
ACs in some of the rooms don't work.
Lobby area smells funny. It definitely needs a through clean-up!
Poolside loungers get 'reserved' early in the morning.
The staff at the restaurants definitely need training.
Everything's in 1 tower, no space to walk around or explore.'
The resort's super fancy and the rooms are soooo modern and chic. Oh and those unforgettable views!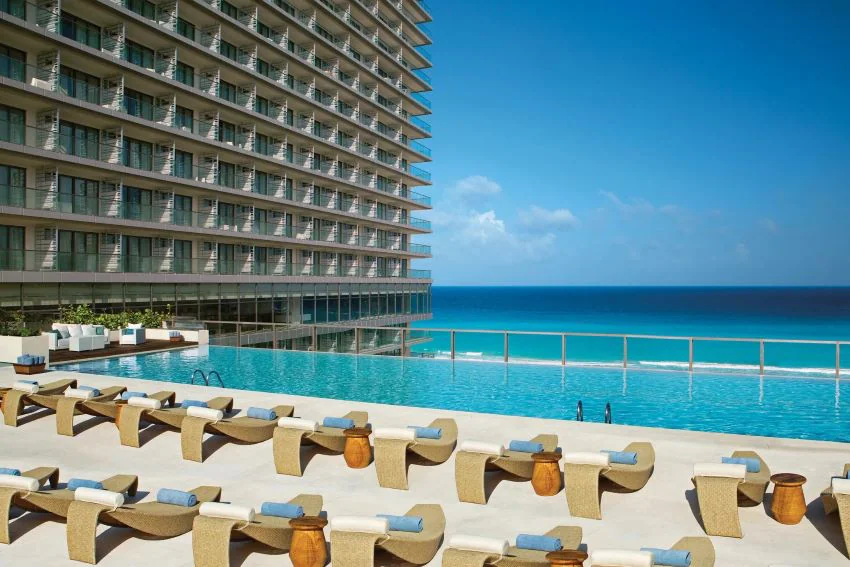 Still unsure? 
Take a look at these 3 similar resorts that could be perfect for your wedding. 
Ready to plan your destination wedding? 
Or looking for other resort options?
We can help!
Our team at ParadiseWeddings.com has planned 100s of weddings and can guide you every step of the way. 
Call us today at 877-737-0177 or contact us here for a FREE consultation.
Can't wait to hear from you!