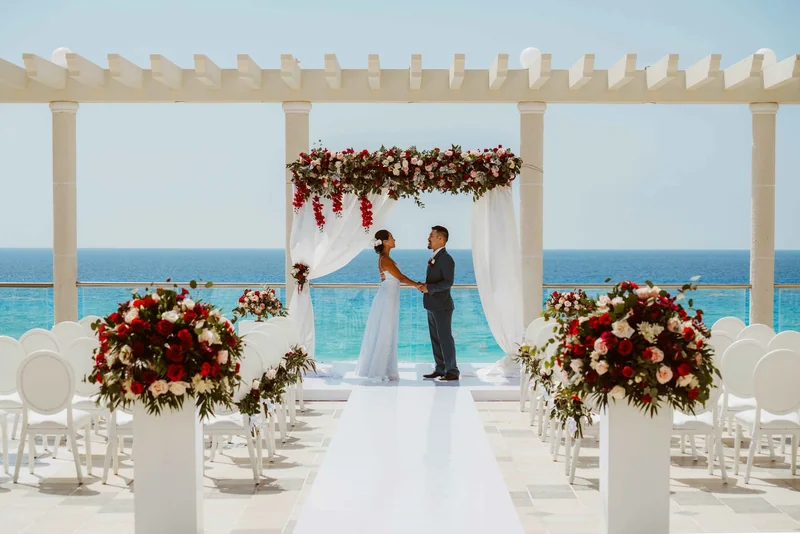 Weddings at Sandos Cancun | Our Honest Review 2023
Is Sandos Cancun the right resort for your destination wedding?
You're about to find out! 👏
Our experienced team is bringing you the DL on everything you need to know.
You'll get wedding packages, venue options prices, pros & cons and much more!
By the end of this post, you'll know whether or not Sandos Cancun is for you.
Ready to get started?
Let's go…
Sandos Cancun Wedding Review
1. Hotel Overview
★★★★★ | FAMILY-FRIENDLY | ALL-INCLUSIVE | CANCUN
Sandos Cancun is an all-inclusive resort that offers the perfect blend of relaxation & fun for couples & families.
It's set on a stunning white-sand beach with turquoise waters…
And it's located centrally in the heart of Cancun's Hotel Zone!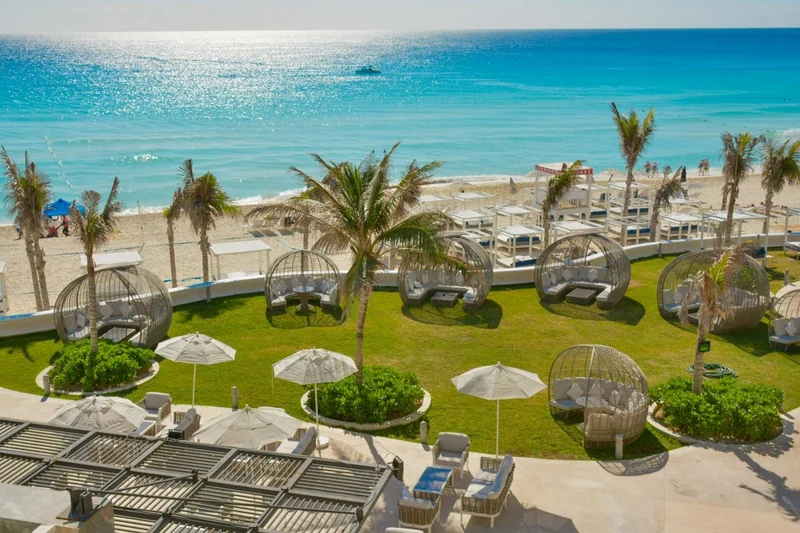 You & your guests will enjoy their signature luxury experience, which includes:
Well-appointed suites
Gourmet cuisine
Unlimited top-self
Endless activities
First-class service & much more!
Sandos Cancun offers 4 all-inclusive wedding packages to make your special day everything you've ever dreamed of…
Seaside Bliss: $5,750 for 30 guests
Sweet Romance: $4,650 for 30 guests
Dreamcatcher: $4,150 for 30 guests
South Asian Weddings: custom quotes available upon request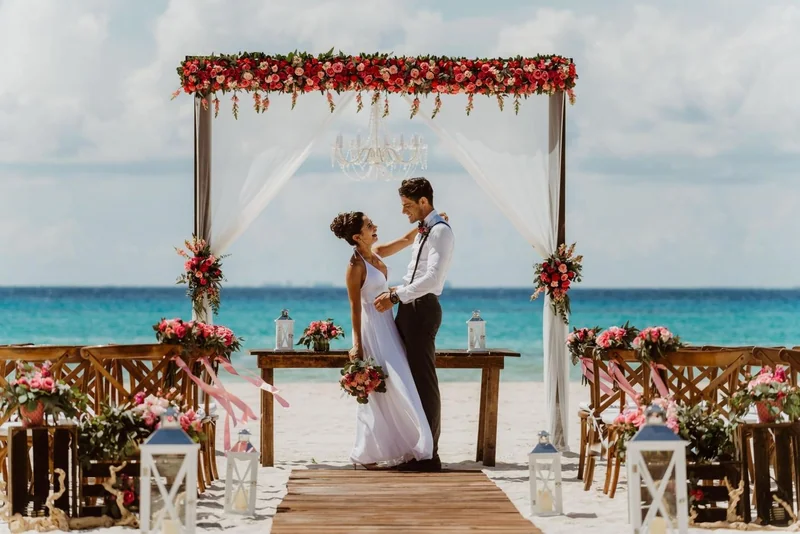 Some exclusive benefits for weddings at Sandos include:
Only 1 wedding per day (so you get to be the center of attention!)
Guaranteed room upgrade for the bride & groom
Menu tasting for 2 people 3 days prior to the wedding & more.
Seaside Bliss is their most popular & most complete wedding package.
It's perfect for a lavish celebration for 30 guests or more (with additional fees).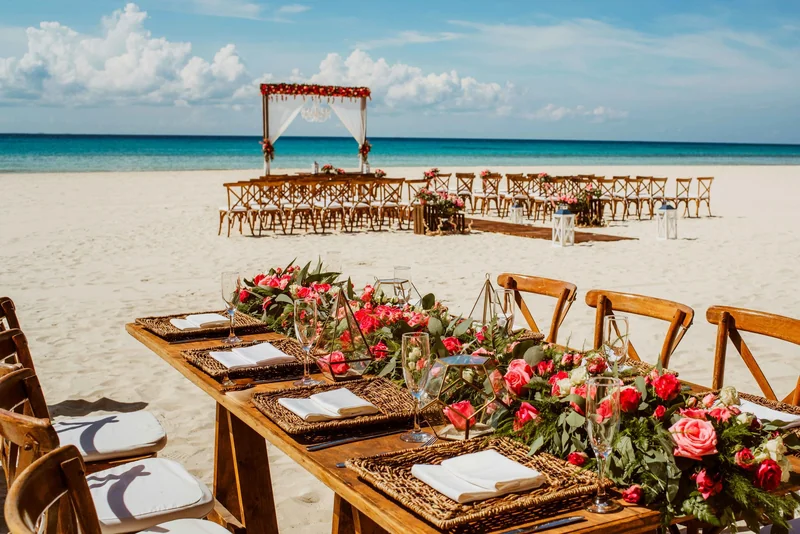 This package includes:
Symbolic ceremony
Ceremony setup as per resort location
Government beach permit
3 medium-sized flower medallions
Rose petals for the aisle during the ceremony (1 bag)
Sound system & microphone during the ceremony
1 bouquet & 1 boutonnière, or 2 bouquets, or 2 boutonnière
Private cocktail with open bar & appetizers (1 hour)
Private dinner reception w/ open bar (3 hours)
Basic setup & ambient lighting
Sparkling wine for the wedding toast
3 tier custom made wedding cake
3 centerpieces
DJ, light, and sound during dinner (3 hours)
Plus, you get additional benefits like:
Wedding organization & personalized service from wedding coordinators
Steaming service for the wedding outfit (arrival 3 days prior is required)
1 hair & makeup session (excludes trial) at the Sandos Beauty Salon
Couples massage at the Sandos Spa (50 minutes)
Complimentary honeymoon amenities
Up to $2000 off your wedding package based on the # of rooms booked
3. Ceremony & Reception Venues
Sandos Cancun has 3 wedding venues to choose from, all with their own unique flair…
1. Beach
CEREMONY| COCKTAIL HOUR | RECEPTION | 200 GUESTS
This is the most popular venue choice for couples getting married here.
Imagine exchanging your vows right on the white sand beach with the turquoise Caribbean Sea as your backdrop!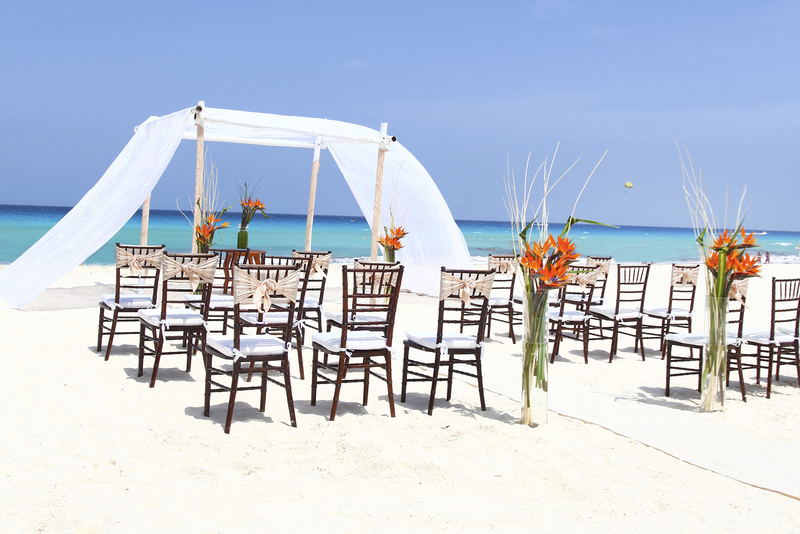 Optional add-ons include a dance floor (wood, vinyl, or LED) & decorative lighting (like string lights or tiki torches).
2. Terrace
CEREMONY | COCKTAIL HOUR | RECEPTION | 300 GUESTS
This beautiful terrace is a great option if you want a bit more privacy.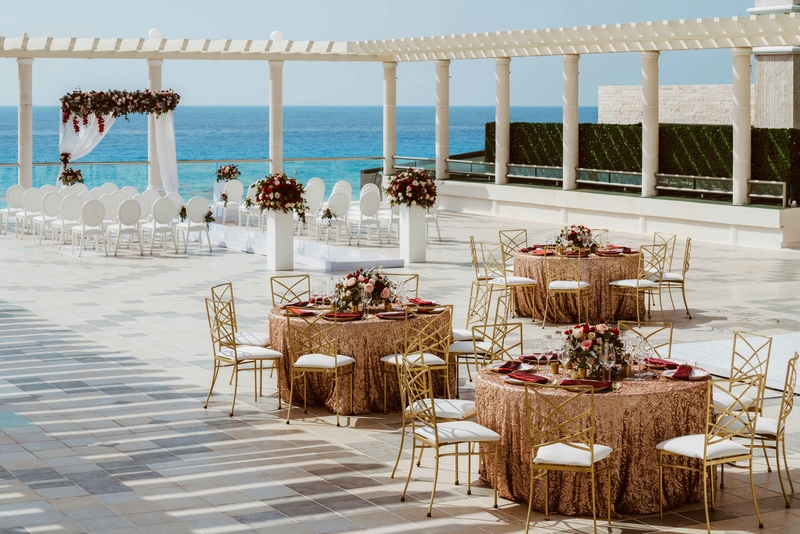 It overlooks the beach from an elevated standpoint, so you'll still get stunning views without any passers-by in your photos!
3. Penthouse
CEREMONY | COCKTAIL HOUR | RECEPTION | 50 GUESTS
If you're looking for an intimate & unique setting, the penthouse is perfect.
It consists of an indoor/outdoor space, so you get the best of both worlds.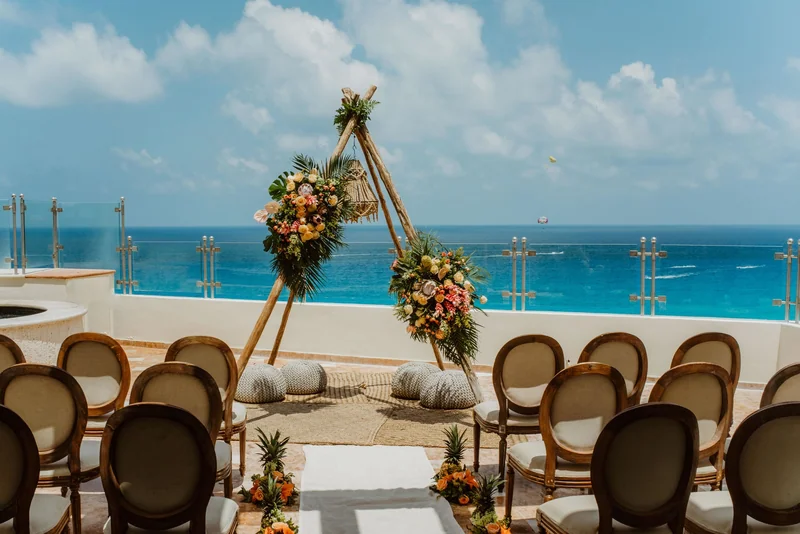 Many couples have their ceremony outdoors & their cocktail party inside!
Sandos Cancun welcomes all couples, including LGBTQIA+.
They're affiliated with the IGLTA (International Gay & Lesbian Travel Association).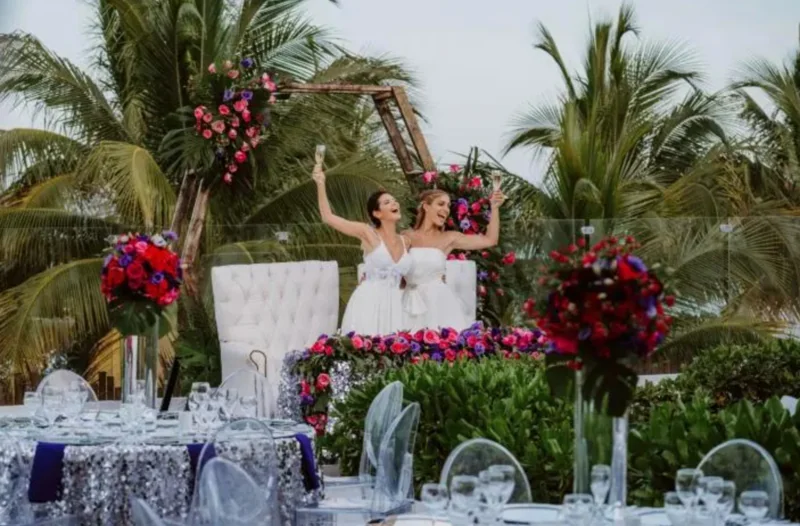 Which means they're dedicated to welcoming & supporting all couples throughout their wedding.
So if you're looking for an inclusive & welcoming resort, this is it!
The rooms at Sandos Cancun boast luxury & comfort, with a home-away-from-home feel.
Prices start at $230/night & all rooms come with their own unique benefits!
Room types include:
Superior Room
Deluxe Room
Sandos Suite
Laguna Suite
Caribe Suite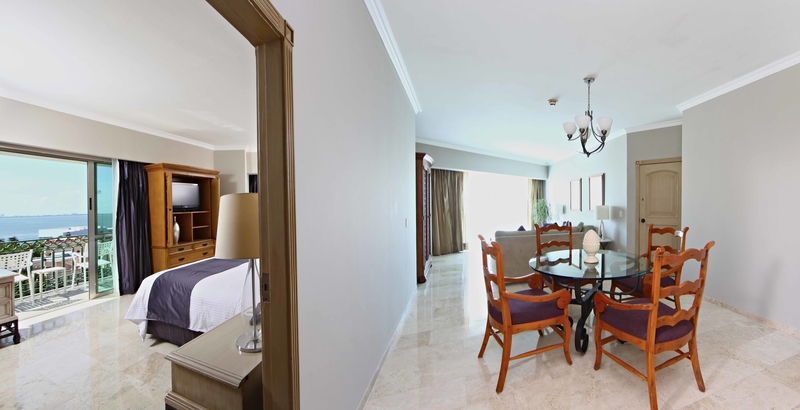 For the bride & groom, we highly recommend the Laguna Suite!
This romantic suite features a living room, separate bedroom, dining area & a well-equipped kitchenette.
And there are not 1 but TWO balconies overlooking the beautiful Caribbean waters.
It's the perfect suite for entertaining your bridal party, then getting some much-needed beauty sleep in your spacious bedroom.
The beach at Sandos Cancun is one of the best in all of Mexico!
It's wide, sandy & well-kept.
Plus, the water is that perfect turquoise hue that everyone dreams of.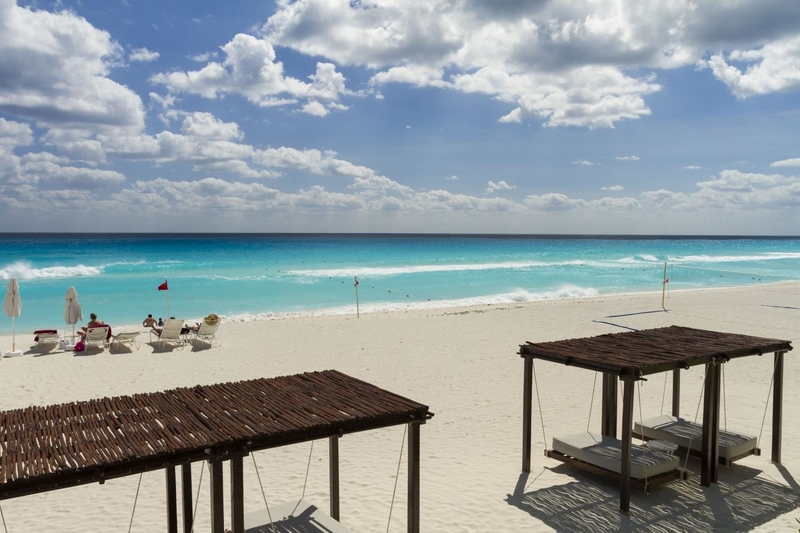 You can lounge on a beach bed & sip cocktails all day long, or take part in some of the many water activities available!
There are 5 gourmet restaurants onsite, so you're sure to find something to your taste!
From Mexican cuisine to international fare, there's something for everyone.
Restaurant options include:
Seasons a la Carte Restaurant | Steakhouse
Frattini's | Italian
Zango | International
Gaijin | Asian
St. Trop | French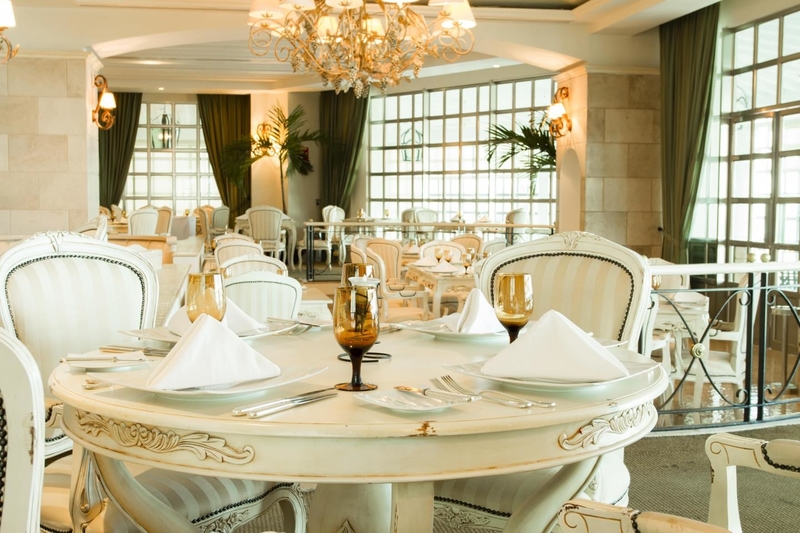 And when you're in the mood for a drink, you can head over to 1 of 4 bars:
Bar One | Lobby
Bar Two | Beachfront
St. Trop | Pool bar
Royal Elite | Premium Bar
And the best part?
It's all included in the price of your stay!
8. Activities & Entertainment
When you're not lounging on the beach or eating delicious food, there are plenty of activities to keep you entertained!
Take a yoga class, join a dance party, go snorkelling… the options are endless.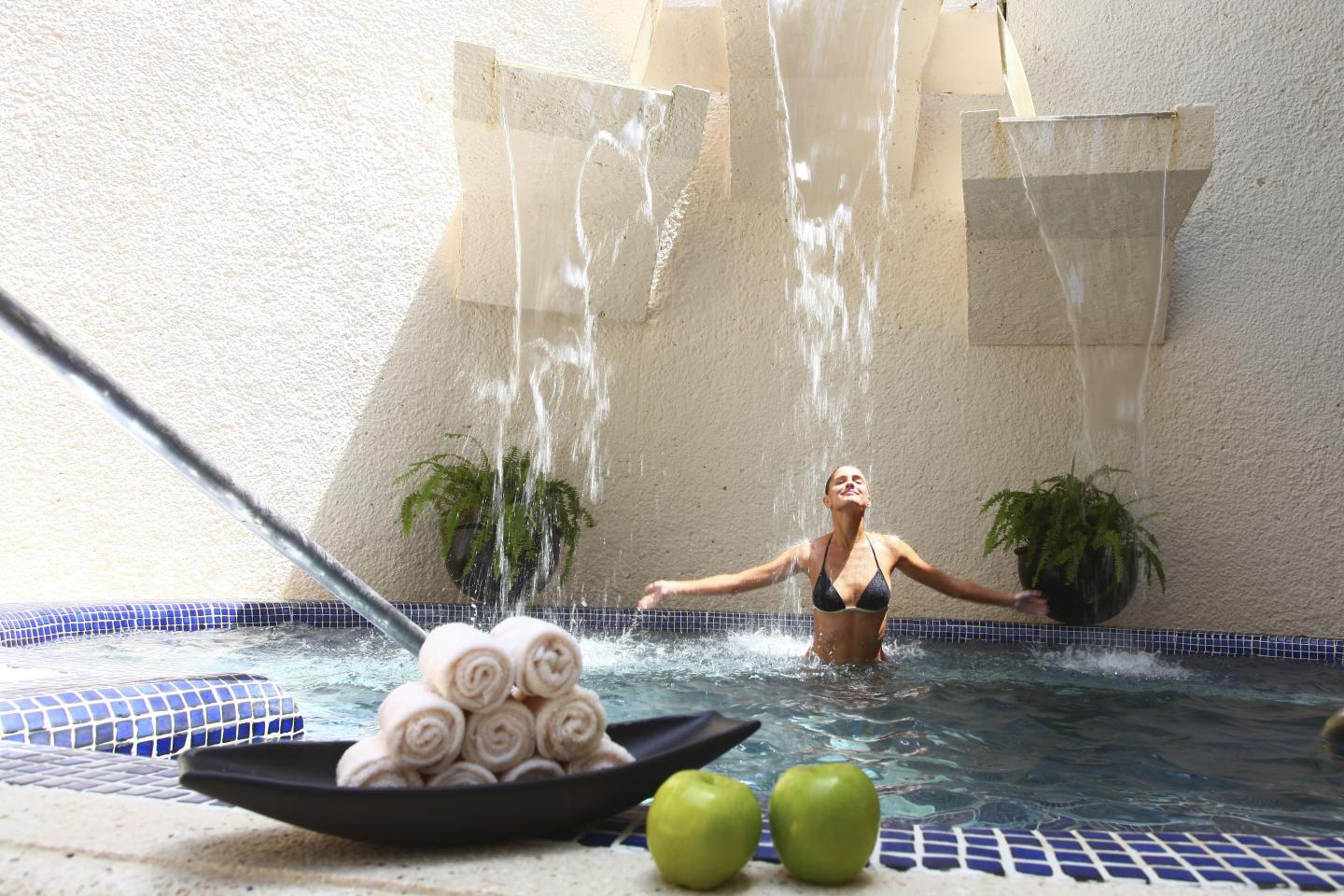 There's also a kids club & teens lounge, so everyone in your group will have a great time!
And when it's time to unwind from all the chaos, head over to Spa del Mar to indulge in their signature services.
9. What Brides & Grooms Said...
"Anyone debating whether or not to do a destination wedding, we emphatically implore you to do so. We showed up to our wedding and everything was perfect. It was on their rooftop terrace, with the deep blue ocean as the backdrop.
We had about 70 guests, and everyone agreed it was one of the funnest weddings they've been to.  The food was exquisite, and the DJ was very, very good. We can honestly say this was the best wedding we've ever been to, and that's great because it happened to be our wedding. We can't recommend Sandos Cancun enough for anyone looking to have their wedding in Cancun." – Chevy A.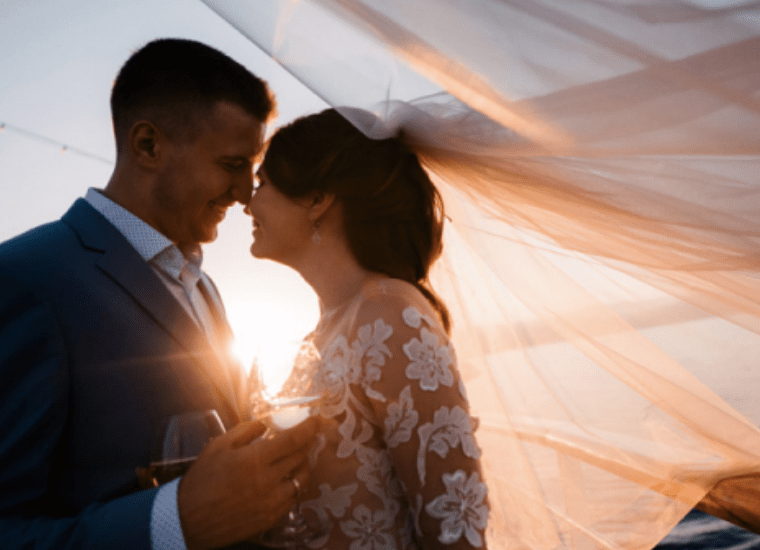 "My husband and I just got married at this resort! It was absolutely beautiful and the staff was truly amazing! We had the best weekend and our wedding was so beautiful and beyond our wildest dreams! This venue was perfect for a 50 person wedding! The resort is a great size because it is small enough that everyone is able to hang out and find each other, but big enough that you have plenty of pools, restaurants and places to go! The spa was also incredible! I highly recommend this resort for a vacation or a wedding!" – srap123
10. Why We Like It (Pros/Cons)
There are so many things to love about Sandos Cancun!
The beautiful beach, the delicious food, the endless activities… it's truly a paradise.
And compared to other luxury resorts in Mexico, the prices are very reasonable!
Here's what our wedding planners had to say:
Things we love:
Beautiful beach.
Huge sky terrace wedding venue.
Lots of activities to keep you entertained.
Spacious rooms.
Centrally located.
Affordable & great value.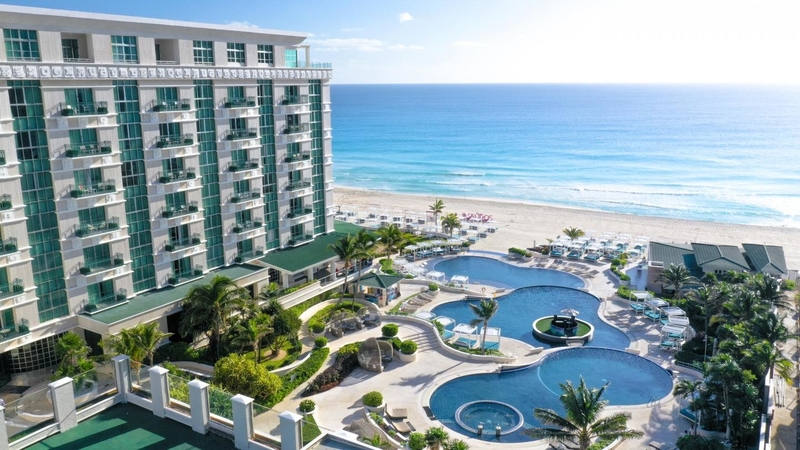 Things we don't love:
Some guests may find the resort too small.
Maximum capacity for rooms is 2 adults and 1 child. 😳
Not really a kid-friendly resort.
Overall, we think it's a beautiful resort for a destination wedding if you're looking for something in the mid-price range. You'll want to see comparable resorts because signing any contracts.
Considering the Sandos Cancun? We'd love to hear about your thoughts in the comments below!
Not sure if Sandos Cancun is the right spot for your wedding?
Don't worry!
Our experienced planners can help you find the perfect resort that fits your budget & vision.
We're local and have all the ins & outs of wedding resorts in the Riviera Maya.
So call us at 877-737-0177 or contact us here for your free consultation!
And let's start planning today!