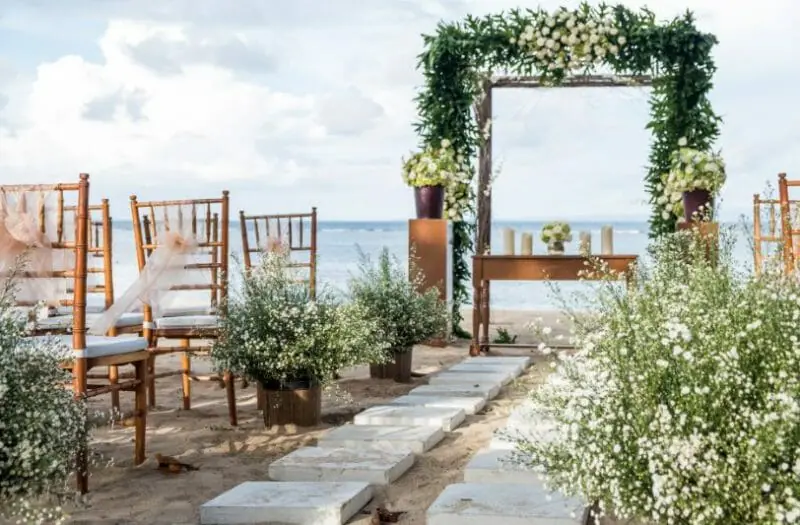 Are you in the process of planning your destination wedding?
Every year, new trends and things are changing in the wedding world. 
Especially now more than ever, due to the pandemic. 
Thanks to this, you're probably wondering what's in right now in the world of destination wedding planning…
Luckily, our team of experts at ParadiseWeddings.com has the inside scoop for you.
We've planned 100s of destination weddings and know all about the hottest trends for 2024.
Let's check them out, shall we?
Your Destination Wedding Trends in 2024
Planning Trends
Style Trends 
Food Trends
This list will give you inspo for save the dates to wedding themes and ceremony styles.
If you're set on a destination wedding, you can expect these trends for 2024/2025.
Let's get started!
1 of the first things you need to do when it comes to planning is narrow down your guest list.
Due to the nature of destination weddings, not everyone you invite can attend.
Because of this, combined with the ever-changing Covid requirements, guest lists are getting shorter.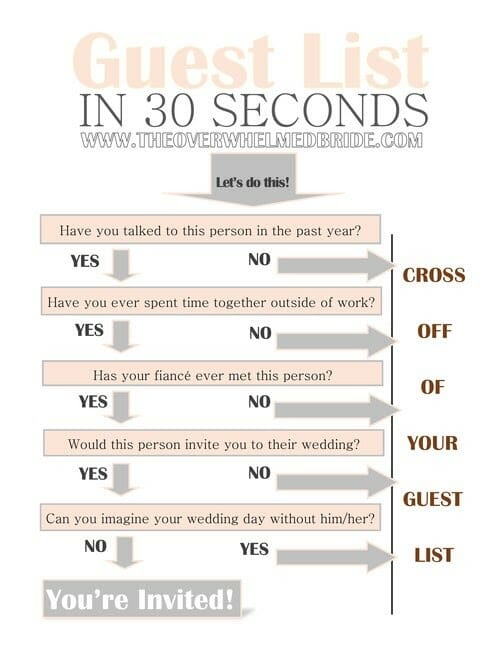 Image by theoverwhelmedbride.com
That's to say that smaller and more intimate weddings are big right now. 
Keeping your list to close family & friends ensures that you have the right people surrounding you. 
And it adds an extra layer of safety since it's easier to socially distance with fewer people.
Not to mention it's less expensive! 
A good thing the pandemic has normalized is live-streaming events.  
This means your granny who couldn't make the trip will still be able to see and feel included in your wedding.  
After solidifying your guest list, you have to send out save the dates.
With weddings being more intimate and money-saving, couples are using that extra cash to splurge on stationery. 
Everything from a handmade card to professionally done personalized stationery is all the rage. 
When you think of destination weddings, you think of flights and beaches.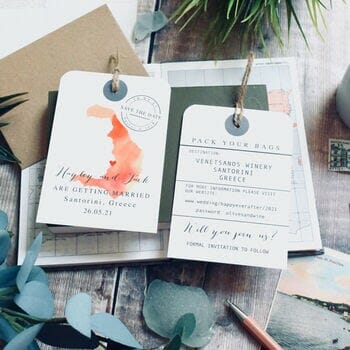 Image by notonthehighstreet.com
A trend that is being spotted is a save the date that resembles a passport, boarding pass, or luggage tag. 
On the other hand, you can choose to have a clean simple design.
Are you more of a simple design person or do you like being extra?
Let me know in the comments!
Invitations are getting more and more creative. 
This means clear or see-through invitations made with acrylic or vellum.
Envelope options include 
solid colors
 or a type of envelope that folds onto the invitation itself tied with a ribbon.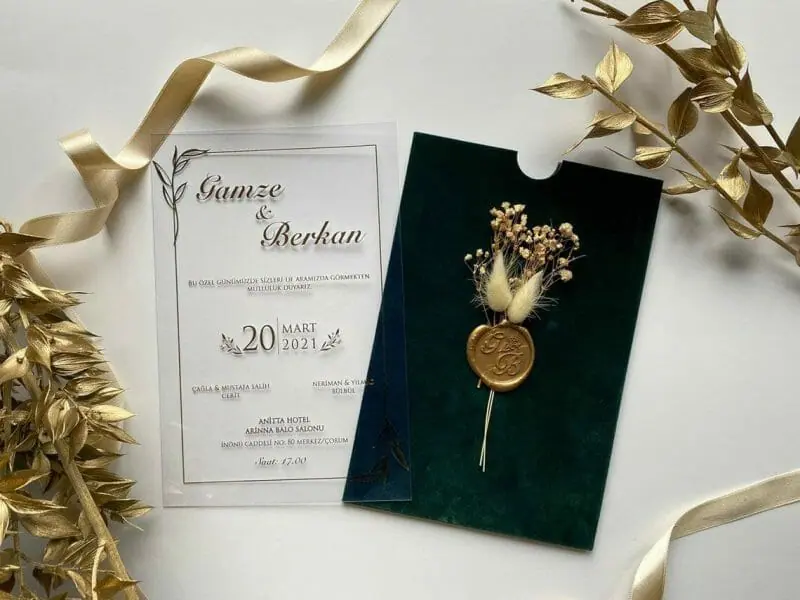 If you're going the normal envelope route and want to be in style, then consider using a wax seal & dried flowers. 
Personally, I love seeing the creativity that is being used. 
While the traditional ball gown & suit will never go out of style, we see couples going out of their comfort zones. 
Some dresses that are trending right now are more functional dresses that you can move freely in. 
Everything from simple slip dresses to high-low skirts or even removable skirts. 
I've even seen some gorgeous pantsuits instead of dresses being used.  
For those wearing suits, you don't have to play it safe with a plain black suit anymore… 
Unless you want to, of course!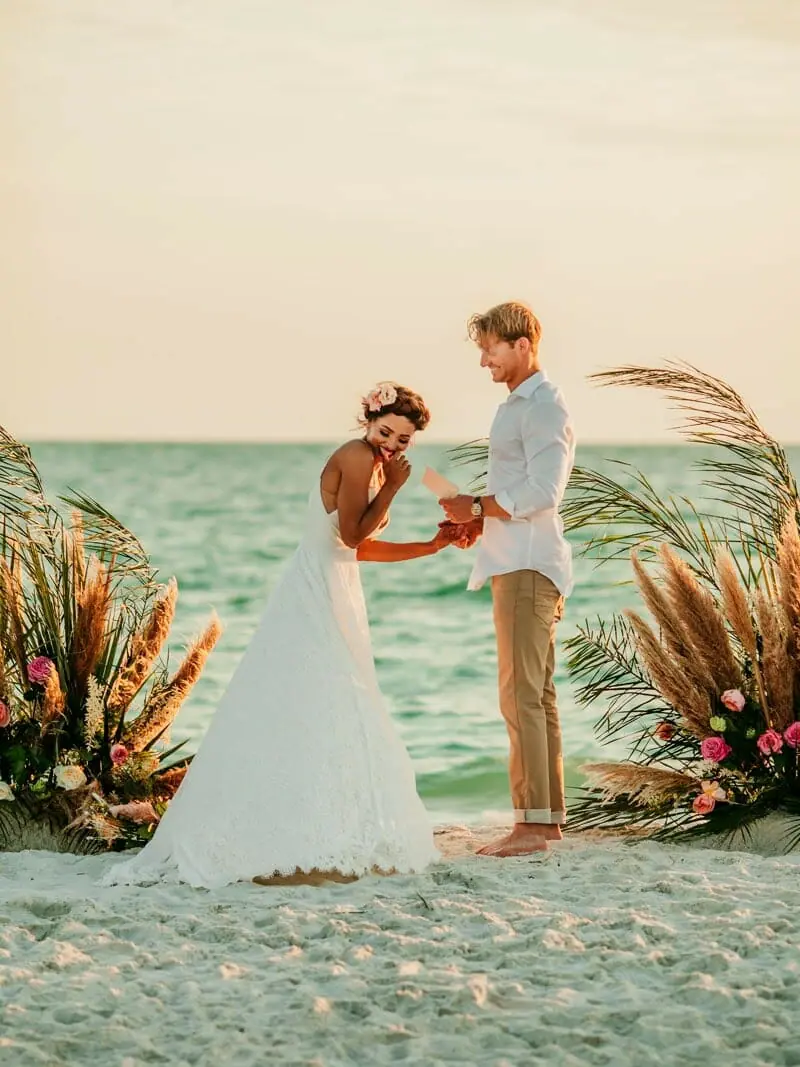 Image by brittandbean.com
Some suit styles that are cropping up are mismatch suits, fun patterns, colors, and even casual outfits. 
Go a step further and ask guests to match the theme of your wedding. 
Speaking of themes, I'll be covering those next.
5. Unique Welcome Parties & Farewell Events
Why just organize a welcome lunch and a farewell dinner? Do something unique!
Picture this: you and your wedding guests exploring the depths of the ocean while scuba diving.
Or all of you cozied up under a starry sky, starwatching as you indulge in s'mores, hot cocoa, or maybe some spiked apple cider.
Or, a yacht party for a farewell sail.
These are the unforgettable experiences you can organize for your wedding week.
In 2024, destination weddings will be embracing these feel-good, unique gatherings.
Today's wedding scene isn't sticking to old-school ways.
Couples are using technology to make wedding planning easier and cooler.
Augmented reality is a game-changer, letting brides 'wear' dresses virtually, making sure they're the right fit.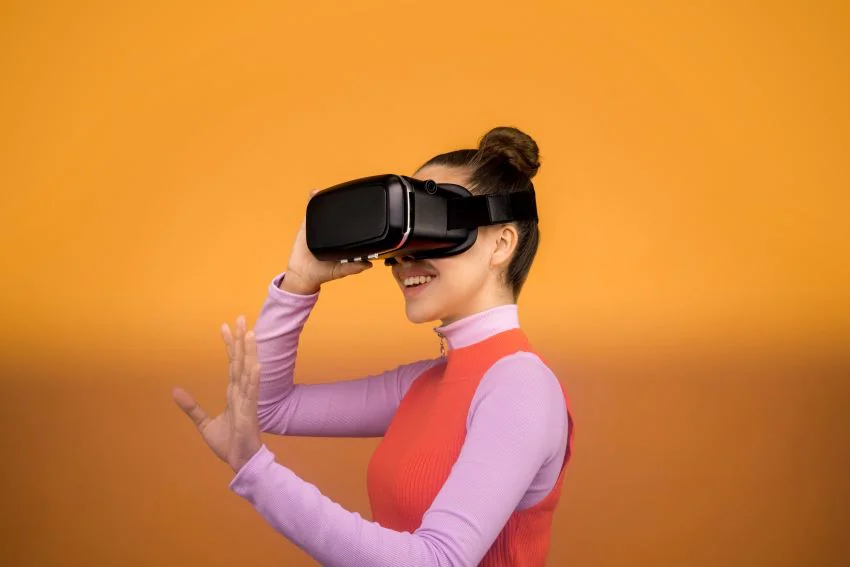 Couples are doing virtual venue tours from home for that immersive feel.
And they're using smart apps run by AI to plan every bit of their dream day.
The digital world is totally shaking up how weddings get put together in 2024 and beyond!
Themes aren't a new trend, that's for sure. 
We're used to seeing vintage, romantic, & Bohemian themed weddings. 
Now we're thinking about the environment! 
Eco-friendly and sustainable weddings that incorporate nature are the new thing. 
Think dried flowers as confetti and packs of flower seeds as wedding favors.
But we'll get into the wedding favors later.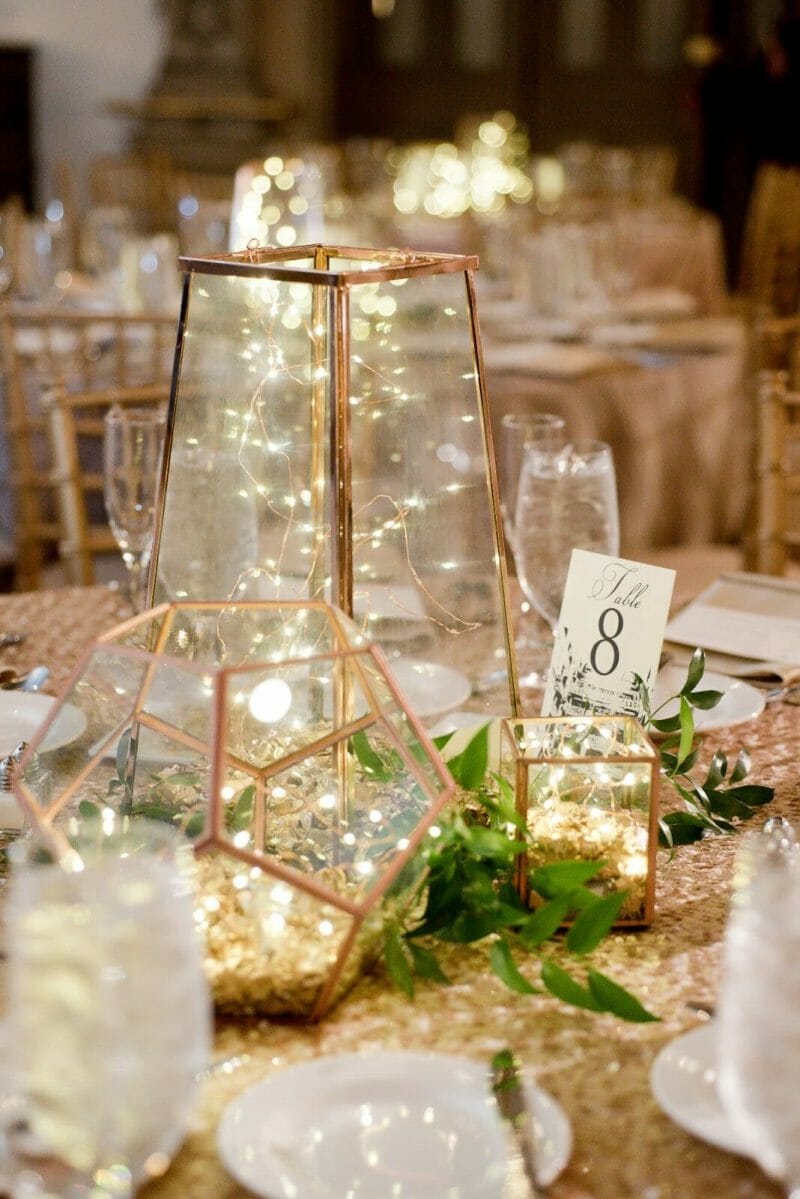 Image by weddingchicks.com
Another trend that's up and coming is a geometric themed wedding. 
You can use geometric designs on everything, from your invitations and lighting to your cake & table numbers. 
Along with geometric designs, consider a galaxy, stars, or space themed wedding.
There's nothing wrong with sticking to the traditional white wedding, but color palettes are gaining traction. 
Colors to look out for in 2024/2025 include bright & bold colors to earthy & dark or neutral tones. 
We're seeing color in the types of non-traditional flowers used, decorations, even in the wedding attire!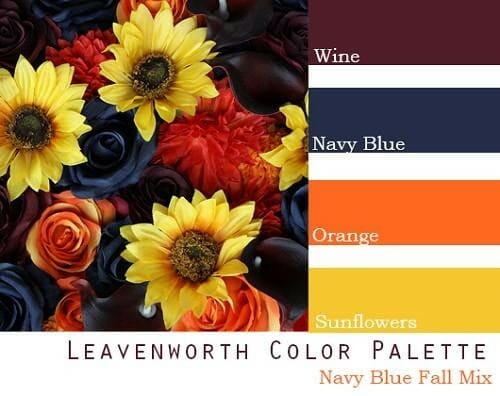 Color Palette ideas:
Burnt or Papaya Orange 
Mustard or Sunflower Yellow
Emerald Greens and Earthy Blues
Sky Blues and Dusty Pinks
Burgundy and Navy Blues
Lilac
Wedding favors are a fun way for guests to have a memento of your celebration of love. 
Match these to your overall decoration and you're good to go. 
Interactive decor like swings and send-off kits are also on the rise. 
Masks & hand sanitizers as wedding favors are also popular, and for good reason too. 
Also, consider functional & fun favors like customized mini alcohol bottles, coffee, candles or succulents and mini jars of honey.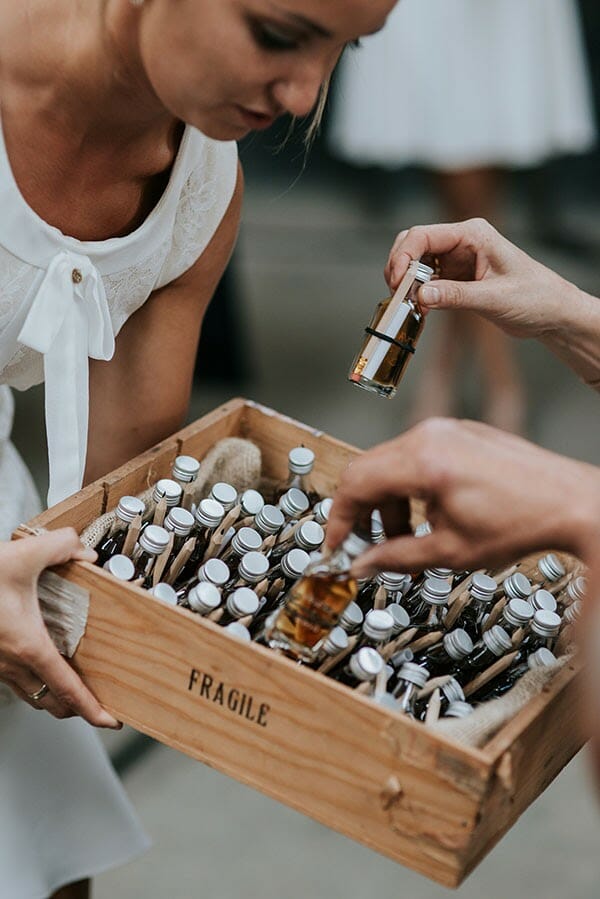 Have fun with it! 
Wedding Favor & Decoration Ideas
Fairy or tea lights
Large flowers that are colorful or non-traditional
Geometric terrariums 
Floral or macramé swings
Welcome kits 
Send off Kits
Taking social distancing into consideration in weddings, there has been a surge of reception entertainment. 
This way guests can enjoy the reception without having to be in close quarters trying to dance. 
Since you're having a destination wedding, you'll have a ton of entertainment options.
Popular forms of entertainment include:
Live music
Games
Photo booths
Live performances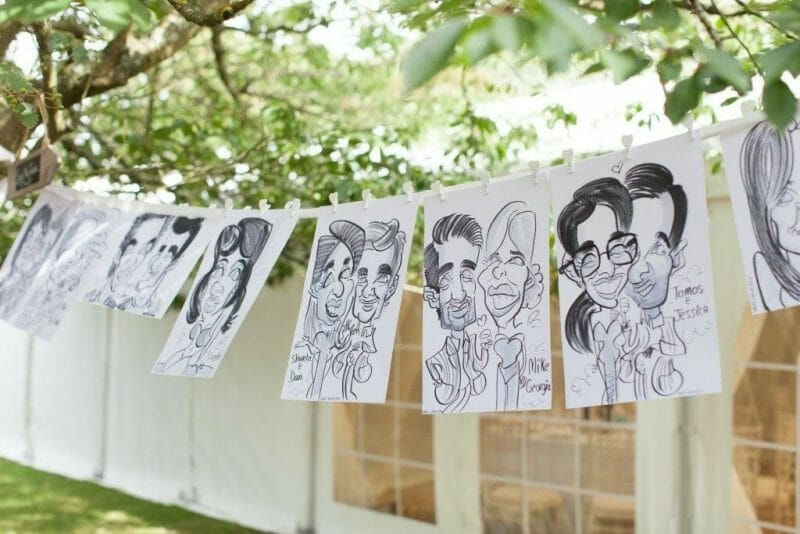 Ideas for Wedding Entertainment:
Mariachi
Bands
Board games 
Game stations
Trivia
Photo booth or Station
Art Station 
Live Painting
Acrobat/dance performances
Buffets are out of style.
Yup, you read that right. 
No more buffets, at least for now. 
Food & drinks are becoming more personalized, along with everything else. 
Restaurant style meals with a menu are what's in right now. 
The individualized portions take health & safety into consideration.
It also avoids a buffet stand that might make it easier for germs to spread.  
Think about having individual charcuterie boards, picnic baskets, and snack stations. 
Drinks are becoming more fun too! 
Image by Crone's Custom Woodworking via Etsy
Cocktail hours are a thing at weddings now, and so are drink walls, stations & tables. 
Sticking to the individualized food & drinks, the single cake is out. 
Don't get me wrong, you can still have your fancy cake and eat it too! 
Now, the trend is individual desserts.
Dessert like mini cakes, cookies, cupcakes, doughnuts, cake pops are great options.
And the options are endless. 
These are already portioned for 1, so each guest can just swing by and grab one.
Or you can hand them out.
This way the big cake is only for the newlyweds!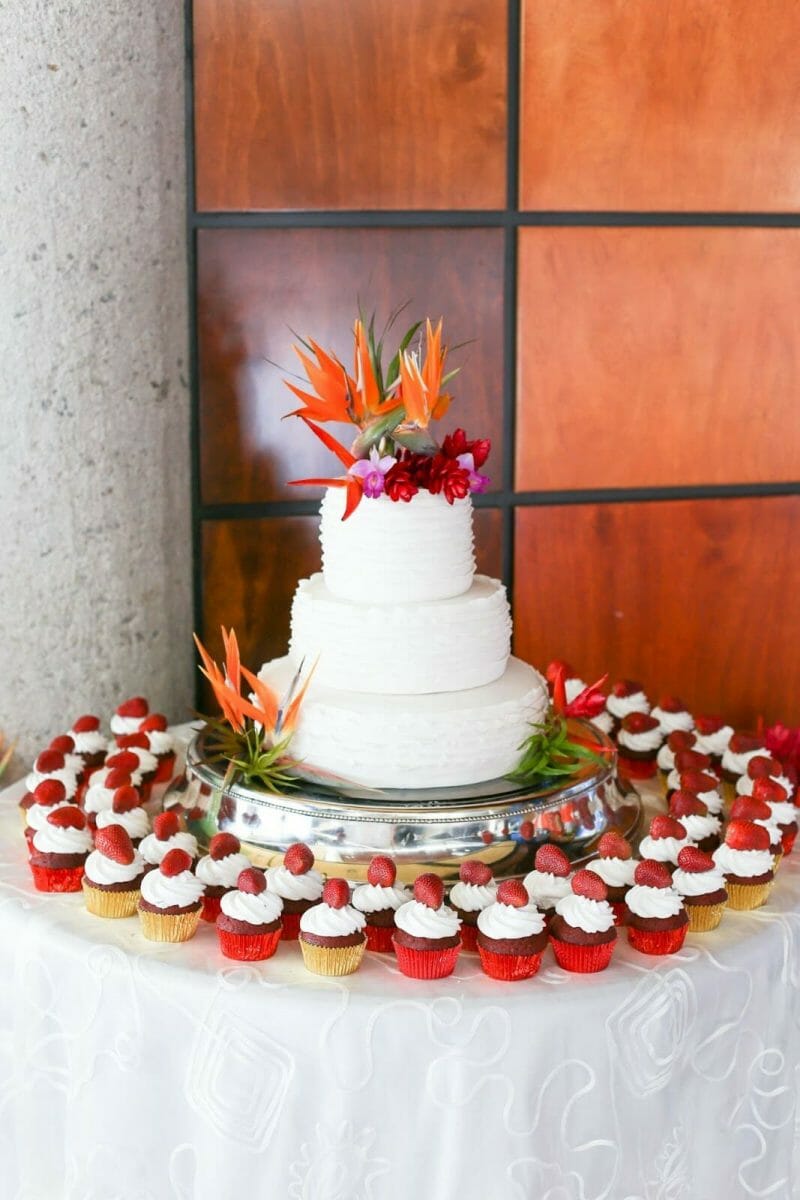 Cake Alternatives
Cupcakes
Doughnut wall
Doughnut tower
Cookie stand
Mini pie stand 
Churros
S'mores making area
There are so many themes & ideas to consider this wedding season. 
Being sober-curious means taking a moment to consider whether you really want that drink, even when everyone else is.
Lots of your friends and family might be choosing booze-free options.
And that's making mocktails a big hit at destination weddings worldwide.
Couples are making sure there's something for everyone: cocktails for those who want them and tasty non-alcoholic drinks too.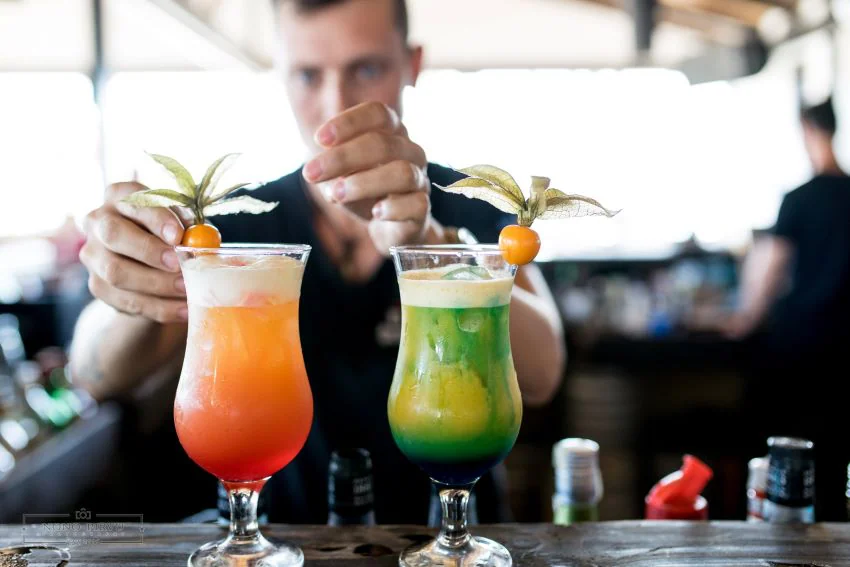 Weddings are becoming a more intimate affair with personalized style & fun. 
We'll never get rid of traditional formal events, but I'm glad it's becoming common to have unique weddings. 
These trends help you stand out, be creative, and let your guests know you're thinking of them, too.
I know it's weird to say that following a trend will make you stand out…
But hear me out!
With these trends, you're more able to incorporate who you are as a couple into each wedding element.
Especially with destination weddings, where most things tend to be planned according to the venue.  
How do you want to personalize your wedding?
I'd love to know! 
Tell me in the comments below. 
If you need help planning, getting ideas, or finding venue deals, talk to our expert wedding planners!
Our team lives locally in Playa del Carmen and know the ins & outs of the area.
We're passionate about wedding planning and happy to help you plan or get a great deal for free!
Call toll-free at 877-737-0177 or contact us here.
Looking forward to hearing from you!