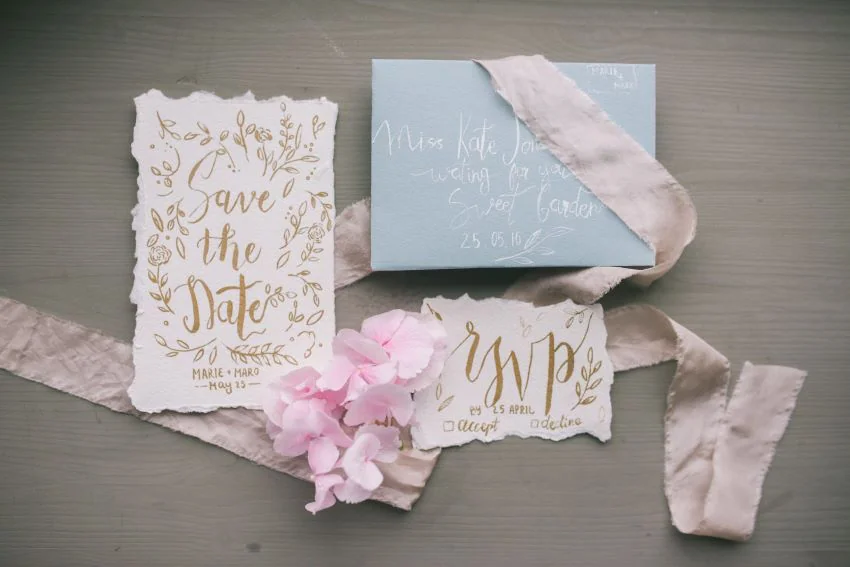 Looking to set the mood?
We've got destination wedding invitations to match that vibe.
You know, something that vibes with the destination or theme of your wedding.
If you're up for something fun and different, there are tons of creative ways to make your destination wedding invites stand out.
Check out these 20 ideas for inspiration!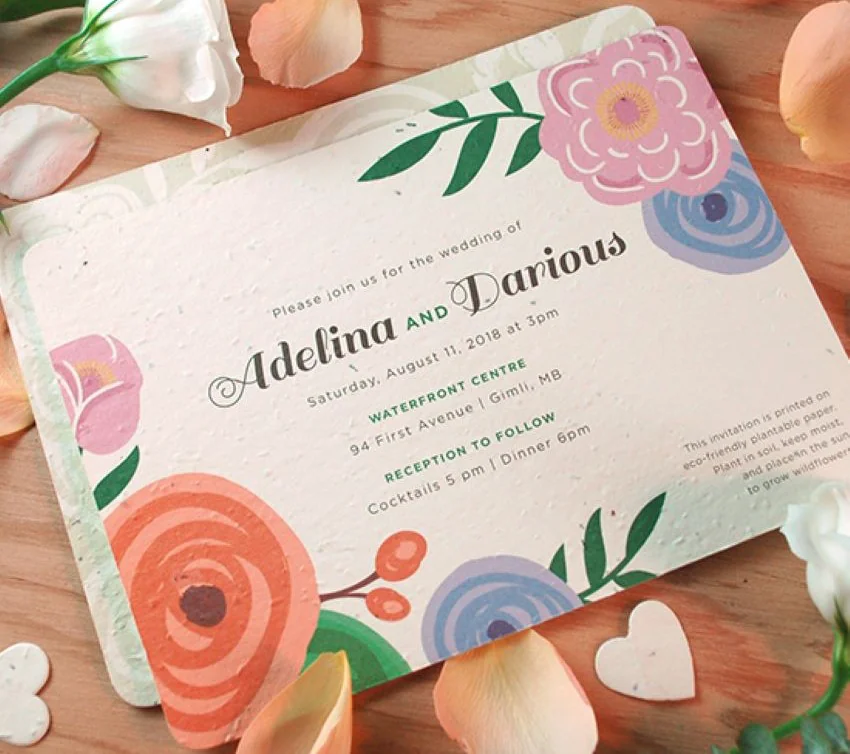 Spread your love for nature by opting for sustainable destination wedding invites.
These eco-chic wedding invitations come in various shades and styles and are infused with seeds.
All your guests need to do is plant them in the soil and watch stunning plants sprout from them!
Psst – here's a fabulous eco-friendly resort in Mexico for your destination wedding 👉 Sandos Caracol Eco Resort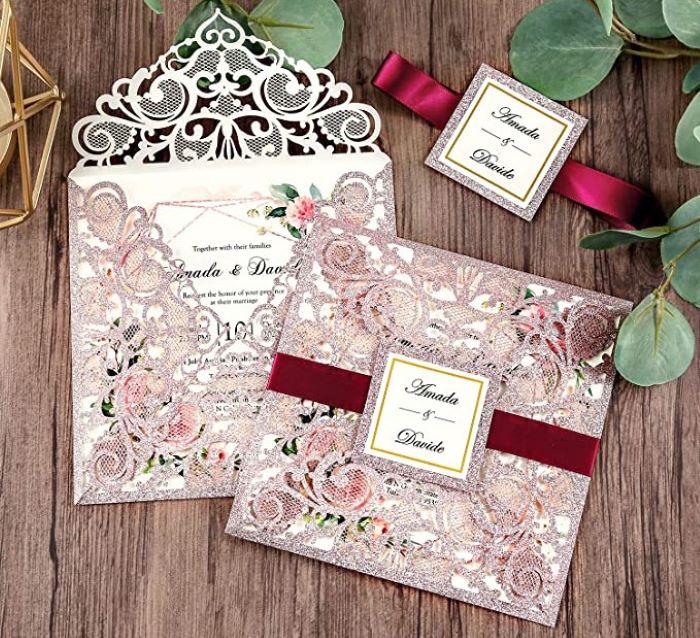 This is a popular one with couples.
The technique involves using a laser to carve out intricate patterns and designs onto the invite.
These patterns can be tailored to your preferences.
The end product is a breathtaking and elegant wedding invitation that you'll definitely love!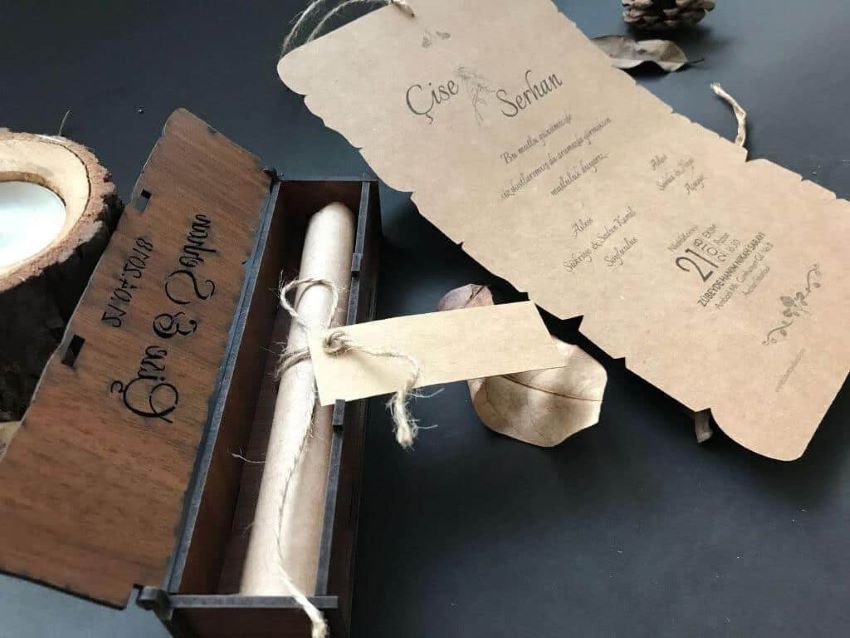 The scroll is a completely unique wedding invitation that you can use to give an ancient twist to your modern fairytale!
These invitations are typically made from paper or parchment and are rolled up and tied with a ribbon or cord.
You can customize the scroll and its packaging as per your wedding destination and/or theme.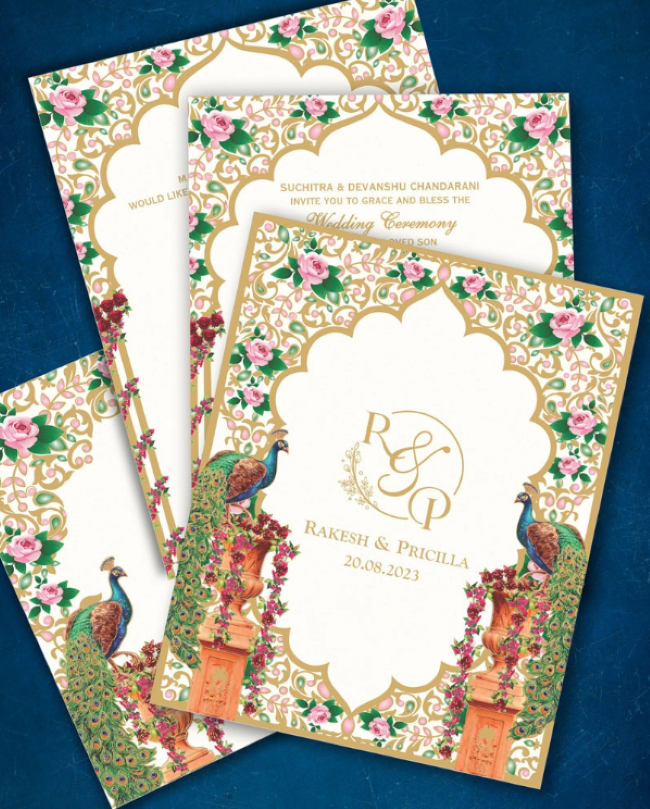 Getting married on a stunning beach in the Caribbean?
Or under the stars, in the Alps?
Or in a palace in Jaipur?
Make your destination and its culture a part of your wedding invite.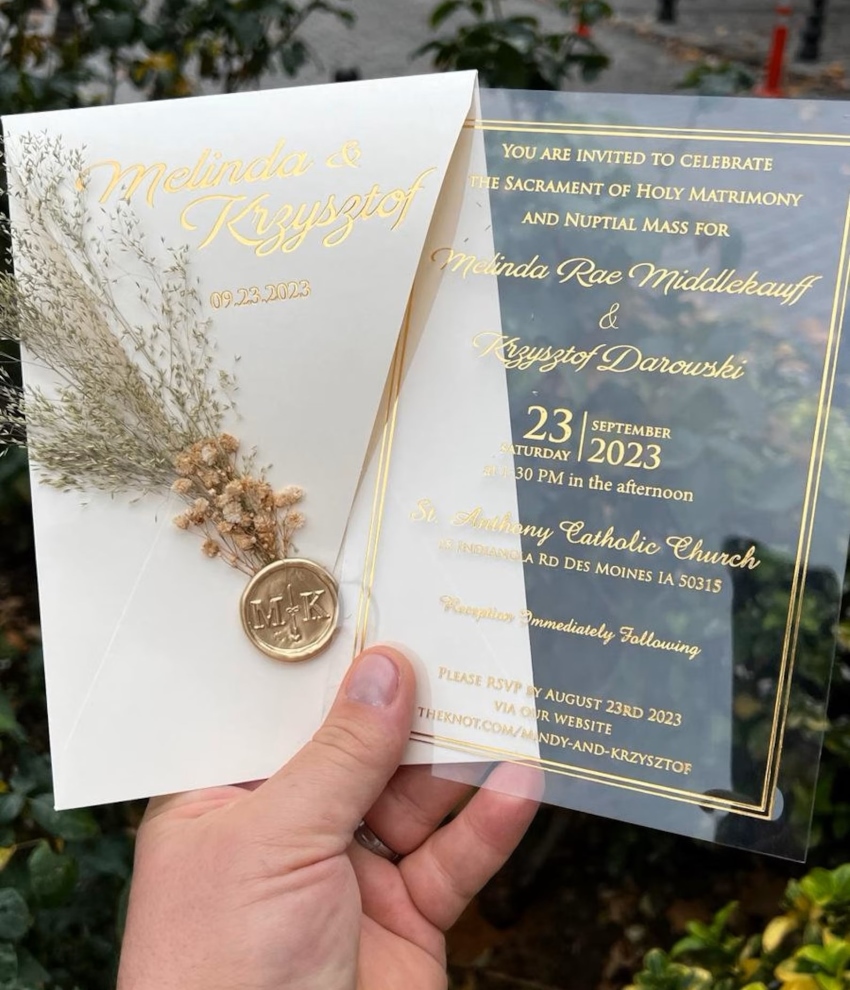 Try acrylic wedding invitations for a unique and unforgettable way to announce your big day!
This type of invitation also doubles up as a beautiful keepsake.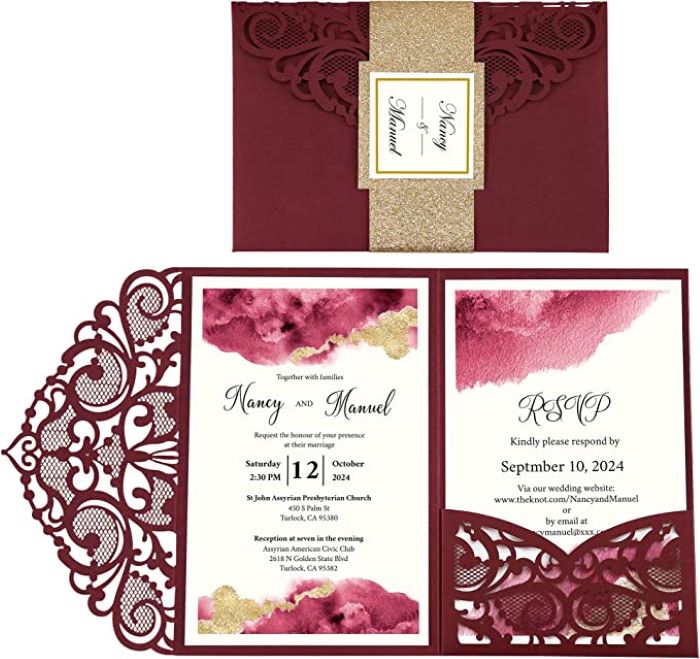 Spring, Summer, Fall, Winter… No matter which season you're getting married in, make it the theme of your destination wedding invitation.
Like regal maroons and browns for a fall wedding.
Vibrant greens for a spring wedding.
Sunny yellows for a summer wedding… you get the flow!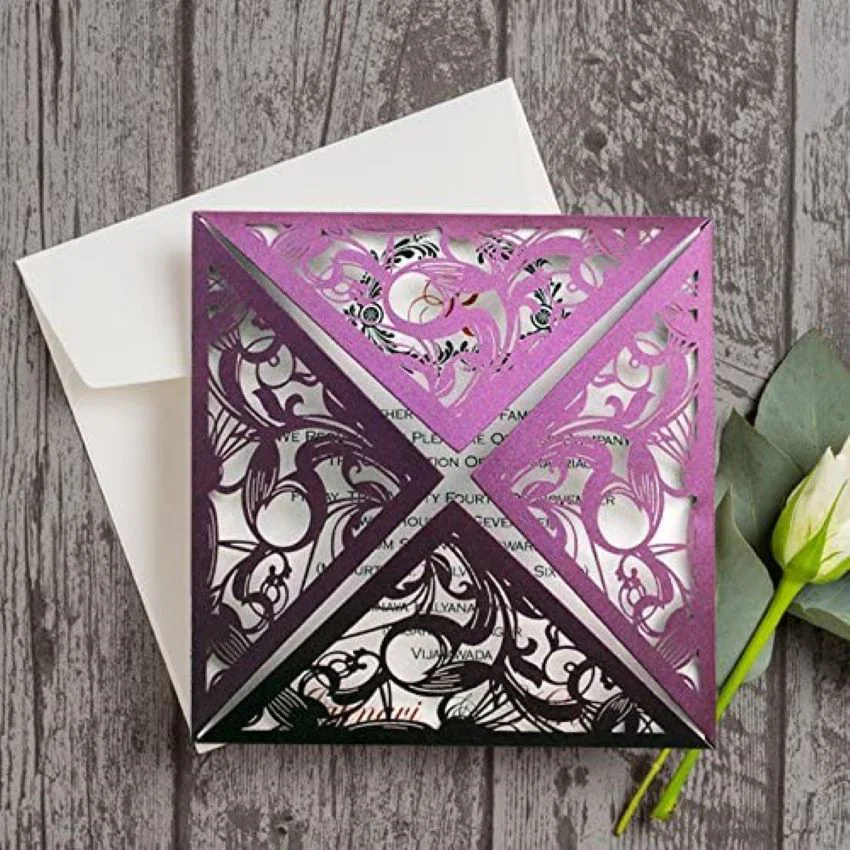 Who said a wedding invite has to be a flat, rectangular piece of paper?
It can be any shape you want it to be!
Like the pyramid shaped, 3 dimensional one above!
If you want a unique and creative one, go for illustrated wedding invitations.
This type of invitation is like a mini masterpiece!
And you can literally get anything you want illustrated – like the one above has the bride, groom and their cat!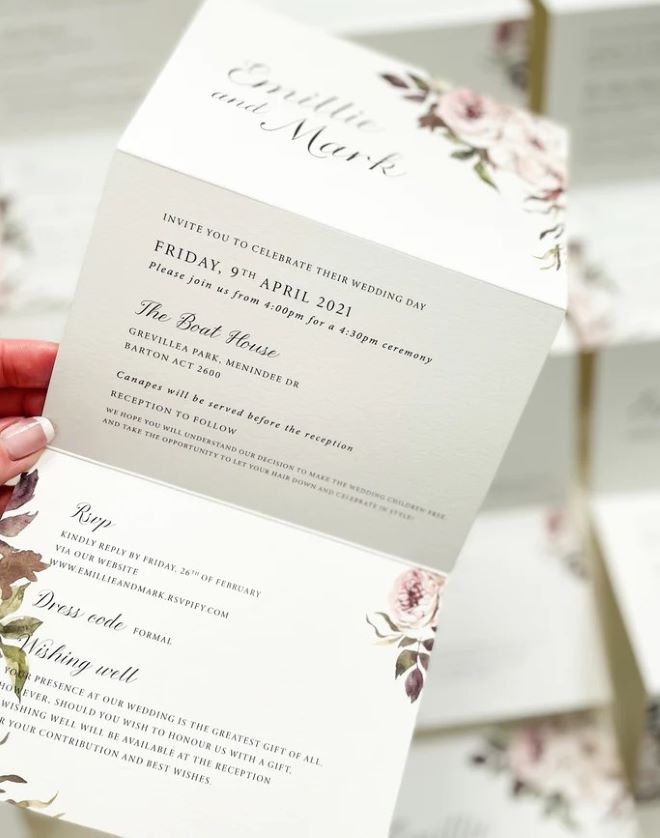 Fold-out wedding invitations are stylish and practical.
They feature multiple folds that reveal important details about your wedding day like the venues, timings, and accommodation details.
They are a handy way to keep all the necessary information in one place for your guests.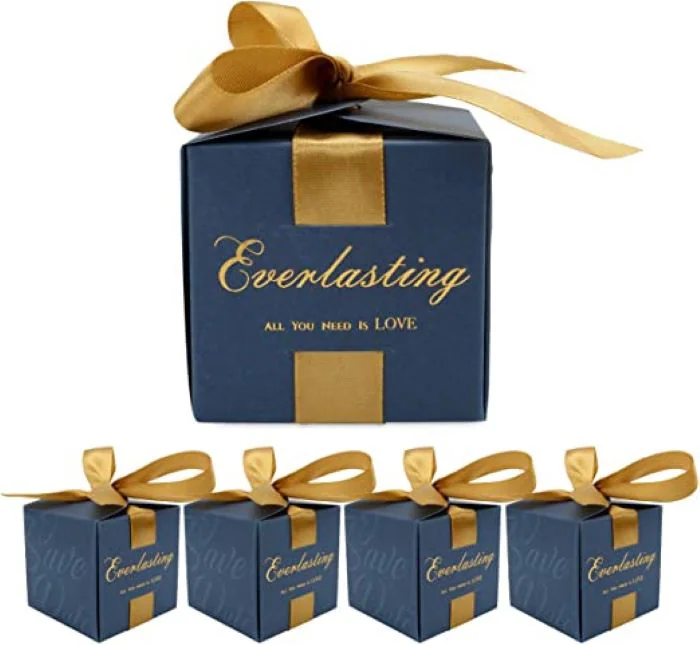 Want to take your wedding invitations to a whole new level?
Include goodies for your guests!
They can be anything, from tiny mementos to delicious snacks.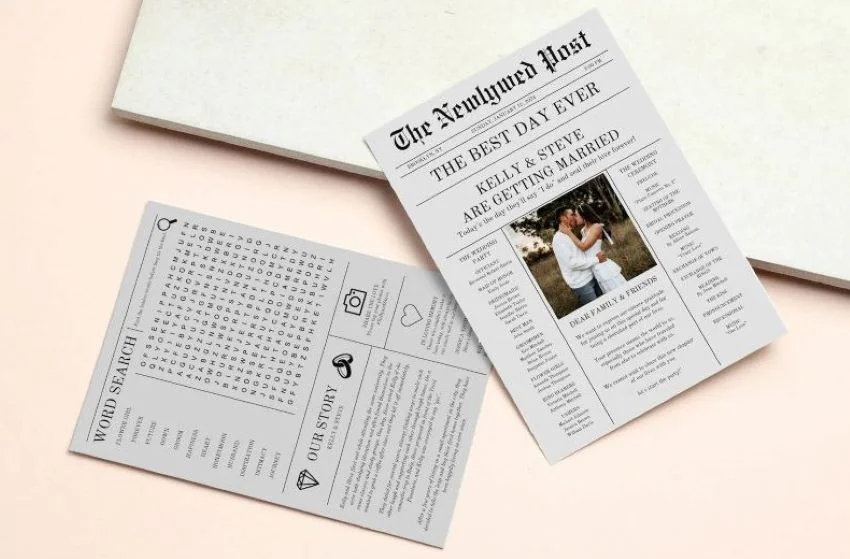 Look at this fun and quirky wedding invitation 'newspaper'!
If you want your invite to stand out, there's no better way than to stop the presses and get this printed!
Ok, that's all the puns I know!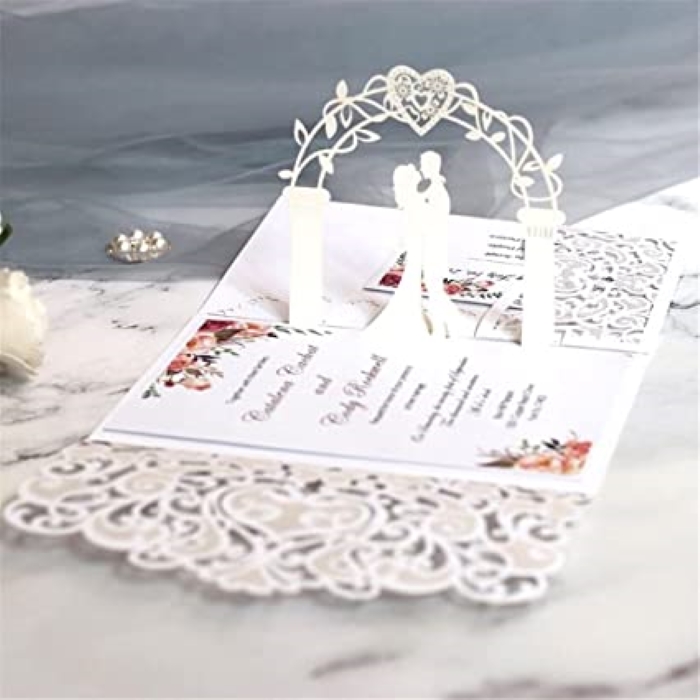 Pop-up wedding invitations are a unique and creative way to invite your guests.
These invitations feature 3-dimensional pop-up designs.
They are a fabulous and visually stunning experience for your guests!
In a sea of plain, boring destination wedding invitations, this one will stand out for sure!
It's got an almost rustic vibe to it.
You can get it customized, and even stick a magnet behind it to turn it into a fridge magnet!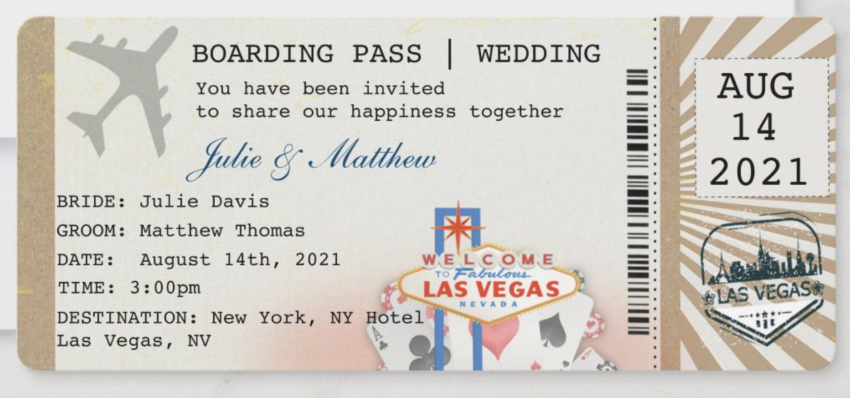 Your destination wedding deserves a travel themed wedding invite.
Just like the boarding pass invitation above! We totally love it!
You can even get passport wedding invitations and luggage tag invitations!
Ready for take off?!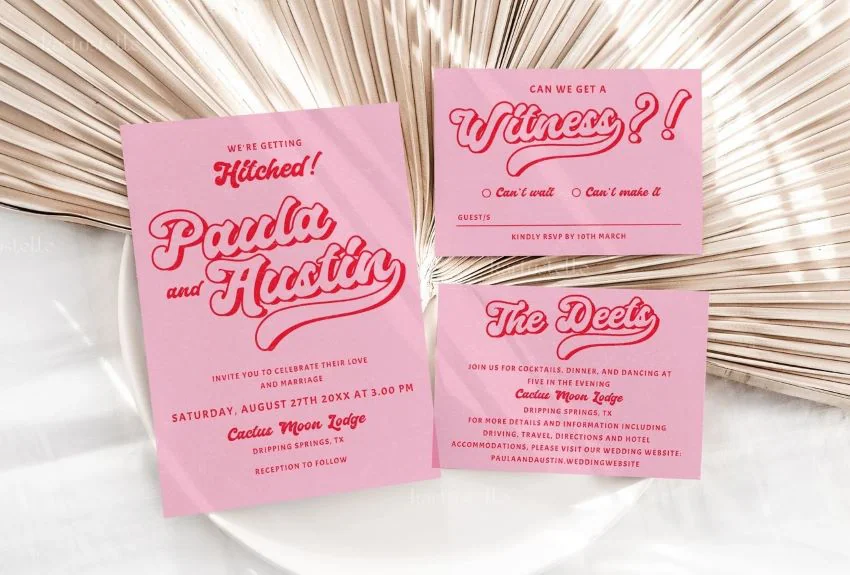 Love the vibe of the roaring 20s in the movies?
Or the swinging 60s? Or the naughty 90s?
Why not pick your favorite decade and style your destination wedding invitation accordingly?
Like the one above exudes the disco era – 70s.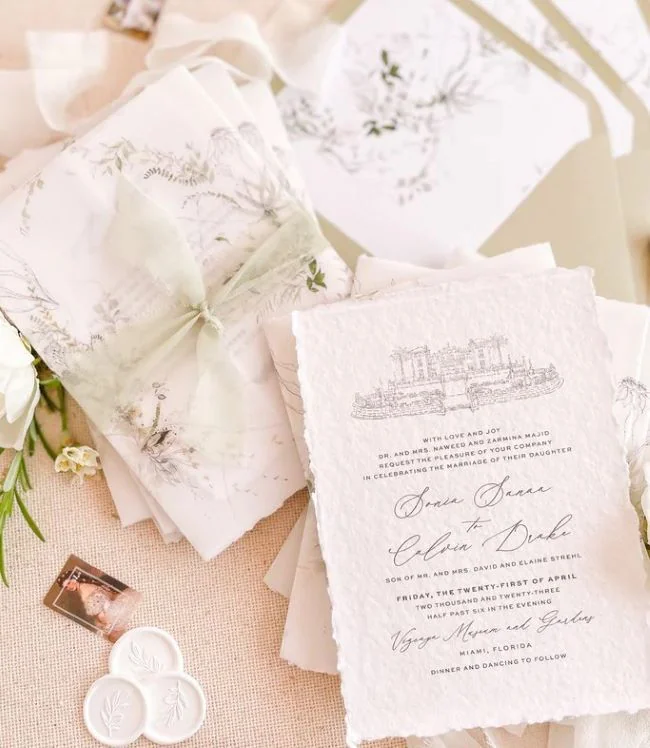 Handmade paper wedding invitations can be a beautiful and unique way to invite your guests.
The paper has its own texture and fibers and looks super classy and elegant.
Take it up a notch and use handwritten calligraphy instead of getting it printed.
Including your photo on the wedding invitation is a cute way to add a personal touch.
Just make sure to pick a photo you both love!
Afraid you'll lose precious space to write the details?
Just create a wedding website and mention it on the invite.
Or create a QR code that'll lead the guests to more details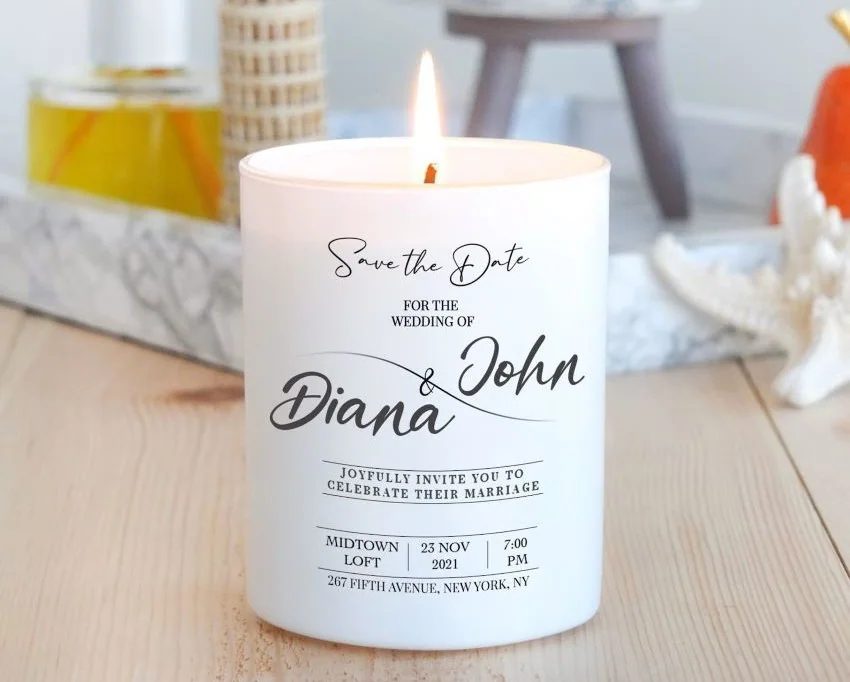 How unique and awesome is this one?!
Besides, it's super useful too!
Your guests will definitely love it!
Use a scent you both love to give this candle wedding invitation a personal touch.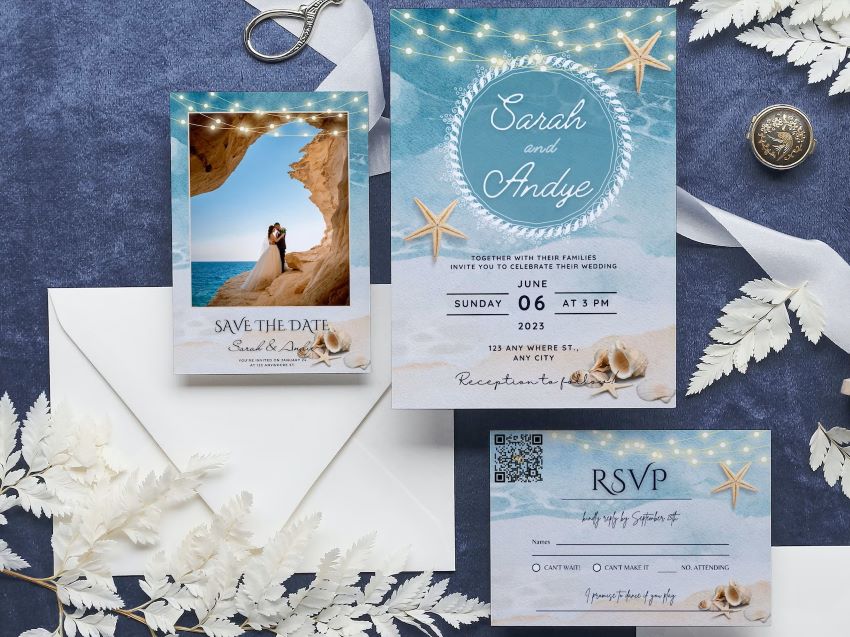 What's the venue for your wedding?
A gazebo on the beach? A chapel in a rustic town?
A pub? A barn?
Weave in the vibe of your venue in your destination wedding invitation.
Like the one above embraces the beach and how!
Psst – Here are 10 BEST Mexico wedding venues & locations to inspire you!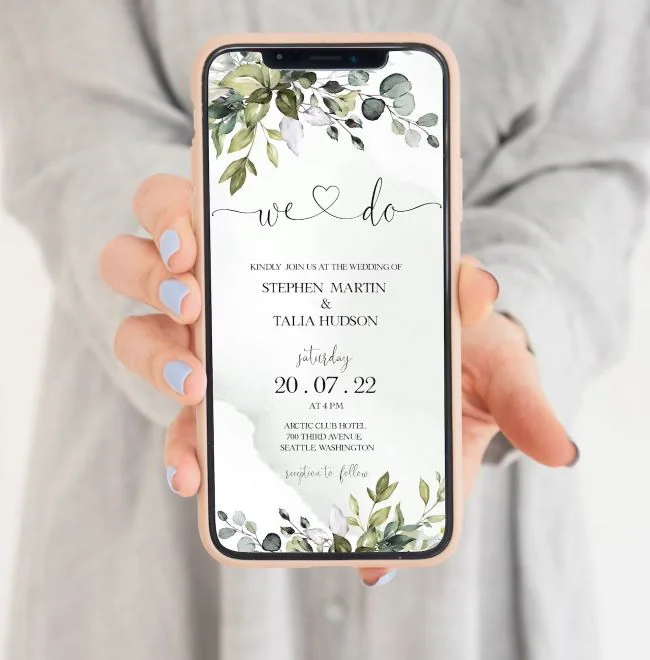 Saving the best for last!
An e-invite helps you save the hassle of getting many invitation cards printed.
It's also handy for your guests.
And it's cheaper – you can get an e-invite made for under $10.
Plus, you can incorporate almost all of the styles and ideas mentioned above!
Formal Wording:
"Together with joyous hearts,
[Couple's Names]
Invite you to celebrate their love
at their destination wedding in [Location].
Please join us for an unforgettable
weekend of love, laughter, and new beginnings.
[Date]
[Location]
Please RSVP by [Date]
[Additional details or website]
Playful Wording:
"Pack your bags, grab your sunscreen,
[Couple's Names]
are getting hitched!
Join us for a tropical celebration
in paradise at [Location].
We promise sun, sand, and a whole lot of love!
[Date]
[Location]
RSVP by [Date]
[Additional details or website]
Romantic Wording:
"Love knows no boundaries,
and our hearts have taken us far.
We invite you to share in our journey
as we say 'I do' in [Location].
Together, we'll create memories
that will last a lifetime.
[Date]
[Location]
Please kindly respond by [Date]
[Additional details or website]
Simple and Elegant Wording:
"Join us for a celebration of love
as [Couple's Names]
exchange vows in [Location].
Your presence is requested
for this joyous occasion.
[Date]
[Location]
Kindly reply by [Date]
[Additional details or website]
Unique Wording:
"Grab your passport and join us
on an adventure of love and matrimony!
[Couple's Names]
are tying the knot in [Location],
and we want you to be there
to share this incredible journey with us.
[Date]
[Location]
Please RSVP by [Date]
[Additional details or website]
Overwhelmed by all the destination wedding planning?
Allow us to help!
Our team at ParadiseWeddings.com have planned 100's of destination weddings and yours could be next.
Call us today at 877-737-0177 or contact us here for a free consultation.
Can't wait to hear from you!