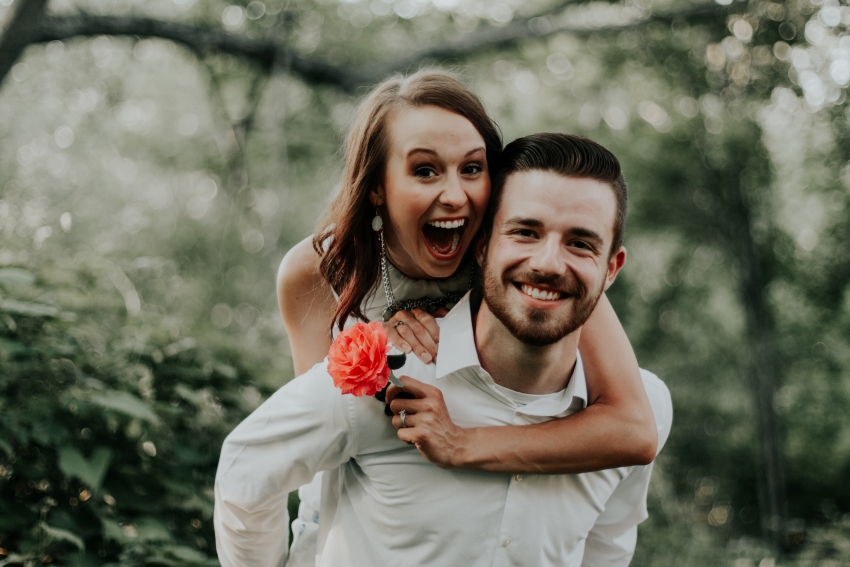 I know what you're thinking…
"Why should I have a destination wedding? What's the big deal?"
Well, does a 3-day party in Mexico with your family + friends AND saving 80% of your wedding sound like a big deal? Cause it is!
I have 10 MAJOR reasons why you should consider a destination wedding.
It's time to get a little excited.
Dig in!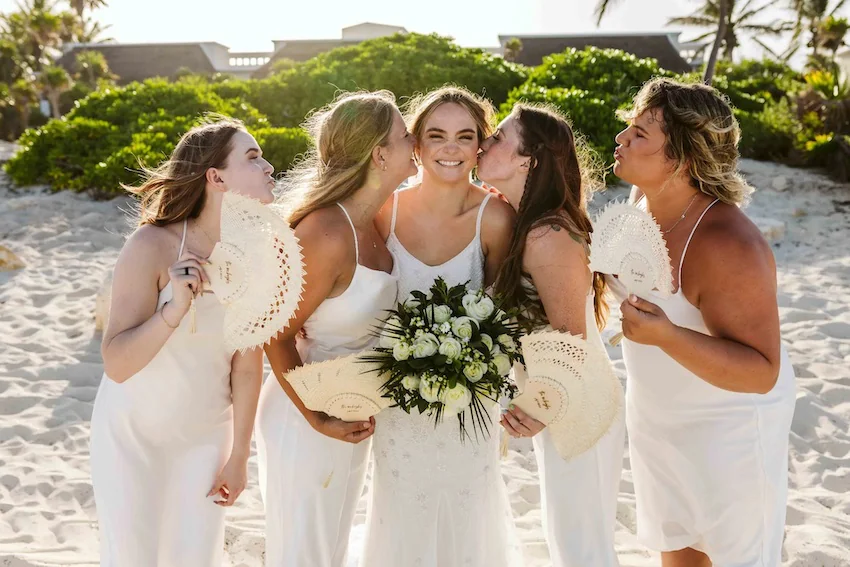 Destination weddings are usually slightly more intimate.
You get the perfect excuse to trim down your guest list to only the folks who truly mean the most to you.
Having said that, many resorts offer wedding packages for 100 guests, and also have venues that can accommodate 200 to 800 guests.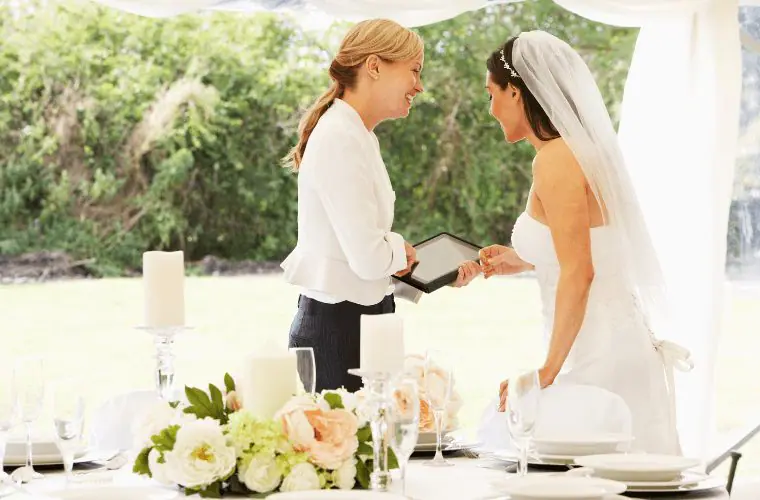 Yes, it's your wedding, but YOU who needs more stress in their lives?
Almost every all-inclusive resort offers all-inclusive wedding packages and dreamy wedding venues to choose from.
From the wedding to floral arrangements, food, and reception, everything is taken care of.
Once you choose a destination wedding planner, you're all set! They're like travel agents but they specialize in destination weddings. So, it's essentially FREE help.
Planners help you with:
– selecting the perfect all-inclusive resort.
– choosing a wedding package.
– getting the best prices on everything.

Guests will also get the red-carpet treatment since the agency organizes travel for everyone. No stress!
Are destination weddings really affordable, you ask?
YES! 100%
Lemme put things into perspective…
The average cost of a wedding in the US is about $28,000 to $30,000 – ouch!
An all-inclusive destination wedding in, say Mexico, will cost you around $2,500 to $5,500 for 20 to 50 guests.
This includes everything… the wedding ceremony, flowers, food & drink, reception, DJ, the works!
Who wants more money in their pocket?
Just think of all the margaritas and palomas you can sip on the beach with that kind of extra cash!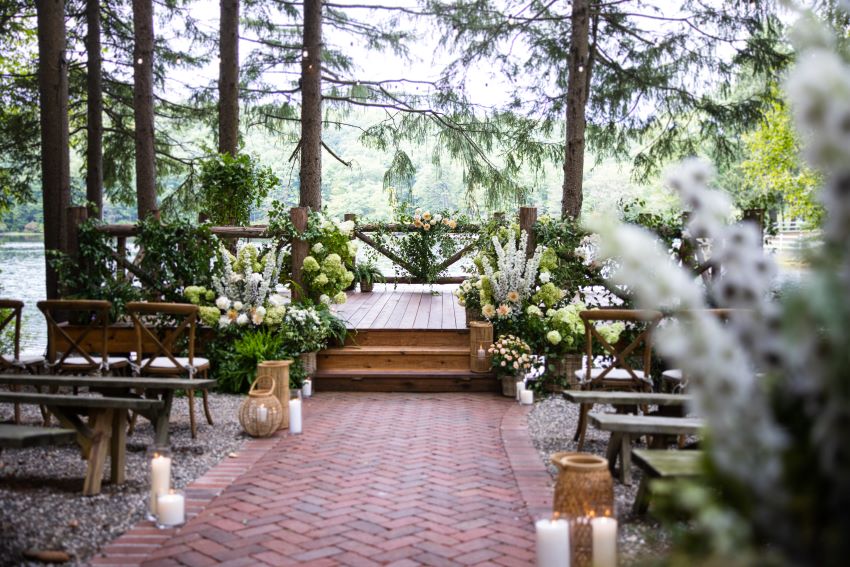 Always wanted to go cenote diving in Mexico?
Or lakeside camping in Switzerland?
Or explore the African savannah?
Opt for a wedding at your dream destination and you could be knocking off items from your travel bucket list!
Psst! Got Mexico on your mind? Here are 10 amazing Mexico wedding venues & locations!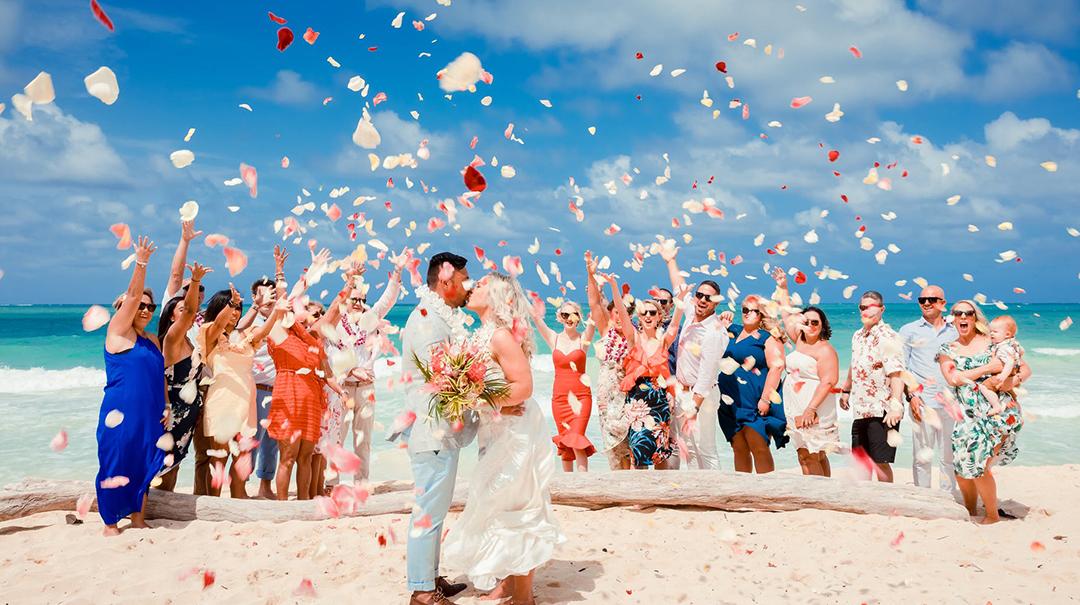 I know! Sounds like a heavy term!
Simply put, destination weddings act as the common meeting grounds between 2 locations or cultures.
For example – 1 partner's from Texas, the other has roots in Japan, both stay in LA… Where do you have the wedding?
In an exotic destination of course, with both the cultures coming together beautifully!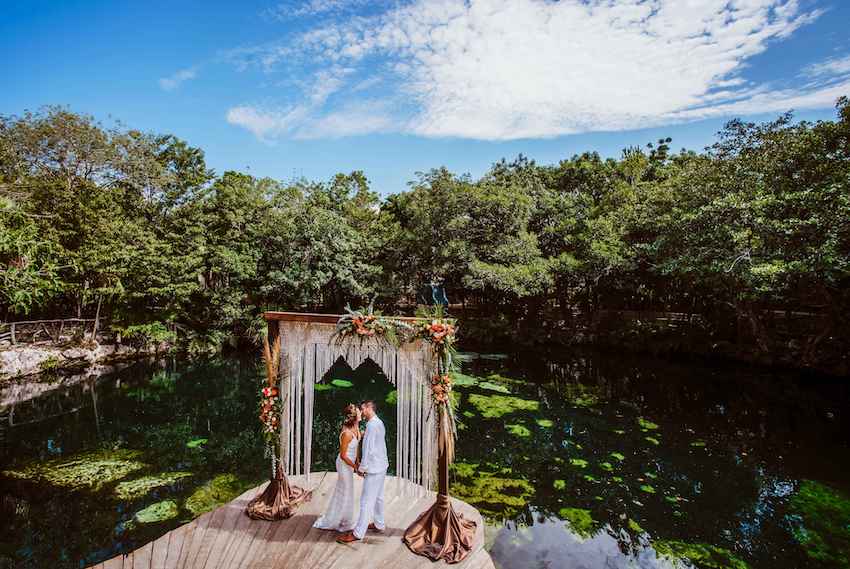 Wouldn't it be awesome if you could just skip the regular 45-minute ceremony and the predictable reception dinner?
Well, here's an idea – why not go somewhere new and exciting and experience something completely unique?
How about a Mayan wedding ceremony in Mexico, or a Maasai wedding in Tanzania, or a Vedic wedding in India?
Every place has its own special customs that will add a little cultural spice to your big day!
That's why many couples nowadays are choosing destination wedding packages that have a local flair.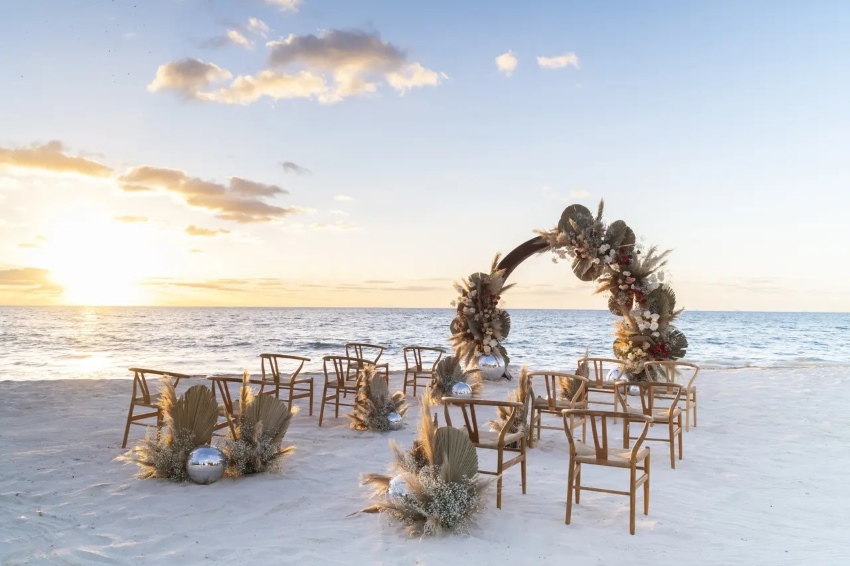 When deciding on having a destination wedding, weather is just as crucial as cost, if not more so.
If you really want to have a wedding in say November or December, ditching the cold and heading over to the Caribbean, Maldives, Mexico, Jamaica, Hawaii, or Costa Rica makes more sense.
Couples are now opting for exotic destinations just so they can escape the gloomy weather back home!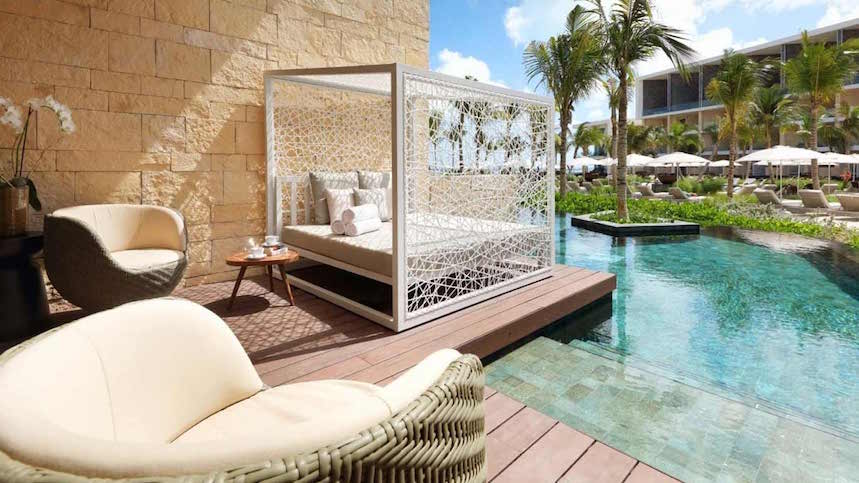 From massive rooms the size of an apartment to 2-storey penthouses…
From rooms with private pools to dreamy swim-out suites…
The accommodation options are endless when you decide to opt for a destination wedding.
Besides, amenities and features in these rooms and suites are capable of spoiling you to the core!
Let's just say, you and your guests might not want to leave!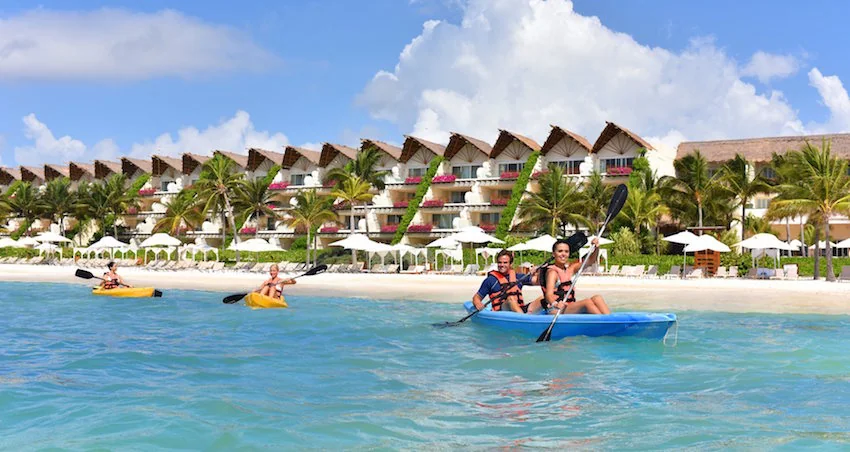 With a local wedding, you get just a few hours with your guests, and you are exhausted by the end of the day.
Destination weddings are all the rage because they give the couple more time to hang out and have fun with their guests.
If you want, the celebrations and events can be dragged out over several days.
Besides, many resorts offer awesome activities and entertainment options for you and your guests to choose from.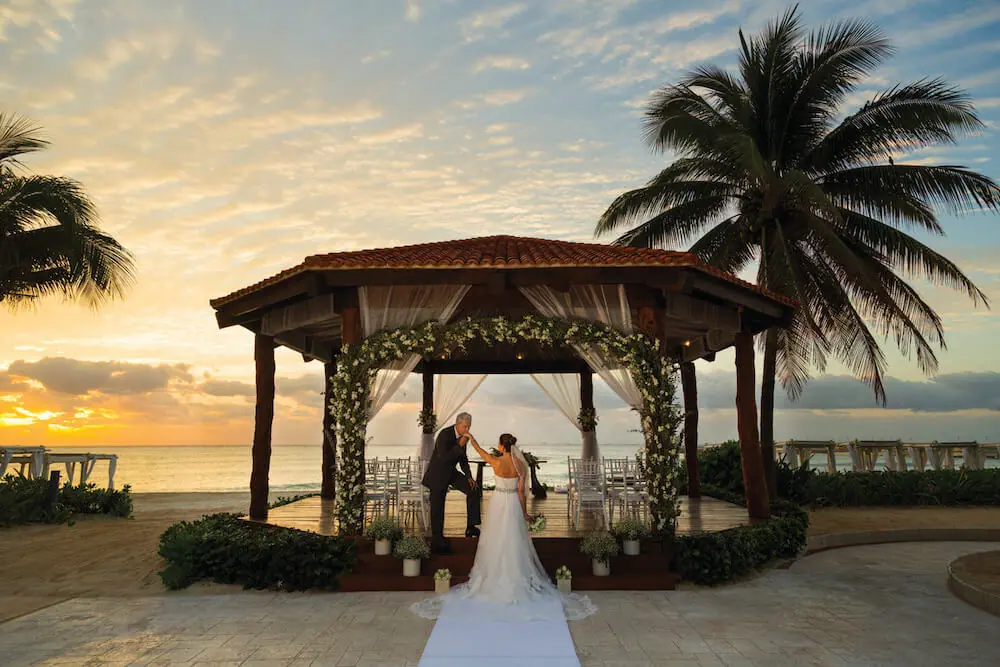 Last but definitely not least, destination weddings are popular because of the stunning locales you can opt for.
Your local banquet hall or chapel may not have the best scenery for wedding photos.
However, if you consider places like the Italian countryside or the Mexican Riviera, you can capture some amazing shots for your big day!
Planning a destination wedding can be overwhelming and confusing. Where do you even start?
Start with us!
Our wedding planners have planned 100's of weddings in Mexico and the Caribbean at all-inclusive resorts. We can help you too.
Call us today at 877-737-0177 or contact us here for a free consultation.
Can't wait to hear from you!