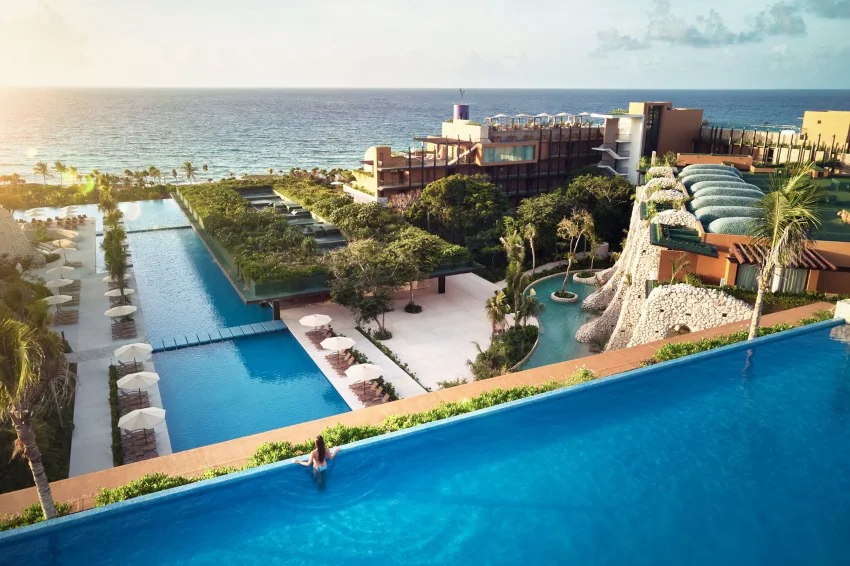 Weddings at Hotel Xcaret Arte | Our Honest Review
Really loving the idea of hosting your destination wedding at Hotel Xcaret Arte?
It's stunning, no doubt!
But if you were totally set on it, you probably wouldn't be here right now.
No worries, though!
Our seasoned destination wedding planners are spilling all the beans about this hotel.
Wedding venues, packages, the pros and cons, everything!
We've even thrown in a list of similar resorts for you to scope out.
Alrighty then, let's dive straight in!
Hotel Xcaret Arte is a beautiful tribute to Mexican culture, art, and its people.
Crafted by talented Mexican artists and architects, this breathtaking beachfront hotel shapes an exclusive adult-only sanctuary.
The hotel seamlessly blends with the stunning backdrop of Riviera Maya.
And we love that sustainability is at its heart.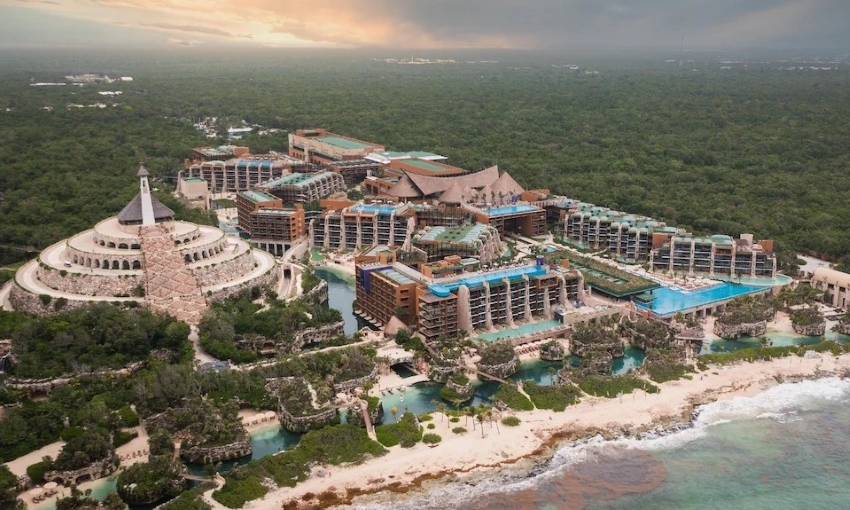 During your stay here, you and your wedding guests will be treated to top-notch modern comforts.
Our wedding specialist Nadiya adores the authentic Mexican vibe of the hotel – she loves that you'll find Mexican sweets in your suite instead of Pringles.
The hotel is composed of 6 distinct structures known as Casas.
Each Casa houses its own creative workshops for guests to immerse themselves in.
You'll also find 10 dining experiences on the property; each one is as delicious as it is luxurious. 
Oh, and here's the cherry on top – you'll have unrestricted entry to Xcaret's renowned adventure parks!
So, Mexico is where you want to have a dream destination wedding, am I right?
Well, Hotel Xcaret Arte is ready to make it happen for you!
They've got 3 wedding packages that span various budgets and requirements.
And they also offer a beautiful Prehispanic Ceremony which includes 1 priest, 2 smokers, 1 musician, 1 goddess Ix Chel, and 1 god Itzamn.
This ceremony costs $4,232 and can be clubbed with the wedding package you choose.
The 3 wedding packages include:
Pasion | $4,232 for 30 guests
Romance | $6,877 for 30 guests
Deluxe | $11,638 for 30 guests
Additional guests can be invited for $119 – $225, depending on the package you choose.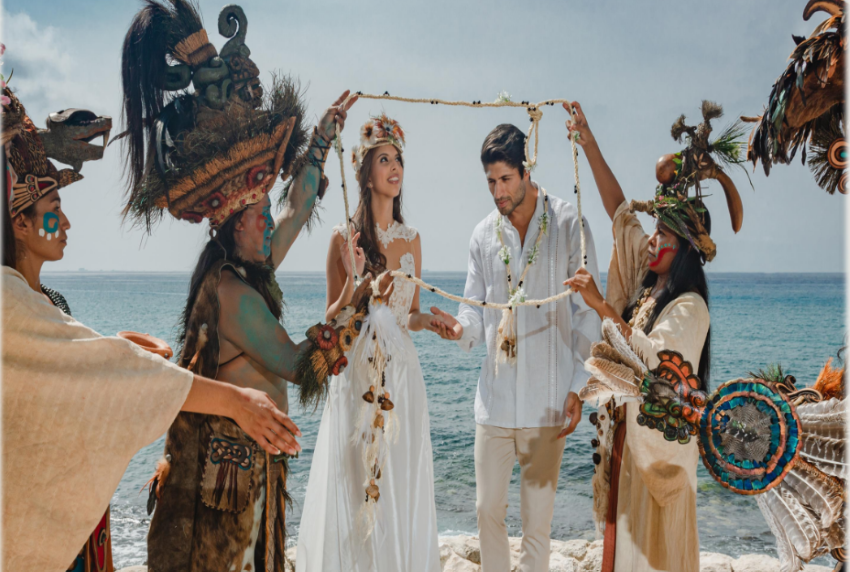 Deluxe Wedding Package:
We love the Deluxe wedding package offered by this resort.
Although slightly on the expensive side, the package includes everything, from the ceremony to the reception dinner.
For $11,638, you get all these inclusions:
Venue for the ceremony.
Minister for symbolic ceremony.
Deluxe Gazebo Setup.
Table for the ceremony with flower arrangement.
Toast with sparkling wine.
Soloist for the ceremony.
Audio and microphone for the ceremony.
1-hour cocktail hour with open bar.
4-hour private reception dinner with open bar and 3-course menu.
Wedding cake.
Bridal floral bouquet and boutonniere for the groom.
Bouquet and boutonnieres for bridesmaids and groomsmen.
Access to the hydrotherapy area for bride & groom.
$200 gift certificate for Xtudio Photography services.
You have 9 beautiful wedding venues to choose from at Hotel Xcaret Arte!
Whether you want a wedding on the beach, in a garden, on a terrace, or in a chapel, all your options are stunning! 
1. Ecumenical Temple
The quaint Ecumenical temple at Hotel Xcaret Arte is a domed structure facing the Caribbean Sea.
It offers a beautiful backdrop to your wedding ceremony.
Ceremony – up to 120 guests
2. Mirador Artistas
Looking for a venue that's close to the ocean and offers stunning views
This beachfront terrace is the one for you!
It's perfect for an intimate, outdoor celebration that isn't right on the beach.
Ceremony – up to 40 guests
Cocktail – up to 40 guests
Reception – up to 20 guests
3. Chapel of Todos Los Angeles
This one's possibly one of the most photographed and recognized structures at the hotel!
Antonieta from our team loves it; says it has an amazing ocean view, and it's covered so you don't need to worry about unseasonal rains!
Ceremony – up to 150 guests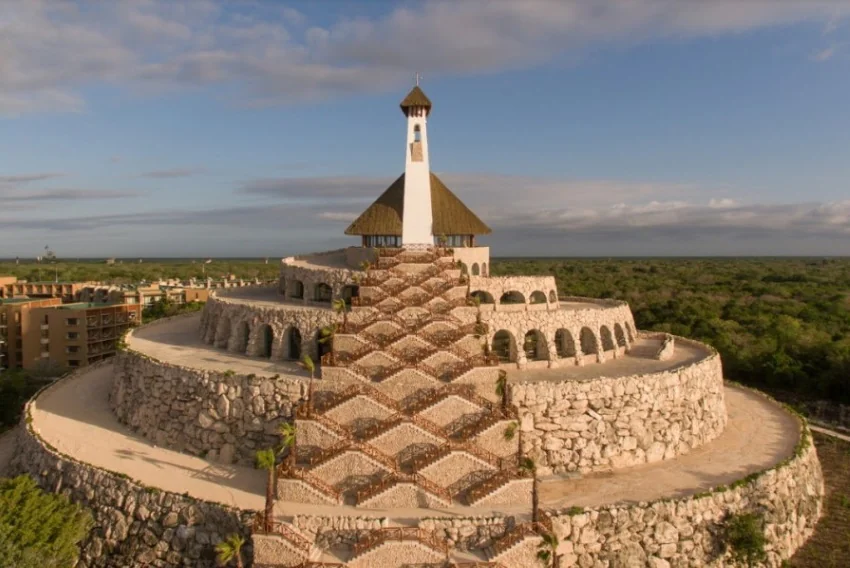 4. Garden Ecumenical Temple
Make this unique garden venue your own by customizing it with you favorite décor, flowers, and aisle runners. 
Garden Ecumenical Temple is a small area that can be used to celebrate different events from your wedding week.
Ceremony – up to 50 guests
Cocktail – up to 50 guests
Reception – up to 50 guests
5. Playon Piramide
This poolside venue is as unique as they come!
Top it off with traditional Mexican architecture and you've got a mesmerizing wedding venue! 
Ceremony – up to 80 guests
Cocktail – up to 250 guests
Reception – up to 60 guests
6. Foyer
The foyer is perfect for a hosting your fun cocktail hour.
But it's not a favorite with our wedding specialists and couples. There are far better options for you, TBH!
Cocktail – up to 200 guests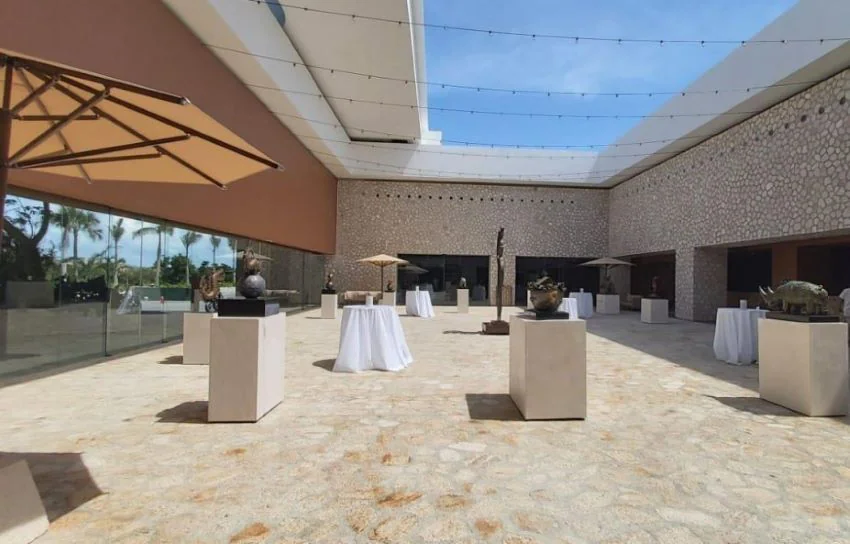 7. Palms Beach
With swaying palms, a deep blue sea, and gorgeous white sand, this beach at Hotel Xcaret Arte sets the stage for your dreamy destination wedding in Mexico!
Our couples simply love this wedding venue!
Ceremony – up to 100 guests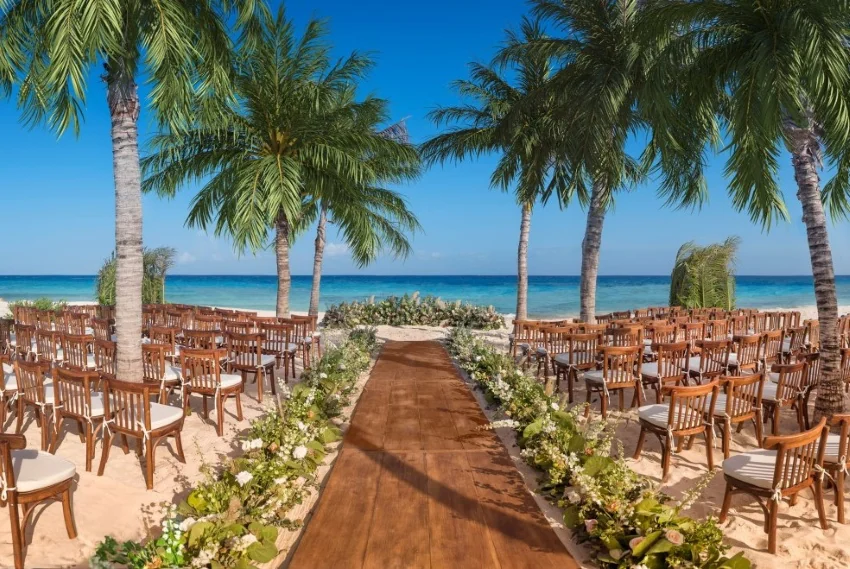 8. Frida Ballroom
If you're thinking about having a huge wedding indoors, this ballroom is totally awesome for that.
It features a rustic and chic décor.
Ceremony – up to 300 guests
Cocktail – up to 300 guests
Reception – up to 300 guests
9. Diego Ballroom
This beautiful ballroom would be a wonderful choice for hosting a big destination wedding!
The cute chandeliers and chic décor create a glamorous and elegant atmosphere.
Ceremony – up to 600 guests
Cocktail – up to 600 guests
Reception – up to 600 guests
Hotel Xcaret Arte caters to all weddings, including same-sex weddings.
Anyone from the LGBTQ+ community can be at ease knowing they can design their dream wedding here. 
Many couples handle the legalities back home and have a symbolic ceremony at the hotel.
But, if you want to have a legal same-sex wedding in Mexico, it's totally doable.
You just need some extra planning and paperwork.
Contact our wedding planners and they'd be happy to help!
We're really fond of how the hotel embraces artistry, and this creativity shines through in their suites.
The hotel's 900 suites draw inspiration from local and national artists, giving them a unique flair.
Inside the suites, you'll be treated to a blend of Mexican décor and a variety of organic amenities that spoil you and your wedding guests.
In fact, our wedding specialist Marie says that the steam shower in the suite is hands down the best shower she's ever had! She also loves the lava stone tub on the terrace.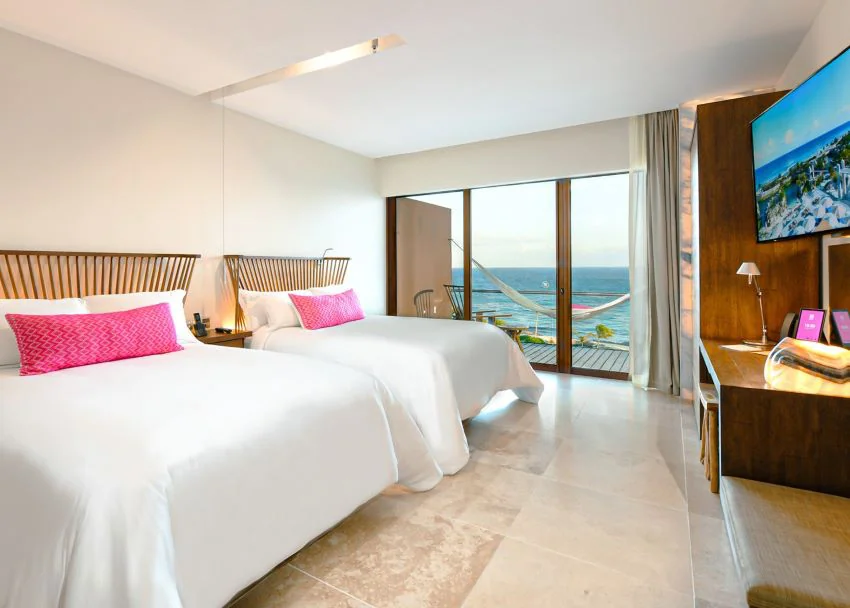 You get to choose from 7 suite categories…
Garden Suites | views of the gardens, protected green areas, or the Quintana Roo jungle.
River Suites | views of the river that surrounds the hotel.
Ocean View Suites | suites with a partial view of the Caribbean Sea.
Ocean Front Suites | suites with frontal views of the Caribbean Sea.
Junior Suites | suites with living room, dining area, separate bedroom and jacuzzi on the terrace.
Master Suites | suites with wide spaces including living room, dining area, separate bedroom and organic amenities.
Presidential Suites | suites with 2 bedrooms, multiple terraces, and carefully curated spaces.
For the wedding couple, we highly recommend the Ocean Front swim-out suite!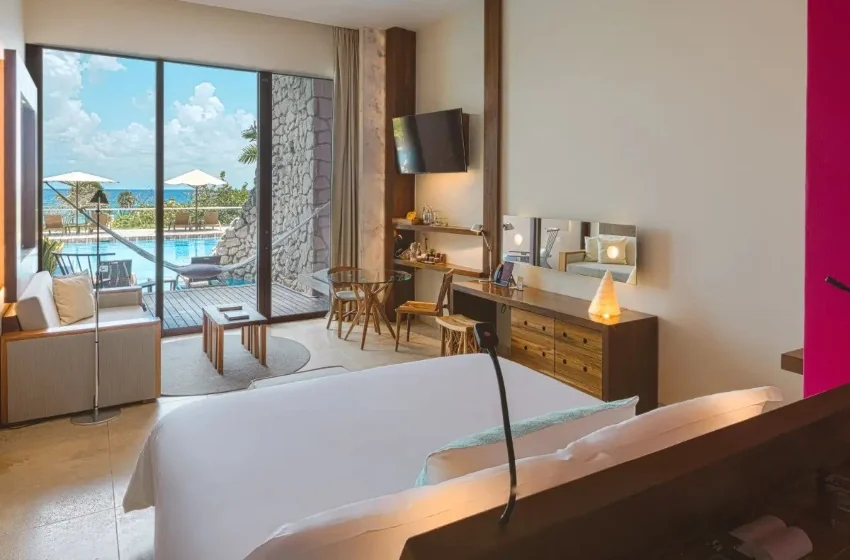 Get ready to drool over stunning Caribbean Sea views from your exclusive swimming pool that you'll be able to access from your private terrace!
This ocean front suite comes with unlimited access to all of Xcaret's parks – Xcaret, Xel-Há, Xplor, Xplor Fuego, Xavage, Xenses, Xoximilco and Xenotes!
In-suite amenities include a jacuzzi, minibar and snack basket, Nespresso coffee machine/ tea, 300 thread Egyptian cotton sheets and even a pillow menu.
You'll also find traditional Mexican hammocks in the balcony.
Hotel Xcaret Arte offers plenty of pools for you to make a splash in!
You've got the main infinity pool with a swim-up bar, plus 4 rooftop pools on each of the Casas.
And let's not forget the slick glass tunnel infinity pool.
They've also sprinkled some smaller pools around the place.
All in all, you're looking at a grand total of 15 pools to enjoy!
The hotel boasts a beautiful private beach, complete with umbrellas and cabanas. 
We feel like the only problem with the beach is that it's rocky in patches.  
At Hotel Xcaret Arte, you've got a lot of awesome gastronomy options – 10 dining experiences, 8 bars including swim-up bars, and 2 cafes for that caffeine fix.
Your wedding guests won't be going hungry, that's for sure!
And the best part? You'll get to enjoy the fantastic tastes of Mexico without even leaving the resort – they've got everything from scrumptious local flavors to agave spirits and classic cocktails.
Nadiya, our wedding expert, can't speak highly enough about the Maracuya gin tonic – it's a must-try according to her!
10 dining options include… 
XAAK | Contemporary Mexican cuisine.
Encanta | signature Mexican restaurant by Michelin star chef.
Chino Poblano | cuisines from Puebla and China.
Cantina VI.AI.PY. | Oaxacan cantina.
KIBI KIBI | Cuisines from Yucatan and Lebanon.
Mercado de San Juan | flavors from Mexico's towns.
CAYUCO | Mediterranean-Mexican cuisine.
TAH-XIDO | Contemporary Japanese cuisine.
Arenal | Mexican cuisine.
Apapachoa | 100% plant-based vegan restaurant.
Whether you're seeking romance or relaxation, live entertainment or sports, this place has got everything covered!
Safe to bet that you and your guests will have an absolute blast at Hotel Xcaret Arte!
And let's not forget, you get unlimited access to Grupo Xcaret's renowned adventure parks!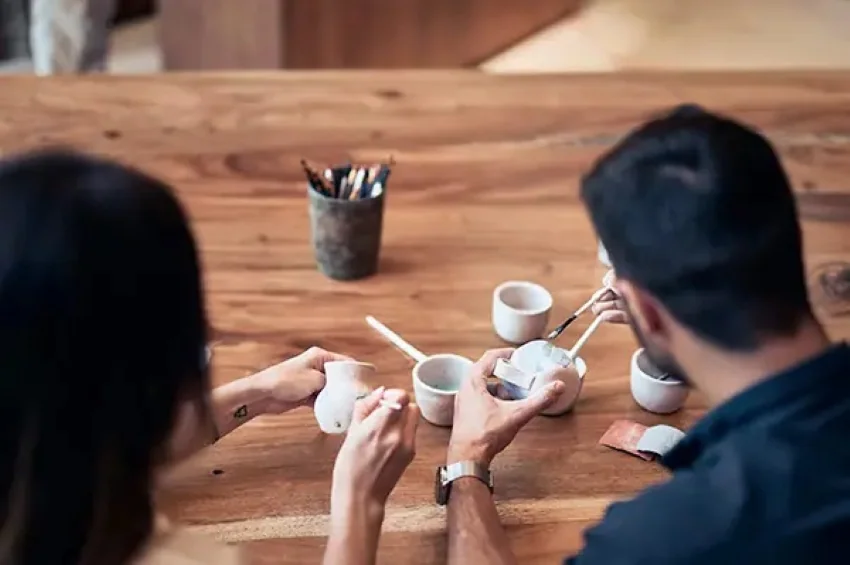 Fun activities and entertainment include…
Adventure parks
Spa
Fitness center
Live music
Water sports
Xcaret Xailing (ferry to nearby islands)
Catamaran tours
Xunset Party
Creative workshops – dancing, pottery, weaving, painting and literature
Snorkeling
Q. How far is Hotel Xcaret Arte from the airport?
Hotel Xcaret Arte is 45 minutes away from Cancun International Airport.
Q. Is Hotel Xcaret Arte family-friendly?
No, Hotel Xcaret Arte is an adults-only (16 years old and above) hotel.
Q. What is the difference between Xcaret and Xcaret Arte?
Hotel Xcaret Arte is an all-inclusive adults-only hotel. It opened in 2021 and focuses more on giving you an authentic Mexican experience through its food, art, and design.
Hotel Xcaret Mexico is a family-friendly hotel that opened in 2017. It has a modern feel to it. 
Q. Do I have access to Hotel Xcaret facilities if I stay at Hotel Xcaret Arte?
According to our wedding specialist Dana, only people staying in the upgraded La Casa de Los Artistas can use the amenities in both Hotel Xcaret and Hotel Xcaret Arte.
Q. Is Hotel Xcaret Arte wheelchair accessible?
Yes, you'll find ramps and wheelchair accesses in the common areas. The hotel also has suites that are conditioned for people with disabilities.
Undoubtedly, Hotel Xcaret Arte is an incredible hotel that guarantees a dreamy destination wedding filled with beautiful memories.
But, is it the perfect fit for you? What's the insider info?
I asked the same to our team of destination wedding experts, and here's the lowdown they shared…
Things we love: 
A variety of gorgeous wedding and reception venues.
Incredible wedding packages.
Unlimited access to adventure parks!
Our wedding specialists love that the rooftop pools are warm in the winters. 
Free transfer to and from the airport!
Hydrotherapy in the spa is something our couples love!
Excellent food; our wedding specialists swear by it!
Things we don't love: 
Guests have complained about the butlers missing despite being promised butler service. 
A few guests have complained about their bookings getting mixed up. 
Customer service team could use some training.
Our wedding specialist Marie wishes there was a lobby bar; you have to walk a bit to reach a bar nearest to your casa.  
The hotel is super nice. The food is great. It's a very Mexican culture centric hotel - you won't find Pringles in your suite, you'll find a bunch of delicious Mexican sweets!
Still unsure? 
Take a look at these 3 similar resorts that could be perfect for your wedding. 
All set to plan your destination wedding at Hotel Xcaret Arte?
Remember, you don't have to do this all alone.
We at Paradiseweddings.com would love to help you! Our services are free. Think of a travel agency that only organizes destination weddings.
Call us today at 877-737-0177 or contact us here.
Talk to you soon!