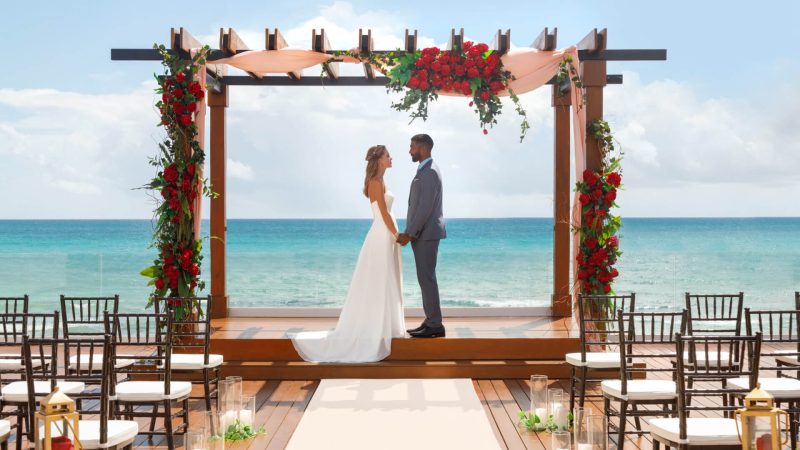 You're walking down the aisle, white sand under your feet.
What's that you hear?
Waves crashing, birds chirping… and absolutely no crying babies! 🙌
Let's face it…
A riled-up child on your big day should not be one of your worries!
That's why our team of expert wedding planners here at ParadiseWeddings.com put this article together.
Ready to find the best adults-only resort and half-and-half resorts for your destination wedding in Mexico?
Let's dive in!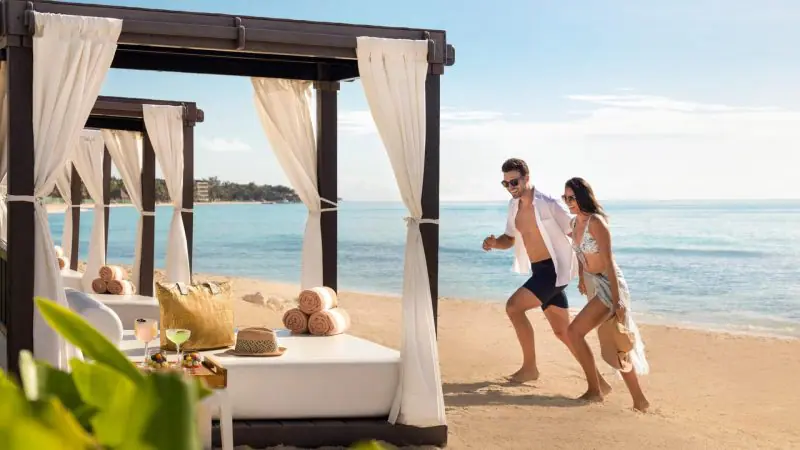 Best Adults-Only Wedding Resorts in Mexico
1. Hilton Resort Playa del Carmen
★★★★★ | Adults-only | All-inclusive | Cancun | 513 Suites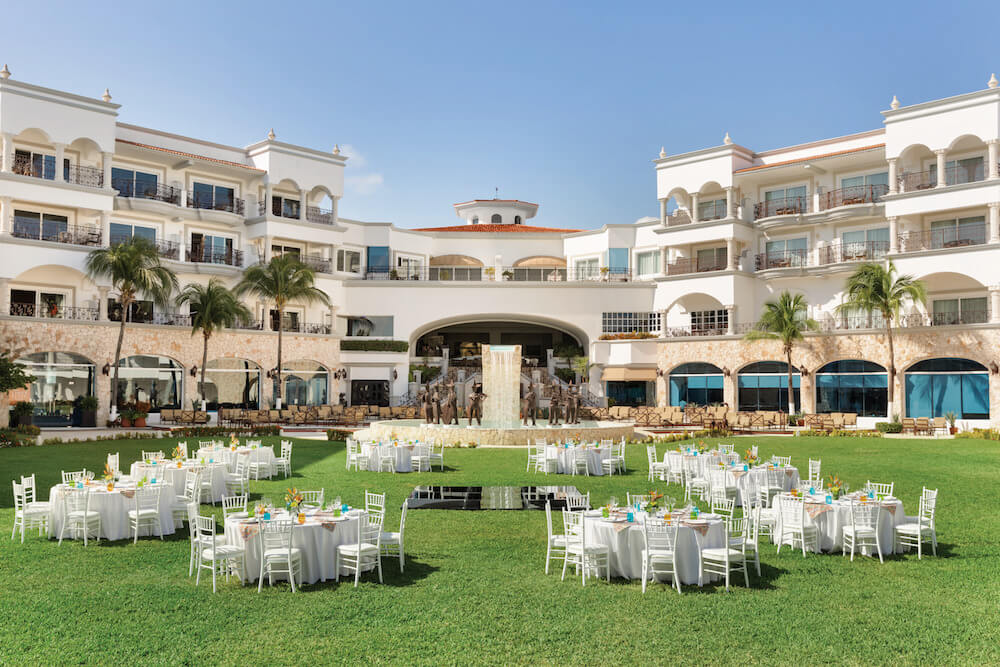 This adults-only, all-inclusive resort earned a 2020 Traveler's Choice Award. And for good reason, too.
Swim-up to your room, relax in the in-suite jacuzzi, or take part in a purifying ceremony at the spa before your big day.
Choose from an oceanfront view, a garden ceremony, or a lavish ballroom for your wedding venue. 
If you're anything like me (a foodie at heart), you'll love the variety of options you get from their 9 restaurants. 
The best part? They have 24-hour room service and daily stocked minibars!
Oh yeah, and did I mention no kids?
Weddings at The Hilton Playa del Carmen are breathtaking.
2. Iberostar Grand Hotel Paraiso
★★★★★| Adults-Only | All-inclusive | Cancun | 310 rooms
This beachfront resort is a great option for your child-free wedding. 
Iberostar boasts 5-star reviews and impeccable, award-winning service.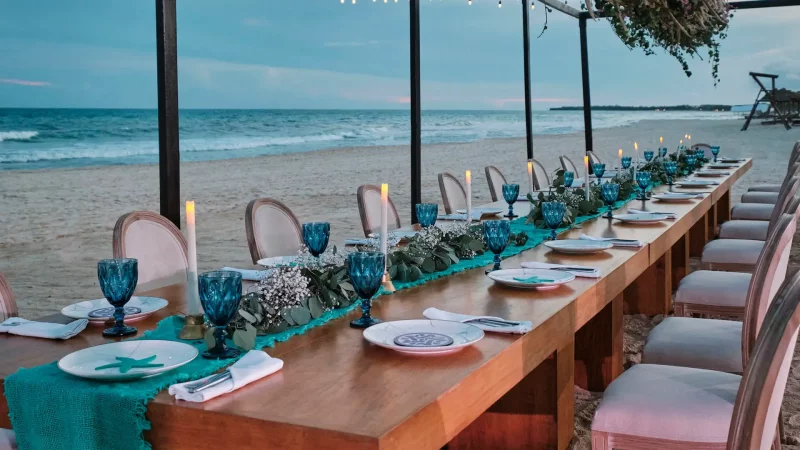 Enchant your guests with a beautiful oceanfront wedding location.
You can even customize your day with other options like a personal butler or concierge service!
Get details on weddings at Iberostar Grand Hotel Paraiso.
3. Secrets Maroma Beach Riviera Cancun
★★★★★| Adults-Only | All-inclusive | Cancun | 412 rooms 
Next up is this luxurious resort with a high-rated service and scenic location. 
Want to wow your guests with a sunset or sunrise view during your wedding? Then this is the right place for you!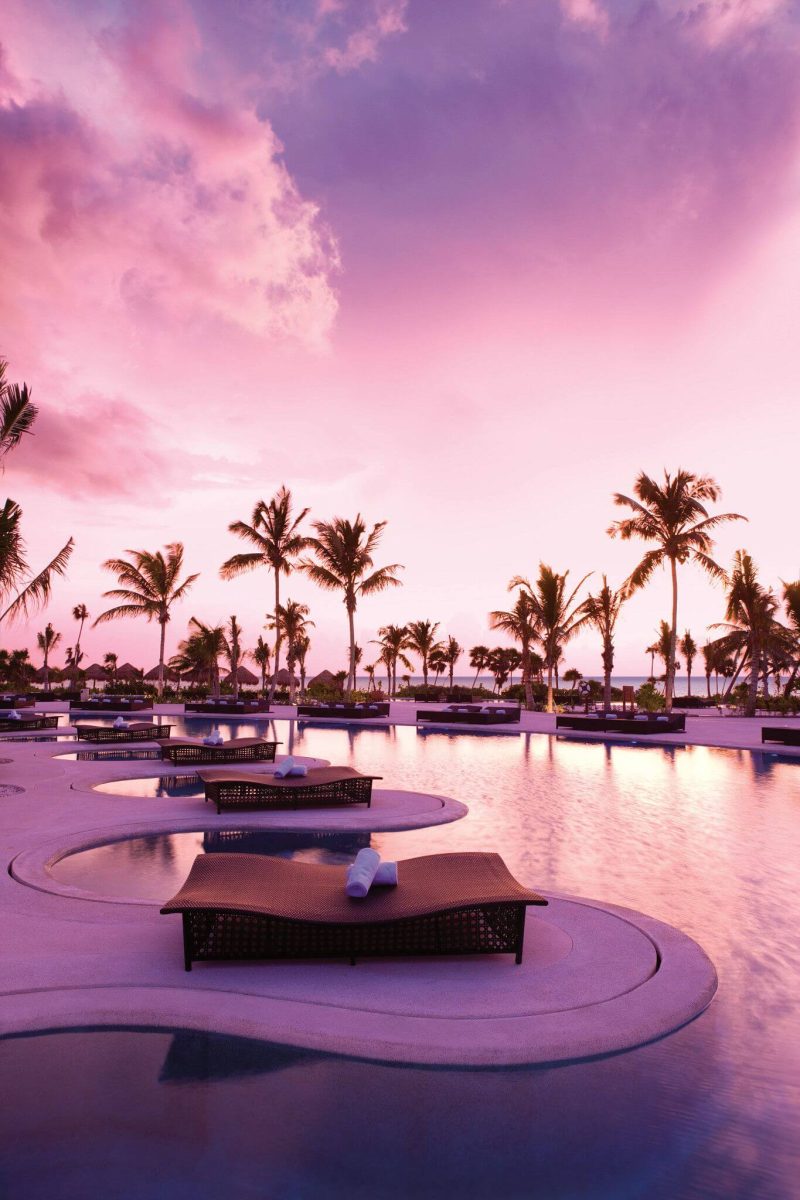 Set your ceremony in the wedding gazebo or the beachfront, all while letting the sound of the waves calm your nerves. 
No cold feet here! 
After all the celebrating, you can enjoy a chocolate body wrap in the spa.
Or, relax in their swim-up bar where you don't have to worry about any little rascals splashing up the pool.
4. Royal Hideaway Playacar
★★★★★| Adults-Only | All-inclusive | Playa Del Carmen | 200 suites 
If you want your hotel to be a member of the Leading Hotels of the World, then go with Royal Hideaway.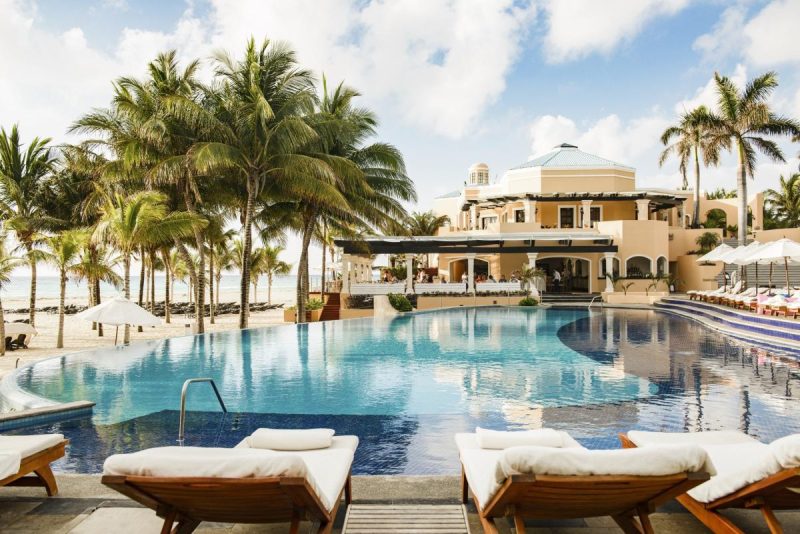 Let our awesome wedding planners sort out the details, so you can sit back and enjoy it all stress-free.
That's not all! 
You get fresh fruit for your arrival and an in-room hydro massage bathtub. 
My only advice? Take advantage of the amenities and spa. Treat yo' self!
5. Secrets Akumal Riviera Maya
★★★★★| Adults Only | All-inclusive | Riviera Maya | 434 suites 
With 3 miles of private beach, this adults-only, all-inclusive resort has something for everyone.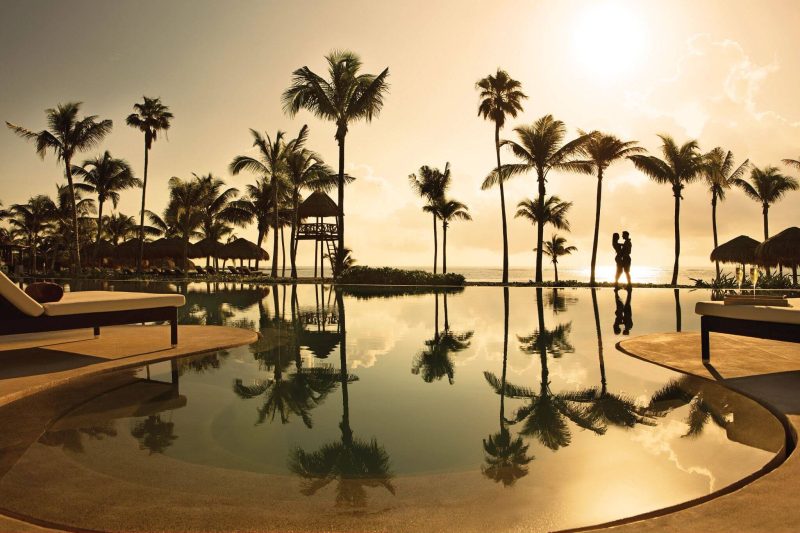 It features 4 specialty restaurants and 5 bars, in addition to the 24-hour room service that is standard at Secrets Resorts.
The Secrets chain of resorts was also awarded "Best Hotel Chain" by Global Traveler Magazine.
You'll choose between 5 wedding packages and 3 gorgeous wedding venues for weddings at Secrets Akumal 
6. Excellence Riviera Cancun
★★★★★| Adults-only | All-inclusive | Riviera Maya | 440 suites 
Want to brush up on that semester of Spanish you took in school?
Well, at Excellence Riviera Cancun, you can do just that.
Take a Spanish or dance lesson before your big day and leave your guests amazed at your sick skills!
Okay, maybe you need more than 1 lesson… That's cool, I believe in you! 
There are wedding packages for different budgets.
Like the other locations on this list, you have several venues to choose from. 
If the Spanish lessons didn't convince you, then their top-of-the-line spa and 6 (rugrat free) pools will! 
Need help planning your destination wedding?
Check out our complete guide on How to Plan a Wedding in Mexico.
7. Dorado Royale
★★★★★| All-inclusive | Riviera Maya | 478 suites 
2 words: chocolate therapy.
Yes, you read that right.
Relax at the spa with chocolate therapy.
Or customize your wedding experience and enjoy a nice horseback ride with the love of your life. 
With so many options, it's no wonder that Dorado Royale is one of Condé Nast Traveler's Top 100 Hotels in the world! 
Tie the knot on the pier, barefoot in the sand or at a paradise garden.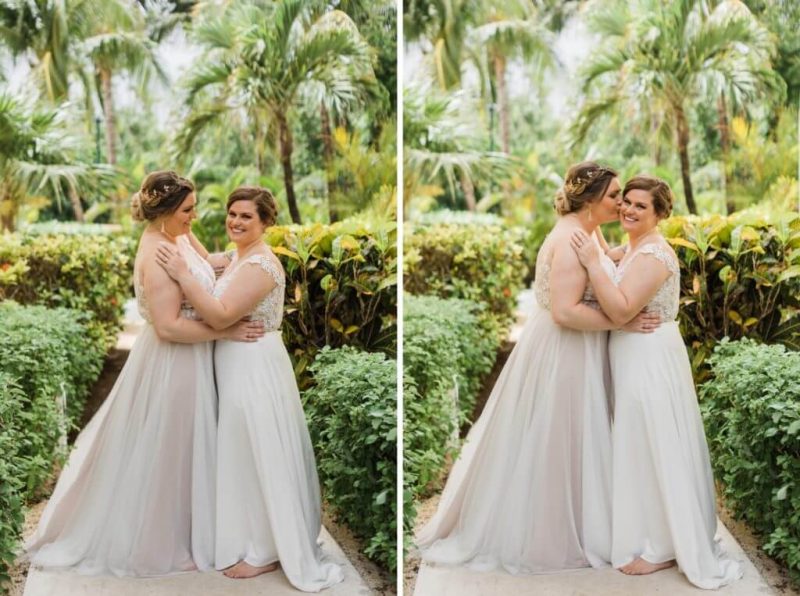 Have you experienced the chocolate spa or luxury options that Dorado Royale offers?
Let me know about your experience in the comments! 
8. The Reef 28
★★★★★| Adults-only | All-inclusive | Playa Del Carmen | 120 rooms 
Sometimes you want your wedding to be extra magical. 
The Reef 28 offers many different wedding and honeymoon packages.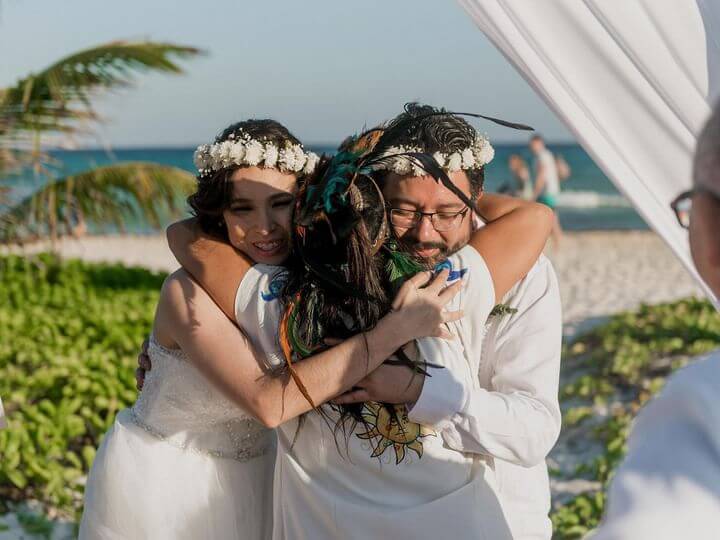 They come complete with personalized service.
I know what you're thinking…
Other resorts offer similar packages — what makes this any different? 
At The Reef 28, you can have a Mayan wedding! 
Imagine… your big day with an ancient Mayan ceremony overlooking the sea.
Sounds extra magical, right?
9. Sandos Playacar Beach Resort
★★★★★| Adults-only section | All-inclusive | Playa Del Carmen  
Although Sandos has a family section, I'm including it in this list because of their adults-only section called the Select Club.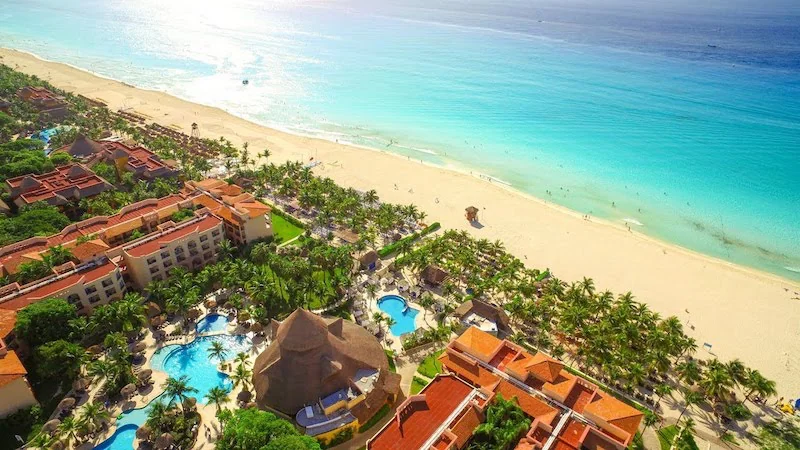 The Select Club is 18+ with an adults-only pool area, premium bars, and a restaurant.
It even has a section of rooms for the adults-only club, so you can avoid listening to a child screaming next door to you.
Venue options when you say "I do" are a beachfront location, gazebo, or gorgeous gardens.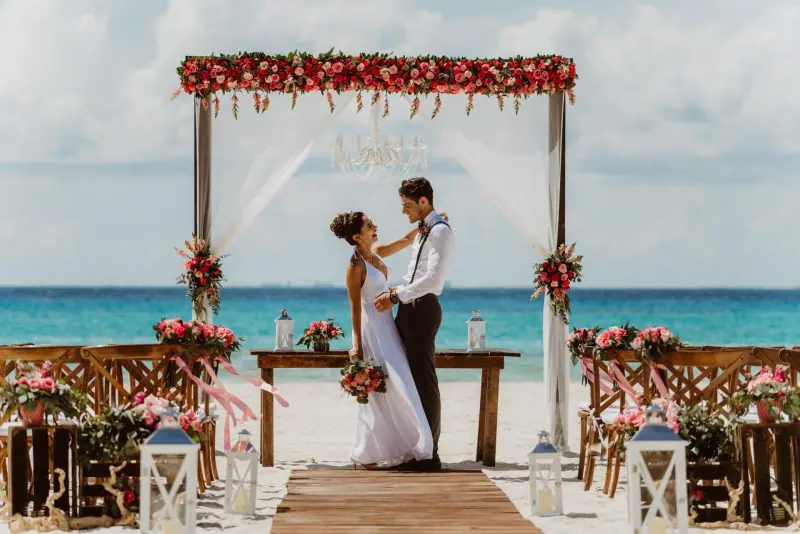 If you want a fully adults-only location, then this isn't the place for you.
But, if you don't mind kids corralled in a separate section from yours, then this is still a good option!
Having a special section for your stay will make you feel like a VIP…
Which is exactly how you should feel when you're getting married!
10. Catalonia Royal Tulum
★★★★★| Adults-only section | All-inclusive | Tulum | 288 rooms
Catalonia Royal Tulum offers the best of both worlds.
Relax at the Alegria Spa or dance the night away at the resort club.
Wedding venue options include a furnished terrace, balcony, or paradise beachfront venue.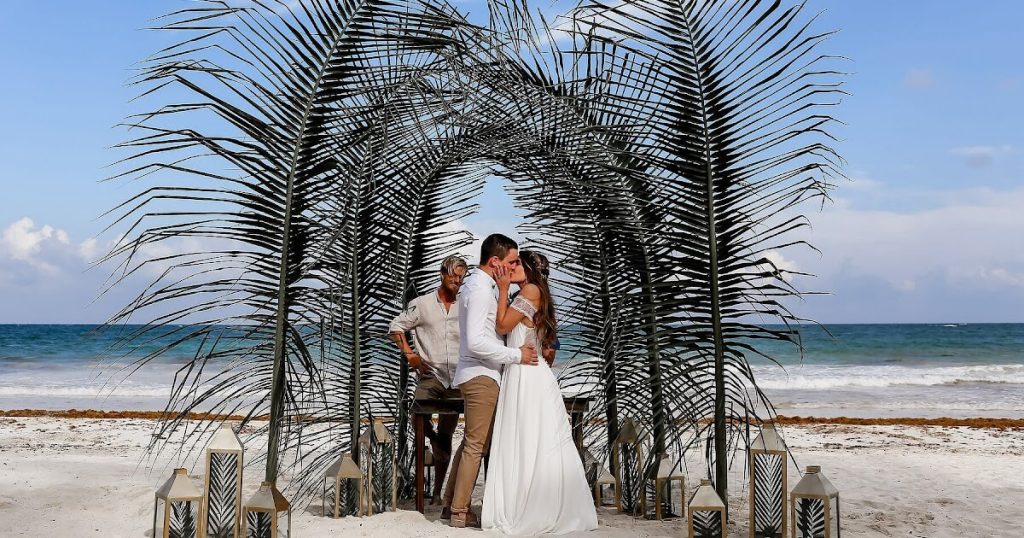 They offer unique wedding and honeymoon packages. 
The difference from other resorts?
Some packages include a room upgrade and a mariachi trio for 45 minutes of your ceremony!
Other Questions
1. Are adults-only resorts open during COVID-19?
Yes!
After all, the show must go on, right?
Most resorts are open and are operating within the limitations required.
We don't let a pandemic dampen our fun here.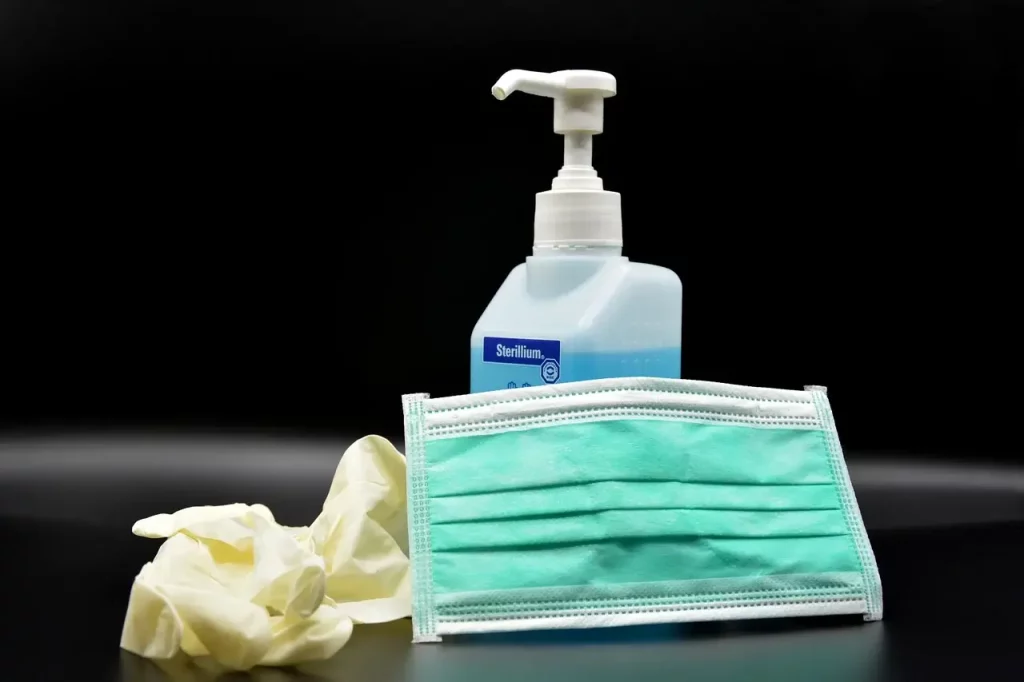 2. Are adults-only resorts safe?
Yes!
All resorts listed have high safety measures and requirements in place to give you peace of mind.
Staff wears protective gear at all times.
They have regular health screenings and temperature tests.
Cleaning and sanitation are a high priority.
Resorts have implemented changes to allow for proper social distancing.
3. What does adults-only mean?
This means that the resorts are 18+ or 21+ and do not allow children at the resort.
You can have fun and let loose without the chaos that children can sometimes bring.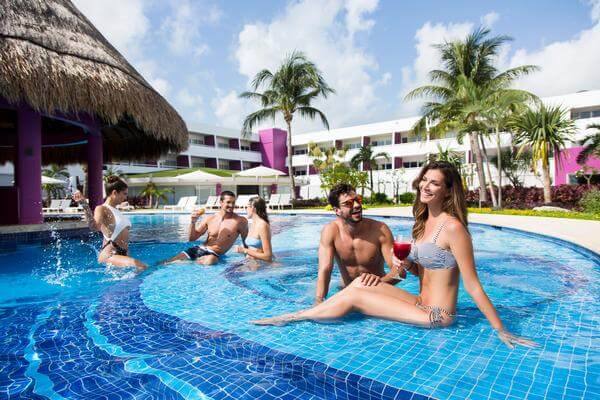 The vibe of the resorts varies.
If you want to have a quiet zen vibe, or if you want upbeat fun, be sure to reach out to us!
We'll help you find the best adults-only resort for you.
What type of atmosphere do you look for in resorts?
Let me know in the comments below!
4. Are all-inclusive resorts worth it?
Adults-only, all-inclusive resorts are a great option if you don't want to worry about anything.
Food…included!
Fun…included!
No worries at all. You just spend time relaxing at the resort and taking advantage of the amenities.
Want a little adventure? You can always jump on tours and activities outside the resort.
Wondering whether a destination wedding is right for you? We wrote a piece comparing traditional weddings vs destination weddings here.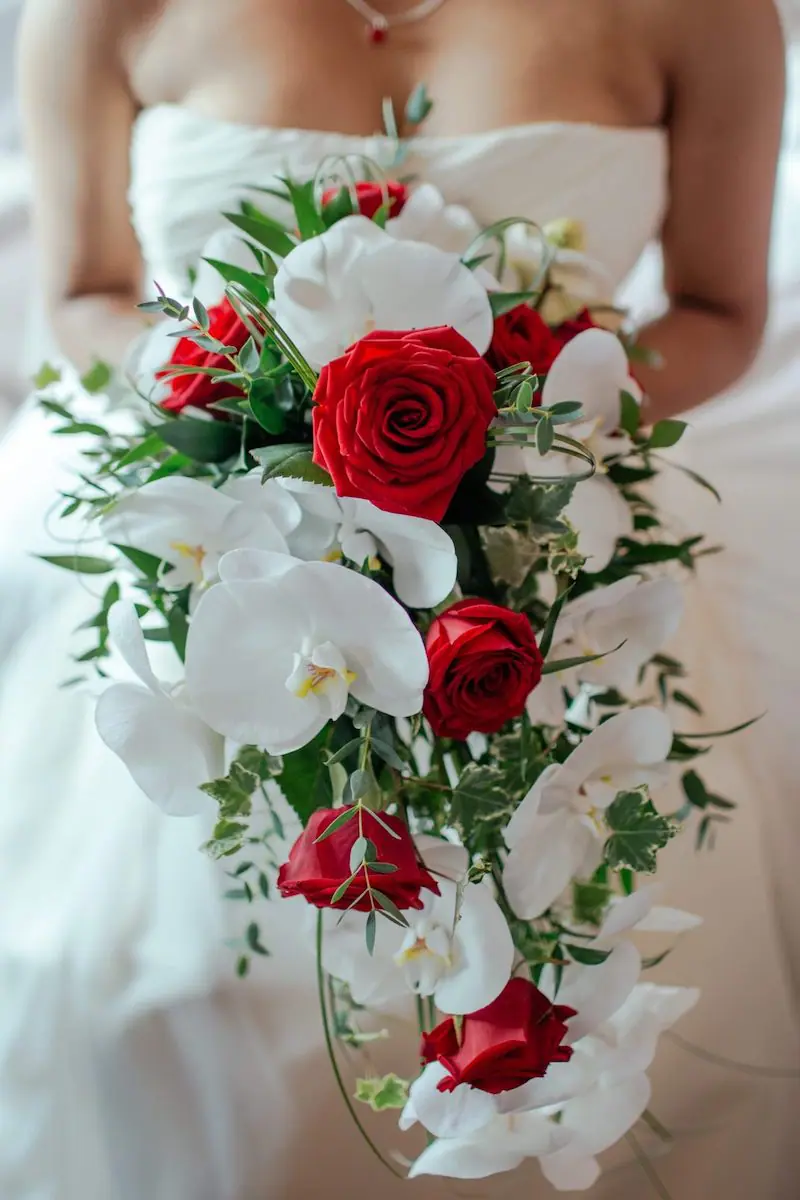 Need Help Planning Your Wedding?
Unsure which resort to choose for your big day?
Let us help you find the one!
Our experienced wedding planners here at ParadiseWeddings.com have planned 100's of destination weddings.
We bring you the best deals and an affordable event within your budget.
Still have questions?
Call our wedding planners at 877-737-0177 or contact us here.
Looking forward to hearing from you!