Are you searching for the perfect beach hairstyles for your destination wedding? 
You're in luck!
Today, you'll get the crème de la crème.
Discover hairstyles that not only look great on your big day, but stand the test of time in the heat and humidity of the tropics.
You'll find looks for straight, curly, in-between hair, and so much more!
Because before you say "I do" you have to say "yes" to the hairstyle.
Ready to get started?
Let's dive in…
Your Ultimate Guide to Beach Wedding Hairstyles
1. Short Length Hairstyles
There are so many advantages of having short hair in a tropical location!
Trust me, (I'm from the UK, living in Mexico) the heat is intense if you're not used to it!
And just because it's short doesn't mean you can't make a BIG impression with your chosen look…
1. Wavy Hair with Flowers in Full Bloom
If you're getting married in nature, flowers are a naturally beautiful way to adorn your look.
You will look ethereal!
This hairstyle has that effortlessly undone feel to it, while still appearing ultra elegant.
A flower crown is a perfect accessory to add a pop of color and personality on your special day.
Plus, the wavy hair works well in warm climates and has that boho Tulum vibe that is so on-trend.
Pair with a breezy and floaty dress and you are good to go!
Want to explore wedding dresses? Check out our ultimate guide to destination wedding dresses.
2. Vintage Hair with a Veil
Is your hair prone to frizziness, or do you expect it to be windy on the day?
This beautiful hairstyle works perfectly to keep your hair in place, and protect against humidity.
All the while, of course, looking super classy at the same time.
The veil wrapped as a headscarf and a single flower almost takes us back to simpler times.
Ahh the nostalgia!
Love, love, love.
3. Perfect Curls
There's something about simple sweetheart curls that just works for destination weddings.
For me they symbolize innocence and abundance.
They always evolve beautifully throughout the day.
Starting out as tight ringlets for your cocktail hour, then turning into loose waves by the time you're on the dance floor.
TOP TIP: If you want these ringlets to hold as long as possible, avoid getting married at midday when the sun and heat is at its highest.
4. Short on The Sides
Oftentimes, less is often more when it comes to weddings.
I think sometimes because people have such high expectations, there can be a tendency to over do it in many respects.
The shaved sides to this edgy and classy look feels chic and modern.
So much so that no accessories are needed.
When the hair is refined back like this, add more balance back into the look by making a statement with your flowers or dress.
5. Loose Curls with Beaded Brooch
Who said you can't wear a classic look on the beach?
The boho look isn't for everyone – myself included!
Curls that are not too tight still add length to the hair and look incredibly elegant, especially when they are smoothed out like this by using a paddle brush.
The beaded brooch nestled comfortably on the curls adds just the right amount of detail to an already polished look.
Stunning!
6. Braid & Curls with Simple Veil
Adding a braid to your loose curls or waves gives your style more texture.
Plus, the more hair in braids means the less hair on your face and neck!
It will keep you cooler and also help to keep the hair in place.
Top it off with a flowing veil to keep the bridal look strong.
7. Straight Hair with A Colorful Headband
Do you have naturally straight hair?
If so, your hair might struggle holding curls all day in this heat.
You'll need a hefty amount of hairspray, and nobody loves that crunchy looking look.
Keep it simple and add extra details with the use of flowers.
You can go as colorful or neutral as you like and pick flowers that mean something to you.
We always find when the bride stays true to herself, the overall aesthetics of the day just work!
8. Flipped Out Ends with a Dainty Hairpin
Worried about straight hair looking a little flat?
Add a slight curl at the end for more dimension!
Not only is it a timeless look, but it's super simple and quick.
Why not add a dainty brooch to top it off?
A tasteful bridal accessory would definitely compliment the look.
As always, the brooch will also help keep the hair in place as the cool beach breeze swishes through your hair.
9. Natural Curls
Have you noticed we always want what we don't have?
Yet, I read somewhere that we're given our looks for a reason…
We suit them!
Natural hair is gorgeous.
You won't have to worry about it staying perfect – it just will!
If you are sporting a short look, you can wear your hair in its natural state.
This hassle-free wedding style is both stylish and empowering.
A stunning bridal accessory may be all you need.
Try adding a brooch, tiara or ribbon.
10. Flower Crown with Bangs Beach Hairstyles
The color and flowers in this style are fun and fashionable.
Don't be scared to experiment a little, especially for destination events!
The tropics by default are colorful and vibrant.
The bangs and hair frame the face while simultaneously helping to keep everything in place.
2. Medium-Length Hairstyles
Having medium-length hair means you have a little more to play with.
However, how do you choose a look that will stay in place and is weather proof?
We are here to help!
1. Natural Curls with a Twist
For brides whose hair is naturally tightly curled, adding more heat into the mix can be a disaster, not to mention time-consuming.
There is no need to straighten or change the hair texture with this style.
If you did want to change anything, try twisting pieces of the hair away from the face and pinning with some flowers or chosen accessory.
2. Braided Hair with Pins
Your medium length hair pulled into 2 braids wrapped around your head act as a headband and hairstyle at the same time.
We love this look!
Keep a few pieces of hair loose at the front to frame your face in pictures.
Recently, we have seen some really great hairpins in the market.
They often come as set based off a theme, for example the ones in this picture look like the moon and the stars.
The accessories you choose are a great way to tell a story.
We've linked the pins used in this photo in the image credits.
3. Bangs With a Full Up-Do
The ultimate no-hassle hairstyles.
Most the hair is off the face and fixed into place so you don't need to worry about it.
It looks great with or without accessories.
The bangs are left on the face for a carefree and traditional beach wedding hairstyle style. 
4. Fishtail Braids in a Bun
This is another easy yet wedding appropriate look.
Introducing, the braided bohemian hairstyles!
The hair is made into fishtail braids wrapped fully around the head and wrapped into each other at the back.
Wrapping the ends is what gives you a low bun effect.
Pull slightly on the braids to get that elegantly undone look, and you're good to go! 
5. Pinned Up Curls with A Veil
Who says you can't have length, curls, and an up-do at the same time?
In this look, there is volume in the front with bangs and a veil in the back.
The veil is secured perfectly under the curled ponytail.
This is a great choice if you don't like to wear your hair down.
Or if you want something more than just curls. 
It's also a great option if you want a hairstyle that will stay put all day long!
6. Side-Swept With a Tiara
Medium length hair is the perfect length if you want to keep your hair down and not worry about the heat.
Add volume and a side part, and voila!
You have sleek hairstyles.
A small tiara is a stunning touch if you want to feel like a real life princess on the beach. 
7. Curls With a Crystal Crown
Crystals are in style!
Would you consider them for your beach hairstyles?
You can make or buy a crown made of crystals of your choice.
Wear your hair natural and pull it into a bun or ponytail for this regal look.
The crystals are sure to add to the magic of your day. 
8. Waves With a Long Veil
If the veil is the star of your beach wedding style, opt to wear your hair down with some light waves.
Pin the veil at the top and your look will blend together for a glamorous style. 
9. Braid In a Bun With Flowers
Flowers are a common theme for bun looks.
Have your hair twisted and braided to look like a bun in the back.
Then, pick your favorite beach flowers or bridal accessory of your choice.
Even if you are not wearing a veil, this style keeps your hair in place and ready for the beach breeze.
10. Ponytail With a Tiara 
This is another tiara look.
The simple ponytail in the back is hassle-free and the tiara is fit for royalty.
This beach wedding hairstyle will keep the focus on you and your beautiful dress on the shore.  
3. Long-Length Hairstyles
Long hair is lush!
But in high heat it can be a tough to keep it looking flawless all day, especially if you have naturally curly hair that frizzes in humidity.
Here are the best looks we think have worked wonders for our clients over the years.
1. Curls With a Diamond Tiara
Curling your long locks is always a classic look for long hair.
Pin half of your hair towards the back and top it off with a diamond studded tiara.
The diamonds are sure to reflect the sun on the beach like the sun reflecting on the waves in your destination! 
2. Half-Up Curls with Flowers
Half up and half down beach hairstyles are not to be left behind on this list.
Loose curls can be pulled half up in the back with some volume at the top.
Adding a small detail like flowers is a minimalistic way to add flair to your hair. 
3. Long Braid with Baby's Breath Flowers
A long braid with curls or straight hair with flowers is a style fit for Rapunzel.
This single long braid makes a statement and the baby's breath adds softness.
If you're like most of us, you probably wanted to be a Disney Princess at some point.
With this hairstyle you can finally achieve that goal. 
4. Sleek Bun with Floral Headpiece
If you're going for a more traditional and cultural look for your big day by the waves, this look is perfect.
Sleek your hair back into a large bun and adorn it with many flowers.
You'll be sure to look luxurious. 
5. Twisted Ponytail with A Flower Crown and Ribbon
If you don't want to add any heat to your lengthy locks on the big day, wear it in its natural texture.
Twist it towards the back into a low ponytail, then add your flower headband and more flowers and ribbons to cover the ponytail part.
You'll be ready to walk barefoot on the beach! 
6. High Bun with A Diamond Brooch
This is another great look for our tightly curled long locked brides.
Pull the hair back into a classic high bun.
Add the diamond brooch or pearls to complete your easy polished look. 
7. Wrapped Hair with A Statement Flower Crown
Another dreamy wedding look is achieved by wrapping your hair low towards the back.
The attention grabber is the flower crown that wraps around the whole head.
You'll look stunning with this statement piece. 
8. Low Ponytail with A Twist
Keep your hair natural and pull it to the back.
Add a twist or braid to your hair, wrap it towards 1 side of the ponytail and secure with flowers or choose a diamond or pearled bobby pin.
9. Natural Hair with A Bridal Accessory  
If you want a very natural "I woke up like this" look, this is a style to consider.
Pin some hair with a flower, brooch, or even a seashell to give off mermaid vibes.
Are we the only ones who think brides look like majestic mermaids when we think of beach weddings?
10. Straight or Curled Hair Left Loose with A Tiara
If fancy up-dos are not your vibe, then keep it simple.
Keep your hair down or slightly pinned back and add a tiara and flowers for a soft flowy look.
Keep it effortless and free-spirited with beach hairstyles. 
4. Bridal Hair Accessories
Getting married is an incredibly special occasion, so selecting the perfect accessory is a surefire way to add some luxury into the event.
Plus, they make for great keepsakes!
I love that no matter your hair length, you can always use accessories.
As you see in this blog, many of the hairstyle we included use veils AND hairpins.
There are no rules.
If you want both, have both.
For a more classic look:
choose gold or silver accessories with diamonds and pearls.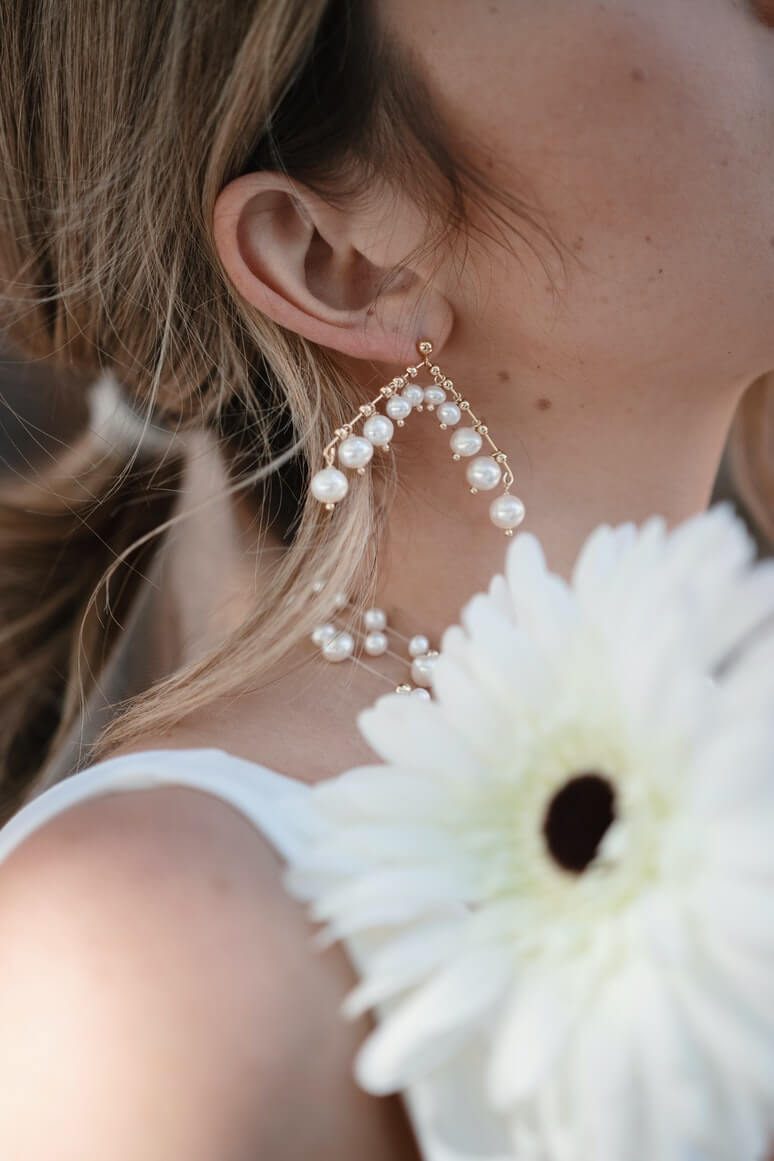 A tiara is a perfect accessory to make your hairstyle look elegant, leaving you feeling like royalty.
Even wearing a ribbon that matches the color scheme for your wedding can tie your whole look together. 
For a more boho look:
use natural flowers and fauna
Our recommendation is to get creative and try things out at home before heading to your chosen destination.
Knowing your wedding will take place on a beach, another question that might come up is:
"How do I keep my hair in place?"
We understand your struggle!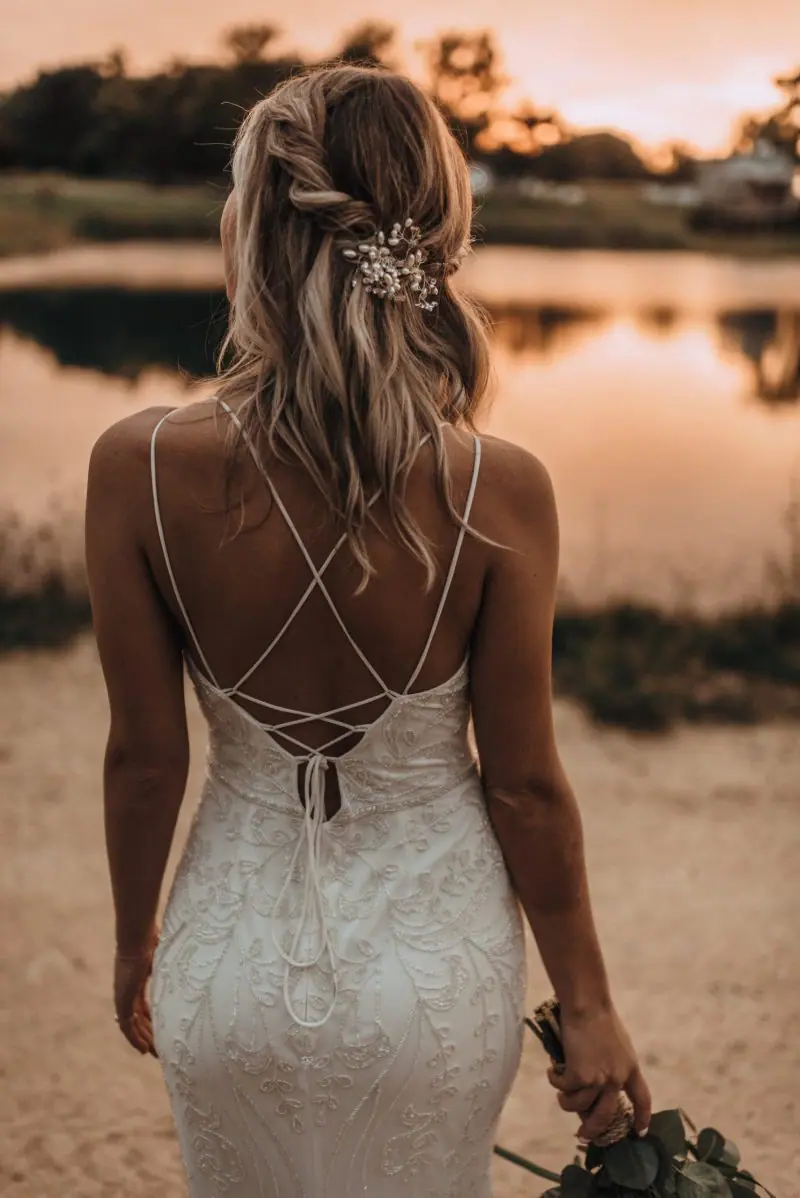 Bridal hair accessories are perfect for keeping your hair in place, no matter what the weather or wind.
If you don't want to wear accessories, think about styles that 'll keep your hair from getting tousled by the wind.
Unless that's the look you're going for! 
5. Important Things to Consider
There are 4 important things to consider when choosing your beach hairstyles: 
Length of your hair
Texture of your hair
Temperature and weather conditions at your venue
Whether you want your hair up or down on the day

The Length of Your Hair
The length of your hair can help determine if you want your hair up or down, what bridal accessories to choose, or if you're going to want to wear a veil or not. 
Make sure you assess the length of your hair before deciding on a look to ensure it's doable and will last.
If you do really have your heart set on something different, speak with your stylist.
They may be able to advise on a new cut or discuss getting extensions for your special day.
Remember, most tropical locations mean high humidity.
Lots of hair is beautiful, but can also equate to sweating and lots of it…
Not fun.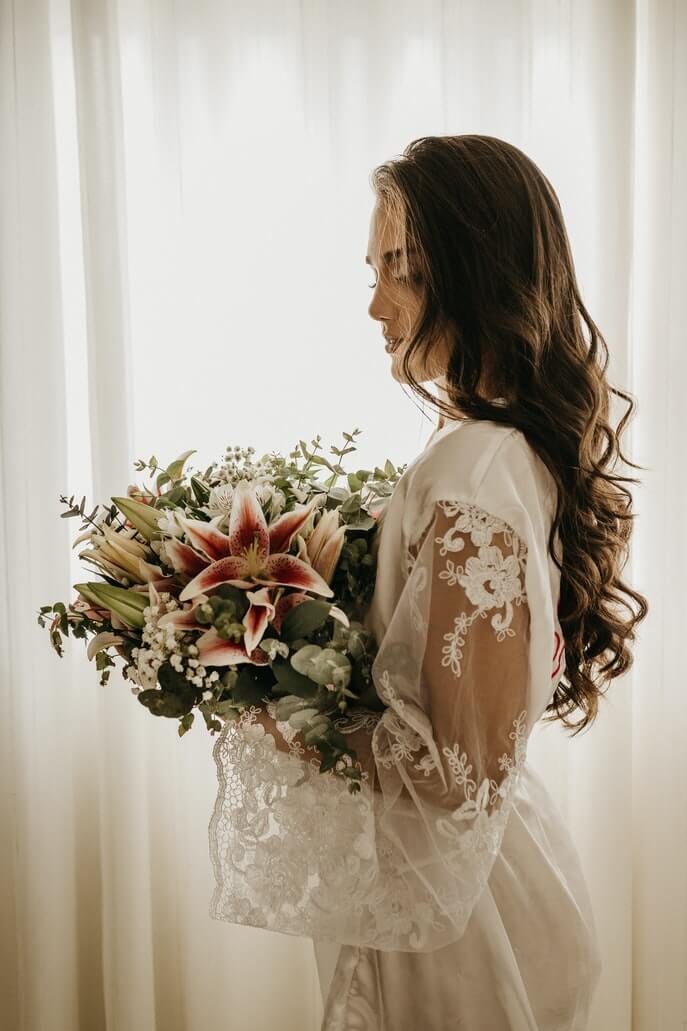 The Texture of Your Hair
Consider the texture of your hair when planning your beach hairstyles.
Why?
Again, the last thing you want in your pictures is your hair to look flat, frizzy, or tangled.
Our tip for destination weddings is to work with your hair and not against it if you want the best results.
Beach weddings usually mean you're dealing with high heat, humidity, water, sand, and wind.
The Climate of Your Chosen Location
This is probably the most obvious tip, but make sure you do your research on the weather.
Temperatures can change throughout the year.
Most tropical locations have dry and rainy seasons.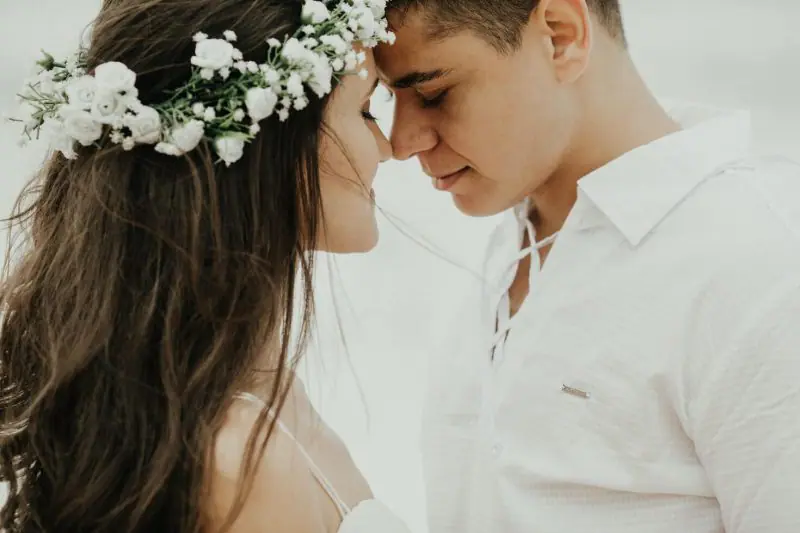 Are You Having Your Hair Up or Hair Down?
If you have long or medium length hair, you might be asking if it's better to wear your hair up or down. 
A good place to start is to ask yourself…."how does your hair feel comfortable?"
The answer to this question is important because you want to be sure you're comfortable with the beach hairstyles you pick.
If having hair in your face is annoying, then consider wearing it up and away from your face.
If you're comfortable with your hair down, you can add accessories to make the style pop.
And if you're good either way, you might consider wearing it half up and half down (this option is my fave if you want to keep the length without it being overwhelming).
At ParadiseWeddings.com we help plan 100s of unforgettable events in tropical locations around the world every year.
We are here to help you with everything, from flights, resorts, and wedding packages, to group bookings, excursions, and more!
You can call us now at 877-737-0177 or contact us here.
Get the ball rolling with one of our local wedding planners.
Or leave your thoughts in the comment section below and we will get back to you ASAP.
Thank you for reading!