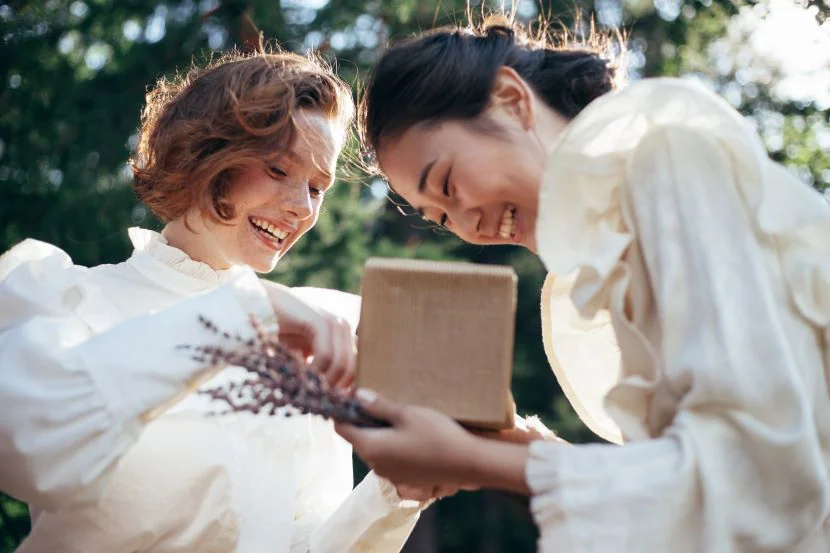 So you're looking for the perfect wedding gift!
What about that $350 mixer on their wedding registry? A little over-the-top?
We think so too!
Lucky for you, our wedding specialists made a list of 50 awesome wedding gifts trending for 2023.
Easy on the eyes, and the pocketbook.
Ready to unwrap? (pun intended!! I had to I had to)
50 Amazing Wedding Gift Ideas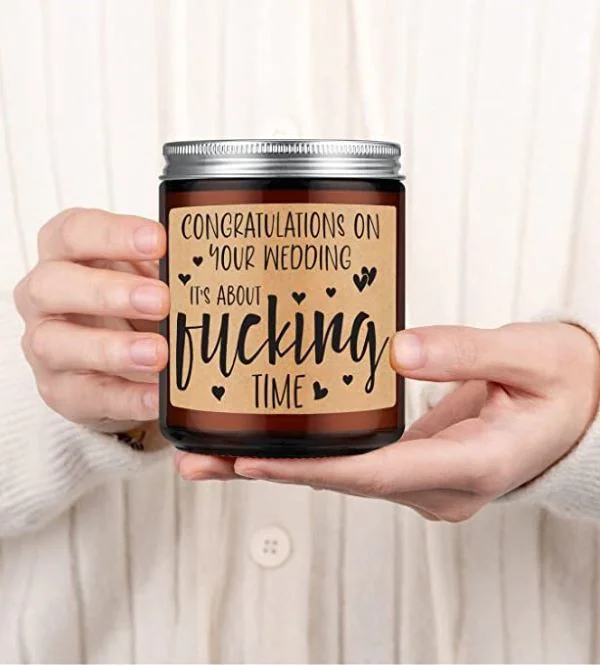 The GSPY scented candle is the perfect wedding gift for your best friend!
Especially if you want to send a quirky message across!
The candle is made of 100% natural soy wax and has a 50-hours burning time.
It is available in wedding cake, and lavender scents.
2. Funky Gold Flower Vase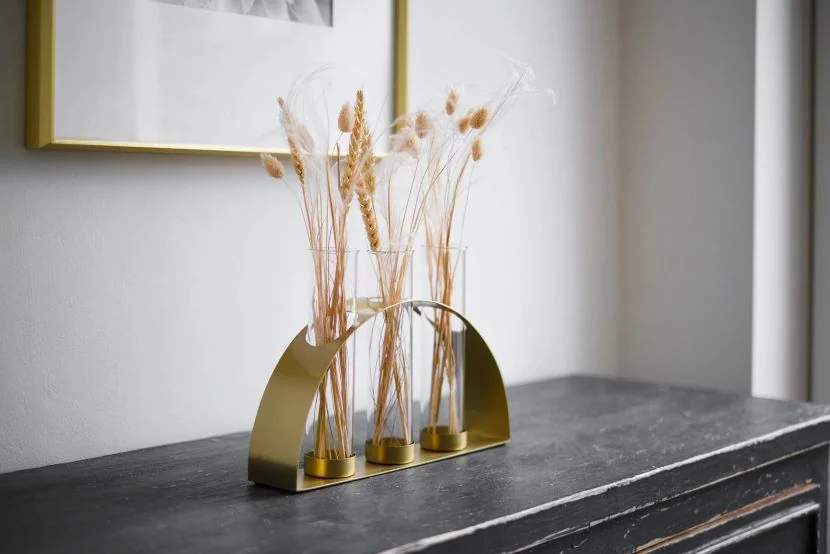 This trendy gold flower vase exudes modern minimalist décor vibes.
Made of brass and glass, these vases are hand crafted and made in small batches. 
It is the best wedding gift for a couple with green thumbs, or flower lovers! 
3. Personalized First Dance Lyrics Wall Art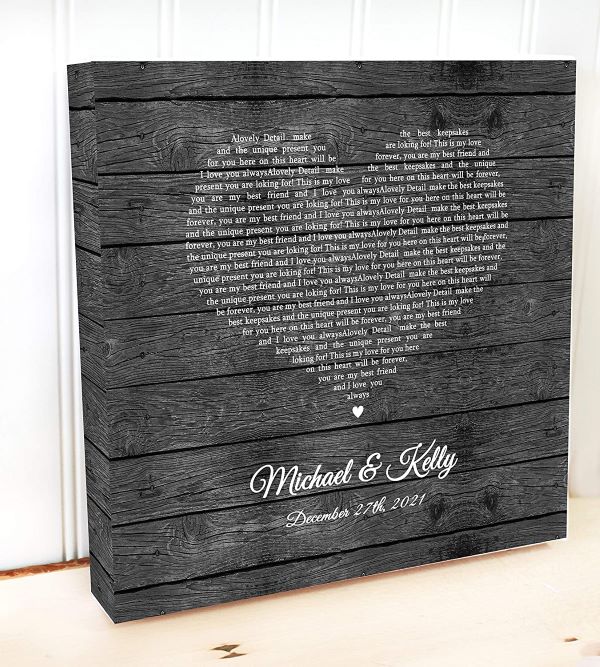 Searching for a sentimental gift?
Have the lyrics of their first dance song printed on a matte canvas with wooden bars. 
This personalized gift comes with 11 fonts for you to choose from.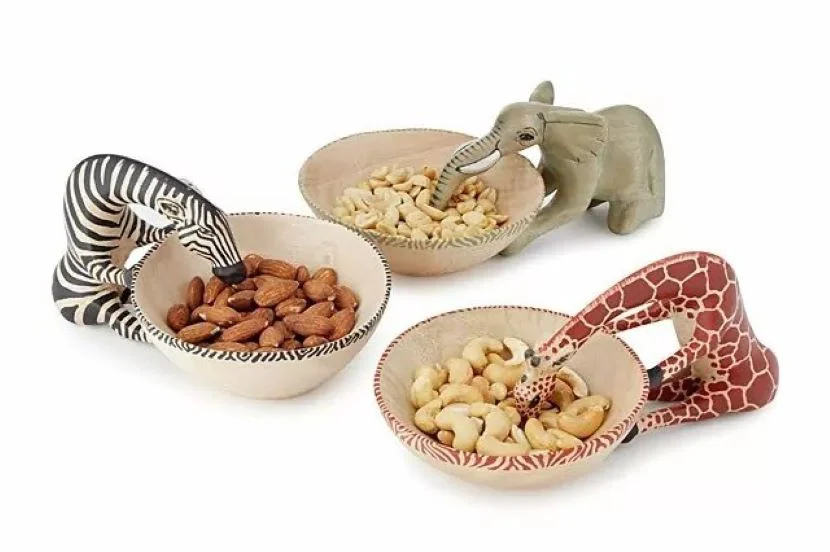 For the couple that likes to entertain, or loves to munch on snacks!
These hand-carved elephant, giraffe, and zebra bowls will be a hit at any party!
Kenyan artisans craft each bowl from a solid block of jacaranda wood.
5. One Pan, Two Plates - A Wholesome Cookbook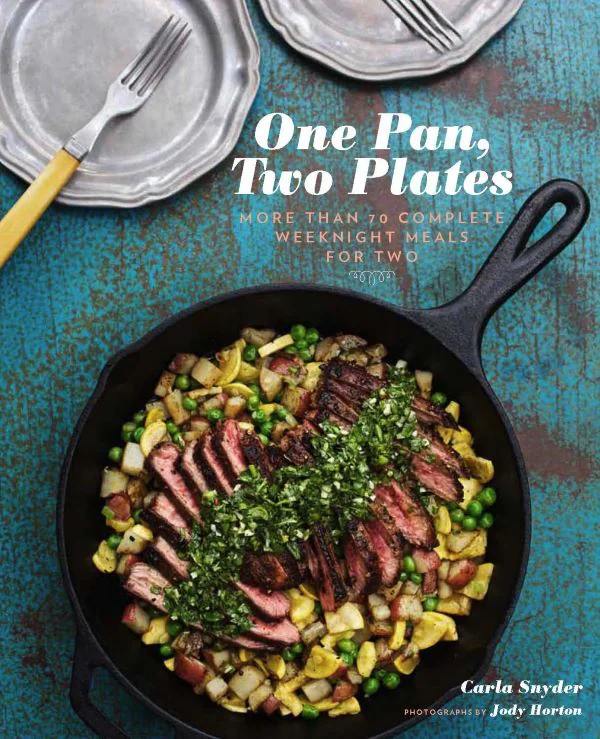 One Pan, Two Plates is a delightful cookbook with over 70, simple recipes.
All of them are one-pan meals that can be made under 60 minutes. 
Perfectly-portioned for 2. 
Your gift will help the couple cook up a storm in the kitchen!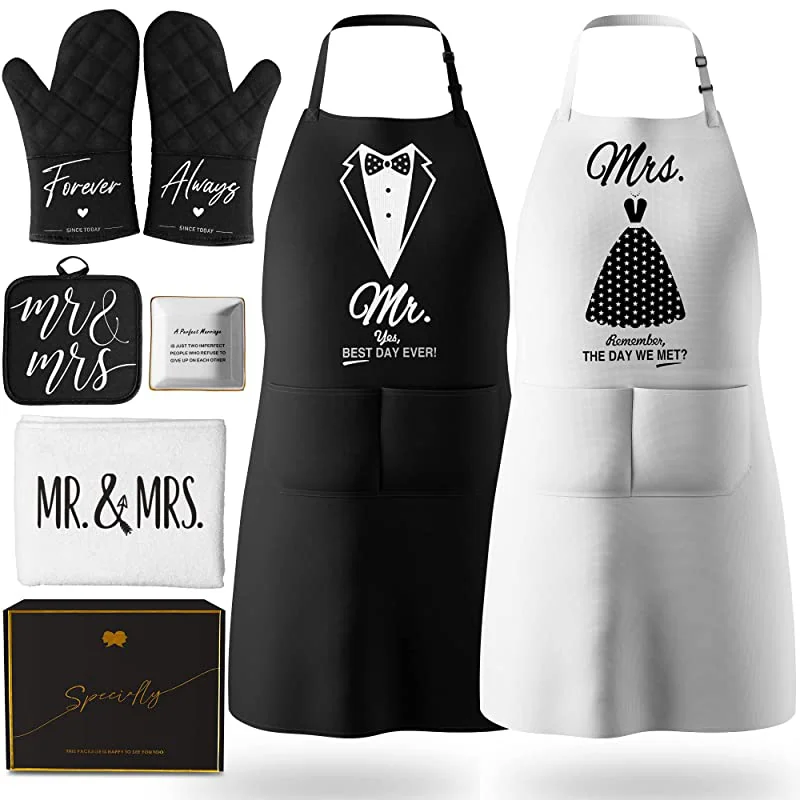 This wedding gift goes hand-in-hand with the above gift!
The Mr. And Mrs. Aprons gift set comes with oven mitts, trinket tray, dish towel, and, of course, couples aprons.
The aprons are made of durable soft cotton, with a waterproof coating.
And the trinket tray is made of high quality glazed ceramic.
7. A Massager For Relaxation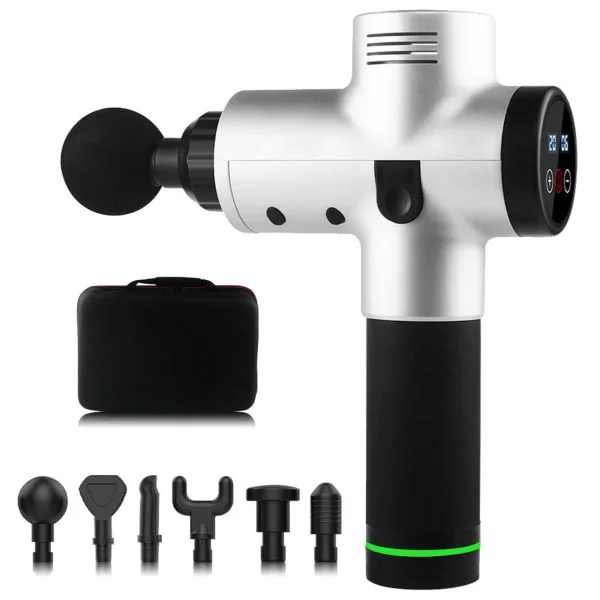 This thoughtful gift will help the couple melt away the stress of planning their wedding!
The handheld electric massager can be used on your neck, shoulders, back, thighs, calves, and arms.
It comes with 6 massaging heads.
Its compact size makes it easy to carry anywhere.
8. The Couples Game That's Actually Fun!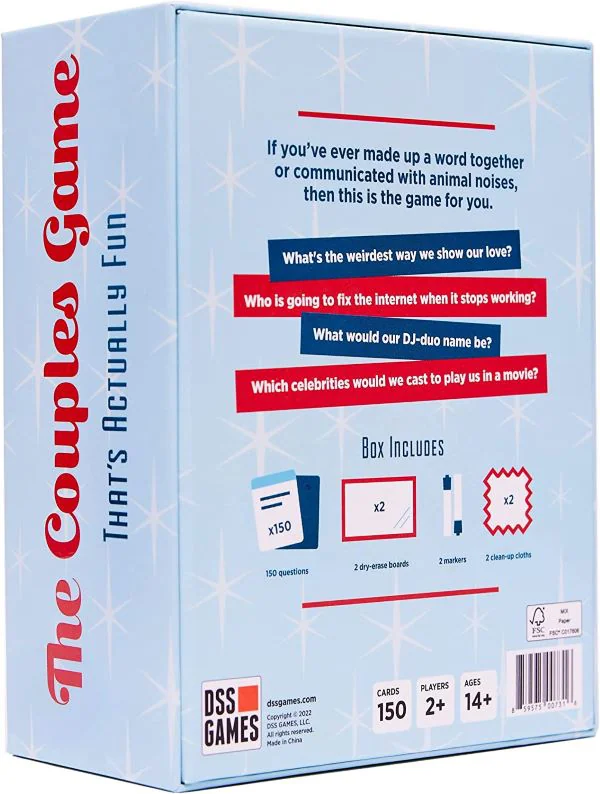 A unique wedding gift that couples will love!
This is an interactive party game of fun questions meant to make the couple laugh! 
It includes 150 questions spread across 3 categories and can be played 1:1 between the couple, or teamed up against other couples. 
9. Quirky Goose Watering Can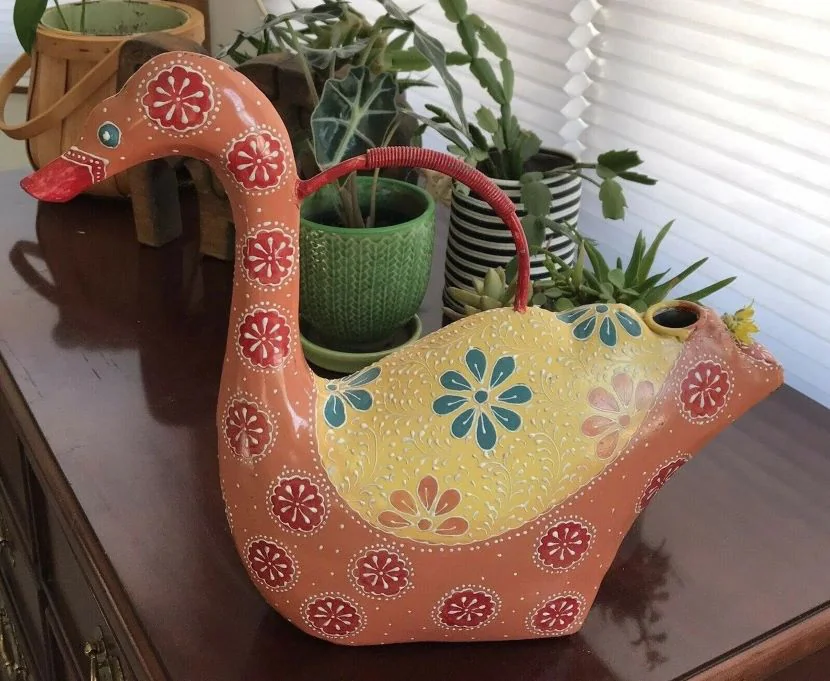 For the couple who loves gardening.
Or collecting eccentric objects.
Or both!
The quirky Goose Watering Can doubles as a cute décor piece, and a functional mini watering can for indoor and outdoor plants.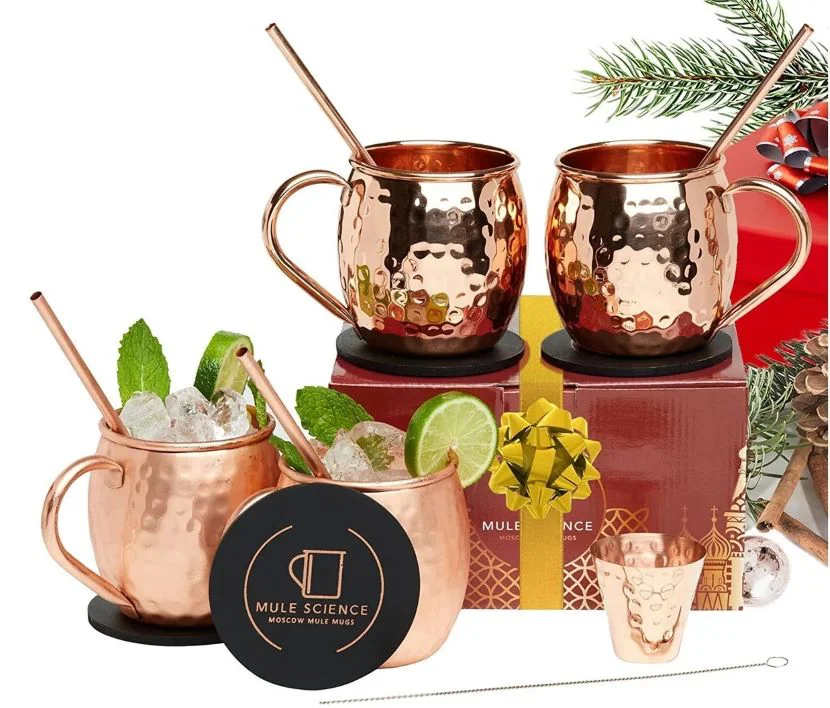 This set of 4 Moscow Mule mugs is great for the couple who likes entertaining.
Manufactured from high-quality copper, these mugs are 100% food safe.
The set also comes with straws, a shot glass and coasters.
Pro tip – you don't HAVE to like Moscow Mule to use these mugs! You can use them for beer, iced tea, iced coffee, and even cocktails.
11. Personalized Star Constellation Map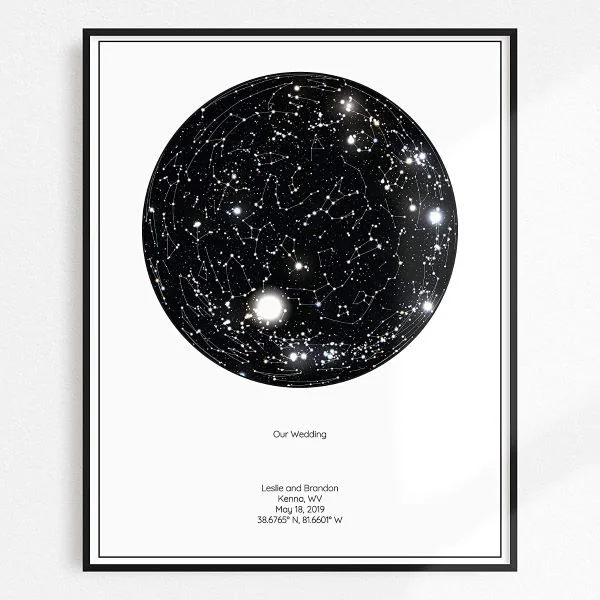 A really cool wedding gift, the star constellation map is the real image of what the night sky looked like at a certain location, at a precise time!
Whether you choose the couple's wedding day, or the day they first met, that's up to you.
A framed depiction of how the night sky looked that special day will be cherished by them.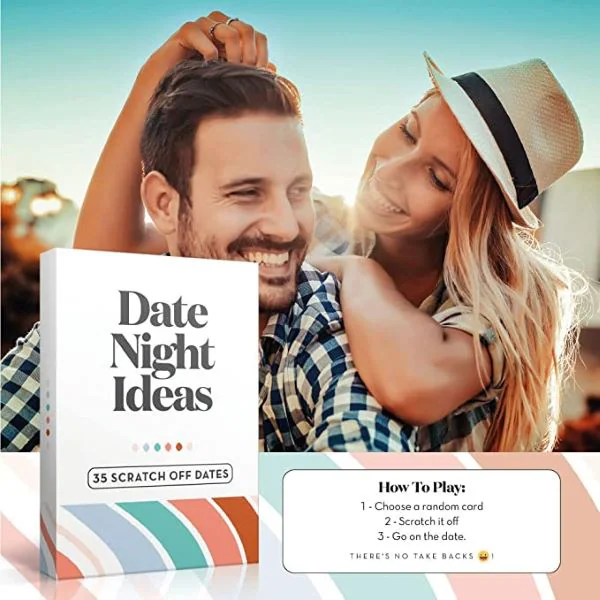 Date Night Ideas is a scratch off card game with exciting date ideas for couples!
Included in the box are 35 fun date challenges…
So technically, you will be gifting 35 wonderful memories to the couple! 
The best part? The dates were created with the help of a relationship expert.
13. A Book Of Bucket List Adventures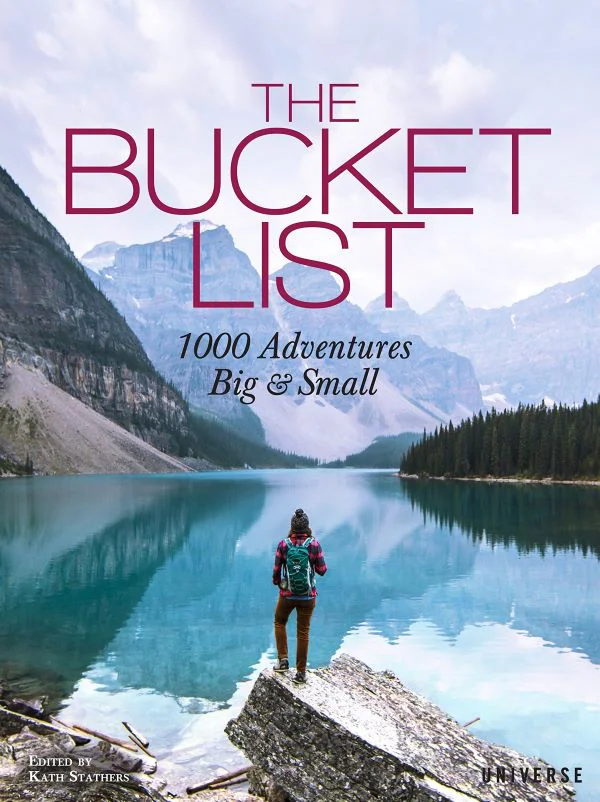 Whether the bride and groom love to travel, or are armchair globetrotters, they will appreciate this gift.
The Bucket List: 1000 Adventures Big & Small is a book like no other!
It has a thrilling collection of 1,000 life-affirming adventures spread across 7 continents.
Adventures include standing on the International Date Line, ziplining down the Alps, volunteering at an Orangutan sanctuary and many more…
BRB, gotta add this to the cart!
14. 1000 Piece Puzzle for Adults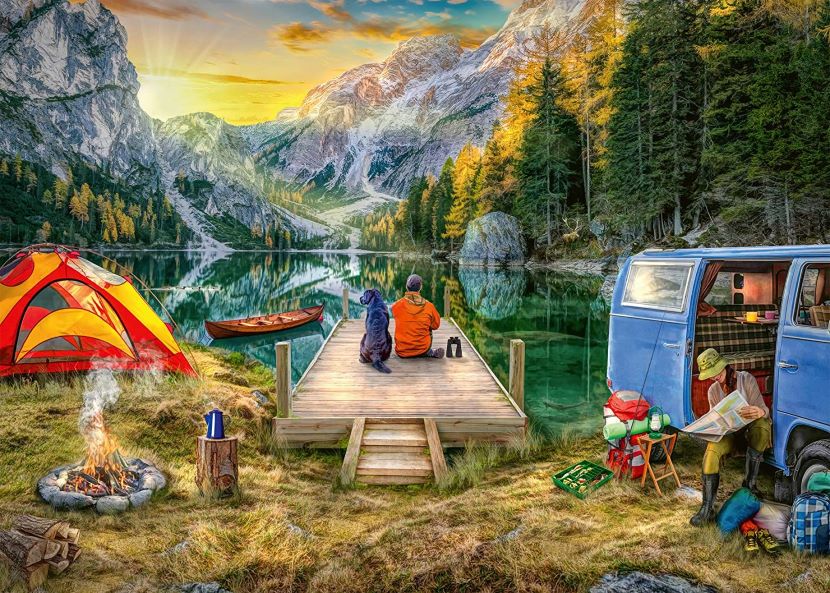 Know a couple that loves to put the pieces together?!
They would love this wedding gift!
This Calm Campsite 1000 piece puzzle from Ravensburger is great fun for adults.
The couple will love to discover tiny details like the moose, the fish in the lake, and the interiors of the van…
15. Beautiful Marble Coasters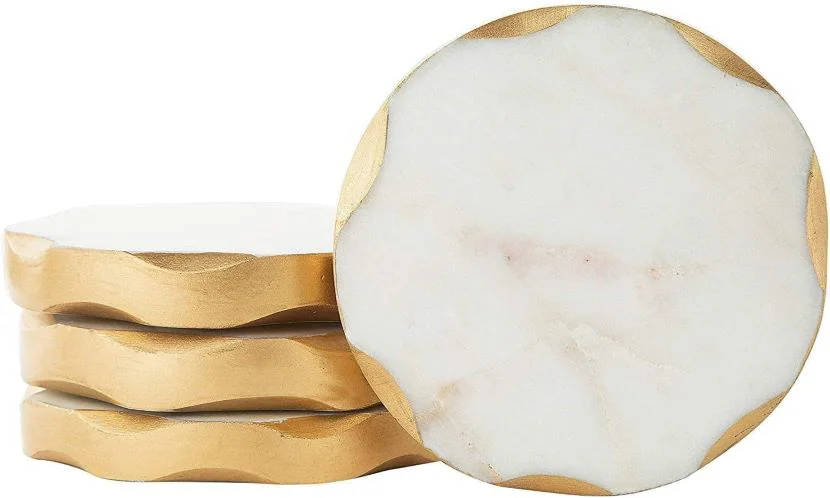 This set of 4 real marble with gold rim coasters makes an awesome wedding gift.
They will keep the couple's new furniture in pristine condition!
16. Ethereal Essential Oil Diffuser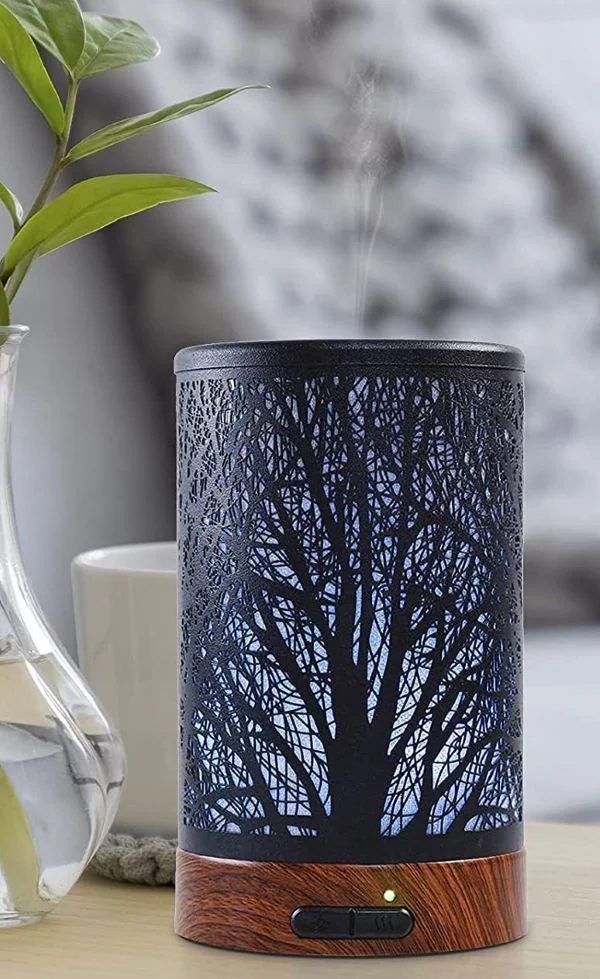 An oil diffuser that doubles up as enchanting décor! 
The EQUSUPRO aromatherapy diffuser also works as a cool mist humidifier, and a nightlight. 
It has 7 colored LED lights and comes with an auto shut-off function.
17. Hand Casting Kit For Couples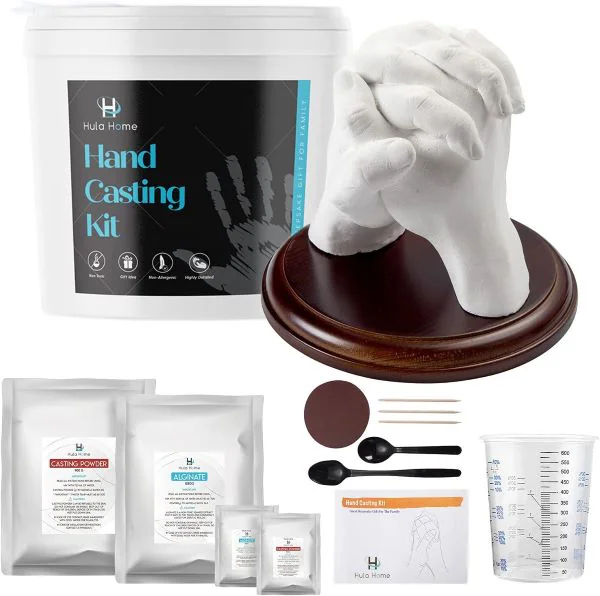 2 gracefully entwined hands… sculpted beautifully… 
This is a wonderful wedding gift for the couple who likes all things romance!
The Hula Home Hand Casting Kit comes with:
Bucket for casting and molding
Alginate and casting powders
Sandpaper
Sculpting tool
Measuring cup
Spoons
Mounting plaque
18. Personal Size Blender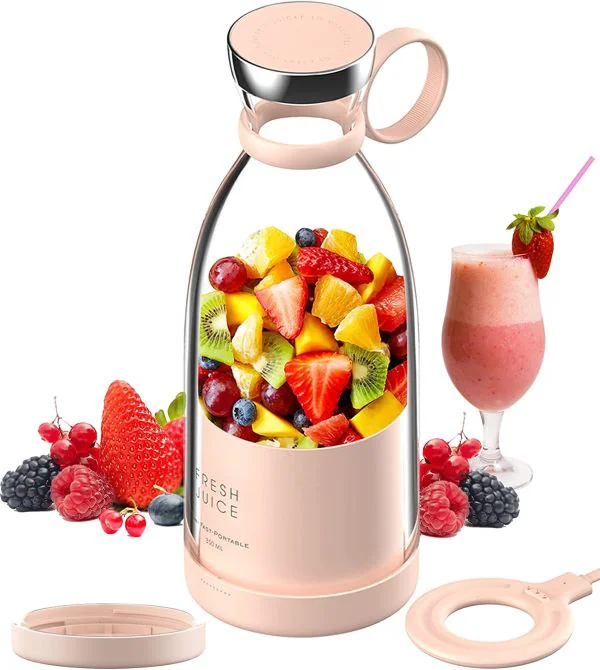 Trending all over TikTok, this OTPEIR portable blender makes for the best wedding gift. 
Whether the couple wants to make fruit smoothies or frozen cocktails, this battery-powered blender will be their fav!
It can be taken to the office, gym, beach… everywhere! 
Wedding Gifts From $50 to $100
19. Charcuterie Board Set and Cheese Serving Platter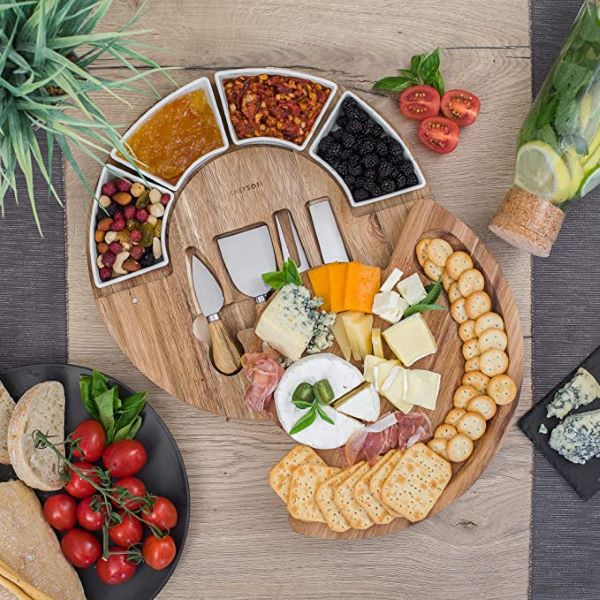 Want to gift something fancy?
This is exactly what you are searching for!
This Chefsofi charcuterie board set includes 4 bowls and 4 knives to hold and slice all kinds of cheese and charcuterie.
The board is made of acacia wood and the cheese knives are made of heavy-duty stainless steel.
20. Customized Engraved Wedding Champagne Flutes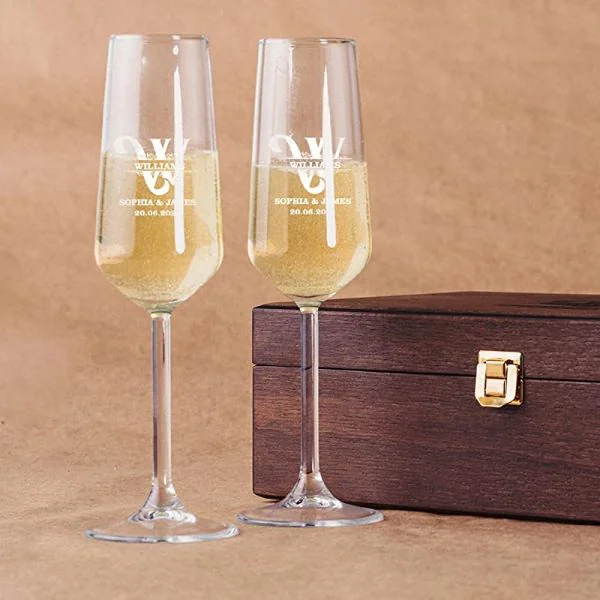 Perfect for the wedding toast, these customized flutes can be used for champagne or sparkling wine.
You can engrave the names of the couple and their wedding date on them… Such a lovely memento!
The hi-tech laser engraving is made to last forever.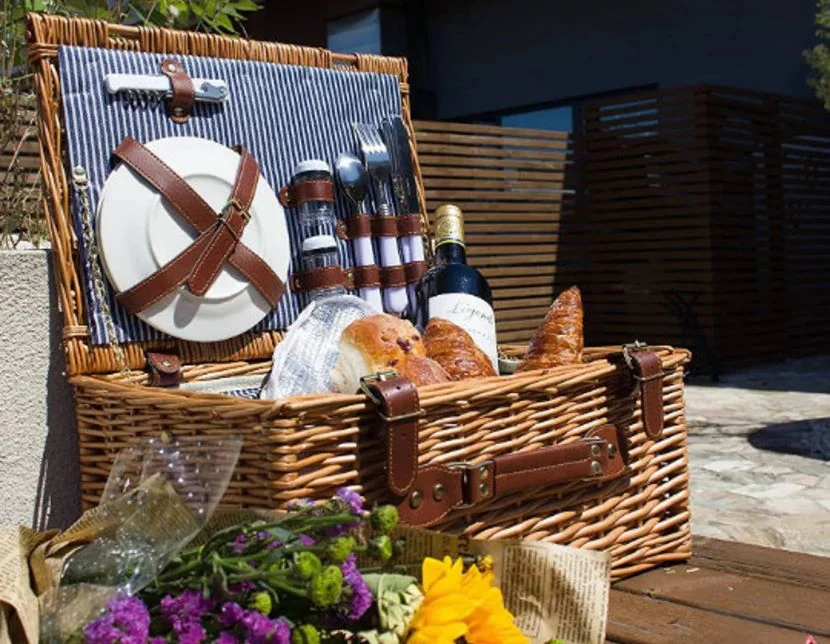 This preppy picnic basket can be used by the couple for a date at the park!
Hand-made from high quality natural wicker, this basket is equipped with a special cooler compartment. 
The 2-person set comes with a tableware service set (knife, fork and spoon), 2 plates, 2 wine glasses, 1 bottle opener, 2 shakers, and a picnic blanket.
What more could you need for a dreamy picnic date?!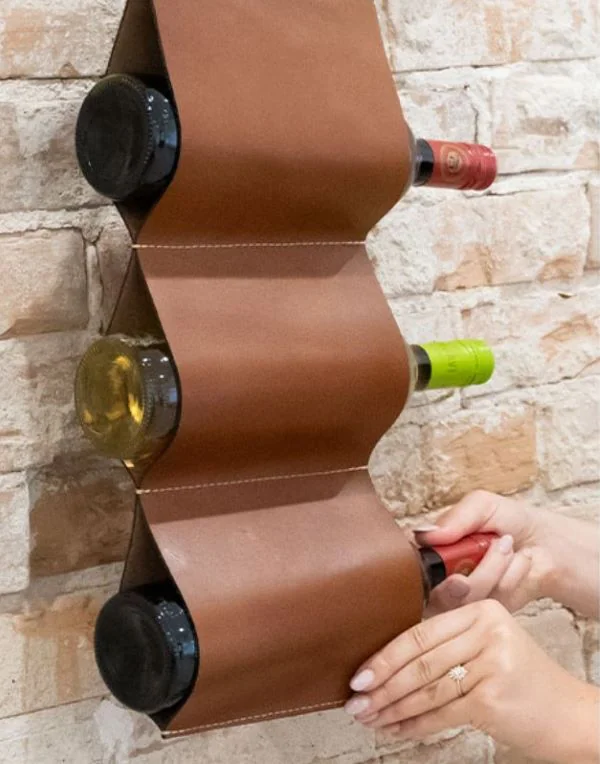 This modern yet rustic wall rack makes a great gift for the couple that loves wine, or simply loves to entertain!
It's designed to store wine the optimum way, horizontally. 
Handcrafted from genuine buffalo hide leather, this space saving wine rack can also hold champagne and craft beer bottles. 
We'll cheers to that!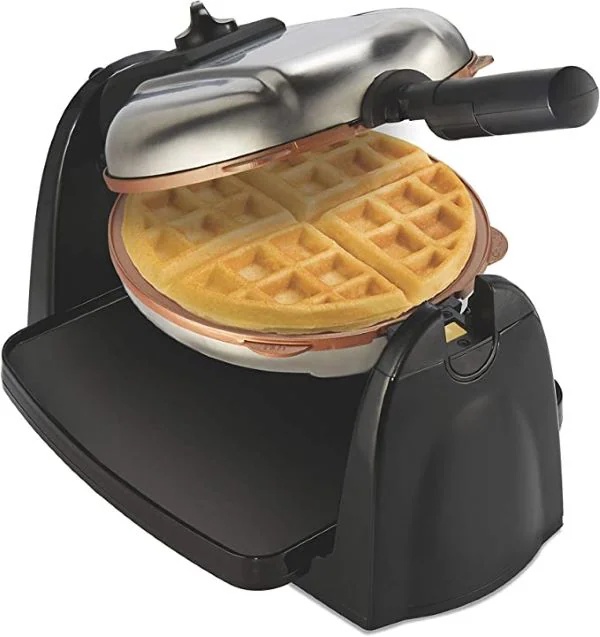 This waffle maker from Hamilton Beach will make mornings delicious for the couple!
Its ceramic non-stick grids, and browning control settings make this gift very easy to use and clean.
Added benefit? You can just go over to their house for some heavenly waffles!😉
24. Instant Camera For Capturing Their Favorite Moments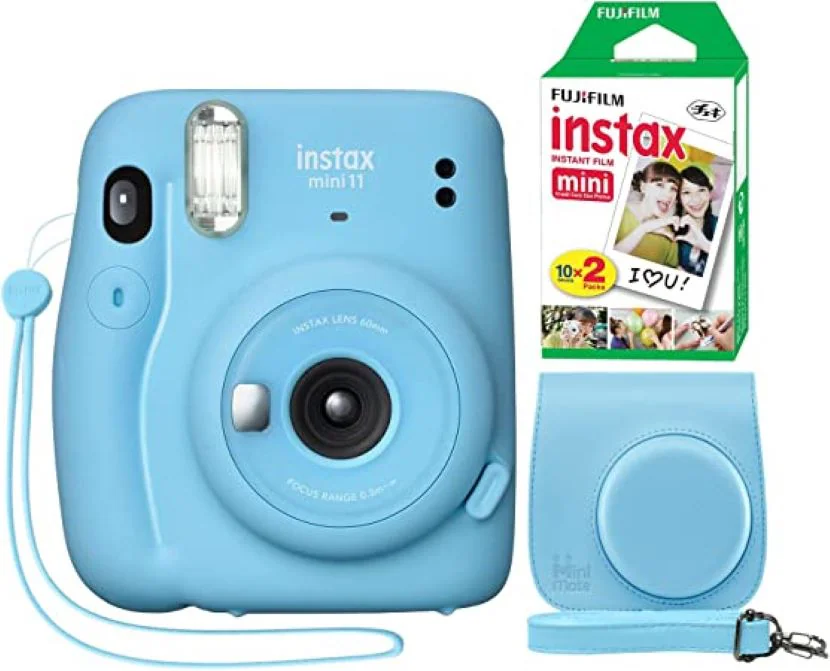 The Fujifilm Instax Mini 11 Instant Camera is fun to use, especially because it instantly produces photos!
A unique wedding gift, this camera has a built-in flash and auto exposure mode.
Perfect for the couple to capture their special moments!
This kit comes with the camera, Instax mini film 20 exposures, and a custom fitted MiniMate case.
25. Luxury Bathtub Caddy For 2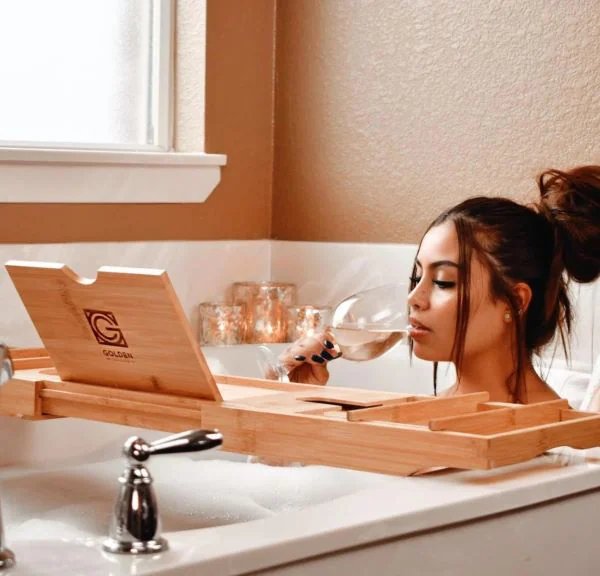 For ultimate relaxation after the chaos of hosting a wedding!
This expandable bathtub caddy features a wine glass slot, a tablet/book stand, detachable spa trays, phone holder, and a candle/glass holder. 
Crafted to meet the dimensions of most bathtubs in the market, this caddy is slip resistant.
26. National Geographic Push Pin Travel Map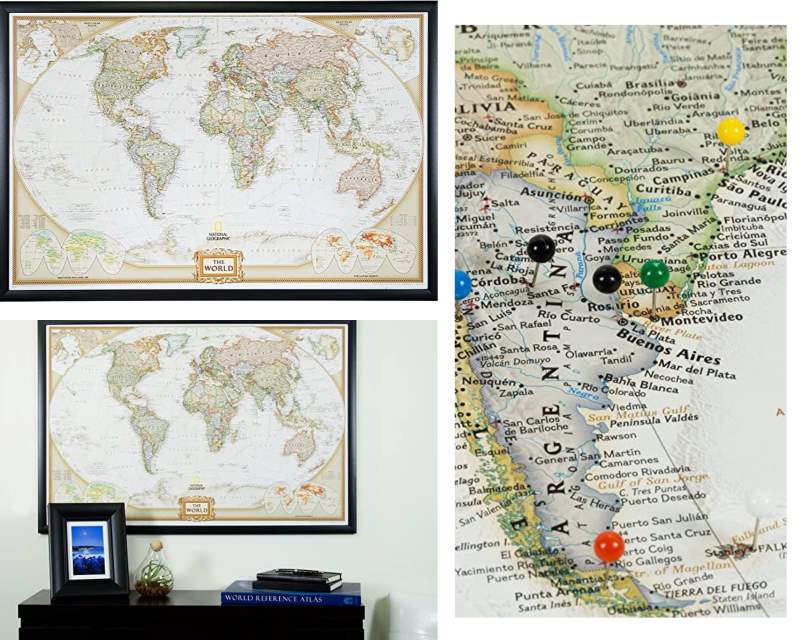 This wedding gift is perfect for the couple down with a serious case of wanderlust!
It will help the couple track their adventures together.
The map is 24 inches by 36 inches, and is professionally mounted on foamcore.
27. Electric Wine Chiller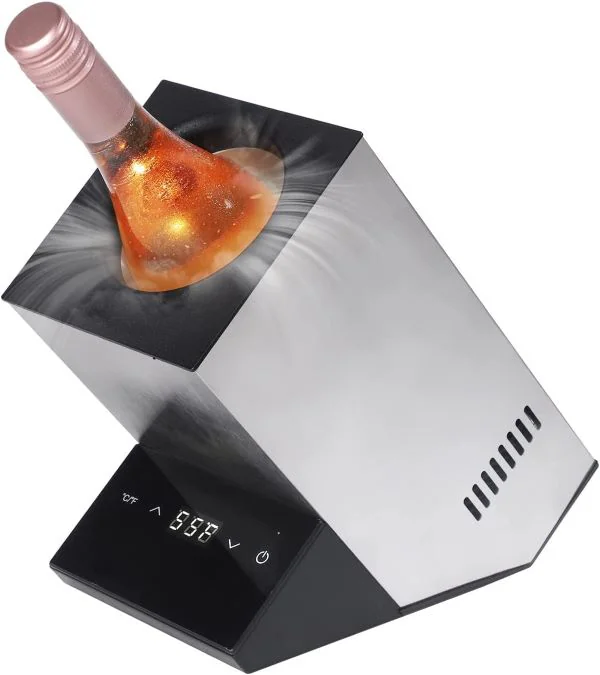 This one is an exceptional gift for any wine enthusiast!
The electric wine chiller from Cobalance makes sure that you get the best experience from all your wines.
If the couple loves hosting parties, or if they love wine, just give them this! Thank us later! 
28. Personalized Name Sign For Couple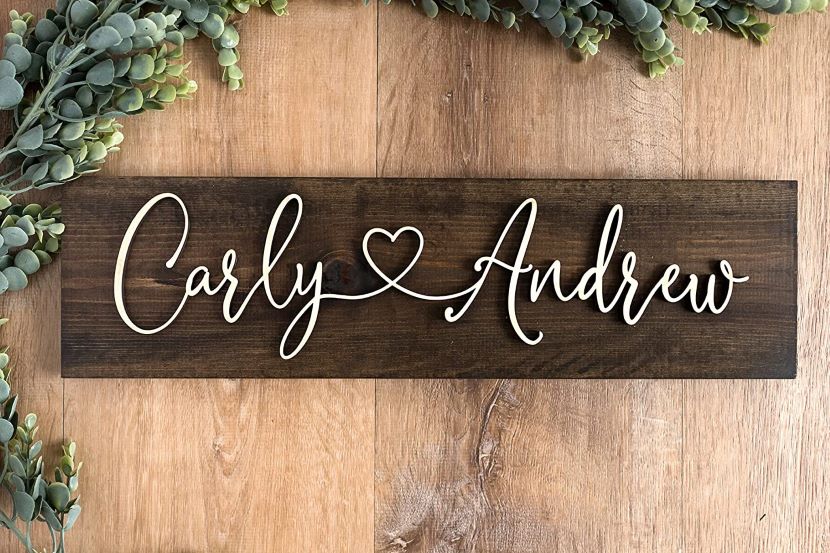 This personalized sign will be a cool new addition to the couple's home. 
You can select from 3 sizes and 3 wood stain colors to make this custom 3D rustic sign.
It's made from premium pine wood and comes ready to hang. 
29. Ceramic Mr & Mrs Mugs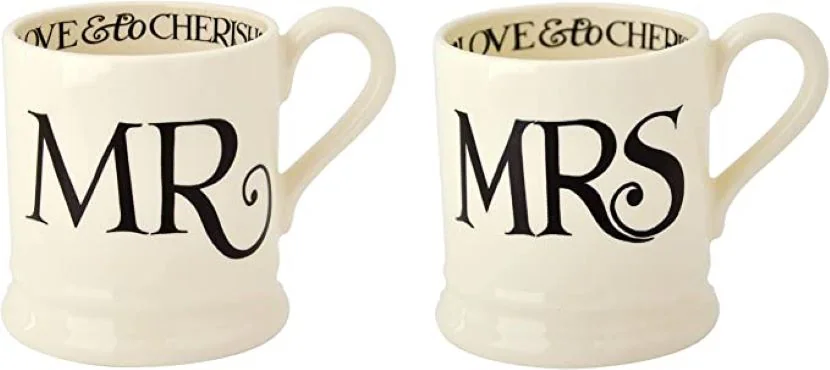 For the bride and groom who love their cuppa!
From the UK heritage brand Emma Bridgewater, this Mr & Mrs mug set is a keeper!
Hand-crafted and hand-decorated, these mugs have a 10 fl oz / 285 ml capacity.
30. Bissell MYair Personal Air Purifier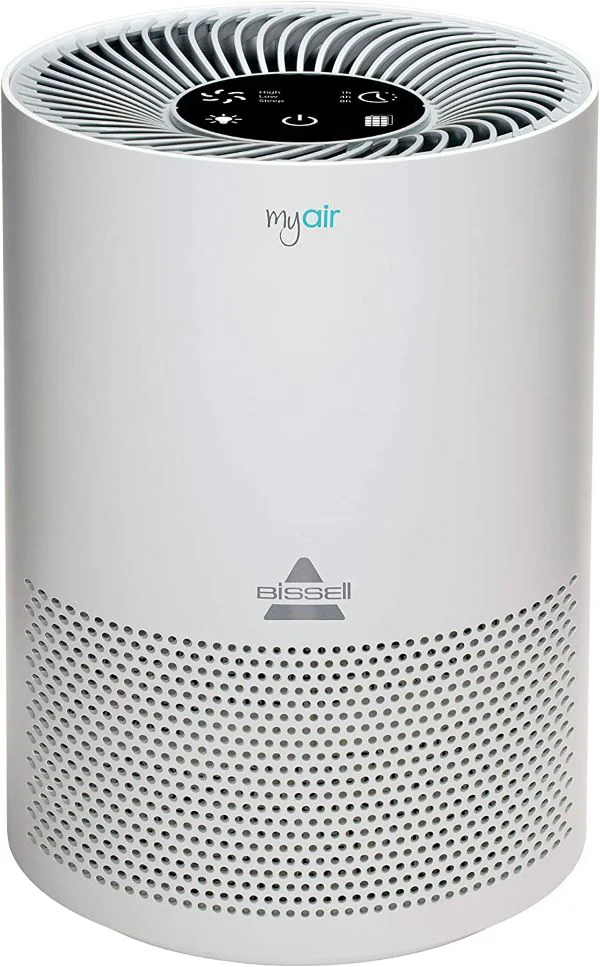 Gift the newlyweds fresh, pure air with Bissell MYair Personal Air Purifier.
It not only captures everything from pollen to pet dander and hair, but also gets rid of strong odors.
The best part? It's not noisy at all! 
Bonus – it also has a sleep mode with a night light.
31. Marbled Bathroom Accessories Set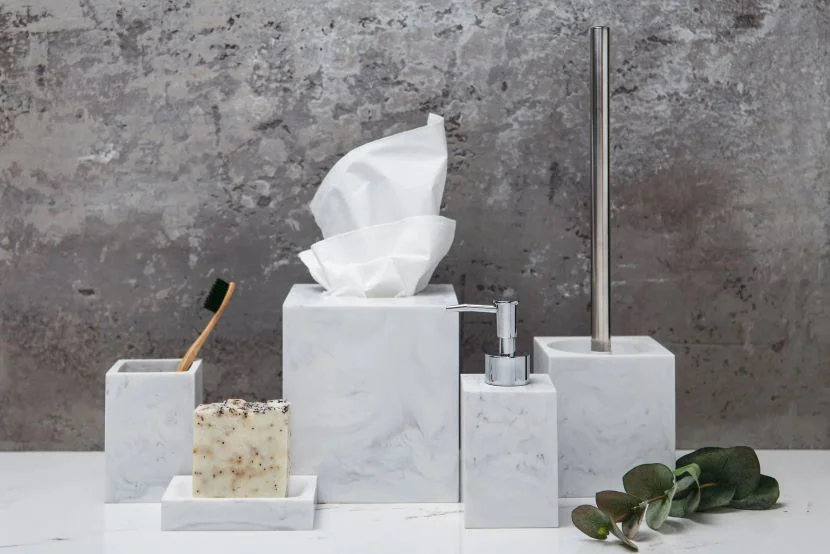 A wedding gift that's as functional as it's elegant looking!
This bathroom accessories set has been handcrafted from polyresin and has a smooth marble pattern. 
The set contains:
Toothbrush holder
Liquid soap/ lotion dispenser
Toilet brush
Soap dish
Tissue box cover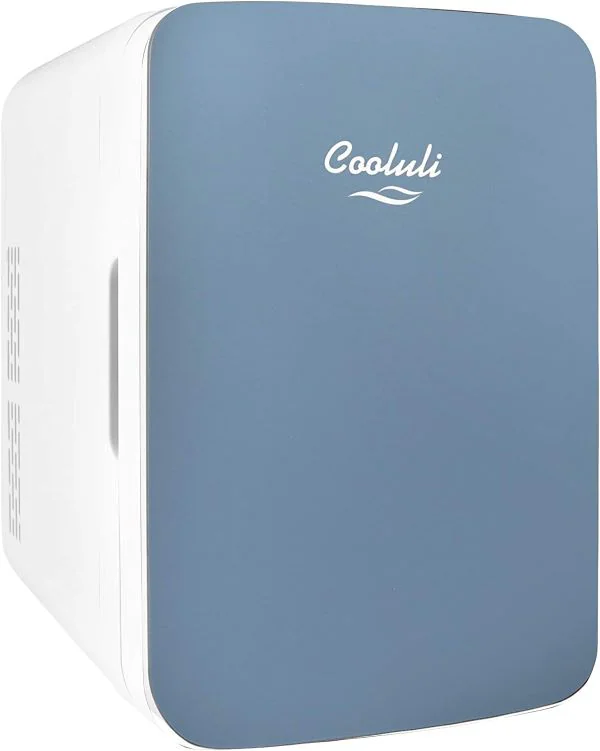 This Cooluli Infinity 10-liter mini fridge is perfectly portable, and doubles up as a unique wedding gift.
It can be used to store food, drinks, medications, and skincare products.
The newlyweds can keep it in their bedroom, office, car or even take it with them on their outings. 
It comes in many colors and has door shelving for extra storage.
Wedding Gifts From $100 to $200
33. Globe Decanter For The Couple Who Loves To Travel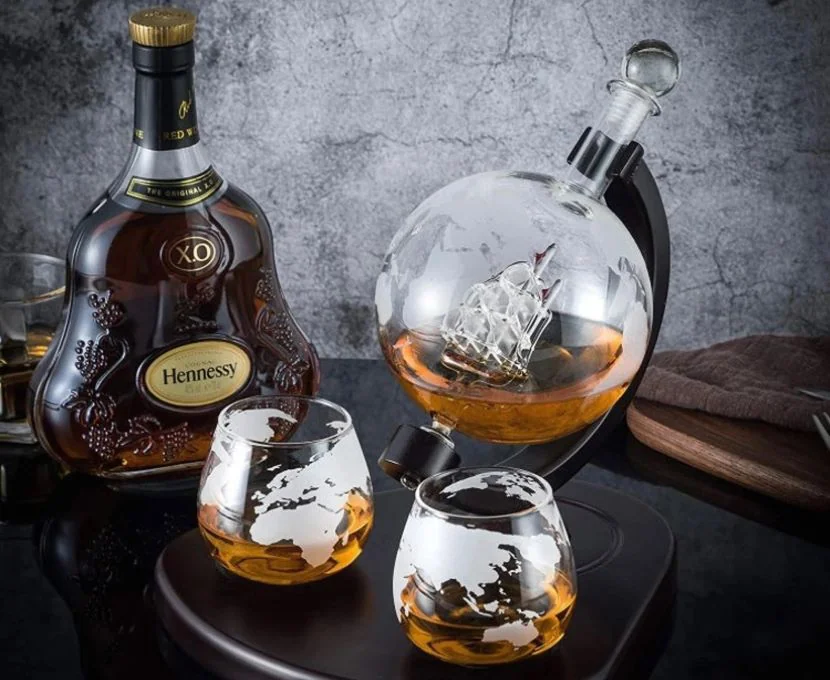 This wedding gift under $200 is perfect for the couple bitten by wanderlust!
The etched glass decanter has been hand-blown by skilled artisans.
The set includes:
2 world map etched glasses
Elegant wooden stand
4 stainless steel whiskey stones
Ice tong
Cleaning beads
Bottle stopper, pouring strainer and funnel 
34. 100% Linen Duvet Cover Set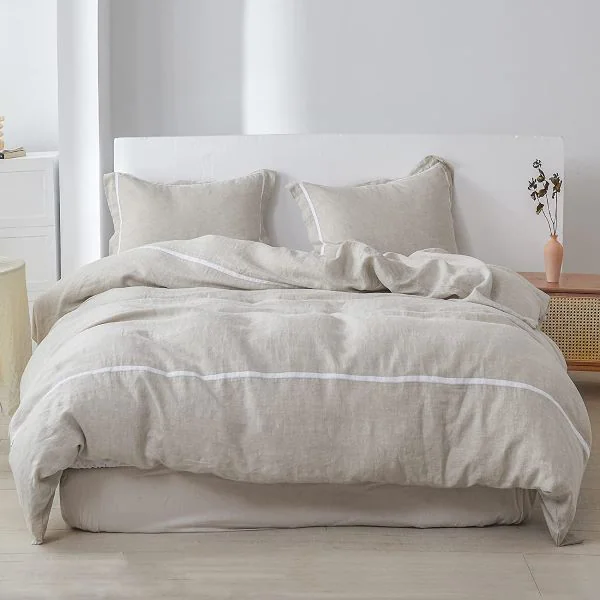 This 100% linen duvet cover set from Simple&Opulence is a luxurious king-size linen bedding set.
The set includes 1 duvet cover and 2 standard pillowcases.
The temperature moderation and breath-ability of the fabric leads to a sounder, calmer sleep.
The couple will thank you for this!
35. SWAROVSKI Minera Picture Frame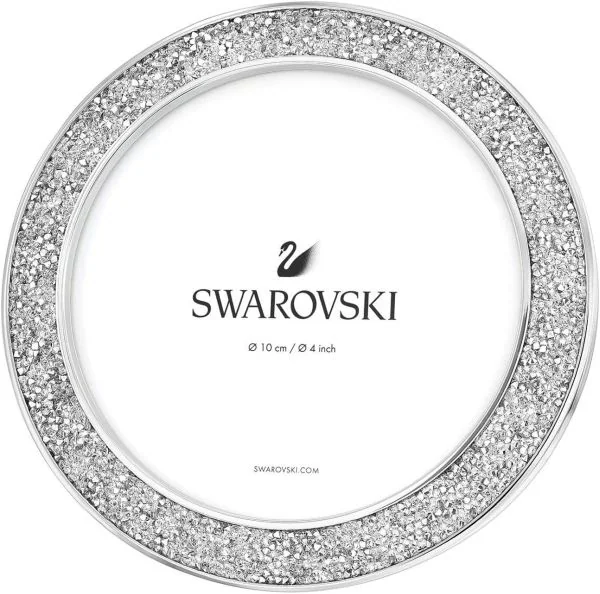 Cost – $129
Gift the couple the perfect frame to display their favorite wedding-day photo!
Studded with SWAROVSKI crystals, this dazzling picture frame can add glamor to any room!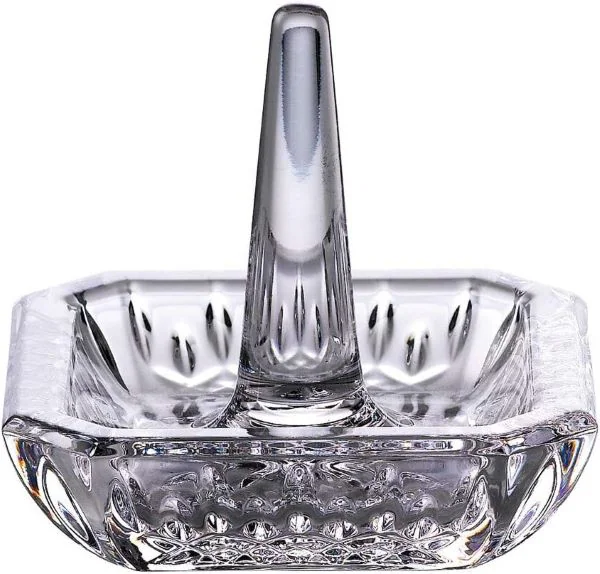 This crystal ring holder from Waterford is a very thoughtful wedding gift. 
It's the best place for the couple to keep their precious rings safe.
No more forgetting the rings in the bathroom or on the kitchen counter!
37. Le Creuset Stoneware Heritage Rectangular Casserole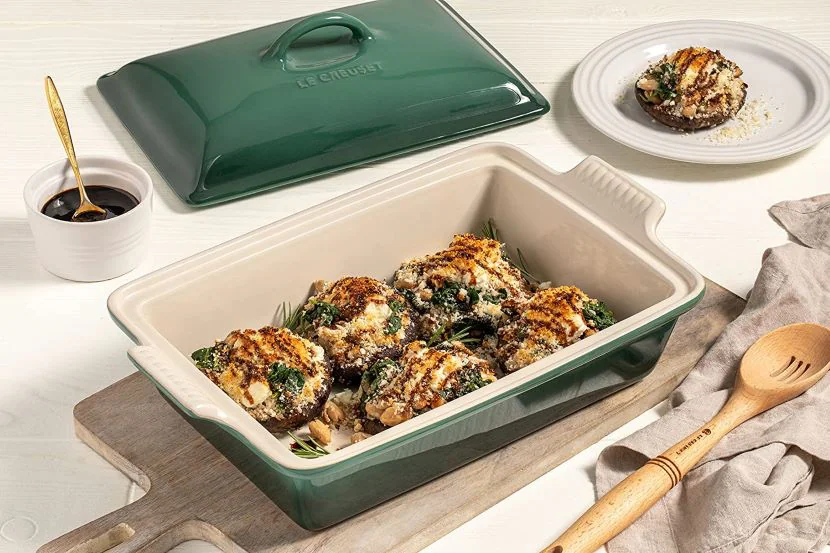 Perfect wedding gift for the couple that loves to cook together.
Premium stoneware used for this casserole ensures excellent heat distribution for uniform browning. 
It's versatile and it looks sleek, something the newly weds will be happy to have in their kitchen.
38. Adventure Essentials Survival Kit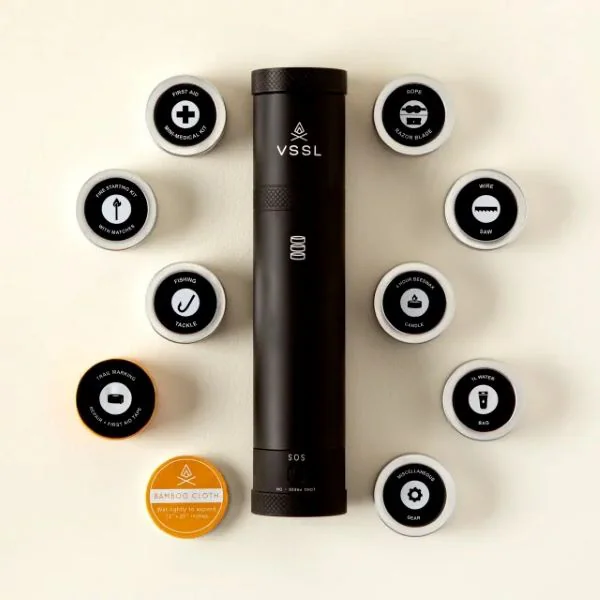 The couple loves to go on action-packed adventures? They'll love you for this gift!
This compact survival kit has essential safety supplies inside a military grade aluminum LED flashlight.
It includes:
Aluminum beadless whistle
P38 Military GI can opener
Bamboo cloth
4-hour beeswax candle
2 gear twists
Mini sewing kit
Fishing kit with 35 feet of fishing line, 3 worms, 6 j-hooks, 1 bobber
4-Mode LED Flashlight
Oil-filled precision compass
Fire-starting kit
25 feet of marine grade rope
Extra-sharp razor
Wire saw
1-liter Whirl Pak water bag
First-aid kit 
39. A Stylish Portable Charcoal Grill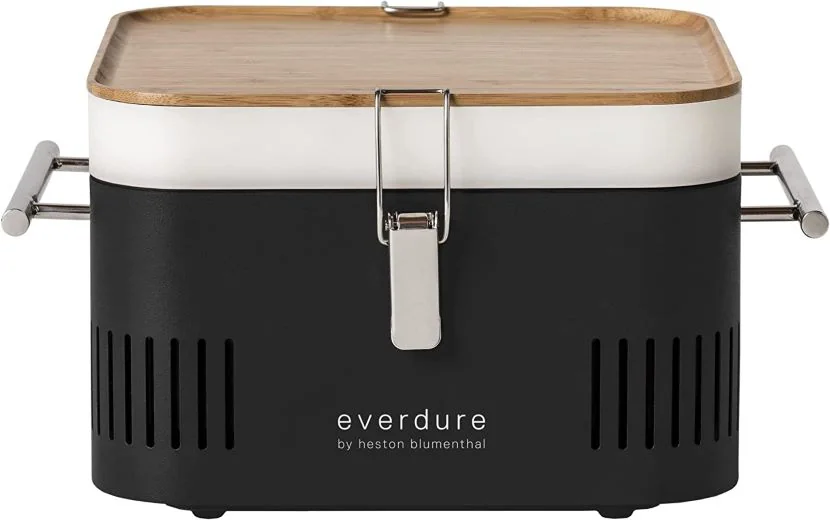 The perfect wedding gift for the outdoorsy couple.
No matter where they want to grill – the beach, mountains, or even their patio, this gift will be the best companion. 
The Everdure CUBE Portable Charcoal Grill is lightweight & compact.
But it packs a punch – you can grill 6 small burgers or 3 medium steaks on it!
40. A Contemporary Floor Lamp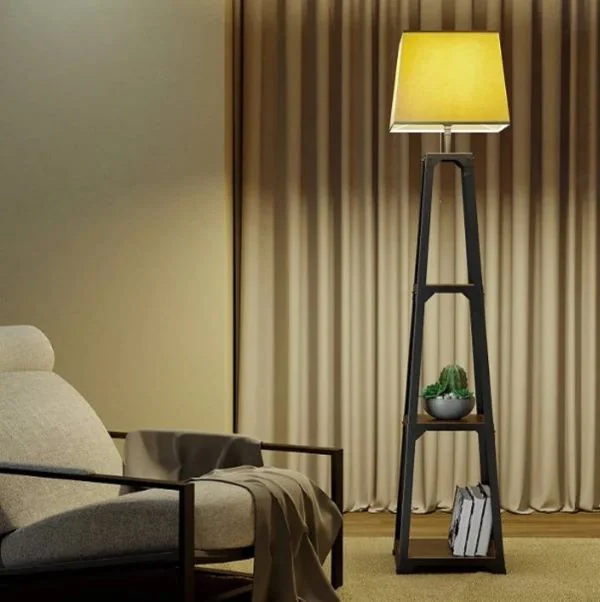 The elegant design of this floor lamp perfectly blends with any room and any décor. 
Underneath its radiant glow, the couple can spend countless hours reading, snuggling, or whispering sweet nothings… 
The shelves provide a handy space for keeping books, curios and collectibles.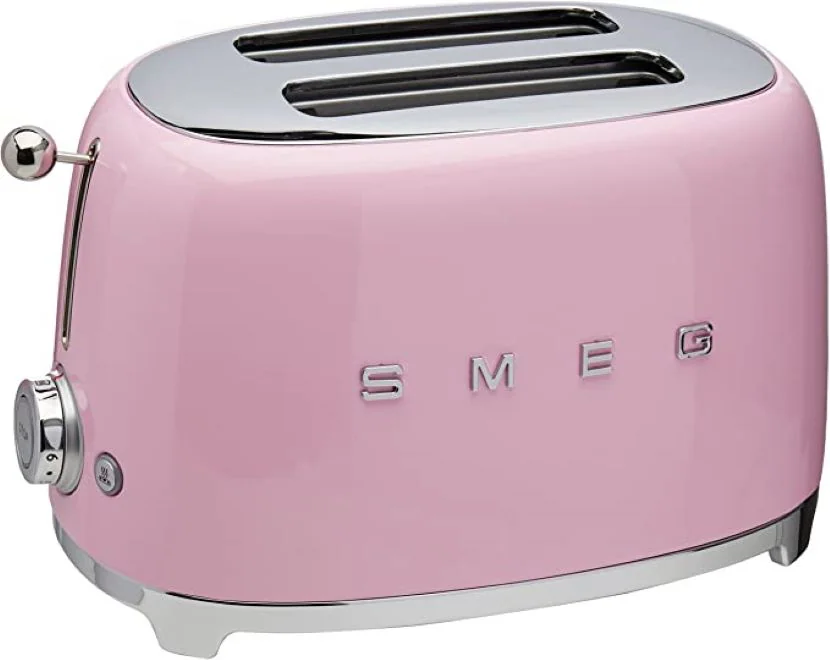 50's retro style meets 21st century sleek, that's what this toaster is!
But, it's not just a pretty face!
The SMEG toaster has 2 extra-wide slots, and 6 browning levels.
It also has a removable crumb tray. 
It comes in 9 colors and its powder-coated enamel finish is scratch-resistant.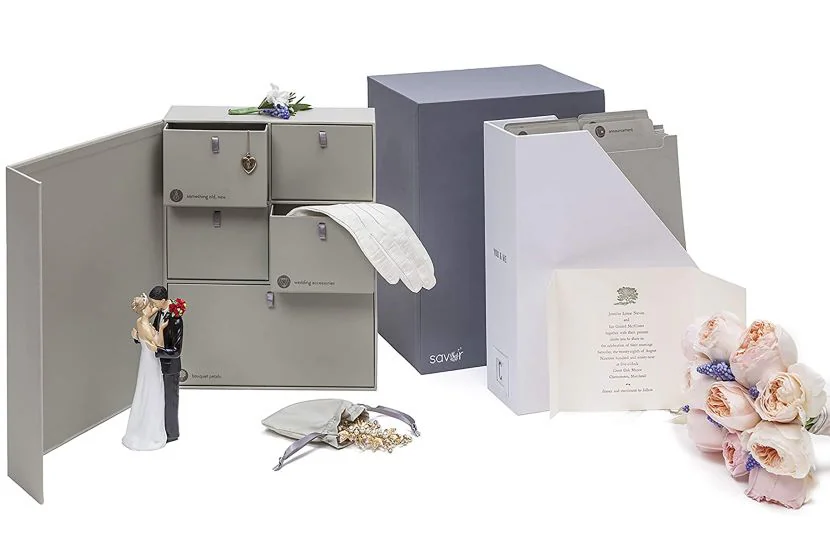 Nothing says thoughtful like a personalized wedding gift.
This custom wedding keepsake box has the perfect space for the couple's favorite wedding-day mementos.
Cake topper, flower from the bridal bouquet, the confetti they tossed, written vows… they can safely store it all. Thanks to you!
43. Amazing Long-Distance Love Lamps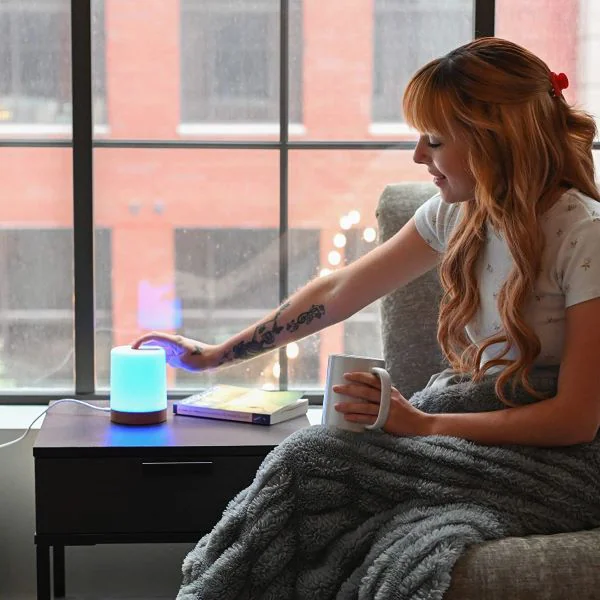 Think you've seen this somewhere?
Well, of course you have, it was all over social media a few months ago!
If the couple is in a long-distance relationship, they'll appreciate this interactive gift. 
When one person taps on their lamp, the other person's lamp lights up in the same color. 
Just a way of saying "I'm thinking of you…" 
How cool is that!
44. Indoor Herb Garden Kit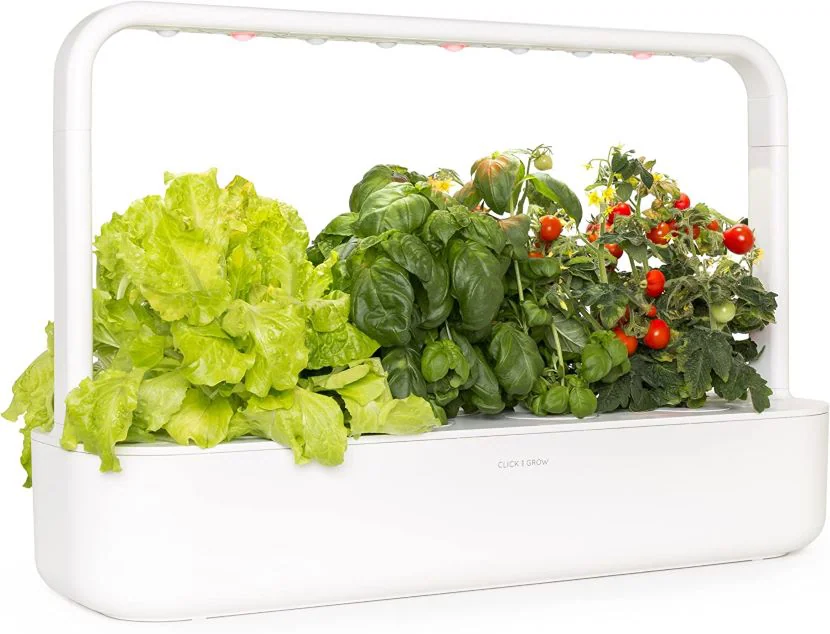 The Click & Grow garden kit lets the couple grow their own herbs, right on their kitchen countertop.
No need for a traditional garden or any outdoor space. 
This indoor garden kit comes with a grow light, and 3 mini tomato, 3 basil and 3 green lettuce pods.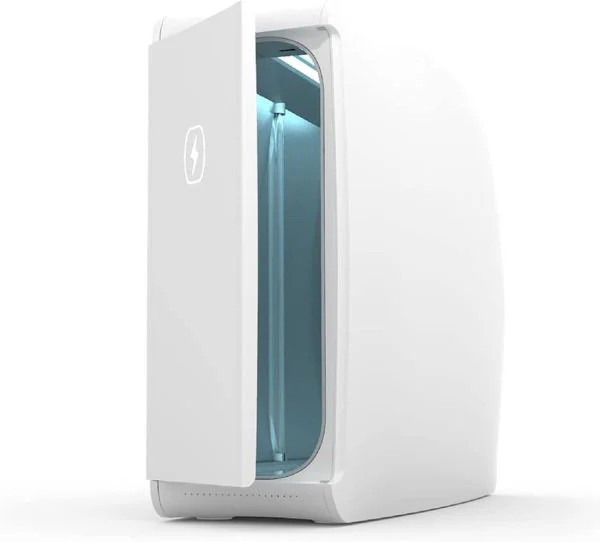 In a world that's still recovering from a pandemic, this wedding gift is thoughtful and useful.
This powerful UV light sanitizer box disinfects without sprays, solvents, or chemical cleaning agents.
Phones, toys, tablets, TV remotes, keys, gaming controllers, wallets—this box fits it all.
46. Breville Bambino Plus Espresso Machine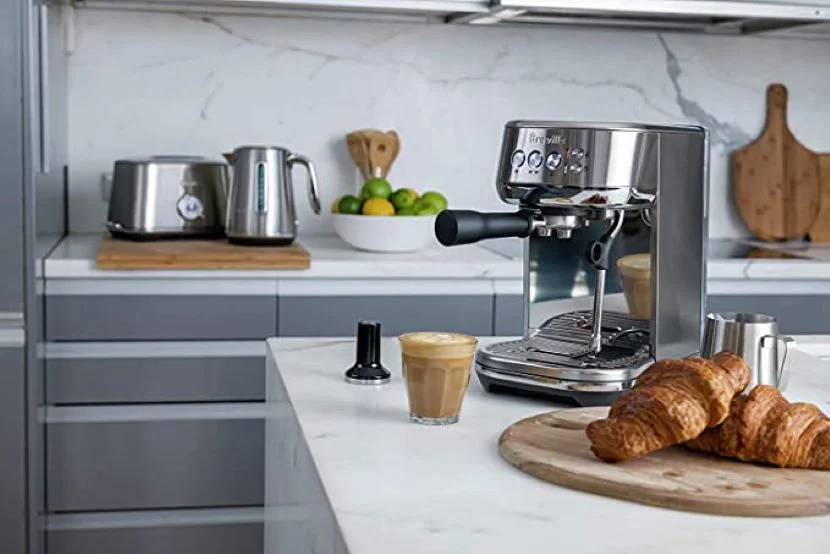 This one will definitely leave a lasting impression.
The Breville Bambino Plus is built to deliver optimal espresso flavor with every cup. 
It pre-infuses ground coffee with low, steady water pressure before extraction, thus producing rich coffee.
Perfect wedding gift for those who can't begin their day without a caffeine kick!
47. Compact Air Fryer-Toaster-Oven Combo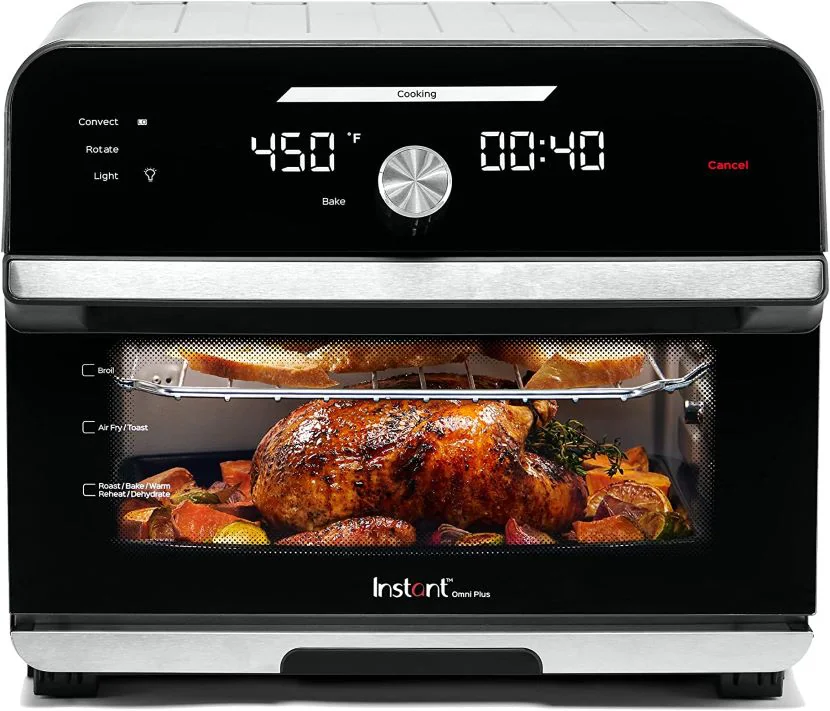 Cost – $209.95
The Instant Omni Plus is a fryer-toaster-oven hybrid that can cook food in 10 ways for the happy couple!
Baking, air-frying, toasting, dehydrating, roasting, broiling… You name it, it can do it!
It functions like a full-size oven, but fits on your countertop!
48. Pure Mohair Wool Throw Blanket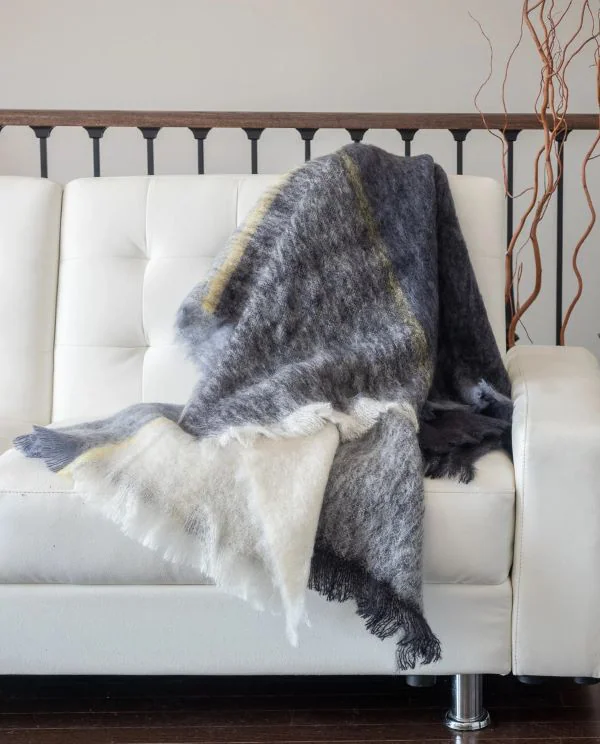 Gift the couple a super-cozy throw blanket that'll see them through cold snuggled-up nights on the couch.
This blanket is made of 100% top quality New Zealand Angora mohair.
The best part? You can choose from 12 different colors! 
49. Tinggly Just Married Gift Box Of Experiences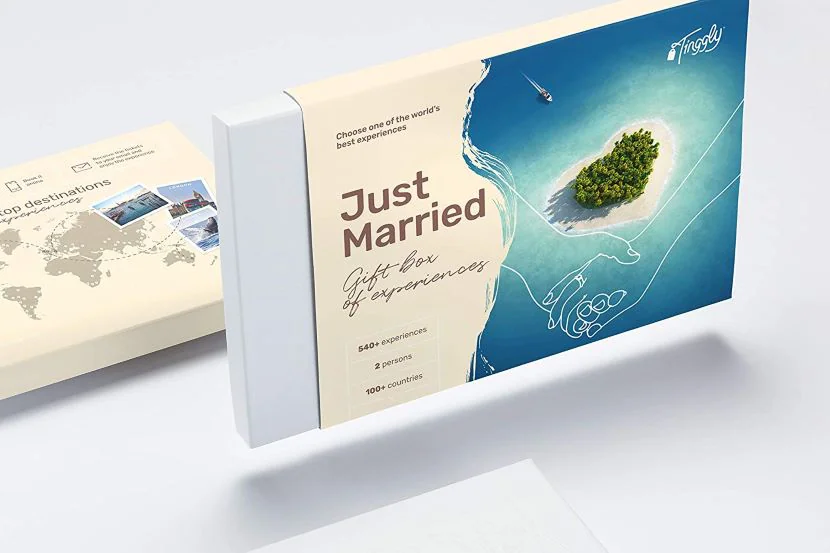 For something completely out of the box (we had to!), give the couple an experience of a lifetime. 
The Tinggly Just Married Box contains a voucher that allows the couple to choose 1 experience from over 500.
The experiences are scattered over 100 countries.
Examples of experiences include:
Wine Tasting at Sicilian Winery for 2
River Rafting Experience ex Cairns for 2
Maui Sunset Dinner Cruise for 2
50. House Of Marley Stir It Up Wireless Turntable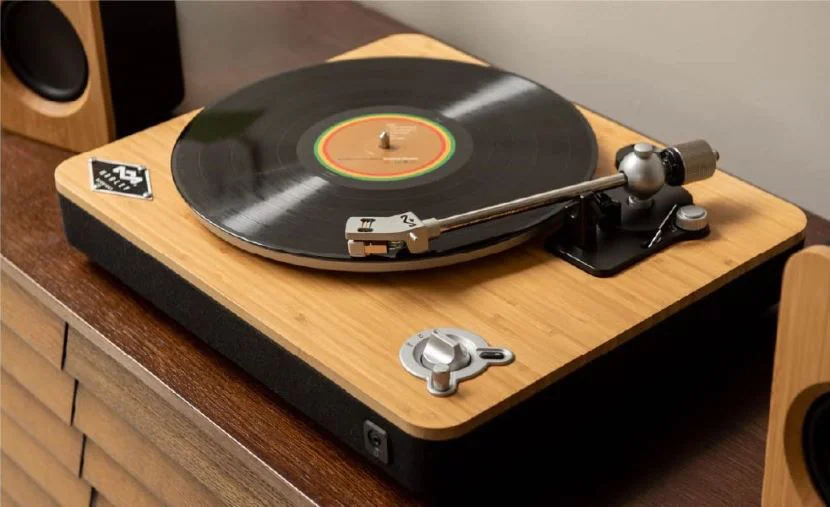 If music is their jam, the couple will love this vinyl record player!
Crafted from sustainable materials, this turntable is compatible with any Bluetooth speaker or headphones.
You'll love these posts...