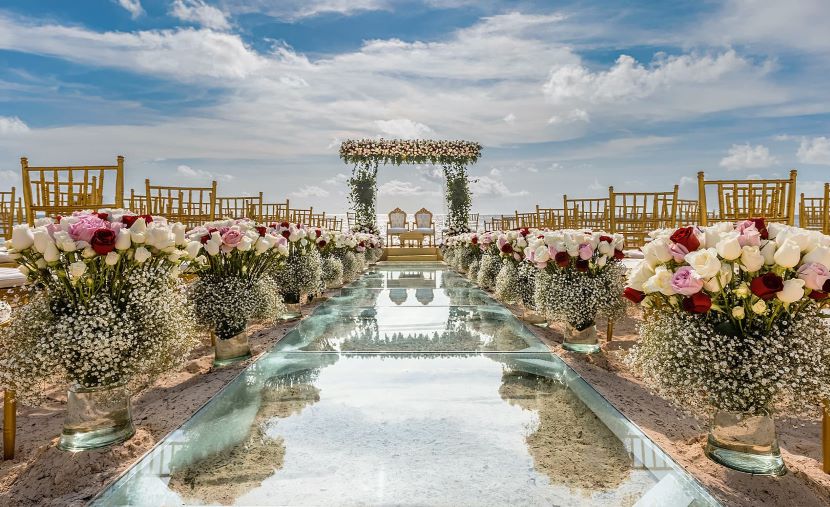 Average Cost of a Destination Wedding in Cabo
So you wanna get married in Cabo, huh? 
Great choice!
You were probably told, "destination weddings in Cabo are expensive!"
But, that's not true (pinky promise!)
In this post, you'll find out the average cost of a destination wedding in Cabo.
You'll also discover all-inclusive wedding packages with prices!!! 
Ready to get started?
Let's begin…
On average, wedding packages in Cabo range anywhere between $4,000 to $8,000 for an all-inclusive wedding with 20 to 70 guests. 
The average exceeds $10,000 if you have more than 100 guests. 
But that's the average.
Depending on which resort, and which wedding package you choose, your costs can be higher or lower.
The price depends on:
Resort accommodation
The wedding package you choose
Number of guests you invite
Airfare
And a few other factors…
Like, if you decide to go wild on extras like a photo booth, flowers galore, specific table settings, your own videographer or DJ flown in from the U.S… You get it.
Looking to save money on your destination wedding? Connect with experienced planners that can help you get further unpublished discounts and hold your hand along the way!
To host an affordable (but not cheap!) destination wedding, your best bet is an all-inclusive wedding package. 
Most resorts in Cabo have packages. However, some luxury resorts also offer a-la-carte weddings which tend to be more expensive.
An all-inclusive wedding package generally includes:
Wedding venue fees
Wedding venue décor
Seating arrangements
Services of minister or judge
Symbolic ceremony
Bouquet and boutonniere
Wedding cake
Sparkling wine for toast
Open-bar
Food
Many resorts in Cabo have multiple all-inclusive wedding packages you can choose from.
While some cover only the wedding ceremony, some also include reception dinner, and/or cocktail hour, and/or rehearsal dinner in their packages.   
Check out these 10 Best Wedding Packages in Cabo Under $10,000. They might prove useful to you. 
With so many all-inclusive wedding packages in Cabo, it can get overwhelming! 
No stress! We are here to help!
Here's a list of 10 best all-inclusive wedding resorts in Cabo.
Our wedding specialists are also naming 3 of their favorite ones below: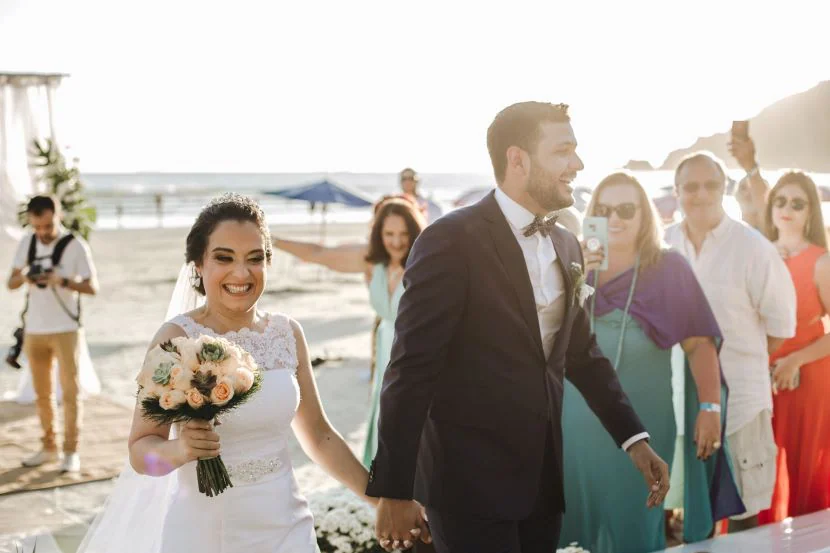 1. Cabo Wedding Packages for up to 30 Guests
Lucky In Love by Breathless Cabo San Lucas Resort & Spa
This all-inclusive package at Breathless Cabo San Lucas costs $3,399 for up to 30 guests.
In the months of August, September, and October, this will cost $3,199 for up to 30 guests.
This wedding package includes:
On-site wedding coordinator
Preparation and ironing of the couple's wedding day attire
Service of judge or minister
Floral arrangements
Bouquet(s) and/or boutonniere(s) for wedding couple
Food & Beverage
Wedding cake
Sparkling wine
Private cocktail hour with hors d'oeuvres
Private dinner reception
Sound system with speaker and microphones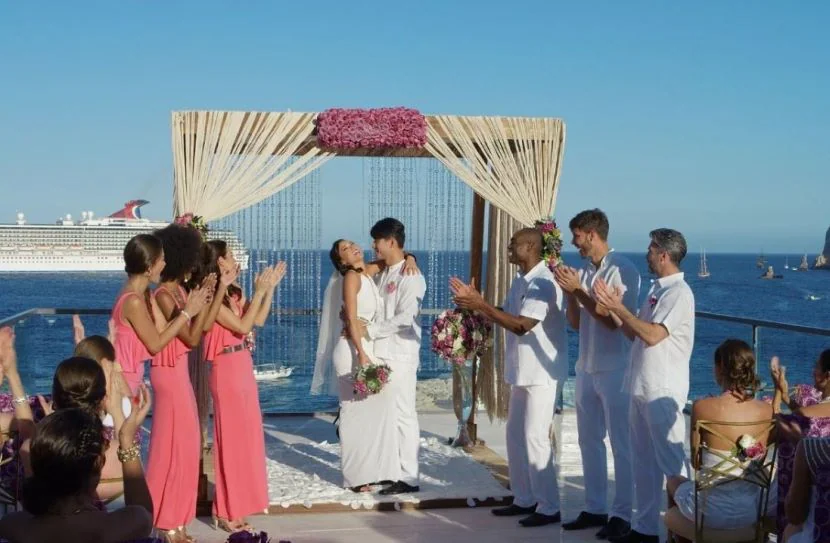 Plus, you get incredible benefits like…
Special turndown service night of the wedding
Breakfast in bed with mimosas for the couple, morning after ceremony
Late checkout for the couple
24 full color photos and wedding album
Is this resort the one for you? Say "I do" to it and leave the rest of the planning to our wedding specialists!
2. Cabo Wedding Packages for 50 Guests
Corazon by Grand Fiesta Americana Los Cabos
This all-inclusive package by Grand Fiesta Americana costs $6,425 for up to 50 guests.
Additional guests cost $90 per person. 
This wedding package includes:
Symbolic ceremony performed by a non-denominational minister
Dedicated wedding expert
Bouquet(s) and/or boutonniere(s) for wedding couple
Sound system
Wedding cake
Sparkling wine toast
Private cocktail hour with international open bar and Mexican canapés
3-hour private reception with international open bar
45-minute set of live music performed by a guitarist or violinist
Menu tasting for two (after you sign the contract)
Makeup and hair styling consultation for the bride
Preparation of couple's wedding day attire (pressing and
steaming)

Plus, you get incredible benefits like…
Refreshments and amenities for the couple while getting ready 
Late check-out for the wedding couple
Private cabana for the newlyweds
25-minute couples' massage
15% off on Spa treatments
See all your venue options and package details at Grand Fiesta Americana weddings.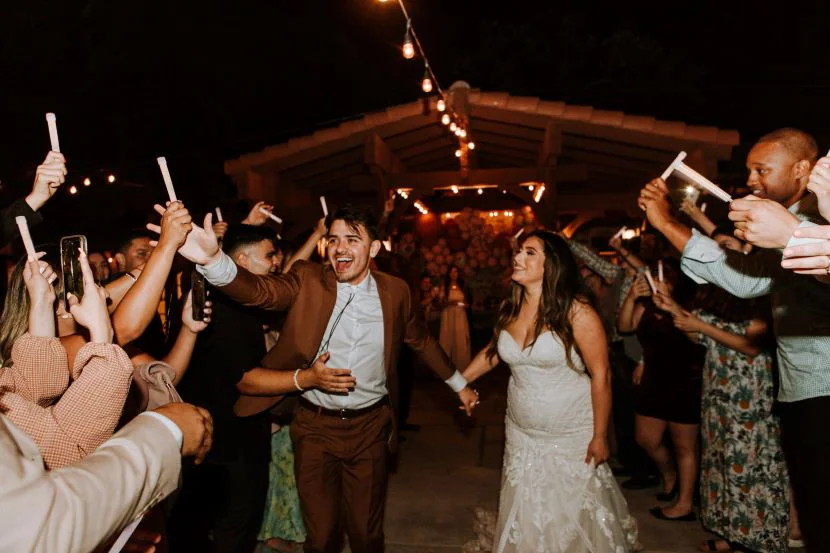 3. Cabo Wedding Packages for over 100 Guests
Beyond Memorable by Dreams Los Cabos Suites Golf Resort & Spa.
This all-inclusive wedding package from Dreams Los Cabos Suites Golf Resort & Spa costs $11,999 for 80 to 100 guests.
The resort has 4 idyllic venues, including a beachfront gazebo, 2 ocean-view pool terraces, and the beach. 
This wedding package includes:
Wedding coordinator
Preparation and ironing of the couple's wedding day attire
Shoe check station at the beach venues
Bouquet and boutonniere
1-hour welcome cocktail party
2-hour rehearsal dinner
3-hour wedding reception
Buffet with variety of cuisine options
Private bar with bartender
Dessert station
Couple's choice of wedding cake
Romantic breakfast in bed with mimosas the day after the wedding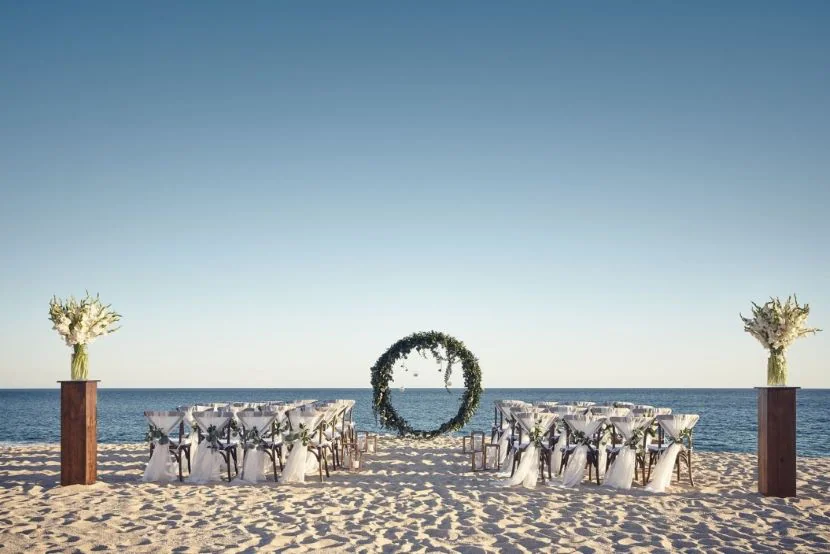 Plus, you get incredible benefits like…
Every 5th room free (up to ten complimentary rooms)
20% discount on spa treatments for the couple and their parents
Access to the spa's hydrotherapy areas for the couple and their parents
Free anniversary nights
$100 in resort coupons per guest
Private group check-in
Can You Elope in Cabo?
Yes! Cabo is a beautiful destination and many couples choose to elope here!
In fact, there are a few resorts in Cabo that offer free (yes, free!) elopement wedding packages for you and your partner.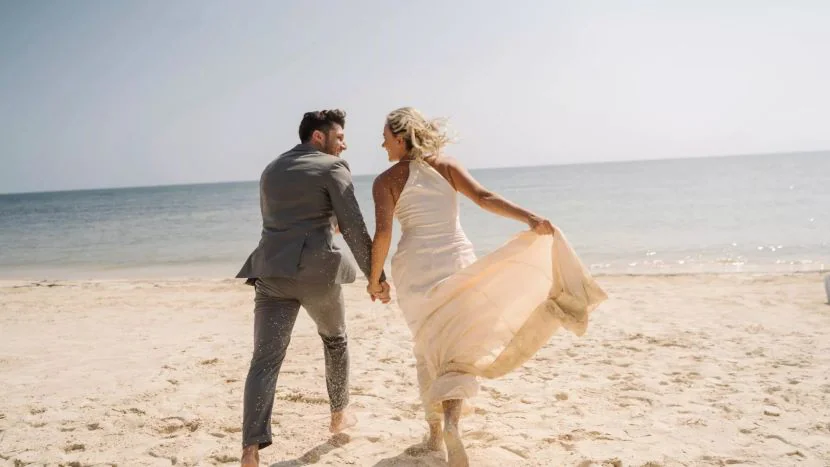 The package generally includes:
Minister or officiant
Symbolic ceremony
Ceremony location
Witnesses
Bouquet and boutonniere
Romantic dining arrangements for 2
Check out our 10 BEST Cabo wedding packages & venues!
Cabo is a year-round destination!
Because of its tropical weather, all 12 months offer beautiful settings for a gorgeous wedding.  
Having said that, some months are better than others. 
If you want an outdoor wedding, it's best to avoid the hurricane season that lasts August through October. 
Best months to get married:
November to January (winter months, holiday season)
March to August (spring months, summer holidays)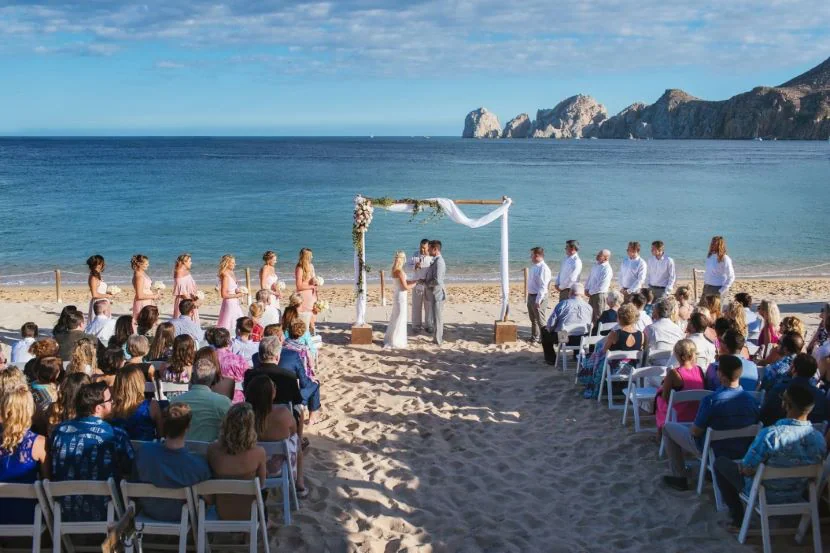 So you're probably wondering… do your guests need to pay? And for what? 
As a rule of thumb, guests are expected to:
book their travel arrangements

pay for their accommodation
Aside from these, your guest do not have to pay to attend your wedding.
On average, guests will be spending anywhere between $1,000 to $2000 for your destination wedding in Cabo. 
Need more information? Check out this Guest Guide to Destination Weddings! 
Psst… You can send it to your guests as well! 😉
Depending on which type of marriage you opt for, your wedding could be legal. 
There are 3 types of marriages in Mexico:
Civil (legal)
Symbolic (not legal)
Religious (not legal)
A civil ceremony is legal all around the world. Thus, it is recognized as a legal marriage in Mexico. 
Symbolic ceremonies and religious weddings are not legal. 
You'll have to get married in a courthouse before or after your wedding if you opt for either of these. 
What about LGBTQ weddings in Cabo?
Same-sex marriages are legally recognized in Cabo and throughout Mexico since December 2022.
However, same sex partners can also hold a symbolic ceremony at their chosen wedding resort. 
You need to carry a few important documents with you in order to get married in Cabo, Mexico. 
Documents needed:
Passport
Birth certificate
Tourist card or visa 
Widowed or divorce decree (if applicable)
If you want to have a civil (legal) wedding in Mexico, you have to submit an application form at a local registry office. 
You'll also need a few more documents and information apart from the ones mentioned above. 
You and your partner must provide the following information and copies of documents: 
Names, ages, nationalities, addresses, and occupations of your parents.
Blood test certificate (test done in Mexico 48 hours before wedding)
Four witnesses with copies of valid passports or driver's license.
Note that witnesses need to be above 18 years of age. 
Need help with important documents? We've got your back! Get all the details on how to legally get married in Mexico here.