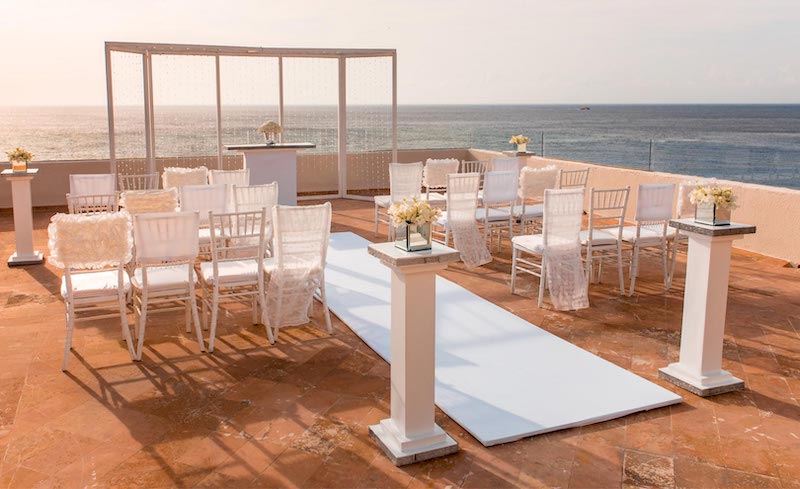 Yeah, so you want a gorgeous resort in Mexico for your wedding, right? 😍
You've found your list.
Our planners collected the most beautiful wedding resorts and venues, no matter your dream wedding!
We're sharing wedding resorts that can fit anyone's budget. So whether you're looking to splurge or save a little, we have options for you!
Grab a glass of wine… and get into it! 🍷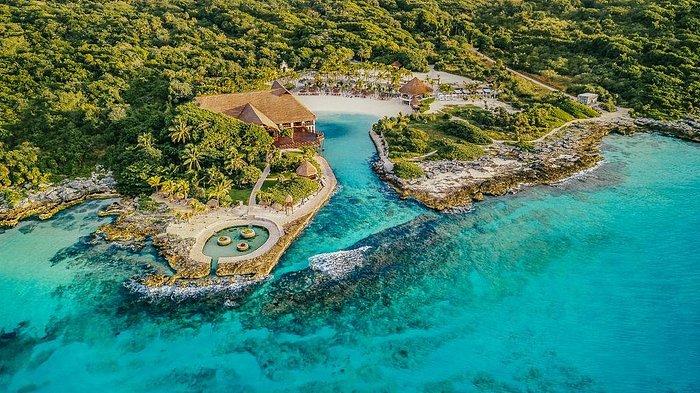 All engaged couples want one thing when searching for a destination wedding: an amazing view of the bluest waters. 
At Occidental at Xcaret Destination, they offer a few wedding venues on the resort to get married, such as: 
Mayan Ruins
The Garden Gazebo
On the beach
And lucky for you, they all have the best views! 😍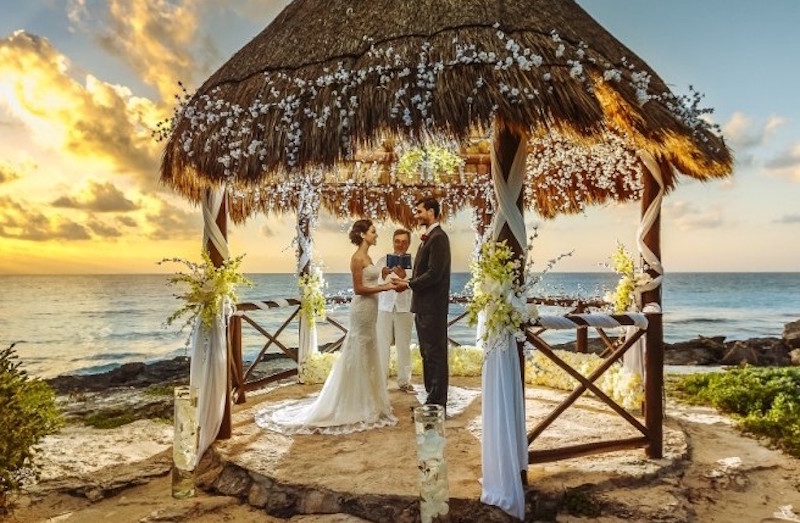 Located in Riviera Maya, just south of Cancun, this family-friendly resort has so much to offer.
With 11 restaurants, multiple bars, and  24/7 food and drinks, you definitely get an all-inclusive experience. Rooms at this stunning resort start at $228/night, which is a steal! Especially with those views. 
Occidental at Xcaret Destination is not only a great wedding spot, but your guests will be raving about the amenities too! 
What we love:
Affordable prices
Wide range of food options for your wedding reception
Unique locations for the ceremony
Beautiful photo album to remember your most special day
Included wedding consultant 
What we don't love: 
Limited reception areas
Books up fast!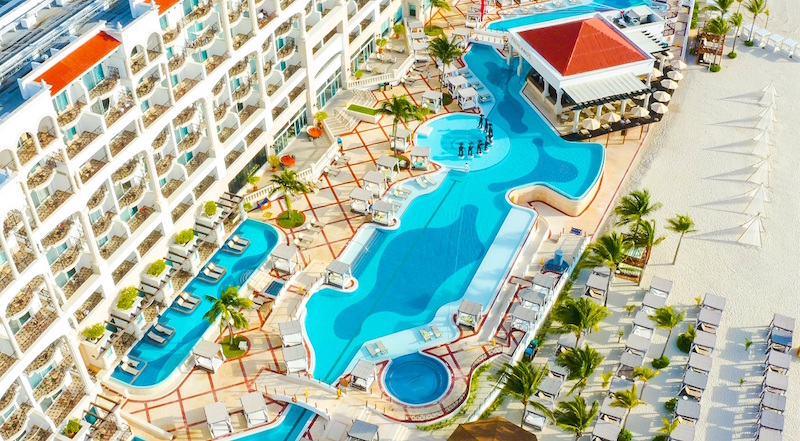 Are you looking for an intimate resort for your wedding? You've found it! 😊
The Hyatt Zilara Cancun comes with amazing amenities including swim-up suites, an infinity pool, 6 restaurants, and 5 bars!
Our wedding team loves working with the wedding coordinators at this adult-only resort for an array for reasons!
 Services include: 
Wedding Specialists 
Catering
Beautiful ceremony locations
Affordable wedding packages
Rooms start at $590/night. Did we mention every room has an ocean view? 😍
What we love:
An intimate, romantic experience
3 outdoor ceremony locations
4 wedding packages that range from $500 to $5,055
Options to design your perfect menu 
What we don't: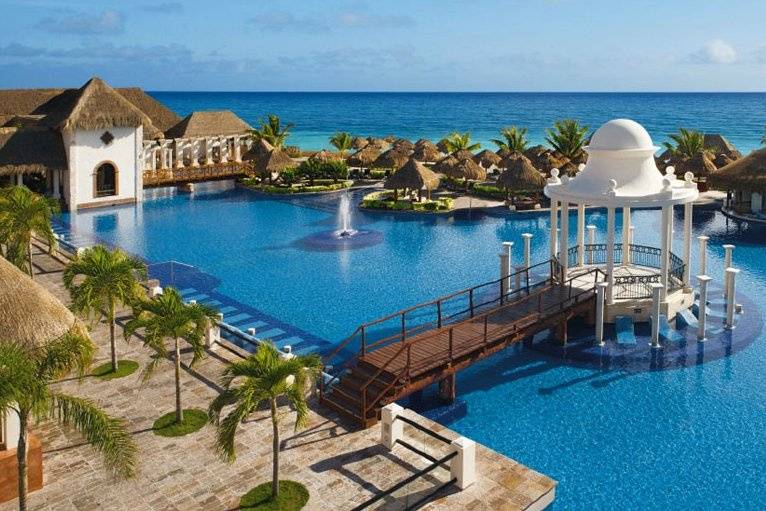 Wouldn't it be great to find a resort where you can have your wedding and honeymoon? 💍
Look no further!
Dreams Sapphire Resort and Spa have romance packages that range in price, accommodations, number of wedding guests, and more.
Just look at how romantic this resort is! 😍
We work with Dreams Sapphire to handle every little detail, letting you relax and enjoy your special day. 
Even better, you get to choose from 9 wedding venues!
With rooms starting at $334/night, 13 bars and restaurants, and all-day entertainment, you'll get your money's worth!
What we love: 
Packages that include your wedding and honeymoon
Committed wedding coordinators
4 incredible packages, with an elopement option 
6 ceremony locations, 6 reception areas
What we don't: 
Package prices go up to $11,999
Books up very fast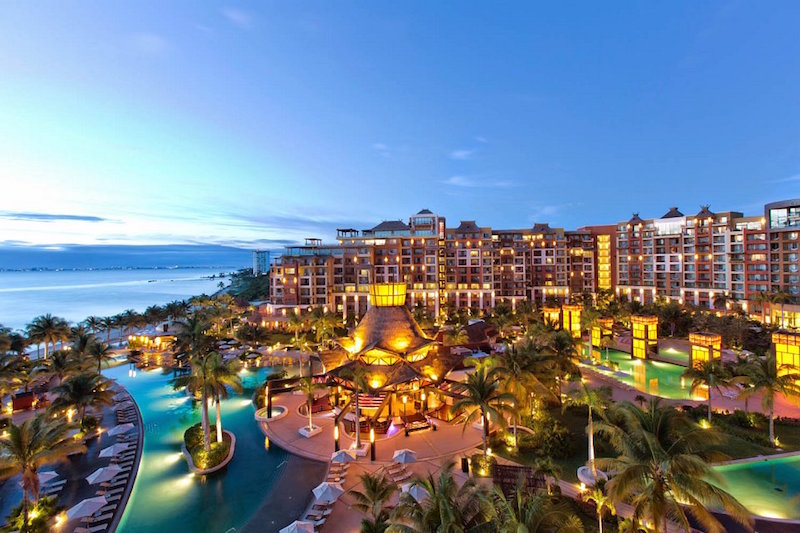 This luxury beachfront hotel is one you can't pass up.
Villa del Palmar Cancun is a AAA Four-Diamond-rated resort that definitely lives up to that title. 😍
With gourmet dining options, unique pool options, and resort activities, your credit card is basically begging to be used.
If you think the amenities are amazing, wait until you hear about the wedding packages!
Villa del Palmar offers three wedding packages, such as:
Love Me Tender (from $1,050 USD)
Endless Love (from $1,650 USD)
Truly, Madly, Deeply (from $2,400 USD)
Each package offers something different, but don't worry. You'll feel special and taken care of no matter which one you choose!
What we love:
Highly rated resort
5 stunning ceremony options
Super affordable wedding packages to choose from (3)
What we don't:
Packages are limited
All ceremony/reception areas are outside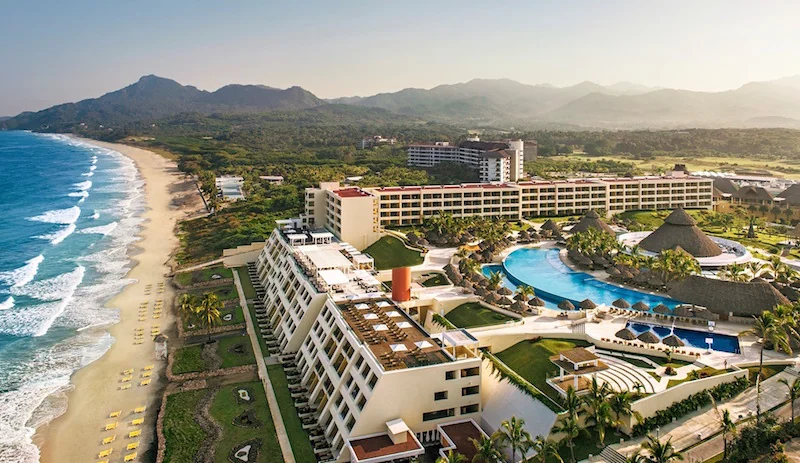 This resort is unlike any you've seen before.
From the wedding venues to the architecture of the building to the sunset views, your stay at Iberostar Selection Playa Mita will be a very special one.
This resort, which is made from 100% local materials, really puts the "hot" in "hotel". 🔥
With 3 wedding venue options, affordable packages, and activities for all ages, your guests will be asking to stay through your honeymoon!
Wedding packages start at $999 to $2899, with add-ons available.
Don't worry, if your guests start to stress you out, they also have a spa that overlooks the ocean.
What we love:
Kids stay free
Perfect for couples who want a modern wedding
Your entire wedding week is planned by the wedding coordinators!
What we don't: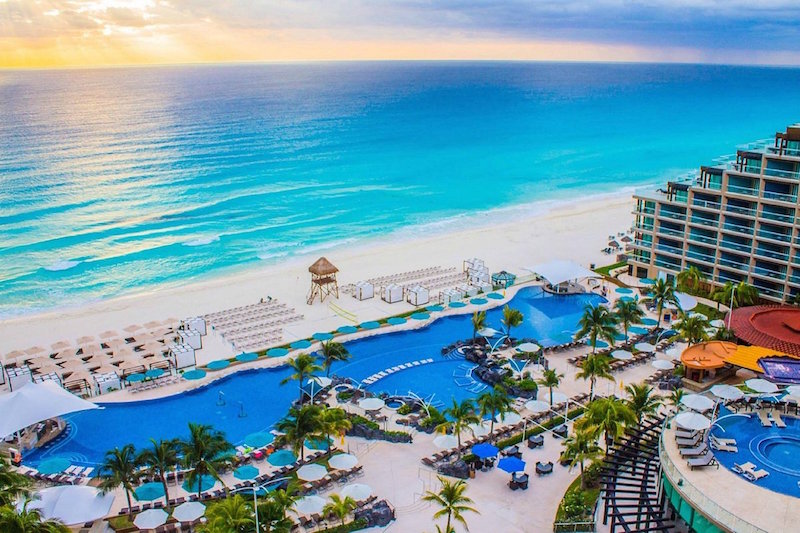 The Hard Rock Hotel Cancun is the closest you'll get to Vegas without Elvis marrying you.
With just one look at the hotel, you can tell that this is the place to be if you want your wedding to be fun and timeless!
Even better? 
There are pool and beachside services so you don't have to lift a finger during your wedding week. 😍
No matter your taste, the Hard Rock Hotel Cancun has a wedding package designed specifically for you.
Like pieces from certain packages? No worries! You can mix and match from the 5 different collections.
Oh, did we mention every room comes with a hot tub at no extra charge? 😉
What we love:
Wedding collections that everyone will love
Elopements, sequel weddings, small weddings, and more are all welcome!
Room upgrade for the lucky couple
What we don't:
Wedding packages start at $3,500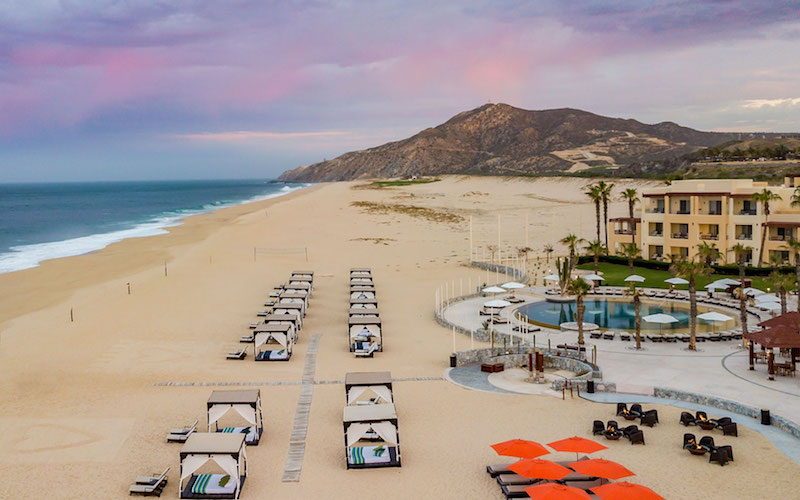 Weddings can be stressful, we know.
Sometimes you just want a small, intimate wedding where you can hide away from the world with your new spouse.
Thankfully, Pueblo Bonita's adult-only resort in Los Cabos is known as one of the most romantic resorts in the world.
What more could you want?! 🍹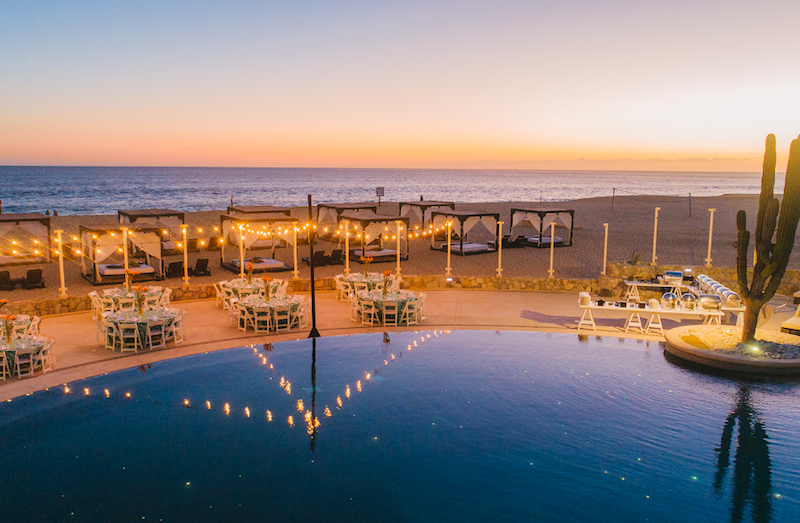 Couples, get ready to be in awe of this resort and its venues.
You're able to choose from one of the following locations to host your dream wedding:
Beach
Constellation Terrace
Aire Terrace
Fountain Garden
Refresca Terrace at Siempre
Along with the stunning venues, there are wedding packages that range in price, number of guests, and wedding decorations.
If you have no idea how to plan a wedding, don't stress. Each package comes with the help of an on-site wedding coordinator! And our help, of course! 😉
What we love:
Great deals/limited offers on wedding packages
Excellent entertainment options (fireworks, dancers, musicians)
Wedding locations that will suit anyone's style
What we don't:
Limited wedding package options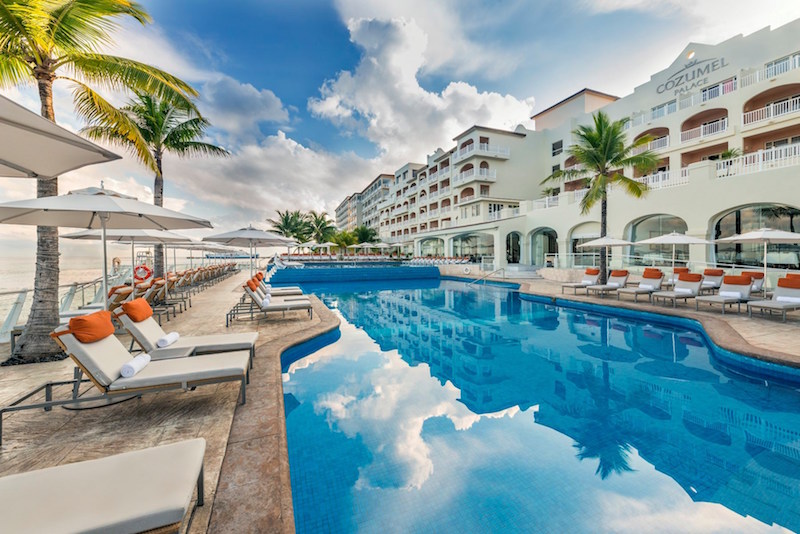 Are you looking for a totally customizable wedding?
Good thing you found this article! 😉
Cozumel Palace has 6 wedding venues, 3 wedding collections, and endless options to mix and match to create your dream wedding.
When we say you can choose every element to include in your wedding, we're not kidding.
Everything from the lighting to the reception chairs to the photo booths is for you to decide! 😀
The Palace Resorts has many places to get married, but Cozumel Palace is one of the most intimate options. Whether you want a big or a small wedding, we will help you every step of the way.

What we love:
A variety of options and styles to choose from
Beach, terrace, or ballroom options for wedding locations
Complimentary honeymoon and anniversary packages
What we don't:
Limited information on prices online
Books up fast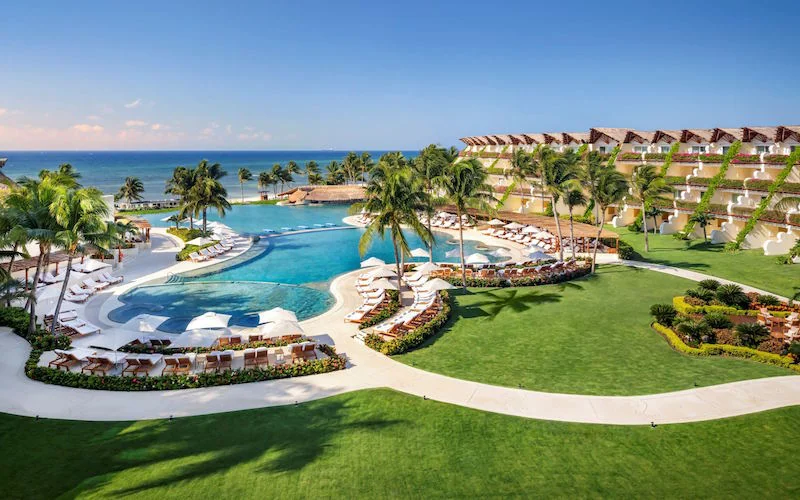 This resort is about as elegant as it gets.
Located just south of Cancun, Grand Velas Riviera Maya is surrounded by the most turquoise waters that will be in the background of all your stunning wedding photos. 😍
Also, just look at how stunning the resort is! 
You'll never want to leave.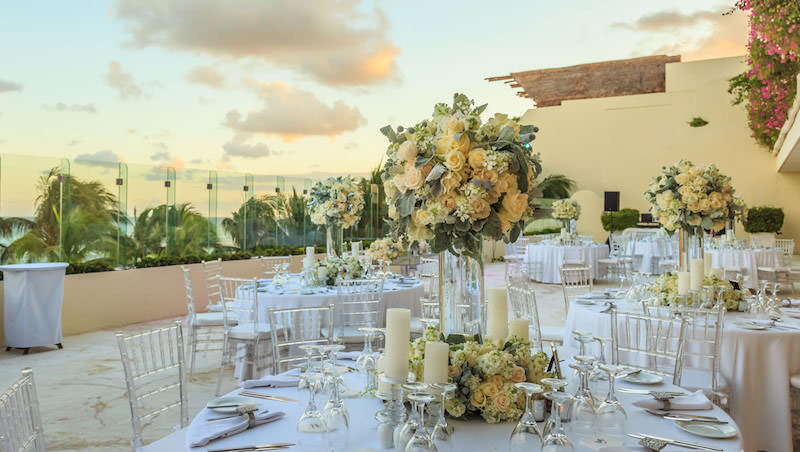 If you're indecisive, you may have major trouble choosing between the wedding locations this resort has to offer.
The options are:
Zen Garden
Zen Pool Terrace
Sen Lin Terrace
Virgen De Guadalupe Chapel
Ambassador Garden
Ocean Terrace
Grand Class Beach
Grand Velas Convention Center
Not only do they have a large amount of venues, but they also have elaborate wedding services that can make your dream wedding come to life!
We know that when you're booking a destination wedding, you're not just looking at the venues. You have to fall in love with the resort as well.
At Grand Velas Riviera Maya, every single room is a suite. Some have plunge pools, some have walk-out terraces that bring you right to the beach, and others have views of the jungle and koi ponds. Do we need to say more?
What we love:
The wedding location options, obviously
The overall experience from rooms, to dining, to the wedding planning
What we don't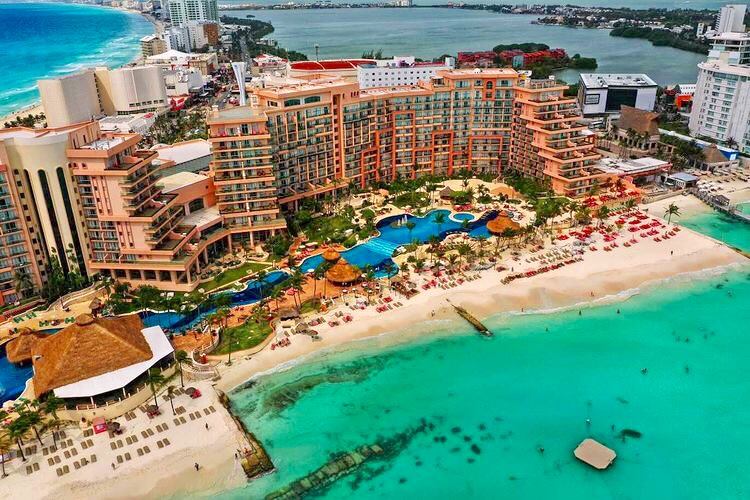 Last but definitely not least, this resort is located at the north end of one of the best beaches in Cancun. ⛱️
Grand Fiesta Americana Coral Beach Cancun has 4 wedding packages and 4 venues that will be impossible to choose from.
This resort has newly renovated rooms that will become your sanctuary during your wedding week. 
No matter what room you end up with, you'll get a clear view of the ocean.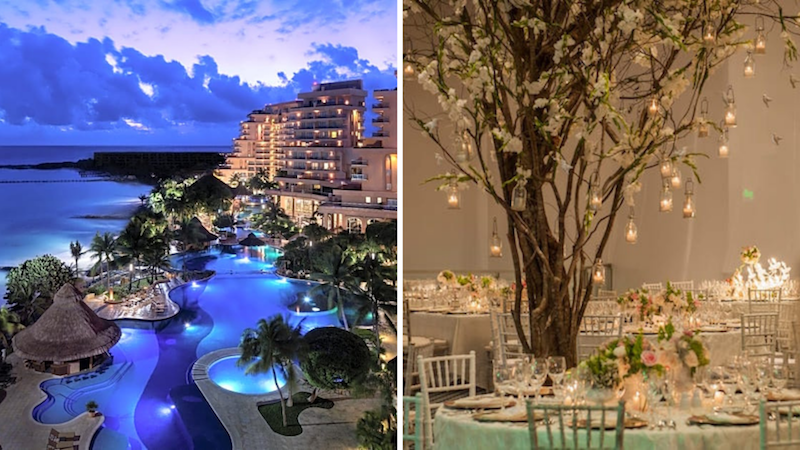 We will tag team with their dedicated romance and celebration expert to help you with all facets of your wedding day. We can help you decide between packages that cost $1,625, $5,779 or anywhere in between.
Are you waiting to hear about the wedding location options? Well, here they are:
Sunrise Beach
Sunrise Terrace
Grand Club Deck
Coral Gallery Ballroom
Picture yourself looking out into the crystal clear water, a fruity drink in your hand, and your new husband or wife beside you. Sound perfect? You better book today! 😉
What we love:
The price range is very appropriate for all budgets
Each wedding location has the most perfect backdrop
Able to tailor the wedding to your specific needs and wants
What we don't:
Limited wedding package options
Wedding planning can be tough, but it doesn't have to be.
If you have no clue where to even start, contact us for a free consultation!
Ou wedding planners at ParadiseWeddings.com are here for you every step of the way.
Sounds good? Contact us here or give us a call at 877-737-0177.
We can't wait to make your dream wedding come true!