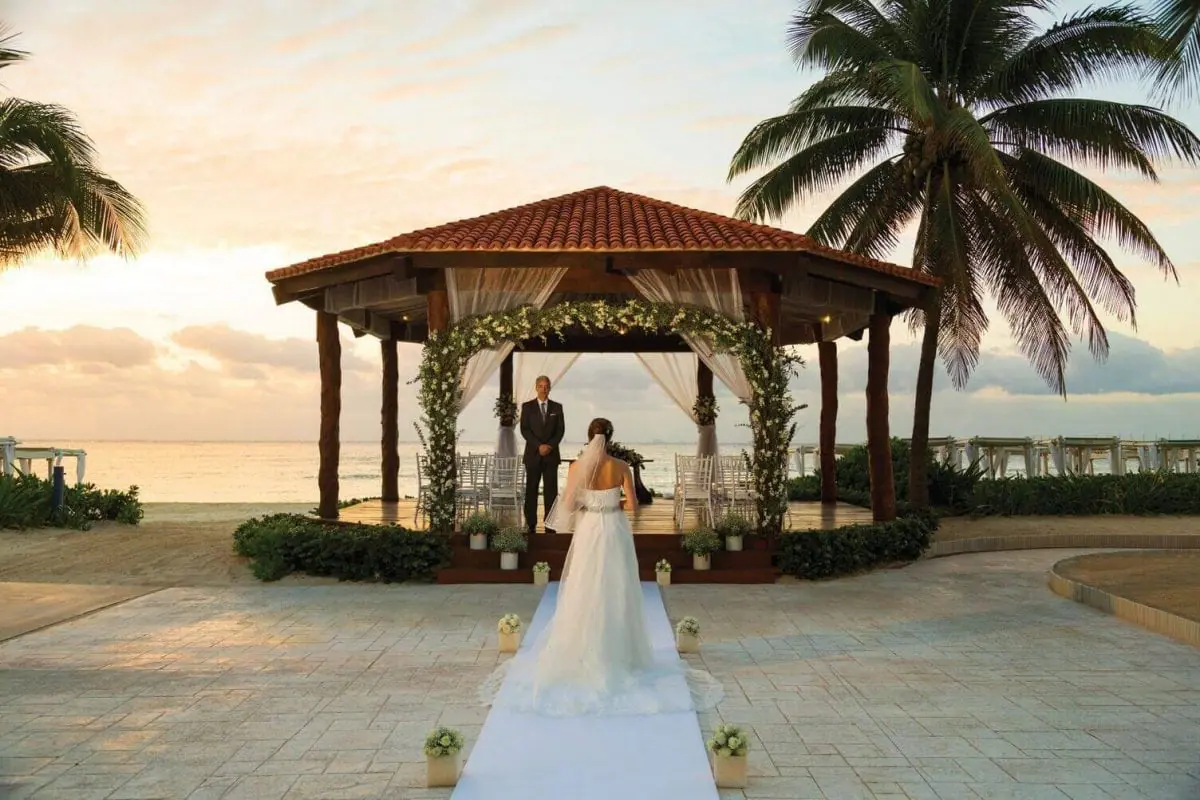 5 Resorts With The Best Beach For Your Wedding in Mexico
Are you dreaming of an idyllic beach wedding in Mexico?
You can make your dreams a reality. 
I'm here to help you find the best hotel with a beach where you can say "I do".
Our expert team at ParadiseWeddings.com knows these hotels inside out. 
We have the inside scoop on the top all-inclusive destination wedding locations. 
We know which ones have wide, glorious beaches of white sand with sparkling waters and lush green palms…
And we love to share.
Ready to explore?
Keep reading!
Best Resorts for Your Beach Wedding
1. Secrets Maroma Beach Riviera Cancun
★★★★★ | Adults-Only | Playa Maroma | 412 rooms
Want to get married on an award winning private beach in Mexico?
The private stretch of welcoming sands at Secrets Maroma Beach Riviera Cancun has been voted World's Best Beach by the Travel Channel 4 years running. 
Average cost: $350-$550 per person, per night.
This beautiful beach in Playa Maroma makes for a stunning wedding location. 
Plus, there are wooden walkways. 
Meaning no awkward struggle across the sand on your big day. Yay!
Wedding Packages at Secrets Maroma
You can choose from 3 different wedding packages at this resort:
Wedding in Paradise 

$999

Secrets of Love 

$3,399

Secrets Ultimate 

$3,799
From simple to extravagant, there's an option for everyone.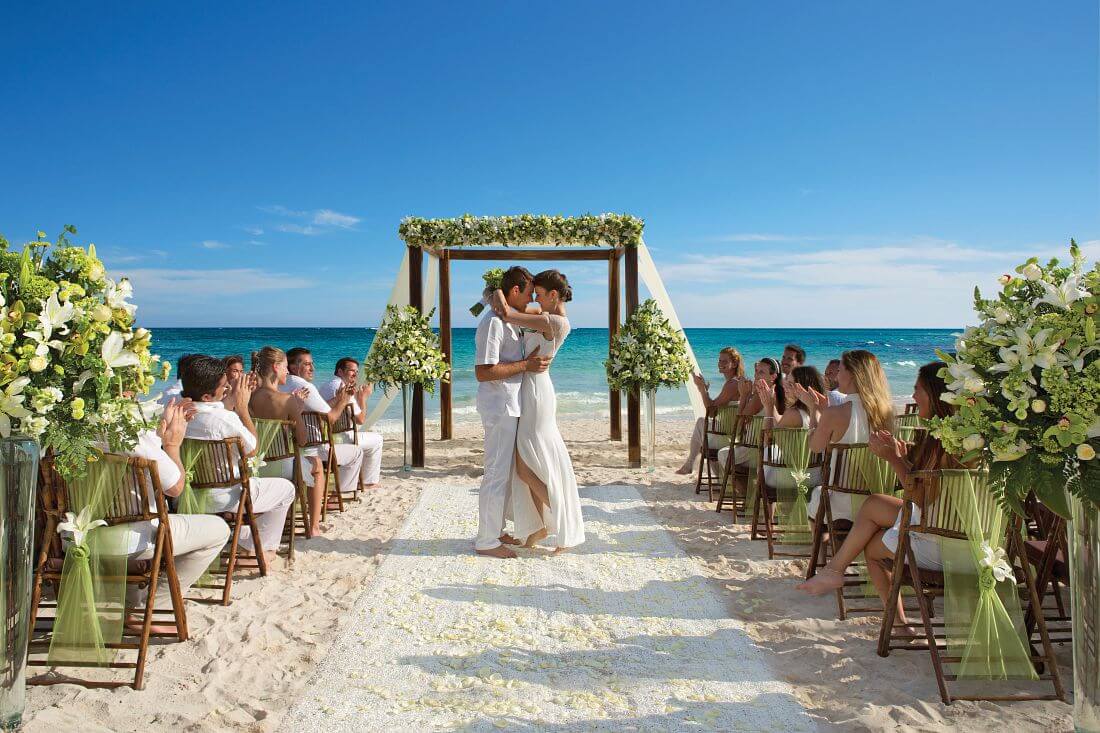 Accommodation & Amenities 
You can be sure of all-inclusive luxury at Secrets Maroma Beach Riviera Cancun. 
Suite accommodation options include:
Oceanview
Oceanfront 
Swim out
All suites have top amenities including 42" flat-screen satellite TV, air-conditioning, and whirlpool bath. 
Choose the Preferred Club option and you get a suite in a premium location, as well as access to preferred club benefits like a private lounge and concierge services. 
For the ultimate in romance, I love the Preferred Club Honeymoon Suite. 
It's bigger than the other suites and you get 2 jacuzzis plus incredible oceanfront views. 
Where to Eat & Drink at Secrets Maroma
If you're a foodie, you'll love the wide range of dining options you have…
At Secrets Maroma, you get access to 8 reservation-free restaurants.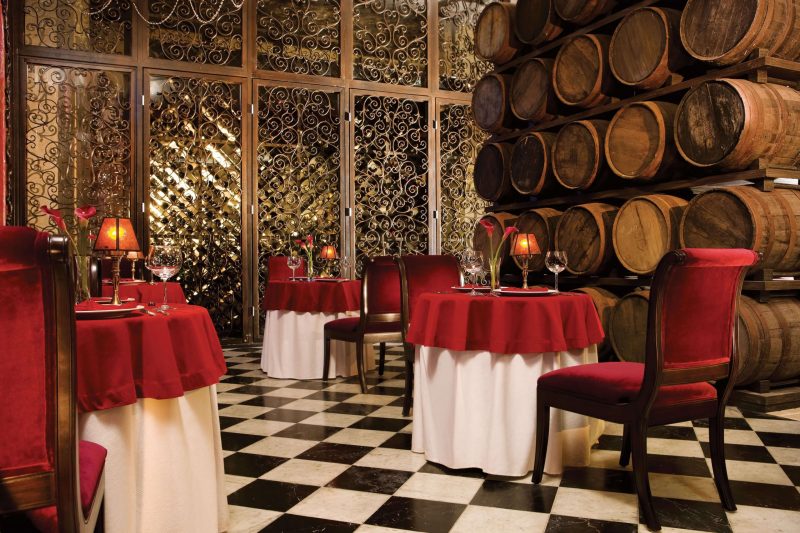 There's also a coffee shop and 6 bars including beach, pool and swim-up options.
What's there to do at Secrets Maroma? 
The resort buzzes with activity for you and your wedding guests. 
There are 2 swimming pools, daily activity programs, evening entertainment, and the Secrets Spa by Pevonia®. 
What Others Have Said 
"We had our wedding on the beach and the wedding coordinator went above and beyond!! The photographer took amazing pictures and we had a special dinner set up by the wedding coordinator!! We can't say enough good things about this place! We can't wait to go back for our anniversary next year!!"

MCCLUSKEY227

Is There Any Seaweed at Maroma Beach?
No seaweed here! Just pristine white sand and cool shallow waters.
How Far is the Resort from Cancun airport?
Secrets Maroma Resort is about a 36-minute drive from Cancun International Airport. 
There's a private shuttle service that you can book in advance. 
It's a convenient and affordable way to get to the resort quickly and easily.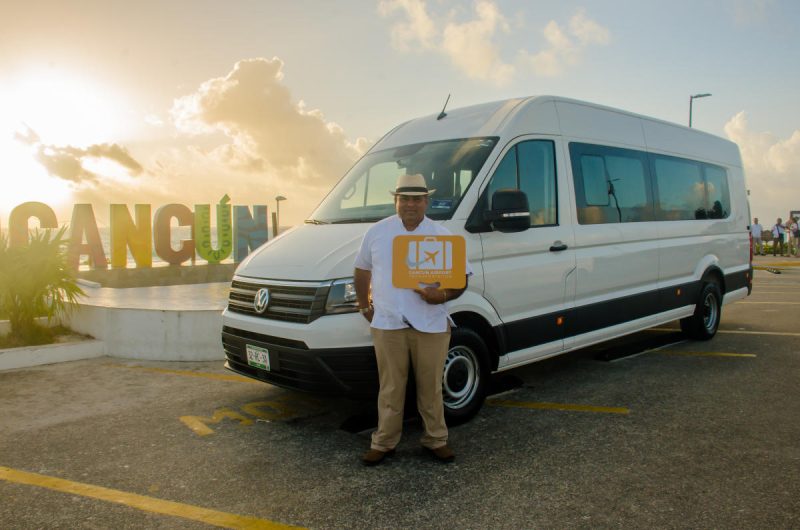 Photo by The Mexican Caribbean
2. Akumal Bay Beach & Wellness Resort
★★★★★ | Family friendly | Akumal, Cancun | 310 rooms
Looking for an intimate destination wedding location?
Akumal Bay Beach & Wellness Resort is heaven in a perfect compact package. 
All of the 310 rooms are steps away from the ocean. 
Average cost: $200-$300 per person, per night.
You get the beach at your fingertips, and well as personalized service that you would expect from a smaller resort.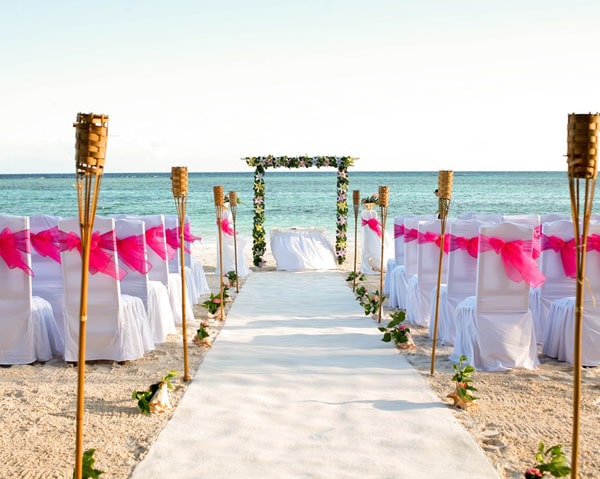 Love the idea of exchanging vows on a private beach in Mexico?
At Akumal, you get all the privacy your heart desires in a gorgeous natural oasis.  
Gaze out to the reef where the sea turtles make their home… if you're lucky, you might spot some rays or barracudas!
What are the Package Options for Akumal Weddings?
Undecided about the perfect beach wedding package for you?
Don't panic. 
Akumal Bay Beach Wedding Packages have something for all tastes and budgets.
You can choose from:
Essence of Love
Love at Moonlight 
Eternal Love
And my personal favorite…
Caribbean Dream, the ultimate wedding package at this resort. 
It includes an exclusive beach venue at Labná beach. 
The package costs:
$4,499 for up to 20 guests.
$95 per extra adult (age 12+)
$48 per extra child (age 5-11)
$25 per child (age 1- 4)
**Packages include a symbolic ceremony. Legal ceremonies can be arranged but the cost will increase.**
Have a different budget or want to learn more about guest options?
Just give our team a call at 877-737-0177.
We'll help you say "I do" at Akumal. 
Which Room Amenities are Available?
All rooms at Akumal Wellness Resort include a free mini-bar, furnished balconies and plasma TVs. 
You can opt for the standard Junior Suite or ground floor Garden Suite for easier access to the beach and resort garden area. 
Psst…
Want to spoil yourselves?
Choose a Penthouse Suite. 
As the name suggests, you get spectacular panoramic views of the Caribbean from this top floor accommodation.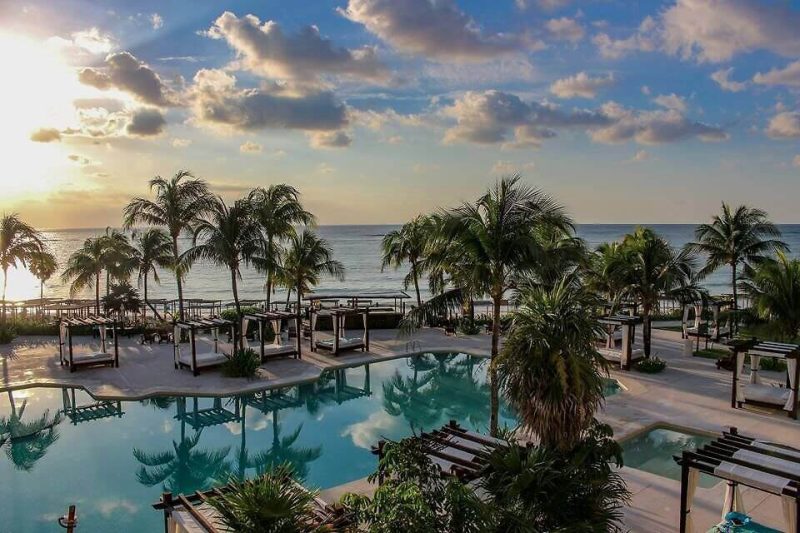 You also get exclusive access to the upper terrace. 
Where to Eat & Drink at Akumal Bay
Looking for a destination wedding resort with great restaurants?
You get 6 places to eat at Akumal Bay Beach & Wellness Resort.
And the menus are super varied. 
Choose from:
Contemporary Mexican
Gourmet 
Peruvian 
Main buffet
Sushi bar
Snack bar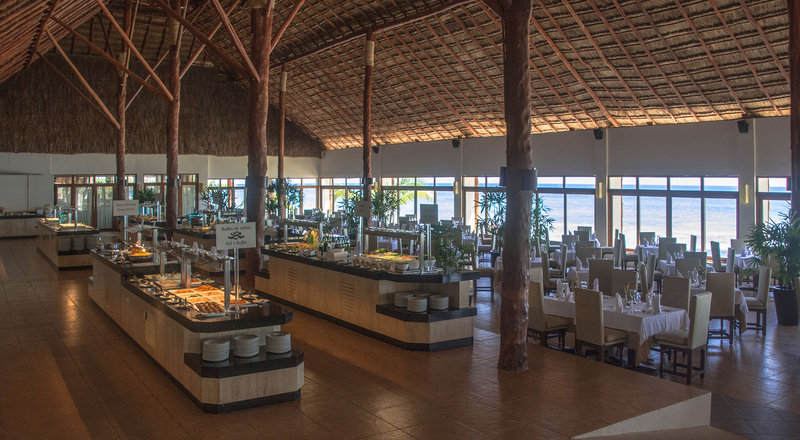 If you've had a pre-wedding dinner with your guests, why not check out the lounge bar and disco?
There's also the Lobby Bar for girl talk over cocktails with the bridal party. 
What is there to do at Akumal Wellness Resort?
What better place to start than the 4 swimming pools?
It's the perfect place to relax and have some quality time with your partner. 
If you want fun, energetic activities, there's a ton of incredible choices. 
Try some paddle boarding, go scuba diving, or take a fitness class at the gym.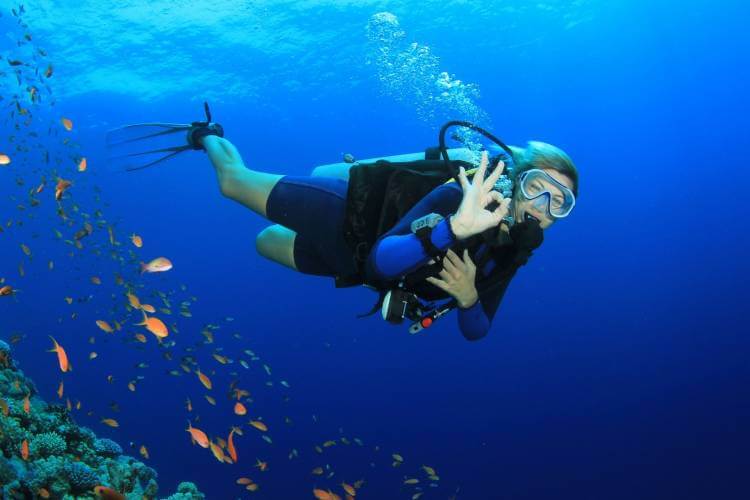 Are any of your guests traveling with kids?
I have good news. 
The resort's mini-club arranges activities for 4 – 12 year olds. 
Akumal Bay also hosts yoga and meditation classes for your wellbeing…
The perfect me-time escape from pre-wedding chaos. 
What Others Have Said
"This property offers fantastic wedding venues. It also offers a fabulous white sand beach with pristine sand and little to none seaweed. Many of the rooms are close to and/or on the beachfront. This is just lovely for a laid back vacation stay for all of your wedding guests." Liz M 
How Far is the Resort from Cancun Airport?
It takes around 1 hour and 30 minutes to get to Akumal Resort from the Cancun Airport. 
The most comfortable way to travel is by booking a private shuttle in advance. 
3. Barcelo Maya Palace
★★★★★ | Family friendly | Xpu-Ha | 756 rooms
Imagine over 1 mile of private beach with soft white sands framed by the waters of the Caribbean. 
You get all of this wrapped in a wedding package of exotic romance at Barcelo Maya Palace. 
Average cost is $220-$300 per person, per night.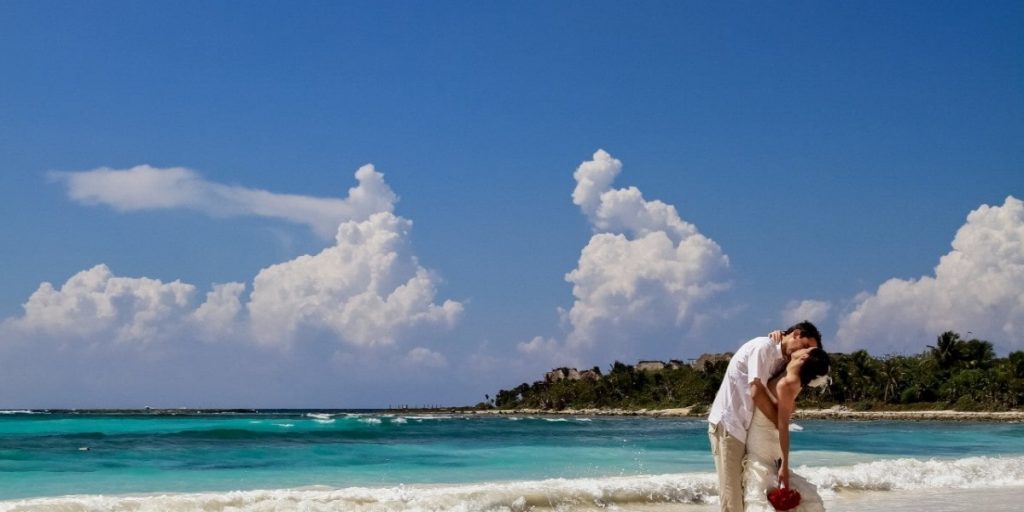 This beach is wide, spotlessly clean, and you can exchange vows at several points along the shore. 
Is seaweed a problem?
The sargassum seaweed that has caused problems in the area isn't nearly as bad as it was a couple of years back.  
Plus, Barcelo Maya Palace are prepared if any of the troublesome seaweed does appear. 
Trust me, they take exceptional care of their beach and it shows. 
Wedding Packages at Barcelo Maya Palace
Still deciding what kind of ceremony you want for your beach wedding?
No problem. 
You can have a Civil, Catholic, themed, Mayan, spiritual or Hindu wedding at this resort. 
There are 9 wedding packages, including the Coconut Paradise Package which is free if you book at least 70 room nights. 
Not booking that many room nights?
Don't worry, the paid packages are affordable and amazing. 
Let me show you an example…
The Mint Breeze Package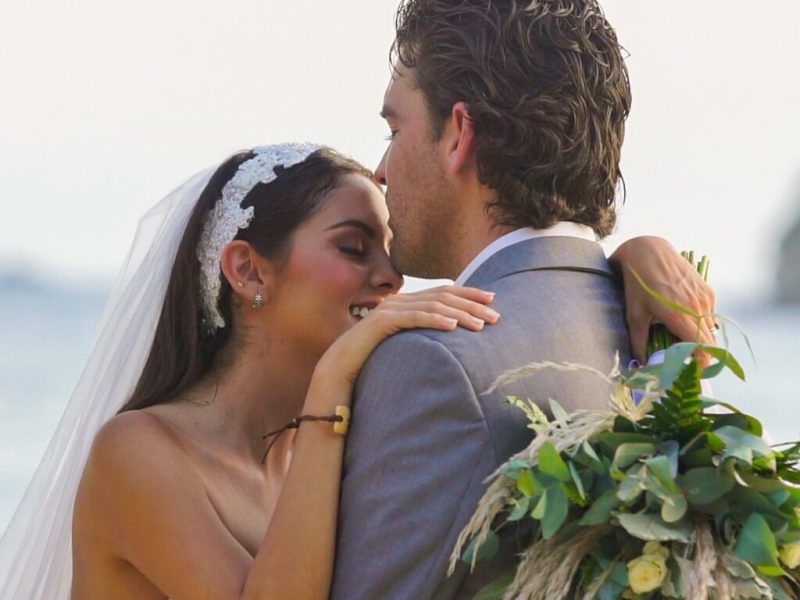 For $2,750, you can have a ceremony for 30 guests on the shores of the Caribbean. 
You also get amenities and services including a wedding coordinator, live music and a wedding cake. 
That's just 1 of the detailed and professional packages to choose from. 
If you need help making a decision, get in touch with our team of experts.
They're local and know all the ins and outs of planning a beach wedding here in Mexico.
Rooms and Amenities at the Resort
Dreaming of a beach wedding at a luxury resort?
You won't be disappointed at Barcelo Maya Palace. 
All suites have a 32″ plasma TV, air conditioning and free Wi-Fi connection. 
You can choose from (Junior Suites):
View of the gardens. 
Pool view (Premium Level). 
Oceanfront (Premium Level). 
Suite oceanfront (Premium Level).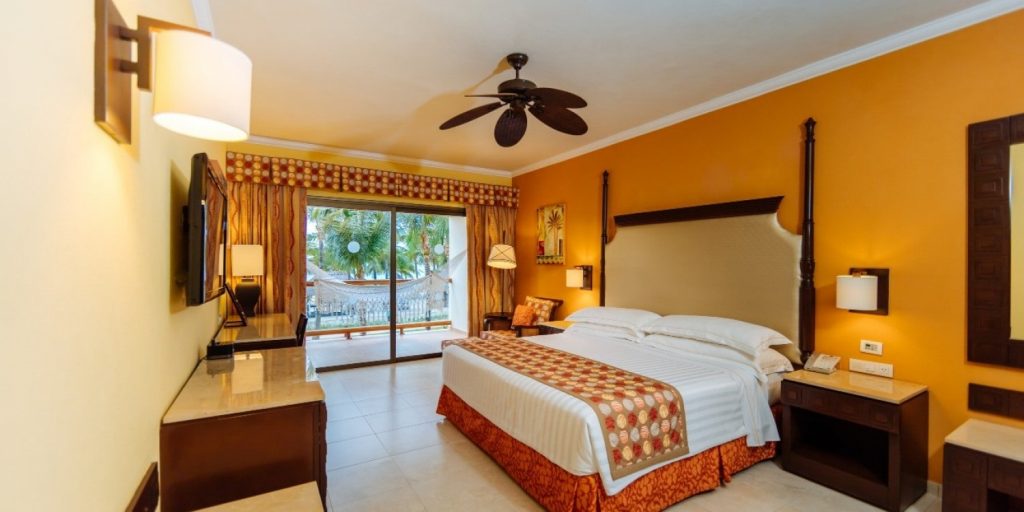 If you stay in premium level accommodation, you get a welcome special touch of courtesy gifts like petit fours and a bottle of sparkling wine. 
What about restaurants for a meal with your wedding guests?
There's no shortage of taste sensations including Brazilian, French and Caribbean cuisine. 
What is there to do at Barcelo Maya Palace? 
Do any of your guests have children traveling with them?
Besides the beach to explore, there's a U-Kids Spa and a mini-club to keep them entertained. 
Meanwhile, the adults can get to know the turtles and fish in the Caribbean while scuba diving. 
There's also an adults' U-Spa and evening entertainment programs. 
Here's an extra bonus…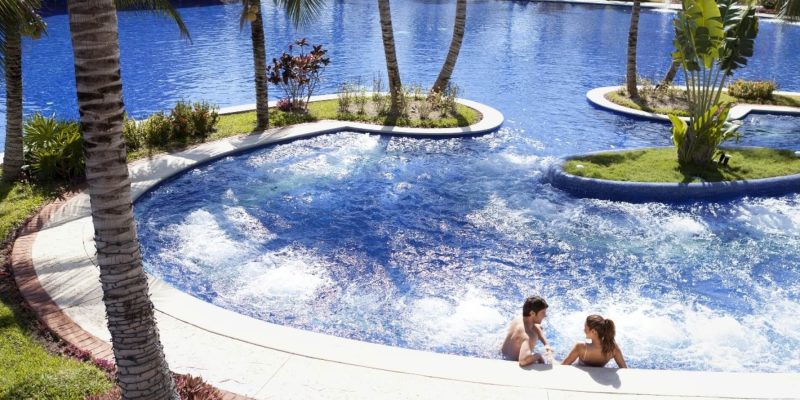 The Barceló All-Inclusive program gives you access to the buffet restaurants, bars, swimming pools, and beach facilities of the Barceló Maya Beach, Barceló Maya Caribe, Barceló Maya Colonial and Barceló Maya Tropical hotels.
What Others Have Said
"Everything was beautiful; the decorations, the flowers, the ceremony, the photos, the list goes on. The DJ was great-he made the party what it was. I spent so much time planning this with the vendors and the wedding coordinator and it paid off! I would certainly recommend anyone who is planning on getting married at the beach to look at Barcelo Grand Resort or if you simply want a relaxing weekend. They have everything you need for your perfect wedding or vacation."

MelissaDelgado2020
How Do I Get There From the Airport?
It takes about 1 hour and 20 minutes to get from Cancun International to Barcelo Maya Palace. 
You can travel by taxi, shared shuttle, or private shuttle. 
4. Catalonia Royal Tulum
★★★★★ | Adults Only |  Xpu-Ha | 288 rooms 
Wondering if your destination beach wedding will live up to your dreams?
Here's your answer. 
Catalonia Royal Tulum has one of the prettiest of beaches I've ever encountered. 
The Caribbean vista simply takes your breath away. 
Average cost: $180-$260 per person, per night.
You don't need to worry about pesky seaweed here.
If any does appear, the resort is on it, clearing the beach every morning. 
You get a sparkling clean beach for your ceremony. 
I love the juxtapose of the sand and the lush jungle environment in the grounds of the resort. 
It's the best of both worlds.
Wedding Packages at Catalonia Royal Tulum
Here's a peek of the wedding packages to spark some inspiration: 
Feelings Package for a couple with no guests,  $499. 
Passion Package including 10 guests, $899. 
Souls Package including 15 guests, from $1,499. 
Fantasy Package including 20 guests, from $2,499. 
Mayan Ceremony Package including 20 guests from  $1,599. 

You can savor the romance of your big day immersed in a tropical green landscape at Catalonia Royal Tulum. 
The resort is located amongst lush vegetation, lagoons and cenotes. 
And the beachside location means you are never far from the gentle lapping of the Caribbean.
Accommodation & Rooms at the Resort  
Choosing a Privileged Premium suite gives you access to extra facilities like exclusive dining and preferential access to spa facilities. 
I'm giving a special shout-out to Privileged Romance Deluxe rooms. The elegant touches are to die for…
Perfect for a destination wedding in paradise!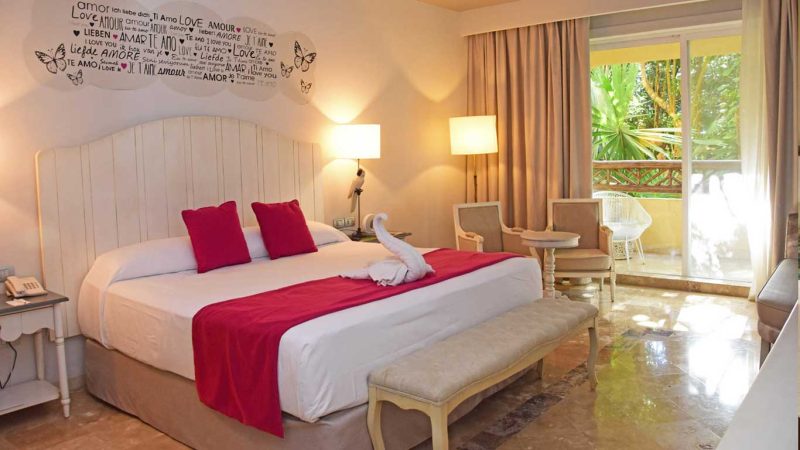 Where to Eat & Drink at Catalonia Tulum
If you and your guests have different food preferences, there's no need to worry.
There are plenty of options at Catalonia Royal Tulum. 
Mexican, Italian, Spanish…
You can try a range of dishes at La Selva buffet restaurant, which is open for breakfast and dinner. 
If you prefer a la carte, there's a healthy organic menu at Bloved. 
A heads up…
This restaurant is only available if you book as a Privileged client. 
As for drinks..
Las Margaritas has a dedicated margarita menu that should keep the bridal party happy. 
Activities & Entertainment
Looking for activities to keep your guests entertained outside of the ceremony?
The large pool area with an outdoor jacuzzi is a good place to start.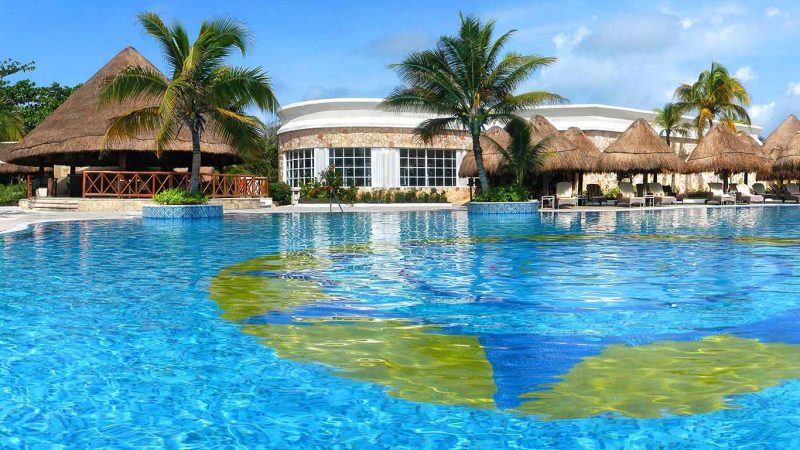 For something more adventurous in the water, there's paddle boarding, snorkelling and a dive center. 
In the evenings, there's a disco-bar and a party night once a week. 
What Others Have Said 
"We had a small wedding with about 40 guests that were so impressed that some have talked about getting married there too. It was an experience that we all will never forget thanks to the staff and the management at CRT. Everyone was really impressed with the arrangements put together by the hard-working people at the resort and the music was so good that we could have danced all night. The weather was perfect and the beach was beautiful like always."

Picolin 
Is Catalonia Royal Tulum Close to the Airport?
The resort is about 81 km from Cancun International. 
The trip takes about 1 hour 10 minutes in a taxi or using the shuttle service, or you can hire a car if you prefer. 
5. Dreams Tulum
★★★★★ | Family Friendly | Tulum | 432 rooms
Look at an image of Dreams Tulum and you can almost hear the Caribbean shores…
But it doesn't even come close to being there. 
Trust me, this expansive tranquil beach is magical. 
And the resort keeps it clean and fresh despite the occasional challenge of seaweed during the April – December season. 
Average cost: $320 – $360 per person, per night.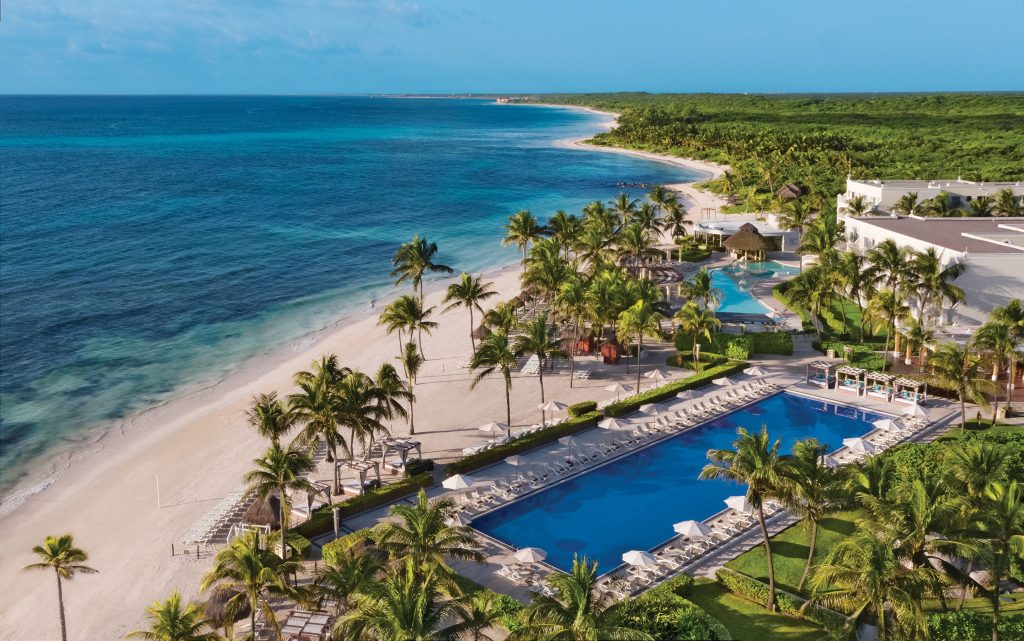 How Much Do Weddings Cost at Dreams Tulum?
There are 3 different wedding packages at Dreams Tulum to choose from.
And you can add your own personal touches. 
Here are your options:
Wedding in Paradise Package: $999 for a symbolic ceremony including up to 10 guests. 
Love Package: $3,399 including the services of a Judge or Minister and up to 20 guests. 
Ultimate Wedding Package: $3,799 including the services of a Judge or Minister and up to 20 guests.
Need help with the details of each package?
Our team of experts can help you weigh out your options and make the right choice.
Rooms & Accommodation Options 
Looking for accommodation for couples and families?
There are luxurious rooms and suites for 2 or more people at Dreams Tulum. 
All rooms have exceptional amenities, including:
 42″ cable TV minimum with HD channels. 
Air-conditioning with individual climate control. 
24-hour complimentary room service. 
A private furnished balcony.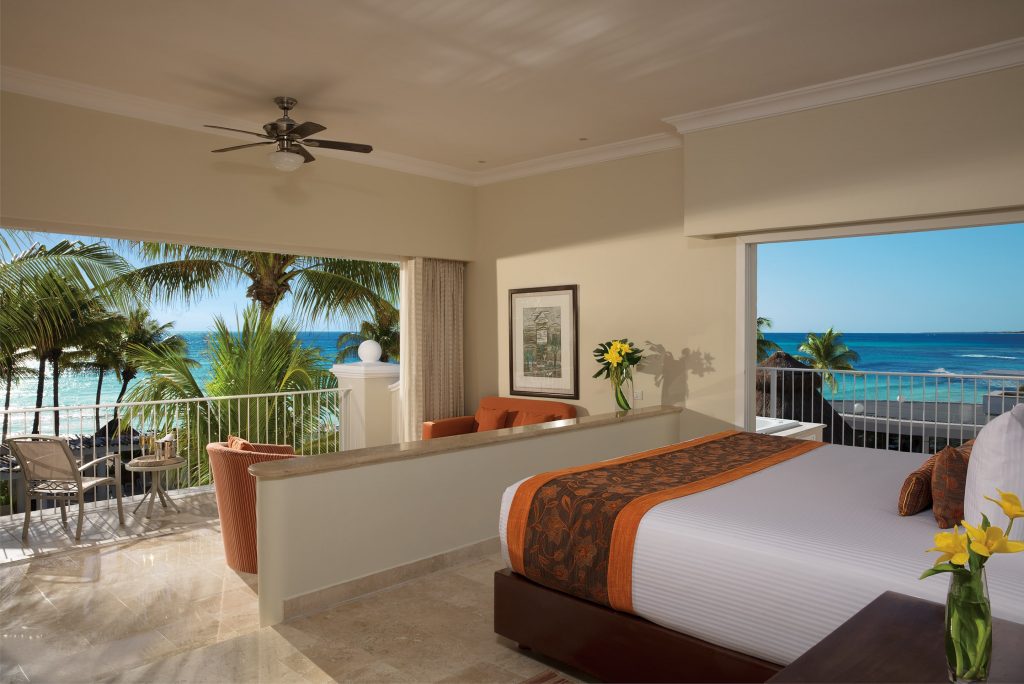 Choose to stay in Preferred Club accommodation and you get extra privileges including: 
An upgraded mini-bar.
Access to the private Preferred Club Lounge. 
Access to the private Preferred Club beach area.
The Preferred Club Honeymoon Suite Ocean Front is extremely romantic and a top choice for couples. 
Dining & Drinks at Dreams Tulum
You definitely won't get bored with the food choices at the resort. 
There are 9 places to eat, including 6 à la carte restaurants, a buffet, a grill and a café. 
For a romantic meal for 2, Bordeaux is amazing. 
There's exquisite French cuisine and it's adults-only, so there are no kids running around to spoil the moment. 
After eating, there are bars to visit, including the Manatees swim-up bar and the Sky Bar which is a sports bar.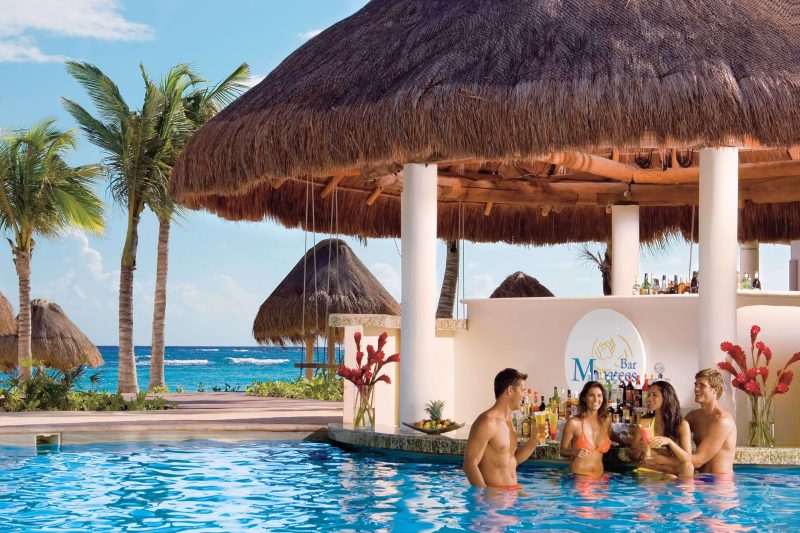 Are the Activities Good at the Resort? 
Looking forward to relaxing by the pool with the girls from the bridal party? 
There are 2 luxury pools at Dreams Tulum and there's even better news…
1 is for activities and 1 is for relaxing, in case you don't want any splashing kids around.
Speaking of kids — there's a Mayan-themed Explorer's Club and Core Zone Teens Club to keep your younger guests entertained.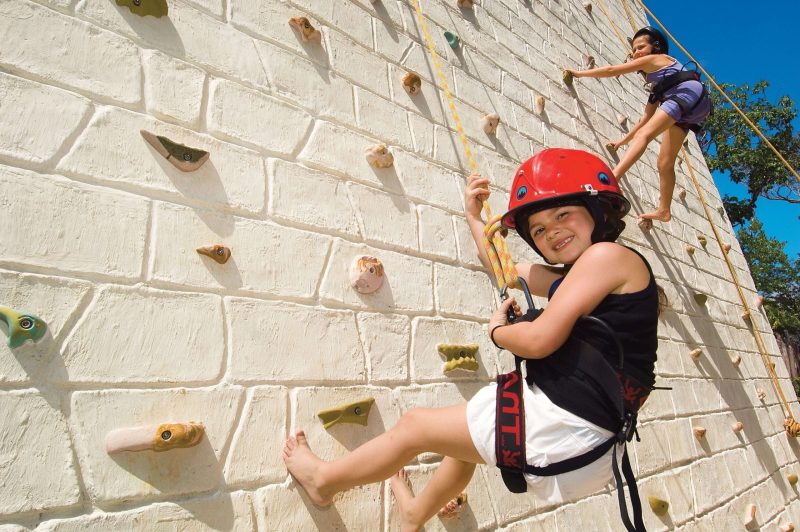 And that's not the end of the activities.
There's plenty to keep you occupied if the whole saying "I do" thing isn't enough. 
You can learn to dance or speak Spanish, try a session at the fitness center, or go hiking on the beach!
What Others Have Said 
"My husband and I were married at the Dreams Tulum on November 29, 2019. We had an EXCELLENT experience with our wedding planner, Victoria, and the rest of her staff…The beach location was utter perfection and the infinity dance floor proved to be worth every penny!!"
How Far is it From Cancun International?
The luxury facilities at Dreams Tulum are just 85 minutes from the airport and 5 minutes from downtown Tulum.
I'd recommend a private shuttle as the best way of getting to the resort. 
6. Did I Cover Everything?
Do you have any questions about hotels with the best beach for your wedding in Mexico? 
I'd love to get you the answers you need!
If there's anything else you'd like me to cover, just let me know in the comments. 
I'll get on it for you. 
Ready to exchange vows on the soft white sands of the Mexican Caribbean?
Our team at ParadiseWeddings.Com can help. 
We know these resorts and we'll get you great deals on your stay and your wedding package. 
Just call us at 877-737-0177.
Or send us an email at [email protected]
Best wishes on your planning journey!