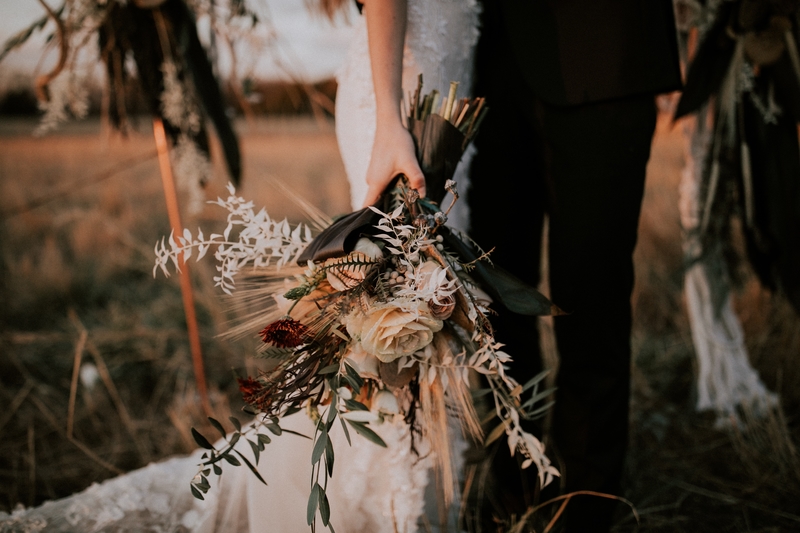 Want to have a boho-chic destination wedding?
Don't know where to start?
We've seen the boho-chic theme stay consistently popular for the past few years
And it's not going anywhere anytime soon!
This laid-back aesthetic is a great alternative to traditional wedding styles.
So to make things easier for you, I've put together a full guide to planning your wedding, boho-chic style.
Let's dive in!
Your Guide to A Boho-Chic Destination Wedding
Use this list for ideas & inspo and start planning your boho-chic wedding today! 
This is a theme you can really make your own. 
Let's start with the invitations. 
Boho-chic wedding invitations are minimalistic with a pop of color.
I think the simple style of boho chic invitations looks so clean & elegant.  
The stationery is usually white or a light color.
Sometimes it's even transparent! 
Bright floral prints, plants, and geometric designs are used as accents on the stationery. 
To close the envelope, use twine, ribbon, lace, or even a wax seal. 
And you're ready to send out your invites! 
Wedding decor is usually at the top of everyone's planning list. 
To get the boho-chic look for your wedding, you'll want to incorporate:
Cofas
Cool chairs
Rugs
Cushions
Lamps
Fairy lights
Using sofas for seating during the reception/ceremony give your space a cozy vibe. 
For alternative forms of seating, use the rugs alone or with cushions
And to add a touch more warmth, have some ambient lamps or fairy lights around your venue.
This will make the space feel more inviting & intimate. 
Flowers and plants are one of the main focal points for this aesthetic. 
Non-traditional flowers are used for decorations and the bridal bouquet. 
Use large tropical flowers, wildflowers, or different types of green plants to make flower arrangements. 
You can also use them as part of your centerpieces and table numbers. 
Don't hold back with the flowers and plants you want to use – the more, the merrier!
A boho chic wedding emphasizes nature & comfort. 
Pampas grass is another main focal point for boho wedding themes. 
It's often used alongside the flowers & plants.
But it can also be used on its own or with other types of dried grasses.
I know…
Using grass as part of a wedding theme wouldn't be my first thought either. 
But it looks great and is a nice visual change from the over-the-top flower arrangements we're used to. 
Use dried or fresh palms to go with your destination wedding vibe.
Arches are a creative way to have a picture-perfect backdrop.
The great part is that they are also multipurpose!
Use an arch covered with your flowers, dried grasses/palms to stand under as you share your vows.
Later, this same arch can be used as part of the reception for pictures.
Or just add it as part of the rest of your decor!
These wedding arches can be as simple or complex as you want, and they look good either way.
They look especially great with the free-spirited theme of boho beach weddings. 
Get in touch with your inner child with a giant swing! 
Swings are gaining in popularity, especially with the boho-chic theme. 
Giant swings are a great option for alternative seating.
And come on… swings fun at any age!
They can also double as a selfie or photo op spot. 
The giant swings are wooden chairs, porch  swings, or cushions tied up with a rope. 
Decorate the swing with large flowers or use a macramé for the ropes.
Then swing your little heart away!
Comfort is key with this dress style. 
Dresses are made with lace, light or transparent fabrics. 
The dresses are light and airy for a laid-back mood, perfectly in line with boho-chic. 
You can choose long or short dresses.
Accessorize with a flower crown, tiara, or even a sun hat! 
Think outside the box & show your fun side with your dress. 
Like dresses, boho wedding suits should be comfortable. 
Don't go with a familiar plain suit. 
Instead, consider mismatched pants with a jacket, or a suit with a print. 
Another common combination is dress pants with suspenders, a button-up shirt and a bow tie. 
Play with colors that are in your color scheme and include them as part of your outfit.
This is an opportunity to have fun and show your personality with your look! 
You can't have a boho-chic wedding without some color!
Whether the color is bright or toned down and neutral is up to you. 
Common toned down colors include:
Rust colors
Dust pinks
Olive or dark greens
Neutrals
Browns
Oranges
Peach colors
Use 1 color with a neutral color, or mix them up and use any combination of these colors. 
If you want bright colors, go with tropical oranges, pinks, purples, and jungle greens. 
These colors pair well together, so if you can't decide between bright & muted then just do both. 
Life is more fun with color anyway! 
The cakes have to be my favorite part of the aesthetic.
Simplicity is key for a boho-chic cake. 
The boho wedding cakes are multi-tiered. 
They are thinly frosted with white frosting.
Some barely have frosting and some don't have any frosting at all, aside from the layer between the tiers. 
These are called naked cakes and are topped with:
fresh or dried fruit
powdered sugar
fresh or dried flowers & grasses
I'm really digging the minimalistic mood with this style.
1. What is the Difference Between Boho and Rustic?
This is a common question, and it's because they're very similar in styles.
Rustic is more of a country style.
This means that you'll see things like outdoorsy/farm elements, like a barn for a venue. 
A boho-chic look is also outdoorsy, but  geared towards a free-spirited hippie & eclectic vibe. 
So instead of boots, you might see open shoes or even barefoot couples.
Even more so with destination weddings at the beach!
Also, the boho aesthetic is more colorful & creative than the rustic vibe.
2. Is Boho and Bohemian the Same?
"Boho" & "bohemian" are often used interchangeably, but they actually have different meanings.
Boho is a shortened form of the word "bohemian".
It usually refers to a fashion style that incorporates bohemian elements into it.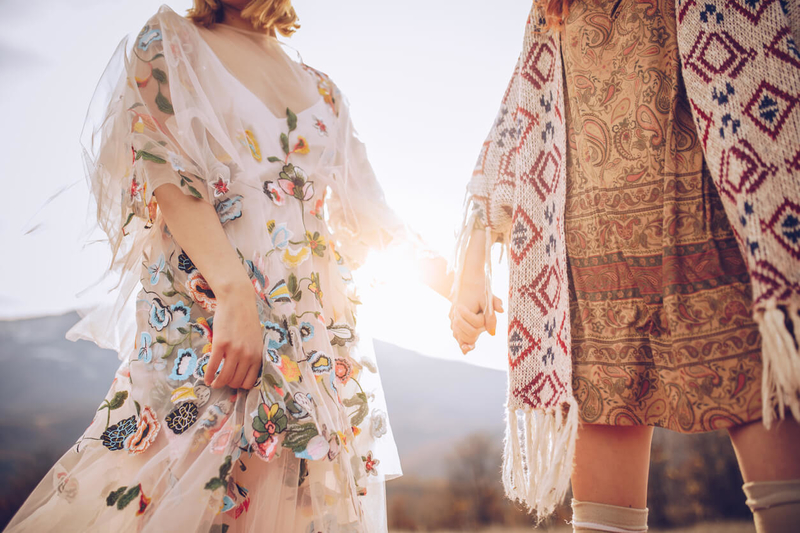 Bohemian can refer to someone who identifies as bohemian.
Or it can refer to the Bohemian lifestyle, which is often associated with free-spiritedness.
So while they are similar, they are not exactly the same.
3. Is Boho Chic Still in Style?
Definitely!
The boho-chic trend is still going strong and will continue to be popular for a while.
This style has been around for a few years, so it's here to stay.
If you haven't decided where you'll have your destination wedding, then we're here to help.
Want 1 on 1 help?
Don't hesitate to connect with our wedding specialists!
We've planned 100s of weddings and are excited to help you plan yours.
Our wedding planners are based in Playa del Carmen, so they can tell you tips & tricks for a memorable wedding.
We…
Specialize in destination weddings
Offer the best room rates on resorts
Give epic discounts and honest advice on all the things to do in the area
Can help with organizing transport and logistics
And much more!
Call us toll-free at 877-737-0177
Or contact us here for your FREE consultation.
Best wishes on your planning journey!